Back in the early 20th century, having an AM radio in your car was considered a luxury. FM radio, which is capable of stereo, hadn't even been invented yet. By the 1950s, AM/FM radios were the hot new luxury item.
Since then, people have come up with even better ways to listen to music on the road. 8-track players gave way to cassette players, which yielded to CD players. Nowadays, cars have Bluetooth, 3.5mm aux, and USB options. By comparison, FM radio station seems downright quaint. Who needs a radio when you can listen to your own music – without commercials?
But nowadays, most people rely on their phones and streaming media for music. Nobody buys CDs anymore, unless they're a big fan who wants all the album art. At the same time, this can leave you in a bind.
Depending on your car, it may not have the right kind of connection. Maybe your phone doesn't support USB audio, and your car doesn't have Bluetooth? What if your car has a 3.5mm aux jack, but you have an iPhone and can't used a wired connection? In those situations, you can be forced to fall back on older technology.
This doesn't mean being subjected to annoying DJs and an endless repetition of Top-40 dreck. It means converting your phone's Bluetooth signal into an FM radio signal.
Set your Bluetooth FM transmitter to an empty station, and tune to it with your car radio. Then you can listen to Spotify or any other streaming service. Of course, it's important to get a good transmitter. If your transmitter isn't powerful enough or doesn't have the features you need, you're going to be disappointed. That's where we come in.
Choosing the Best Bluetooth FM Transmitter for Your Car
Today, we'll be reviewing four of the best Bluetooth FM transmitters we were able to find. All of them plug conveniently into your car's 12-volt DC outlet, so power is no issue. They also provide charging power for your smartphone – a crucial feature when your power socket is occupied.
At the same time, there are important differences we'll need to consider. We'll have to take a close look at each of these transmitters, and how they're put together. We'll need to evaluate the control systems, along with the charging features. And of course, we've got to investigate the signal stability and audio quality. Let's get started!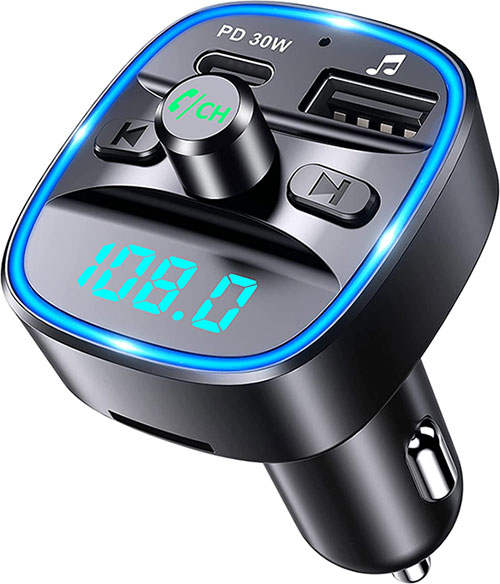 Criacr Bluetooth FM Transmitter for Car
The Criacr Bluetooth FM Transmitter for Car has a matte black housing, constructed of a durable plastic. The main portion is roughly square, with slightly rounded corners and beveled edges. Underneath is a plug, which inserts directly into the power socket on your car. In most vehicles, this will leave the top surface clearly visible.
That's fortunate, since there's an LCD display on the top near the front. This shows the current FM station in bright blue numbering. When you first plug it in, the display won't show your FM station settings. It will show your car's battery level, which is a useful extra feature.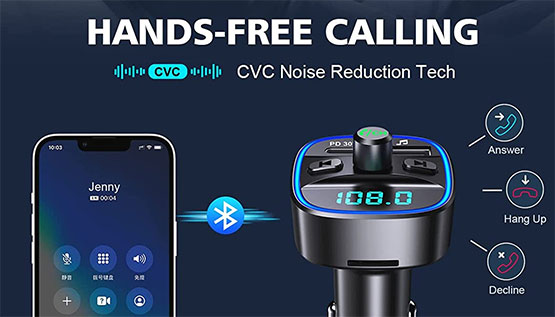 The blue lighting is attractive, and matches a narrow LED band around the outside of the device. This band is always on, which is an attractive touch. However, it could be distracting at night, depending on the location of your DC power socket.
Just behind the display is a multi-function button with a call symbol on it. This button is contextual, and can answer, end, reject, or redial phone calls. To either side of this button is a pair of arrow keys, which are used to adjust the radio frequency. In addition to all this, you can use Siri or Google Voice Assistant to control the transmitter.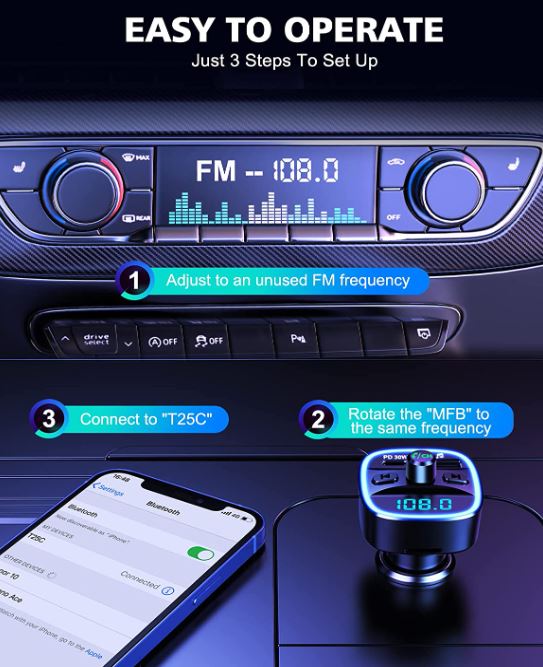 Connectivity, Call Quality, and Extras
The Criacr transmitter connects to your phone via Bluetooth 5.0. This is the current Bluetooth standard, with significant improvements over Bluetooth 4.2. You can expect a more stable signal, less interference, and lower latency, which means less cross-talk.
You'll also get richer audio quality, which you'll notice if your vehicle has a great sound system. As for FM frequency options, it can broadcast on any frequency from 87.5 to 108. That's about equivalent to what you can tune to on an ordinary car radio.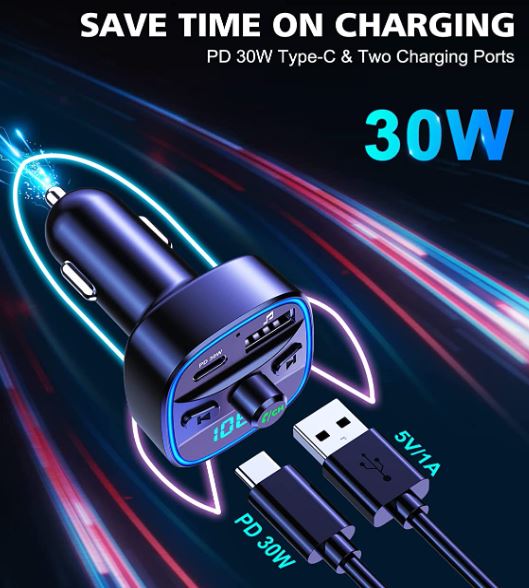 On top of the housing is a pair of charging ports. The one at the top left is USB Type-C, and provides 20 watts of current. That's not as much as you can get from many Type-C ports, but it's still faster than ordinary USB. You'll be able to charge most modern smartphones in around 90 minutes. The USB Type-A port to the right is a bit more disappointing. It only provides 5 watts, considerably less than a vanilla 12-watt USB port.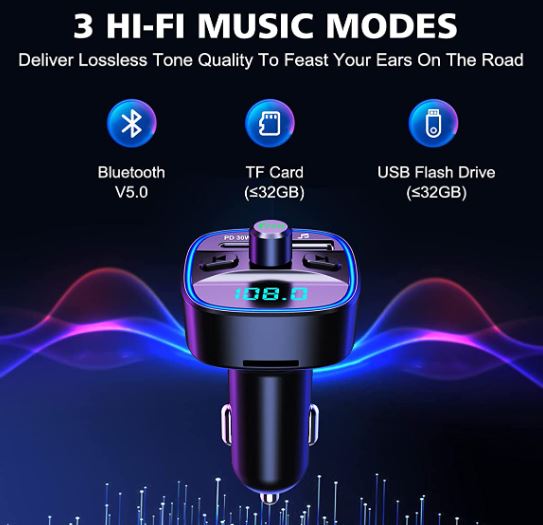 In addition to Bluetooth, you have a couple of other ways to play your music. To begin with, the USB Type-A port supports USB flash drives with a capacity of up to 32GB. If you want to play MP3 files from a thumb drive, you can. You can also insert up to a 32GB SD card into the slot at the bottom. This gives you plenty of flexibility if you'd rather not play music from your phone.
As for audio quality, we had no complaints. When listening to music, the sound is clean and clear across all frequencies, regardless of audio source. Call quality also isn't half bad. The mic has CVC noise cancellation, which helps the other person hear you more clearly. How well you can hear the other person will depend more on their mic quality than anything else. But assuming their mic is good, you should hear them just fine.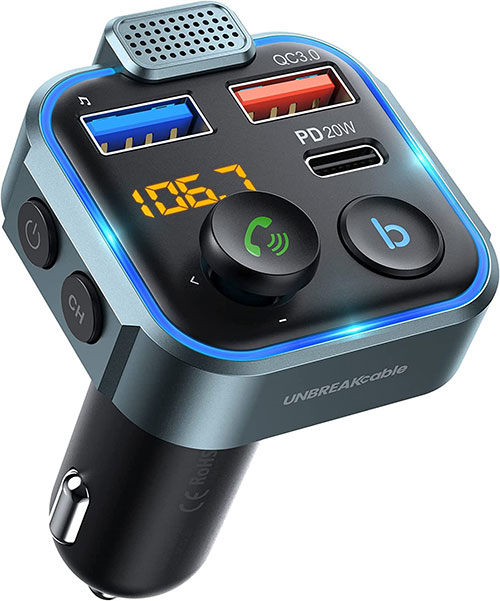 UNBREAKcable Bluetooth 5.0 FM Transmitter for Car
The UNBREAKcable Bluetooth 5.0 FM Transmitter for Car is similar in many ways to the last one. It's made from matte black plastic, with a square upper housing and a fixed plug on the bottom.
That said, the control scheme is a bit different. There's a power button on the left side of the housing, with an FM channel-switching button in front of it.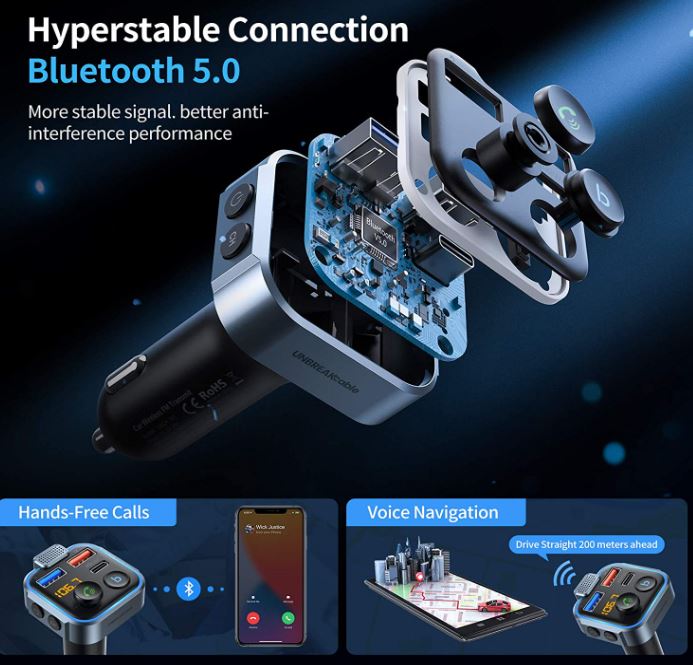 On top of the housing, near the front left, is a rocker switch with a green phone icon on top. This is a 5-way rocker, so you can use it to activate many functions. It feels weird at first, but it works great once you get used to it. To the right of the rocker is a button with a blue "b" that activates the bass boost function. Or, you could just use voice commands via Siri or Google Assistant.
Behind the main controls is an orange LCD display that shows your current FM station. To the right of this is a USB Type-C charging port, with a pair of USB Type-A ports at the back. At the very back of the housing is a large grey microphone. And everything is surrounded by a blue LED backlight that pulses with your music. This could be distracting if it's in your line of sight, but otherwise it's not a concern.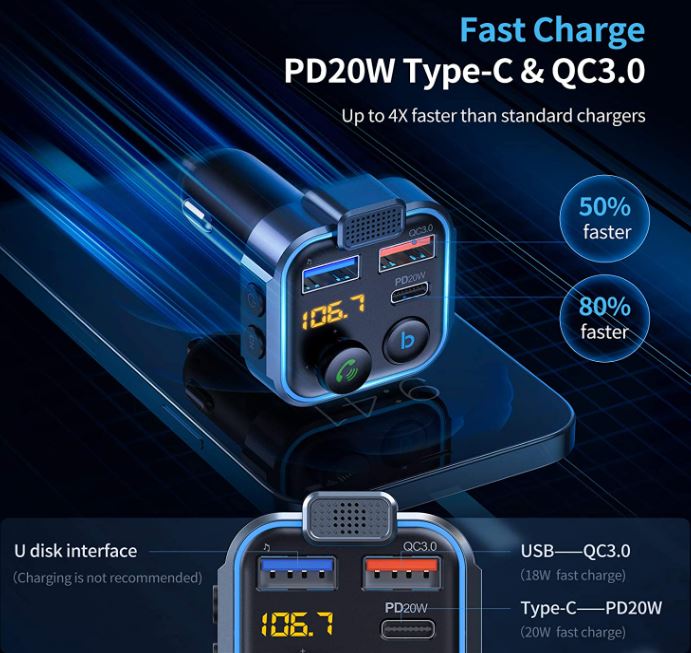 UNBREAKcable backs their Bluetooth FM transmitter with a 36-month manufacturer's warranty. If anything fails before then, you'll get a refund or replacement. That's pretty impressive, especially considering the reasonable price.
Connectivity, Call Quality, and Extras
As the name implies, you can connect the UNBREAKcable transmitter via Bluetooth 5.0. Alternatively, you can insert a thumb drive into the blue USB port at the top right and listen to MP3s. Playback quality is very good, and the bass boost button provides plenty of extra punch.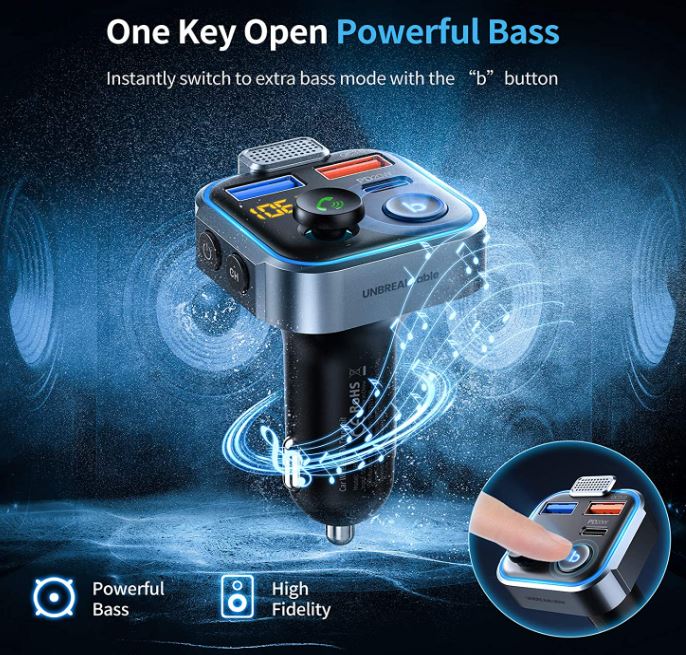 The top right USB port provides 18 watts of QC 3.0 power. That's 50% more than an ordinary USB port. The USB Type-C port is even more powerful, with 20 watts of current.
If you want to connect your iPhone and don't want to use an FM adapter, there's another way. You can use a Bluetooth auxiliary adapter to connect to your car's 3.5mm aux port. These adapters provide better quality, since they don't rely on an FM signal. On the other hand, they're also more reliable.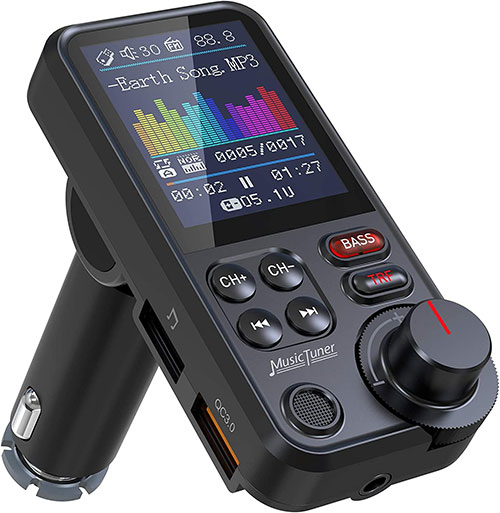 Nulaxy FM Bluetooth Transmitter for Car
The Nulaxy FM Bluetooth Transmitter for Car is also rectangular, but it's a bit beefier. This allows room for a 1.8-inch LCD display, which shows a ton of information. You can see what you're currently playing, the current track time, the FM channel, and the volume level. Meanwhile, the DC power plug on the back pivots 170 degrees for easy positioning and visibility.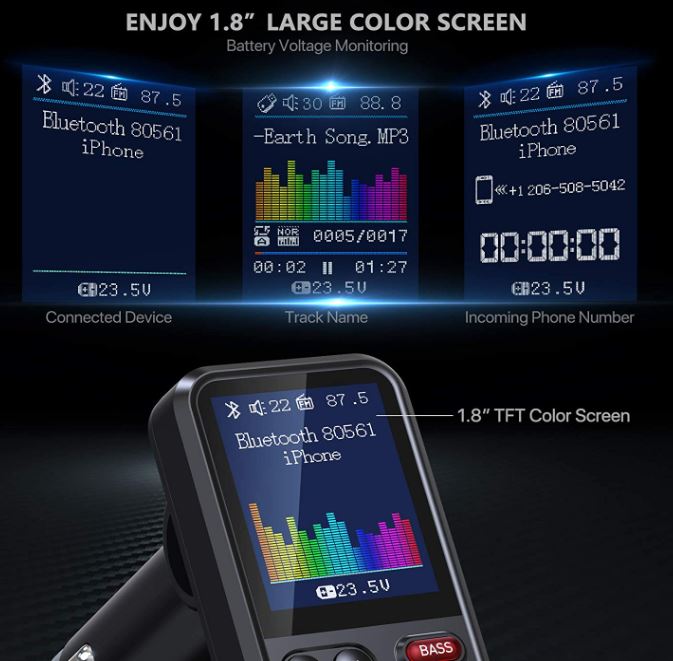 At the front right, there's a volume knob, which is a nice added touch. There's a circular mic at the bottom left, which is clearly visible. Above this is a set of four buttons. Two are used to change the FM transmitting channel, and the others skip tracks. To the right of these are two more buttons. One is for bass boost, while the power button is bizarrely labeled "TRF." You can also use Siri and Google Voice commands.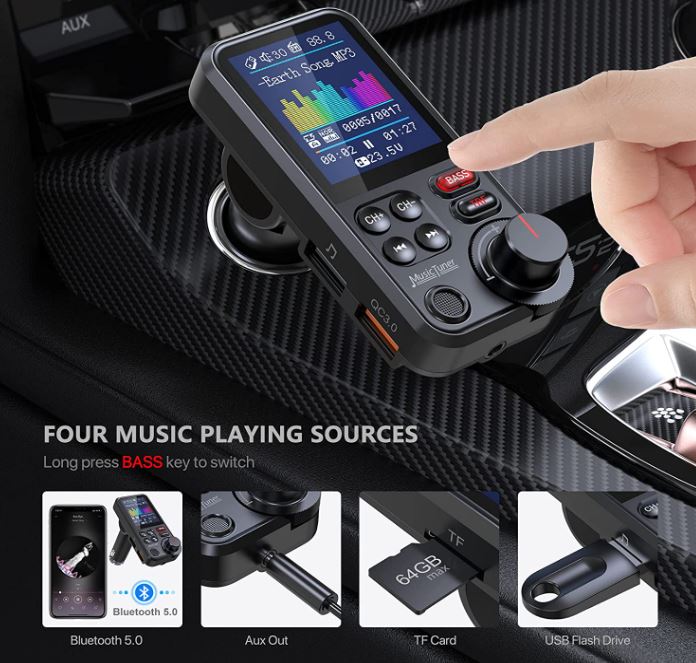 Connectivity, Call Quality, and Extras
You can connect to the Nulaxy transmitter using either Bluetooth 5.0 or the blue USB port on the left side. The audio quality is good, with plenty of volume and an excellent sound space. Call quality is also fairly good, although there's no noise cancellation.
The blue USB port provides standard 12-watt charging. The front orange port supports QC 3.0, but Nulaxy doesn't specify a wattage. As far as we can tell, it supplies 18 watts.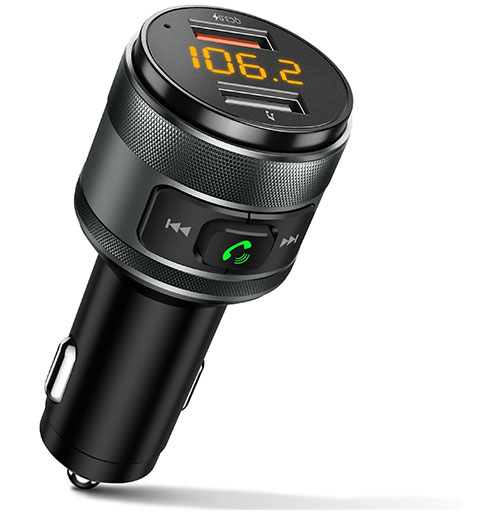 IMDEN Bluetooth 5.0 FM Transmitter for Car
The IMDEN Bluetooth 5.0 FM Transmitter for Car has a different design from any of the others. Instead of a square profile, the housing is circular. It's also very compact, barely wider than your car's DC power port. On the top surface is an orange LCD display, which shows your current FM station. There's a pair of USB ports above and below it.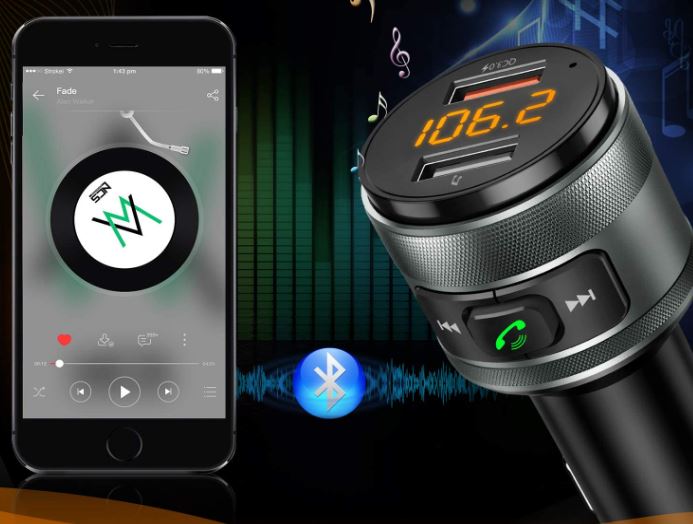 The other controls are located along the front edge of the unit. In the center is a green phone button, which sticks out further than the others. This makes it easy to press without adjusting your other settings. To either side of it are a set of black buttons that adjust your FM station up or down.
Connectivity, Call Quality, and Extras
There are two ways to play music on the IMDEN transmitter. First, you can use your phone with a Bluetooth 5.0 connection. Or, you can put a thumb drive into the front, (grey) USB port. Regardless, you'll get good audio quality, along with crystal clear calling. CVC noise cancellation makes you easy to hear, and music is clean and clear.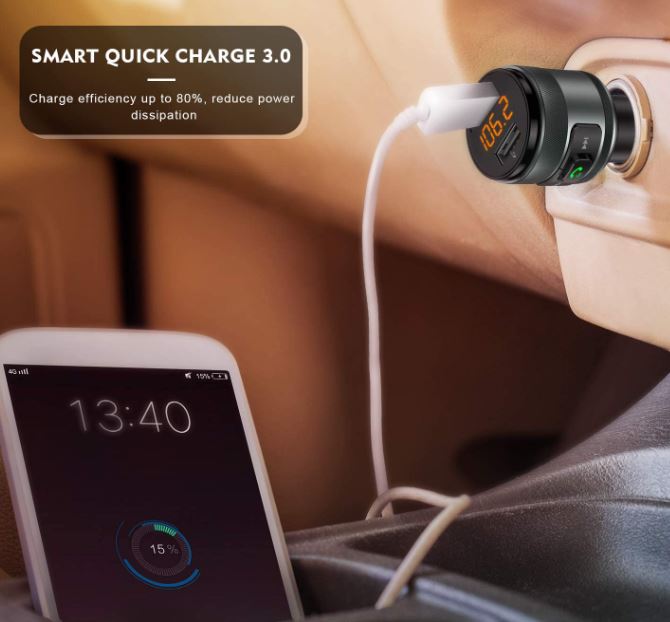 Charging is also not a problem. The grey USB port delivers a standard 12 watts, and the rear port delivers QC power. Both are protected from over-current, over-voltage, short circuits, and excessive temperature.
Final Verdict
All four of these Bluetooth FM transmitters are worth considering. But which one is the right choice for you? Here's what we've learned.
We began by reviewing the Criacr Bluetooth FM Transmitter for Car. This is a straightforward transmitter with top-tier audio quality and CVC noise cancellation. The signal stability is very good, and the controls are easy to operate. Our only complaint was the USB charging port, which is a bit underpowered.
Next, we looked at the UNBREAKcable Bluetooth 5.0 FM Transmitter for Car. This transmitter has easier-to-use controls, although the 5-way rocker has a bit of a learning curve. It doesn't have CVC, but it does come with an impressive 3-year warranty.
After that, we checked out the Nulaxy FM Bluetooth Transmitter for Car. This transmitter has a gorgeous LCD display that provides a ton of useful information. You also get built-in volume control, along with excellent music quality. It's a bit beefy, but that's our only serious gripe.
Finally, we evaluated the IMDEN Bluetooth 5.0 FM Transmitter for Car. This transmitter is more barebones from a control and display perspective. But it provides top-quality audio along with CVC noise cancellation. It also does a decent job of keeping your phone charged.