Technology tends to advance much faster than we realize. In the case of cell phones, we can look back only a few years prior and be shocked at what we used to consider high end. Audio equipment, on the other hand, doesn't seem quite as revolutionary. A five-year-old pair of headphones might not be quite as good as a modern set, but many people would be happy to make due. As long as they're easy to use, we're happy. From what most of us can remember, audio has always been easy. Sure, when we were younger we'd have to plug our headphones in. Now they're wireless. It's certainly an improvement, but not exactly life changing.
We're so used to high quality, easy to use audio gear that it's difficult to imagine things being any other way. To put things in perspective, let's look back a little longer. In the 1970s, getting high quality audio required quite a number of steps. A record player would play back your new album, sending the signal through a Phono pre-amp. It would then loop back into a reel to reel recorder, saving the audio on a long stand of tape that you'd have to manually wind onto the spools. Once recorded, you could play it back into the pre-amp, run it though an amplifier, and eventually through your loudspeakers. The process seems almost ridiculous in comparison.
We'd like to think that we've done away with such complicated, unnecessary systems. In many ways we have. But there is still one frustrating problem we all have to deal with – enjoying our music in our vehicle. Our cars are expected to last 20 or more years, and manufacturers never could figure out the best way to manage an audio system. Up until 2010, cars were still being sold with tape decks! In many cases, adding an aux port into your car requires that you rip out the entire head unit, redoing a bunch of wiring in the process. Failing that, you might be forced to use a disappointing cassette adapter, or wrangle together a series of wires and converters. Why can't there just be a simple interface that could connect all of our devices with all of our cars?
Fortunately, there is. Every modern phone has Bluetooth, and every modern car has FM. A Bluetooth FM transmitter is the bridge that can join these technologies together. This technology is often disregarded as there are so many low-quality models on the market. But if you know what to look for, they can be both easy to use and produce high quality audio. We've done our research, and compiled a list of the three best Bluetooth FM transmitters. While they might not make your morning commute any shorter, they'll certainly make it much more enjoyable.
Nulaxy Wireless In-Car Bluetooth Transmitter
The Nulaxy Wireless In-Car Bluetooth Transmitter probably looks a lot more advanced than the bargain big FM transmitters you're used to. But despite its futuristic looks, it's still incredibly affordable. The design is simple: you plug the base into your 12V outlet, and the adjustable stand keeps the controls right at arm's reach. It's bright back-lit LCD display and controls give it a modern edge, and ensure that it's easy to use. While you might not realize it at first, this handy little device is so much more than just a Bluetooth transmitter. It's an all in one media center that brings your dated car stereo into the modern age.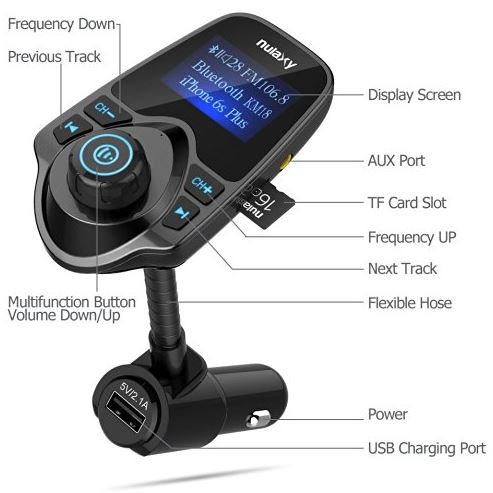 Audio Formats
Our favorite thing about this transmitter is the number of options it has. There's not a single portable audio device on the market that won't be compatible. In fact, you don't even need to own an audio device! You can throw your favorite MP3 files on an inexpensive micro-SD card and play your songs directly from the transmitter itself. For older devices that don't support high quality Bluetooth, there is a standard 3.5mm input on the side. Of course, it also supports the latest Bluetooth standards to provide you with the highest quality audio possible.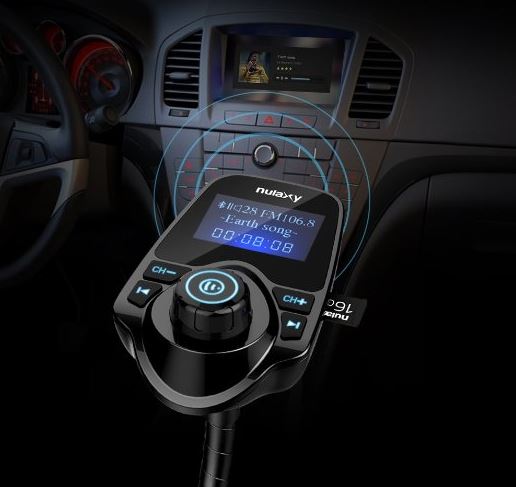 Sound Quality
Whenever you're transmitting audio from one medium to another, there's always some loss. It's important for both the receiver and transmitter to be of high quality, or else the audio can be seriously degraded. Fortunately, A2DP compression is supported. This is the latest compression for Bluetooth audio, offering virtually lossless audio.
The Nulaxy FM Transmitter was built to the same standard. It's often tough to find a decent model, as the FTC restricts how powerful they are allowed to be. But in our vehicle, we had no problem finding a strong signal. Even when we changed the orientation and moved the transmitter around, there was not noticeable distortion or dropouts.
The one disadvantage of a vehicles electrical system is that all components are grounded to the chassis. This means that your transmitter is often having to deal with feedback that results in a buzzing sound. But Nulaxy used noise cancellation technology to address this, giving it the best output we've heard from an FM transmitter.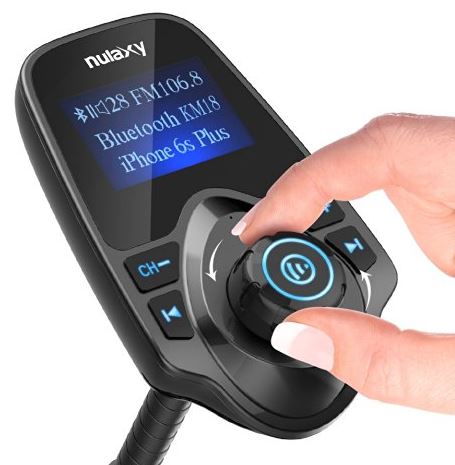 Usability
Ergonomics were clearly a priority for the designers. The flexible stand lets you place the controls exactly where you want them, so you'll never be fumbling around. The volume knob is large and easy to feel with your hands, so you don't have to take your eyes of the road to change the volume. The skip buttons are on either side, so we got used to them quite quickly. If you're stopped safely, the bright LCD display lets you see what's coming up next, so you don't have to change songs blindly. With the tight rules about using your phone while you drive, this is a great feature to have.
VicTsing FM Transmitter
The VicTsing FM Transmitter is a little more compact, but adds in a few extra connectivity features that you may find incredibly useful. Not only does it act as an all-in-one interface between your car and your mobile devices, but it's feature set has been expanded to offer everything you'd get with a new model car.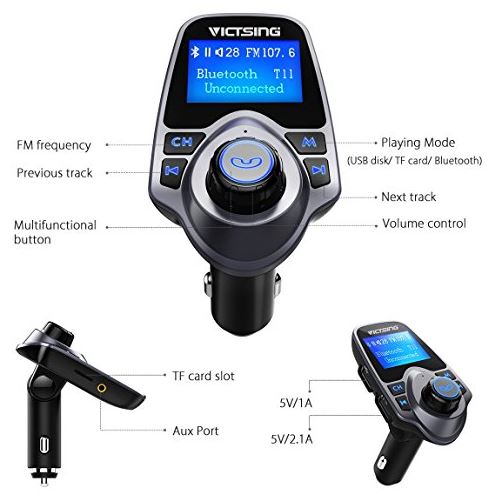 Audio Formats
While the latest phones support Bluetooth 4.1, this transmitter is still using the 4.0 standard. While quite comparable, you may notice a small reduction in sound quality if you're using high quality audio files. Likely, this will only affect about 10% of buyers who take advantage of this technology. Aside from Bluetooth, it also offers the same SD card and auxiliary inputs as the other model, so you're not restricted in anyway. But for that rare occasion when none of those formats will work, you can easily use one of the two available USB ports with a standard flash drive. No matter which type of storage you decide to use, you can enjoy MP3, WMA, or WAV files as needed.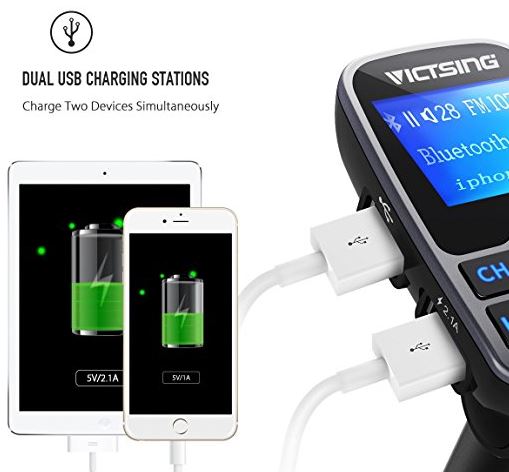 Sound Quality
With this transmitter, we noticed that the range was quite a bit larger than most Bluetooth receivers. It supports up to 5 meters, so your driving companions can control the music from the backseat without any dropouts. The FM transmitter was also quite powerful. Even in the city where it's hard to find an empty channel, we found that it was powerful enough to provide interference free audio as soon as it was turned on. Unless your car is very old or has electrical issues, we highly doubt that the lack of noise reduction would have any effect on your enjoyment.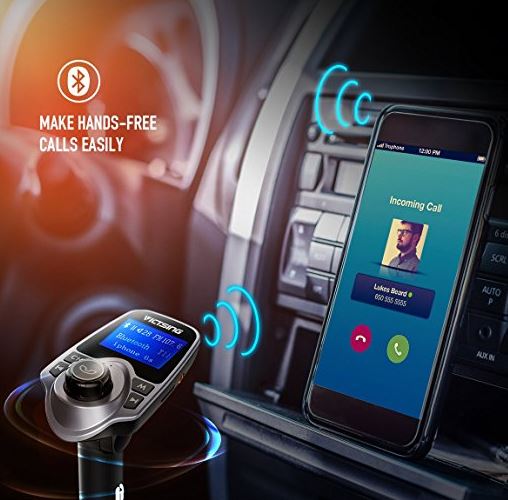 Usability
Since the VicTsing FM Transmitter is mounted directly to the plug, it's best used in cars where your outlet would be within arm's reach. But even if you can't place it exactly where you want, the controls are intuitive enough that you can change the volume or track selection with ease. For us, the simple controls aren't what make this transmitter stand out. That's a minimum requirement. What sets it apart is the built in microphone and hands-free capability. If you are receiving a call, just tap the center of the volume button and talk over our cars stereo system. The tiny pinhole mic might not look like much, but it's incredibly detailed and accurate.
Another pleasant surprise was the voltage meter built right in. At all times, it will let you know what the charge level of your vehicles battery is. While this isn't something you'll use every day, it could very well save you from a dead battery. And when everything is charged up and running well, you can tap into this power with the high speed. 2.1A USB charging port. No matter how long your drive is, your phone will stay juiced up and ready to go.
SoundBot SB360FM
If you are looking for something with a different interface, the SoundBot SB360FM might be worth checking out. The stylish round face and unique magnetic mounting bracket is unlike anything else on the market, allowing it to seamlessly blend in to even the most luxurious car interior. This unique design sets it apart from other transmitters in the looks department, but provides some functionality improvements as well.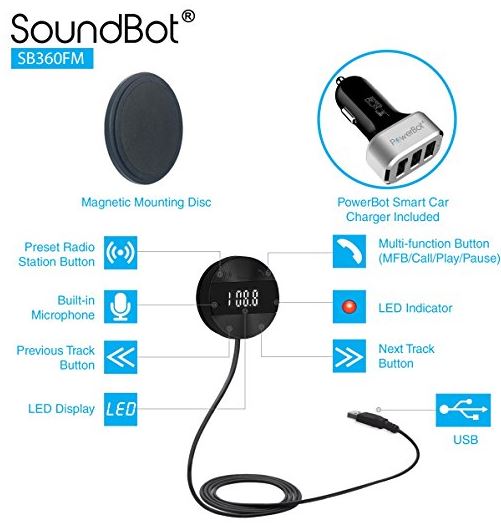 Audio Formats
With the latest Bluetooth 4.1 technology, this transmitter is capable of receiving very high quality audio. While it is a Bluetooth only device, any user who wants the convenience and quality of Bluetooth 4.1 is unlikely to need an aux port or support for flash media. Instead, you can enjoy any media from your phone with the touch of a button.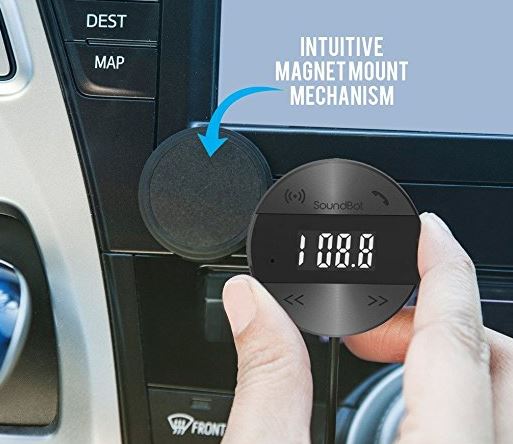 Sound Quality
We already know that it can receive high quality audio, but what about transmission? In our tests, we found that the signal was very clear and powerful. It comes with some handy pre-set frequencies you can transmit on. When you're driving, you often encounter a new station that can interfere with your signal. Correcting this issue is just a matter of pushing single button, then continuing on your way.
Where it excels isn't the transmission quality, but the call quality. The built in microphone is omnidirectional, so your voice will come through loud and clear. It also has an advanced noise reduction system, purging the call of unnecessary road noise.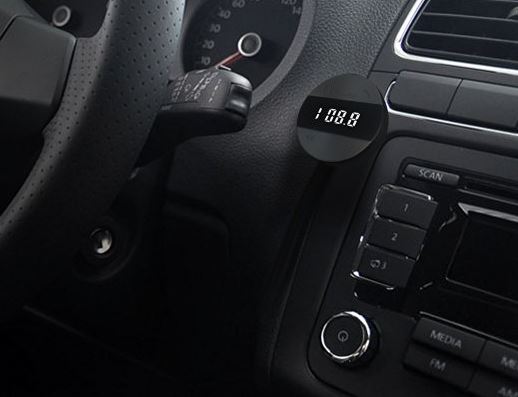 Usability
Once you've got it mounted, this is the easiest Bluetooth transmitter on the market. Just a single button can change tracks, activate Siri, or answer a call. Because it's mounted remotely, you can place it wherever is best for you, providing superior ergonomics.
Which Bluetooth FM Transmitter is Right for You?
Not sure which one you should pick? It all boils down to how you intend to use the transmitter. We've made some recommendations for three different usage scenarios.
If you're using an older car, you'll want to get the Nulaxy Bluetooth FM Transmitter. Up until the early 2000s, cars often had problems with grounding. This means that your sound quality can be drastically reduced. Fortunately, the Nulaxy transmitter has special filtering technology that can reduce this noise, giving you the best possible audio.
While Bluetooth is one of the most common ways to transmit audio, some users might want a jack-of-all-trades media center. In this case, the VicTsing FM Transmitter will let you play back audio files from almost any storage medium. While you're enjoying the road-trip playlist you threw on that spare SD card you had laying around, the voltage monitor and high speed charging ports will make sure that all of your batteries are filled to the top.
Do you plan on taking a lot of calls while you're on the road? The SoundBot SB360FM provides one of the best in-call experiences on the market. The high-quality microphone and magnetic mount mean that you'll be heard loud and clear, even on the highway.
Was this helpful? Please consider sharing: