Bluetooth headphone earmuffs are becoming more popular due to their combination of warmth and convenience. Not only do they provide a solution for hands-free music listening and phone calls, but they also keep your ears warm in cold weather.
With the ability to connect to any Bluetooth-enabled device, they allow you to enjoy your music, podcasts, and audiobooks on the go. While they're also a great tool for outdoor sports, they're just as convenient for daily commutes to work or home in cold conditions.
With so many options available, it can be overwhelming to find the perfect pair. To help with your decision-making, our team of experts have put together this article to help you navigate the best Bluetooth headphone earmuffs currently available. We'll be highlighting the key features and benefits of each pair, so you can make an informed decision and find the perfect set for your needs.
Since everyone has different needs, we chose a variety of pairs that offer extra benefits over other models to match different preferences. In this article, we'll look at the top four options on the market right now.
Factors When Choosing Bluetooth Headphone Earmuffs
Sound Quality: It goes without saying but everyone wants a set of headphones with good sound quality, balanced frequency response and minimal distortion. Just because they come in a different form factor does not mean the audio quality should suffer. Pay attention to the type of material being used over the speakers. Selecting a pair that properly fits your head will also help with this.
Battery Life: Consider how long the battery lasts and how long it takes to recharge. The type of charging connection is worth thinking about also. Going for headphones that have the same connection as your other devices may allow you to cut down on clutter. If you intend to make a lot of phone calls, you'll want to pay more attention to estimated call time as opposed to music play time.
Comfort: Look for headphones that are comfortable to wear for long periods of time. We tested each for hours on different head and ear shapes and sizes. You'll want to look for models that don't put too much pressure on the ears and are made of materials that allow breathability while promoting warmth.
Noise Cancellation: If you're looking to use headphone earmuffs in a busy area with lots of noise, you'll want to make sure they provide decent noise cancellation. This can come in many forms including how they're constructed to "seal in" your ears from outside noise.
Durability and Water Resistance: If you plan to use headphone earmuffs in wet or damp conditions, look for ones that are water-resistant. If you intend to take them out on the slopes or on a run, it's important to make sure that they can stand up to the added moisture and residual wear and tear.
Connectivity and Compatibility: Consider the type of device you'll be using the headphones with and ensure they're compatible. Nowadays, almost any and every device supports Bluetooth, so this shouldn't be much of a worry.
Microphone Quality and Controls: If you plan to use them for phone calls, you'll need to prioritize a high quality microphone that's positioned correctly. In our research, we opted for versions that had a well-positioned microphone, free of unneeded obstructions such as extra material. You should also opt for easy-to-use controls that you can remember and access when on the go.
Brand Reputation and Customer Reviews: With the explosion of new brands on the market, it's become easier to get high quality headphone earmuffs at a competitive price. However, it's important to still opt for brands that have a track record of developing high quality products. In addition to scouring hundreds of reviews, we surveyed many users who have put them through the paces.
Price vs Features: Compare the features to the price to ensure you're getting a good value. Also, don't pay for features you never intend to use.
Best Overall: MUSICOZY Bluetooth Ear Muffs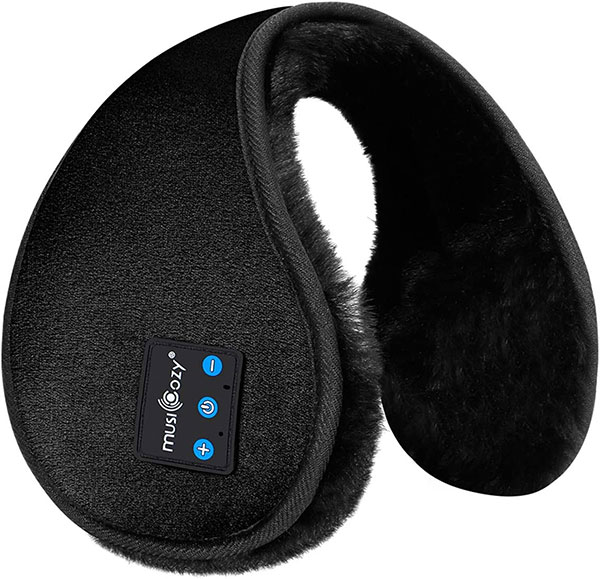 Key Features:
Bluetooth 5.2
Hands-free calling.
One size fits most (men, women, children)
3-layer material design.
Weight: 3.6 ounces.
When we made our decision about the best overall option, we identified the MUSICOZY Bluetooth Ear Muffs because of their ability to meet the criteria we set. While there are some ear muffs that sound better or have a longer battery life, in terms of the total package and actual execution, this model wins out.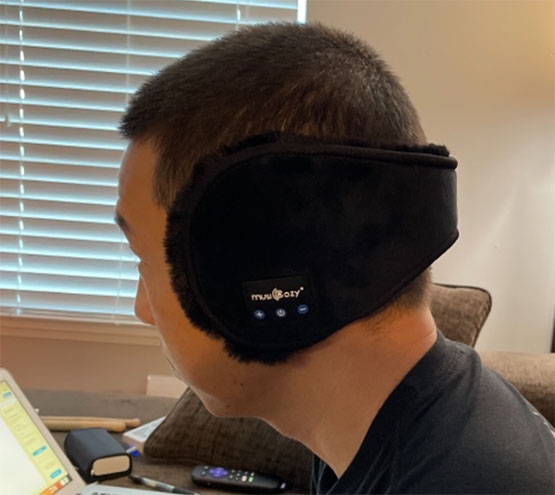 You can tell there was a lot of thought put into their approach to the fit. The form factor is pleasing to the eye and provides a fashion-forward aesthetic. However, we found this was more a result of function than form. From the shape of the ear cups to the slope of the strap and how it rests around the neck, it's one of the most comfortable pairs of ear muffs we tested. Simply put, there's enough tension to keep things in place, but we found the pressure placed on the ears and temple area to not be excessive.
We were unsure of the materials they used at first. Our concern was that the faux fur material would be itchy or cause a ticklish feeling. In all honesty, the texture on the ears took some getting used to. However, once our team put them to use, we actually became fans. The faux fur provides just enough ventilation to keep things breathable. This was a big plus, especially when being worn for hours at a time or underneath a pair of goggles or a helmet.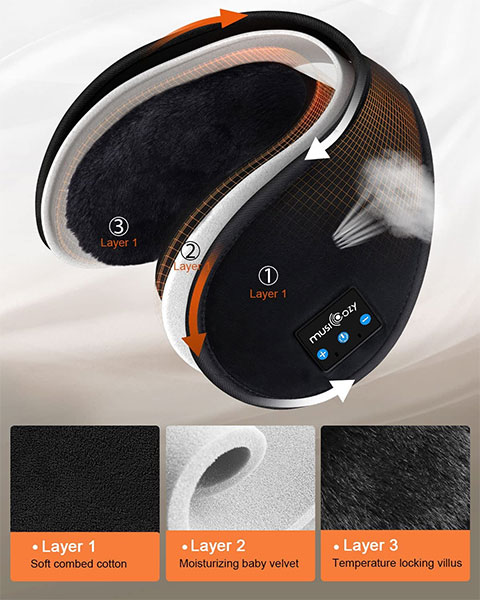 The only issue we found with this was when excessive moisture entered the picture. This resulted in the material clumping so that it wasn't able to move away from the skin. It's worth noting that this happened a few times, but if you tend to sweat a lot, it's important to keep in mind.
We appreciate the color options that come with the MusiCozy. Black is nice, but it's good to have other options. Of the color options, brown stood out. One major reason is that it has a similar brown color to UGG boots and slides on the market, which may be appealing to some.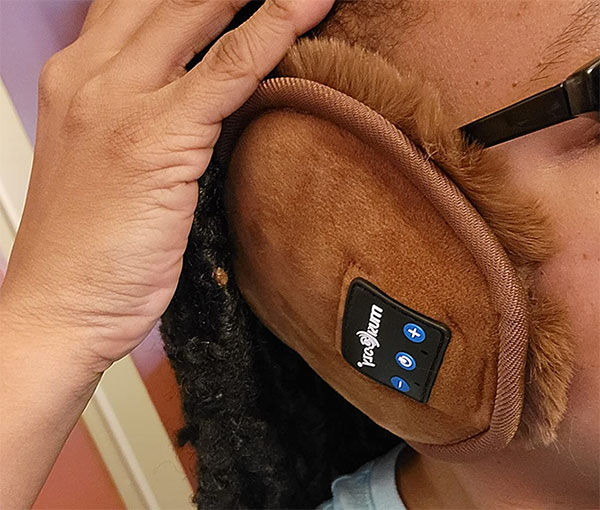 Moving onto the speakers, we found that the construction of the materials and placement of the hardware worked well together. The material overtop kept things comfortable without hampering the audio quality excessively. Sound distortion is a common problem with earmuff headphones. This is usually caused by cheap parts, too much material, or bad placement. This wasn't the case with this model. The distortion was minimal and only became noticeable with a lot of high-intensity movement. Apart from that, it did great in conditions similar to taking a commute in the city on public transportation.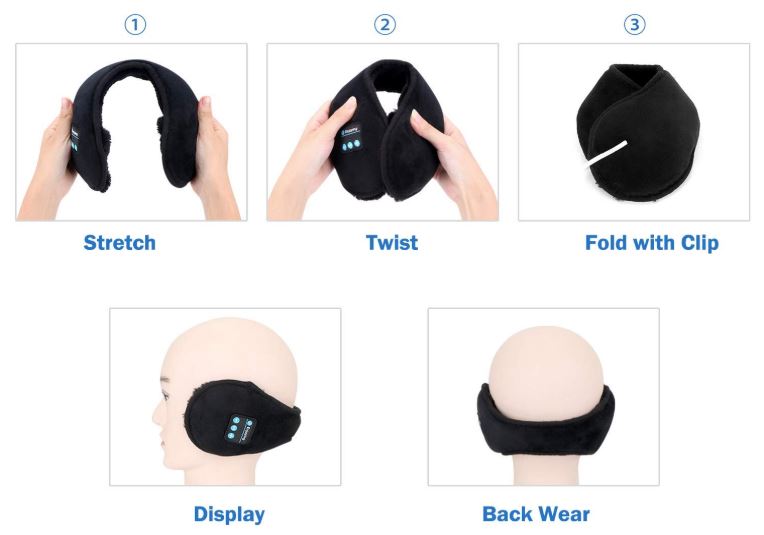 Battery life is decent. The product description mentions up to 10 hours of playing time. Our tests found the average to be around 8 hours of continuous play. When it comes to battery life when making calls, it's in the middle. Our average was 2.5 hours. It's not great, but it's still serviceable. The quick charging time compensated for this. We were back up and running with a full charge in just over an hour.
Apart from the call battery life, we enjoyed the calling features. The controls are easy to navigate, and the built-in microphone delivers solid vocal quality. It's an omnidirectional mic that is optimized to keep background noise to a minimum. Besides very loud distracting noises, it held its own.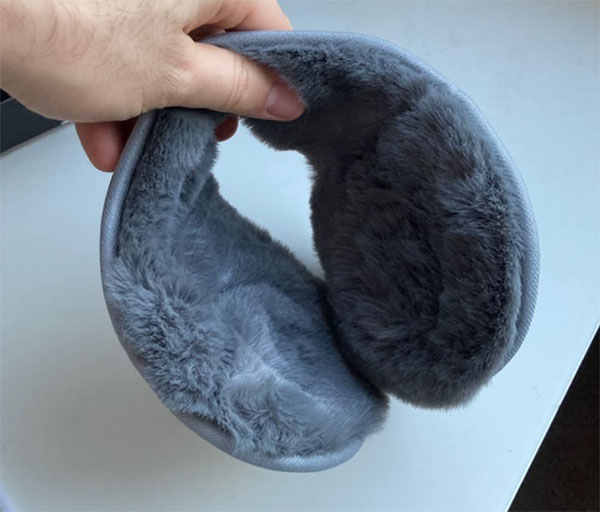 Of the dozens of models we tested, the combination of sound quality, comfort, and materials set the MUSICOZY Bluetooth Ear Muffs apart. The fact that it could be used by every member of the family made it convenient. As a final note, it comes with a charging cable and carrying bag to round out the package, which is a nice touch.
What We Liked:
Comfortable universal fit.
Solid speaker components.
Sound has minimal distortion.
Audio controls are easy to use.
What We Didn't Like:
Faux material does not do well in moist conditions.
Battery life on calls could be better.
Best Runner-Up For Men: 180s Bluetooth Ear Warmer
Key Features:
Fleece-lined.
Designed specifically for men.
Adjustable sizing.
We wanted to include a runner-up option for men. This can be important, especially when it comes to fit, sizing, and speaker placement. Having something that caters specifically to men, especially if it'll only be worn by one person, might be a good idea. The results tend to be better.
The 180s Bluetooth Ear Warmer is a strong contender in this space. As a brand, they've built a great track record with product innovation and solid manufacturing practices. The build quality is very good. The materials are decently breathable and have a wicking effect, which allows moisture to move away from the ears. From the lining materials to the frame underneath, it all feels very robust.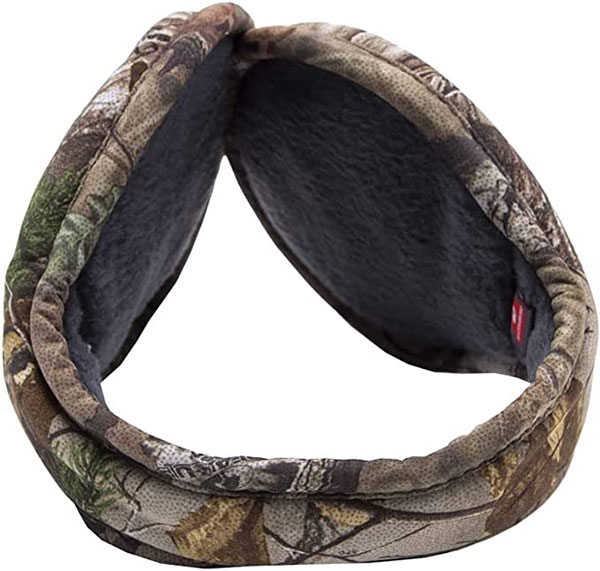 For a lot of men, durability is a factor. With high-intensity activity, constant size adjustments, and repeated drops, our team pushed this pair to its limits. The 180s came out with minimal issues. In addition, they're fully water-resistant, which makes it a good option if you intend to use it while playing sports or running outside.
These earmuffs connect via Bluetooth. We weren't able to find the exact version they uses on any of their material. However, there were no connectivity issues when we tried to pair them to different phones, tablets, and laptops. We like the audio controls on the MUSICOZY better, but these are still fairly easy to navigate.
Overall, the speaker quality is solid. It isn't as strong and loud as some, but they seem to do a decent job at reducing distortion. The snug fit around the ears does a good job of keeping noises at bay with passive cancellation.
Battery life and talk time are areas in which these headphone earmuffs shine. The 180s have the MUSICOZY beat by an average of 30 minutes of playtime and a whole 3 hours when it comes to call time. If you're on the phone a lot, this model would be the ideal way to go.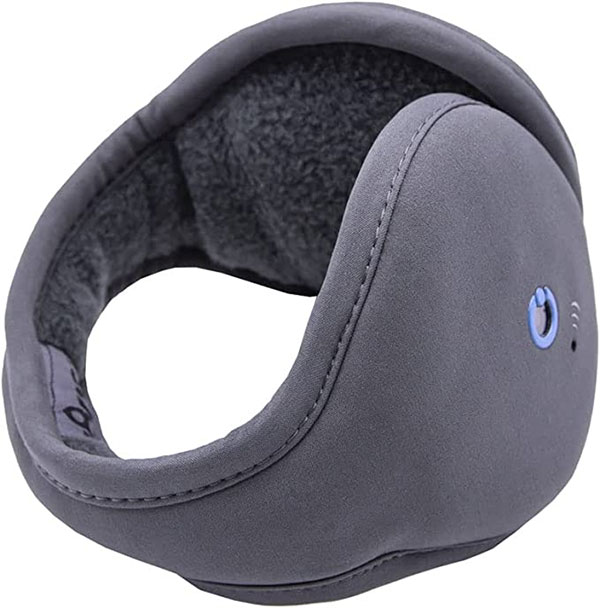 One downside is that we wish there were more color and pattern options. The camouflage pattern on this model is great for some men, but in 2023, tastes will vary. Fortunately, they're also available in a Dark Shadow color which is much more neutral in a shade of grey and blue.
What We Liked:
Materials are breathable.
Speakers are high quality with minimal distortion.
Bluetooth connection is solid.
Fit is optimized for larger head sizes.
Great battery life with decent charge times.
What We Didn't Like:
Limited color/pattern choices.
Best Runner-Up For Women: 180s Bluetooth Ear Warmer
Key Features:
Fleece-lined.
Designed specifically for women.
Adjustable sizing.
The 180s Bluetooth Ear Warmer make an appearance for our best runner-up for women as well. We tested lots of options in this category and were not able to find one that performed as well as these did, at this price point.
What we've stated for the 180s earlier stands true for this model. However, we believe they did a better job optimizing the fit for women in this specific model. When our team put them on, we were impressed at how comfortable they were on the ears. The fit was snug but avoided the pressure points that plagued so many other models we tried. Wearing them for continuous hours was not an issue.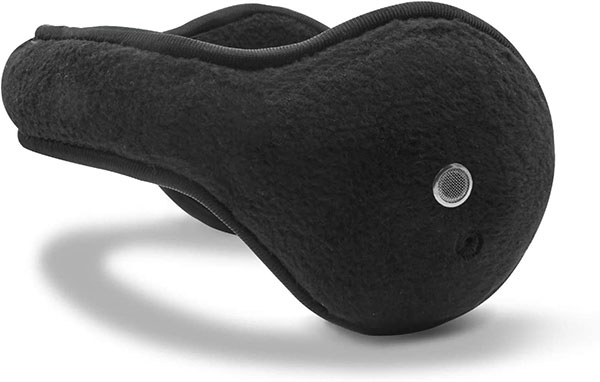 Another important factor is speaker and microphone placement. Many women find that the mic on headphone earmuffs made for both men and women is either too far forward or too low for the best voice pickup. We didn't have that issue with this pair.
One thing they did for the women's version was to stick with a neutral white color scheme. This lets it go with nearly anything, which is a big factor. They seem decent at staying clean, which we were concerned about given the white color. Alternatively, there's an all-black version as an option as well.
Overall, if you're looking for a pair of earmuff headphones that are optimized for women, this is a strong contender.
What We Liked:
Speakers and microphone placement are ideal for most women.
Breathable material.
Strong Bluetooth connection.
Neutral colors works with most wardrobes.
Long battery life.
What We Didn't Like:
Would like more color options.
Best Alternative: Fulext Bluetooth Beanie Headband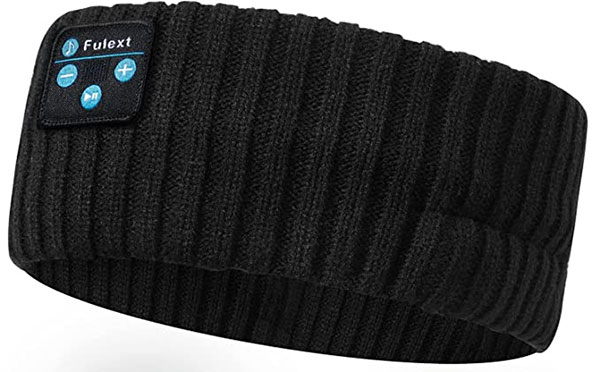 Key Features:
Bluetooth 5.2
Headband form factor.
75% cotton 25% nylon.
Unisex design.
Fully washable.
There are situations when the traditional earmuff form factor may not be the best for your needs. For many people, a headband-style design is preferred. There are some benefits to this, including a more secure fit, better management of long hair, and more flexibility in placement.
We opted for the Fulext Bluetooth Beanie Headband as an alternative due to their ability to securely fit a variety of head sizes and shapes. The materials provide enough tension and do a decent job of contracting back to normal quickly. A common problem with this form factor is that they tends to get loose after prolonged wear. While the Fluext is not immune to this, we found that it only ran into this issue after 5 or 6 hours of intense wear. If you aren't doing activities like running or skiing, this is not likely to be an issue.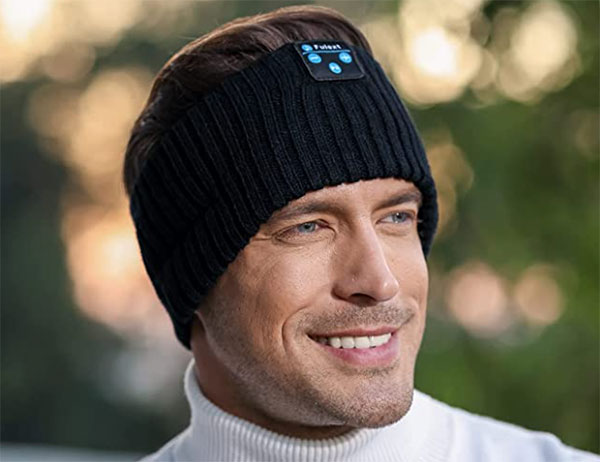 Another factor is speaker quality and placement. Because headbands can be worn in different ways and may expand and contract to fit, many models have a difficult time accurately placing speakers for an optimal listening experience. This version seemed to handle different head sizes well, and the speakers were often right where they were supposed to be.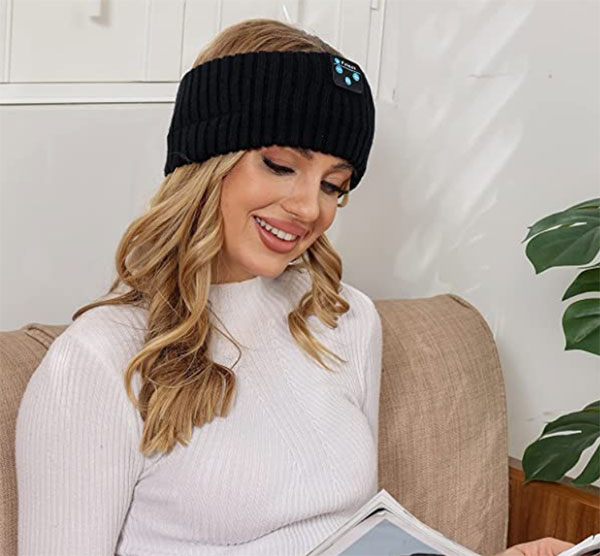 With Bluetooth 5.2 onboard, the Fulext rarely dropped connections, and we had clear calls and good sound quality most of the time. Only rarely did we experienced any interference or distortion with rigorous activities.
Overall, if you prefer this type of form factor, it's a great alternative to any of the aforementioned. Its color, knit, and easy-to-reach controls make it a fashionable option that's very easy to use.
What We Liked:
Snug fit for various head sizes.
Optimal speaker and mic placement.
Good looking knit and color.
What We Didn't Like:
Some report that battery life can be inconsistent.