If you live somewhere where it gets cold, then you probably want to wear earmuffs from time to time. Which is great, until you also want to listen to some music. That's when you're stuck deciding between frozen ears or silence. Bluetooth headphone earmuffs can provide a solution, albeit one that's a little strange.
Bluetooth headphone earmuffs are somewhat niche, so it's unfortunately quite easy to end up finding pairs which are pretty close to total junk. It does take a little bit of attention to avoid earmuffs that are unsuitable for your purposes.
Note: At no extra cost to you, we may earn a commission for purchases using our links. Learn more.
Choosing the Best Bluetooth Headphone Earmuffs
Finding the best Bluetooth headphone earmuffs is far from difficult. At least, if you have a good idea of what you want to find. You might be looking for sound quality above all else. Your primary concern might be style, or perhaps the only thing you care about is staying warm.
Battery Lifespan
Batteries don't do well in the cold. That's why Bluetooth headphone earmuffs are a somewhat strange idea. But when the earmuffs are designed in such a way that their batteries are shielded from the cold, they are capable of delivering a battery lifespan that nearly compares to a regular Bluetooth headset.
If you get familiar using Bluetooth headphones in warm environments, then you come to expect lifespans you often can't achieve in colder environments. Though most headphone earmuffs will advertise themselves as capable of six or eight hours, the best Bluetooth earmuffs are often capable of providing as little as four hours of playtime.
Once again, that really depends on how cold it is outside, and how well-made the earmuffs happen to be. That's why many brands won't even venture a guess as to how long the battery will last.
Build Quality
Is the battery reasonably well shielded from the cold? Are the earmuffs going to fall apart the moment they become wet? Headphones which are waterproof or water resistant will do better in the snow.
You also want to look at the materials used for each Bluetooth headphone earmuff you're considering. Many so-called headphone earmuffs are little more than ordinary Bluetooth headphones that have fake fur pasted on their sides. Of course, that's precisely what some people are looking trying to find.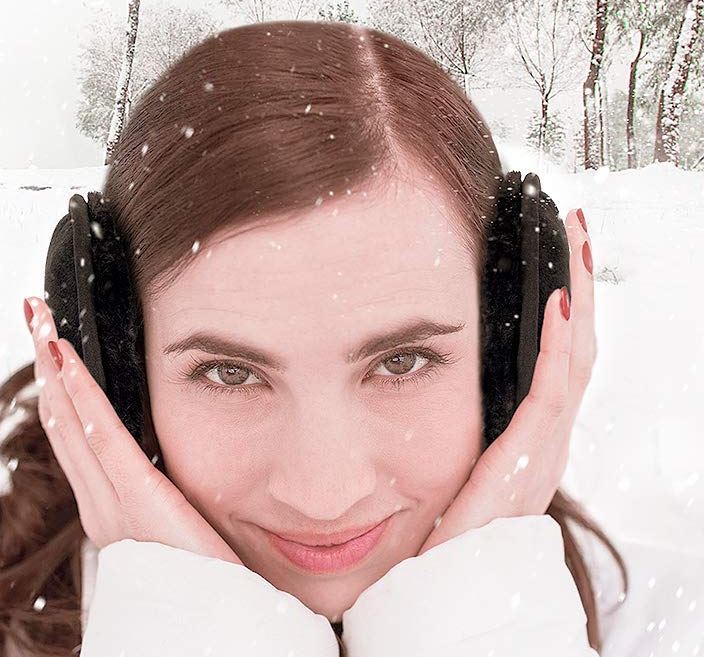 Comfort and Warmth
It's always important to look for comfort. When it comes to earmuffs and headphones, comfort typically means adjustability. However, one-size-fits-all designs do tend to work for most people, most of the time. It's not wise to discard either option out of hand.
People who are interested in warmth above all else should seek headphone earmuffs made from either animal hides or synthetic animal hides. Someone who's less concerned about having insanely warm earmuffs will simply want to ensure they provide a full, soft seal over the ears.
Sound Quality
It might sound strange, but you don't have to obsess over sound quality. Nearly all of the best Bluetooth headphone earmuffs will end up sounding somewhat similar. Virtually nobody who makes these types of devices are aiming for the stars with their audio performance.
The goal seems to be utilizing technologies like Bluetooth to ensure a basic level of high fidelity audio streaming that compares with similarly expensive headsets. As long as you don't find terrible reviews claiming that some earmuffs sound terrible, you're headed in the right direction.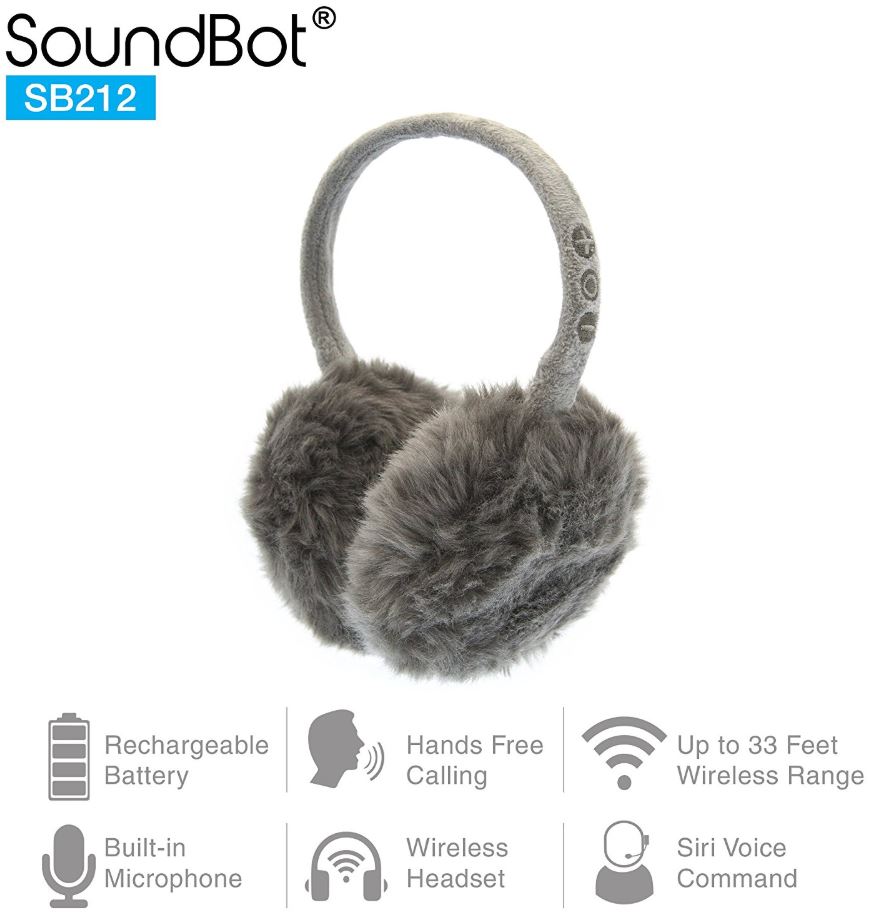 SoundBot SB212
The SoundBot SB212 are comfortable, soft, and warm. They're built with a highly compact design that's also fully foldable. Folding them involves shortening the headband to its smallest setting, then folding the earmuffs towards the headband. When all is said and done, one ear-cup lays against the other, with the headband separating them in the middle.
There's just as much adjustability when placed against your head. The headband can be entirely adjusted and the ear cups provide several degrees of tilt for swiveling. This doesn't only work for comfort, but also works to make the SB212 perfect for storage and portability.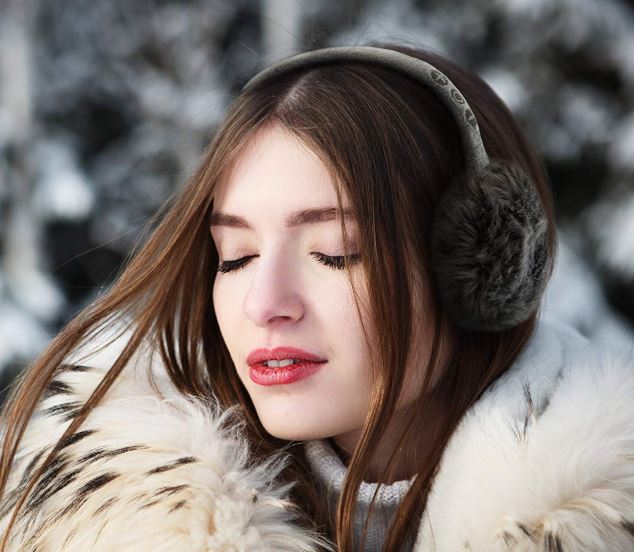 Build & Design
The SB212 weigh about nine ounces. Because the headband is so slim, the weight of these headphones really aren't well distributed. For an hour or so, that isn't going to affect comfort.
But if you were planning on wearing these headphone earmuffs for upwards of five or six hours, you would want a wider headband. It wouldn't be as much of an issue for someone who was also wearing a hat, or someone who had thick hair.
The faux fur material actually doesn't do very much to help with temperature, it's mostly an aesthetic thing. But they are somewhat warmer than an ordinary pair of Bluetooth headphones. The faux fur is available in white-on-gray and gray-on-gray.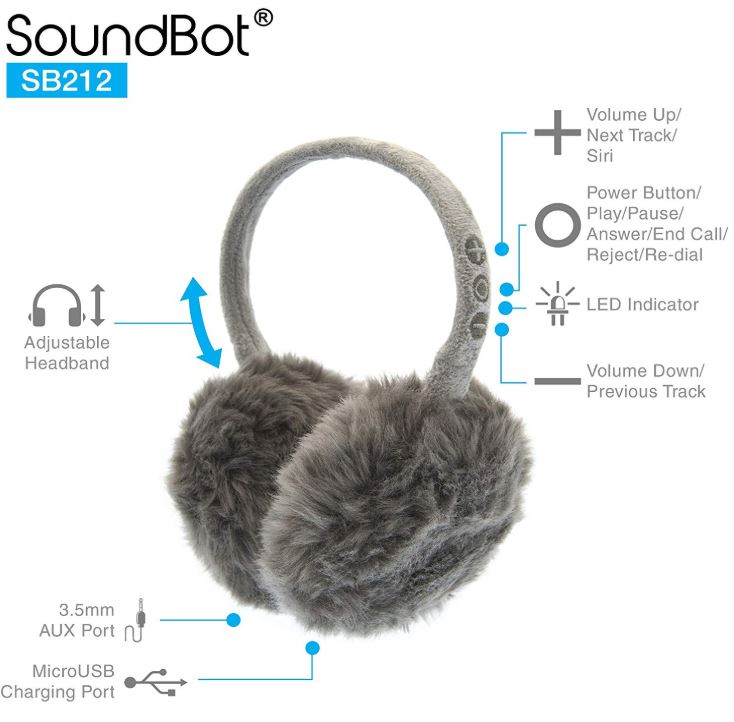 Along the left side of the headband, there are three smart control buttons to help you navigate between tracks, raise or lower the volume, or otherwise maintain control over your listening experience. They're actually fairly large buttons, about the size of a quarter, which makes them easy to find and use while the SoundBot SB212 is on your head. Even if you're wearing gloves!
On the base of the right ear cup, there's a 3.5mm audio port you can use for a wired connection. Going to the wired mode will drastically increase the battery lifespan because it means you won't have to use Bluetooth. It does seem a little silly to wear wired earmuffs, but if it's not a bother, it really can help draw out the battery's lifespan.
Other Considerations
The SB212 are reasonably power efficient. They were constructed with a rechargeable lithium-ion battery intended to provide five hours of playtime. That actually stretches out to eight hours of talk time. Of course, these estimates can literally depend on the weather, so it's worth taking them with a grain of salt.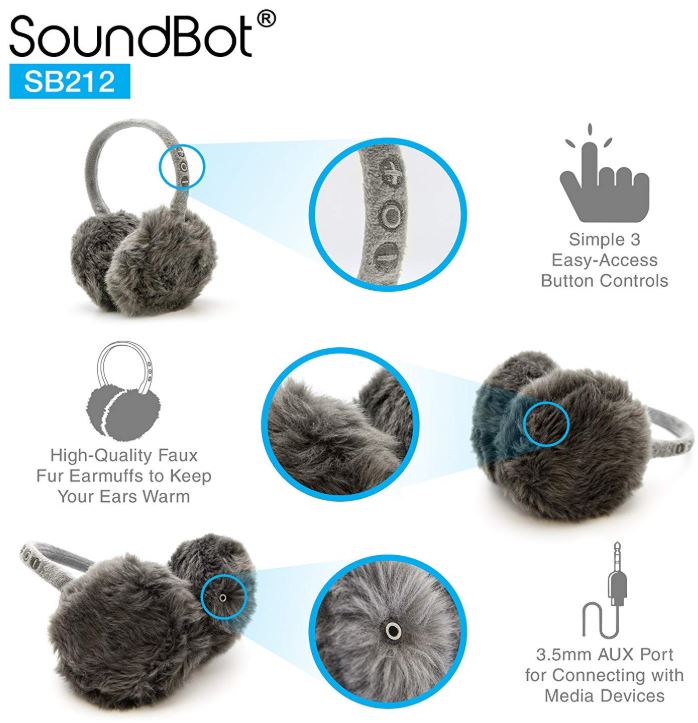 The most significant limitation of these headphones is unquestionably the standby time of the battery. It caps out around 60-hours, which is just short of three days. You need to be on-top of charging the SB212 or you'll pick them up to discover the battery drained while you weren't looking.
Using Bluetooth 4.1, the SB212 can offer about 33-feet of wireless connectivity. Certainly should be enough to provide the wireless connections most people need, especially because most people will be broadcasting from the smartphone in their pocket. The SoundBot SB212 includes a 3.5mm audio cable, which you can use to make that wired connection. It also includes a micro USB charging cable, and a user guide.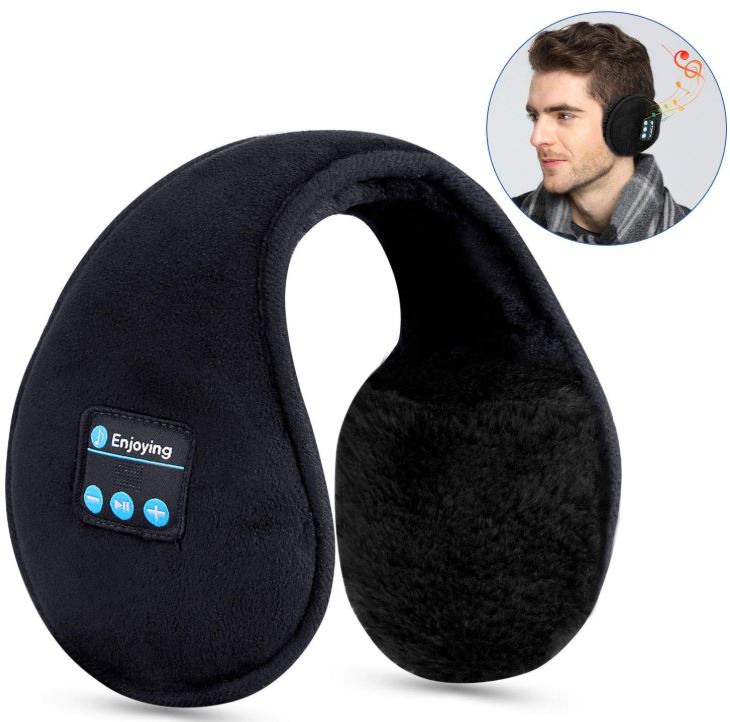 TOPOINT Bluetooth Earmuffs
TOPOINT Bluetooth Earmuffs barely look like headphones at all. There's almost no distinguishing characteristics between the headband and the ear-cups, as if these headphones were just one big slab of fabric. This slab of fabric is worn behind the head, not totally unlike a scarf.
Putting aside their striking appearance, another thing you'll be quick to notice about these headphones is the softness of their all-fabric body. Not only do TOPOINT Bluetooth Earmuffs wrap warmly around your head, they allow you to keep layering on more clothing. Because the design is essentially flat, it doesn't get in the way of adding other layers over and around the earmuffs.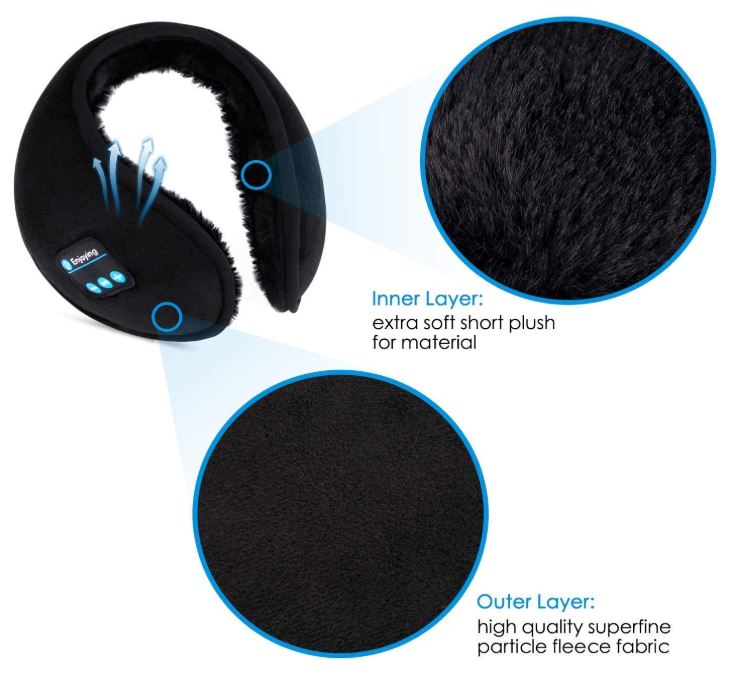 Build & Design
The right ear-cup has four touch buttons, which look as though they're stitched into these Bluetooth earmuffs with fabric. Because the buttons aren't very distinct, it can be tough to press the right one without actually looking at the earmuffs. But you can work your way through it by trial and error, so it's not too tedious to control your music.
While made to be durable, the TOPOINT Bluetooth Earmuffs are also made to be comfortable. At least, for most people. These earmuffs use a one-size fits all design. Though you can't really make any significant adjustments to the size of the earmuffs, their sideways design allows you to make adjustments to the angle at which you wear these Bluetooth headphone earmuffs.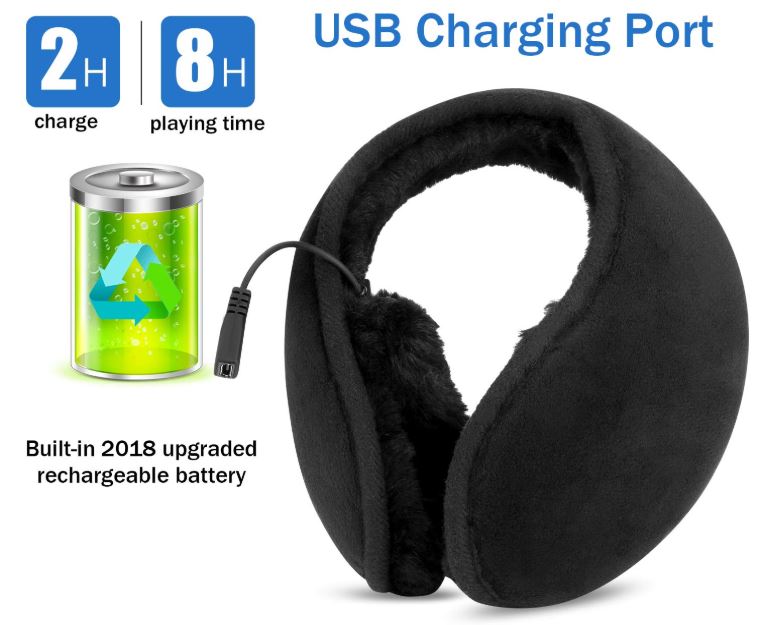 With the right adjustments, your ears remain covered, your ears can hear the music, and the TOPOINT Bluetooth Earmuffs feel pretty cozy. The all fabric body of these headphones is wrapped in a warm fleece-like material. It's also a fully washable design, you can pull off the cover and clean it with minimal effort. The cushioning is stitched to be durable, and makes use of silk lining.
Other Considerations
TOPOINT makes use of Bluetooth 4.2 for HD audio quality, and easy compatibility with basically anything you'd want to connect them with. That includes tablets, smartphones, and so forth. That works out quite well for their audio quality, which sounds about average when compared to any pair of similarly expensive headphones.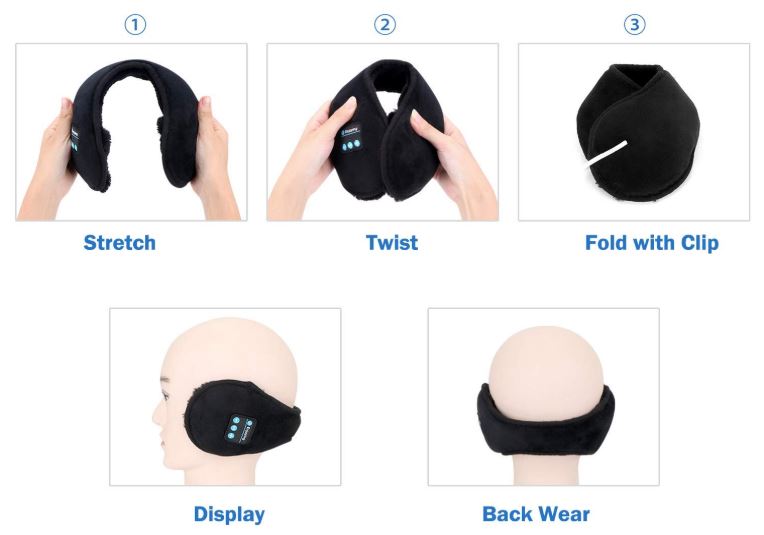 The only audio obstacle to consider is that sometimes it can be difficult to get the speakers positioned perfectly center over your ear, depending on how they fit against you.
Another thing TOPOINT doesn't really have going for it is style. That's not to say the TOPOINT Bluetooth Earmuffs are by any means ugly, but they're certainly very utilitarian. Which makes these earmuffs a good choice for someone who really cares about getting the job done more than looking great while doing it.
The built-in battery is a 200mAh lithium-ion rechargeable cell, capable of delivering about eight hours of playtime. And their charge time works out to about two hours, which is pretty close to average for a pair of Bluetooth headphones.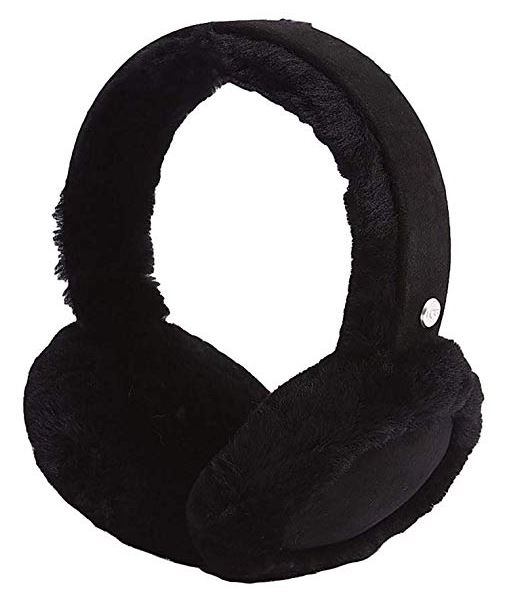 UGG Womens Bluetooth Tech Earmuff
In many ways, the UGG Womens Bluetooth Tech Earmuff is similar to the TOPOINT earmuffs. In other ways, they're the complete opposite. With respect to similarities, these earmuffs don't really have much to offer for adjustability.
The 12" circumference of these earmuffs isn't going to be a universal fit for all women, but they were specifically made for slightly smaller heads. No matter how stylish they might be, based on merit of size, men should certainly think twice before considering these.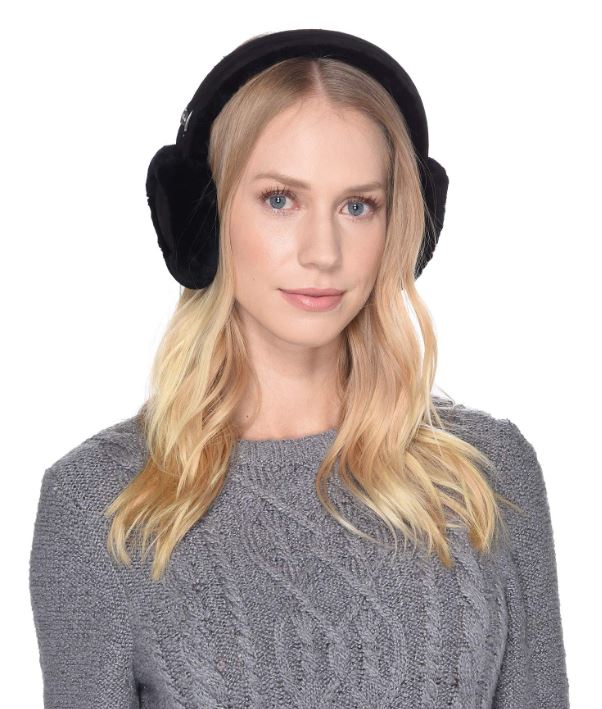 Build & Design
The UGG Tech Earmuffs are constructed with a heavy emphasis on style. They use a stylish black leather sheepskin body. The plush shearling lining feels as comfortable over your ears as a pair of cozy boots. The outer shell is composed entirely of sheepskin leather; real fur that's been dyed.
Because the fur's been dyed, you have several options for color. UGG Womens Bluetooth Tech Earmuffs are available in black, chestnut, lantana pink, port brown, and stormy gray. Each option is striking in its own way, though really this comes down to a matter of taste.
All Bluetooth headphone earmuffs are a mixture of two devices, earmuffs and Bluetooth headphones. The UGG Women's Bluetooth Tech Earmuffs certainly do the earmuff portion of this recipe correctly. When it comes to the Bluetooth headphone side of things, you'll find the sound quality compares with a pair of $40 headphones.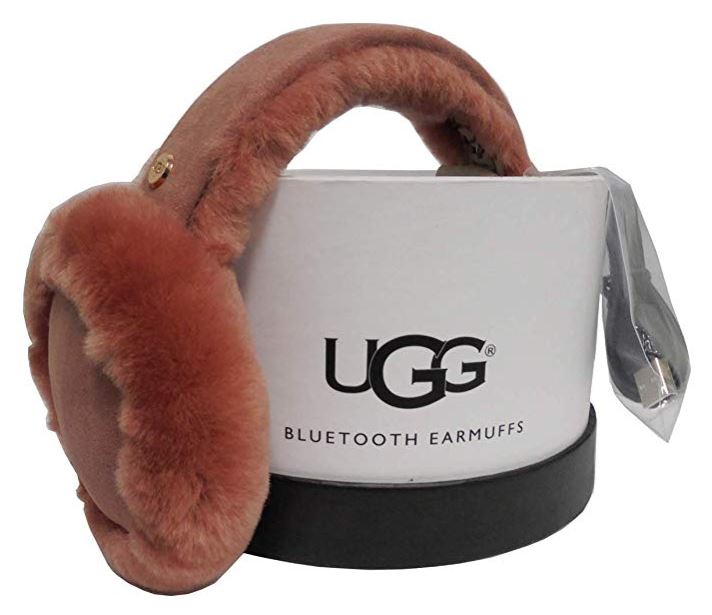 Other Considerations
It may be worth noting that UGG hasn't selected sheepskin for these earmuffs only in the interests of style, but because it's an effective layer of protection against water and snow.
UGG products are imported from Australia, but much of the material for these earmuffs actually originated in Spain.
Choosing Between Three of the Best Bluetooth Headphone Earmuffs
The SoundBot SB212 is fairly stylish. It's a reasonably good Bluetooth headset in most respects. But the best thing about these Bluetooth headphone earmuffs is really their price. They're not the most comfortable or the most effective pair of earmuffs you'll find. But they're warm, they look nice, and they are terribly cost effective.
TOPOINT Bluetooth Earmuffs are probably the right choice for most people. Though the one-size fits all design is certain to alienate some people, they're equally certain to find a loving audience. They provide the kind of warmth you want from Bluetooth headphone earmuffs, and they're really no more expensive than any other pair of comparable headphones.
Finally, there's the UGG Women's Bluetooth Tech Earmuffs. These are unquestionably the most stylish Bluetooth earmuffs on this list. They're also unquestionably the most comfortable, warmest, and most well-made. These earmuffs are made from actual animal skins and actual fur. The Bluetooth technology inside them is really about average, but the earmuff portion of these earmuffs is immaculate.
Please consider sharing:
Note: At no extra cost to you, we may earn a commission for purchases using our links. Learn more.