The key to any data workflow, whether it's photographers, researchers or graphic designers is the ability to securely and quickly transfer files from one place to the other. When WiFi SD cards burst onto the scene a few years ago, it opened up a new world of data transfer possibilities that had far-reaching implications.
What is a WiFi SD Card?
Although they look like a standard SD card on the surface, these units have the addition of what is essentially its own WiFi router.
This allows any other device, such as a laptop or smartphone, to connect wirelessly to the SD card and access any data it might contain. It's a brilliant solution for people who constantly pull an SD card in and out of a camera or other kind of device.
Depending on where your computer or device is located, it can be backbreaking work trying to reach for the SD slot repeatedly.
WiFi SD cards and adapters help eliminate this problem by helping perform all data transfer wirelessly. It's compatible with any device that uses SD and/or WiFi technology.
While the data transfer landscape has changed with the rapid development of technologies such as Apple AirDrop, WiFi SD cards are still in high demand because of their ability to bridge files and data across multiple operating systems and platforms.
Although the basic concept is simple to grasp, different companies approach WiFi SD adapters in different ways. Some of them are more successful than others.
To help weed through the many options and eliminate confusion, we've rounded up three of the top WiFi SD cards and/or adapters on the market.
If you're still not sure which SD card to select, stick around till the end for some things to keep in mind when making your decision.
How We Chose the Top Wi-Fi SD Cards
We based our choices on several criteria, including:
Price and Value: Lots of price points out there. We make sure that each product has a high enough value to justify the price.
Reliability: For wireless data transfers, stability and reliability are essential. Data transfers can't afford to be disrupted because of the risk of data corruption. The cards we've included passed this test better than the rest of the field.
Storage: Files sizes are getting bigger and it's important that your Wi-Fi SD card has the space to be of value.
Transfer Speed: No one wants to sit around and wait for data to transfer. It's important to make sure transfer speeds are best-in-class so we can be efficient with our time.
Best WiFi SD Card: Toshiba FlashAir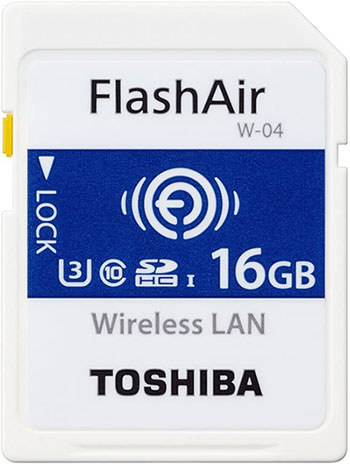 Key Features:
SDHC Type.
16GB Capacity.
Compatible with cameras, computers, 3D printers, and other WiFi, SD devices.
Connects with up to 7 tablets and smartphones at a time.
Easy to change SSID password to access photo sharing.
The Toshiba FlashAir 16GB WiFi SD card tops our list as the best overall because of its reliability and fast transfer speeds. It has a tremendous range and allows up to seven tablets and smartphones to connect to it at once when it is in photo sharing mode. It's a brilliant solution if you are looking to share data with multiple people at once. This card is up for the task and could do so without dropping anyone's transfers.
FlashAir has an Apple and Android app that lets users tweak the WiFi SD card's settings and permissions. It makes keeping your card secure incredibly easy. While most people use it to transfer photos during a shoot or at an event, it has a wide range of other capabilities that make it a great solution for things such as 3D printing.
For speed, the Toshiba FlashAir is in a league of its own. The choice of many high end photographers and studios, this card is able to facilitate UHS speeds which makes it an ideal choice for most consumers. One thing to keep in mind is that this level of performance can get expensive.
What We Like:
UHS class transfer speeds.
Connect up to seven devices during photo sharing.
Has and Apple and Android app to control.
Easily change SSID settings to keep the SD card secure.
What We Didn't Like:
16GB capacity is limiting for bigger file sizes.
Expensive.
Best Adapter: Zyyini TF to SD Card WiFi Adapter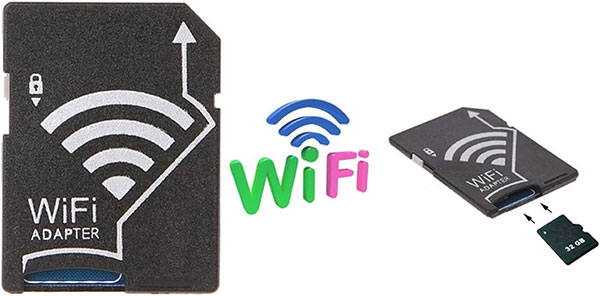 Key Features:
Supports image shooting and viewing JPG, PNG, BMP.
Supports MP4, AVI, MOV video formats.
Accommodates SDHC or TF cards.
Inclusive WiFi compatibility.
This WiFi SD card adapter by Zyyini offers a tremendous amount of flexility. This model accommodates a TF or SD card. The onboard WiFi router on this adapter allows for WiFi password, AP mode, station mode switching and SSID.
The Zyyini can preview or transfer files from one device to another with little trouble. Although not as impressive as the Toshiba FlashAir, this adapter is still able to service three tablets or smartphone devices at a time. This card is compatible with both Apple and Android.
Another thing to keep in mind is that although it has solid data transfer performance, this WiFi adapter works best when it's in close range with the devices that are connected to it.
User reviews have mentioned avoiding crowded or cluttered spaces. An advantage of an adapter is that you can expand its capacity to whatever you would like. It's hard to beet the scalability of this product.
If you are choosing to use it for something like a DSLR camera, reach out to the seller to confirm that it is compatible with your devices. For example, this card is not compatible with the Canon t5i camera. Double checking before hitting purchase will save you heartache and delay. Overall, we believe this is the best adapter currently on the market.
What We Like:
Adapter accepts whatever size SDHC or TF card we decide.
Great price point.
Durable construction.
Apple and Android compatible.
Simple operation.
Supports sharing multiple photo and video formats.
What We Didn't Like:
Not compatible with certain DSLR cameras.
Shipping can be slow.
Best Alternative: Canon WiFi SD Card Adapter W-E1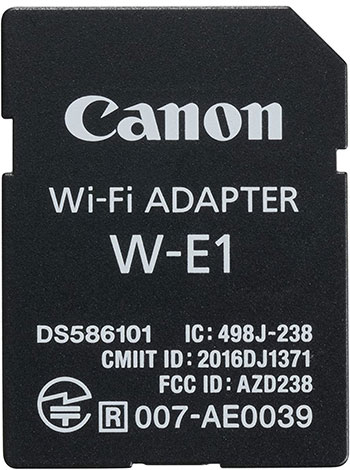 Key Features:
Strictly for use with Canon EOS DSLR cameras.
WiFi capability provides easy transfer of files to tablets and smartphones.
Can provide computers with remote shooting functionality.
The official Canon WiFi Adapter W-E1 was specifically designed to help wireless bridge the photos on their Canon DSLR cameras with the rest of their laptops, tablets and smartphones.
This adapter was created to provide wifi connectivity for older Canon models that didn't have it. It's very simple to use and configure with transfer speeds that allows virtually simultaneous preview capabilities.
This WiFi adapter is one of the best (and only) ones on the market. With that said, this has only a few devices it is compatible with. Even within its own brand of products, this Canon WiFi adapter only works with a handful of cameras and printers. A good idea is to check with the seller to confirm that this card is compatible with equipment.
What We Like:
Seamless and easy integration with certain Canon camera and printer models.
Solid construction and weather proofed exterior.
Can connect with a computer for remote shooting using the EOS Utility tool.
Fit whatever size SD card you desire.
Simple setting changes
Great price.
What We Didn't Like:
Only compatible with certain products.
Only works with a few Canon DSLR cameras.
How to Choose the Best WiFi SD Card or Adapter
There are a few things to keep in mind when trying to select the best WiFi SD card for your needs. Let's look at some of them now.
Price: WiFi SD cards are a great technology. However it's important to make sure that you aren't buying something that costs more than the benefit you would derive from it. However, it may be worth it to spend a little more money for a card or adapter that opens up a new world of speed and convenience.
Compatibility: You'll want to make sure that the card you select is compatible with the primary devices you will be looping it into. This is going to be key if it's going to provide maximum value. As an example, the Canon W-E1 is only compatible with select Canon cameras and printers. Whereas the Toshiba FlashAir can play nice with nearly everything.
Your Specific Workflow: Take a moment to reflect on your workflow and how a WiFi SD card would fit. This will help you prioritize a card's features and only choose one that enhances what you are doing.
Final Thoughts
Despite a wide range of new data transfer protocols coming onto the scene, Wi-Fi SD routers and adapters are still a powerful data transfer tool for professionals if used correctly.
Of all the products we tested for this roundup, we feel that the Toshiba FlashAir provides the best functionality. The price is exorbitant but we feel it's the best representation of the technology at this moment.