Unless you're in the know, a wireless SD card sounds to be almost contradictory. After all, it's not like you have to plug in your SD card with a USB cable like you would with an external hard drive. We're used to simplifying devices like headphones or routers by removing the cables, but is there really any way to simplify an SD card?
In this example, we're not actually making SD cards simpler. We're making them more advanced. Wireless SD cards are a unique concoction of two devices in one. They're one part SD card, one part wireless networking card. When the Eye-Fi first hit the market years ago, consumers were blown away by the concept. But very little aside from high end DSLR cameras supported them.
Today, wireless SD cards are supported by almost every consumer device on the market. And even if your device doesn't support wireless SD cards, many of them are designed to connect directly to your computer. When set up correctly, you can skip the cloud and still backup all of your important images automatically.
Let's take a look at the three best WiFi-enabled SD cards on the market for 2017. We'll take a look and see what the latest generation has improve on, and give you examples of how they can be used.
Toshiba Flash Air II
Toshiba has been a player in the worldwide storage market for many years. But this isn't their only area of expertise, they also produce everything from laptops to televisions and even medical equipment. Their products tend to strike a balance between affordability and reliability, making them a great first choice for most consumers.
Design
We're used to seeing plain black SD cards, so the Toshiba Flash Air II has a very nice look to it. The plastic is a little more rigid than we're used to, a strong indicator of durability. While the frame is unique, the logo is actually quite plain. But it still serves its purpose well. You have all the information you need about the card on the front, so if you've got a stack of SD card slaying around you'll always know which devices this one is compatible with.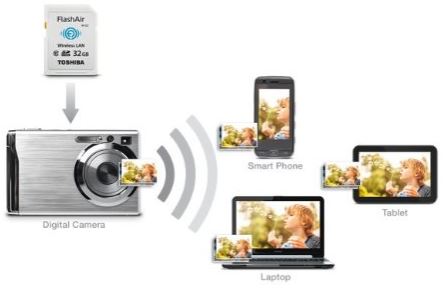 Specifications
The Flash Air line of wireless SD cards is available in two varieties. Most users will want to pick up the 32GB version, although a 16GB model is also available if you're on a budget. This is an SDHC card, so it's compatible with almost every modern device on the market. That does, however, mean that the storage space will be restricted to 32 GB until the Flash Air III hits the market in a little while. Technically, this is actually a microSD card in a standard SD case. Their advanced wireless transmitter takes up most of the space in the case. Fortunately, your devices cannot tell the difference.
Performance
Not all SD cards are created equal. For some applications, you need a faster card. HD video, for example, requires a class 10 card. This is exactly what the Toshiba Flash Air II is rated for. There are still a lot of class 4 and 6 cards floating around, so it's nice to know that Toshiba is using high end memory chips in their cards.
What kind of results can you expect in the real world? Using our laptop PC, we tested the card using a few different types of writing operations to determine how well the card performed. Typically, flash memory struggles the most when you are randomly writing small files on different parts of the drive. We were able to get around 13.2 Mbps during read operations, and 9.3 Mbps during writes. This isn't the fastest card on the market, but it's still pretty impressive for the price.
When you're recording large files (photos and videos) you'll be doing what's called a sequential write operation. This is where you take bits and write them in order, one after the other. In this type of environment, you can expect speeds of 19.4 Mbps and 7.3 Mbps, respectively.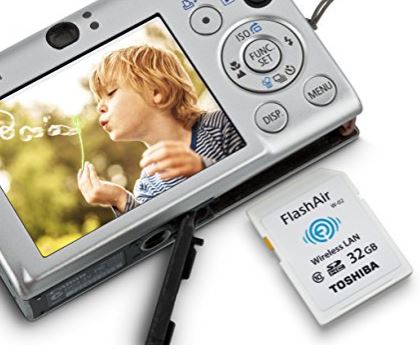 Functionality
Although many more devices support Wireless SD cards, there are still some that don't. Toshiba addressed this issue by creating a card that was unique in functionality. Instead of acting as a client and connecting to your existing network, it does the opposite. The Flash Air card actually works as a server. You connect directly to the card and download your files that way. This is all done through the mobile application. This app works a lot like the gallery on your android phone. You're given a list of all the thumbnails of the images or videos on the card. Once you tap one, the phone will briefly connect to the card and download the full-size file. This only takes a few moments, and the design ensures that you can use this card with any SD compatible device.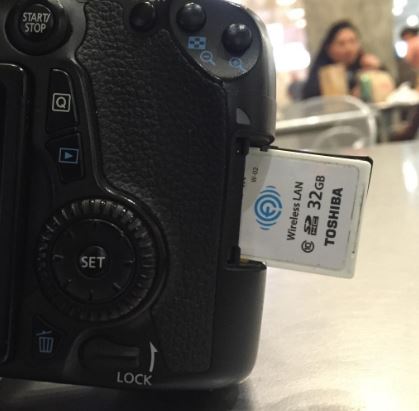 Power Use
Storage only SD cards use a negligible amount of power. But when there is wireless involved, the battery life of whatever you're using the card in can suffer. First generation products actually cut battery life by up to 50% when in use! Fortunately, those days are behind us. When in use, the card uses between 2.7 and 3.6V. The variation is because the card can dynamically adjust the signal level depending on how far you are from the card. If you're right next to it, the wireless network will run at lower power. But if you're far away, you can expect higher power draw.
But this power draw only takes place when the card is actively in use. When no files are being transferred, it shuts off the wireless network and enters a sort of low power state where it sips current until it's needed. This does mean that there is a bit of a delay from the time you request files to the time you receive them, but you'll be able to enjoy much longer battery life.
Eye-Fi Mobi
This is the company that started it all. But the Eye-Fi of today is nothing like the first model that hit the market many years ago. The product has gone through several upgrades, leading to the high-quality card you see today. This isn't the only product they have on the market, it's the entry level version. If you're not entirely sure what you need, start with this card. If that's not enough for you, you can scroll down to read about their upgraded model.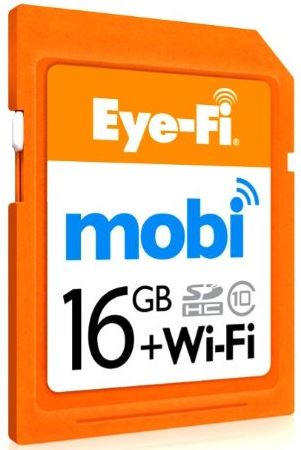 Design
From the moment you set eyes on the Eye-Fi Mobi, you'll know that it's not an ordinary SD card. Eye-Fi manufactured this card in their signature orange color, and highlighted it with a bright, cheerful label and a teeny white write-lock. "Mobi" is front and center, with the size printed below that. This brand is considered to be the Cadillac of the wireless SD card world, and it shows.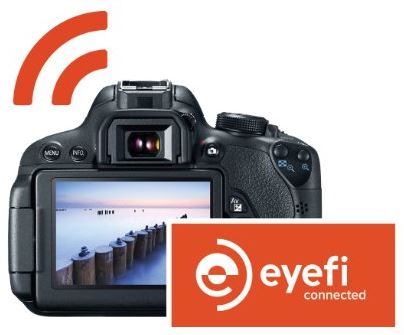 Specifications
Since the card is aimed at photographers and videographers, it's rated for the same class 10 performance you need. This model is designed specifically to handle image and video files, and includes support for .mpg, .mov, .flv, .wmv, .avi, .mp4, .mts, .m4v, and .3gp in the video department. If you want to transfer image files, you'll want to stick to Jpegs. It also supports the latest networking technologies, including WPA2-PSK and 128 bit PSK.
Performance
Basic read and write tests of the Mobi were pretty comparable to the Toshiba card. At best, you're looking at an upper limit of 20 Mbps read and 13 Mbps write. But since this card uses your own wireless network, we can benchmark how fast files are actually transferred, and not just saved. If you're shooting 6 megapixel images (which work out to be about 3 megs in size) you're looking at a 6 second delay from when the photo is taken and the time it shows up on your laptop. With 12 megapixel images, you'll come in at just a hair under 11 seconds.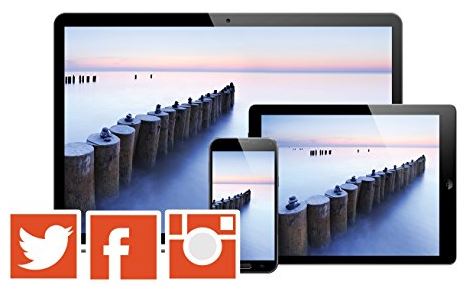 Functionality
The Eye-Fi Mobi is designed to be a card that works silently in the background. Yes, you can browse the card with a phone application just like the Toshiba. But if you put the app on your computer, you can set it up to automatically download files as they are shot.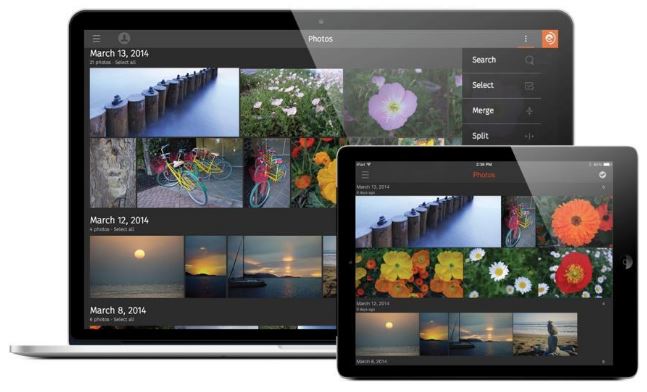 Power Use
When you're transferring files in real time, you're able to save a ton of battery life on your camera. This is because the camera is already on to take the shot. It's already supplying voltage to the card, so as long as the file is transferred successfully the use will be negligible. You can still connect to the card while the camera is off, but it will be drawing power the entire time you're connected. As long as you restrict these sessions, you shouldn't have any problems.
Eye-Fi Mobi Pro
The Mobi Pro is considered by many to be one of the best Wireless SD cards on the market. It's got several key features that can't be found elsewhere, making it a great choice for anyone who wants the best.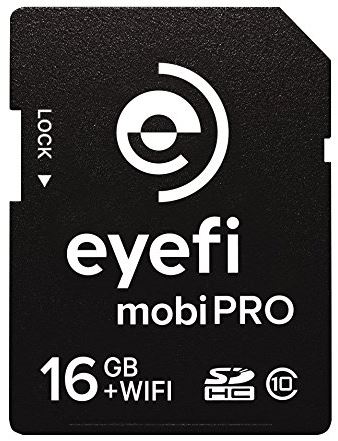 Design
Surprisingly, Eye-Fi took a much more low-key approach to designing the Mobi Pro. Instead of the bright orange design they're famous for, this card looks like nothing more than a plain black SD card. But underneath it's plain exterior is one powerful package of hardware.
Specifications
The Mobi pro is available in 16 and 32 GB sizes. Although it's a Class 10 card, the performance goes above and beyond what's required for the specification. It's also got an upgraded processor and wireless chip, improving performance. But beyond that, the card is the same as the standard Mobi.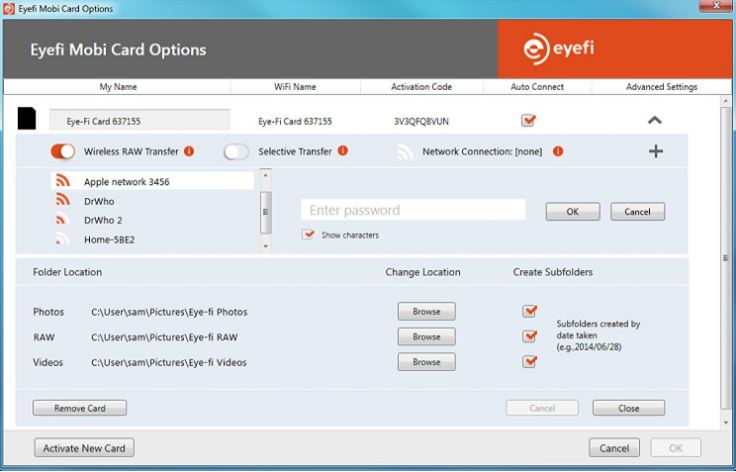 Performance
This card boosts read and write speeds to upwards of 30Mbps, although this is dynamically adjusted based on file type. The card is fast enough to record 4K video, and it can transfer a 3Mb file in under 4 seconds. There is a bit of delay for transfer times, and there is a lot of other stuff going on in the background. For this reason, your actual transfer times will be roughly the same as with the Mobi. If you're buying this card, you're buying it for the additional functionality.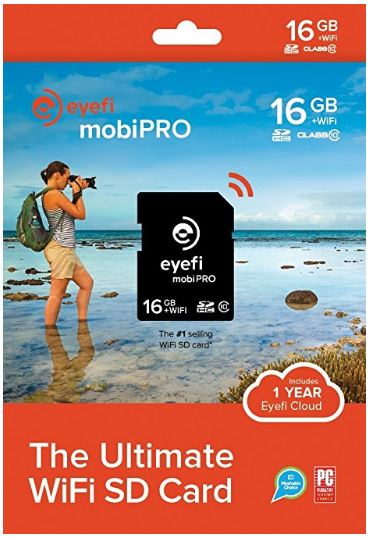 Functionality
Just like the original Mobi, the Pro can upload files automatically to your computer. But it can handle many more file types, including RAW. Although it handles almost every modern format on the market, you can specify your own file types in the included software. This means that you don't have to use it with a camera, as it will also work with documents, music, and other media.
The main benefit of the card is the fact that you have access to the Mobi Cloud. Instead of uploading all your files directly to the computer, they'll be saved on your cloud account free of charge. With a quick login, you can access everything from a browser, so you don't have to be in range of the card for it to work.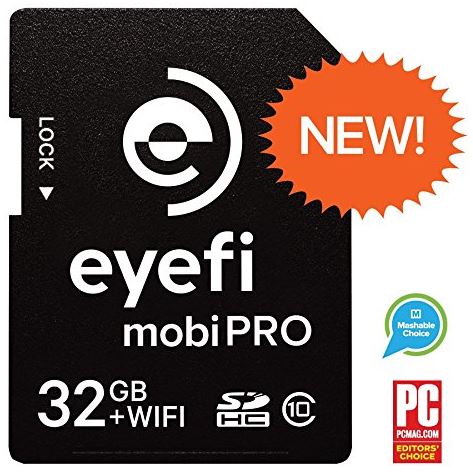 Power Use
The power use on the pro is the same as with the standard Mobi. But because you have the cloud, there is no reason to connect directly to the card. If you're shooting video, you will have to wait for it to upload. But the actual power impact on your camera is the same as if you left it on for 3 or 4 seconds extra after each shot.
Which Wireless SD Card is Right for Me?
Not sure which card you should buy for yourself? It all boils down to your camera. The Toshiba Flash Air II is the best choice for smaller, non DSLR cameras. It's plenty fast enough, and the power saving features are great for a camera with a smaller battery.
If you're using a DSLR camera, Eye-Fi is your best bet. The Eye-Fi Mobi is great for casual users, or those who don't shoot in RAW. But if you're looking for direct sync with the cloud and access to RAW files, then the Eye-Fi Mobi Pro is your best bet.