The demand for translating earbuds has seen a significant rise. More often, people are looking to travel to new places or find themselves in areas where speaking a different language is more common.
These innovative devices have made it easier to communicate with people who speak different languages and make it possible to connect with others on a deeper level.
For travelers, translating earbuds can be a lifesaver, allowing them to navigate foreign countries and have interactions with locals without the need for an in-person translator or phrasebook. For professionals, these earbuds can come in handy in multilingual settings, such as business meetings or international conferences.
Additionally, for people who live in multilingual communities, they can help bridge the language gap and facilitate easy communication with neighbors.
Factors to Consider When Choosing Translating Earbuds
Language Support: Make sure the earbuds support the languages you need to translate. Some may only support a few languages, while others support many.
Translation Accuracy: The accuracy of the translation is another important factor to consider. You should read reviews and check customer feedback to see how well the earbuds perform at translating different languages.
Offline Translation Support: If you intend to travel to areas where internet access is limited or unavailable, look for earbuds that support offline translation.
Battery Life: Consider how long the earbuds can last on a single charge, as well as how long it takes to re-charge them.
Comfort and Fit: Look for earbuds that are comfortable to wear for long periods of time and that fit securely in your ears.
Voice Recognition: Some earbuds have advanced voice recognition technology that lets them recognize and translate the speech of different people.
Touch-free Controls: Some earbuds also have touch-free controls, which allow you to control the device with simple hand gestures. You'll want these to be easy to use.
Connectivity: Make sure they're compatible with your phone and other devices, and that they provide a strong and stable connection. Bluetooth is usually the method of choice. Try to go with the latest iterations for a faster, more reliable connection.
Additional Features: Some earbuds have additional features like noise cancellation, voice commands and more. Consider which features are important to you.
Price: Finally, consider the price of the earbuds and compare different options to see which ones offer the best value for your money.
Best Overall: Timekettle M3 Language Translator Earbuds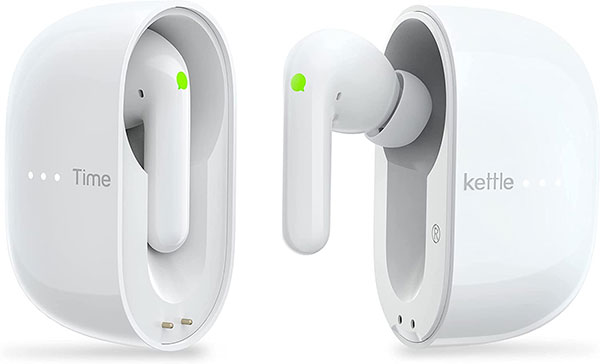 Key Features:
Bluetooth 4.2
Supports 40 languages.
2-way translation.
13 offline languages available.
Charging case.
Active noise cancellation.
WiFi compatible.
Near-simultaneous translation up to 0.5 seconds.
The Timekettle M3 Language Translator Earbuds is our best overall pick for a number of reasons. One of the biggest factors that sets these earbuds apart is the brand behind them. Timekettle has been a leader in the translation technology space for a long time, and they've compiled one of the most extensive linguistic data pools in the industry. This allows them to optimize their translations for faster speeds and more accurate results.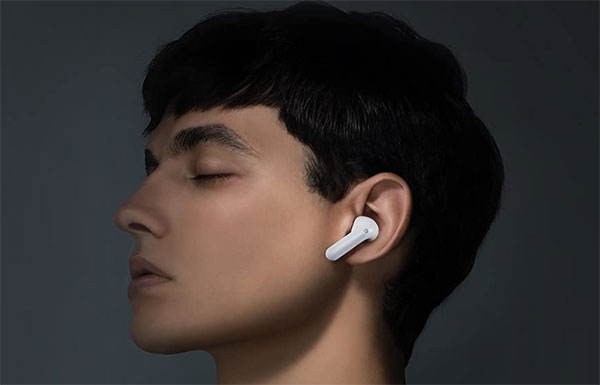 One of the most exciting features of the Timekettle M3 is their near-simultaneous translation ability. This means that you can theoretically have a conversation in real time without having to wait for the translation to happen after you talk. While we weren't able to replicate the 0.5 second lag time speeds that were advertised, it's still very fast and one of the best in terms of speed.
Another unique feature of the M3 is its approach to translating what you say. Many lower-priced options and older models require you to pause between phrases and ultimately perform better if you follow a specific speech pattern and sentence structure. This can result in a clunky experience.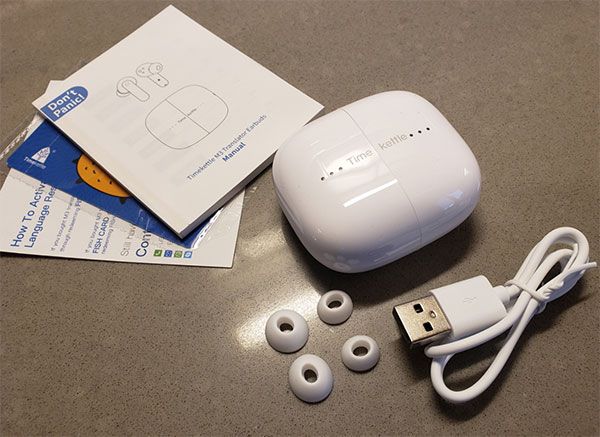 Timekettle claims to have fixed this issue with their AI engine, which can break up and restructure your words to be optimized for the language you're trying to communicate in. This feature is one of the most exciting and promising developments in this space in a long time. However, in our testing, we found that your sentence structure and speed of talking still have a major impact on the results that you get. However, it's not a dealbreaker. In fact, this is one of the only brands that's doing it well, but we wouldn't make this feature the basis of our entire decision.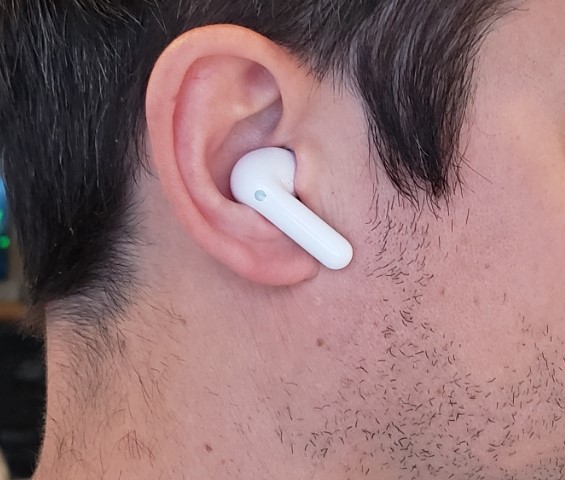 The translation technology of the Timekettle M3 is very good, and the included app is very easy to work with. One thing that sets this model apart is its offline functionality. This is very important, especially if you're traveling abroad to places that have spotty or zero internet reception. Or, if you're traveling international and don't want to rely on internet or a SIM card, offline languages give you the option to get your language set up before you leave WiFi. The M3 currently offers 13 of the most common languages for offline use, and the brand is promising more languages to come. This variety, paired with its AI, makes it a top option for offline usage.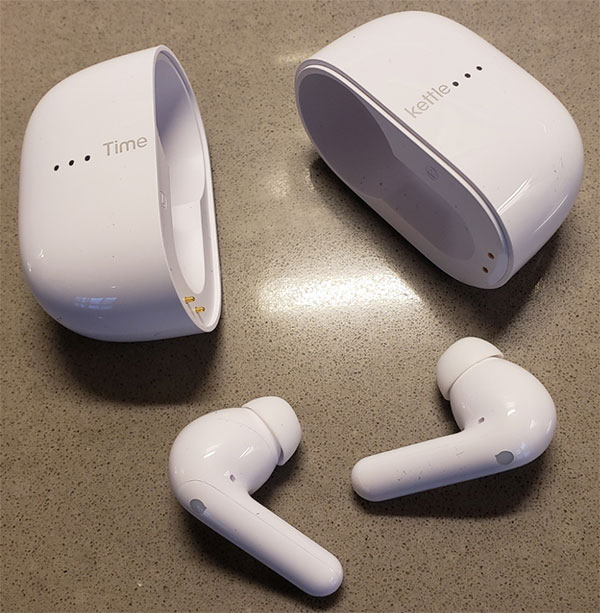 There are three modes that allow you to carry on a real-time conversation with another person using speaker on your phone to provide a one-way translation to more than one person. While these features are not completely unique to this brand, we found the combination of the easy voice and touch controls provided an enjoyable experience when switching between modes.
The Timekettle M3 also boasts a solid Bluetooth 4.2 transmission. While we would have liked to see the latest Bluetooth 5.2 version, we didn't notice any real issues with connectivity. Although there were some issues when we were more than 30 feet from our paired device, but this is to be expected with any Bluetooth connection. Although noise cancellation is active and effective, we still experienced a tiny bit of background noise, particularly in very crowded areas. Not that big of deal, but worth pointing out.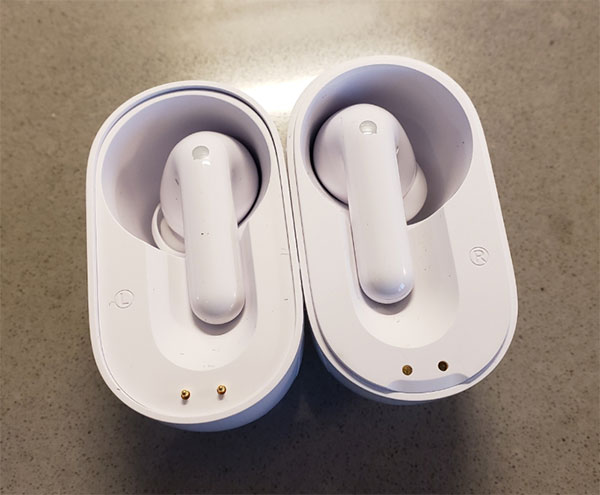 Battery life and portability were other areas that we wanted to test. We were able to get up to 7 hours of translation time from a single charge. This is about average compared to other models. However, the game changer for us was the charging case that it comes with. Not only does it keep your buds together while not in use, it also provides up to three re-charges. In our testing, this held up and matched the advertised specs. Simply put, the charging case is one of the best that we've seen.
Overall, the Timekettle M3 Translation Earbuds are a great option for anyone who needs a device that's both reliable and accurate. The form factor and portability are great. In fact, the charging case could last your entire trip without looking for an outlet. Additionally, the offline languages and AI engine make it a thing of beauty. Despite the fact that it has a long way to go with its natural speaking feature, we believe it's truly the best overall option currently on the market.
What We Liked:
Fast translation.
Comfortable fit.
Offline functionality is solid.
Long battery life with charging case.
Lightweight design fits great in the ear.
What We Didn't Like:
Bluetooth technology is a bit outdated.
Best Runner-Up: Timekettle WT2 Edge/W3 Translator Earbuds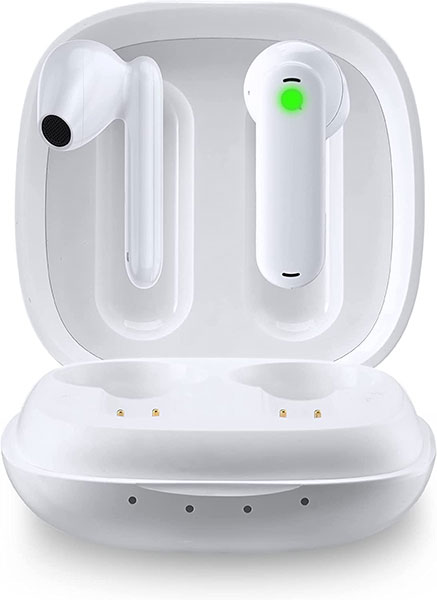 Key Features:
Bluetooth 5.0
Supports 40 languages.
2-way translation.
8 offline languages included.
Charging case.
Active noise cancellation.
WiFi compatible.
Near-simultaneous translation up to 0.5 seconds.
The Timekettle WT2 Edge/W3 is our best runner-up for the top language translation earbuds. This is due to its high price point, which is much higher than most other options on the market. However, this high price point is also what makes thiem one of the best models we've tested.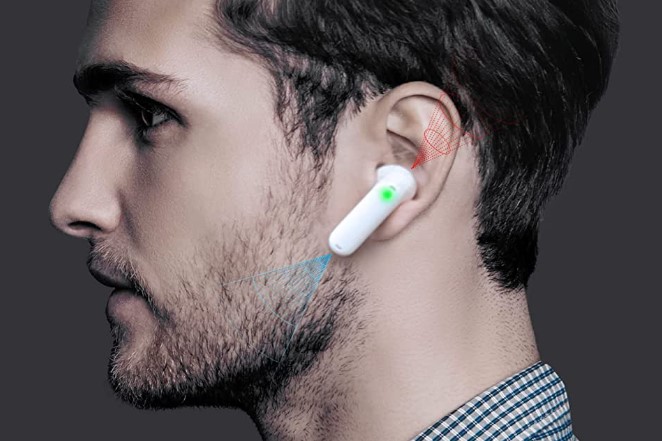 One of the main reasons that we've placed the WT2 Edge/W3 as a runner-up is due to its price. At nearly three times the price of the M3, it is simply not as accessible for the majority of people. However, for those who are willing to invest in a high-quality product, they're definitely worth considering.
The form factor and design are two of the major upgrades in this model. The carrying case is very small and streamlined, making it easy to slide into small pockets or waist packs without adding extra bulk. The magnetic enclosure on the case seems much stronger than other models, giving you peace of mind that nothing is going to fall out when you aren't paying attention.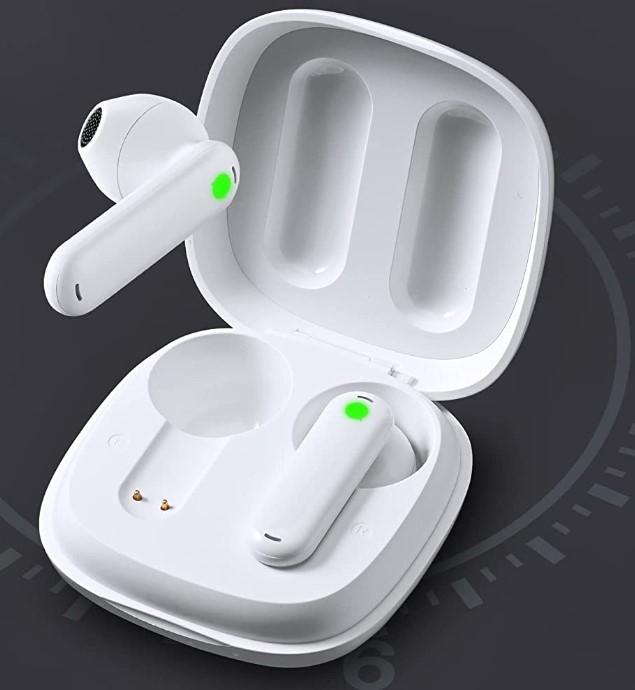 There are light indicators on the outside of the case to show you the battery life in the case. Like the M3, this version has active noise cancellation, which is important if you are traveling in busy, urban environments. This feature is favorable and seems to work just as well as the M3. It improves the ability to converse in noisy environments with other people, especially when using Simul mode.
Voice pickup and isolating our voice from other things going on was a major factor, especially at this price point. It boasts voice-activated functionality which is definitely nice to have. We found that it did a solid job with isolating voice and only listening to your voice and not others that are around you. For voice activation and control, we found that we had to repeat ourselves more than we would have liked, but it still worked acceptably in most instances.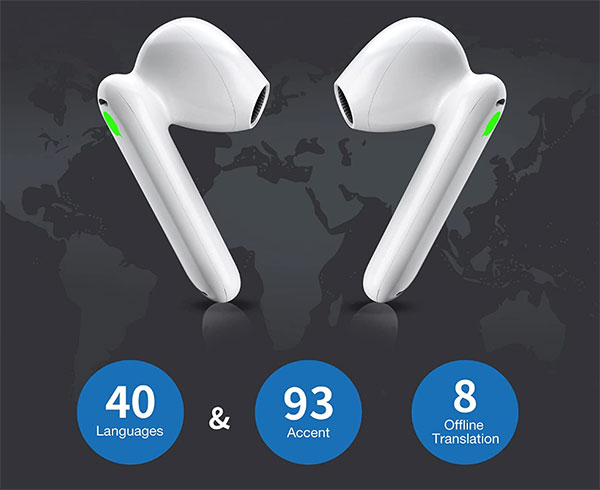 The mobile app for the WT2 Edge/W3 is the same as the M3, and you have access to the same number of languages. However, one thing that we weren't fans of was the approach to offline languages in this version. The M3 has 13 offline languages baked in, but the WT2 Edge/W3, while more expensive, only has 8 with the option to purchase more through the app. It's not that big of a deal since the most widely used languages are included, but still, it's something to consider. With those things being equal, we felt that the translation speed and overall performance was just a tad better on this model.
Overall, we're very excited about Timekettle's suite of earbuds. If you have the budget and the need, it would be wise to would consider the WT2 Edge/W3 over the M3. Especially if you're wanting something more future-proof that will continue to improve and get better. The design, active noise cancellation and translation performance are all top-notch. Overall, the Timekettle WT2 Edge/W3 are a great choice for anyone who wants a premium option.
What We Liked:
Sleek form factor and streamlined case.
Comfortable fit.
Solid battery life.
Superior noise cancellation and voice isolation.
Accurate translation for most common languages.
Simul mode was very fast and intuitive.
What We Didn't Like:
One of the most expensive options on the market.
Best Budget: Mugoro Translator Earbuds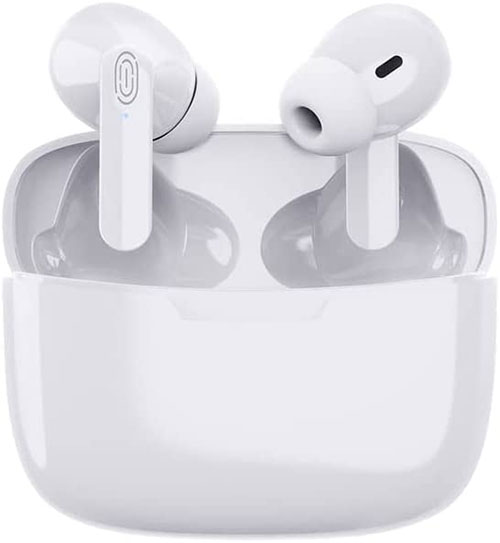 Key Features:
Bluetooth 5.0
Supports 84 languages.
Battery charging case included.
No offline functionality.
Active noise cancellation.
The Mugoro Translator Earbuds are a great budget-friendly option for those who are looking for a more cost-effective solution to their language translation needs. While they may not have all the features and capabilities of more expensive models, they still offer solid performance and a wide range of language choices.
In terms of design and form factor, the earbuds have a similar look to the first generation of Apple AirPods. They're made of cheaper plastic, which can be prone to scratches, so it's best to keep them in the included carrying case when not in use. The case also provides an extra charge for the earbuds. However, the magnetic latch on the case is not nearly as strong as it could be.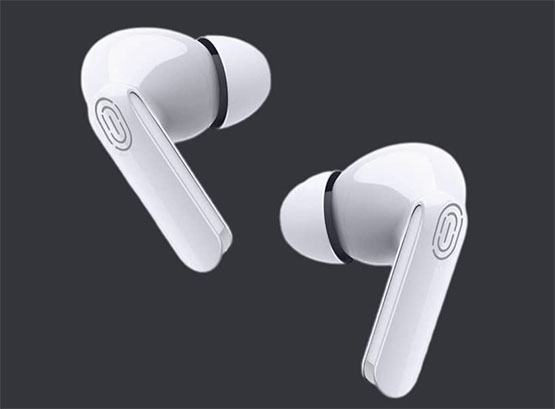 The noise cancellation on the Mugoro earbuds is the best at this price point. It works decently well and does a good job of blocking out background noise. While not quite as effective as TimeKettle's buds, the ANC still makes a difference. Additionally, they're a bit bulkier in-ear than TimeKettle's offerings. While they do allow you to swap out different sized eartips, the fit is nowhere near as snug.
The earbuds let you choose from 84 different languages to work with, and the brand says that the translation feature works almost in real time. However, in our tests, there was a small delay of about 2.5 seconds. One major downside is that there's no support for offline languages, so the earbuds will need to be connected to a device with internet access for them to work properly.
Overall, the Mugoro Translator Earbuds are a great low-cost option that work well for a multitude of different languages. They may not have all the features of more expensive models, but they still provide a solid solution at a more affordable price point. However, keep in mind that you'll need a connection to use them; they're useless without internet.
What We Liked:
Great price point.
Noise cancellation is decent.
Massive support for 84 languages.
Sleek design.
What We Didn't Like:
Not as comfortable as TimeKettle earbuds.
No offline language support.
Best Alternative to Earbuds: Pocketalk Model S Language Voice Translator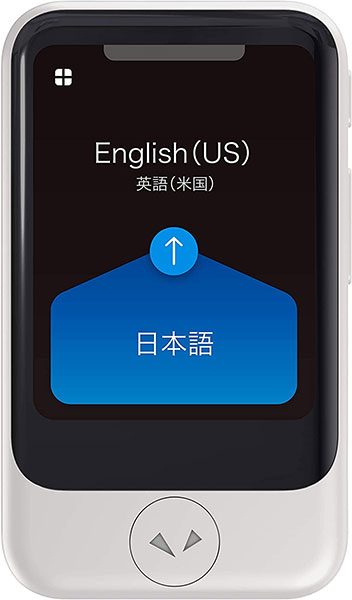 Key Features:
Onboard camera for reading written text.
Wired earbuds can be plugged into it.
Front screen for viewing translation.
Built in LTE (Plan required after free 2 years)
Audio guidance.
No offline language support.
The Pocketalk Model S is a translation device that offers an alternative to language-translating earbuds. It's a small, portable device that can be held in the palm of your hand. It even has a camera that can take pictures of written signs and text, which it then translates and displays on the front-facing screen. And if you require the use of earbuds, thanks to the auxiliary input, you can simply plug-in any wired headphones for a similar experience.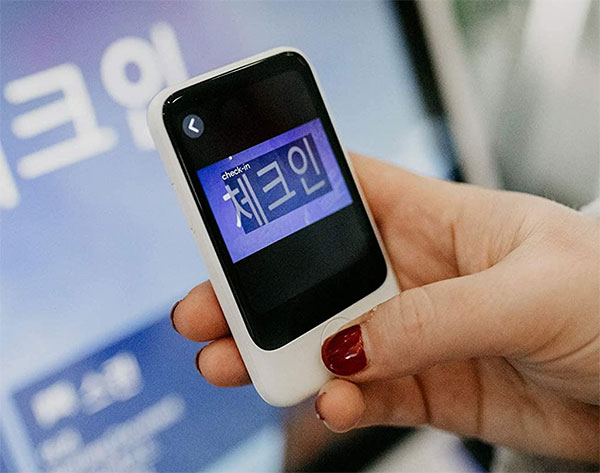 One of the key advantages of the Pocketalk Model S is that it comes with free LTE for two years that can be used in over a hundred countries. This eliminates the need for a smartphone connection or data plan. One problem, though, is that there's no offline translation support. This means that after the two-year LTE plan ends, you'll have to buy a new data plan.
A unique feature is that it helps you say words correctly by giving you both visual and audible clues. The battery life is solid, with up to 7 hours of use, which is great in most instances. Best of all, re-charging is quick with the provided USB Type-C cable.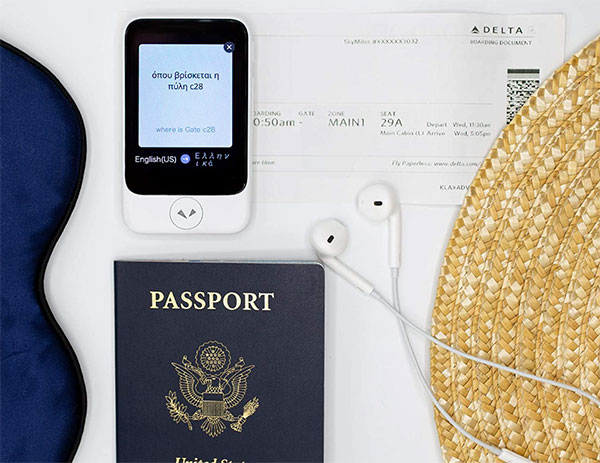 When it comes to translating conversations, we found that it did a great job. It produced translations in as little as 2.5 seconds in a general conversation setting. You even have the option to have the words displayed on the screen or read out loud using the onboard speaker.
Overall, the Pocketalk Model S is a solid alternative for people who interact with written language frequently and want an easy-to-use device with added security features.
What We Liked:
Lets you take pictures of street signs and written text for easy translation.
Screen is large enough for most people.
Solid battery life.
Built in data; does not require a smartphone.
What We Didn't Like:
No offline translation function.