Whether you're out walking the dog at night or just want to carry a little personal protection with you, a stun gun is often the first choice. These devices pack quite a punch, capable of physically disarming a perpetrator almost instantly. Their non-lethal nature has made them the first choice for law enforcement and civilians alike, and modern technology has made them more affordable than ever.
If you've been thinking about buying a stun gun, you're probably a little overwhelmed at the choices available to you. With so many competing products, it's hard to figure out which are the quality models worth buying, and which are the cheap knockoffs. We'll be taking a look at the three best stun guns that you can buy today. We're exploring different designs and styles, and will cover everything you need to know before choosing one that's right for you.
ViperTek VTS-989
ViperTek has been in the personal safety industry for many years. Most of their products are modeled after solutions designed for law enforcement, with some modifications that make them safer for consumers to use. Consumers who choose ViperTek aren't willing to gamble, and often want to pick the most powerful device they can.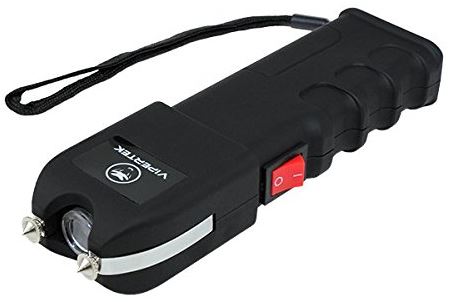 Design
ViperTek wanted to make one of the most powerful stun guns on the market, and the first step to that is a good design. The ViperTek VTS-989 certainly has a bit of heft to it. In order for these to be effective, you need to be able to grip them firmly. This is aided with the deep recesses that you can easily place your fingers inside. The pointer finger goes over the on / off button. It's operated much like a trigger, making it easy to activate it when you need, but it's still firm enough that you're not going to trigger it accidentally.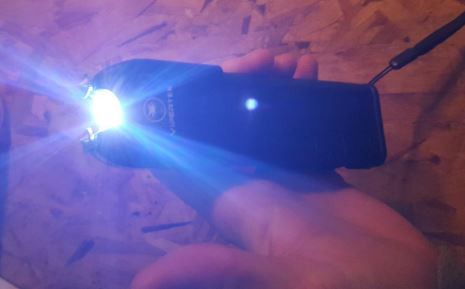 At the top of the device you'll find the electrodes. They're much thicker than your typical electrodes, which allows them to pierce thick clothing. In the center is a bright LED flashlight. When turned on, this becomes fully illuminated so you can see what's in your immediate area.
Defense
This is one of the highest-powered stun guns on the market. It's so powerful that it's not available in certain areas. If you live in Hawaii, Massachusetts, Michigan, Connecticut, New Jersey, Illinois, New York, Rhode Island, Wisconsin, District of Columbia, Annapolis, MD, Baltimore, MD, Chicago, IL, Philadelphia, PA, Baltimore County, MD, or Crawford County, you'll have to go for a more basic model.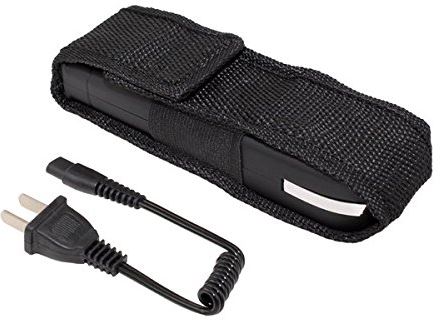 When you use it, it brings instant disorientation to the perpetrator. It can cause involuntary muscle spasms, and a loss of control that allows you to get away safely. Even when it's not used on a person, turning it on produces a bright electrical arc and loud crackling sound that is often enough to scare them away. Certainly, anyone with a little sense will run at the sight of this mean looking stun gun.
Safety
The most basic safety feature is the tight trigger. It's hard to accidentally press, so you're not going to be setting it off in your pocket. But there is another bonus included with it. The ultra-durable case protects the trigger, but also makes it very easy to access. It's much like a holster. Just flip open the buckle and you can get at the stun gun, but when it's securely in place there is no danger of accidental triggering.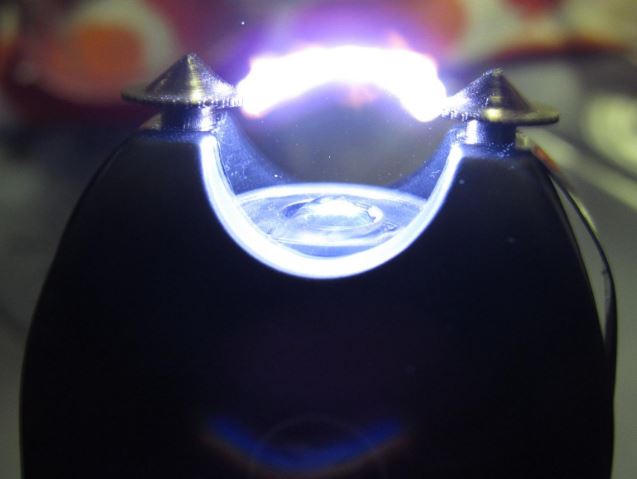 There is another safety feature that could be a pro or a con depending on the circumstances. Something that all stun guns have in common is that they require a resistive load to prevent themselves from draining the entire battery. Many of them are designed to shut off if they're not making proper contact. In a panic, some users find that they aren't making good contact. This could potentially lead to the device shutting off when you need it the most. This unit doesn't have that kind of chip in it. The only consideration is that if you're ever flashing it in the air as a threat, you'll want to make sure that you don't do it for more than 1 second at a time. This prevents it from getting too hot and using up all the battery.
Streetwise Sting Ring
Streetwise isn't just another retailer, they design and manufacture all of their own products. Most of their personal safety items are quite unique in design. This is because they interact with their customers first hand, taking all of the feedback they get and integrating it into their next generation products. Since they're so in touch with what customers want, this company stays true to its name.
Design
If you look closely, you can tell where the Streetwise Sting Ring got its inspiration from. The device is like a modern-day brass knuckle. But instead of brute force, this defense tool uses powerful technology to pack a punch that is much greater than any pair of brass knuckles could offer. The oversized ring goes over your middle finger, while the others rest on the included palm wrests.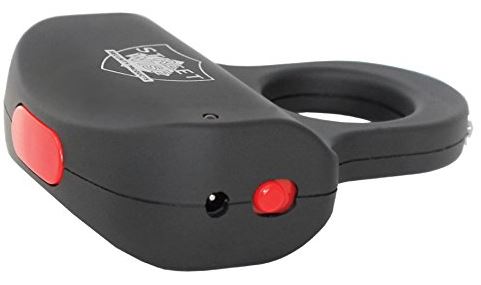 To trigger the stun gun, all you have to do is squeeze the center piece that sits in the palm of your hand. This motion actually feels quite natural, and a little aggressive. There are no buttons to speak of, so you're not going to be struggling to trigger it in an emergency situation.
Hopefully, you're not going to spend much time with this in your hand. In an ideal world, it will be something that you have for emergencies, but never have to use. For that reason, its extremely compact size is a huge asset. You can easily stash it away in a purse or in your pocket, so you'll never be without.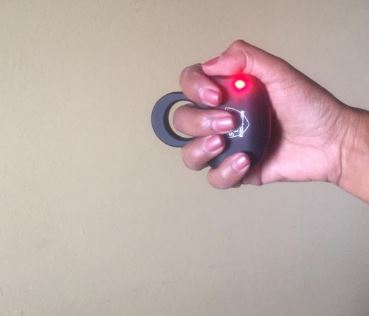 Defense
Although the sting ring is a great stun gun, it's actually much more than that. If you were ever going to punch somebody, you'd want what's called a "fist packer." The idea is when you're clenching your hand around something you're able to hit someone with greater impact. Of course, the sting ring is also hitting the perpetrator with several thousand volts. That's sure to stop them in their tracks, but the punch is what will drop them. You don't have the same ability to threaten someone like you would with a larger stun gun, but if you're desperate these are the most 'sure fire' way to deliver an effective defense.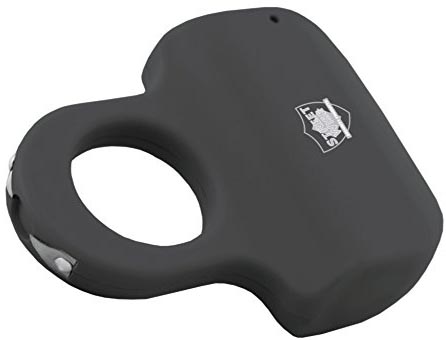 Safety
Generally, it would be irresponsible of us to recommend storing a stun gun in your pocket. Fortunately, the sting ring is actually quite safe to have. The first line of defense is the isolation switch. It's located on the right of the case, and is a little recessed into the frame so it can't be flipped accidentally. But when it comes time to use it, you'll have no problem disabling the safety.
The second line of defense is the unique "squeeze to operate" system. This unit requires force around the entire frame to deliver a stun. When you're holding it in your hand, this comes natural. It's almost impossible to apply force to one part of the sting ring without the rest. But when it's in your pocket, this task is very difficult.
Ruger Tactical Stun Gun
Saber has been importing foreign made goods for many years. But what sets them apart from your typical vendor is their quality control. Everything they sell goes through a rigorous testing procedure so you won't find any duds here. The tactical stun gun isn't just an offensive device. It's got several features that make it the perfect all-in-one self-defense tool.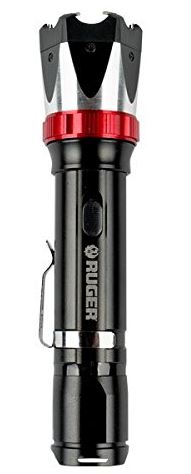 Design
At first, the Ruger Tactical Stun Gun looks like your typical high end flashlight. But upon closer inspection, you'll find that some of the material that appears to be nothing more than unique styling is in fact some essential self-defense components.
If you've ever held a flash light in your hand before, you'll already know what to do with the tactical stun gun. The grip is beveled in a bit, allowing you to get a firm grasp on its solid metal core. But with just one touch of the easy to find button, you'll turn this unassuming flashlight into a powerful blast that can stop even the most aggressive attacker dead in his tracks.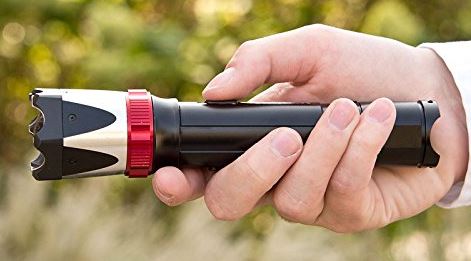 Defense
One of the ways we can measure stopping power of stun guns is through capacitance. This indicates the maximum difference in charge between two points. When a stun gun is discharged, electricity flows from one electrode, through the perpetrator, to the other. To put this in perspective, a stun gun with capacitance of 0.5 uC will cause pain, and at 1.0 uC the pain will be unbearable. The 1.0 standard is considered to be the ethical limit, and even police stun guns are not rated nearly at this level. This particular one is rated at 0.515 uC. Without a special license, this is likely one of the most powerful stun guns you're going to find.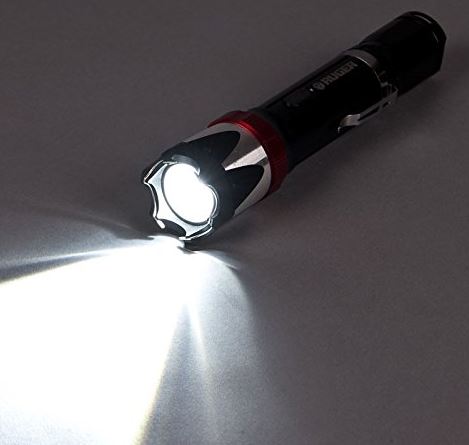 Safety
The biggest threat with a stun gun is the perpetrator removing it from your hands. This can happen if you don't manage to successful make contact, or they're wearing a large coat. The solution is the silver material you see around the head of the flashlight. This is conducting material wired into the same areas as the main stunning part, so anyone who attempts to grab the flashlight from you will be in for a shocking surprise.
Which Stun Gun is Right for Me?
Unsure of which one is right for you? If you're looking for the most powerful stun gun money can buy, the Vipertek VTS-989 is by far the most powerful. It's only available in certain areas, but if your jurisdiction allows for it then you've got an unbeatable tool to help you feel reassured at night. It's got more of a traditional design that lends itself well to its performance. Something that's been tried and true for many years.
Another option is the Streetwise Sting Ring. It might not be the most powerful stun gun on the market, but when combined with a powerful punch, it's got enough to knock even the most vicious attacker on his knees.
For the ultimate combination of defense and offense, the Ruger Tactical Stun Gun is an excellent choice. It's got an extremely powerful stun, and it's impossible for anyone to remove the item from your grip. Plus, the bright 300 lumen flashlight is another great way to keep yourself safe. It's so bright that anyone in the area will see it immediately, making it a great way to draw attention to yourself.
Remember, no matter which stun gun you chose, make sure you check the applicable laws in your local region. Some powerful models aren't available everywhere, but options like the sting ring will always be allowed.
Was this helpful? Please consider sharing: