When it comes to self defense and precautionary safety measures, stun guns present an ideal, non-lethal solution. Even if you never have to use it, they can provide peace of mind and assurance in a continually shifting environment.
For many, stun guns offer the ideal combination of power and affordability.
What's a Stun Gun? Same as a Taser?
It's important to recognize that a stun gun is different from a taser. Tasers are devices that shoot a set of electrodes or darts to immobilize an assailant. Although they can be used from a distance, tasers are single-shot devices that require a degree of accuracy to be effective.
By contrast, stun guns are direct contact devices that emit a high pulse frequency that disrupts the nervous system of a target. This can result in restricting the movement of a potential attacker. While the shock must be applied at close range, a stun gun can be used multiple times.
These devices can also serve as a deterrent. A "shock test" feature emits an electric arc that goes across two metal probes on the front of the stun gun. This is an effective way to make a would-be attacker think twice.
In terms of price, stun guns are significantly lower in cost than tasers which can run several hundred dollars. Many people may find a stun gun to be the most cost effective option for their needs.
There are an abundance of options currently on the market. These stun guns can range in both quality and price. Discerning which would be best can get overwhelming. In order to help, our team has compiled a list of the best stun guns currently available.
Is it Legal in My State or County to Carry a Stun Gun?
If you live in the United States, there may be state or county-wide restrictions that you must adhere to. Where you live may also affect whether you can even have one shipped to your residence. We recommend you do some online research or contact local law enforcement to ensure everything is in order.
How We Chose the Best Stun Gun
We've based our selection on a key criteria that's crucial regardless of what capacity they fill. We've included stun guns at different price ranges and specifications that address the various needs of our readers.
Quality of Materials
Stun guns are an intricate combination of plastic, metal, circuitry and other components that need to work flawlessly in order to be effective. Quality materials will have a direct impact on whether your stun gun will function properly when you need it to. Although our team has factored in affordability, it's not at the expense of dependability. In addition to our in-house testing, we've surveyed dozens of real-world users and verified that the manufacturers have sourced materials of an acceptable quality.
Manufacturing Practices
We verified the manufacturing practices of the brands we've listed. While having a stun gun assembled in the United States is ideal (we have better insight into their practices), we recognize that it may be cost prohibitive in certain situations. For units assembled outside of the United States, we've used a combination of user reviews, photos and in-house testing to verify the soundness of a stun gun's manufacturing.
Functionality and Ease of Use
Beyond standard functions, we considered additional features that would provide value and increase effectiveness in different situations. Ergonomics, intuitive interface and the positioning of the stun button/trigger all go into how simple it is to use.
Power
How much power, or voltage a stun gun emits is an important consideration. Even though they're designed for the stun button to be pressed multiple times, how many attempts you get will depend on its battery and voltage each button press releases. We've chosen models that fall within the proper range to provide adequate "stopping power" and battery efficiency.
Reliability
When it comes to personal safety, having a self-protection tool that performs repeatedly is essential. Each of the stun guns we have featured in this article have been rated to be among the best in terms of reliability and durability.
Our selection of stun guns meet the standards of the above criteria. However, each one weighs various aspects differently. We recommend taking a glance at our recommendations and deciding which features are most important to you.
Best All-Around: FIGHTSENSE Super Heavy Duty Mini Stun Gun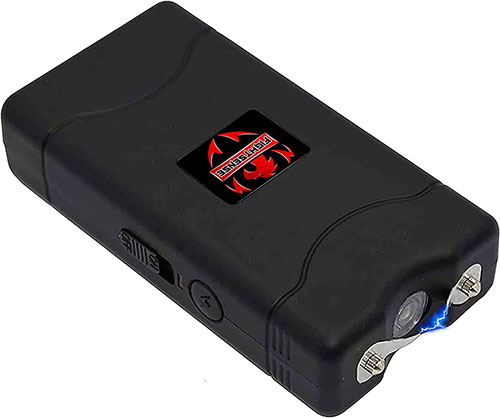 Key Features
Dimensions 4" x 2" x 1"
Non-slip rubber coated exterior.
Very compact design.
Charging prongs built into back-end.
Integrated LED flashlight.
For those looking for an excellent all-around stun gun, look no further than the FIGHTSENSE Mini Stun Gun. This is an extremely compact option that has a host of space-saving features built directly into the design. The first thing you'll notice is the small size. Able to be discreetly carried in the palm of your hand, it's only 4 inches in length, making it suitable for users of all statures.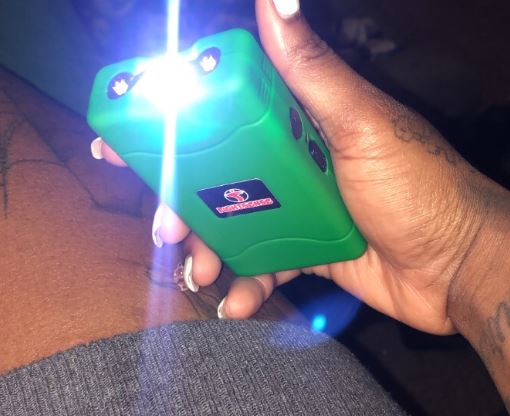 The rubberized exterior offers plenty of grip without straying from a standard, rectangular design. On one end there's two metal prongs that create a frightening ZAP when the side-switch and buttons are both activated. Users must first slide the toggle switch to activate the built-in LED flashlight. Once the light is active, so is the stun gun. To shock, simply press and hold the circular button. Instantaneously, the electrical current will arc in the air, creating a visual and audible deterrent to make potential assailants think again.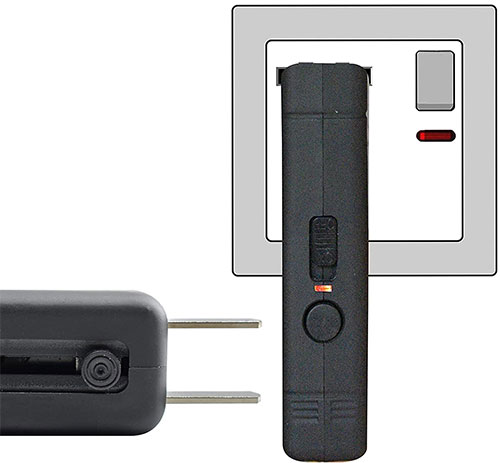 One of our favorite features is the built-in rechargeable battery that can be charged quickly and on-the-go without the need for any additional accessories. A cable isn't even needed to keep it charged-up. Simply slide the charging prongs on the opposite end of the "shock" side to expose them from the stun guns' housing. Once exposed, users can simply plug the whole unit into any wall outlet. With a design like this, there's no need to remember any extras when you take the stun gun on the go.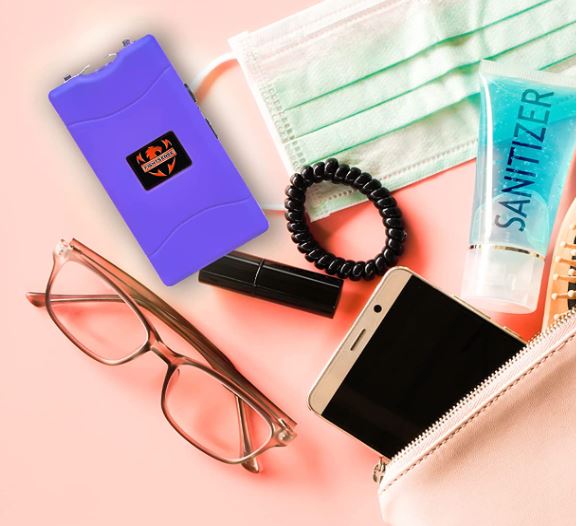 There's an included nylon holster with a Velcro enclosure and belt loop. This makes storage easy, but also lets you attach it to virtually any belt, strap or loop you may have on your clothing. In addition, it comes with in a multitude of color options. Users can choose from solid colors or a few fun patterns. Regardless, arguably the best feature is the included lifetime warranty. Some users have even reported owning it for 8+ years with it still working just like new. Although it may not be the most high-end option, the FIGHTSENSE Stun Gun offers the perfect all-around blend of performance, compactness and affordability. All in all, an easy one to recommend.
What We Liked
Shock is loud and terrifying.
Incredibly compact design, easy for small women to conceal.
Very affordable.
Built-in flashlight is very bright.
Charging prongs built-in – no need for a charging cable.
Includes a carrying pouch with belt loop.
Backed by a lifetime warranty replacement program.
Available in a wide range of colors/styles.
What We Didn't Like
Shock can only be activated with flashlight on.
Users report some quality control issues.
Best Runner-Up: VIPERTEK VTS-979 Stun Gun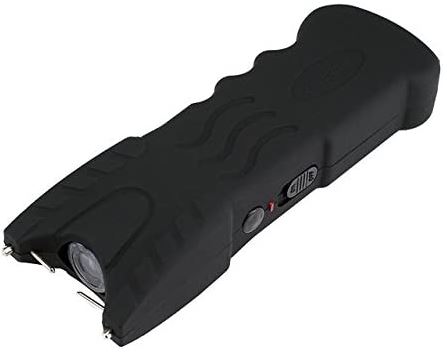 Key Features:
Dimensions 6.5″ x 2″ x 1″
Non-slip rubber coating exterior.
Safety disable pin is attached to a wrist strap.
Built-in LED flashlight.
The VIPERTEK VTS-979 comes in a smaller form factor than some of its competitors. Its compact dimensions allow it to be easily stored in tight spaces like a jacket pocket or purse. Some reviewers mention stowing it in the cupholder of their stroller while taking their baby on walks. It also helps with making sure that the rubber exterior doesn't get snagged when being put away. We found that with other stun guns that were larger, the rubber exterior made it incredibly difficult to take in and out. Thanks to its size and ergonomics, we did not experience any such problem with this model.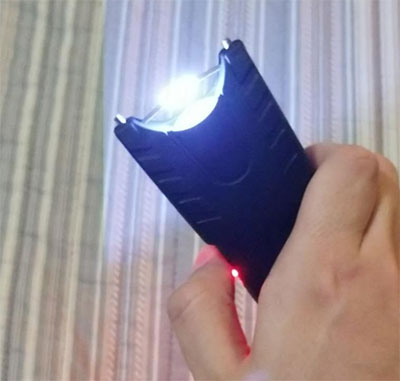 It's extremely lightweight, making it easy to hold in-hand without tiring easily. However, despite its weight, none of the materials felt cheap or flimsy. The handle stayed firm in our hands even when squeezed tightly. The length can accommodate a wide range of hand sizes without being so long that it's hard to wield in tight quarters.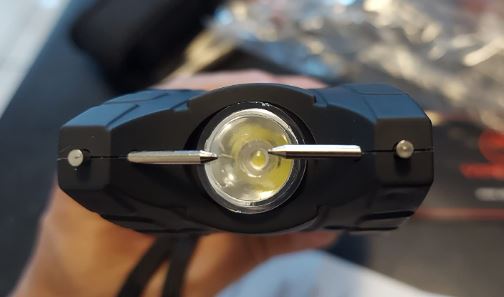 In terms of power output and consistency, the VIPERTEK VTS-979 performed very well based on user feedback and our own experience. Even though the specific voltage is not disclosed, several users state it works very well at immobilizing those on the receiving end of the device. Many people make this their preferred self-defense device because of its ability to serve as an intimidating deterrent. By pressing the shock button, a visible current is sent between the two prongs on the tip resulting in a loud, frightening noise. Our team found that the noise generated from this model was louder than many of its competitors, which may be an advantage.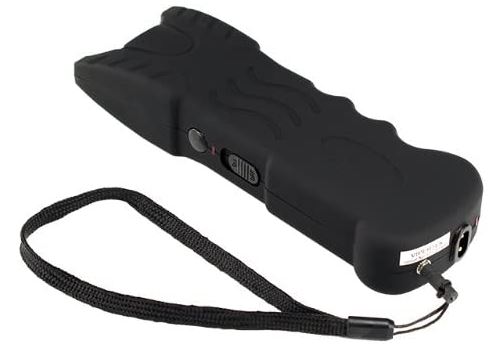 A built-in LED flashlight reduces the number of things you'll need to carry which can save you valuable time if you need to respond quickly. The light emitted can illuminate several feet ahead of you, making it suitable for walking. An important safety feature is the safety disable pin. In case an assailant can disarm you, it's important they can't use the stun gun on you. The safety disable pin is attached to a wrist strap so that the unit is disabled the moment it leaves your hand.
What We Liked:
Good price.
Built-in battery re-charges fast.
Comfortable form-factor.
Safety pin feature prevents an assailant from using it against you.
What We Didn't Like:
Actual voltage is not disclosed.
Slightly bulkier than other options.
Best High-End: Taser Pulse Self-Defense Tool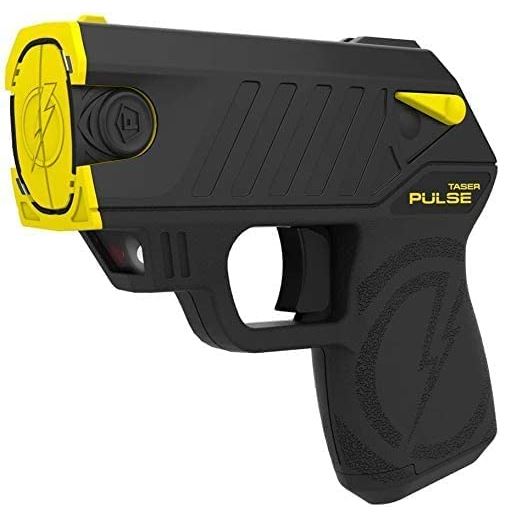 Key Features:
Dimension 9.1" x 9.1" x 9.1"
Built-in high visibility flashlight.
Angled mechanical sites.
15ft shooting distance.
Although the Taser Pulse Self-Defense Tool is technically a taser and not a stun gun, we included this as a high end alternative for those that would like to make the additional investment. As we mentioned earlier, tasers shoot a set of high voltage electrodes or darts that disrupt the target's nervous system, resulting in temporary incapacitation.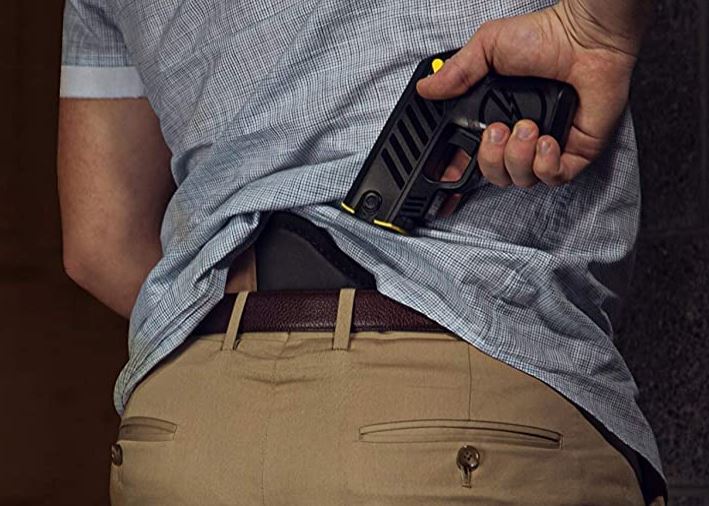 This may be a better option for people that want to have a self-protection tool with range. However, keep in mind that the learning curve for a taser is greater than for a stun gun. Learning proper loading, battery maintenance and target practice are all going to play a factor in how successfully you wield it.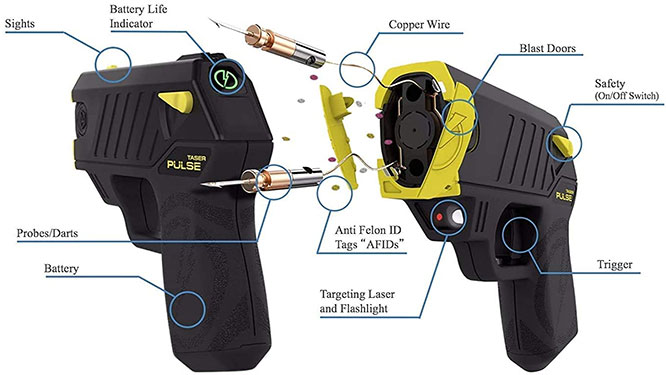 Of the different taser models we tried, the Taser Pulse was the ideal combination of value, ease of use and effectiveness. It's not the cheapest option but the robust features justify the price. It weighs in at only eight ounces and is paired with a blocky form factor, providing a solid feeling while still being lightweight. As opposed to the VIPERTEK, this unit opts for selective rubber grip placements as opposed to a total-body rubber coating. Best of all, the exterior is made of a high impact polymer which is durable enough to protect the internal components.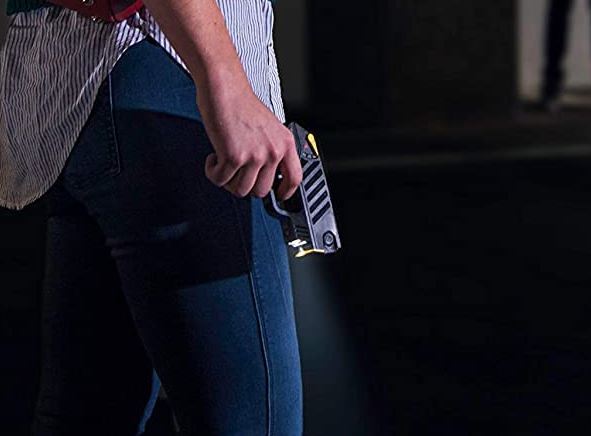 Like the VIPERTEK, there's a built-in flashlight so that it can pull double duty and keep your hands free. You get the benefit of range with a taser which can allow you to engage a target before they get too close. The Taser Pulse gives you a range of 15 feet. However, keep in mind that the farther away you are, the harder it is to be accurate. We found that the mechanical sites on the top helped greatly with accuracy.
What We Liked:
Used by security professionals.
15ft shooting distance is adequate for most situations.
Lightweight design for easier wielding.
Mechanical sites are helpful for increased accuracy.
What We Didn't Like:
More expensive when compared to stun guns.
Requires a higher initial learning curve.
Best for a Dog Attack: Guard Dog Self-Defense Kit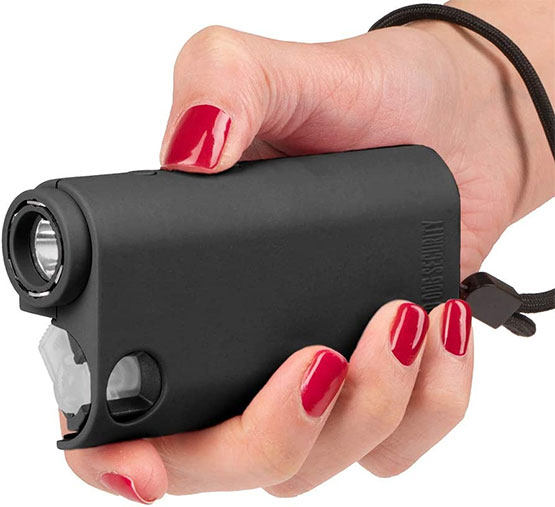 Key Features:
Dimensions 5.87" x 5.47" x 1.34"
3-in-1 design incorporates a stun gun, flashlight and pepper spray in one.
Built-in 175 lumen flashlight.
Refillable pepper spray with a 16ft Range.
Comes with a wrist strap.
Recharges via USB.
Attacks from dogs can be difficult to manage. Being smaller targets and able to close distance quickly, a taser may not be effective. Waiting till it gets close enough to use a stun gun can increase the risk of getting bitten or clawed at. We chose the Guard Dog Self-Defense Kit since it bridges the gap between short and ranged self defense. It accomplishes this by building a pepper spray feature into a stun gun.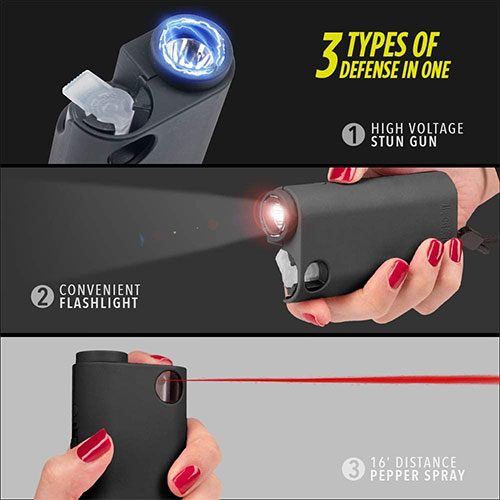 A combination of the included high intensity flashlight and pepper spray increases the odds of warding off a dog before it gets too close. At the very least, it can disorient it to better your chances of using the stun gun effectively. With the Guard Dog, you have multiple methods that can all work in conjunction or separately, depending on the specific scenario.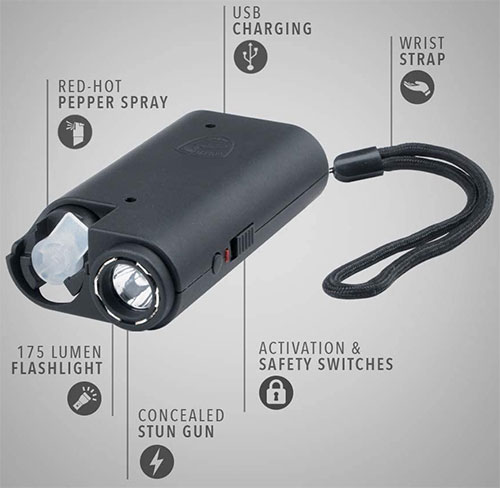 This stun gun is compact enough to fit in most jacket pockets and medium-sized purses. Additionally, its blocky design prevents it from getting snagged on anything if you need to pull it out quickly. The pepper spray has a 16 foot range that is sustainable for several seconds, allowing you time to adjust your aim to better hit the target. We also like that each unit comes with the Protected For Life program that will refill your pepper spray for free if you ever have to use it.
What We Liked:
Built-in pepper spray provides a ranged defense option to a stun gun.
Flashlight is very bright.
Small form factor.
Free refills on pepper spray if used when defending against an attack.
What We Didn't Like:
Wrist strap does not include a safety disable pin.
Best Flashlight Stun Gun: VIPERTEK VTS-195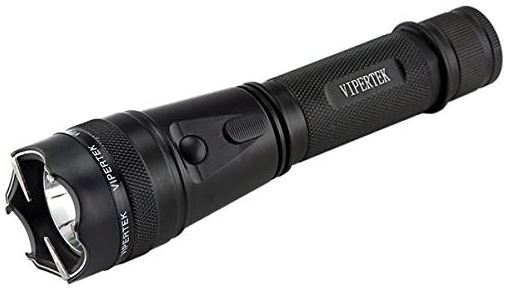 Key Features:
Dimensions 8" x 3" x 2.3"
Built-in LED flashlight.
Looks more discreet than a standard stun gun.
Aircraft grade aluminum alloy construction.
The VIPERTEK VTS-195 has many of the same features as other picks including a built-in flashlight and rechargeable battery. However, a major difference is the material and form factor. It's made of aircraft grade aluminum, which gives a smoother, less grippy feel than the VTS-979 that has a rubber coated body.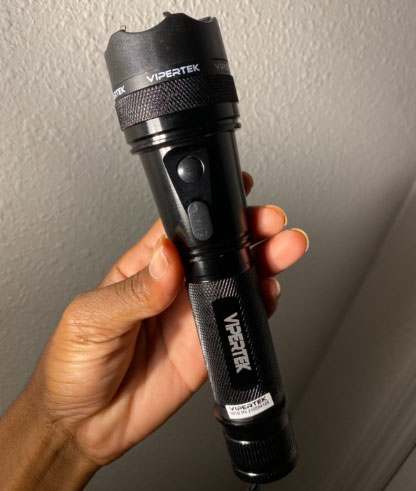 While other stun guns take on a more block-shaped or firearm appearance, VIPERTEK shaped this version like a high-powered flashlight. It's fitting, since this unit has one of the more-powerful LED flashlights built into it. Keep in mind that you cannot operate the stun gun and have the flashlight on at the same time. There's a three-position slide switch that goes from off, flashlight and stun gun. The shock button will not trigger unless you slide the switch to the stun gun position. It's not a major drawback as long as you take time to become familiar with navigating the slide switch and shock button.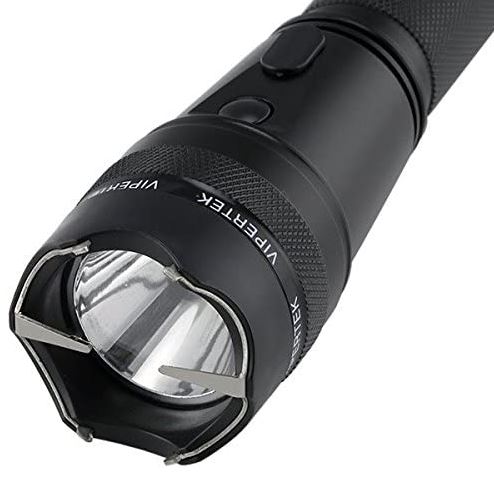 Users report that even though the VTS-195 isn't as visually deterring being shaped like a flashlight, the "test shock" feature is the same as our best overall pick, which delivers a very strong audible caution signal. Many people appreciate that the powerful flashlight can also incapacitate targets with an extremely bright light in their eyes.
What We Liked:
Powerful, bright LED flashlight can disorient targets.
Sleek form factor easily slides in and out of pockets or purses.
Rechargeable battery reduces cost of replacements.
3-position slide feature prevents accidental triggering.
Budget friendly.
What We Didn't Like:
3-position slide can take some getting used to.
Flashlight and stun gun cannot operate simultaneously (most stun guns do not).
Most Discreet: TERMINATOR SGCPM-89 Smartphone Stun Gun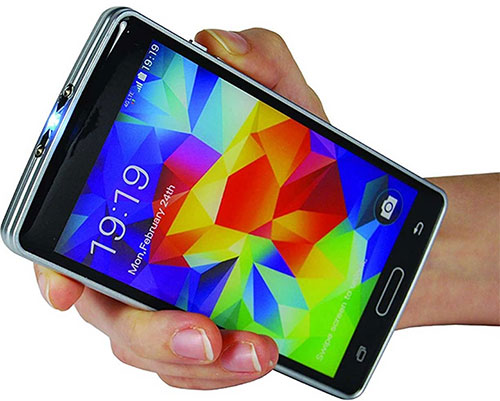 Key Features:
Dimensions 6" x 3.1" x 1.8"
High-powered built-in LED flashlight.
Battery life indicator.
Looks like a smartphone.
Some users need a stun gun that doesn't draw attention and is easily concealable. You may desire an element of surprise, not wanting an assailant to be tipped off that you have a stun gun. The TERMINATOR SGCPM-89 is a stun gun shaped like an Apple-style smartphone.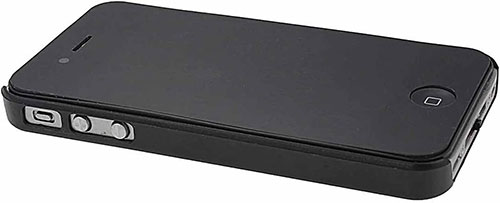 It's important to note that this is not an attachment to your actual phone, it is a stand-alone device that mimics the appearance of a phone. At a distance, we weren't able to tell the difference. It's slim like a phone and is easy to handle with one hand. One thing you may need to get used to is the button slide and trigger placement. They're laid out to mimic the button on a phone rather than a gun or flashlight, so it could take some getting used to.
The LED flashlight is nearly as powerful as the one in the VTS-195 but from our estimation just a few lumens less. Regardless, it can still be blinding when you aim it at your target. Some users report issues with their unit and needing to get a replacement. Upon investigation, we believe this is because the 2-pronged wires don't come soldered in place within the unit.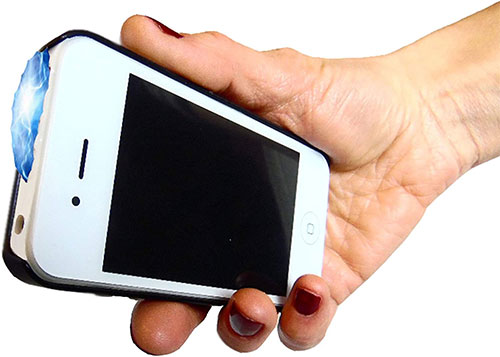 Excessive jarring or dropping could cause these wires to lose contact, resulting in a non-functioning unit. If you're rough with devices like these, it would be a good idea to solder the wires in place. Alternatively, these units do come with a lifetime warranty, allowing you to swap out your device completely, if needed. Overall, it's a powerful stun gun with a unique shape that is easy to conceal.
Best of all, the TERMINATOR SGCPM-89 is available in three different varieties. There's a standard white and black version, a jet black version and a color version. The colored version boasts a faux screen that looks fairly realistic from a distance. Regardless, they carry the same style as an older iPhone – which is just fine considering that it's actually a discreet stun gun.
What We Liked
Extremely covert and easy to hide in plain sight.
Available in a few different varieties.
Built-in flashlight is relatively bright.
Very portable design.
What We Didn't Like
Re-charging is a bit slow.