These days, you can't be too careful about protecting yourself and your family. We go to great lengths, and use devices like smart locks to secure our homes. But what do you do when you're out and about? In that case, your first line of defense is common sense and keeping your phone battery charged. You're far more likely to suffer a medical emergency or car breakdown than you are to be physically assaulted. But what if the worst happens, and you find yourself on the wrong end of an assault? If you're actively being attacked, a smartphone isn't going to be much help. A quality stun gun, on the other hand, can quickly reverse the situation.
But there are a wide variety of stun guns with a variety of capabilities. Some have different safety features, and are more or less powerful than the others. They're different sizes, which makes them more or less easy to carry. They're also made of different materials, and with different form factors. In other words, no two are alike, and it's worth shopping around to find the right one for your needs. By getting the right power, form factor, and features, you'll be more satisfied with your stun gun.
Note: At no extra cost to you, we may earn a commission for purchases using our links. Learn more.
With that in mind, we're about to review four of the most popular stun guns on the market. We'll begin with the VIPERTEK VTS-979. This stun gun has an ergonomic design, as well as a safety lanyard so it can't be used against you. Next, we'll check out the Guard Dog Security Hornet. This stun gun has an ultra-compact keychain design, but is still surprisingly powerful. Third, we'll look at the MEGASTUN Super Lightning Stun Gun Flashlight. This is a flashlight-style stun gun, with a rugged aluminum housing. Finally, we'll examine the POLICE TW10 Stun Gun. This stun gun boasts a built-in siren, and has double switches for safety. Now let's take a closer look at all four, and see how they compare.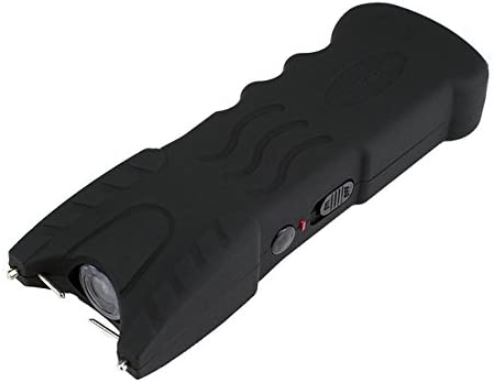 VIPERTEK VTS-979
The VIPERTEK VTS-979 has a stereotypical, brick-shaped stun gun design. The housing is made of black plastic, with a lightly textured, slightly rubbery finish. This makes it easy to handle, and easy to hold onto under most circumstances. It has an ergonomic shape, with indentations along one side for your fingers. Along the other side, located by your thumb, there's an on/off switch, as well as an activation button. To use the taser, you need to first flip the switch, then press down on the button. On the side by your index finger, there's a second button for activating the flashlight function.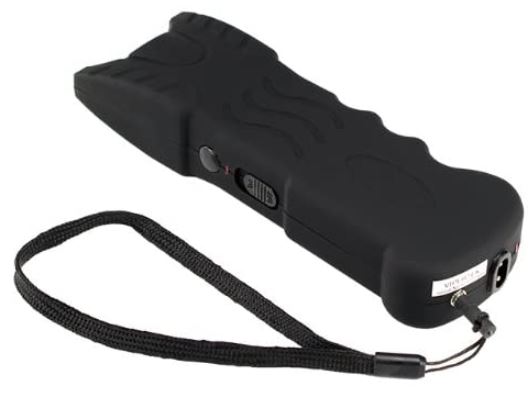 On the front end, you'll see two electrodes, with prongs protruding from the front. When the stun function is engaged, an electrical arc will surge between the electrodes, and you'll hear it crackling. The entire housing measures 6.5 inches long, 2 inches wide, and an inch thick. At the base end, there's a port for the AC power cord, which is included in the kit. This is a bare cord that plugs into a wall outlet, not a USB port. In addition, there's a lanyard, which secures to the taser with a pin. If the taser gets yanked away, the pin will pull free, and the stun function will no longer activate. This means an attacker can't use the stun gun against you if they wrestle it away.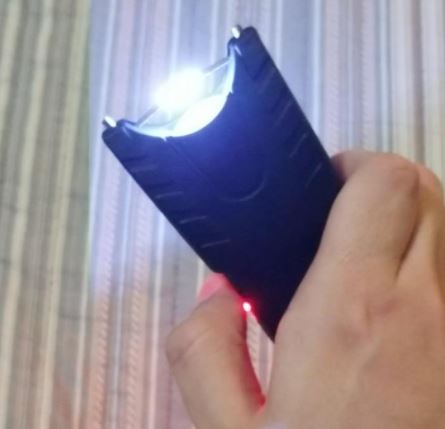 Stopping Power and Extras
When it comes to stopping power, the VTS-979 is a bit of a mixed bag. On the one hand, it delivers a jolt of 59 Milliamps (Ma). That's enough to disable a very large man, so in theory, you should be just fine. That said, the total jolt can be reduced by resistance. In other words, if someone's wearing a bunch of clothes or a heavy jacket, the energy will be significantly reduced. This is why most stun guns are overpowered. So if you live somewhere where people often wear heavy clothing, you might want a more powerful stun gun.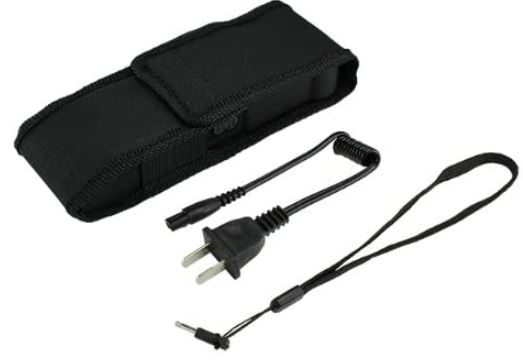 Along with the stun gun function, you also get the benefit of a built-in LED flashlight. This is most certainly designed as a back up feature, and it's not the brightest light we've seen. It's just fine for getting around the house, or even navigating your backyard. Just don't expect it to be as bright or powerful as a full-featured flashlight.
One thing we did appreciate about the VIPERTEK stun gun is the warranty. It's guaranteed for life against any defects in materials or workmanship. So if you run into any issues down the road, you'll be well protected.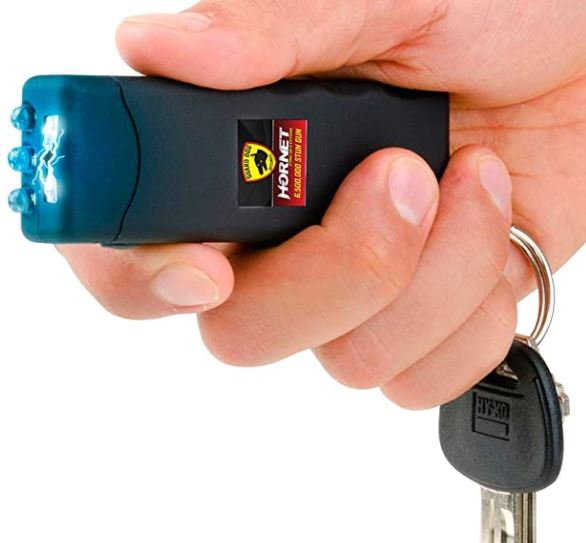 Guard Dog Security Hornet
The Guard Dog Security Hornet is designed first and foremost to be as compact as possible. This tiny stun gun measures only 4 inches long, 1.5 inches wide, and half an inch thick. Not only that, but it weighs in at only four ounces. It's small enough to slip into a pocket, or even to attach to your keychain. In fact, there's a short keychain attachment chain attached to one of the bottom corners. This makes it easy to carry your taser wherever you need to go, without it looking out of place. It's a particularly good choice for men, since you don't need to have a purse to carry it around in. And if you prefer not to carry it on your keys, there's also a black nylon mesh belt holster included.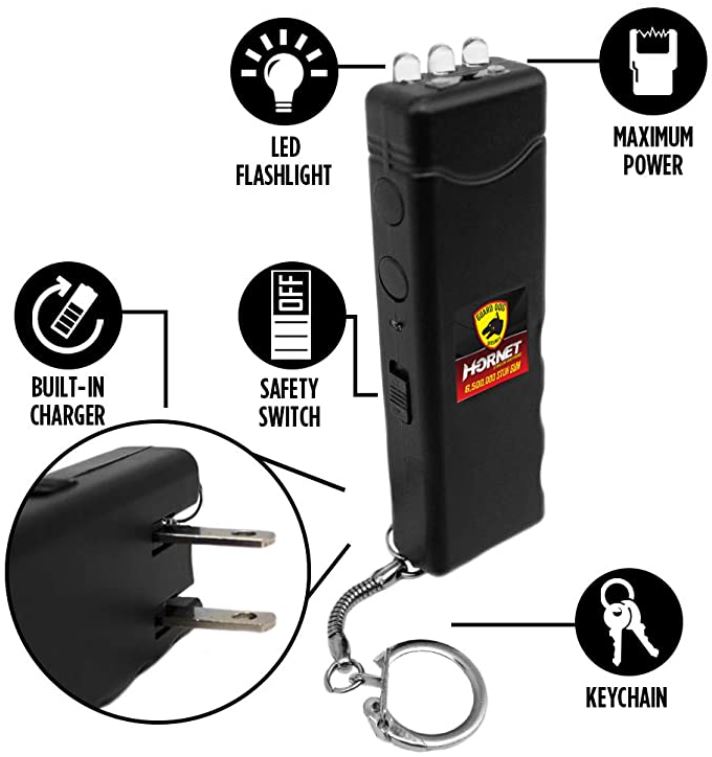 The housing is made of black plastic, with rounded corners that are supposed to be safe for your pockets. One edge is slightly curved to allow room for your fingers, and all the controls are on the other edge. These include a safety switch, as well as separate buttons for the taser function and the flashlight. There are three large LED bulbs on the tip, just beneath the metal electrodes. The Guard Dog stun gun charges directly, and has no need for a charger. You just unfold the power prongs from the back of the housing and plug it into your power outlet.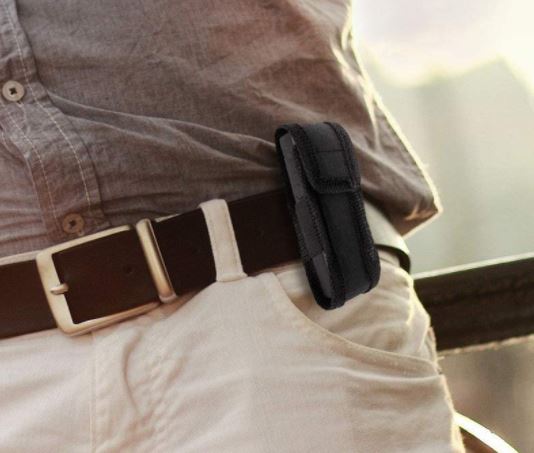 Stopping Power and Extras
The Security Hornet is more than twice as powerful than the VIPERTEK stun gun. It delivers a whopping 140Ma of current, which allows it to penetrate heavy clothing with ease. The downside here is that the small size of the device requires a relatively small battery. Even if you haven't used the stun function, the battery will last only about two to three weeks. After that, it will have stopped working due to passive power loss. To get the most out of this stun gun, you'll need to plug it in every ten days or so.
The three LEDs on the end aren't blindingly bright, but they're bright enough to illuminate a small room. The neat thing is that because there's no focus, the light isn't highly directional. It emits in all directions, which makes it great for general purpose use during an emergency. Just keep in mind that the flashlight function will only work for a few hours.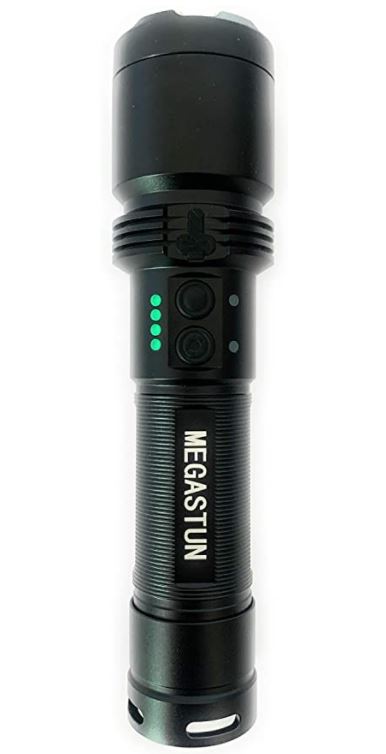 MEGASTUN Super Lightning Stun Gun Flashlight
The MEGASTUN Super Lightning Stun Gun Flashlight is built as a flashlight first and a stun gun second. The design is cylindrical, with an aircraft-grade aluminum housing and a knurled finish. The tip even has the same "toothed" design as tactical flashlights, designed for breaking glass. All in all, it's very well designed, and it's easy to hold onto. Despite its rugged design, this stun gun isn't as big as you might expect. With a diameter of 2 inches, it's too big to fit in your pocket. But at only 6.5 inches in length, and weighing only 0.54 pounds, it's simple enough to carry.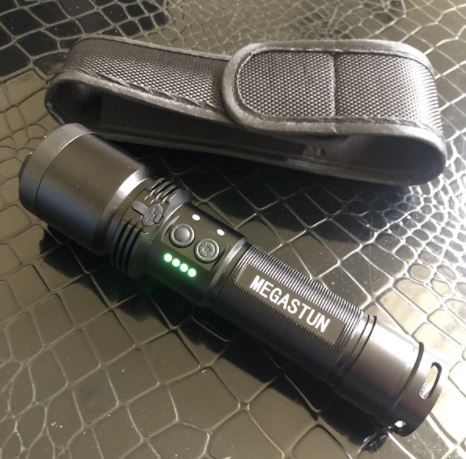 Along with the stun gun flashlight itself, you also get the accessories you need to get started. There's a Micro USB charging cable, which can charge from any powered USB port or charger. There's also a black nylon belt pouch, so you can keep your stun gun close to hand.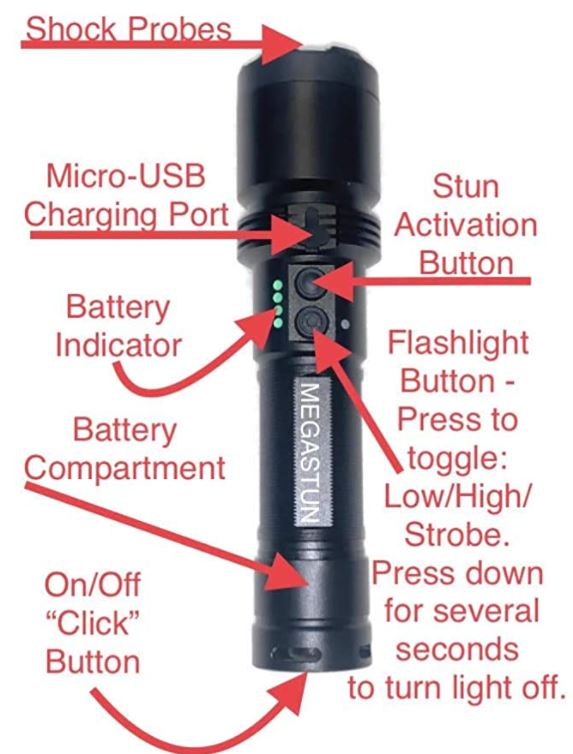 Stopping Power and Extras
One thing that disappointed us about the MEGASTUN Stun Gun Flashlight is that there's no power rating. That said, a lot of power ratings are deceptive. You need the right amperage, voltage, and coulombs, not all of which are found on all tasers. What we can say for sure is that this one seems pretty powerful. We couldn't find any volunteers to test its effects. But if the powerful arc and loud crackle are any indication, it packs some significant punch.
The flashlight function is as robust as you'd expect from a dedicated tactical flashlight. There's a 281-lumen bright mode, as well as a dimmer mode that will save battery life. On the highest setting, the beam shines for over a quarter mile. And on the lowest setting, you can comfortably read in a dark room. The total battery life on the lower setting is 40 hours, which is impressive. Just remember that that's also your taser battery, so you don't want to drain it all the way. There's also a strobe mode, for signaling to others.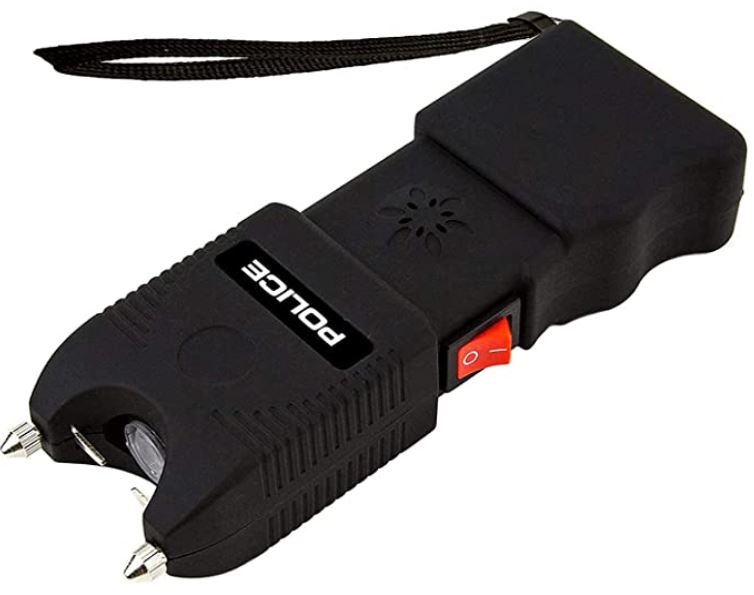 POLICE TW10 Stun Gun
The POLICE TW10 Stun Gun is another traditional, rectangular stun gun. The ABS housing measures 6 inches long, 2 inches wide, and an inch thick, and sports a rubbery coating. This makes it easy to hold on to, even under adverse conditions. There's a set of electrodes on the front, along with big, sharp metal prongs for penetrating clothing.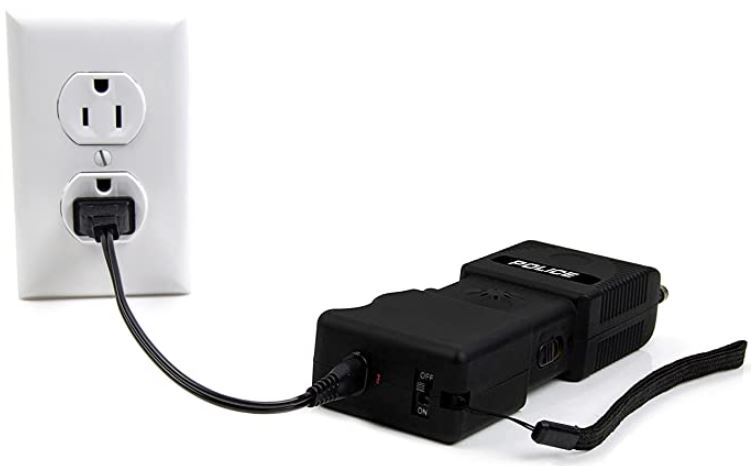 The most notable thing about the design is that there's both a power switch and a safety switch. As a result, it's much harder to accidentally set off the stun gun. That said, if both switches aren't activated, you won't be able to use the TW10 against an attacker. The kit includes a removable lanyard as well as an AC charging cable, so you don't need any extra accessories.
Stopping Power and Extras
The TW10 has a rated power of 88 million volts. That's an impressive number, but it doesn't tell us much. In a stun gun, amperage is far more important than voltage, and POLICE doesn't provide a rated amperage. Even so, there seems to be a generous amount of current, and the big prongs can penetrate thicker clothes.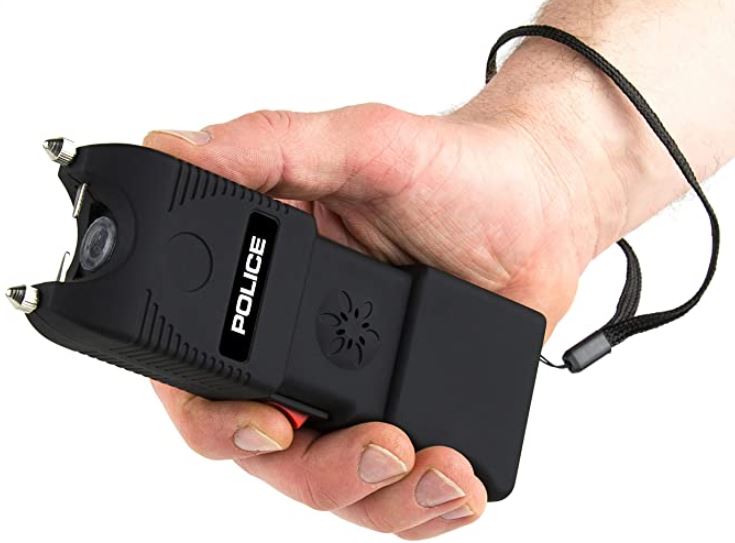 Like the other stun guns we looked at, this one also has a built-in flashlight. It's not terribly bright, but it's bright enough for most everyday purposes. As an added bonus, though, the TW10 also has a built-in 120dB alarm. This alarm will sound as soon as the taser is activated, so you don't have to do anything else. And at 120dB, it's loud enough to wake the dead. If there's anyone in the area, they're going to hear it.
Final Verdict
So, which one of these stun guns is going to be the right choice for you? It depends on what features are most important. The VIPERTEK VTS-979 is a great choice when it comes to safety. The lanyard makes it impossible for this stun gun to ever be used against you. You also get an ergonomic design and a comfortable grip. The only thing we didn't like was that it's not powerful enough to penetrate heavy clothing.
The Guard Dog Security Hornet is the most compact and portable by far, which is a must for many people. It's also surprisingly powerful for the size, delivering 140Ma of current. Then again, the small battery is a limitation if you aren't committed to keeping it fully charged.
The MEGASTUN Super Lightning Stun Gun Flashlight has by far the best flashlight function of the bunch. It's also probably the most powerful, although the lack of actual specifications was disappointing. The battery life is excellent, though, and charging is a breeze via Micro USB.
The POLICE TW10 Stun Gun is a solid performer in terms of both design and stopping power. Its flashlight function isn't the most impressive. But the built-in siren is a great added touch for your protection.
Note: At no extra cost to you, we may earn a commission for purchases using our links. Learn more.