As we enter the coldest weeks of the year, it can be a tough time to keep warm. If you're going to be outside, good cold weather gear is a necessity. Besides wearing a warm coat, it's also important to protect your extremities. Fingers and toes are some of the first things to get damaged by frostbite. Besides that, it's imperative to keep your ears warm.
People have been wearing hats since before the beginning of civilization. But modern battery technology has given us something new – heated ear warmers. Instead of relying on your body's heat, these ear muffs and head bands produce their own warmth. Even on a very cold day, they're designed to keep your ears nice and toasty. That's great news if you spend a lot of time outside during cold weather.
Today, we're going to review three of the best heated ear warmers we could get our hands on. Each one has its own strengths and weaknesses. But if you don't have time to read the complete reviews, here's what you need to know:
Of course, there's a lot more that goes into each of these heated ear muffs and head bands. Which one is right for you? To find out, we're going to have to look closer at each one. Then we'll be able to make a fair judgement. Let's begin!
Best Overall: Aroma Season Heated Ear Warmer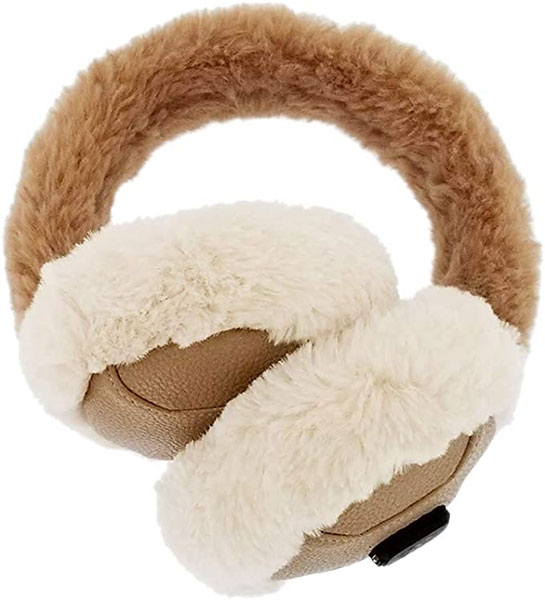 Key features:
Plush brown and white ear muffs.
Two heating levels.
3-hour battery life.
The Aroma Season Heated Ear Warmer is a set of earmuffs with a diameter of 4.3 inches each. They're made from a fluffy plush material, with white faux fur on the inside. This material is incredibly soft and comfortable, and cradles your ear to keep it warm. Despite this, it's breathable, so you don't have to worry about getting to sweaty while you're wearing it.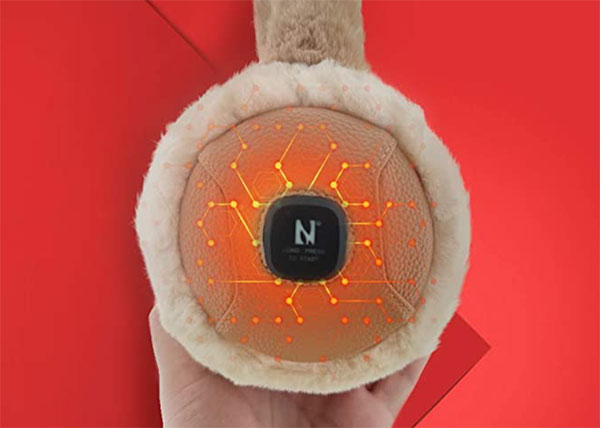 The head band itself is wrapped in a similar material, although it's brown rather than white. This creates an attractive contrast with the fur on the ear muffs. It has an inner plastic strap that provides rigidity. In all honesty, it feels a little bit flimsy. But as long as you're not abusing it, it shouldn't get damaged. Not only that, but it's extendable. You can pull on one or both ends to adjust the length between 11.8 and 13.8 inches. This provides a decent range that will accommodate almost any head. Just be aware that if you have a smaller head, there may be a gap at the top.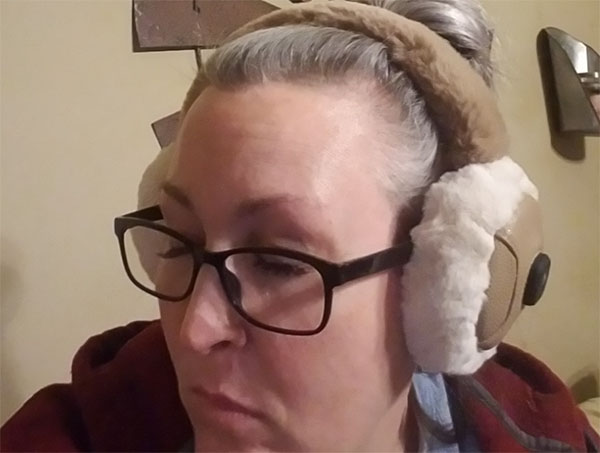 The ear muffs will fold over on themselves inside the band to collapse to a smaller size. And at just 5.8 ounces, they weigh hardly anything. Not only does this make them light on your head, but it also makes packing them a trivial matter. If you want good heated ear muffs for your next skiing trip, you're looking at them.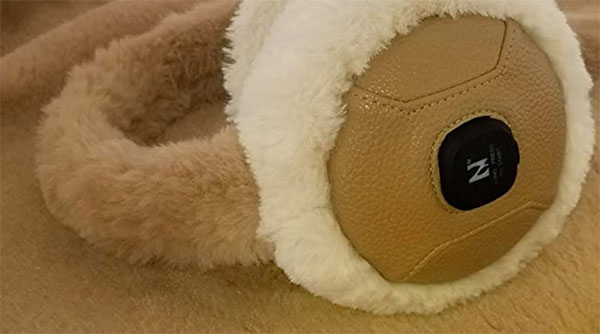 The backs of the ear muffs are made from a brown faux leather material. It more or less matches the band, and has strong, sturdy stitching. On the back of the left ear cup is a black rubber button with a built-in light. Press and hold the button to turn the heating elements on and off. When they're on, pressing the button will change the temperature between two ranges. On the low setting, it ranges from 113 to 122 degrees. Turn it up, and it will range from 122 to 131 degrees. A built-in indicator light lets you know the current setting: blue for low or red for high.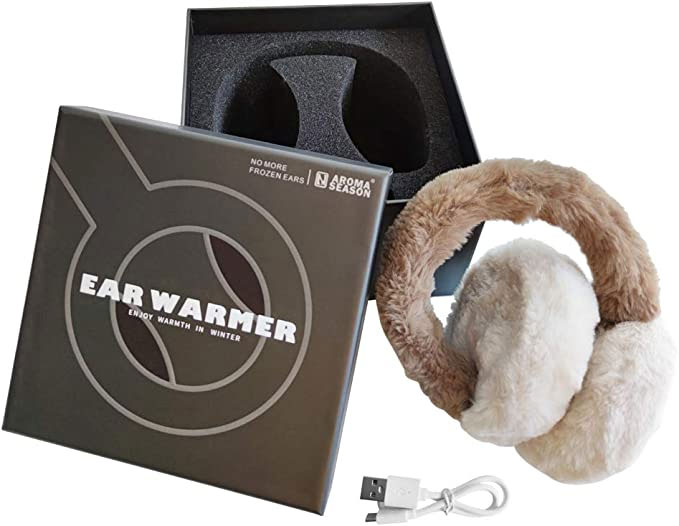 The Aroma ear muffs are powered by an internal rechargeable battery. At a full charge, it will run for three hours on the lower heat setting. The kit includes a short USB Type-C charging cable for charging it up. You also get the benefit of a 12-month manufacturer's warranty, which protects you from any premature failures. Best of all, they're also available in a black/green color if you prefer it over the brown/white color scheme.
Along with your heated ear muffs, you may also want to keep your neck warm. Check out our list of the best heated scarves for some ideas.
What we liked:
Very soft and comfortable.
Decent battery life.
Adjustable design.
Two heating levels.
What we didn't like:
Plastic inner head band feels flimsy.
A bit large for small heads.
Best Runner-Up: Telepepe Heated Ear Muffs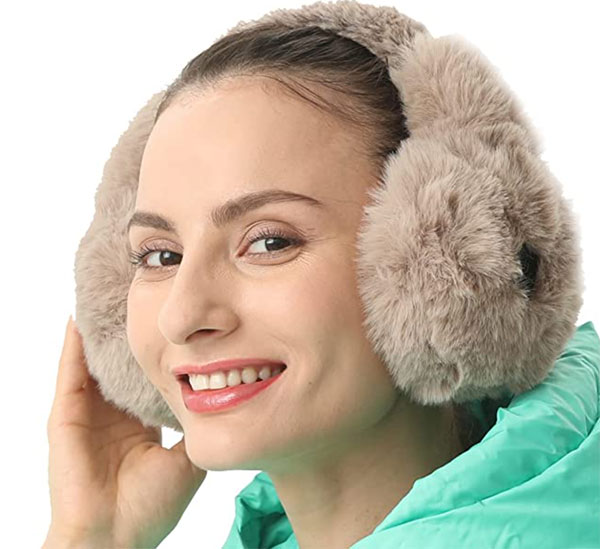 Key features:
Fluffy grey-brown ear muffs.
Two heating levels.
90-minute battery life.
The first thing you'll notice about the Telepepe Heated Ear Muffs is how incredibly fluffy they are. The grey-brown faux fur is very long, which makes the large, 4.5-inch ear muffs look even bigger. More to the point, the extreme amount of fur keeps your ears very warm, even without any heating function. That said, they're not as comfortable as they look. You can still feel the heating coils through the fabric on the inside of the ear muffs.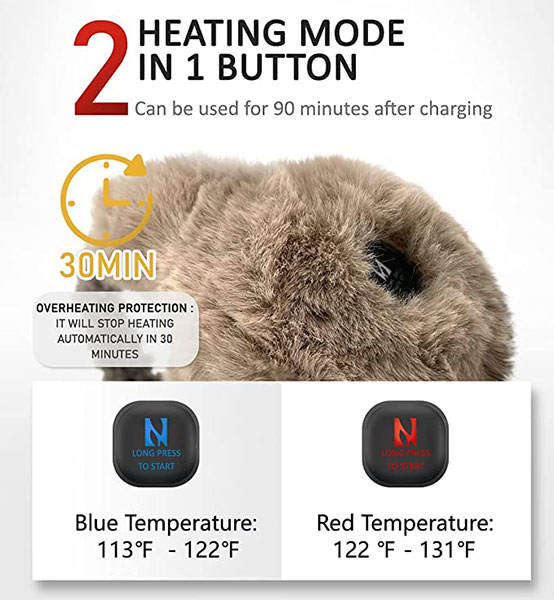 The head band is covered in a shorter faux fur of a similar color. It's adjustable from 11.8" to 12.8", so it's suitable for pretty much any head. Not only that, but the ear muffs are collapsible, and they weigh just 5.7 ounces. This is perfect for travel, as well as for storing your ear muffs when they're not in use.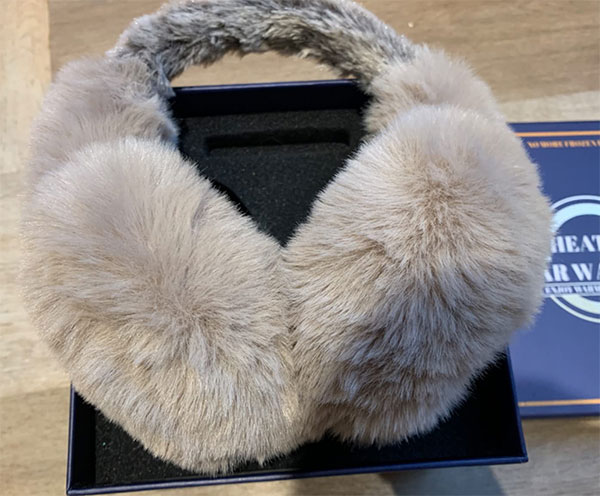 The functionality is basically the same as the Aroma ear muffs. There's a rubber button on the back of the left ear cup that switches between two temperature levels. The low and high settings are 113 to 122 degrees and 122 to 131 degrees respectively. The button has a built-in indicator light that shines blue for low and red for high. And after 30 minutes, the safety shutoff will automatically deactivate the heating elements.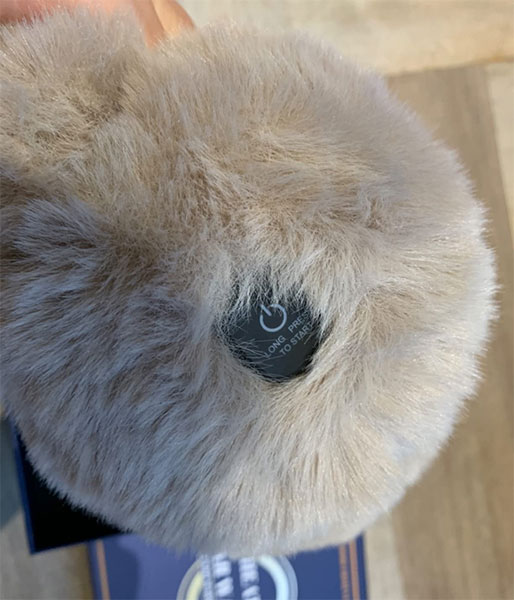 We were a little bit disappointed with the battery life. It only runs for around 90 minutes total, and that's on the low power setting. That said, charging via USB Type-C is quick and painless.
If you're planning on enjoying winter sports, imagine your rear end going numb from the cold. Take a look at our list of the best heated seat cushions for stadiums. They'll keep you nice and cozy while you cheer on your team.
What we liked:
Ultra fluffy and exceptionally warm.
Lightweight, collapsible design.
Adjustable head band.
Two temperature settings.
What we didn't like:
You can feel the inner heating elements.
Short battery life.
Best Non-Electric Alternative: HotHands Heated Fleece Headband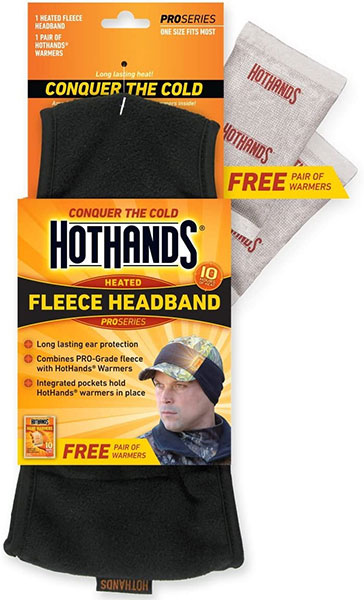 Key features:
Black fleece head band.
Uses hand warmer packets instead of a battery.
10-hour heating duration.
The HotHands Heated Fleece Headband is made from black polyester fleece. Instead of a set of ear muffs, it's a band that wraps around your entire head. It's mostly fairly narrow, but it widens in the area around your ears. It's also fairly durable. The edge is banded with extra fabric and stitched for reinforcement.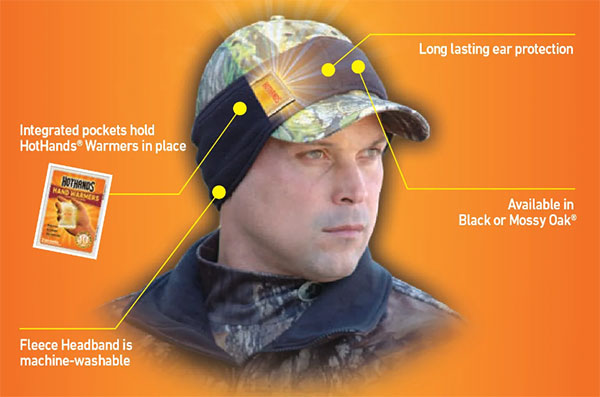 The fleece is reasonably soft, and stretches a bit to accommodate most head sizes. That said, it's one-size-fits-all. If it doesn't already fit your head, there's no way to adjust it.
Over the ears, you'll notice a pair of pockets sewn into the fabric. These are sized to fit two HotHands brand hand warmer packets, which are included in the package. The packets are single-use only, but you can order large packs of refills for pretty cheaply.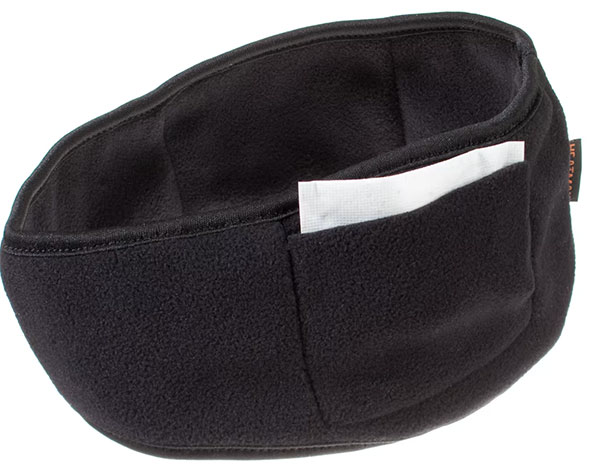 A single hand warmer pack can last for as long as 10 hours. You can get through an entire work day with time to spare, and there's no need to recharge any batteries. And if you're ordering big boxes of hand warmers anyway, you can also use them for your hands and feet.
While you're outside, you're also going to want to keep your legs warm. A good pair of heated long johns is the perfect tool for the job.
What we liked:
Heat lasts for up to 10 hours.
No batteries required.
You can also use the heating packs for your hands and feet.
Very affordable.
What we didn't like:
Requires a constant supply of hand warmer packs.
One size fits all design.
Which Heated Ear Warmer is Best?
All three of these heated ear warmers could be the perfect choice in the right situation. But which one is going to meet your individual needs? Let's go over what we've learned about each of today's options.
We started out by examining the Aroma Season Heated Ear Warmer. This was our top choice mostly because it checks the most boxes. To begin with, you get a respectable three hours of battery life. That's not incredible, but it's enough to stay toasty for most of the afternoon. You also get an incredibly comfortable faux fur shell, which is as soft and smooth as it gets. And with an adjustable head band and two temperature levels, it's versatile enough to fit most needs.
Second, we looked at the Telepepe Heated Ear Muffs. These ear muffs are similar to the Aroma muffs in terms of operation. You have the same two heating options and the same 30-minute auto-off function. However, you're presented with a couple of tradeoffs. On the one hand, this is the warmest set of ear muffs on our list. The long, fluffy faux fur traps air around your ears, and is as effective as any real fur. On the other hand, the battery doesn't last as long, and the insides of the muffs aren't as soft. Whether or not these trades are worth it all depends on what's most important to you.
Last but not least, we reviewed the HotHands Heated Fleece Headband. The main benefit of this headband is that it doesn't require any power. Instead, it's designed to use a pair of HotHands brand hand warmers to keep your ears warm. The downside of this is obvious – you need to keep buying hand warmers. But hand warmers are cheap, and they can last for as long as 10 hours. That's longer than any battery. And you can replace them instantly in the field, as opposed to having to charge your ear warmer.