As we move swiftly from winter to summer, there is only one thing on our minds: BBQ season. There are very few pleasures in life as enjoyable as kicking back on the beach or by the pool with a delicious home-grilled burger in your hands.
If you're a serious grill master, you know how important cooking temperatures are. It doesn't matter whether you're using a smoker, or just firing up a classic brick-fired BBQ. Watching the internal temperature of your meat is the only way to ensure your food is properly cooked, but this comes with a trade-off. Every time you open the lid of your BBQ to check your meat thermometer, you let all of the heat out. This cyclical heating cycle means that your food isn't going to be perfectly cooked, creating a bit of a catch-22 situation.
For a long time, those who called themselves grill-masters knew from experience exactly how long their food needed to cook for, and at what temperature.
Thanks to technology, there is a better way. Bluetooth enabled meat thermometers allow you to check the internal temperature of your meat, without having to open the lid of your grill. In this guide, we'll be taking a look at the three best Bluetooth meat thermometers on the market. First, we'll take a look at each individual model and find out what it has to offer. After, we'll help you find the one that's right for you.
Cappec Luxury Bluetooth Wireless Meat Thermometer
Getting their start in the measurement and control industry, Cappec's infrared thermometers help them to establish themselves as a leader in the marketplace. Now migrating to the consumer market, their meat thermometers are known for their high accuracy, and modern features. Their Wireless Meat Thermometer is one of their highest end models, offering everything the brand has available in a stylish and affordable package.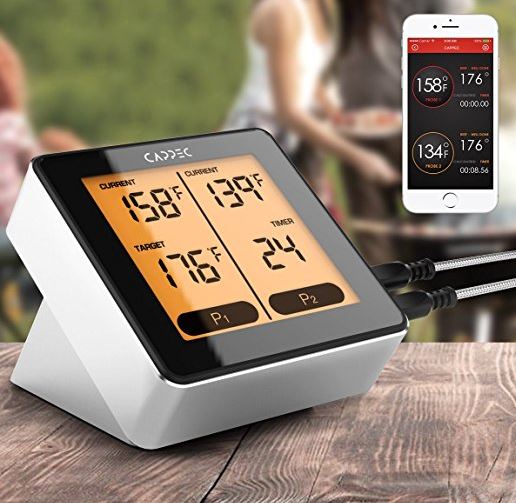 First Look
There are three main components to the Cappec Luxury Bluetooth Wireless Meat Thermometer. The heart of the unit is the display. It's stylish aluminum enclosure features an orange-backlit LCD display that displays instant readings from two thermometers. Both probes are included, allowing you to read the temperature from two parts of your meat, or one internal measurement and one cook temperature measurement. The display has a Bluetooth transmitter, which allows you to pair it with your phone and access the information from anywhere within a 150-foot range.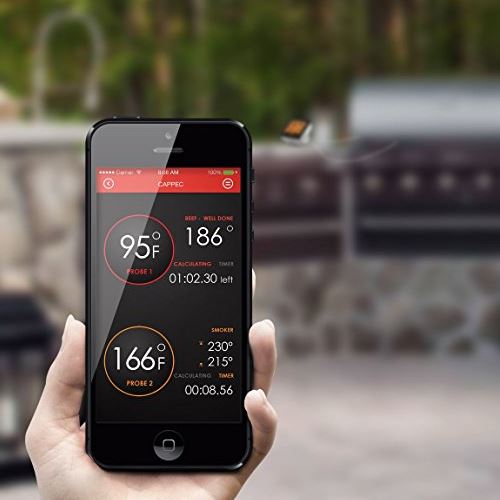 Design
There is no doubt in our minds that this is one of the most stylish wireless meat thermometers on the market. The outer casing is made from machined aluminum, giving it a very premium and luxurious feel. While most of the metal is brushed, giving off a matte like finish, the edges are beveled to a mirror finish. This provides contrast that perfectly aides the transition from the metal exterior to the glass face.
Although the LCD display is simple in design, it's orange back-light and high contrast lettering ensure that it's easy to read. The display is divided down the center, giving you two separate displays for each sensor. They are clearly labelled P1 and P2 on the bottom. The top row shows you the current temperature, and the bottom row displays the target temperature, and the timer.
This display can stand alone, or you can connect it to the magnetic base. The probes are simple in design, although the silver braided cable protects them from heat, and ensures that the design matches the rest of the sensor.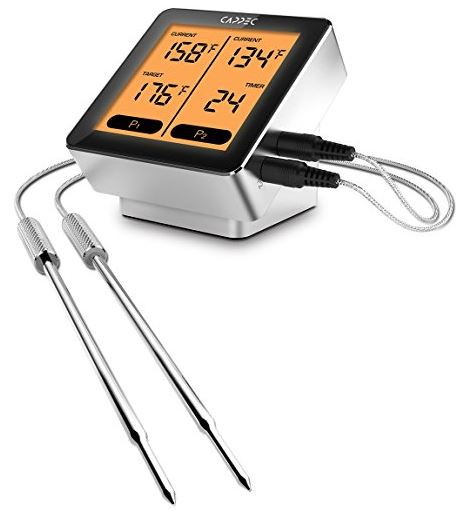 App
The Cappec app is a free download available on both iOS and Android devices. Although you can use the thermometer without the free app, connecting your smartphone really opens up a ton of great functionality.
Once you get the app downloaded, setup is a breeze. All you have to do is enable Bluetooth, and pair up your phone with the thermometer. From here, you'll be able to access all the features from a simple interface.
You'll see two large circles, with a little data next to each of them. Each of these circles represents a specific probe. You can tap on one of them to select a cook time, set a desired temperature, or open up the included library to set these automatically.
The library lets you choose different types of meats, and different cooking styles. For example, are you looking to smoke a pork shoulder? Just select it from the list, and it will automatically tell you what temperature and how long to cook for. The app will give you notifications when it's done.
One of our favorite features was how the app will automatically adjust settings when the temperatures aren't exact. If your smoker was running a little lower than expected, the cook time will automatically adjust to compensate for the lower temp. This isn't just a simple timer. It's looking at all aspects to tell you when your food will be perfectly cooked.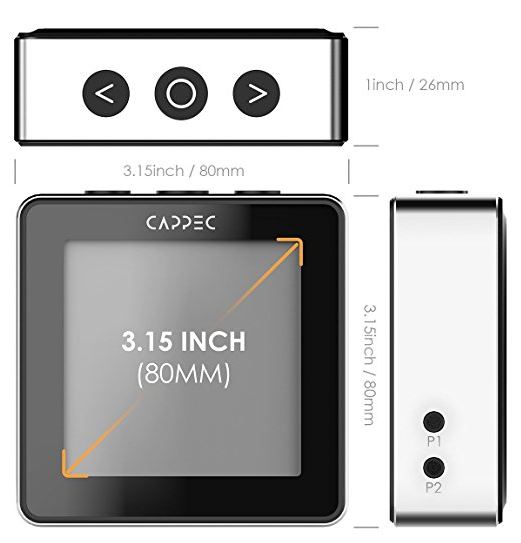 Functionality
The two probes are capable of measuring anything within the range of -4 degrees Fahrenheit up to 482 degrees Fahrenheit. This is definitely one of the larger ranges on the market, although may be overkill for most applications. The important thing is that these probes are durable. They're going to be exposed to all kinds of harsh temperatures, so from a durability standpoint this is a smart way to go.
The combination of the custom settings, timer, and built in prep guide make it extremely simple to cook high end food, even if you don't have a lot of experience. This is one of the easiest thermometers to use, so we'd recommend it to those of you who are looking for an easy place to start.
Weber iGrill 2
From grills to cookware to technology, Weber is a company that knows food. Their iGrill 2 Thermometer was designed as an upgrade to their bestselling model. Designed for use by chefs who like to prepare an entire meal on the grill, this thermometer has plenty of features that you can't find elsewhere.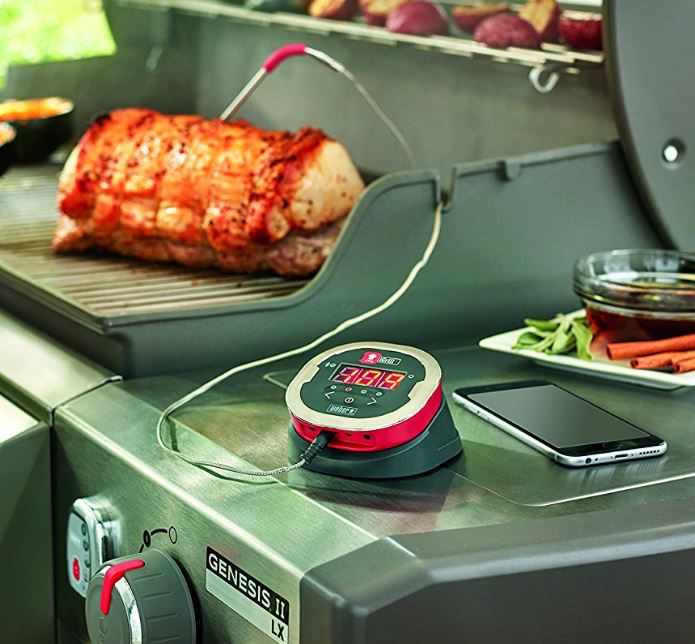 First Look
The Weber iGrill 2 has an extremely durable, yet stylish display that connects to 4 different probes. Two of these probes are included, but additional ones are available for a low price. Because the connection is standard, you're not restricted to Weber branded probes, enabling you to use almost any option on the market. The display is simple, but as soon as you connect it to your smartphone you'll have access to a plethora of features that you can't find with a standard meat thermometer.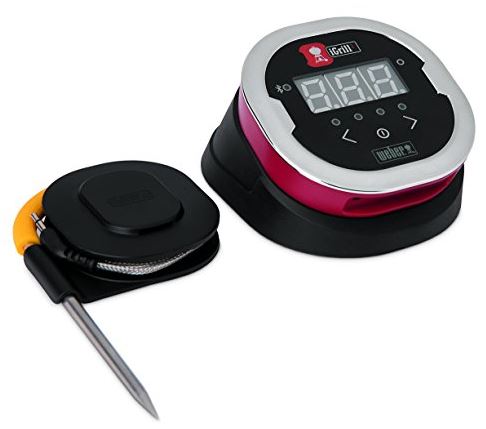 Design
The display definitely has a more aggressive look than most simple meat thermometers, but it's designed for use outdoors. It's enclosure is weather sealed, so you can leave it outside on your BBQ without having to worry about it getting damaged.
The LCD display shows you the temperature of one probe at a time. By using the arrow keys below it, you can scroll through and check the current temperature of each probe one by one. The buttons are not touch sensitive, but are covered with a rubber membrane to keep water out. The entire thing is washable, so even if you just finished prepping your food you can handle it, and wash it to remove any bacteria that transferred over from raw meat.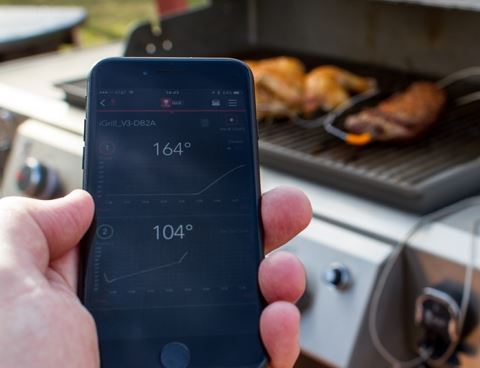 App
Weber's free app is available for both iOS and Android. Although it does display the current temperature, that is not the focus of the system. Instead, it asks you to select the type of meat that you're cooking. Once you choose the right one, it will show you "doneness" rather than temperature. Like your steaks rare? Well done? Just check the app, it will tell you exactly where they are at.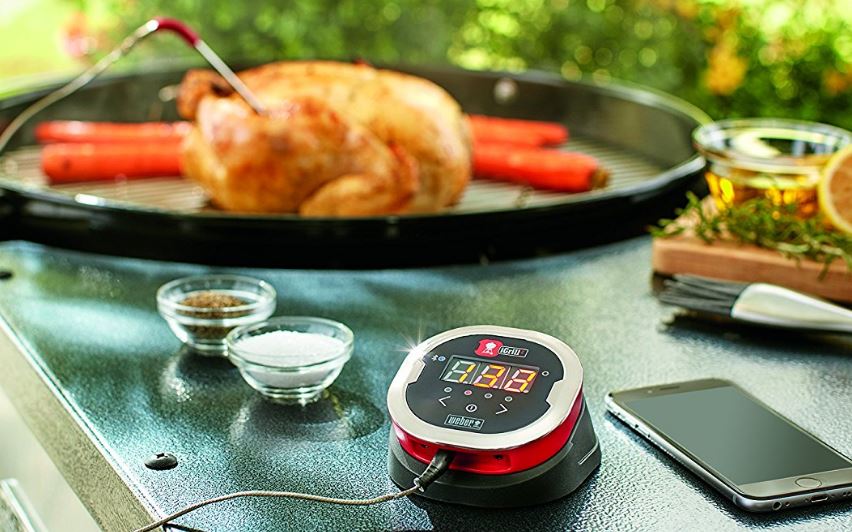 Functionality
New to cooking? Select one of Weber's pre-made settings to cook your food to their lab-tested internal temperature. Have your own special recipe? When you've got something cooked exactly the way you want, you can save the internal temperature into your own custom setting. Next time you fire up the grill, you'll be able to replicate this recipe much to the delight of all your dinner guests.
Inkbird Bluetooth BBQ Thermometer
Although Inkbird doesn't develop their own products, their quality assurance department personally tests and validates every product they sell. They import their products from overseas, allowing consumers to find highly functional hardware at an extremely low price.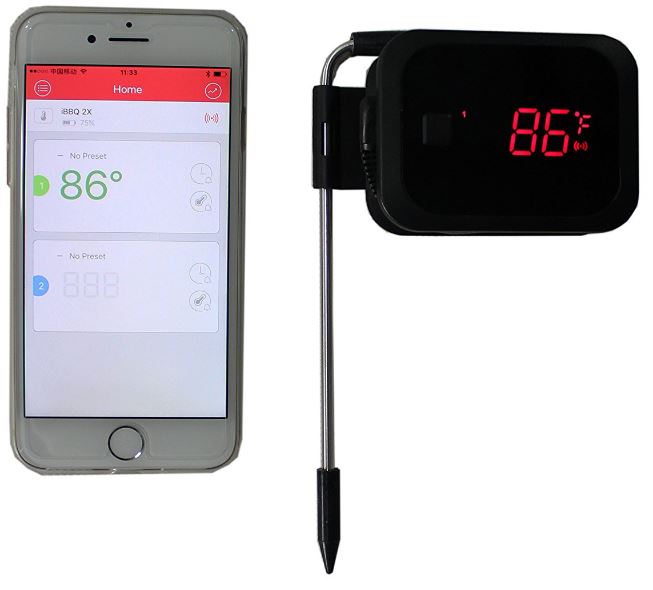 First Look
In order to keep costs low, Inkbird simplified the design of their Bluetooth BBQ Thermometer as much as possible. It comes with two probes both of which share a common plug. The plastic display sits next to your BBQ, and tells you the current temperature of each probe at a glance. When you want to look from a distance, you can fire up the free app to get your readings from up to 150 feet away.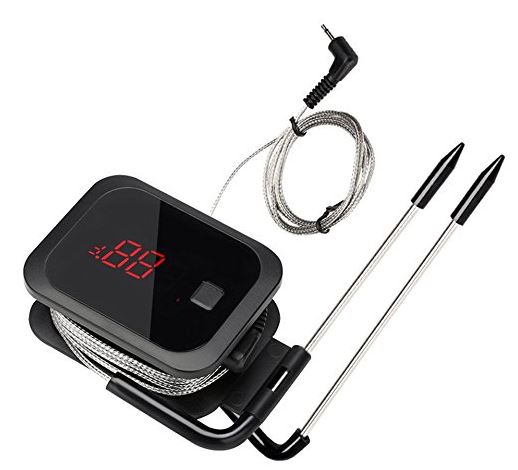 Design
One of the things that impressed us was how well executed this simple thermometer is. They were able to cut costs without cutting corners. Instead of removable probes, they're permanently attached. The center of the display is inset, allowing you to coil the cables around when not in use.
A single display shows the current temperature in Fahrenheit, and there is a single button that allows you to switch between the two probes. This allows you to keep an eye on your grilling temperatures without opening the grill, while the Bluetooth connectivity allows you to take readings from a distance.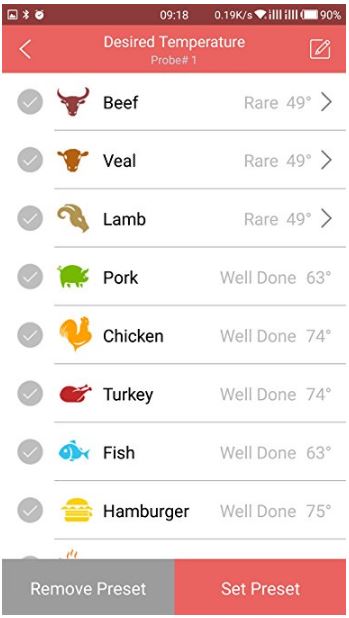 App
The free app works on both Android and iOS devices. Thanks to its simple functionality, you can use it with much older phones than the other thermometers. It will work with an iPhone 4S or later, iPad 3G or later, and any Android device running 4.4 or later.
Aside from the basic ability to check the current probe temperatures, you're able to perform a few other functions. You can set a desired temperature and receive a notification when one of the probes reaches that temperature. You can also set timers, helping you track the progress of your meal.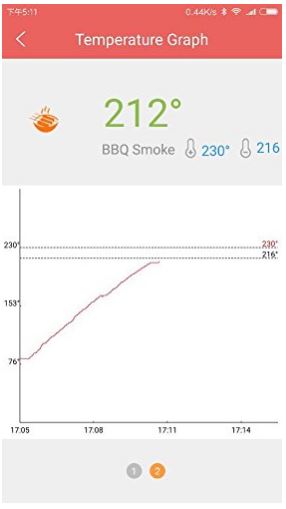 Functionality
If you already know your way around a BBQ, you probably don't need a ton of additional features. Although there are very few additional functions, we found that this model still provided us with everything we needed to prepare food easily and effectively.
Which Smartphone Enabled Meat Thermometer is Right for Me?
If you're just looking to read temperatures wirelessly, any of these options would be a good choice. But as far as basic functionality is concerned, the Inkbird Bluetooth BBQ Thermometer is the best bang for your buck. You can think of it like a standard meat thermometer, except wireless. We'd recommend this option to experienced chefs who just want a simple way to read current temperatures without having to open their grill.
If you're looking for a little more, there are a few other options. The Weber iGrill 2 is the best choice for beginner chefs. Instead of reading the current temperature, you're told how done your meat is. Even if you've never touched a BBQ before, the iGrill 2 will help you make perfectly prepared meals with the touch of a button.
Are you an experienced chef looking to expand your menu? The Cappec Luxury Bluetooth Wireless Meat Thermometer is the perfect choice. This stylish thermometer comes with a huge library of meals, so you can cook your food to the exact internal temperature without any guess work.