Whether you grill, smoke, barbecue, or slow-cook, the importance of accurately knowing the precise temperature can make the difference between culinary success and inevitable failure. Different meats, dishes, and various recipes require that you cook to specific temperatures so that you fulfill the exact requirements needed to create hearty, delicious meals.
While wireless thermometers are really nothing new, the integration of Bluetooth is something that we've seen only available in the last year or two. Bluetooth offers wireless connectivity, but it also pairs with your smartphone or tablet to bring you even more features.
Today we're going to go over three of the best rated, most desirable Bluetooth-connected wireless thermometers for cooking. We'll cover the most notable features of each and help you develop a more educated opinion on which one you should invest in.
Maverick ET-735
Often credited as the "Ultimate BBQ Thermometer", the Maverick ET-735 offers several advantages that assures you're always given close insight to whatever grilling, smoking, or cooking task at hand. With a phenomenal 175 foot wireless range, it brings the latest Bluetooth 4.0 technology for smart-device integration with an assortment of very useful features.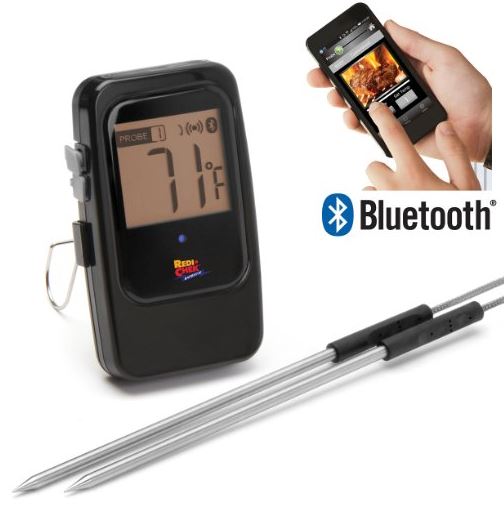 Maverick Redi-Check
With the free Maverick Redi-Check App installed on your preferred iOS or Android device, you can turn it into the "data receiver" for all of the helpful insight that it's designed to offer you. Set specific food temperatures, monitor the current progress, and even configure your very own wireless alerts for certain temperature ranges.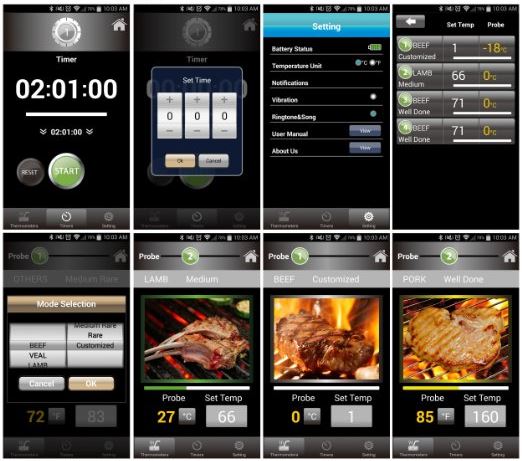 Additionally, there are six pre-programmed temperature presets that make it easy to cook perfect beef, lamp, veal, pork, turkey, and chicken. If you're a fan of cooking wild game like elk, moose, deer, fish, bird, rabbit, boar, duck, or buffalo, there are nine pre-programmed temperature presets that make it simple and precise every time you cook.
Probes
Although the Maverick ET-735 comes included with two probes, it's expandable for four. If you cook more than a couple of pieces of food at the same time, you can stick each probe into a different piece so you're given precise measurements instead of over-cooking some and under-cooking the others. Each probe cord is completely heat resistant and measures three feet in length so there's plenty of reach between the unit and the probe.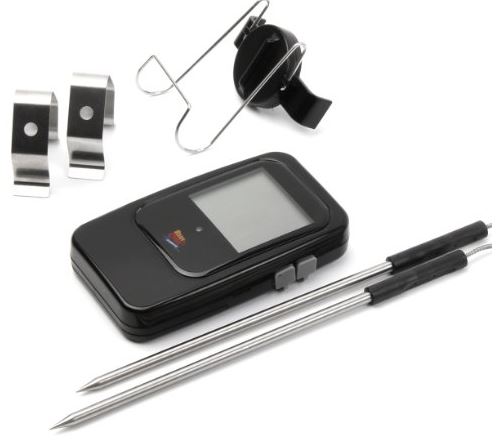 Great Build Quality
Unlike some grilling thermometers, it's designed to be completely rainproof so it can stand up to the elements without failure. Although you probable don't want to leave it outside in the rain when you're not using it, it's nice to see that you can expose it to some weather without having to worry about it holding up. Although the batteries are not included, it operates with two AAA batteries. With an average use of about two times per week, the batteries should last around 6 months before you need to change them.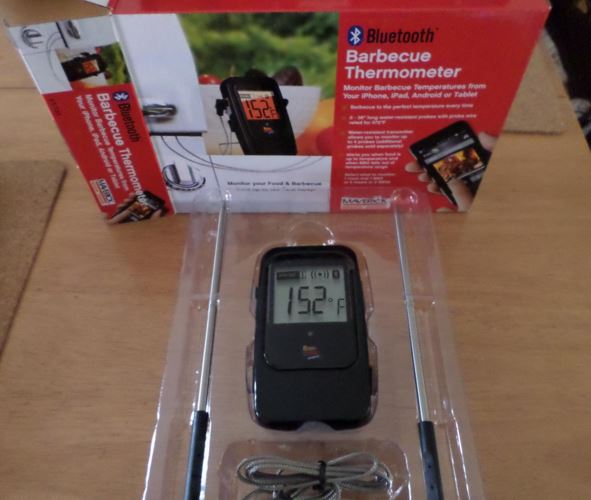 Smart Alerts
Configuring a smart alert is a great way to stay connected to the grilling task at hand, while enabling you to freely multi-task or prepare other necessities before serving a meal. With the Maverick ET-735, you can program up to four count-up or countdown times so your smartphone or tablet will alert you when either your meat or grill reaches a specific temperature. Also, you'll be given a "heads-up" alert if you walk outside of the 175 foot wireless range.
iDevices iGrill2
Designed to add a layer of simplicity and smart connectivity to your grilling, the iDevices iGrill2 Bluetooth Thermometer is a favorite for many. Offering a superior 150 foot wireless range, it allows you to read precise temperatures through any mobile device, allowing you to multi-task and cook like a true professional. With an incredible 200 hour battery life, it'll serve you well for years to come without the need for any adjustments.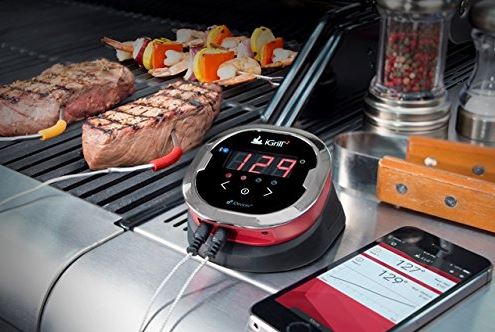 iDevices Connected App
Available for both Android and iOS smartphones or tablets, the iDevices Connected App opens up a whole realm of features thanks to the latest Bluetooth technology. Think of it as your centralized hub for live access to the exact temperatures that your food is cooking at. You can use it to preset and customize temperature alarms, set a minimum and maximum temperature range, and more.
You're also presented with easy to navigate graphs that showcase statistics outlined in an organized and simple manner. Plus, the app presents you with an assortment of graphs with statistics that can be exported if desired. Best of all, the app is completely free of charge!
Wide Temperature Range
The iGrill2 is designed with an incredibly wide temperature range that starts at -22 degrees Fahrenheit and goes all of the way up to 572 degrees Fahrenheit. Rather than relying on a single probe, each unit is equipped with two probes so you're given the ability to simultaneously measure two separate pieces of food. Additionally, there's extra room to expand the temperature probes to a total of four if you often cook for more than a couple of people.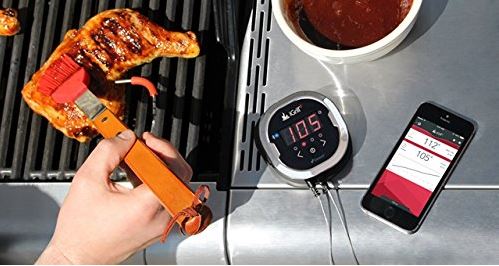 Solid Build, Great Display
Right from un-boxing, you'll likely notice that extra thought and detail was put into the aesthetics and build-quality in order to ultimately increase it's longevity. Each probe is equipped with steel braided wires, the face is surrounded by a metal frame, and the back of the unit can be magnetically attached to your grill so it's always steadily in view. The display panel illuminates so that you always have a clear sight on the temperature when you're not utilizing the app.
Cappec's Bluetooth BBQ Thermometer
Offering a surprising amount of value at a lower price-point that the others, the Cappec's Bluetooth BBQ Thermometer features a newly released iOS and Android app that has been recently reworked with a lineup of new features. Built with high-quality Japanese-made temperature sensors, it assures an accurate reading each and every time you put it to use.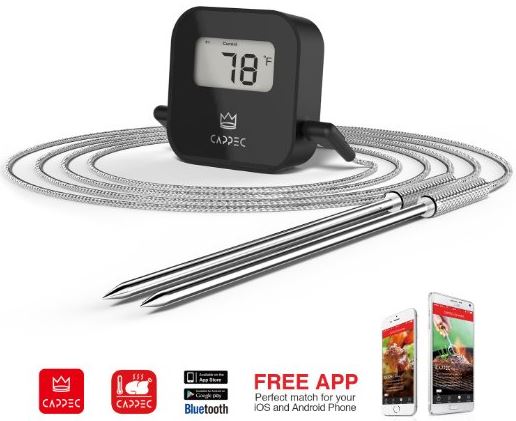 Cappec App
Available on any recent iOS or Android device, the free Cappec app opens up the features and gives you full wireless access to your grill and whatever entrees you're cooking. With the app, you can select certain meat types, desired temperatures, configure up to 10 alarms, and gain access to a new lineup of configuration options. Some of these include being able to select between gourmet and USDA, access to data-rich graphs, check battery status, and more. Although the wireless range is slightly disappointing at just 30 feet, it still offers enough wireless connectivity for most scenarios.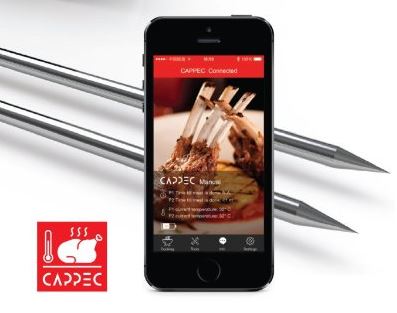 Temperature Range
With the included two FDA-approved temperature probes, you're given temperature reading capabilities that go up to 393 degrees Fahrenheit. When past this, no damage will be done since the probes can withstand 700 degrees, but readings won't be accessible. This is why it's more-ideal for smokers or slow-cooking grills that don't ever exceed high temperatures but rather lower temperatures for longer periods of time.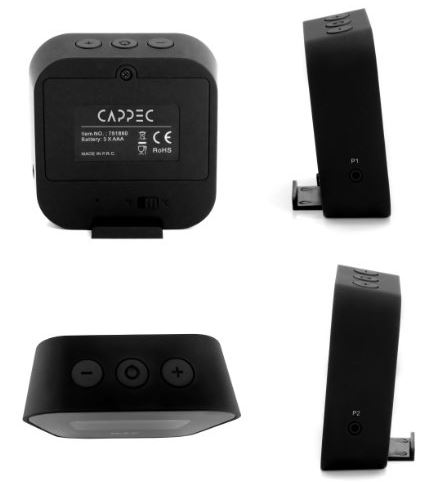 Splash Proof
Able to hold up to a bit of moisture and water, it's completely splash-proof. Whether you spill your drink on it or expose it to a bit of rain, it's designed to hold up well to regular use over the course of time.
Final Thoughts
Whether you're a professional grilling expert or a casual cook with limited experience, a Bluetooth thermometer can open up a whole new perspective to how you prepare meals. Since they offer full wireless capabilities, they let you multi-task and put energy into other preparations so that your grilling, smoking, or barbecuing is always a huge success.
We've presented a few great options, but ultimately, we're going to recommend the Maverick ET-735 as our top-choice and the "best of the best". With an outstanding 175 foot wireless range and a perfected build, it boasts both the best functionality and overall quality that most are looking for.
As a runner-up and still a great option, the iDevices iGrill2 Bluetooth Thermometer provides near-equal features but with slightly less range.
Although it's not really on-par with the first two, the Cappec's Bluetooth BBQ Thermometer still offers great value if you don't want to break the bank. While the 30 foot wireless range leaves a bit to be desired, it still boasts some handy features that'll surely improve the accuracy and final results of your cooking.