Over the course of the last year, VR has become an increasingly popular way to experience some of the latest video games to their highest potential. By offering the most immersive, three-dimensional, and realistic experience ever, there are several different headsets now available. Whether you choose to experience virtual reality with the Oculus Rift, PlayStation VR, Gear VR, or HTC Vive, you'll likely need a high-quality and effective Bluetooth VR gaming controller if you want the most ideal functionality right within your reach.
While a VR gaming controller isn't a necessity for all, it's a requirement for the majority of individuals who want to experience their VR headset to its absolute fullest potential. Lately we've been receiving several inquiries from our readers who have all asked the common question, "What's the Best Bluetooth VR Gaming Controller for 2016-2017?" So today, that's what we're here to do. We're going to go over three of our favorite, most impressive and best-rated options for those looking for a superb in-game experience.
SteelSeries Stratus XL
Designed for multi-platform compatibility and ease of use, the SteelSeries Stratus XL offers a simple yet effective way to control your VR headset without any second-guessing. Specifically crafted with the same design-perfections that the best controllers on the market have, it feels familiar and easy to use right out of the box.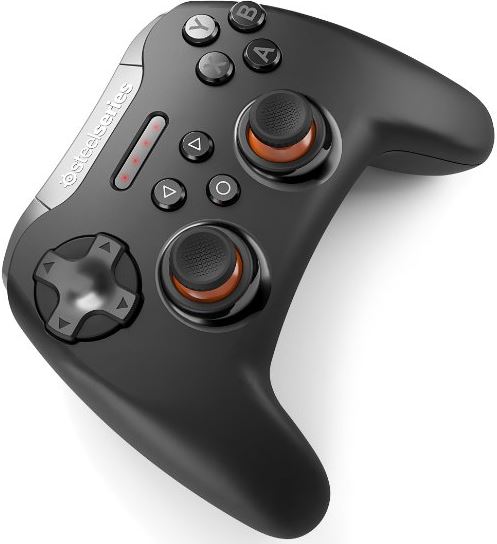 With an ergonomic, comfortable feel and layout, it has a larger size than most other Bluetooth gaming controllers, but this is actually quite a good thing. It fits well in the palms of your hands without the controls feeling crammed or too close together. Often times, manufacturers will try to make a small controller but it ends up lacking functionality since the feel and layout tend to get compromised.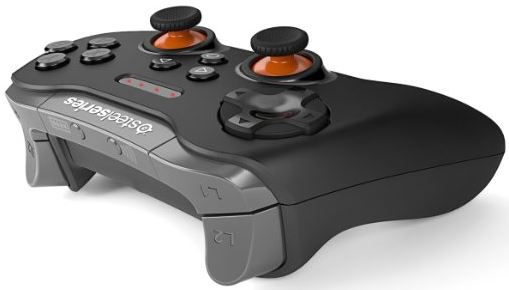 Since the Stratus XL is equipped with dual joysticks, home and shoulder buttons, you're given a lot of options as far as available controls go. Best of all, the joysticks are clickable, making for an additional button where you may need it the most. Having fast, responsive and smooth buttons within an easily accessible range is a great thing, especially in a virtual reality scenario when your sense of touch is one of the most important.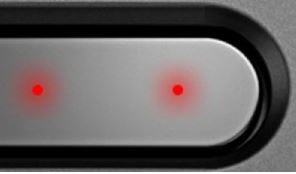 Located in the center are four integrated LEDs that give you a clear indication on the status of your connection. Since Bluetooth has a range of approximately 30-35 feet, it's nice to have a visible recognition of this so that you never go out of range unexpectedly. However, using it as a VR controller, this feature is virtually useless since you won't actually be looking at the controller while your headset is on. Additionally, your controller should never leave your hands – having a few LEDs that tell the status of your paired connection isn't really that important in our opinion.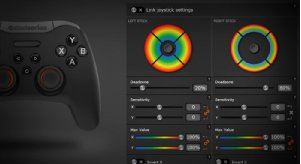 Another one of our favorite features was the amount of customization that it offers. Using the SteelSeries Engine 3 program, you can make adjustments to the actuation point of the triggers so you can variate the sensitivity to your exact preferences. Often used to make quicker shots, faster attacks or easier acceleration, having the ability to change the actuation is a definite bonus in our opinion.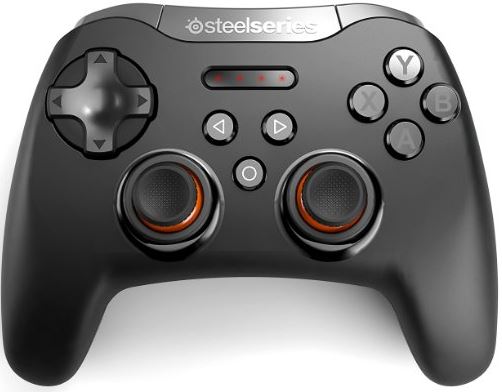 One of the best things that we liked about the Stratus XL was the amount of efficiency it offered in terms of battery life. Powered by two AA batteries, you can expect around 40 hours of continuous playtime before you'll need to switch them out for a new pair. What's more is that Steel Series includes two AA batteries with the controller so there's no need to worry about powering it on for the first time.
GameSir G3s
Built with an integrated 32-bit high-speed MCU chip, the GameSir G3s sets itself apart from the competition by offering incredibly high sensitivity and on-time responses at a budget-friendly price point. In fact, it offers a computation capability of up to 48 million times per second, meaning that it'll boast the best accuracy and in-game controls for much less than you'd expect. Designed for use on multiple platforms, it excels when paired and used with any virtual reality headset, and will work well with any icade, X-input, D-input and Android native mode games.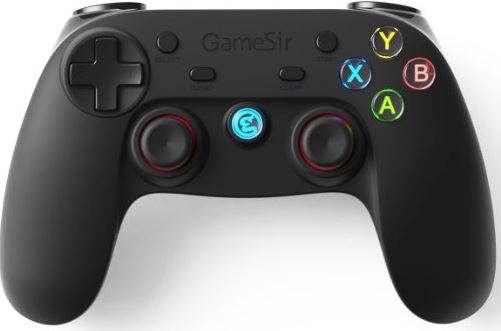 Although the battery life isn't quite as impressive as the SteelSeries Stratus XL, the GameSir G3s incorporates the use of a rechargeable battery with a 600mAh capacity. It'll offer around 18 hours of continuous playtime, which is about half of what the Stratus XL can offer, but you'll never have to buy additional batteries in the future. Simply charge up the internal battery when needed and you'll always have it available and ready to play when you need it. Charge times can vary, but it should take around 3 hours to fully recharge it.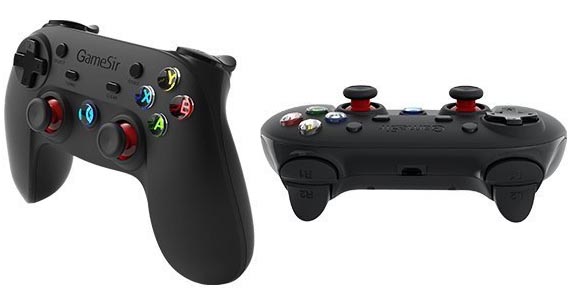 The general look and feel is quite good – it looks similar to your typical game pad with all of the standard controls in good locations that are easily reachable at all times. Both joysticks are clickable, just like the Stratus XL, with a decent amount of comfort that feels natural in the palm of your hands.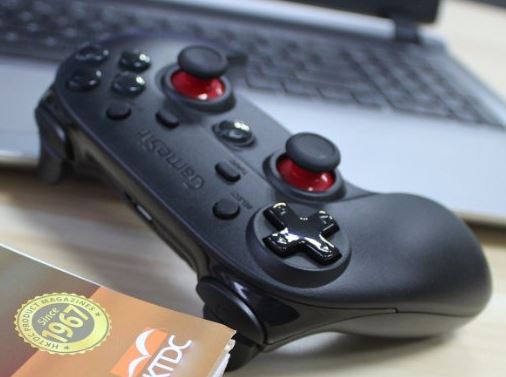 Although it's not that crucial for those using the gamepad solely for their VR headset, it's really nice to see that all of the buttons are backlit illuminated, including the base of each joystick. This gives it a nice effect, but gives you the ability to see them clearer – especially in low light or dim environments. The look is fantastic as it appears "lit up" so you always have a clear view of the core buttons on the controller.
Mad Catz Micro C.T.R.L.R
Although we've talked a bit about how we're fans of controllers that are a bit larger in size, the Mad Catz Micro C.T.R.L.R offers a smaller option for those who prefer more portability and less bulkiness. Designed 20% smaller than a full sized controller, it's been credited as the "ideal multi-platform gamepad for mobile and micro-console gamers".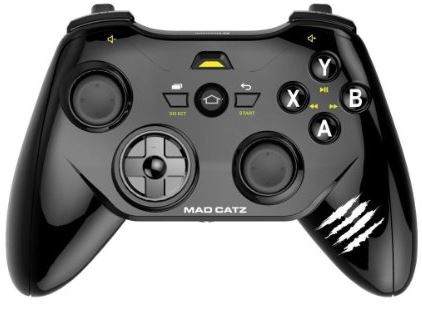 However, this is the latest edition that's been specifically designed for Samsung Smartphones and Tablets to work flawlessly for the Samsung GearVR Headset, powered by Oculus. When paired with your Samsung device, you'll gain easy and exclusive access to recent applications, media controls, on screen navigation menus, and more.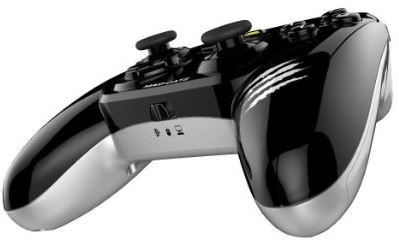 Holding it in your hands, you'll notice quite a similar feel to the two previously mentioned controllers, but the smaller form factor may be undesirable for some. The buttons all feel quite responsive and on-par with what you'd expect from a typical controller. We're not incredibly impressed with how it feels, but we're not unhappy with it either. The dual analog sticks along with a directional pad are all there, although the directional pad is located between the two joysticks, rather than above or to the side.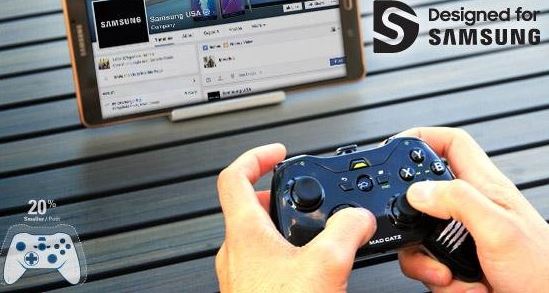 The buttons may not light up, it doesn't have adjustable sensitivity, but it does offer quite a bit of value for it's low price point. As the most inexpensive of the three that we've included here, it offers plenty of features for the budget-minded gamer who doesn't want to sacrifice control capabilities. Although the smaller size may not be everything you wished for, we feel that it holds up as one of the best options currently available.
Final Thoughts
Looking over the best VR Bluetooth gaming controllers and gamepads currently available, we've given you three great options that we think outshine the competition. Although some may say that virtual reality is still in its infancy, it's only a matter of time before more gamers realize the vast amount of realism and entertainment that a quality VR headset can offer. But if you don't have an effective, fun way to control your games, you'll likely end up frustrated and ready to quit.
Between the three that we've selected as the best options, we highly recommend the SteelSeries Stratus XL above the rest. With the most comfortable experience and full freedom over the precise actuation of each individual button, you're given the most customization that go hand-in-hand with replicating the most realistic, virtual reality experience.