In a market primarily dominated by performance standards and high price points, it's challenging to find a set of headphones that are safe and comfortable for your children, and get an enormous amount of value for your money.
Trust, with an incredible amount of credibility as a brand who's served the headphone market for over thirty years, understands this and have created the Sonin Kids Safe Headphones as a result. That being said, in order to really provide value to the specific demographic that it serves, these headphones must not only be compliant with safety certifications that you, as a parent, recognizes and expects, they must be comfortable, durable and attractive as well as offered at an exceptional price.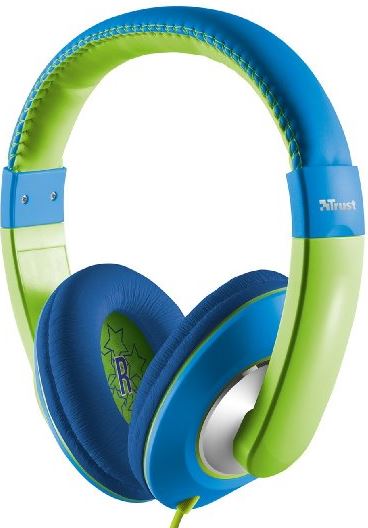 These core qualities will be used to determine these headphones' real value, however we'll also be factoring in ease of use for both parents and children, and performance, as after all, they must work as intended and deliver a pleasing experience.
Among its most notable features, the Trust Sonin Kids Safe Headphones include the following advantages over other brands:
Integrated Volume Limiter and In-Line Volume Controls
Attractive Blue and Green Color Scheme and Design
Size Adjustable for Secure and Appropriate Fit
Large Padded Ear Cups
Low Price Point
High Safety Standards and Company Credibility
Volume Limitation and Safety Certification
The ability to limit the amount of volume that's coming out of your child's headphones is for many people, the most prominent and important feature as it relates to the qualities of safety, performance and comfort.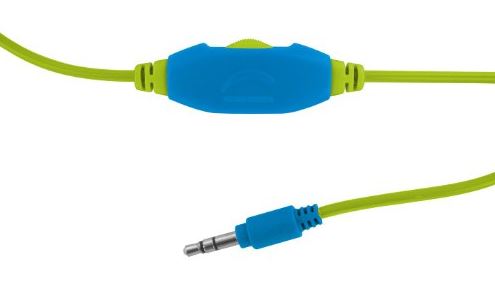 It's easy to understand why, as audio played too loudly in developing ears can lead to temporary as well as long term hearing damage. In fact, even a very short exposure to loud volume can cause damage, and this type of stimulus is one of the most common causes of permanent hearing loss.
One excellent aspect of the Sonin Kids Safe Headphones is that this functionality is designed to work automatically, limited the decibel output to a level that is guaranteed by the European safety standard EN71 to be completely safe for children aged for years or older.
This certification is a legal requirement in Europe for all toys sold that not only ensures safe volume levels, but also their mechanical and chemical integrity.
The beauty of this, is that audio sources such as tablets, iPhones, personal computers and others which your children use interchangeably each have their own volume setting, and it can be far too loud for your child's safety before the headphones are even plugged in.
You won't ever have to worry about this, as the Sonin Kids Safe Headphones are compatible with all of these devices, and the volume limiter is built right into the hardware, providing reliable protection and reassurance.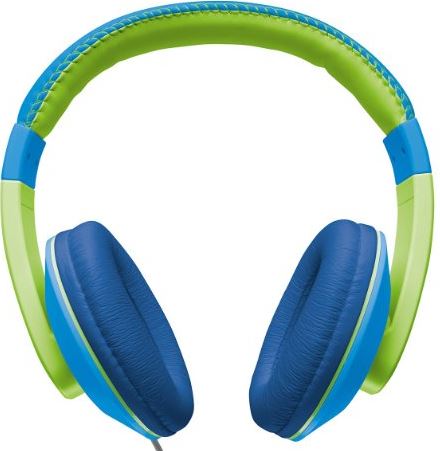 Comfort and Performance Controls
Inevitably, the option of manually setting the volume below the legal required limit to be either softer or louder is going to be desirable with regular use.
You'll notice on the 3.55 millimeter cord that attaches these headphones to an audio source has in-line volume controls so that you can change the volume very simply, just by adjusting the rotating volume knob. More importantly, Trust has gone a long way in designing these headphones to be comfortable to wear for your children.
For starters, the ear cups are fitted with large ear pads that have a soft exterior and provide plenty of padding to keep them securely on your child's head, reducing damage risk from falling off, and also provides a more pleasant experience. This is a valuable performance feature, considering that the drivers can only produce a certain amount of sound and comply with safety standards, however without a secure fit, sound can escape too easily and be very hard to hear.
You can also adjust the headband length so that they fit properly on their head, which is important because they're capable of being shared between siblings and provide extra value by still being usable as your child grows.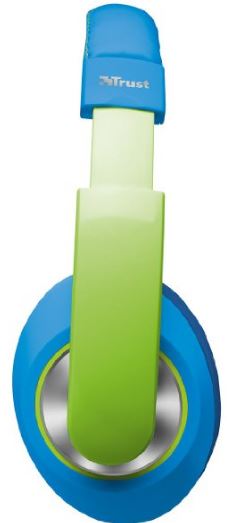 Appearance and Durability in the Design
As you know, it can be difficult to find toys, especially electronics like headphones for kids that can endure daily use and inevitable bumps and scratches without being ruined.
One impressive feature of the Sonin Kids Safe Headphones is that they come with a two year warranty, which is a very confident satisfaction conviction because if it didn't live up to this quality, Trust would lose a lot of money very quickly. That being said, minor defects are bound to occur with any product no matter how sound the manufacturing process, and are all covered under warranty as well.
In terms of appearance, these headphones have a lot to offer to be attractive and fun to use for children, including a sheet full of colorful and various stickers which your children can peel off and use to decorate and personalize their headphones creatively.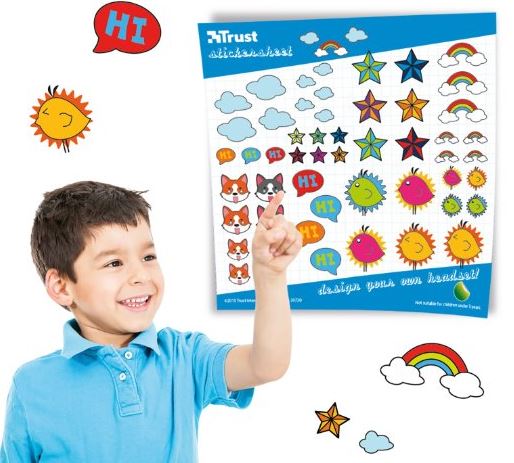 The color scheme and design are attractive for headphones within its price range, including a clean stitching pattern across the sides of the head band, a star pattern inside the ear cups and the Trust logo on the sides of the headphones. A green and blue color pattern is used throughout them, giving the Sonin Kids Safe Headphones a bright, colorful and attractive look, to where even the soft, blue ear cup pads provide a friendly appearance.
They aren't built to be water resistant, however their structural integrity is clear, with a strong connector cable and a flexible yet secure headband to provide consistent performance over a long lifespan.
Overall Value and Economy
Price is a major consideration for any parent because you don't want to waste your money on bargain products that don't work as intended or break easily, and spending too much on unnecessary features isn't cost effective.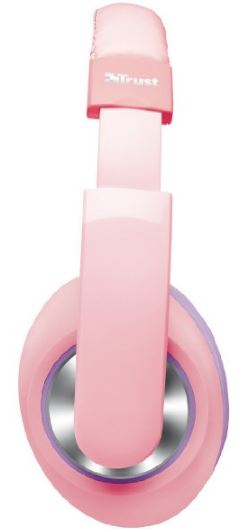 These headphones actually come at a low price point, which you may seem to indicate low quality, however as we've discussed, they clearly deliver more than promised. For those who don't have any other financial option, they come at a very affordable price, although if you can afford a higher price, it's worth considering these Trust headphones as a serious competitor based on the value that they offer.
At this point it's worth mentioning the expertise and credibility of Trust as an electronics company with a tremendous amount of experience in manufacturing products in this field.
They're definitely not new to the area of manufacturing headphones for a dynamic group of people, with over thirty years of experience in this industry and a wide selection of quality headphones in their product line to this day.
You're also looking at a company that supplies high quality, economically priced keyboards, microphones, webcams, electronics chargers, speaker systems, doorbells, and motion detection systems, among many other devices as well. Aside from this, a customer support team is at your disposal in case you have any questions, comments or concerns, making them an easy company to deal with, as indicated by an overwhelming amount of satisfied customers.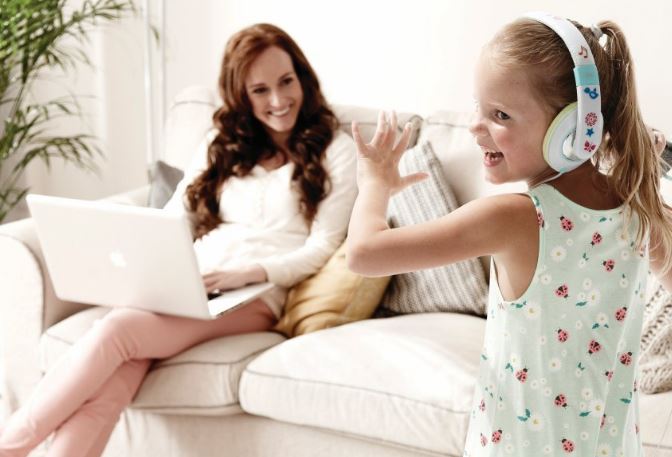 Compatibility and Ease of Use
As you know, these headphones work on a wide variety of audio devices which is important at a time when laptops, personal computers, tablets, smart phones and other technologies are readily available.
We mentioned the safety features, however if your child's headphones simply won't work on today's advanced devices, they're not going to provide much value. This is why Trust has designed the Sonin Kids Safe Headphones to be compatible with virtually any platform – PC, Mac, Unix, Linux, Chrome OS and iOS.
They also perform well enough to provide clear audio on smart phones and tablets without the use of additional accessories, as long as there's a standard 3.55 millimeter audio output available.
As these headphones are designed to be a safe and affordable option for kids, there aren't advanced features like a microphone built into them. However, this can be considered a bonus as all you have to do is plug them in, set the volume, and they're ready to use.
Being a wired set of headphones, you're not dealing with WiFi or Bluetooth signals which can be potentially dangerous to a child's developing brain. While it's not much of a concern for many parents, it makes them a completely safe and easy to use solution. For this reason, there also aren't batteries that must be recharged, and because the audio output level is limited, they can be used for hours on end on long car rides or at home, without any unnecessary inconvenience.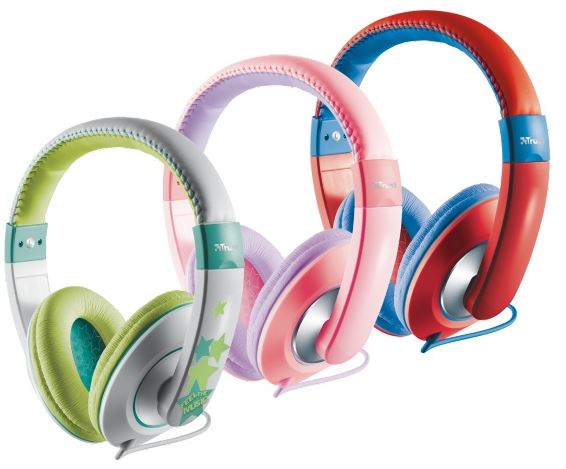 Conclusion
While the Trust Sonin Kids Safe Headphones do sacrifice a considerable amount of advanced performance features that many modern headphones provide, this also means that the basic and reliable technology built into them are much more affordable and easy to manufacture.
That being said, Trust has the experience and expertise to provide all of the value that you'd expect for your children, especially the quality of safety. Additionally, for its price point there are very few headphones that can compete with their durability, ease of use and appearance as well.