Home theater systems have become more robust, to where more desirable software allows for incredible 3D and surround sound for your speakers. However, without reliable hardware, it's impossible to enjoy fully.
Having an arrangement of high performance speakers usually means having individual sets of speakers for the center, right, left and multiple surround sound speakers in the rear, but for space limitation and economic reasons, this hasn't been an option for many people.
This is exactly the issue that the custom designed ELAC Uni-fi Speakers are meant to solve, promising performance, high value for the price and ease of use primarily, as well as durability and appearance. We're going to provide you with an in-depth review of the three new release Uni-fi speaker sets offered by ELAC, including a floor standing (UF5), center (UC5) and book shelf (UB5) model.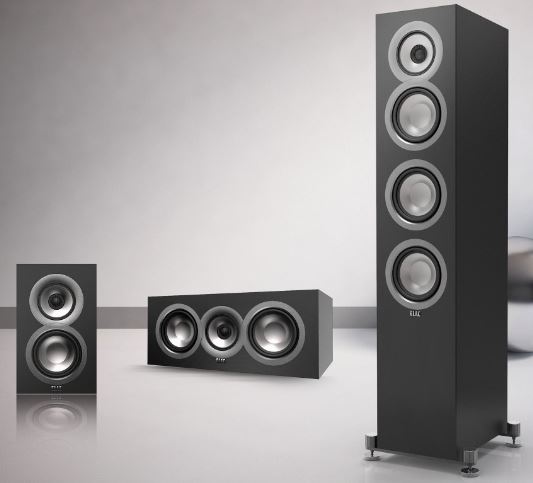 Depending on your home theater requirements you may be interested in all three, however you'll have the opportunity to develop a strong opinion on all three with the information presented here, as we're going to discuss each one in detail.
Among the most prominent features, each of the Uni-fi speakers include the following:
Three Way Design for Low, Medium and High Frequency Output
Professionally Crafted Driver Systems
High Quality, Durable Aluminum Woofers
High Performance Binding Posts for Compatibility and Audio Quality
Economic Price Due to Custom Manufacturing
Strong, Secure and Durable Construction
Let's pick each one of these benefits apart to find their real value, and determine how well they will serve you with the qualities we've mentioned previously.
Independently Integrated Tweeter, Mid-range Voice Coil and Woofers
One of the main challenges for a high quality speaker system is wiring each component together in a way which utilizes their greatest strengths, as tweeters produce higher quality treble sound, while mid-range voice coils produce higher quality mid frequencies. Typically, each driver handles a blend of high and mid-range frequencies, however this results in expensive hardware and complex designs in order to produce clear audio.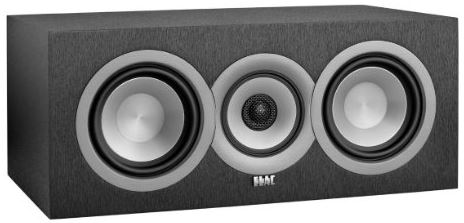 With a three way system, the Uni-fi speakers dedicate one driver for treble and one for mid-range sounds, as well as a woofer for low frequency sounds, ELAC is able to fine tune the tweeter and mid-range voice coil on each one for greater performance. This is also a more cost effective solution, because the crossover simply sends each frequency range to one of the three drivers without the use of complex hardware in order to achieve it.
As you'll learn about below, this is a tremendous amount of cost savings that allows for higher quality, more reliable hardware in other areas, including an effective bass production which is superior to other speaker systems in its class.
Proprietary Divers from ELAC's Chief Engineer, Andrew Jones
ELAC has chosen to go with a concentric design for their Uni-fi speaker drivers. This means that a tweeter dome is placed in the center and a mid-range cone is installed outside of it for optimum resonance and sonic tuning.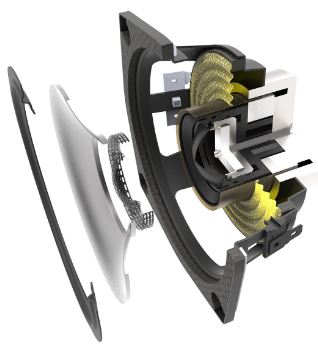 What this means is that whether you're listening directly in front of the speaker or at a completely different angle it still supplies clear and effective sound, due to the fact that the frequency output from each driver is in harmony, and flowing in the same direction.
The UF5, UC5 and UB5 deliver varying audio performance due to the number of drivers used, however the component hardware used is the same for each. A one by one inch tweeter with a soft dome is used along with a one by four inch aluminum cone for mid-range frequencies, however the beauty of them is their ability to produce and handle high powered audio.
The following sound output specifications are provided for each speaker system:
Crossover Frequency: 270 to 2,700 Hz (UF5, UC5 and UB5).
Frequency Response Rate: 42 to 25,000 Hz (UF5), 48 to 25,000 Hz (UC5) and 46 to 25,000 Hz (UB5).
Sensitivity Level: 85 decibels at 2.83 v/1m (UF5, UC5 and UB5).
Amplifier Power Range: 40 to 140 watts per channel (UF5, UC5 and UB5).
Nominal Impedance: 4 ohms with a minimum of 3.4 ohms (UF5, UC5 and UB5).
Single, Double and Triple Aluminum Woofers
A great bass sound is much more than just loud low frequency audio with a huge power supply, as it also deals with atmospheric sound and must be in tune with the speaker drivers in order to deliver impressive 3D and surround sound.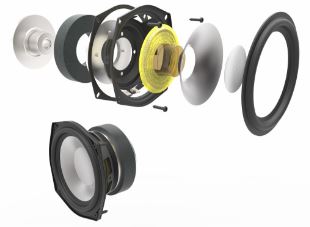 Normally, paper cones used within a woofer to supply loud bass, however it actually limits the frequency range, and thus performance. By using aluminum instead of paper or weaker, more distortable materials than light metal, the sound can actually accumulate in a controlled way, providing beautiful, boosted bass at an increased range of potential frequencies.
Each of these speakers feature a subwoofer system of varying power, in order to keep up with the amount of drivers in each however the quality is the same, the only difference being the amount of woofers used.
The UF5 uses three, the UC5 uses two and the UB5 uses only one, and each features a larger than typical magnet that has a vented pole piece attached to it, which means greater power handling. This also means that any amount of bass power is capable of being transmitted with a smooth, reliable and pleasing output.

Binding Post and Cabinet Construction Quality
Typical speaker systems, in fact most high performance ones within the Uni-fi's price range, use generic binding posts, leading to distortion of sound quality at the most basic level, also limiting the amount of audio systems which can be plugged into them.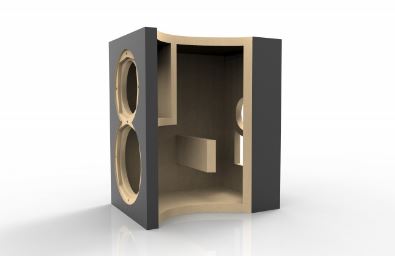 As ELAC's intention was to make the most out of the least amount of space, they've provided custom binding posts on each of these speakers to make them as compatible and high performing as possible in this area. This basic design quality goes beyond the electronic aspects to provide ease of use, performance and durability, which is evidenced by their cabinets and mounting options.
To begin with, the cabinets require less space because of the simplified three way design, but in terms of performance, there are specially made bracers on the inside of the cabinet, making the outer walls stronger, and the entire unit less susceptible to vibration. As this is a speaker system, the drivers do vibrate perfectly well in order to produce sound, however the rest of the speaker is solid as a unit and keeps that sound clear and consistent.
The outer walls themselves are made of medium-density fiberboard to be as close to as light and compact as possible to plywood, however to also have the strength and added density provided by hardwood in fiber form.
In terms of appearance, the outer walls are given a textured vinyl finish for color and feel, however this also protects the wood and interior of each unit.
As we mentioned, the mounting options are effective for just about any flat surface, as the UC5 and UB5 sit securely on their own, however the floor standing model (UF5) also features a base and feet system. This ensures that it stands perfectly well on its own on both hard and soft surfaces, despite its 38 inch height by using metal spikes and spike stands that can be adjusted by molded dials.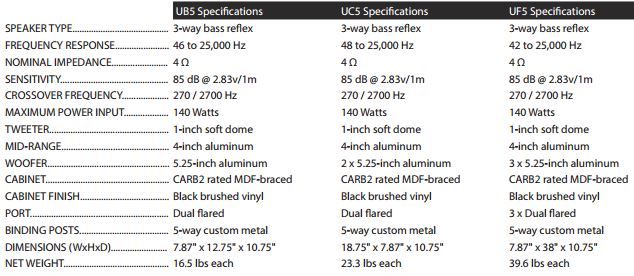 Overall Economic Quality
As you know, design and construction are important to the value of any speaker system, and with the help of lead engineer Andrew Jones, the drivers and the rest of the electronics in these speakers are given direction, and thus cost savings.
The most surprising aspect of these speakers is that when comparing it to other systems that use concentric driver designs, you'd expect that the UF5, UC5 and UB5 would each cost way more than they do. Further cost savings can be derived by the fact that if you're looking for a three channel speaker system capable of high quality, high performance sound at a great range, and also take advantage of 3D surround sound, they're even more valuable as a set.
If you're more interested in a single unit, any one of them will work, as the floor standing speaker unit is a powerhouse of its own, and the book shelf speakers are an excellent addition to any dorm room or less demanding setting.
You may find higher performing center speaker units, however the balance of durability, performance and ease of use really give it an edge within its price range.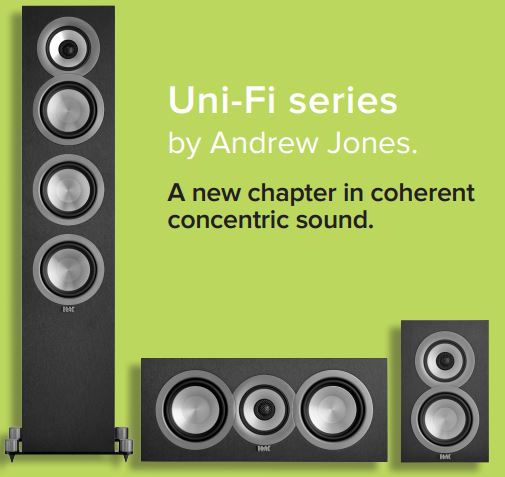 Conclusion
Each one of the ELAC Uni-fi Speakers rank exceptionally well in all of the most important qualities, which is an indication of the expertise that went into developing them.
That being said, ELAC also guarantees that the passive speakers and woofers are free from defects and or workmanship errors for a period of 3 years with free repairs and replacement parts, which is a very strong conviction of your satisfaction as a customer.
This guarantee also includes the drivers and cabinets, however amplifiers are only given a year of warranty from the date of purchase, and with all things considered, you know the quality of durability is guaranteed.