Much of the fun in flight simulation games is the flight sim part. And when a joystick falls flat on that, it's hard to give it a pass on anything else – even knowing what other benefits it may have.
Thankfully, the Gladiator Pro, a WWII style flight sim controller made and manufactured by VKB Industries, delivers with a smooth flying experience; that said, it also has, and lacks, some other features that could be deal-breakers for serious gamers unsure about the $249.99 MSRP price tag.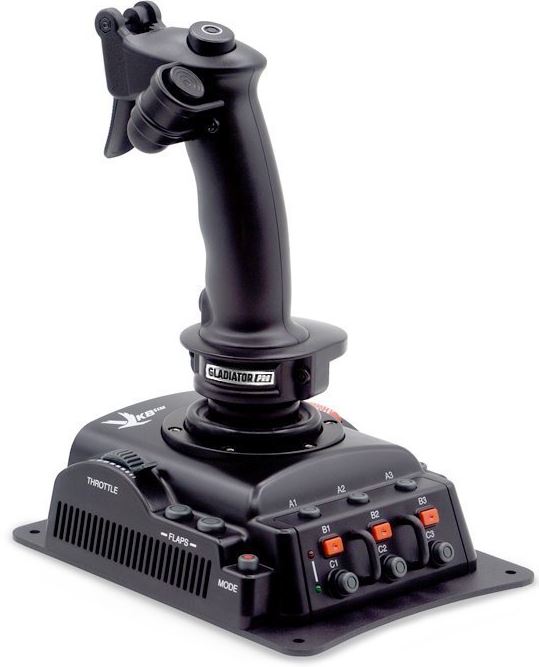 Trade-offs
If we could sum up the Gladiator Pro flight sim controller in one word, it's "trade-offs". This game controller is all about trade-offs. And for $249.99, we're not sure how much we want to trade-off. There's a lot to like about the Gladiator Pro, but the things we don't care for, we're going to not care for, for a long time. The Gladiator line is definitely an improvement over the VKB Industries Black Mamba line; however, there are still some aspects of the design and function that some users may find less than ideal.
Stable and Sturdy
The most noticeable thing about the controller, right out of the box, is the weight of it. The unit's pretty substantial at 4.2 pounds. With a replica WWII KG12 grip style – it's easy to get that 'realistic' feeling. It's got an ergonomic design, and it really does feel good in-hand, both physically, and as far as playing the game – the controller is quite responsive. And when you're doing flight simulation, that's exactly what you want. The authenticity of a joystick can significantly add to the experience, and that's part of what you pay for, yes.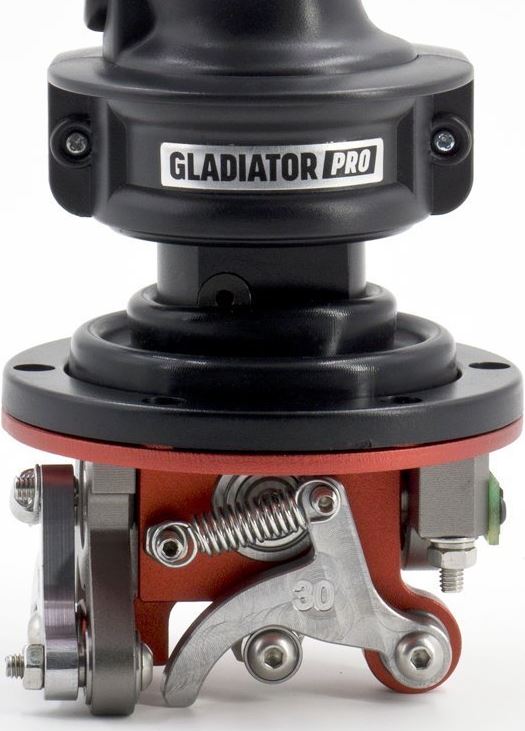 The Pro is heavier than the lower-end Gladiator model, which is only 3.5 pounds; it doesn't sound like a big difference, but it can feel like one after hours of play. It also outweighs a lot of other controllers, so if you're moving from another model to this one, that might be something of an adjustment. Trade-off? Depends.
The metal base plate and silicone feet make sure the controller isn't going anywhere no matter how much you get into the game. For folks who'd prefer to permanently attach the controller to a surface, the unit comes with pre-drilled holes. The aluminum gimbal and ball bearings are a step-up from the Gladiator model (and several other models, too). The controller also features Contactless MaRS sensors that have high resolution.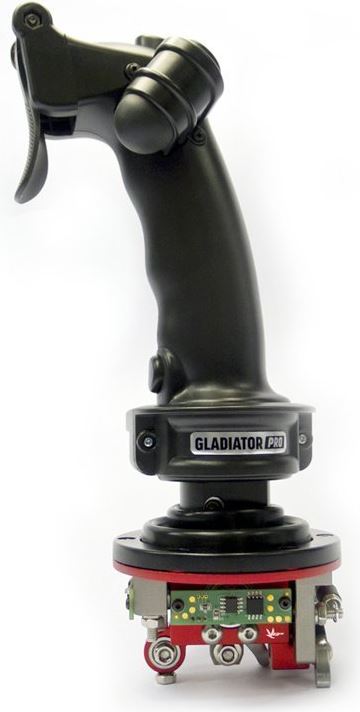 A Custom Experience
The ability to change out springs and cams on the Gladiator Pro, creating the perfect resistance, is a great feature. We think this is our favorite feature, actually. There's not much worse that having to adjust your playing to accommodate the weakness of the joystick; the joystick should accommodate you, the player. The grip can also be swapped out, if that's a strong preference for you.
We do like the fact that using the Gladiator Pro is easy – plug and play as soon as you get it out of the box, which is ideal for novice players; you don't even need to install a driver.
Button and axis programming isn't required, but if you're the kind of advanced player who prefers to tweak that sort of thing, there is optional programming software available. The Gladiator Pro unit does come with an array of 17 programmable buttons.
Also, VKB Industries report that they are working on a software suite that allows an expanded level of precise customization. The controller's firmware has been designed so that it can accommodate upgrades via USB, if needed. So at least if you're making a financial investment in the Gladiator Pro, you can rest assured that the unit won't be quickly obsolete.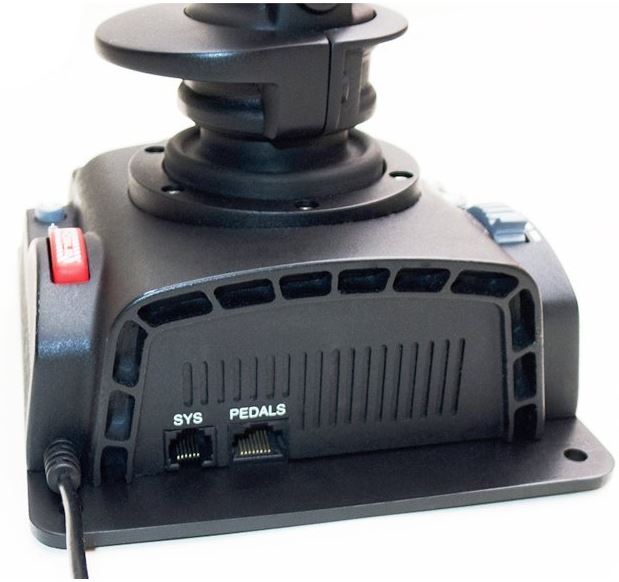 Technical Specs
The controller offers pitch and roll but no twist; for that rudder pedals are needed. This doesn't feel like an improvement over the Gladiator, where players have the option of using the joystick for twist or the rudder pedals. On the other hand, the Gladiator model doesn't offer the ability to change springs or cams. See? Trade-off.
There's a host of small things about the Gladiator Pro that anyone can truly appreciate. The ability to load and store profiles is a plus. We like having the ability to calibrate axes, tweak axes resolutions, and create deadzones. Other important technical specs and features include:
32-bit ARM controller
Aluminum gimbal
On-board memory
Port specifically for VKB rudder pedals
USB 2.0 compatible
Throttle axis
USB cable included
Visually, the Gladiator Pro looks less fussy and more "real" than a lot of the other controllers out there. It also doesn't look cheap or fragile, unable to handle the demands of regular and enthusiastic use. Some of the other flight simulator controllers with plastic bases appear less durable.
One 8-way hat-switch and a 2-mode (dogfight and take off, landing, and flight) switch mean that the controller's not cluttered with buttons even though that hat- and mode switch can carry out 29 functions. We really like that the programmable buttons are distinctive in color and shape according to row, which is a great feature that allows split second decision-making – whether by a glance (red or light gray) or feel (circles set higher or lower, and rectangles). Nobody wants to interrupt their playing because they're looking for a button on the controller.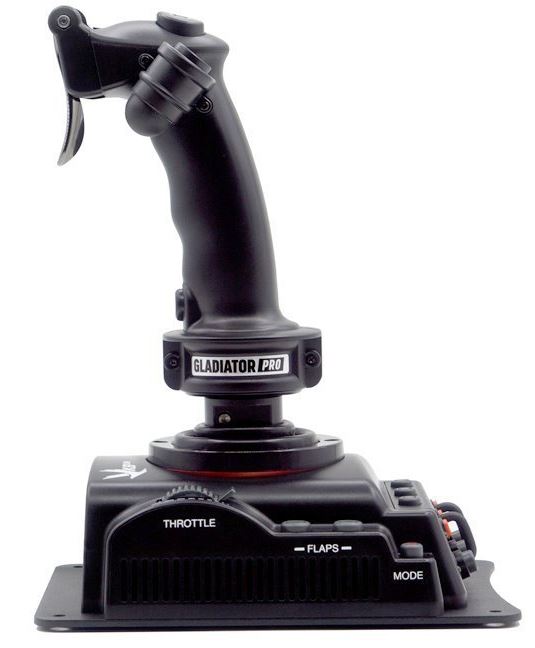 The Gladiator Family
The controller's versatile, multi-platform operation is just one of the justifications for the price tag, and in the Gladiator family of controllers, it's not even the highest-end option.
VKB is rolling out the Gladiator Plus and the Gladiator Pro Plus later in 2016. It's worth noting that the Gladiator Plus, with twist and attached throttle, will also reportedly accommodate rudder pedals, and the Gladiator Pro Plus will have no twist function, and also reportedly use rudder pedals. No price for these two new models seems to be available yet, but we'd bet that they'll carry a higher price tag than the Gladiator and Gladiator Pro.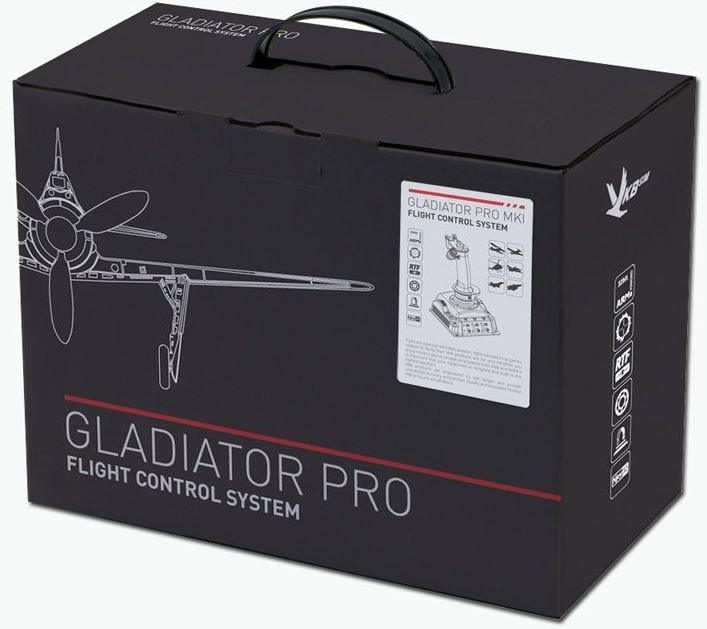 It's quite a financial jump from $99.99 MSRP for the Gladiator to $249.99 MSRP for the Gladiator Pro. So you can see where the trade-offs come in. We'll grant that a lot of it comes down to pure player preference. Can you give up rudder pedals to get the ability to change springs and cams? Depends on your gaming style and how demanding you are of your joystick.
That said, the Gladiator Pro is pretty good – it's comfortable to use, responsive, and allows for a wide range of player preferences, so it's kind of hard to imagine how much better the Plus and Pro Plus will be, especially if there's a corresponding $150 jump in price tag each time.
Recap
Overall, the Gladiator Pro Joystick is definitely worth a look, and appears to be a welcome addition to the flight simulation game scene. There are some really exciting features that are sure to entice serious players, like the ability to change out springs and cams for a purely personalized playing experience.
These are balanced out by limitations such as requiring the usage of rudder pedals. In the end, as with so much, personal preference will determine what's a deal-breaker for you, up to and including the price; that said, there's a lot to like here if authenticity in experience is what you're after in a flight simulation game controller.