Many people with cable Internet are being ripped off. Anyone who's been renting a modem from their service provider is paying a monthly fee. For most people, that fee is at least $10 per month. Over the course of just two years, it can amount to $240 or more. Whether you're using a budget Internet plan or something a little faster, anyone renting a modem will find their bill significant higher as a result.
And here's the weird thing. Modems aren't expensive. Modems aren't hard to install, difficult to setup, or even hard to use. Even if you have exacting standards and you're looking for an incredibly high quality modem, having your own modem pays for itself after about a year. Will you still be using the Internet in one or two years?
Technology can advance quickly, but Internet speed standards don't change that often. In other words, you generally don't have to worry about replacing a modem unless it dies. Choosing a good modem has the potential to last you for an entire decade. Compared to renting a modem from your ISP, you're looking at potential savings which total in the thousands.
Choosing a Fast, Reliable DOCSIS 3.1 Modem
Data Over Cable Service Interface Specification (DOCSIS) is the standard used to transmit Internet signals to cable modems. The latest and greatest standard is DOCSIS 3.1, which supports some of the best speeds available anywhere. And even if you're not getting an incredible amount of bandwidth out of your Internet plan, you may be able to see Internet performance improvements by escaping the DOCSIS 2.0 platform. In other words, older modems can be worth upgrading.
Internet speeds are measured through both download speeds and upload speeds, which are constructed into separate channels within a router. DOCSIS 3.0 allows a router to use the download stream for uploading, and the uploading stream for downloading. In other words, both can occur in the same lane, which can greatly improve Internet speeds in a variety of common circumstances.
These upload and download screams are numerically depicted in the format of 8×4, 16×4, or similar. An 8×4 configuration indicates 8 downstream channels, and 4 channels for upstream. And the number of channels present will give you information about the maximum speed of the modem.
For instance, a 16×4 modem usually reaches about 680MBps. The 8×4 counterpart gets closer to 340Mbps. If you're using an especially fast Internet plan, a 24×8 modem may be necessary. DOCSIS 3.1 can make use of up to 32-downstream and 8-upstream connections. It's also backwards compatible to DOCSIS 3.0, so you don't have to worry about compatibility, and you can future-proof your Internet connection in the process.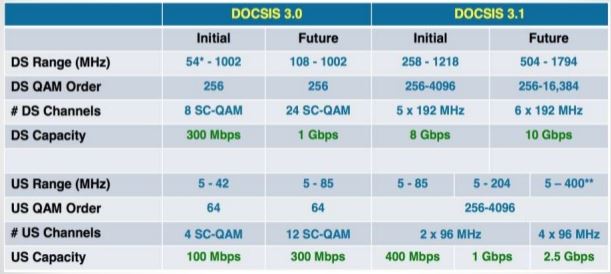 Basic Compatibility
Choosing the right cable modem can be challenging because different Internet service providers provide different service from one region to the next. At the very least, you'll need to be assured the DOCSIS 3.1 modem you choose is compatible with your current provider and plan. Luckily, nearly all reputable DOCSIS 3.0 or 3.1 modems will be compatible with every major US cable company. You could consider it a silver lining to Americans only having a few options for cable providers.
Lifespan
Most modems will include at least a one-year warranty. Even if a modem dies one day out of warranty, it would still be more cost effective than renting a modem in virtually every case. But the majority of electronics that break either do so within a few days of use, or only after decades of abuse.
For selecting a DOCSIS 3.1 cable modem, which has no movable parts, a one-year warranty is more than adequate. This is a rare instance where you shouldn't weigh a 2-year warranty as being significantly better than a 1-year warranty. When you look at the numbers, a 1-year warranty provides nearly the same amount of protection for consumers.
Exceptions
But not everyone should invest in a cable modem. If you switch Internet providers to use a fiber-optic network or a DSL network, then your cable modem will start collecting dust. Those networks require their own special equipment. Any person who foresees switching to a non-cable Internet service provider in the next year or two should be wary about investing heavily in a cable modem.
Getting What You Buy
One quick note. When you're upgrading to a DOCSIS 3.1 cable modem like the CM1000, you'll want to make sure the Ethernet cables you use between your modem and router are CAT6 or CAT5E categorized. Without adequate cabling, you won't be able to get all the speed the DOCSIS 3.1 can provide. With all the right equipment in place, the CM1000 can be configured to support 6Gbps of connectivity.
NETGEAR CM1000
NETGEAR is one of the world's leading manufacturers of cable modems and routers. Whether you're in the tech industry using thousand-dollar equipment, or you're choosing a cable modem for home, NETGEAR is staple of the industry.
And the CM1000 is one of their most powerful devices. It's equipped to take on every tier of cable Internet speed, including Gigabit Internet streams. In other words, you're covered up to 1,000Mbps. It also supports DOCSIS 3.1+ standard, offering as much as 10 times faster download speed relative to a 3.0 modem.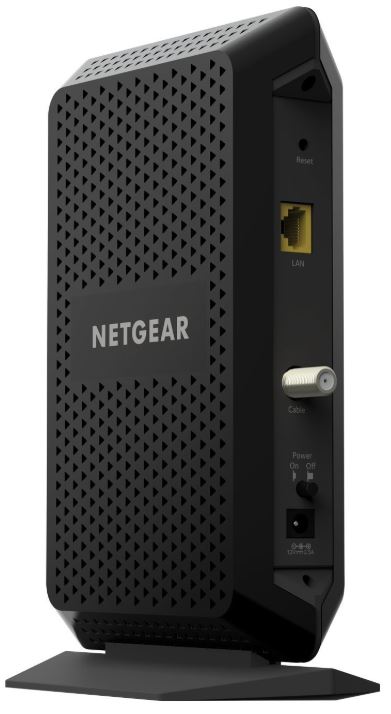 Build & Compatibility
The NETGEAR CM1000 uses a compact 5.4 x 5.9 x 8.8-inch build that remains unobtrusive and easily tucked away near your router. The 0.8-pound weight can seem stunningly small in your hands, but the CM1000 is nevertheless well built and sturdy.
This modem isn't compatible with CenturyLink, Verizon, AT&T services. It's also not compatible with any voice services you've got bundled with your cable. To make use of the NETGEAR CM1000, you'll need to be on Comcast XFINITY, Cox, Mediacom Cable, or a handful of their subsidiaries.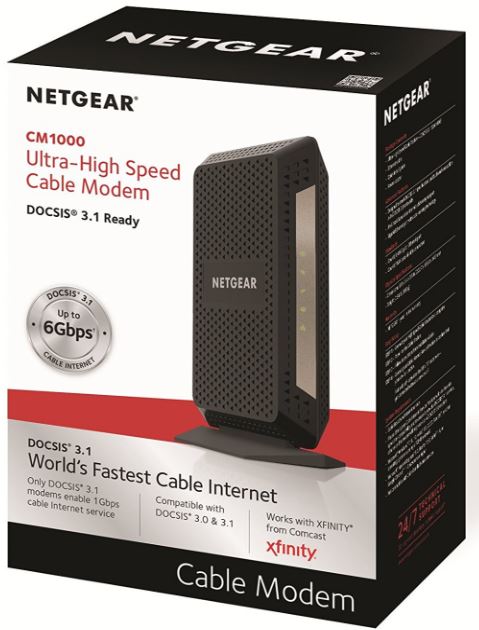 Added Performance
Compared to a rental modem, and depending on where you live, the CM1000 can produce some pretty stark improvements in latency. Some people switching to the CM1000 have noticed they can ping their local Google server with a 5ms response time, about three times faster than they would get from a rental modem.
Differences amounting to 10ms may not sound like much, but they can affect gamers and streamers the most. These seemingly small delays can be exaggerated to greater depths in a dozen different ways, from your network being too close to another network, to your network having too many devices asking for attention. Long story short, with subpar network conditions, minor delays produced by rental modems can become major delays in responsiveness.
Other Considerations
It's important to note the CM1000 isn't a router, and it's not a modem-router combo. You'll need a router to help distribute its Internet connectivity. You'll also want to be sure your router can handle greater speeds as well. Many decent routers will cap you around 400 Mbps with basic protective router features enabled. Anyone who's actually pushing a DOCSIS 3.1 modem to its limits, like someone who may be using a Gigabit Internet connection, will need to pay close attention to the capacity of all their network equipment.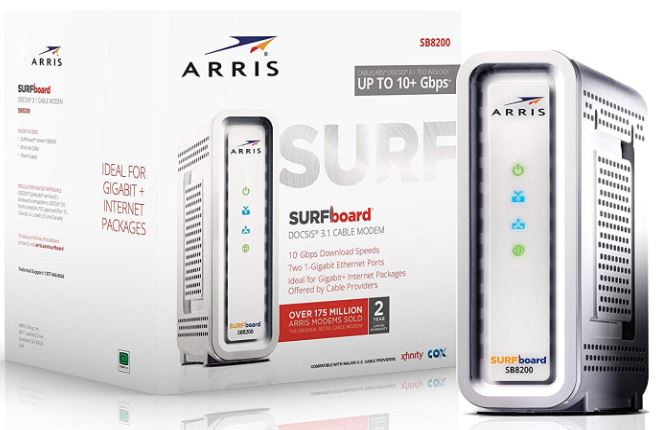 ARRIS SURFboard SB8200
The ARRIS SB8200 is the first DOCSIS 3.1 modem among the popular SURFboard series. It provides 32 lanes for downloading and 8 for uploading, making it a great companion for 4K content, VR gaming, and other high-bandwidth activities. And with a maximum 5Gbps throughout, the what the SURFboard lacks in bland professional presentation, it makes up for in results.

Build & Compatibility
The SB8200 uses a small, standard build for a modem. It sits around 5.1 x 1.7 x 5.2-inches, and is intended to be stored upright as though placing a book on a shelf. Like any SURFboard modem, the SB8200 would rest invisibly in a room if wasn't for its bright and colorful build. Along the front of the modem you'll find color-coded LED lights to give you information about the status of your network.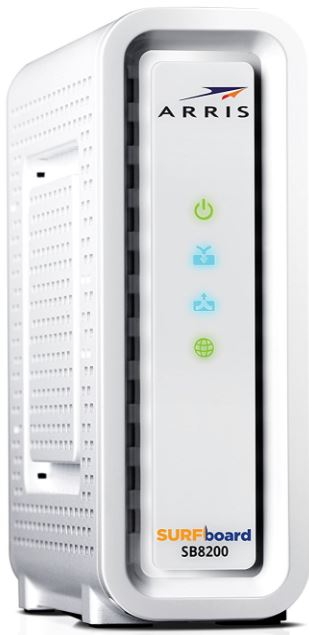 Added Performance
And on the backside of the SB8200, you'll find the power port and coax cable port. Both have been conveniently color-coded for an added layer of simplicity during installation and troubleshooting. The backside of the SB8200 also features two Gigabit Ethernet ports, which allows you to create two separate networks using only one modem.
The SB8200 is compatible with Cox and Xfinity. They're not yet approved by Brighthouse, Time Warner, or Charter, but have pending approval. The SB8200 is outright incompatible with CenturyLink, AT&T, and Verizon. And it won't carry voice services which may be bundled with your cable.
Other Considerations
The main feature here is the dual Gigabit Ethernet ports. People who are looking for a barebones router aren't going to find it with the SB8200. The SURFboard doesn't have the same recognition of a brand like NETGEAR, but their equipment is every bit an equal to such brands.

Motorola MB8600
The Motorola MB8600 is yet another recently released DOCSIS 3.1 modem. And true to the standard, the MB8600 provides the 32×8 download/upload connectivity that makes previous DOCSIS 3.0 modems look slow by comparison. If Motorola knows one thing, it's modems, and that becomes clear with a quick look at the MB8600.
Build & Design
The MB8600 looks more or less like an ordinary modem, from the simple yet descriptive LEDs on the front of the device, to the equally simple three-plug backside. The single Ethernet port makes setting up to a router foolproof. It's actually slightly bulkier than similar modems, sitting at 7.2 x 2.2 x 7.9 inches.
The Motorola MB8600 is compatible with Xfinity, CableOne, and Cox. And it's not compatible with satellite services provided by companies like CenturyLink and Verizon.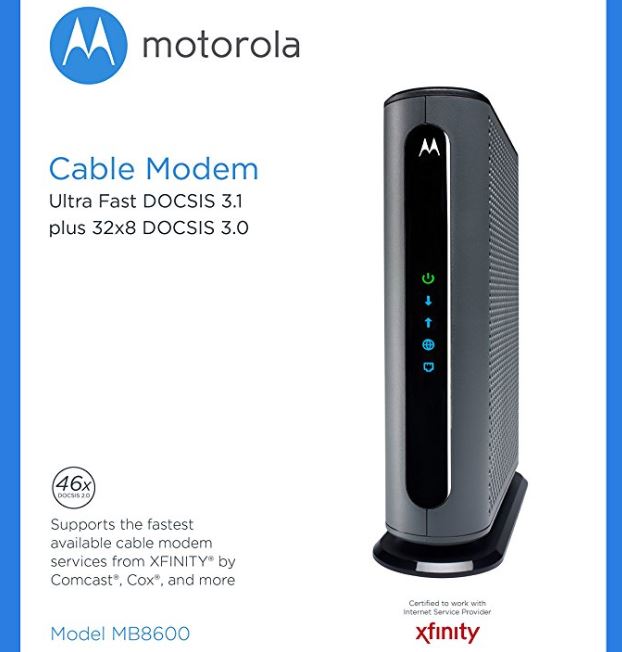 Added Performance
The MB8600 is built to take on every type of cable modem speed, from the simplest 10Mbps plan to the most expensive 1,000 Mbps plan. Within the MB8600 is a Broadcom modem chipset, the same chipset used by ARRIS and NETGEAR. It's a golden standard for protecting yourself from DDOS attacks and similar cyber security threats, and it's a great indication of what else you can expect from the MB8600.
Other Considerations
The MB8600 also has three masked Gigabit ports. The additional ports aren't for connecting several Wi-Fi devices, they're for connecting to router to bond several Ethernet ports together. It's this bonding which allows the MB8600 to surpass 1Gbps speed, at least for people with plans offering speeds beyond Gigabit connectivity. In such a scenario, the MB8600 can reach up to 3.8Gbps.
Choosing Between Three Fast, Reliable DOCSIS 3.1 Cable Modems
Each of these DOCSIS 3.1 cable modems share a number of essential features. They share wide compatibility with the major cable providers and DOCSIS 3.1 connectivity speeds. Compared to renting a modem, all three all priced to where they pay for themselves after about 18 months.
The Motorola MB8600 is a great choice for someone who's Internet plan is making the most of DOCSIS 3.1 and achieving speeds in gross excess of 1 gigabit per second. The MB8600 can support a stunning 3.8Gbps, provided you've got it connected to a router that's ready to handle that kind of digital heat. It doesn't include the same level of protection features as the NETGEAR CM1000, but anyone with an existing firewall won't notice the difference.
The NETGEAR CM1000 is fully loaded, whether you're using a massive Gigabit-plus Internet connection now, or you will be in the future, it's prepared for either scenario. Even if you're not using an incredibly high speed connection, you'll probably get some small latency improvements from using the CM1000. It's a great choice for anyone who wants quality and is willing to pay for it.
Finally, the ARRIS SURFboard SB8200 isn't quite as heavily loaded as the CM1000, but still supports a 5Gbps cable platform. And the inclusion of dual switches makes it a great choice for someone looking to setup multiple home networks. The SURFboard is definitely the choice for anyone who's primarily concerned with ease of use. Every modem on this list is easy to setup, but the SURFboard could just about be setup by a child. If you're worried about ease of use, give it a look.