4K televisions are getting cheap. But truthfully, most people don't care that much about 4K resolution, especially with how little 4K content there is out there. Make no mistake, ordinary viewers can certainly tell the difference in image quality between 1080p and 4K. But what's really driving so many to upgrade their TV isn't resolution, it's streaming features and voice control.
And why not? Ten years ago, a 50" television would have set you back about $800, and your content would be in glorious 720p. These days, you can find 50" sets from name brands at half that price. Except now the panel is in 4K resolution, it can connect to every streaming service you can think of, and will literally accept voice commands! Technology is great, isn't it?
Toshiba 50" Fire TV Edition 4K Smart TV
The Toshiba 50" Fire TV Edition 4K Smart TV is a bit of an oddity. When it comes to certain devices, like laptops, Toshiba has a mixed reputation. But their televisions haven't been nearly as contentious, until recently. The 50" Fire TV Edition Smart TV is about as contentious as a TV can be.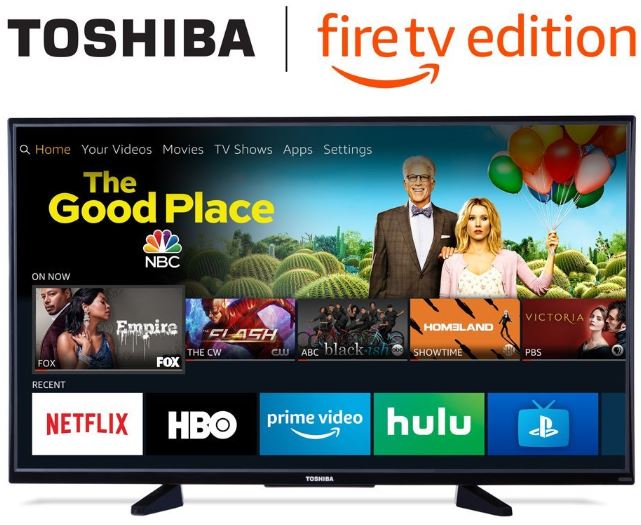 When you take this TV out of the box, you get a general sense of quality that's hard to miss. It looks professional, it looks modern, and after you've glanced over its features, this panel seems like the price-tag might be missing a zero. You go through the incredibly simple setup process, snapping on the stand.
You plug in the power cord, antenna cable, and pop batteries in the remote. Toshiba asks you to provide your Amazon information, and then their Fire 4K Smart TV starts to scan for channels. And there you are, watching your favorite shows, inside of 20 minutes. You start to wonder, what's the catch?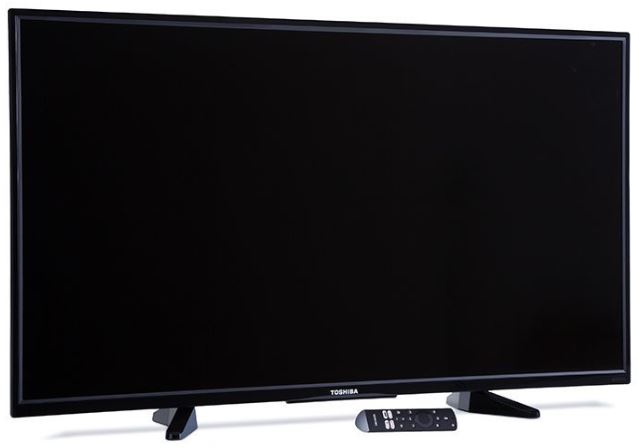 Build & Design
Most modern TVs look alike. They're all getting flatter, choosing to use thinner bezels, and so forth. Even their backsides are starting to look more alike as it's only necessary to include a handful of cable ports these days. The Toshiba 50" Fire TV Edition 4K isn't an exception to this trend, their TV looks more or less like any other television manufactured in the past ten years.
Although Toshiba calls this a 50-inch panel, measured across, the screen is actually 49.5-inches. The device stands at 44.6 x 26.4 x 10.7-inches, but the panel is only 3.7" with the stand removed. That makes it a fairly good selection for a wall mount or arm mount. It weighs a hefty 31.3lbs, which is made to fit on standard VESA 400 x 200 mounts. The 31-pound weight can be a little unwieldy given the size of the TV, but it's nothing that any decent VESA mount can't handle.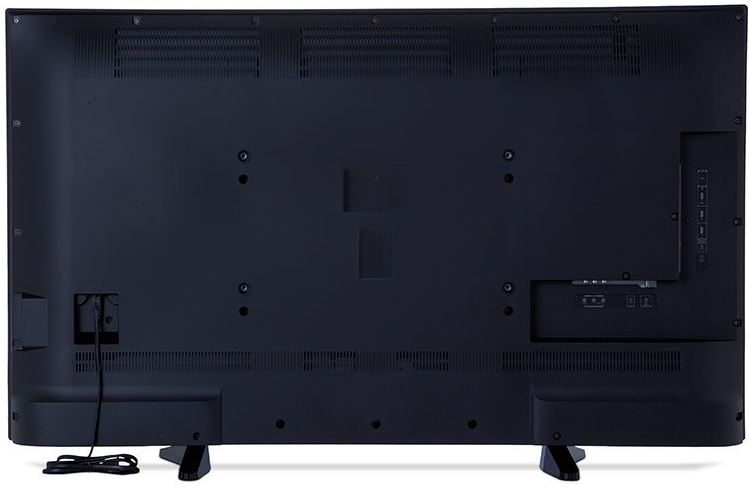 Looking towards the backside of this TV, on the right, you'll find three HDMI inputs, an optical input, audio out, and a USB port. Closer to the center of the panel, you'll find an Ethernet, RF antenna, and AV composite port. These aren't particularly well-labeled or easy to see because they're angled downwards.
However, this downwards slant design is actually gentler on the cables themselves. It makes it easier to wall-mount your equipment, and when not mounted, it makes those wires less likely to knock-over the panel if one of the wires gets yanked. All in all, it's better for you to have to struggle for a few seconds to plug-in your cables, the trade-offs are worthwhile.

Remote Control
Like you might expect, the Toshiba 50-inch Fire TV Edition 4K Ultra HD Smart TV includes a remote. The remote measures 6.4 x 1.5 x 0.8-inches, which is on the smaller side for television remotes. It's powered by two AAA batteries, which are included. The remote is somewhat minimalistic, which many people will regard as a good thing, but some people will want to keep their universal remote on hand anyway.

The top of the remote features a microphone. Just below that, there's a voice button you can use to start initiating voice commands to the remote. The rest of the buttons are about what you'd expect. There's a navigational D-pad, volume buttons, channel guide, menu button, and so forth. The remote also includes buttons for quick-launching Netflix, HBO, PlayStation Vue, and Prime Video. If you use one or more of those services, you've got several extra reasons to like the remote.
One thing to note is that essential buttons, like the play/skip buttons, haven't been made exceptionally large. They're the same size as somewhat less common keys, like the menu button. Normally that would be a dire sin for a remote, but given the fact there's only about a dozen buttons to begin with, this remote doesn't suffer for that decision.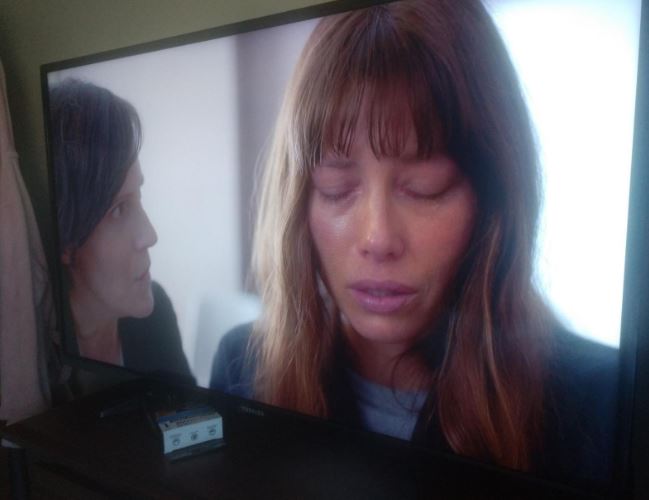 Picture Quality
There's essentially three things to note about image quality. The first is the standard 60Hz refresh rate. That's not going to be a particularly impressive choice for avid PC gamers, but all others shouldn't find this to be an obstacle. The second thing to note is the Direct LED backlighting, providing a superior range of brightness. That's essential for the HDR support provided by the Toshiba 50-inch Fire TV.
About half-a-year after they first released their line of Fire TVs, Toshiba performed a major update the firmware for these sets. The newly renovated settings and menu windows provide a much greater range of options for contrast, color, and so forth. During launch, owners had virtually no level of control over the colors and contrast of their set. Now it's possible to exercise full control over essentially every variant.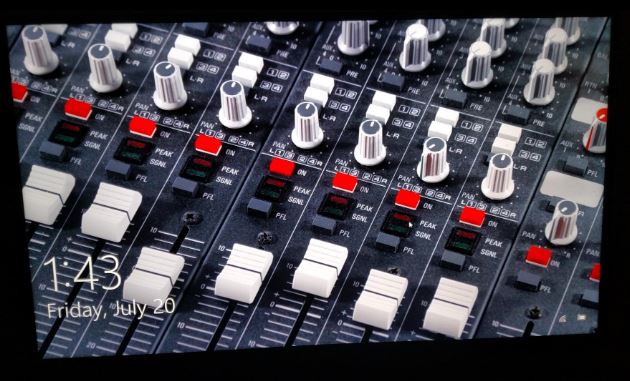 Smart TV Features
At the heart of this television is build-in Fire TV, which is Amazon's digital media player. It's essentially a gateway to thousands of channels and apps, including streaming services and channels like Hulu, SHOWTIME, Netflix, and so forth. Whatever streaming you're interested in, using them with a Fire TV is a breeze. It supports 4K UHD content, and browsing through the Fire Operating System is fairly simple to do.
The Alexa-enabled voice remote makes things a bit easier still. Paired with an Echo, you can have hands-free control of your TV at any point in your home. You don't even have to press the voice button on the remote! You can issue commands like "Alexa, switch to Blu-ray." Even common remote commands, like rewinding, can be done with the right voice prompt.
But note, Alexa support only extends to streaming content, not to content from your cable provider. While their advertising suggests that you're able to simply command the remote to tune-in to various channels, some of the commands you're able to issue are actually somewhat restricted. Which brings us to "the catch", the secret reason why this television is so inexpensive.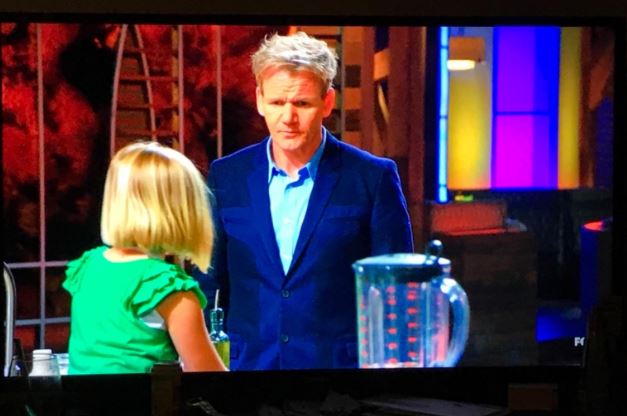 Drawbacks
In recent years, some manufacturers have start selling electronics at near-cost. They'll sell smartphones, televisions, or tablets at shockingly cheap prices, scarcely making profit. They're not being generous; the goal is to bring you into their brand's ecosystem.
When you're using the Toshiba 50" Fire TV Edition 4K Ultra Smart TV, within various settings windows, you'll notice a "recommended by your apps" bar. You do not have the ability to disable this bar. Additionally, the home screen has a number of advertisements you can't remove.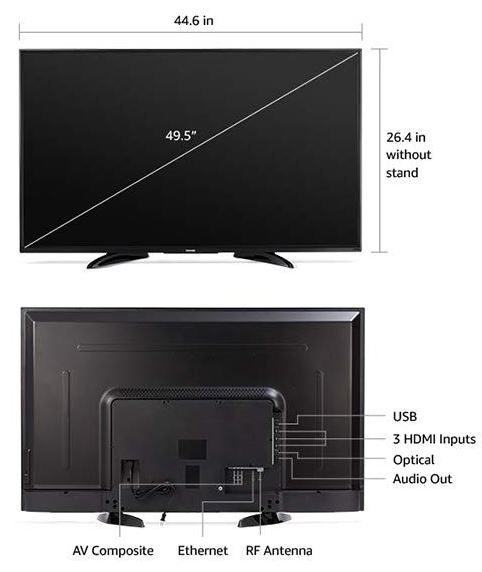 As you scroll through the home screen, about 25% of the content in your feed is yet another advertisement. And that's precisely why this TV is so cheap. Their "angle" is to recuperate the lower cost of the television on things like advertisements.
It's worth noting, these ads are only present in menu windows. They're not going to pop-up in the middle of your movie. Some people will rightfully be annoyed by them, others will be willing to endure them in the interests of savings. It's really a matter of personal preference.
Other Considerations
With respect to accessibility features, the Toshiba 50" Fire TV supports Voice View, Closed Captioning, and Screen Magnification. That's basically the full gamut of accessibility features you can expect from a modern TV. It includes the voice remote, batteries, the TV stand, a handful of screws to attach the stand, and a quick setup guide. It also includes a one-year warranty from Toshiba.
The quick setup guide provides virtually no instructions, but luckily, setup is largely intuitive. If you do encounter an issue, this panel is popular enough that finding documentation is simple online.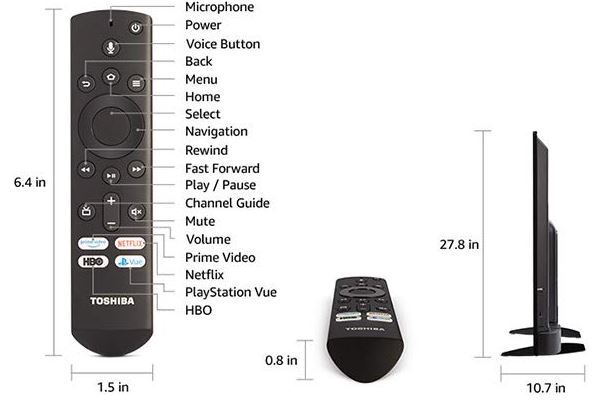 Who Should Choose the Toshiba 50" Fire TV?
There's a reason this panel doesn't cost significantly more than it does, and it's because of the ads. You probably already know if you're going to be bothered by that kind of thing, or if it's something you can deal with. If you can't live with the ads, and you want all of the same features, you'll have to increase your budget by about $200.
If you can live with the ads, the Toshiba 50" Fire TV is an excellent pick for a person who's moving away from cable content. This is first-and-foremost a streaming TV, not a traditional cable TV. Sure, you can run cable through it. But Alexa isn't going to control your cable box, or help you change cable channels.
This TV is distinctly made for people who are doing most of their content consumption through a streaming service. Few of the convenience features apply to cable, from the remote buttons to the voice control. It's also an excellent pick for someone who's already invested in Amazon prime or the Amazon Echo. Being able to integrate all your stuff through one network has advantages that need not be explained.
If most of the watching that you do is through cable instead of streaming services, you'll probably want to choose a different TV. But if you're first and foremost someone who streams content, and you're not going to be put-out by the advertisements, it's tough to find serious competitors for the cost-effective value of this TV.