Garage door openers are nothing new. But being able to open them from your smartphone? That's about a thousand times better than having to use a separate remote. Even if you're not home, Wi-Fi enabled garage door openers can help you keep total control over your garage. In a world that's increasingly dominated by Wi-Fi enabled lightbulbs, water heaters, and thermostats, having a Wi-Fi enabled garage door seems to be the next logical step.
If you've used a garage door opener in the past, you probably know that you've got to wait to be within range of your door to open things up. And when you finally get close enough, there you sit, waiting for the doorway to get out of your way. With a Wi-Fi garage opener, you can start opening that door before you even pull up. But that might just be the beginning, if you know how to find the right door opener.
Choosing a Wi-Fi Enabled Garage Door Opener
Finding the right garage door opener isn't that tough. But you've got to ask some basic questions. The first thing to consider is what's included in the kit. People who do not have an automatic garage door opener will require a full door system, including the rails and motor necessary to draw their garage door. People who already have garage door openers may be able to make a simpler adaptation, connecting their current opener to an existing Wi-Fi network.
If you're someone who needs a full system, including a motor to haul your door, you've got a slightly more complicated task on your hands. You've got to be concerned with the difficulty of installation, the power of the door, safety features, and still face many of the same compatibility questions as someone who is upgrading an existing garage door system.
Garage Compatibility
If you're adapting from an existing garage door opener, the good news is that it's not hard to find widely shared compatibility between virtually all major brands of garage door openers. But it's worth taking the time to check each product, ensuring it's compatible with your system. If your door system is more than two decades old, there's a fair chance you'll be unable to upgrade the existing system, and a replacement system would be necessary.
Garage Connectivity
The simplest forms of wireless connectivity may be made through Wi-Fi or Bluetooth. Wi-Fi is the better choice for most people because it allows you for remote monitoring of the door. Before leaping into Wi-Fi solutions, it's worth taking a moment to check the strength of your Wi-Fi signal in your garage.
By contrast, Bluetooth models are scarcely better than typical remote-based garage door openers. It allows you to open doors from your phone, which is great, but you'll need to be within roughly 30 feet of the garage for that to happen. But having the extra option can be useful for people who are unable to channel Wi-Fi to their garage, for whatever reason.
Of course, Bluetooth and Wi-Fi aren't the only way you want to open your garage. As you start adding on Wi-Fi peripherals, you should stop and ask, can you still open the garage with a regular remote? Can you interconnect other peripherals, like having your garage door or garage lights integrated with motion detection? The answer to these questions can have a firm bearing on your ultimate selection.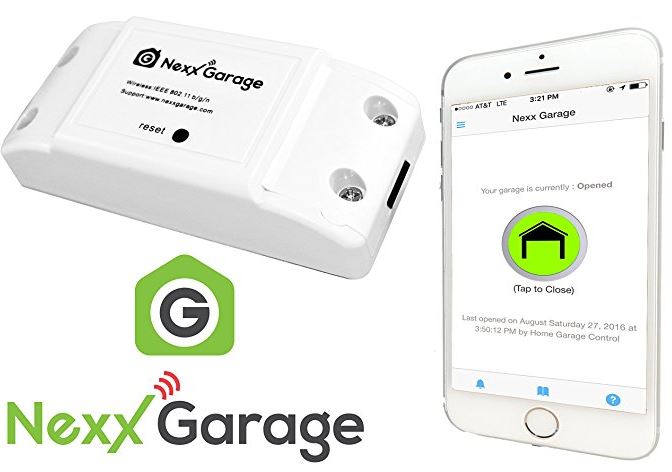 Nexx Garage
The Nexx Garage Wi-Fi opener is a ridiculously versatile, multi-user approach to garage door openers. Like you might expect, it allows you to open and close a garage door through your Wi-Fi network. But the wide integration and ease of use, extending to any mobile device your own, provides a rather extensive ability to control and monitor your home anywhere you're online.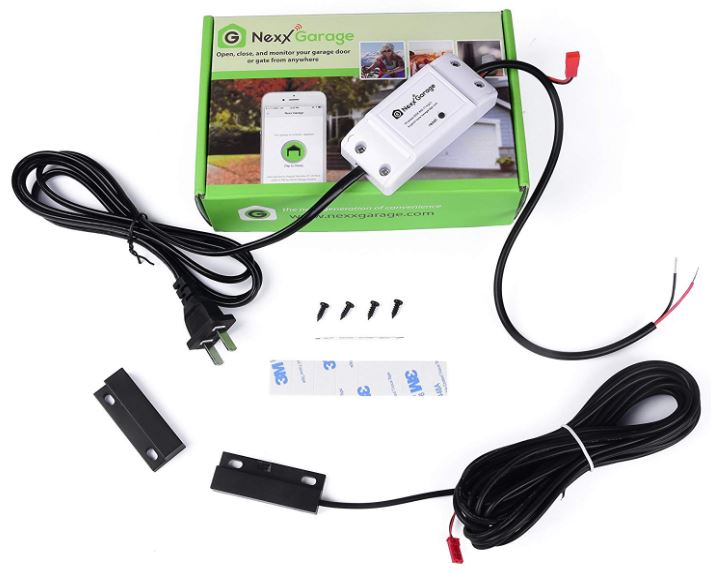 Build & Design
The Nexx Garage central hub sits at 3.5 x 1 x 1.5-inches, weighing about half a pound. It's constructed with a simple white body that would be hard to identify if it wasn't labeled with the Nexx Garage logo. To actually use your door, you can access control through the free Nexx app. The app also allows you to issue voice controls to Google Assistant or Alexa.
The Wi-Fi network is made over a typical 2.4Ghz connection. That allows for easy installation, which is as simple as installing a router. Using the app is just as simple, either one tap or one voice is all you need to manage your garage door. With your phone providing location data to the Nexx app, you can even program your garage door to automatically open as you pull up.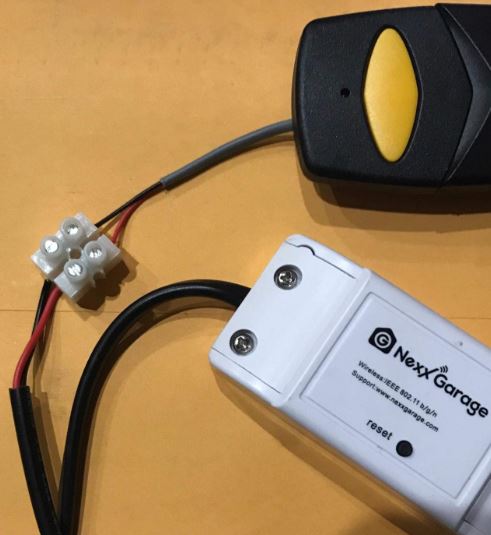 Other Considerations
Those personalized customization features are extended beyond just you, however. It's possible to setup multi-user access, allowing you to authorize different people to access your garage. For example, you can set things up so your door will open or close as an authorized guest arrives. And you can receive notifications about whether or not you remembered to close the door, and if the door is opened or closed.
Those comings and goings are all kept track of within a history of the doors use, accessible through the app. The Nexx Garage app also support for IFTTT for near endless integration options. You could use IFTTT to have your door close at precisely 9pm every night, get an email when the door opens, and so forth. This kit includes the controller, sensor, and a handful of mounting gear.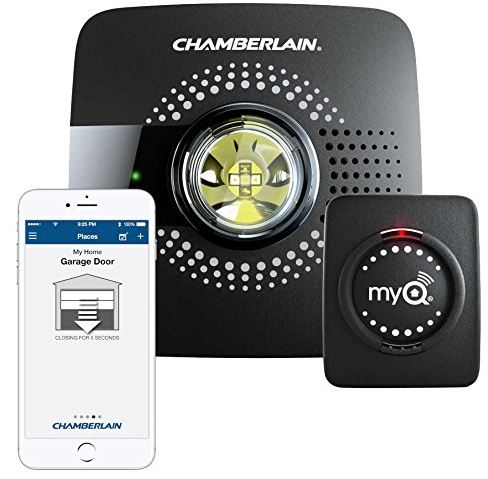 Chamberlain MyQ Smart Garage Door Opener
The MyQ Smart Garage Door Opener allows you to open and close your garage door anywhere you're connected to the Internet. Like with similar garage door openers, you can configure it to send you alerts when your door opens or closes, helping you keep tabs on security. But with their included MyQ Smart Garage Hub app, you have near total control of your garage door.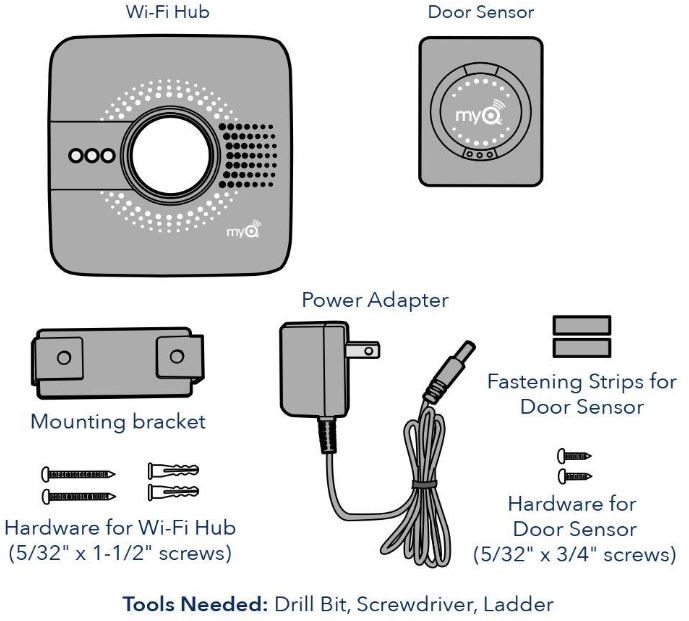 Build & Design
The Chamberlain MyQ Smart Garage hub is a constructed into a tiny 4.5 x 1.5 x 4.5-inch device, weighing about 8 ounces. Both the hub and Wi-Fi receiver use an ordinary square black body, stylized only by the large sensor. Among even the most orderly workshop or garage, these routers blend in with relative ease. And with good reason.
The MyQ Smart Garage Door opener enjoys wide compatibility with nearly all major garage door openers, from Craftsman to Genie. But if you're using a 20-year old unit from a manufacturer like Build Mark or Garage Access, then you may want to check for manufacturer compatibility more carefully.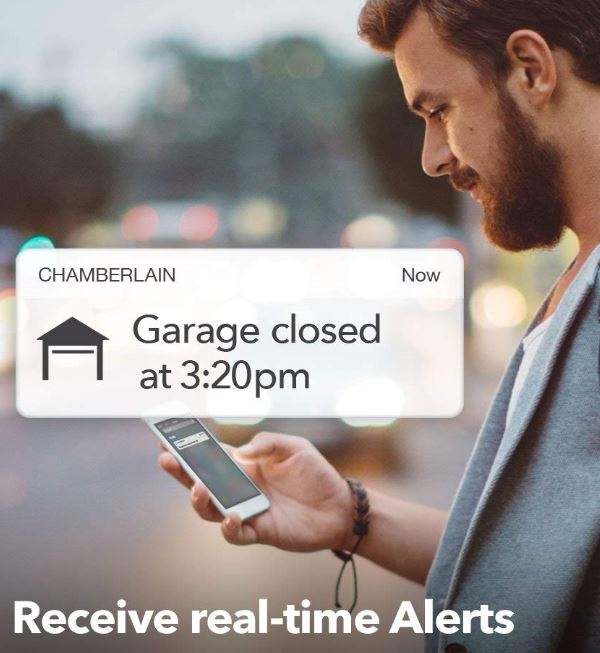 Other Considerations
Overall, setup is as simple as checking Wi-Fi signal in your garage, then installing the door sensor at a place that receives the signal. From there, you've got to power on the Wi-Fi hub and download their app. Easy so far, right?
But this is where people tend to lose their way. To get through setup, you'll need to go through their website. That step isn't as clearly indicated as it should be, which can provide a frustrating hiccup in the installation for people who aren't paying close attention.
The Chamberlain MyQ Smart Garage Door Opener kit includes the Wi-Fi hub, door sensor, power adapter, and some mounting hardware that lets you stick everything out of the way. It also includes the necessary battery for the remote. One more thing to note. If you want to link MyQ account to Google Assistant for IFTTT, you'll need to endure a subscription fee. But that's only something that you'll have to think about if you want to use some highly specific programming for the behavior of your door.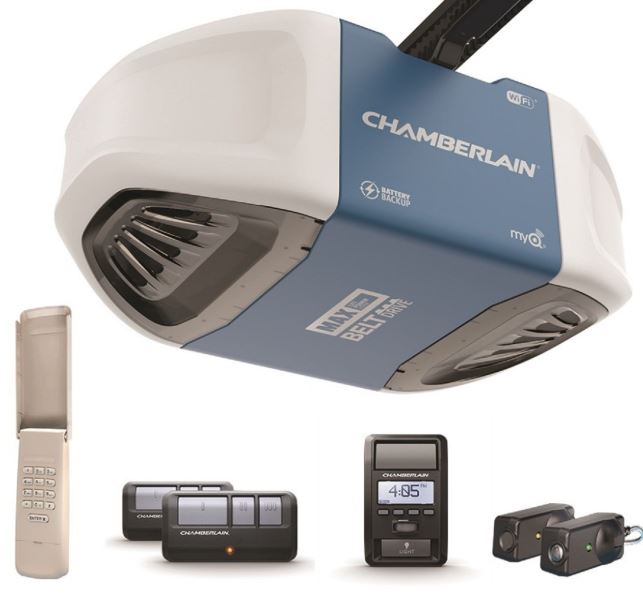 Chamberlain B970
The Chamberlain B970 is a complete garage door opener system, including the motor-and-belt system necessary for hauling doors out of your way. Along with the basic door opening it provides, the B970 includes a number of handsome extra features, including a reasonably powerful battery backup system.
Its lifting power is equivalent to 1.25 horsepower, which is roughly twice as much horsepower as the first stationary automobile constructed by Carl Benz in 1879. It's enough to haul around a modestly sized engine, and it's certainly enough to open some sturdy garage doors.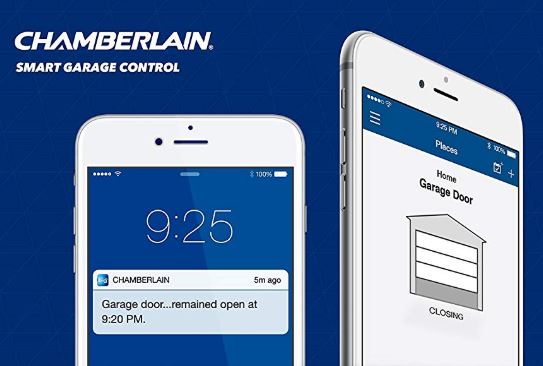 Build & Design
The most important thing to know about the lifting belt, apart from its steel-reinforced construction, is how quiet it is during operation. Much of that quiet operation is because of the B970 using anti-vibration feature, keeping your garage door silent enough to not disturb someone sleeping in an adjacent room.
You'll notice the Chamberlain B970 includes a pair of 3-button remotes. Each remote can be individually programmed to operate the door, or any number of accessories attached to the B970. It also includes a motion detection control panel. The controls on this panel allow you to program the remotes, any lighting accessories you might pick up, and to further establish parameters around the use of motion detection.
But extra remotes are only the beginning. The B970 also includes smartphone control through Chamberlain's free app. Within the app, you can add on lighting to the Chamberlain B970 and control those lights alongside scheduling for opening and closing your garage door. The Wi-Fi features include support for real-time alerts if the door has been opened or closed.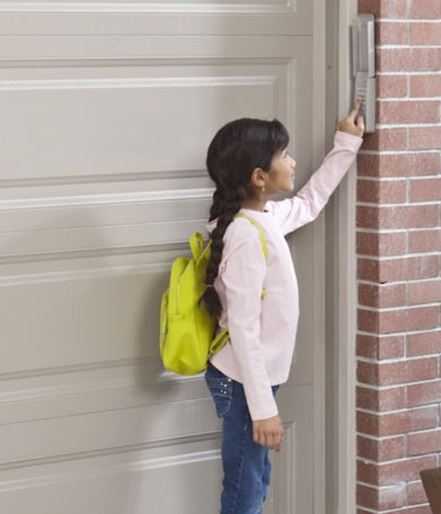 Redundant Access and Safety
Moreover, the B970 includes a wireless keypad you can affix to your garage, allowing access without a remote. It's an alphanumeric keypad, similar to a telephone. Between the keypad, smartphone app, and remote, you've got more ways to program and control your garage than you can shake a stick at.
And it's all topped off with two safety sensors, projecting an infrared beam across your garage floor. They're made to automatically reverse the door if the beam is interrupted while the door is descending. So if any person or object makes contact with the door, these sensors are there to kick-in and save the day.
Other Considerations
Remember that backup battery? You can use one of your remotes to access that battery, ensuring you can never be locked out of your home. If your phone is out of power and you're unable to charge, the remote is like an electrically-independent key to your garage. Even if the power is out, the backup battery can help you inside. In short, it has the best security and flexibility features of every garage door opener all wrapped into one.
As far as installation goes, Chamberlain includes access to online installation videos, pre-programmed remote settings, a snap-and-lock rail system to make sure things are as simple as possible. They also provide live tech support in case you need help with connectivity or installation.
Choosing Between 3 Great Smartphone Enabled Wi-Fi Garage Door Openers
The Chamberlain MyQ Smart Garage Door Opener is a good choice for someone trying to upgrade their existing garage door opener into a Wi-Fi network smart device. It has wide compatibility with essentially all major garage door openers constructed in the past two decades, and often beyond that. For taking your old garage door opener and adapting it to have many of the same powerful features as the Chamberlain B970, the MyQ Smart Garage Door Opener is a great choice.
If you need a complete garage door opening kit, including track and motor, then you're looking for the Chamberlain B970. It's got an exceptionally powerful yet quiet motor. It has half a dozen connectivity features, and even supports a full-fledged battery backup. Unless you're trying to raise a 3-inch steel door, the B970 is just about the best Wi-Fi garage door opener that you can find.
The Nexx Garage kit is a good alternative to the Chamberlain MyQ. They've got the same broad feature set thanks to mutual support for IFTTT. But the Nexx is somewhat easier to use due to native support for voice assistants like Alexa. The intuitive nature of the Nexx Garage Door opener makes it the best choice for people who aren't exceptionally tech-minded, but don't mind having the options to use more advanced features later on.
Meet Derek, "TechGuru," a 34-year-old technology enthusiast with a deep passion for tech innovations. With extensive experience, he specializes in gaming hardware and software, and has expertise in gadgets, custom PCs, and audio.
Besides writing about tech and reviewing new products, Derek enjoys traveling, hiking, and photography. Committed to keeping up with the latest industry trends, he aims to guide readers in making informed tech decisions.