If you're like many people, you might have a big jar of coins in your house. Or maybe you run a business and have to handle a lot of money. Either way, coins can be tough to manage. Most banks won't accept them for deposit unless they've been properly rolled. At the same time, they're no fun to spend. Try taking a jar of coins through the grocery line and counting them out on the counter some time!
The best solution is to use an electric coin sorting machine. These machines divide coins up by denomination. Some varieties simply sort the coins and count them out. Others are designed to pack your coins into paper tubes. That way, you can take them into the bank and deposit them.
Today, we're going to review four of the best electric coin sorter and counter machines on today's market. There's a lot to discuss about each one. But if you're pressed for time, here's a quick overview of the main features:
Now, let's take a closer look at all four of these machines! After that, we'll have enough information to deliver a fair verdict.
Best Overall: Nadex S540 Pro
Key features:
Counts pennies, nickels, dimes, quarters, and dollar coins.
2,000-coin hopper capacity.
Counts 300 coins per minute.
Can sort into sleeves, bins, or both.
Includes 48 coin sleeves.
The Nadex S540 Pro has a matte grey plastic housing. It's taller than it is wide, with a roughly rectangular profile. At the front is an LCD display that shows a variety of data. This includes both the number of coins you've counted and their total value. Any time you press the start/stop button, this information will be displayed. In the same area, there are additional buttons to control the other functions.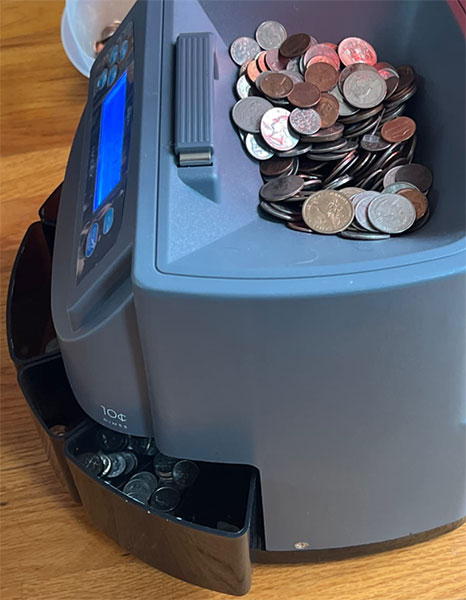 At the top of the housing is a large hopper that can hold up to 2,000 dimes. The exact number of coins it will hold will depend on the size. These coins are sorted at a rate of 300 coins per minute, which is a pretty brisk pace. Counted coins are then dispensed either into paper sleeves or plastic bins, depending on how you've set up the unit.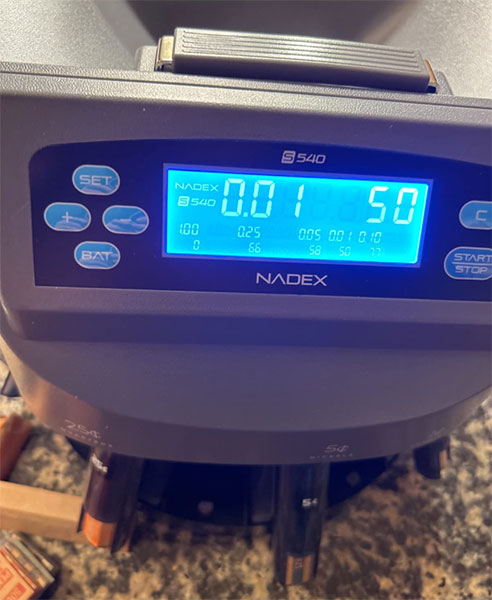 Around the front of the housing is a series of slots that can accommodate either the bins or tubes. The bins have different capacities depending on the denomination. They can hold 300 pennies, 450 nickels, 900 dimes, 350 quarters, or 130 dollar coins. This is just a rough estimate. A lot depends on how the coins fall and their orientation upon landing. The plastic tubes accommodate paper wrappers, and there's a set of 48 wrappers in the kit.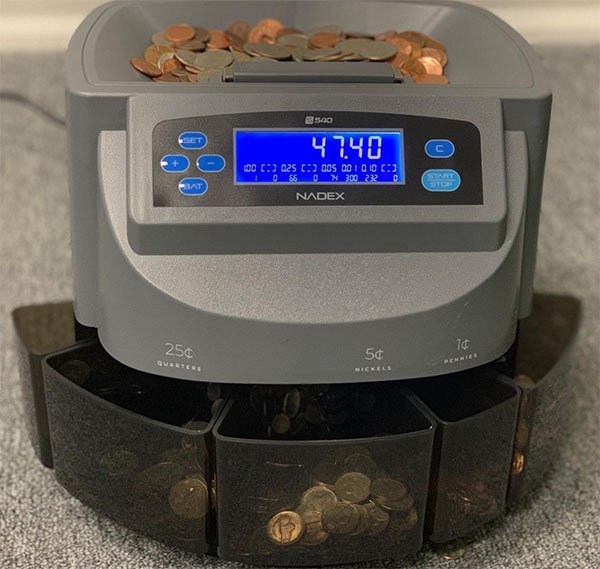 The Batch button will count out coins only until the sleeve or bin is full. When it gets full, the S540 will stop running until you change the receptacle and tell it to restart. The neat thing about this feature is that you can set different batch limits for different denominations. So for example, you could sort pennies through quarters into sleeves, while sorting dollar coins into the bin.
This counting machine comes with a nylon dust cover to keep it safe and clean. The cover has a drawstring at the bottom to pull it nice and tight.
All of this is covered by a 1-year manufacturer's warranty. If there's a defect in parts or labor, Nadex will replace the unit or provide you with a refund.
Best Runner-Up: Cassida C300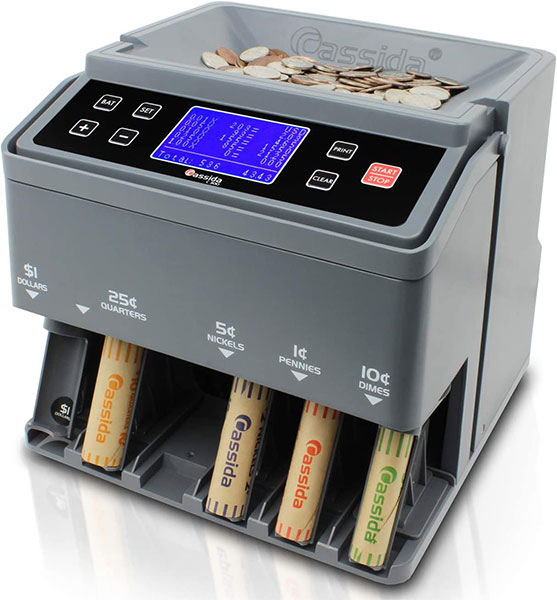 Key features:
Counts pennies, nickels, dimes, quarters, and dollar coins.
2,000-coin hopper capacity.
Counts 300 coins per minute.
Can sort into sleeves or bins.
Can swap out coin sleeves without removing the tubes.
Compatible with thermal printers.
Includes 25 coin sleeves.
The Cassida C300 is a bit bigger and beefier than the S540. It has a similarly-shaped grey rectangular housing, and a flip-up handle on the top that makes it very easy to carry. The display is located right at the front, and shows your coin totals, value totals for each coin, and overall totals. Meanwhile, a set of buttons around the display give you full control of the unit.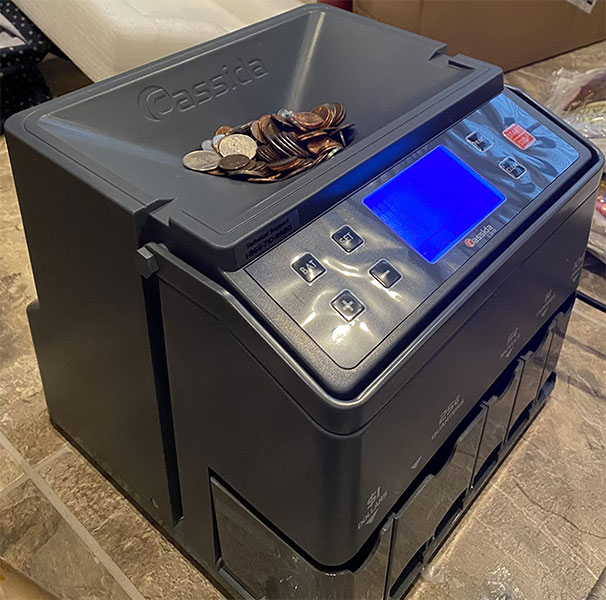 The hopper on top of the housing can hold up to 2,000 coins. Again, this assumes that all of those coins are dimes, but that's the standard way of measuring coin capacity. In practice, the C300 counts pennies, nickels, dimes, quarters, and dollar coins, so your mileage may vary.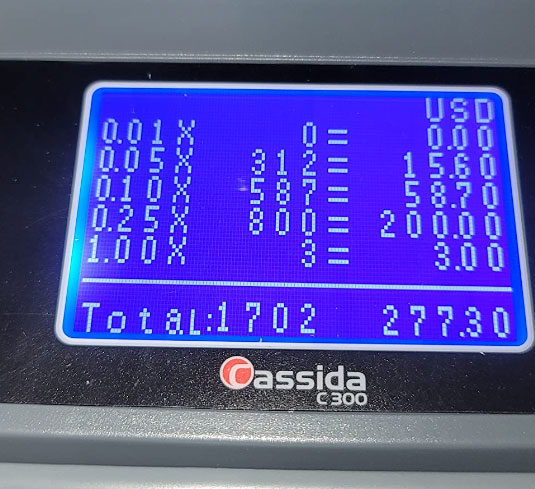 By default, they will dispense into a set of paper sleeves, and 25 sleeves are included with the kit. The neat thing about this particular counter is that the tubes for those sleeves are pitched at an angle. As a result, you can exchange a full sleeve for an empty one without removing the plastic tube from the housing.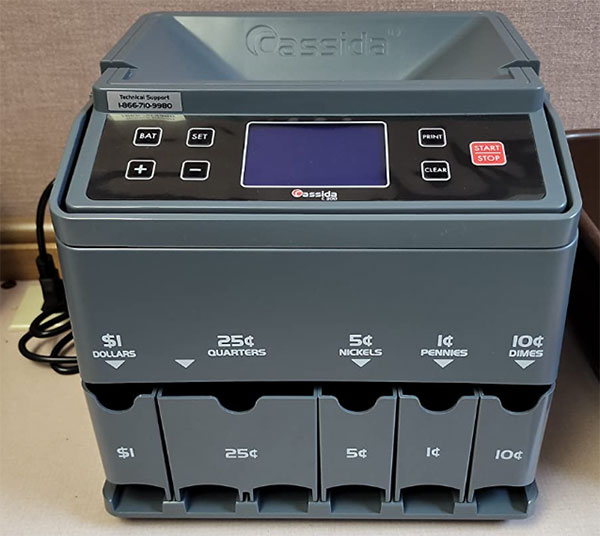 The system can count 300 coins per minute, and you can adjust your batch amounts on the fly as needed. You can also swap out the tubes for a set of plastic bins. The bins have different sizes for different coins, and will hold around 200 coins apiece. If that's not enough, the C300 is compatible with thermal printers. So if you need to print out your totals for your records, you can do it with the push of a button.
This counter comes with a one year manufacturer's warranty. If it fails prematurely, you'll be fully covered.
Best High-End: Ribao CS-10S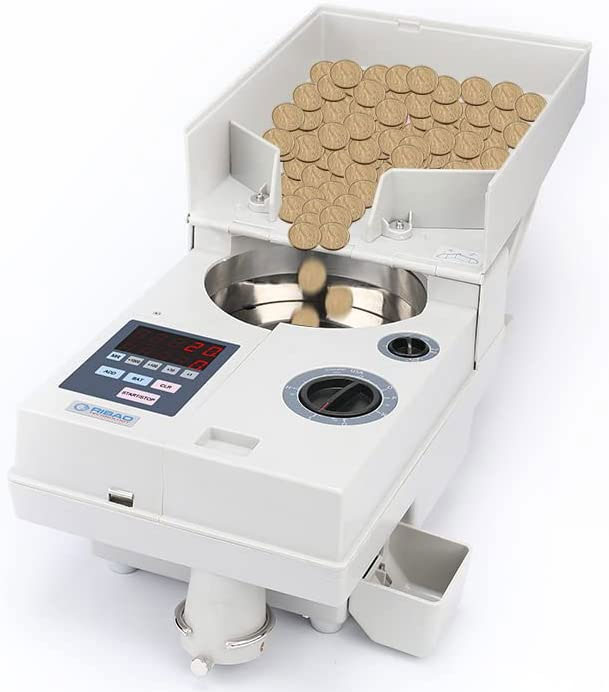 Key features:
Counts virtually any coin, including tokens.
2,000-coin hopper capacity.
Counts 1,800 coins per minute.
Can sort into tubes or any other container.
The Ribao CS-10S has a tough white plastic housing with a folding design. When collapsed, there's a handle on the top for ease of transport. It's hinged at the back, and unfolds easily when you set it up. There's a large hopper at the back, with a 2,000-coin capacity. At the front of the hopper is a chute that allows coins to slide down into the main counter. In front of the round counter opening, there's an LCD display at the front left that can count up to 99,999 coins.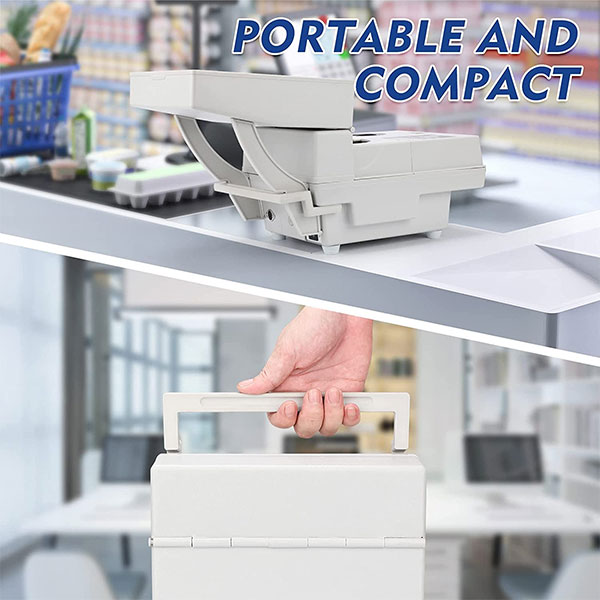 This is a pricey machine, but it's also incredibly fast. It can count coins at a rate of 1,800 per minute, so you can grind through even very large jobs in a hurry. Dispensed coins fall through a tube at the front, and you can attach a coin sleeve at the bottom. To the right is a plastic reject bin where too-small coins are dropped off.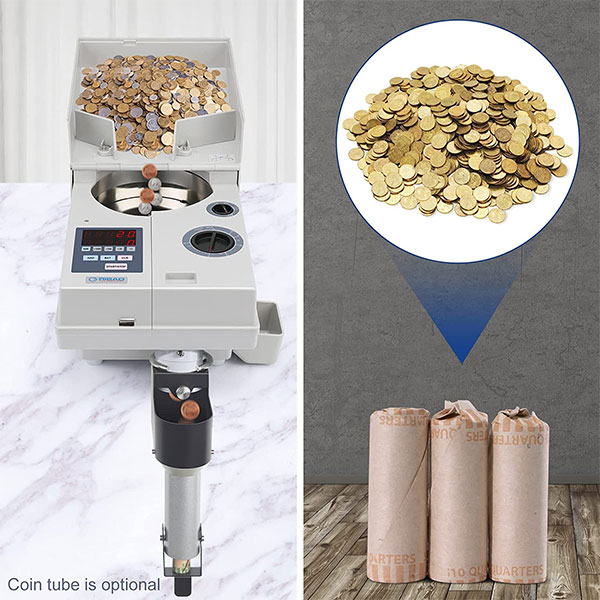 You can sort an unlimited number of coins in a session. Or you can use the buttons near the display to set the CS-10S to batch mode. In this mode, you can adjust it to dispense the exact number of coins for a given size tube. Then just swap out the tubes as the fill up and resume counting. In standard mode, you can dispense the coins into a bag, large bin, or any other container.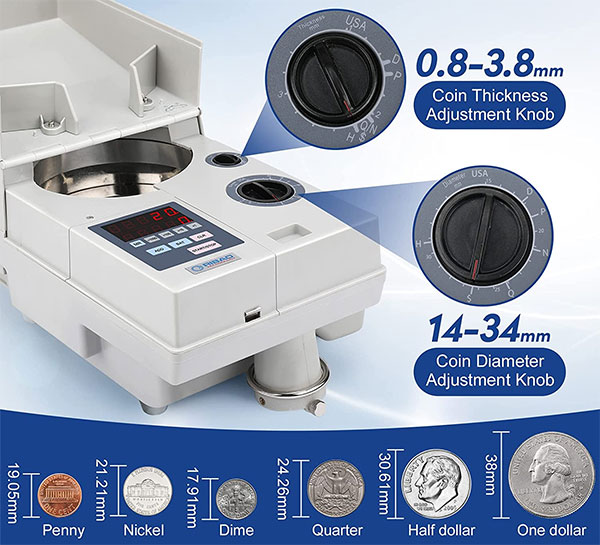 What really sets this counter aside is the fact that it can count almost any coin. A pair of dials to the right of the display let you adjust the thickness from 0.8mm to 3.8mm, or the diameter from 14mm to 34mm. Specify the size of the coin you want to count, and others will be rejected. This can get annoying if you only want to sort American currency. But it allows you to count pretty much any foreign currency as well. You can even use it to count tokens for carnivals and arcades.
Ribao backs the CS-10S with a two-year manufacturer's warranty. This is longer than most coin counter warranties, and provides a good measure of protection.
Best Alternative: Cassida C100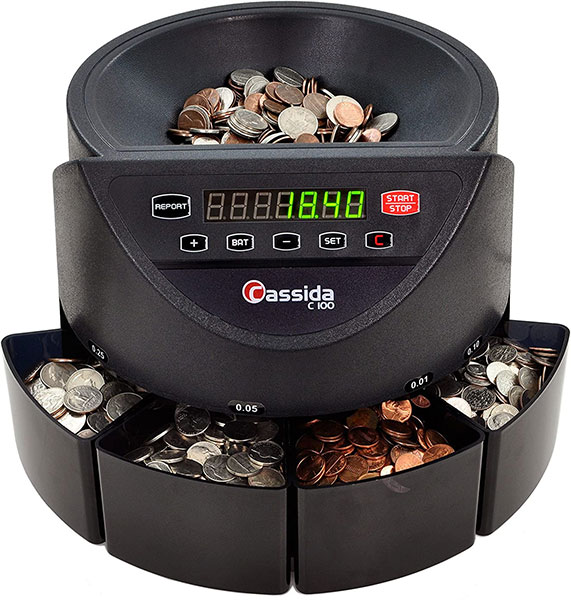 Key features:
Counts pennies, nickels, dimes, and quarters.
1,500-coin hopper capacity.
Counts 250 coins per minute.
Four operating modes.
Sorts coins into bins.
The Cassida C100 has a black housing with a roughly cylindrical display. As with the other sorters on our list, there's an LED display on the front, along with a set of control buttons. The display is fairly basic, and can be used to show either the dollar value for all coins or the individual denominations.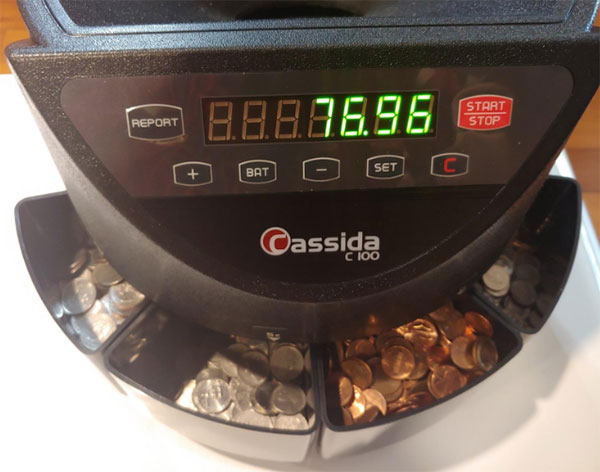 The hopper is located behind the screen, and has a capacity of up to 1,500 coins. You can count pennies, nickels, dimes, and quarters, but not dollar coins. These coins are sorted at a rate of 250 per minute, and drop into bins across the front. Each bin has a 900-dime capacity, but the number will be less for larger coins. There's no option to sort coins into paper tubes; you'll still have to do that manually.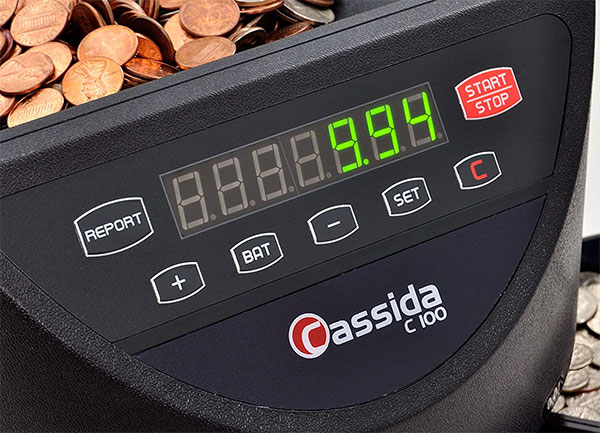 You can use the C100 in four different modes. The first is the reporting mode, which we've already alluded to. Pressing the "Report" button will display the current count for one denomination. Pressing it multiple times will cycle through the different types of coin.
In Batch mode, you can set custom coin amounts for each denomination. This number is adjustable from 1 to 500, and the system will shut down when that number is reached. Pressing the button again will resume sorting again up to the limit.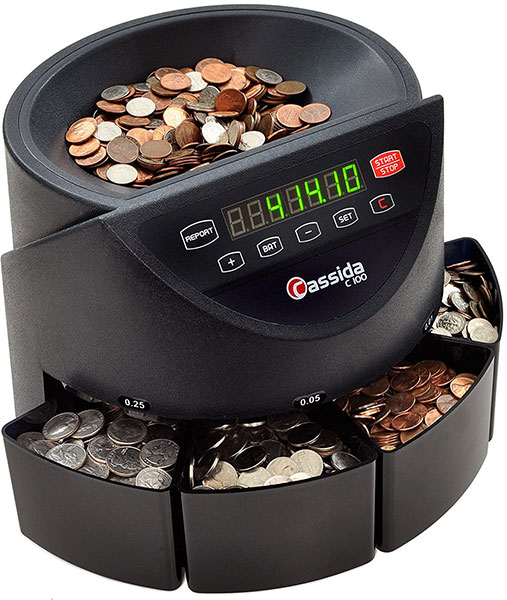 The Count mode is pretty straightforward. As your coins are sorted, the total dollar amount will display on the screen. This number will reset to 0 with each session. Alternatively, you can set the system to Add mode. In this mode, the C100 will store your total in memory and continue adding to it with each session. This can come in handy in a number of circumstances. For example, let's say you want to count up coins from multiple cash drawers. You can keep track of the number in each drawer, as well as the running total.
Closing Thoughts
As you can see, these coin sorters and counters all have a lot to bring to the table. But which one will be the best fit for your needs? Here's a summary of what we've learned today.
First up on our list was the Nadex S540 Pro. This versatile counter can count all American coins, including dollar coins. It can sort into sleeves or bins, so it can be used for simple sorting or for preparing coins for deposit. Best of all, you can customize the batch count per coin. This allows you to sort some denominations into sleeves and others into bins. As a result, it's a very versatile system.
After that, we looked at the Cassida C300. This counter counts standard American coins, and can sort into coins or bins depending on what you need. The bin size is different for different coins, so they all hold the same amount. We also liked the design of the plastic tubes that allow you to swap out sleeves quickly and easily. And with thermal printer compatibility, you're looking at a solid choice for businesses.
Next, we checked out the Ribao CS-10S. This is a professional-grade machine that can count 1,800 coins per minute. On the downside, it can count only one denomination at a time. On the upside, it will sort out any "incorrect" coins, and it can count almost any coin on earth. You can dispense coins into sleeves, or just drop them into a bag or other receptacle. Meanwhile, the unit is collapsible and easy to carry.
Finally, we reviewed the Cassida C100. This nifty little counter sorts pennies, nickels, dimes, and quarters. It won't dispense your coins into tubes, but the included bins work well for basic sorting and counting. We also liked the Add function, which lets you keep a running total between multiple sessions.