Yeslamp Evo
Pros
Very sleek, stylish design.
Versatile lighting options.
Built-in clock and USB charging port.
High-quality construction.
Clamp mechanism provides a secure fit.
Cons
A bit pricey.
Unable to adjust to some angles.
Are you tired of poor lighting while working at your desk? Whether you're a designer, painter, or just someone who spends long hours working on a computer, good lighting is essential.
But not just any light will do. Incandescent and regular LED lights can strain your eyes and negatively affect your vision over time. That's where the Yeslamp Evo Adjustable LED Desk Lamp comes in.
This professional-grade table light features 60 LED lamp beads, and they do not disappoint in their performance. It's pretty impressive tech, and we think it'll appeal to a lot of people.
But is it right for you? That's what we intend to help you discover. In this review, we'll take a closer look at the Yeslamp Evo and see if it lives up to its promises of being a versatile, high-quality desk lamp.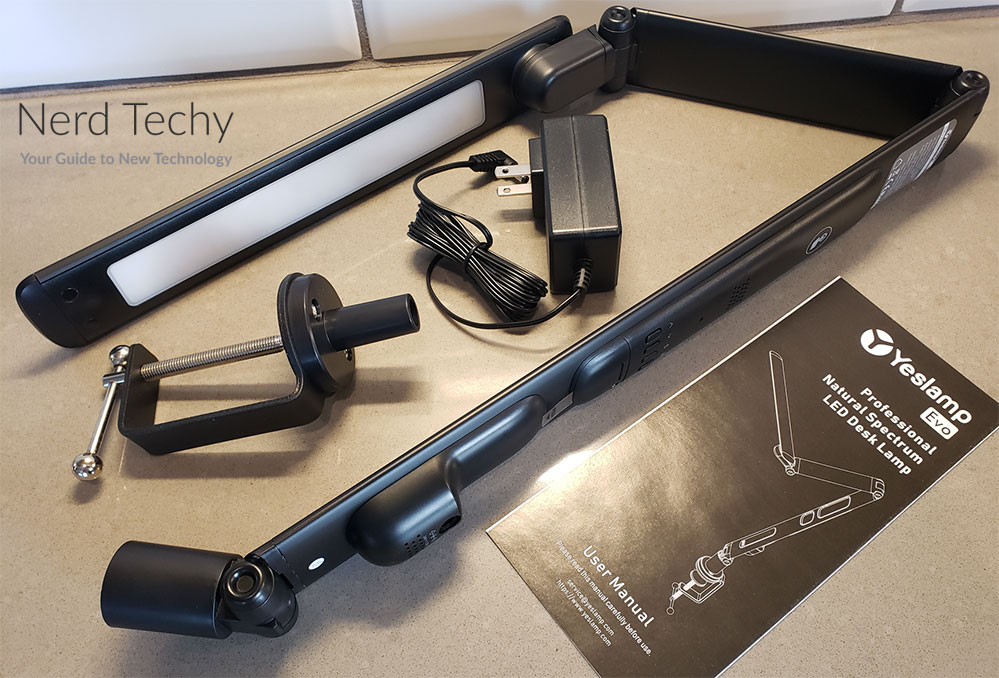 Features and Benefits
Professional Grade Color Rendering
The Yeslamp Evo boasts a color rendering index (CRI) of over 96, which is designed to be as close to natural daylight as possible. This means that it accurately restores the original color of objects, making it ideal for professionals like painters, designers, and architects who need to see colors as accurately as possible.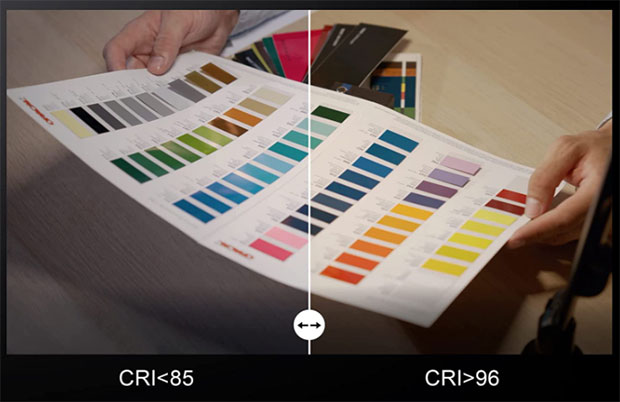 It can also be beneficial for anyone who spends long hours reading, studying, or working on a computer, as it reduces eye strain and helps prevent vision problems over time.
Super Bright
With 60 LED lamp beads, the Evo offers super high brightness of up to 1900LUX (1200LM), which can easily light up an entire workbench. It also offers five levels of brightness and five different color temperature options, making it versatile enough for a range of tasks, from video conferencing to drafting to reading. The lamp is also dimmable, so you can adjust the brightness to your liking.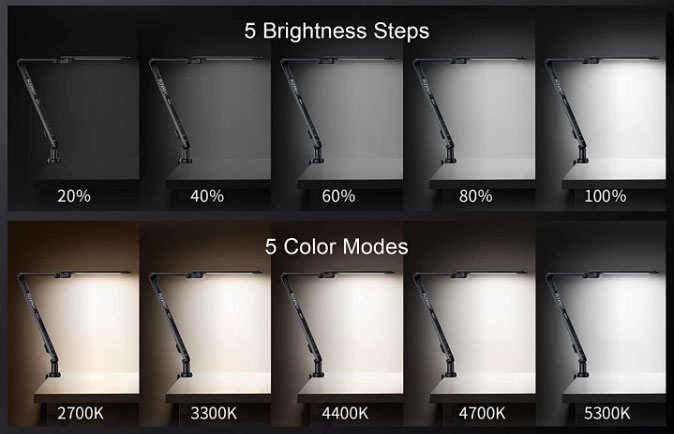 Eye Care
It's designed to be easy on the eyes, with natural spectrum LED chips that have a CRI of over 96. This means that it provides a more natural, comfortable light that reduces eye strain, even when used for extended periods. It's a great option for anyone who wants to protect their eyesight, whether they're working or simply enjoying a good book.
6 Adjustable Rotation Axes
The Yeslamp Evo has three swing arms and six adjustable rotation axes, which means that it can be adjusted to meet a wide range of lighting needs from different angles. This makes it a versatile option for people who need to work on different types of projects, from intricate crafts to technical drawings.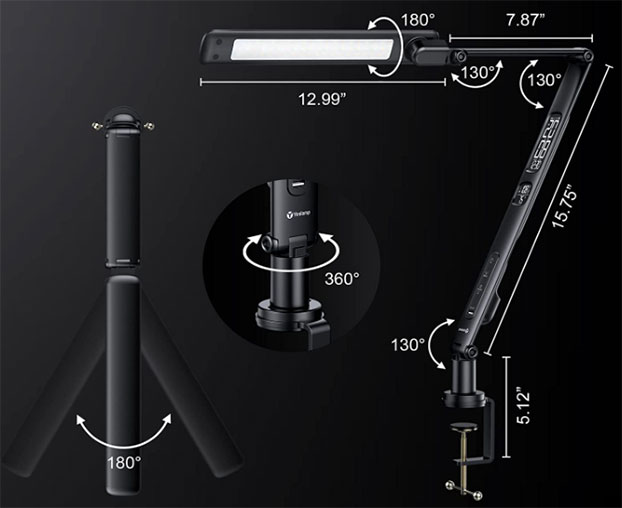 Saves Space
With a slim body design, the Evo doesn't take up much space on your desk, making it a great option for small home offices or crowded workspaces. Additionally, its table-side installation method means that it takes up no desktop space at all.
Charging Port Options
The Yeslamp Evo comes with a built-in USB charging port, making it easy to charge your phone, tablet, or other devices while you work. This feature is particularly helpful for people who need to stay connected while they work.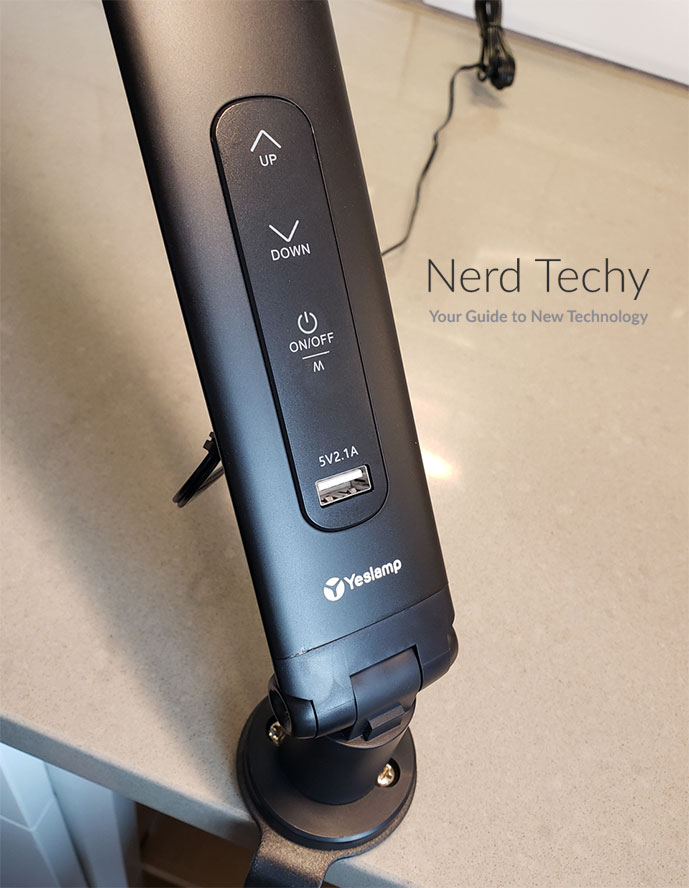 Integrated Calendar
The Yeslamp Evo also features an integrated calendar, clock, and alarm clock, which can help keep you organized and on schedule while you work. Additionally, it also features a thermometer and hygrometer, which can help you keep track of the temperature and humidity in your workspace.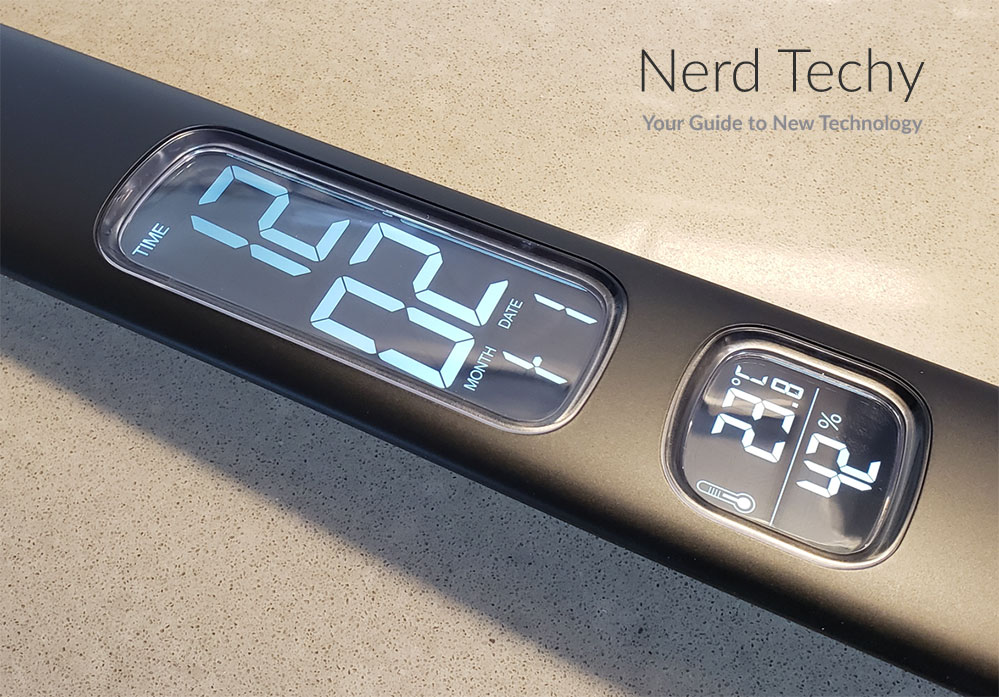 The Evo is a great option for anyone who needs a high-quality desk lamp that's both versatile and easy on the eyes. With its professional-grade color rendering, super-bright LED lamp beads, and eye-caring design, it's perfect for designers, painters, architects, and anyone who needs to work on detailed projects. Additionally, its space-saving design and built-in USB charging port make it a practical choice for people who need to stay organized and connected while they work.
Build Quality
The Yeslamp Evo desk lamp is crafted with relatively high-quality materials that ensure its durability and stability. Its slim body is made of aluminum, a bit of plastic and a stainless steel base. This provides it with a lightweight design for easy portability. The alloy material also enables fast heat dissipation, which prolongs the life of the lamp.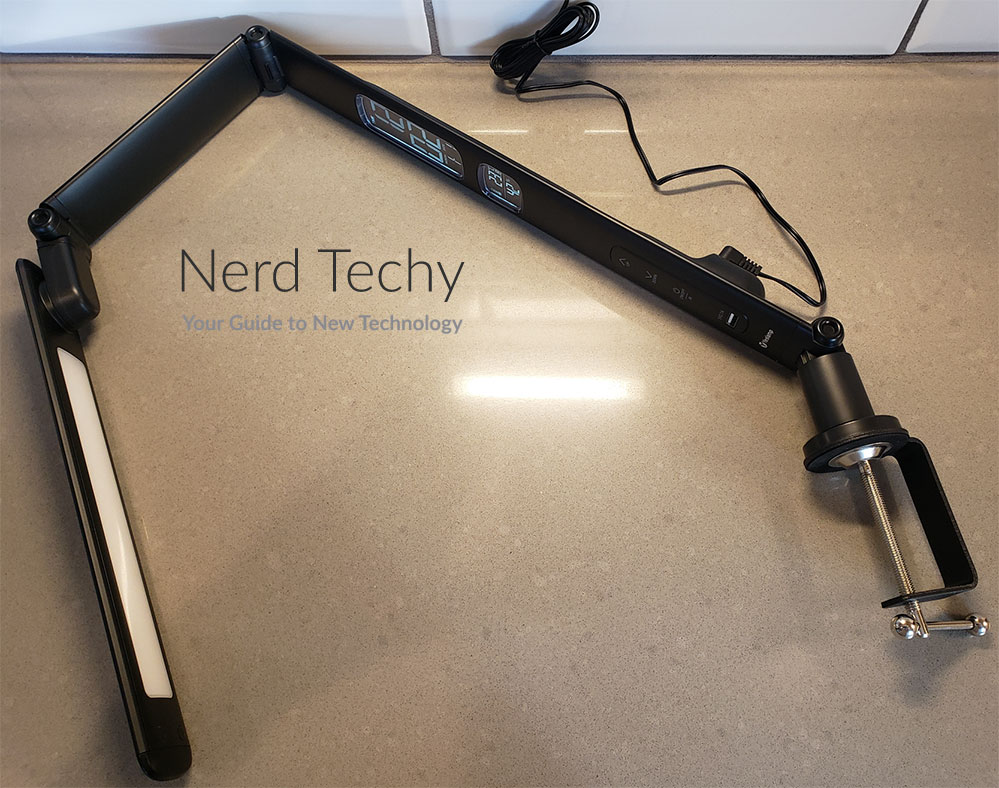 The three swing arms of the lamp were of concern at first. Features like these aren't typically constructed to the highest standard and are prone to breaking. But we were pleased to see that Yeslamp spared no expense in ensuring a high-quality build.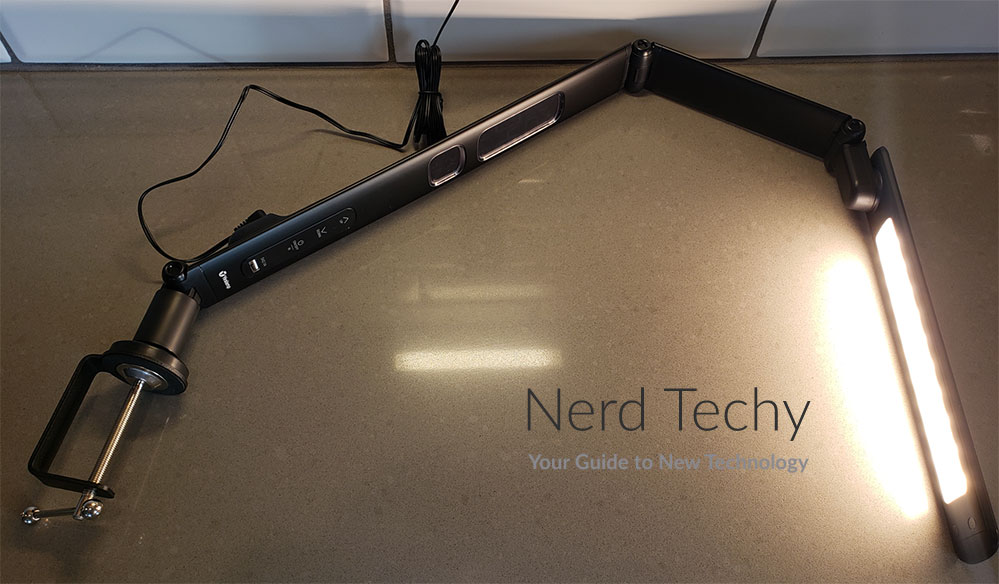 That said, the lamp can't easily swing in any and every direction. It does have its limitations in this regard, so some people may find this to be a deal-breaker, depending on their individual needs and expectations. Don't get us wrong—it can do a lot, and what it does do, it accomplishes rather impressively.
But you should come in with the expectation that the arms have their limits. Aside from that, though, we're quite happy with what this unit can do. And we're certain it will impress anyone who's used to using conventional lighting in their various applications.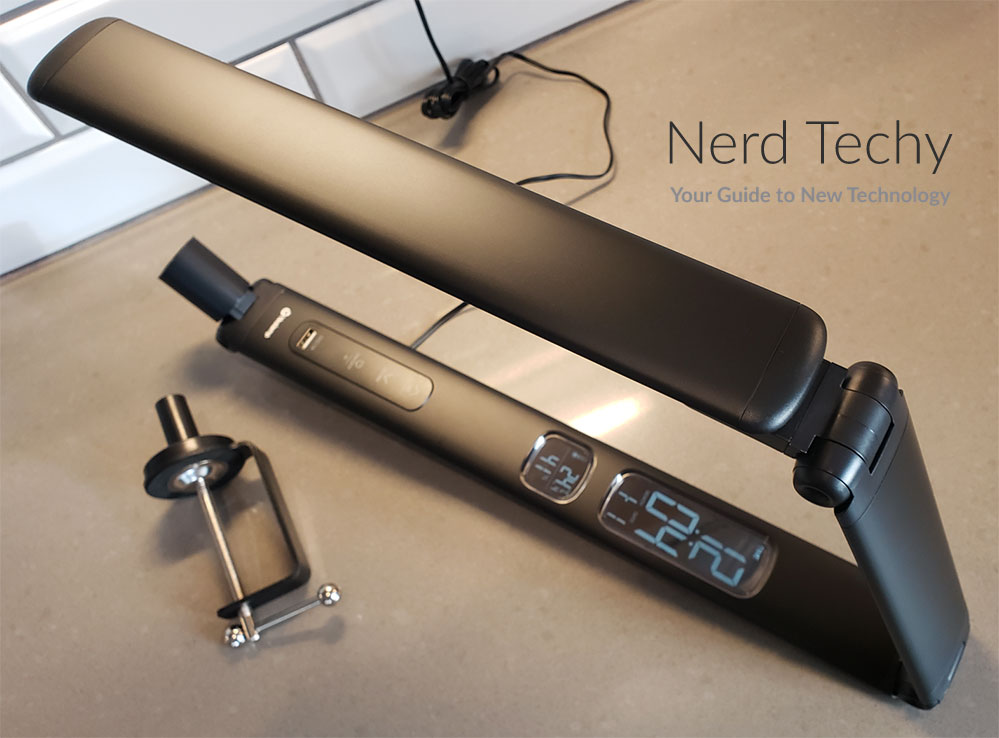 Another notable feature of the Yeslamp Evo is the dual-screen display, which is integrated into the lamp's body. The display shows the current time, date, and temperature, which eliminates the need for additional desk accessories. The USB charging port that is also integrated into the lamp's body allows users to charge their devices while using the lamp.
Visual Aesthetics
The Yeslamp Evo Adjustable LED Desk Lamp is available in two color options: black and white. The minimalist design of this lamp blends seamlessly with any décor and aesthetic. The black option is a classic choice that looks great in most settings, while the white option is perfect for brightening up a workspace and giving it a more modern, fresh feel.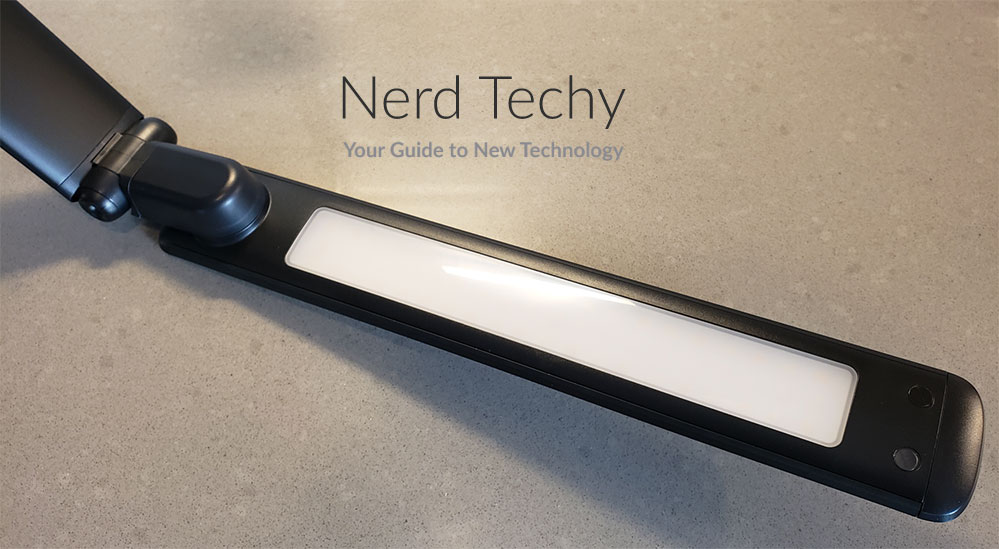 The color you choose is ultimately a matter of personal preference and what will best suit your workspace. If your office has a lot of black accents, the black lamp will likely blend in better. If you have a lot of white or light-colored furniture, the white lamp may be a better choice. It's worth noting that the lamp head and arms match the color you choose, so you're not stuck with a dull metal or silver color, which is common in many lamps.
Regardless of which color option you choose, the Evo is sure to enhance your workspace with its sleek and modern design. It's seemingly built to last and provides users with a high-quality, efficient, and elegant lighting solution. The materials used in its construction, combined with the versatile and adjustable features, make this lamp a worthwhile investment for any professional in need of quality desk lighting.
Performance and Convenience
Stylish, elegant, and high-quality are just some of the words that come to mind when describing the Yeslamp Evo. During our testing, we found that this clamp-on desk lamp is a perfect example of "you get what you pay for." The price may be higher than some other desk lamps, but it's worth every penny for its sleek design and intelligent features that work exceptionally well.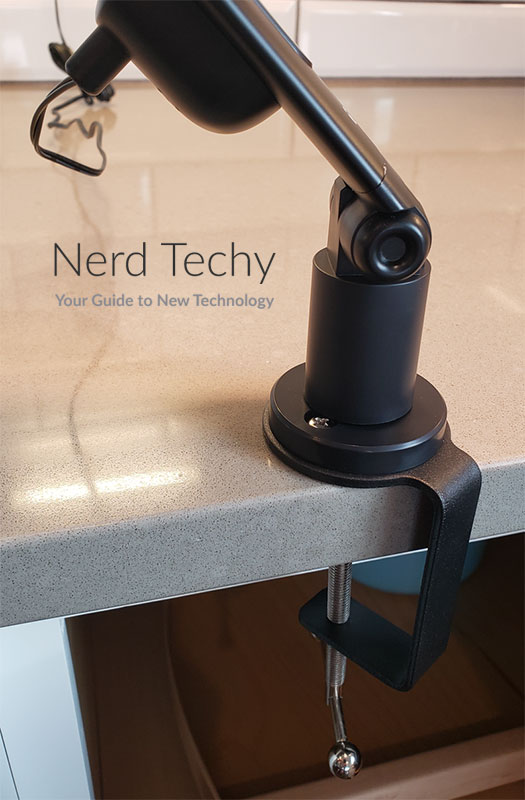 First off, we were impressed by the clamp's wide opening, which easily accommodated most uses. It fit a thick drafting table top with no issue and provided a strong and stable base. Best of all, no part of the construction feels weak or cheap—everything here is as you would expect from a high-end lighting solution.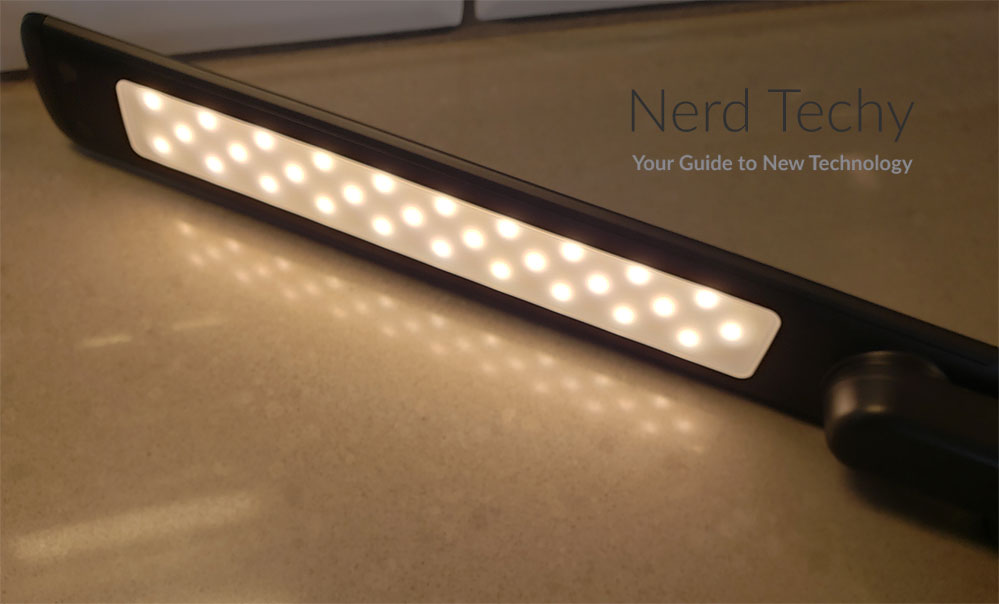 The main body of the lamp is comprised of a flat section that lets the unit pivot. The top part of the lamp rotates, too—with this design, you can position the lamp in a wide variety of ways. It's not the ultimate in versatility, but it's pretty close. We think most people will find it to offer the right amount of flexibility.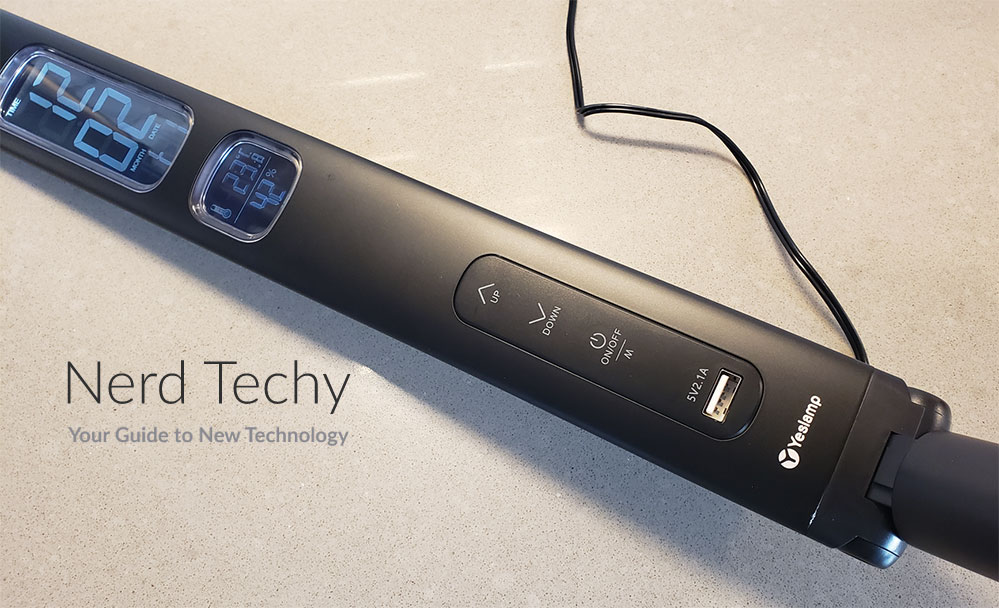 As for the bottom of the lamp, that's where the controls are located. It sports touch-sensitive buttons for the color temperature, turning it off and on, and more. We particularly liked how easy it was to adjust the brightness and color temperature of the LED lights. You also get USB-A for charging, which is sure to come in handy. The lamp remembers where you had the brightness and color set to last. Once you've adjusted it how you want it, you can expect to them to be right where you left them the next time you turn on the lamp.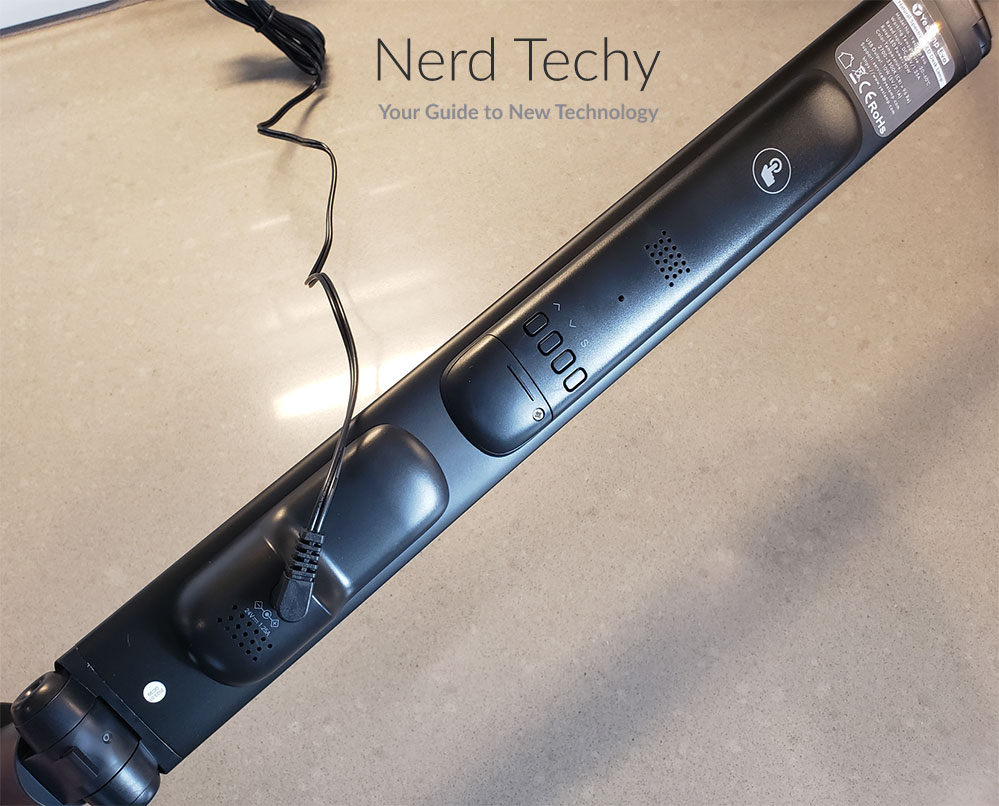 On the backside of the bottom section, you'll find controls for setting the integrated clock display, which shows time, date, temperature, and humidity, in either 24- or 12-hour format, with temperature displayed in either Centigrade or Fahrenheit. We appreciated that it has battery backup in case there's a power outage. And the added ability to dim the display however you want via a touch sensor on the back is nice, too.
All of these features make the Yeslamp Evo a professional desk lamp that lives up to that level of quality and design. We really liked how well-made it is, with intelligent features and controls. Its modern, clean lines give it a pleasing design that won't clutter your workspace. During our testing, it performed flawlessly and enhanced our workspace both aesthetically and functionally. We were very pleased with the lamp, and we highly recommend it.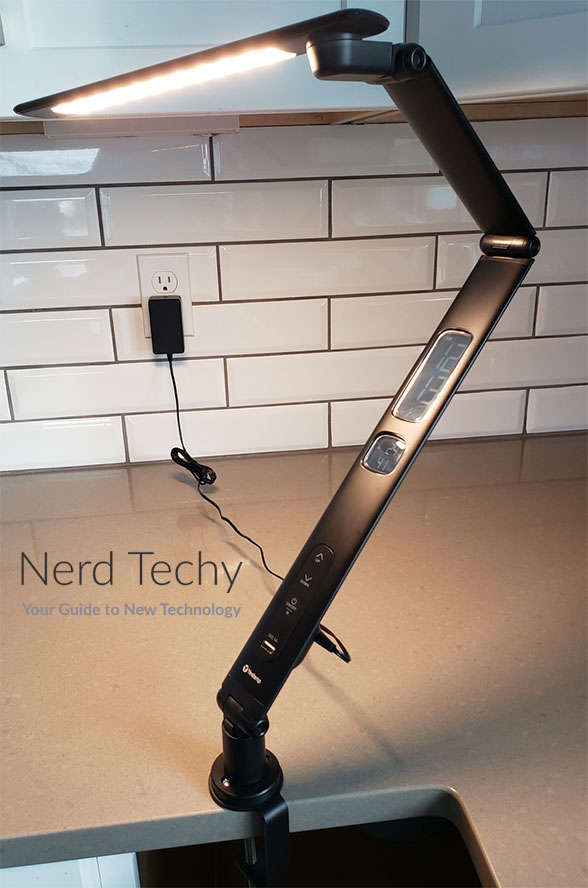 Many Uses of Yeslamp Evo
While the Yeslamp Evo is marketed as a professional desk lamp, its versatile design and range of features make it suitable for a wide range of uses. Whether you're a student, a hobbyist, or simply need a reliable light source for your home office, this lamp can be a great choice.
For students, the Yeslamp Evo can be a valuable tool for studying and completing homework. The lamp's eye-caring technology can help reduce eye strain during long study sessions, and the adjustable brightness and color temperature make it easy to create a comfortable and productive environment. Additionally, the integrated clock, calendar, and thermometer features can be useful for managing your study schedule and keeping track of important dates.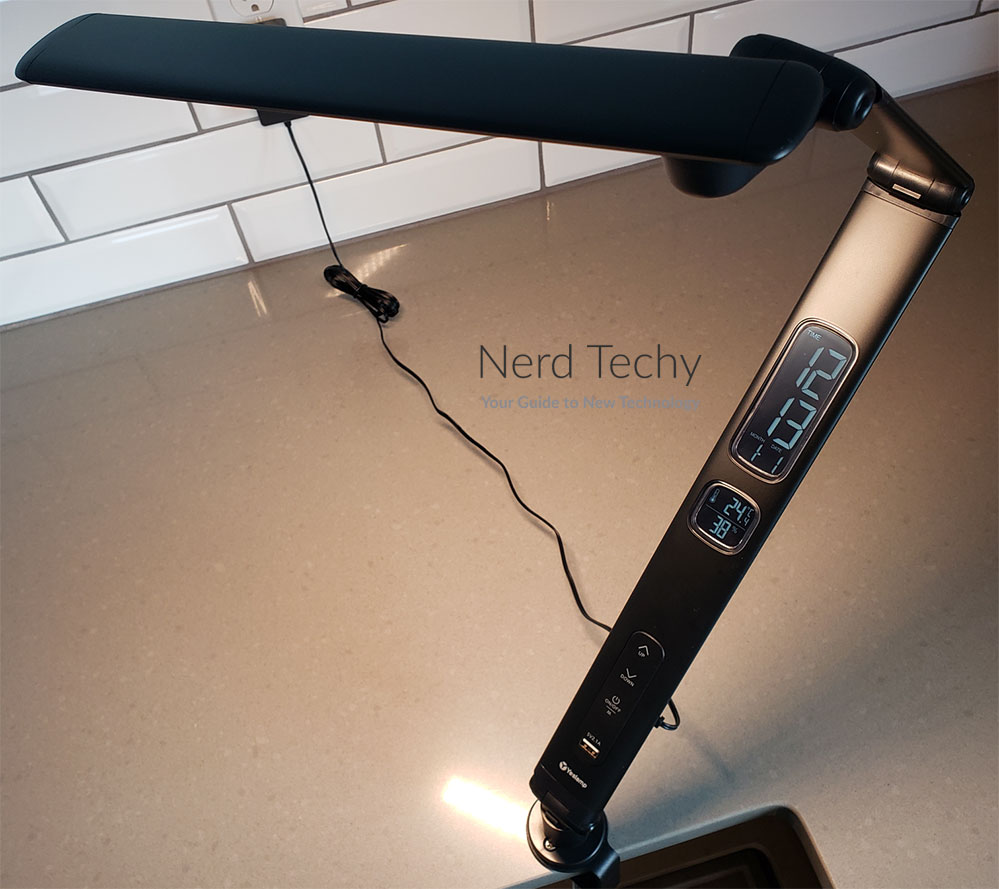 For hobbyists, the Yeslamp Evo can be a great tool for crafting, painting, and other hands-on activities. The lamp's color rendering index of over 96 accurately restores the original color of objects, making it easier to work with different materials and colors. The adjustable design also makes it easy to position the light exactly where you need it, whether you're working on a small project or a larger piece.
For general use around the home, the Evo can be a great addition to any room. The lamp's minimalist design and sleek appearance make it a stylish accessory for any modern home, and the integrated clock, calendar, and thermometer features can be useful for keeping track of the time and temperature throughout the day. Additionally, the adjustable design and range of brightness and color temperature options make it easy to create a comfortable and relaxing environment for reading, watching TV, or simply relaxing.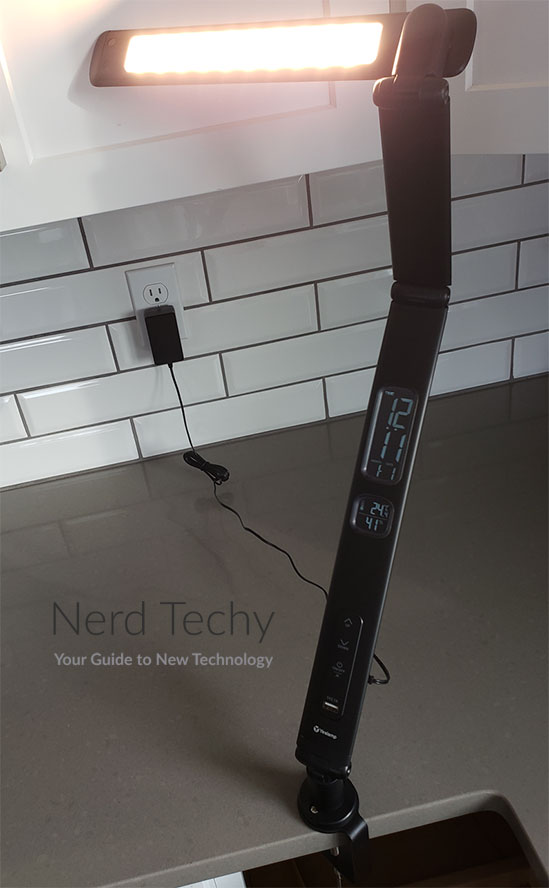 Overall, the Yeslamp Evo is a versatile and high-quality lamp that can be useful in a wide range of settings. Whether you're a student, a hobbyist, or simply need a reliable light source for your home office, this lamp is definitely worth considering.
Final Verdict
The Yeslamp Evo is a top-of-the-line lighting solution for anyone in need of a versatile, high-quality desk lamp. Its 60 LED lamp beads and color rendering index of over 96 accurately restore the original color of objects. The lamp's build quality is top-notch, with a robust clamp and flexible, sturdy arm.
The controls and integrated clock display are intuitive and easy to use. Although the price tag may be a bit steep for some, the lamp's many features and benefits make it a worthwhile investment for anyone who values good lighting and quality design. We think it's more than worth the asking price, even with its minimal limitations.