It doesn't matter whether you're in your car, your home, or at the office. There is a pretty good chance that you're not too far from a source of combustible gas. In 2016 alone, the United States consumed over 27 quadrillion cubic feet of natural gas. That's 27,000,000,000,000 in numerals. At first, this number might be hard to believe. But when you think about what we do with all this natural gas, it starts to make sense.
Natural gas is used to generate some of our power. It's used to heat our homes. Natural gas water heaters are the most efficient on the market, and they're found in houses all over the country. Even if you're not currently using natural gas appliances, there is a pretty good chance that you've got a supply plumbed onto your property.
Note: At no extra cost to you, we may earn a commission for purchases using our links. Learn more.
The benefits of natural gas are abundant, and obvious. Unfortunately, there are also problems. According to the EPA, our natural gas and petroleum infrastructure is the largest anthropogenic (unnatural) source of methane emissions.
Sometimes, these gas leaks are harmless. They might go on totally undetected, never releasing enough gas into your environment to cause potential for explosion. But on occasion, gas collects in an area with catastrophic results.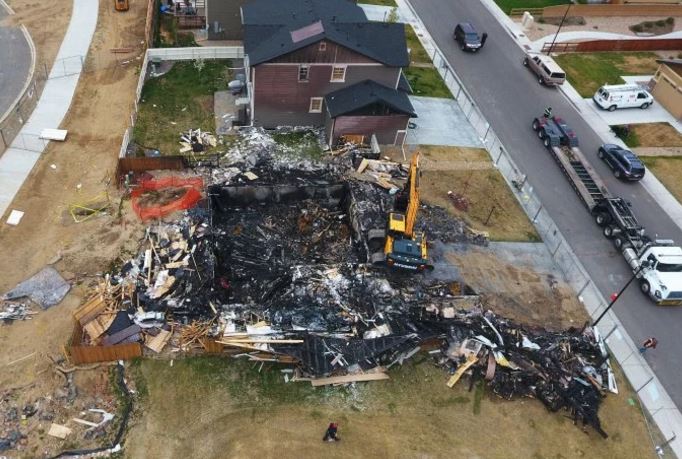 Just a few weeks ago this fatal explosion was caused by a gas leak stemming from an abandoned pipeline. Just a few days beforehand, another motel in the same state caught fire due to a gas leak from the internal natural gas piping.
The sad reality is that these issues could have been prevented, provided the gas leak was detected in time. A common misconception is that you can smell natural gas leaks. But this gas is completely odorless. Vendors add something to the gas that gives it that distinct smell. But if the leak is from a raw natural gas pipeline, or if it's a slow leak, your nose likely won't detect it.
To find gas leaks effectively, gas leak detectors are used by inspectors to detect problems before they become dangerous. But it doesn't matter whether you need one for your job, or if you're just looking to make sure that your house is safe and sound. Gas leak detectors can be both affordable and easy to use. We'll be taking a look at the three best options on the market. We'll show you how they work, explain the differences between them, and help you find the one that's best for your needs.
Amprobe GSD600 Gas Leak Detector
This brand is iconic among electricians. As one of the larger manufacturers of electrical testing hardware and tools, this is a company that makes products for the professional market. Looking at their product listings, a gas leak detector might be the odd one out in an otherwise consistent store front. However, electricians working in industrial environments need to make sure there is no combustible gas in a room where they may be making sparks, so these leak detectors are designed to function in life or death situations.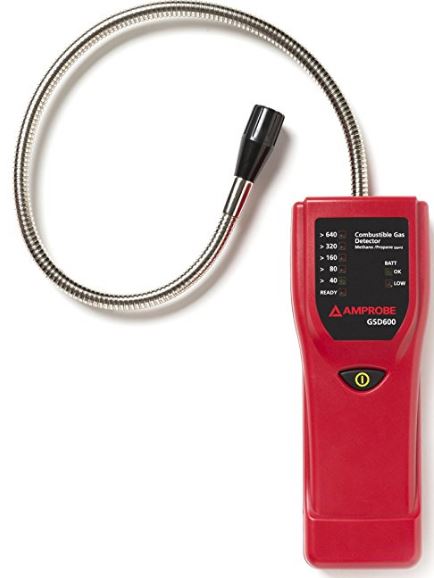 Functionality
The Amprobe GSD600 is extremely easy to use. There is only one button, and it's used to turn the power on or off. Once you hit the button, you'll see the "battery" LED on the left side turn green. You'll hear the small fan inside spin up, and after about 10 seconds the strip of LED lights on the left side will light up. When the "ready" light is illuminated, no gas is detected. Moving upwards, you'll see a scale indicated in PPM. At the bottom you'll see small leaks, while the upper range of the scale is a more serious leak.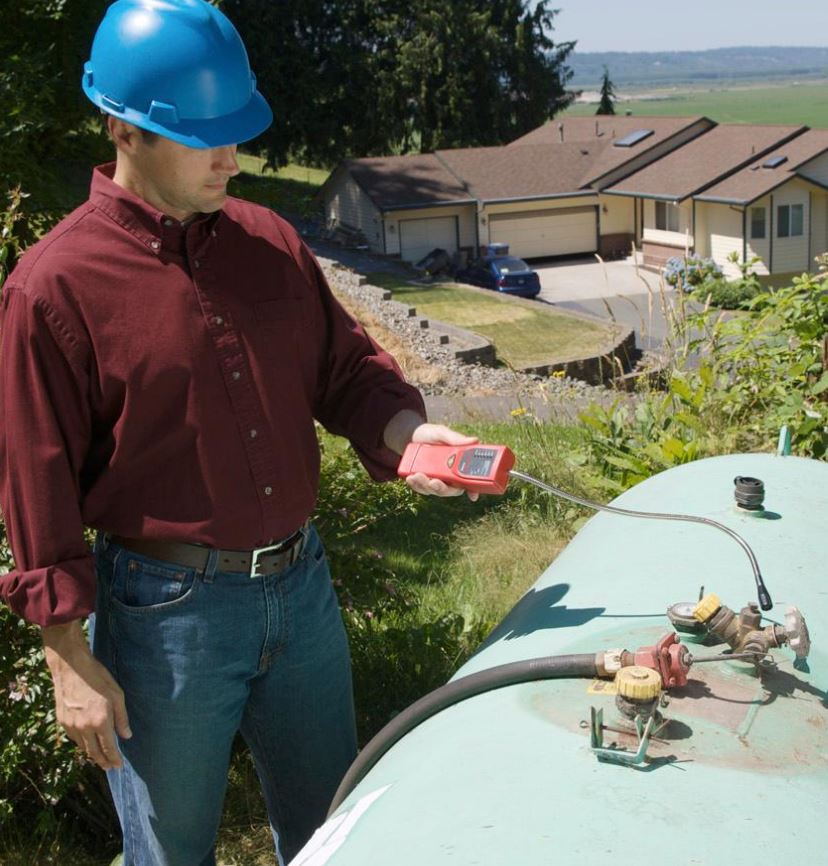 This is what they call a sniffer detector. It sucks air in through the hose, allowing you to test for leaks at a specific point. This is designed to allow you to check all of the piping in your home, and detect leaks directly from the source.
Durability
The GSD600 is made from a thick, durable plastic that is commonly used in the tool industry. It can be dropped, thrown in a bag, and generally be abuse without damaging the delicate internal components. There are some moving parts that need to be functioning correctly in order to get an accurate reading, so the meter does a little self-test upon startup. If something does go wrong, it simply won't allow you to take a reading. We certainly have no expectation that this meter will break, but this important safety feature means that we trust it even in tough environments.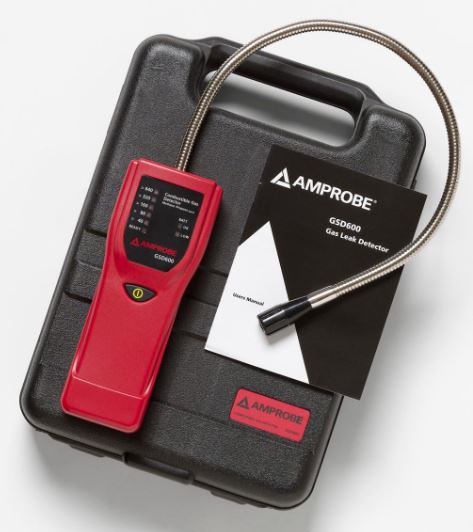 Sensitivity
The GSD600 detects both methane and propane. Natural gas is mostly composed of methane, making it the suitable option for those environments. Propane is found in both LPG and Butane service, so this detector is suitable for all types of combustible gas systems.
It can detect methane in amounts ranging from 40 ppm to 640ppm, and propane between 35 ppm and 580 ppm. PPM stands for parts per million. The lowest reading, 40 ppm, means that the leak detector is sensing 0.004% natural gas. This is a very small leak. At the top end of the scale, you've got 640 ppm, which would be 0.064% natural gas – a leak you should worry about.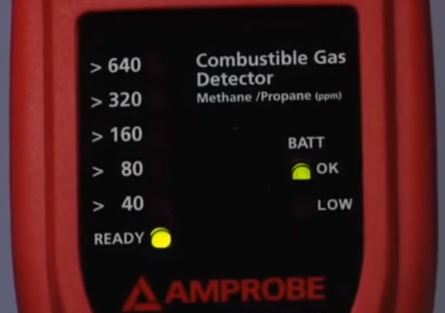 Although this leak detector is likely more sensitive than the average consumer requires, this will help you detect leaks early before they become a problem. At the lower end of the scale, only a gas leak detector will be able to find a gas leak. The other common detection methods – smell, or putting water on a pipe to see if it bubbles, will not work on small leaks.
General Tools PNG1 Combustible Gas Detector
Whether you're doing a little maintenance on your home over the weekend or thinking about starting a DIY project, General Tools is the company you turn to. Focusing on affordable alternatives to expensive professional hardware, this company offers you financial value that can't be beat for casual users. We wouldn't recommend this gas leak detector for an industrial or professional environment. But for the home owner looking for a little extra safety, it's a great choice.

Functionality
The General Tools PNG1 is a pen-shaped leak detector couldn't be easier to use. After twisting off the lid in the back and installing a pair of AA batteries, you hold the front of the detector near a suspected gas source and hold down the button in the center. After a few seconds, one of three LED lights will turn on.
Green means that no gas was detected, and the area is safe. Yellow means that trace amounts of gas were detected. It could be that gas was briefly released into the air, perhaps while starting a gas stove or disconnecting a portable propane tank. If you aren't aware of any potential fuel sources, an unexpected reading might warrant a call to the inspector. If the red LED illuminates, high quantities of gas are detected. This means that you should vacate the area, and contact the authorities.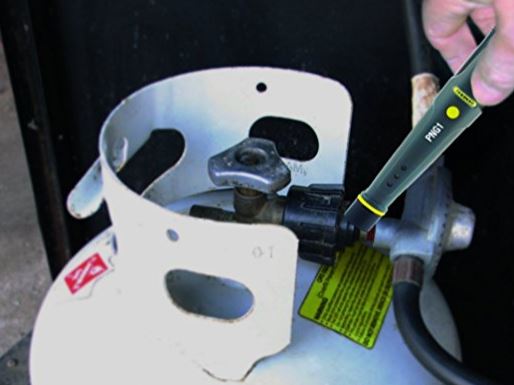 Durability
The PNG1 feels solid and well made in the hand, but extreme durability for industrial environments was never the focus. For the occasional test in your household, the build quality is good enough that it should last you for many years. It's the kind of thing that you can chuck in your tool bag, and pull it out when you need it. But repeated exposure to high volumes of natural gas and regular use could cause it to wear out, so we wouldn't suggest it for a professional environment.
Sensitivity
The PNG1 can detect both methane, butane, and propane. This makes it suitable for every common combustible gas, making it a bit of a jack of all trades.
The measurement system in this particular detector is a little different. Instead of measuring the volume of combustible gas in the air, it's measuring LEL.
LEL stands for lower explosion limit. Basically, if there is only a small quantity of gas in the air it will not burn. Once an environment is composed of 0.25% methane, you've hit LEL and any ignition source may cause the gas to burn.
That's what this detector is giving you. The red indicator shows that LEL has been met, and ignition is possible. Yellow means that there is gas, but it's not in a combustible quantity yet.
From a technical standpoint, this detector isn't nearly as accurate as a high end model. But for the purpose, it works. Instead of telling you how much gas is in the air, it tells you if there is danger or not.
RIDGID 36163 Model Micro CD-100 Combustible Gas Detector
As one of the most popular hand tool manufacturers on the market, RIDGID is a brand that's known by tradesmen all around the world. Their piping tools are commonly used by pipefitters and gasfitters – the very same people that install the natural gas lines in your home. This combustible gas detector is designed for those tradesmen, making it a great choice for anyone who is at risk to be exposed to high levels of combustible gas.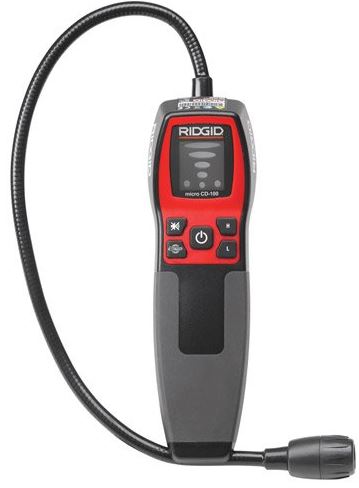 Functionality
The RIDGID 36163 has the same basic functionality as Amprobe's sniffer. It detects gas from a specific point by pulling it in through the nozzle, and has a highly accurate sensor.
However, there are a few key differences. This isn't something that you pull out, perform a test, then put away. It's something that you leave running all the time while you work in an environment that could become explosive. If gas is detected, bright lights will blink at you, a loud alarm will beep at you, and the whole thing will vibrate. It doesn't matter how loud your environment is, or where you keep it. You're definitely going to know it the second that gas hits the sensor.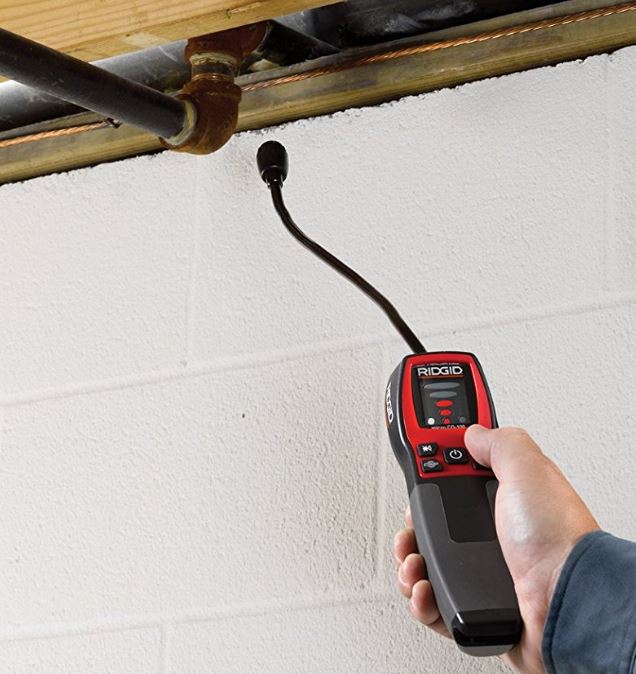 Durability
The 36163 is designed for an industrial environment, and it's obvious from the moment you pick it up. Thick, durable plastic and a well-designed rubber cover mean that this feels like a power tool. No matter what kind of an environment you're using it in, this thing is going to last a long time.
Sensitivity
The sensor used in this leak detector is very similar to the one in Amprobe's detector. It can detect extremely low levels of gas and determine the quantity. It detects methane, propane, and butane – the most common combustible gasses.
Where is differs isn't in how it senses, but how it displays its info. The screen is simply a set of bars, just like the signal bars on your cellphone. There are five points on the bars. With just the bottom dot illuminated, there is no gas. At the top of the range, it's detected tons of gas.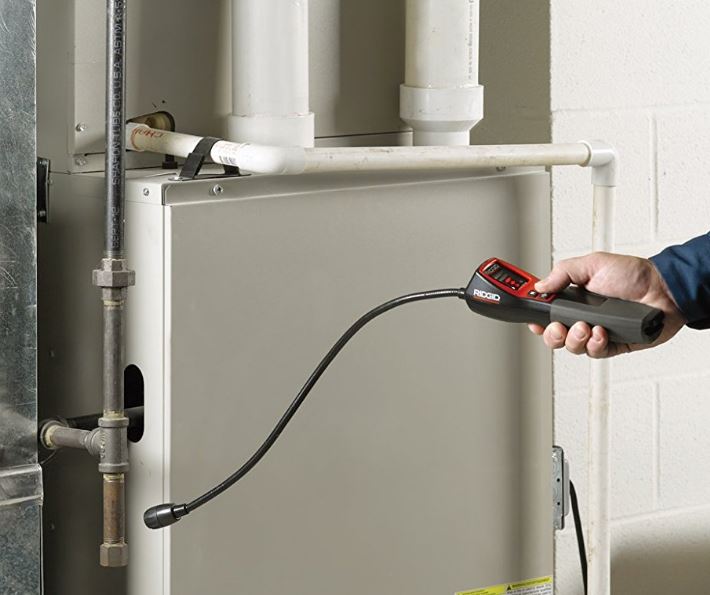 There are two different sensitivity options you can choose from, which depends primarily on your objective. If you're checking completed gas lines for leaks, you'll put it on high sensitivity. A five-bar alarm isn't necessarily a dangerous situation, as this is designed to help you track down leaks.
In low sensitivity mode, anything other than 1 bar means that there is danger. This is for people who are always exposed to small amounts of natural gas, and just want something to keep them safe.
Which Combustible Gas Leak Detector is Right for Me?
Working on live natural gas lines is something that should be left to the professionals. However, every consumer should have a gas leak detector on hand. Make sure you pick up a General Tools PNG1 Combustible Gas Detector and keep it in an easy to access place. If you ever smell gas, just push a single button and find out if you should simply open a window, or call the repair man.
If you want to do a little sleuthing yourself, or if you work in an environment where you're at high risk to exposed to combustible gas, pick up the RIDGID 36163 Gas Leak Detector. This tool can be used to help you trace pipes and find the source of even the tiniest leaks, with a built in alarm to let you know when you've found a problem.
If gas leak detection is part of your job, then the Amprobe GSD600 is for you. This leak detector tells you exactly how much gas is present, so you can determine the best course of action.
Please consider sharing:
Note: At no extra cost to you, we may earn a commission for purchases using our links. Learn more.