Whenever you're working with gas lines, it's important to take safety precautions. Even a minor gas leak can cause gas to build up in an area over time. When it reaches a high enough concentration, the smallest spark could cause it to combust. Needless to say, you don't want that happening in your basement. That's why it's important to use a gas leak detectors.
A good gas leak detector is especially important for professionals. If you're going to be using one day in and day out, you want to know that it's reliable. You also want to know exactly what types of gasses it detects. For example, some gas leak detectors pick up ammonia and other combustible gasses in addition to natural gas.
Today, we'll be reviewing four of the best combustible gas leak detectors we could find. Each of them has its own benefits, but which one is the right choice for you? To find out, we'll have to dig deep into each one of these options, and see how they function. After that, we'll be in a better position to deliver a fair judgement. Let's get started, and see what we find!
Best Budget: TopTes PT210 Gas Leak Detector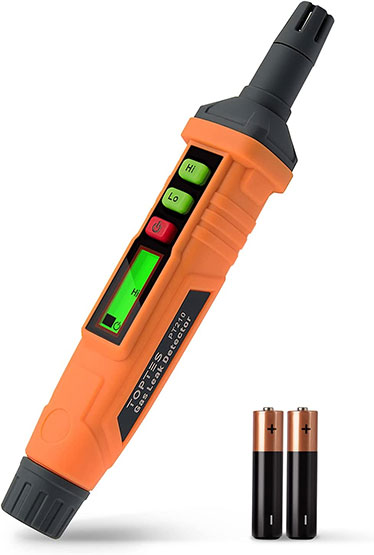 Key features:
Detects propane, methane, natural gas, sewer gas, coal gas, gasoline, LPG, LNG.
Minimum 50 PPM sensitivity.
10-minute auto shutoff.
LCD display.
The TopTes PT210 Gas Leak Detector is a handheld PVC device with a tapered square handle. At its fattest point, it measures 1.26 inches to a side. And at 7.1 inches long, it's small enough to slip into your pocket. It comes in three color options. You can order it in green or orange with a black base and sensor tip. Alternatively, it comes in all black with a bright red base.
The controls are straightforward and easy to operate with your thumb. There's a red power button, along with green high and low buttons to activate different settings. Beneath these is a green LCD display that shows your gas level.
When you turn the detector on, it will take from 30 to 45 seconds for the sensor to warm up. At that point, it will start in high sensitivity mode. In this mode, an alarm will trigger for gas concentrations of 50 PPM or more. The display will read from 50 to 500 PPM. Alternatively, you can switch to low sensitivity mode, with a range of 500 to 1,000 PPM. The TopTes detector will detect all common household gases. These include propane, natural gas, sewer gas, coal gas, and gasoline.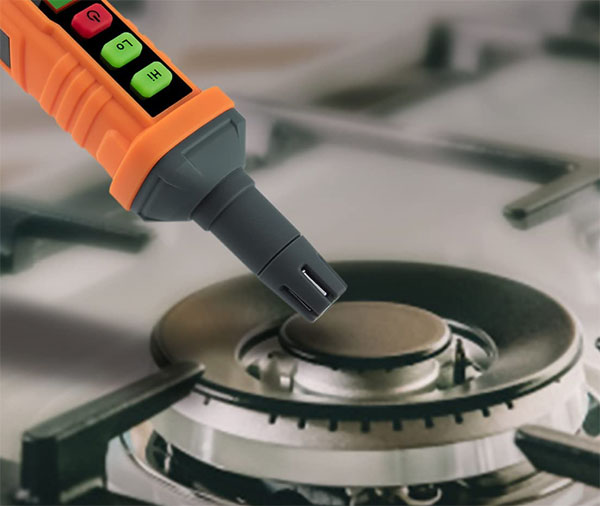 The sensor will trigger an alarm within 0.5-second of the gas level exceeding the threshold. In addition to the bar displaying on the screen, the background will turn red. And a loud, 75dB alarm will sound, so there's no way to miss it. After 10 minutes of disuse, the power will automatically turn off. This is designed to prevent the batteries from running dead. A pair of AAA batteries is included, as is a little drawstring pouch.
Best High-End: Amprobe GSD600 Gas Leak Detector
Key features:
Detects methane and propane.
Minimum 40 PPM sensitivity.
Shows gas level in PPM.
Gooseneck-style sensor.
Built-in earphone jack.
Amprobe is a well-known manufacturer of high-quality construction tools. Not long ago, we reviewed their clamp meter for wire testing. So when we saw that they also made a gas leak detector, we were happy to get our hands on it.
The Amprobe GSD600 Gas Leak Detector is a broad handheld unit that's molded from durable red plastic. It's mostly rectangular, and is slightly narrower at the bottom for a grip. Just in front of the grip is a black rubber power button, which is the only control.
The forward portion of the housing has a black faceplate and serves as a display. At the right side is a pair of two green LEDs that indicate the battery level. At the left is a series of other lights that show the current gas level. The light at the bottom simply indicates that the sensor is working. Above this are lights to indicate levels of 40, 80, 160, 320, and 640 PPM.
At the front of the unit is a 17.6-inch stainless steel gooseneck. It's flexible enough to bend around corners or work into a loop. But if you pull it out straight, it's rigid enough to remain that way. The sensor itself is located at the tip, and is configured to detect methane and propane. At least one of these compounds is found in any standard household cooking or heating gas.
The system warms up in less than a minute, and alerts in less than 10 seconds of exposure to gas. The audible alert is very loud, but there's a built-in earphone jack if you need a more discreet sensor. Included in the kit is a hard, durable carrying case and a set of four AA batteries.
Best Mid-Range: RIDGID 36163 Combustible Gas Detector
Key features:
Detects methane, hydrogen, propane, ethylene, ethane, hexane, iso-butane, benzene, ethanol, acetaldehyde, toluene, P-xylene, ammonia and hydrogen sulfide.
Minimum 40 PPM sensitivity.
Field-replaceable gooseneck-style sensor.
RIDGID is another manufacturer you've probably heard of. We recently reviewed their underground cable locator, and we were pretty impressed with its performance. So when we were looking for a good mid-range gas leak detector, their name came to mind.
The RIDGID 36163 Combustible Gas Detector has a tapered black grip with a rubberized surface. It's ergonomic, comfortable, and easy to hold onto. The total size of the housing is 10.2 inches long, and 4.7 inches wide and 2 inches thick at the biggest point.
The fat area towards the front has an orange face plate. Towards the bottom is a set of black rubber buttons that activate and deactivate the various functions. Further up, there's a simple visual display meter with five bars. It doesn't tell you the exact PPM, but it gives you a general picture of what's going on.
At the front is a 16-inch metal gooseneck similar to the one on the Amprobe detector. However, the sensor at the end is field-replaceable. If you work your leak detector like a dog, you'll appreciate this feature.
The sensor picks up methane, propane, hydrogen, ethane, hexane, ethylene, and a slew of other chemicals. These include the toxic gasses of ammonia and hydrogen sulfide. Detection triggers at 40 PPM, and there's an audible alarm and vibration as well as a visual indicator. Two of the buttons can turn the audible and vibration alarms on and off. That way, you can customize your alert.
Along with the detector itself, the kit includes a soft zippered carrying case with a black nylon shell. You also get a set of four AA batteries to get you started.
Best Runner-Up: Inficon-718-202-G1 Combustible Gas Detector
Key features:
Detects natural gas, methane, propane, butane, cyclopentane, ethane, ethanol, isobutane, and ammonia.
Minimum 5 PPM sensitivity.
Customizable sensitivity level.
Gooseneck-style sensor.
The Inficon-718-202-G1 Combustible Gas Detector has a round black grip attached to a broader yellow frame. At the bottom of the black face plate is a soft power button. Next to it is an emergency light that lets you know when the battery is going dead. Above that are five indicator lights that show the approximate gas level, albeit with no PPM levels.
The unique feature of this detector is the slider to the side of the display. This allows you to manually adjust the sensitivity. At the highest sensitivity level, the alarm will sound at a gas concentration of only 5 PPM. It picks up methane, propane, butane, natural gas, and other household heating gasses. It can also detect trace quantities of ammonia.
Like the last two detectors, this one has a gooseneck at the front that connects to the sensor. The package includes a large, protective hard case that does a good job of keeping the tool safe. It also comes with a pair of powerful, long-lasting D-cell batteries.
What Makes a Good Combustible Gas Leak Detector?
So, what makes one combustible gas leak detector better than another? In the end, there's no single "perfect" gas detector. A lot depends on what you're trying to do. Are you a homeowner, or are you going to use this detector for work? In the first case, you might only be looking for a one-off tool for a single project. If you're going to use the detector many times, you want one that's durable and long-lasting.
Another consideration is whether or not you need to know precise levels of gas. If you're checking a pipe for leaks, a basic sensor is more than good enough. On the other hand, you might be working with industrial equipment that requires a specific gas concentration. In that case, it makes sense to have a detector that will give you a PPM reading.
For some applications, you may need to detect gas levels for PPE purposes. For example, NIOSH guidelines require workers to wear PPE at concentrations higher than 300 PPM. But if your gas detector has a maximum PPM reading of 100, it's not going to do you much good. You already know that gas is present. What you need to know is how much is present.
Another question is your level of experience. Having lots of controls and options isn't much use if you don't know what to do with them. For beginners, it's much better to stick with a simple gas detector with basic controls.
Along the same lines, much depends upon the type of gas you need to detect. Most combustible gas detectors are focused on common heating and cooking fuels. A sensor that detects propane and methane will pick up everything from natural gas to sewer gas. Then again, you might want to detect other combustible gases like ammonia. Ammonia might not be coming out of your gas supply, but any fumes are still a serious fire hazard.
Final Verdict
All of these gas leak detectors has its own features and benefits. But which one is right for you? Let's go over what we talked about today.
We started out with our most affordable option, the TopTes PT210 Gas Leak Detector. This is a small, handheld device that's perfect for small household jobs. If you want a rugged, long-lasting detector, look for something different. But if you want an affordable solution for your current project, you're looking at it.
The Amprobe GSD600 Gas Leak Detector is the best choice if you want a more accurate readout. Instead of getting a simple alert, you can actually see the concentration of gas you're dealing with. We also liked the stiff, reliable gooseneck. And the earbud jack gives you the ability to receive an alert without making a bunch of noise.
The RIDGID 36163 Combustible Gas Detector is a solid mid-range option. It doesn't show your gas concentration with any precision. But it does detect a number of hazardous gasses that other detectors don't, such as ammonia. We also liked the customizable alerts and the vibration function. And the hot-swappable sensor is great when you're in a hurry.
The Inficon-718-202-G1 Combustible Gas Detector is as sensitive as they come. It can trigger for as little as 5 PPM of gas, although you can adjust that limit higher if you want to. It also takes a pair of D batteries, which last longer than the smaller batteries in other detectors. Additionally, it can also detect ammonia in addition to combustible gases.