HiFuture FutureMate
Pros
Plenty of volume range.
Comfortable, secure fit.
Excellent situational awareness.
Can circumvent some types of hearing damage.
Available in three different colors.
Cons
Proprietary charging cable.
Lots of audio bleed-through.
A good set of headphones can be hard to find. This is especially true when you need something other than standard headphones or earbuds. For example, maybe you want to maintain situational awareness. Or maybe you have hearing damage and need a set of headphones that can accommodate you. In those situations, you'll need to go off the beaten path and try something a little more unorthodox.
Air conduction headphones are an alternative headphone option that can be a great choice for many people. Instead of putting sound into your ear in the traditional way, they project sound directly through the air. This bypasses your outer ear, and also leaves your ears themselves unobstructed.
Today, we're going to review the HiFuture FutureMate Air Conduction Headphones. These are loud, comfortable headphones that are perfect for anyone with an active lifestyle. But are they the right choice for you? We're about to take a close look at these headphones and evaluate their performance. After that, we'll have enough of an understanding to deliver a fair verdict. Let's get started, and see what we find!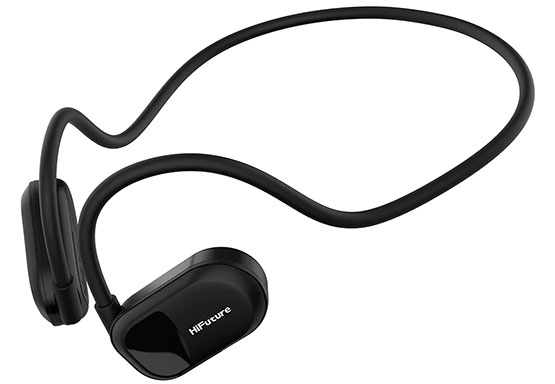 What is Air Conduction Technology?
Air conduction isn't something you hear about every day. But it isn't exactly a new concept. Air conduction headphones have actually been around since the 1980s. But in recent years, they've improved in quality and gotten far more popular. So before we dig into the specifics of the FutureMate headphones, how does this technology work?
Fundamentally, sound is just a series of vibrations, and travels through air vibration. They're a bit like semi-in-ear, in-ear earphones and headphones that most of us use, but they are slightly different. Air conduction headphones use beamforming technology for directional sound transmission.
With their open-ear design, they transmit audio to the ears without physically needing to be pushed into you ear canal. As a result, the sound quality of air conduction headphones are ideal for those who want to retain a normal hearing experience while simultaneously enjoying their music in a private setting. Furthermore, they tend to be more comfortable and a bit more natural feeling.
This design has a couple of benefits. To begin with, many types of hearing loss involve damage to the outer ear or eardrum. Because of the damage, you can't hear sound that's transmitted through the air. But sound that comes in through the air can still be audible.
Additionally, air conduction headphones don't obstruct your outer ear. As a result, you're still able to hear what's going on in your environment. This can be incredibly valuable when you need to maintain situational awareness.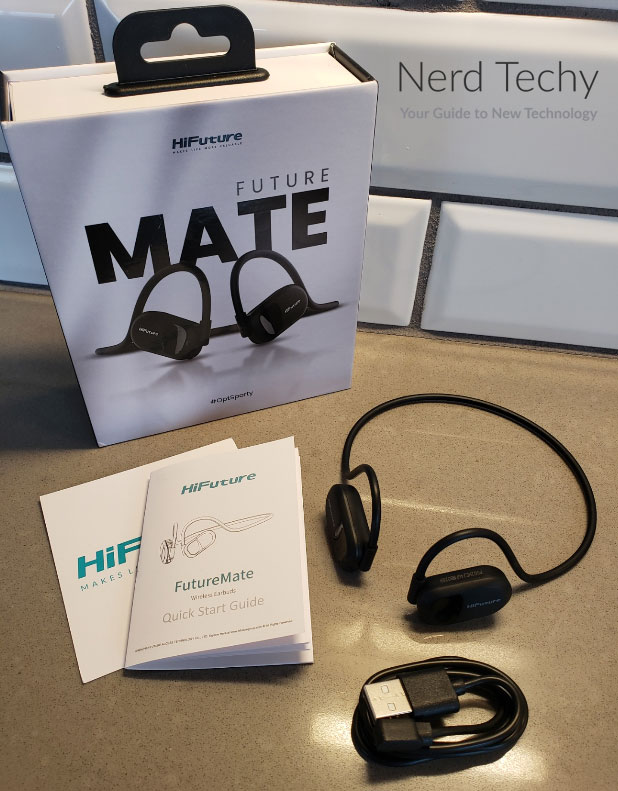 Overall Design
The HiFuture FutureMate Air Conduction Headphones are incredibly compact and lightweight. If the speaker elements weren't so big, you might even confuse them with a set of earbuds. The head band is very thin, and wraps around the back of your head. It's soft plastic, and it's absurdly flexible. You can literally pull it out so it's straight and it will pop right back into position. This allows it to apply a very light pressure to your head so it doesn't pop off. It's very comfortable to wear, and it will fit well on most heads. It's also so lightweight you'll barely notice you're wearing it.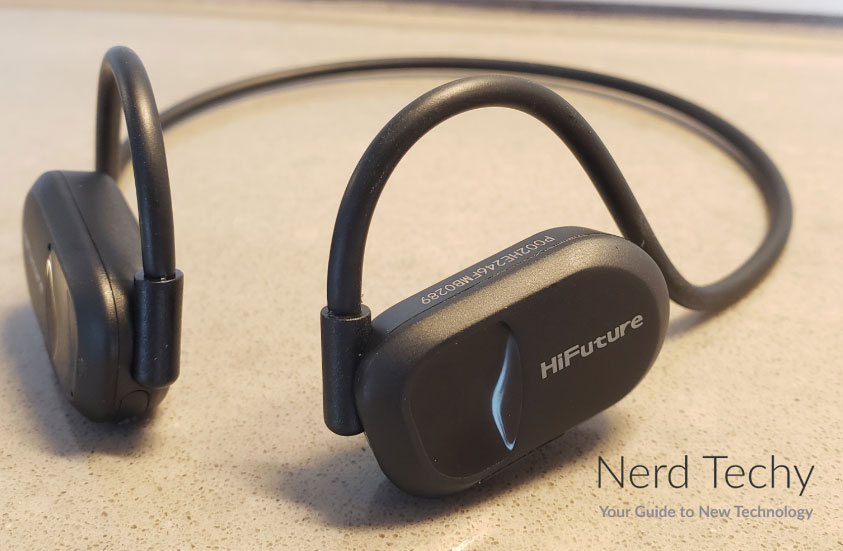 The front ends of the head band arch up over your ears, the speaker heads sit at the front. The heads are oval in shape, with controls on the bottom. They're designed to sit in front of your ears and rest against the side of your head. This placement leaves your ear holes open, and doesn't obstruct your ability to listen to other sounds.
These headphones come in three color options. To begin with, it's available with either a black or red head band with black speaker heads. Alternatively, there's a grey head band version with white speaker heads.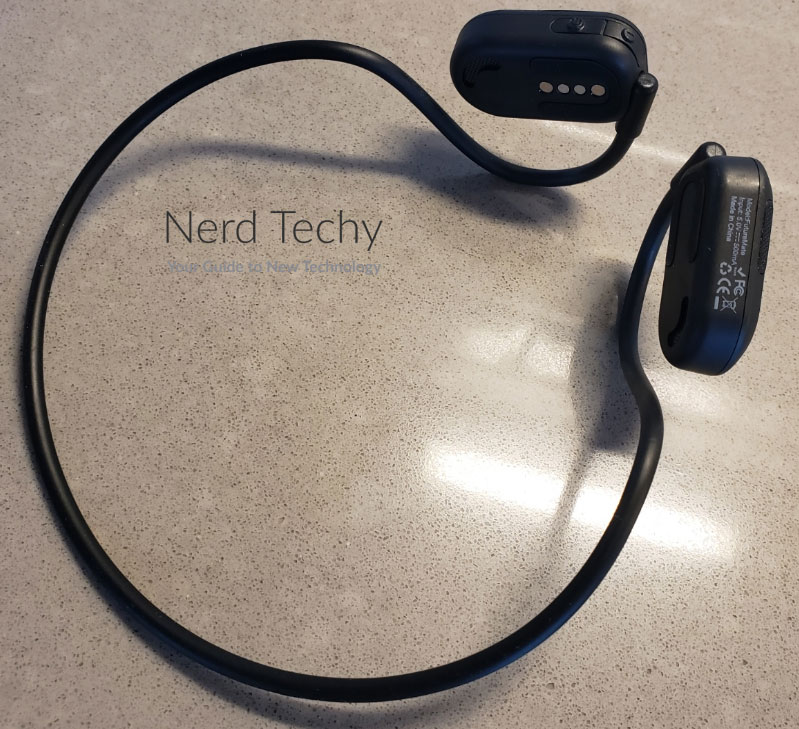 The FutureMate headphones are IPX5-rated for weather-resistance. This equates to being sweat-proof and splash-proof. If you work out in the rain or sweat a lot, it's not going to cause any damage. You can also wipe the headphones down with a damp cloth to clean them off.
HiFuture provides a 12-month manufacturer's warranty. That's more than long enough to determine whether or not there are any factory defects. If there are, you can file a claim for a refund or replacement.
Controls and Pairing
The controls on the FutureMate headphones are pretty straightforward. There's a set of two simple buttons, both located on the right speaker. On the bottom, near the front, is a power button, which should be self-explanatory. On the leading edge is a multi-function button. You can use the button to skip tracks, adjust volume, answer and end calls or turn on voice assistance.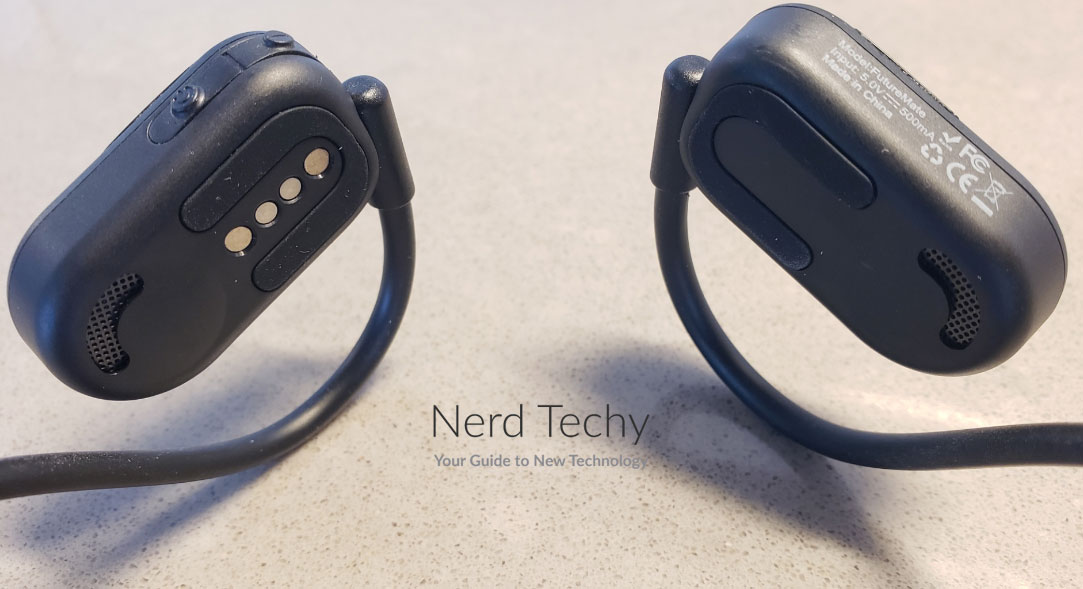 Just above the button is an LED indicator that lets you know the connection status. It blinks when the Bluetooth is pairing, and turns solid when it's fully connected.
Speaking of Bluetooth, these headphones utilize the latest, bleeding edge version of Bluetooth. With Bluetooth 5.3, the connection is exceptionally stable. The signal won't cut in and out while you're moving around. This means a smoother listening experience, as well as fewer dropped calls.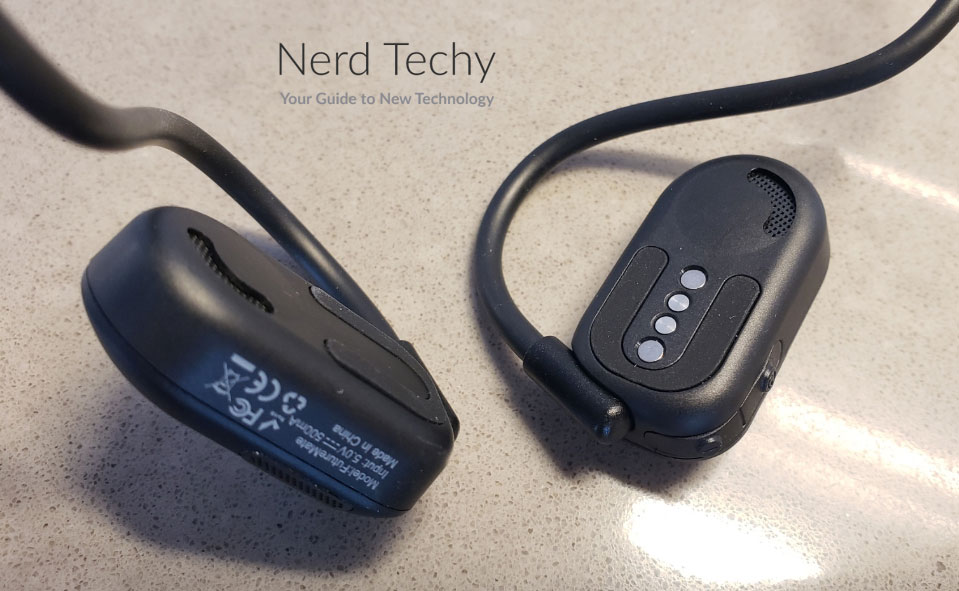 Bluetooth 5.3 also provides exceptionally low latency. This means there's minimal delay between the video and the audio. Audio will be in perfect sync when you're watching movies and videos. And when you're gaming, your performance won't suffer due to desynchronization. These headphones aren't specifically designed for gaming. But it's a nice feature nonetheless.
Finally, Bluetooth 5.3 has a higher bandwidth than earlier Bluetooth versions. As a result, you can listen to HD audio instead of being limited to standard bitrate MP3s. Again, this is a secondary concern for a pair of air conduction headphones. But it's still worth noting if support for HD audio is something that's important to you.
Battery Life
The FutureMate earbuds have a set of internal batteries with a capacity of 100mAh. That's enough charge to operate for approximately eight hours. However, this is a manufacturer's rating, which means it's based on playback at 50% volume. As far as it goes, this seems to be accurate. But keep in mind your own listening habits when you make a judgement. If you prefer to crank your music up all the way, somewhere in the neighborhood of six hours is more realistic. Even so, you should have enough charge to get through the day.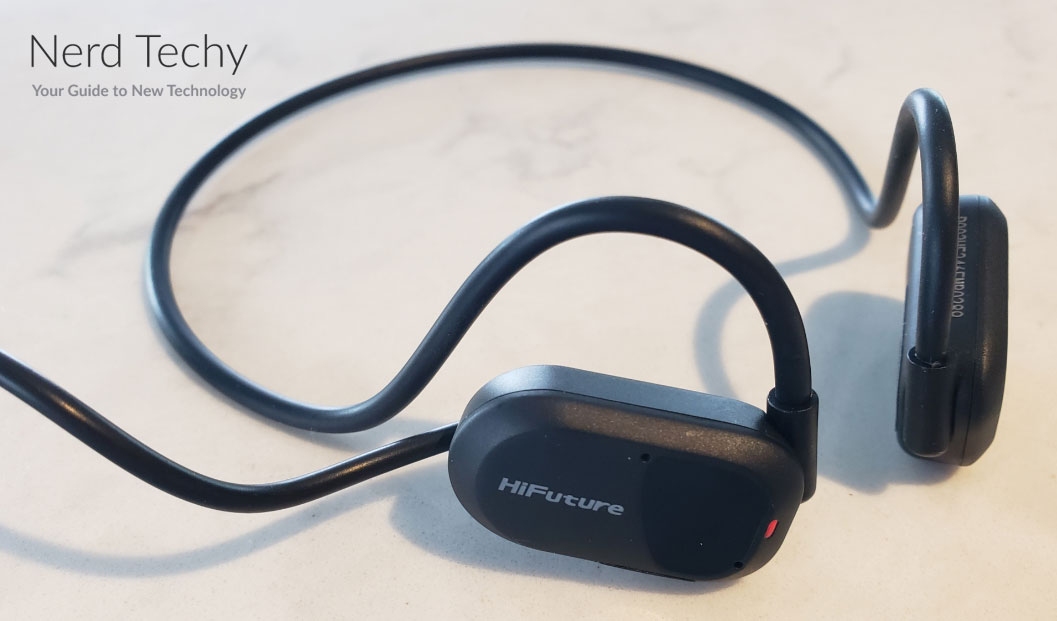 Charging is simple and straightforward. There's a set of three little contacts inside of the right speaker. The area around these contacts is magnetized, which allows you to easily attach the charging cable. This is a proprietary magnetic cable, and the other end plugs into any USB power supply. All in all, the charging cable is a bit of a mixed bag. It's easy to use, and it negates the need for a USB charging port. This makes it easier to waterproof the headphones. On the other hand, it's harder to replace the cable if you need to. You can't just pick one of these up at the gas station.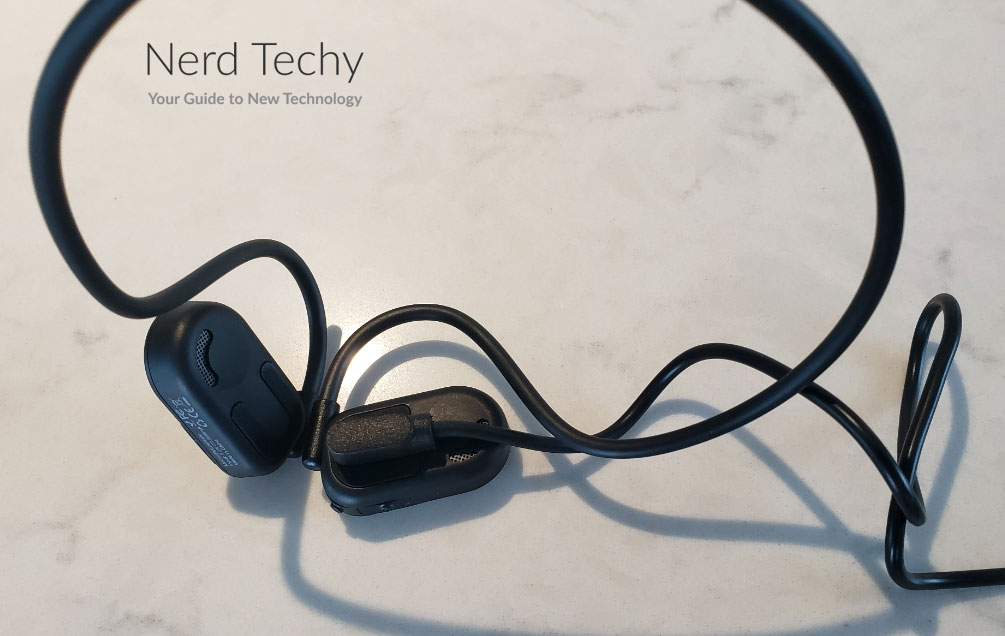 If you're less concerned about battery life, you may want to consider the Mojawa Mojo1. This set of headphones might not last as long, but it's beefier and significantly more comfortable. It's also IP67-rated for weather-resistance, which means you can literally submerge it in water.
Audio Quality
The first thing we noticed when we turned on these headphones is how loud they are. Even at a moderate volume, you can clearly hear your music. If you're riding a bicycle through traffic or working out in a busy gym, this is great news. We never felt the need to turn them up all the way. But when we cranked them up to check the quality, they were very loud.
This is important if you're in a loud environment – or if you need a very high volume to hear. But keep in mind that the air conduction design leads the speakers wide open. This means that at any significant volume, other people will be able to hear what you're listening to. Probably not an issue if you're wearing them at the gym. But if you work in an open office, this level of bleed-through is a deal-breaker.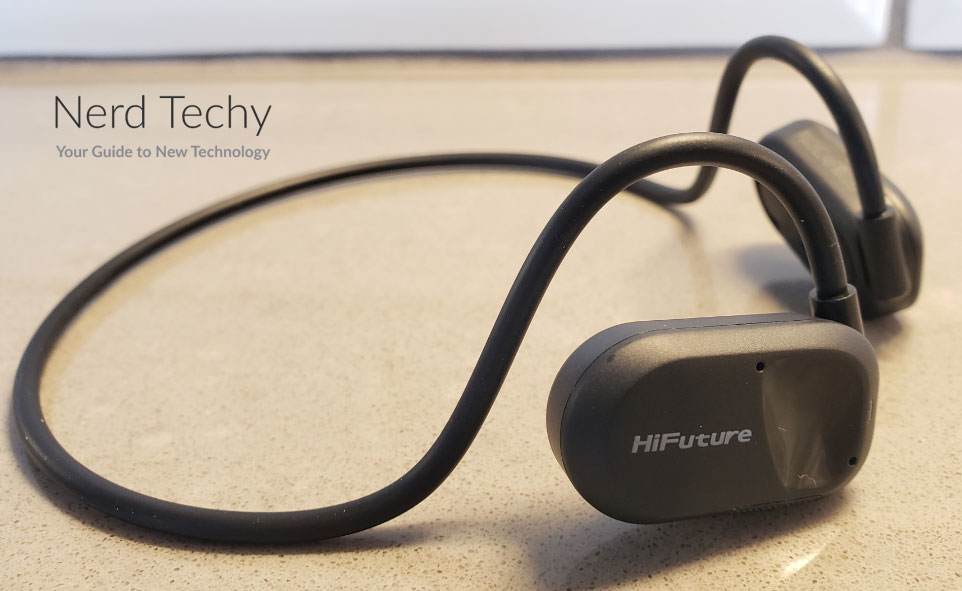 Frequency response is good, from the low end of the spectrum to the high end. As with any air conduction headphones, the sound can be a bit underwhelming on the bass side. But the bass is still well-represented, and you can jam along with your favorite song while you're jogging. In general, you're not going to get studio-quality sound via air conduction. So all things considered, we weren't disappointed.
The FutureMate headphones perform very well on voice calls. There's a set of four built-in mics that detect background noise as well as your voice. The internal noise-cancelling circuitry then filters out the clutter and transmits your voice without interference. The system works very well, and makes it very easy for the other person to hear you. Just keep in mind that people in your immediate vicinity will be able to hear both sides of the conversation.
If audio quality is your most important concern, check out the Haylou PurFree BC01. It offers excellent audio quality, especially when you attach the set of optional ear tips. They have similar battery life, as well, but they're also a little bit bulkier.
About the HiFuture Company
Starting in 2016, HiFuture made a name for themselves as a top-choice for budget-friendly headphones. They started by focusing on creating premium-quality consumer electronics and mobile audio accessories. Since then, their vision has been to offer high-quality products at affordable price points.
HiFuture has partnered with Qualcomm, Realtek, BES and other industry leaders to incorporate some of the latest leading technology. Additionally, they have a wealth of global partners who have championed their products as top choices for many consumers. Currently, they have distribution in over 40 countries and over 5,000 stores throughout the world.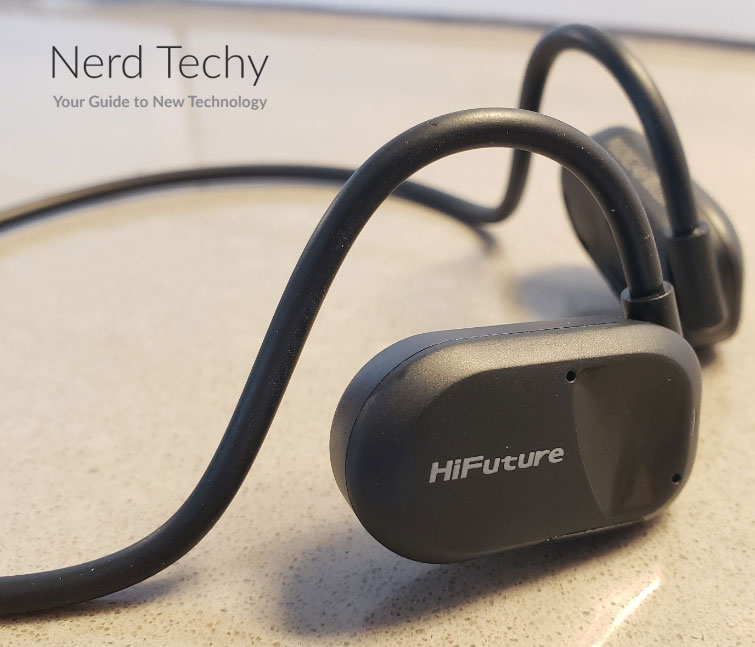 Final Verdict
The HiFuture FutureMate Air Conduction Headphones are very well-designed. They're incredibly lightweight, and the thin, flexible head band keeps them well secured to your head. And with three color options, you can choose an aesthetic that fits your style. The controls are minimalist, but they work well. And pairing is quick and reliable, with a stable Bluetooth 5.3 connection.
The eight-hour battery life is par for the course for a pair of air conduction headphones. And while the proprietary charger is hard to replace, it's convenient and easy to use. The audio quality didn't impress us, but it didn't disappoint us either. It was about what we expected, and it's good enough for most everyday listening purposes. Call quality is very good, and the volume is as high as you need it to be.
Meet Derek, "TechGuru," a 34-year-old technology enthusiast with a deep passion for tech innovations. With extensive experience, he specializes in gaming hardware and software, and has expertise in gadgets, custom PCs, and audio.
Besides writing about tech and reviewing new products, Derek enjoys traveling, hiking, and photography. Committed to keeping up with the latest industry trends, he aims to guide readers in making informed tech decisions.