Haylou PurFree BC01
Pros
Good audio quality with rich sound.
Offers plenty of situational awareness.
Comfortable, flexible, well-built design.
Decent battery life with quick re-charge times.
Sleek, matte black appearance.
Cons
No charging case.
Proprietary charging cable.
Not available in other colors.
A good set of headphones can inject some much-needed energy in your day. Say you're going to the gym, or taking a run around the neighborhood. You probably want some tunes to help put some spring in your step.
With a bad pair of headphones, the bass can sound mushy and the highs can sound tinny. Sure, you've got music. But you're probably going to be distracted by the poor quality.
Note: At no extra cost to you, we may earn a commission for purchases using our links. Learn more.
So, how do you find a good set of headphones? It's not always easy. Run an internet search, and you'll turn up thousands of different options. That's because earbuds are relatively cheap and easy to manufacture.
Many electronic manufacturing startups cut their teeth by making a set of buds. It's something they can do to start earning money without spending a ton of money upfront. Some are good quality, and some aren't. To start narrowing things down, it's best to focus on the most important feature you want.
For example, let's say you need good situational awareness. Maybe you go running on a major street and have to keep an ear out for traffic. Maybe you're at work and need to know if someone is trying to talk to you. In that case, a set of bone conduction headphones will be the perfect solution.
Since they don't cover your ears, you can hear everything going on around you. Of course, you still need to do your research. Not all bone conduction headphones are worth your money. But with the right pair, you might just find the perfect headphones for your needs.
Haylou PurFree BC01 Bone Conduction Headphones
We're about to review the Haylou PurFree BC01 Bone Conduction Headphones. These headphones offer unusually good audio quality for a bone-conduction device. They're comfortable to wear, and they're 100% water-resistant. They also provide enough battery life to get through the day.
But those are just a few of the things we'll have to consider. We'll need to talk about how you control the headphones, and how you wear them. We'll have to discuss the quality of the Bluetooth connection and how you charge them. Additionally, we'll also need to evaluate the audio quality and hands-free calling experience. Let's get started!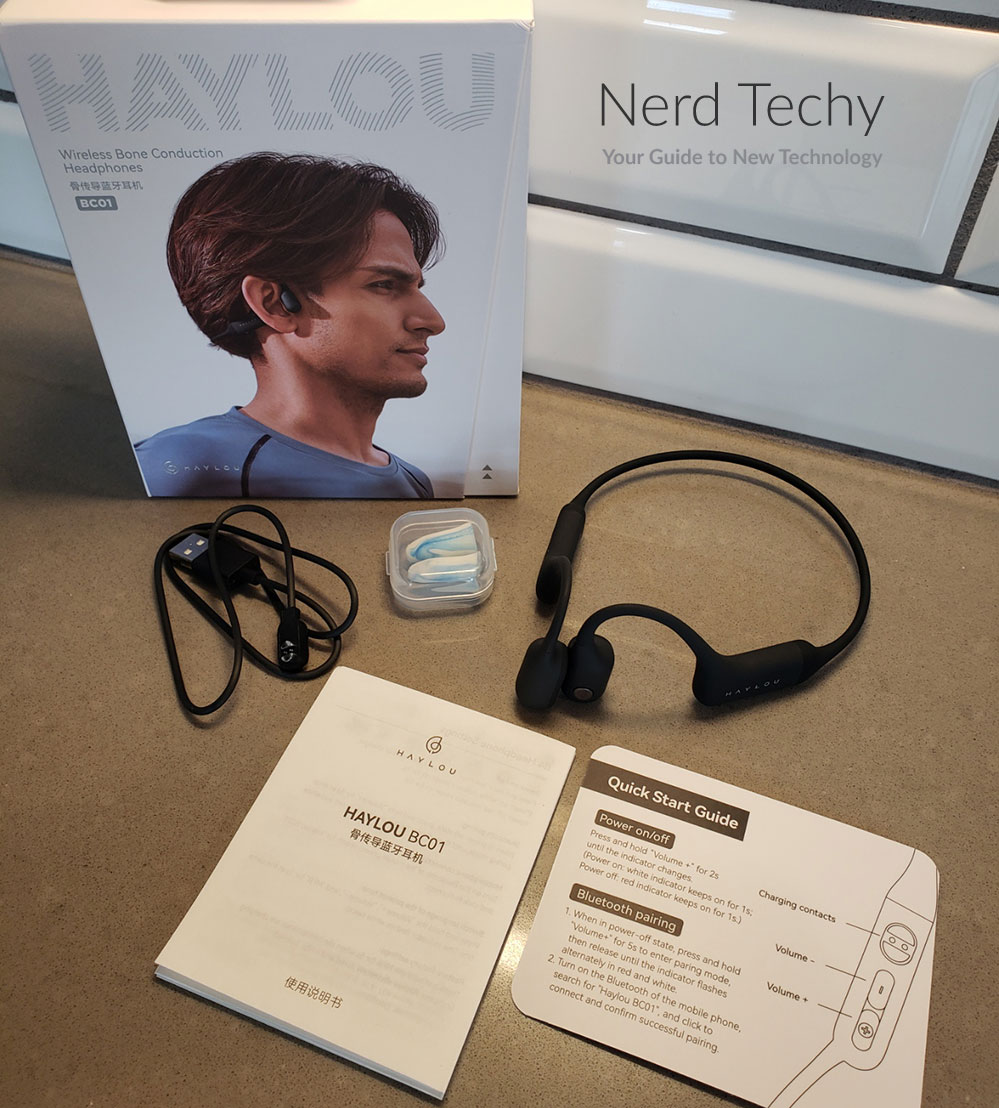 Overall Design
The Haylou PurFree BC01 Bone Conduction Headphones look nothing like traditional headphones. There's an arched frame, yes. But it goes behind your head, not on top, and there are no large earmuffs on the ends.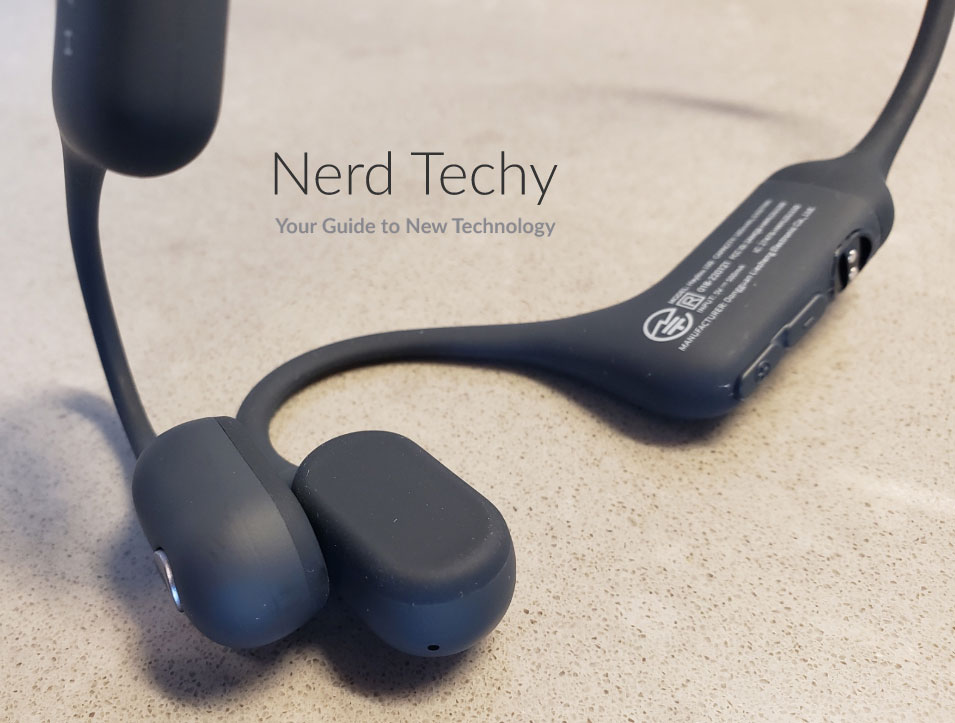 Instead, there's just a fattened area on each side where the batteries are housed. A set of hooks then curve over the tops of your ears, and end in a set of lobes. These lobes rest against the bones in front of your ears. The material has a two-tone design, with black on the band and the insides of the lobes. The rest of the material is a deep charcoal grey.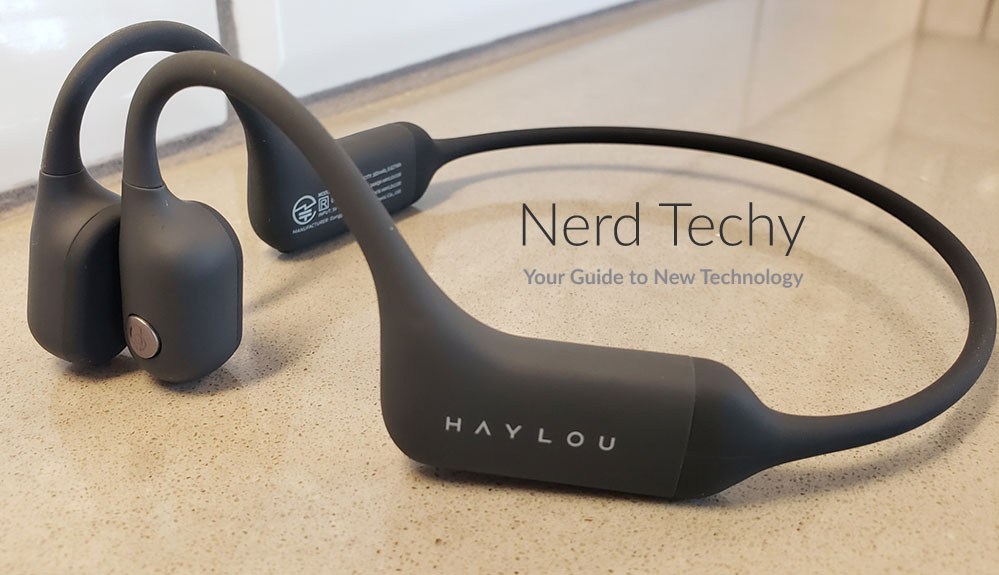 There's a single multi-function button on the outside of the left ear fob. This can be used to skip tracks, pause your music, and perform other functions. The volume controls are separate, located on the bottom edge of the right side battery housing. The volume up button also functions as a power button.
The PurFree BC01 is rated IP67 for weather-resistance. The "6" means it's completely dust-proof, but that's not really a concern for headphones. The "7," on the other hand, is pretty important. It means these headphones can withstand submersion under a meter of water for at least 30 minutes. If you want to wear them in the shower after your workout, you can. Needless to say, a little bit of sweat is no threat whatsoever.
Haylou provides a 12-month manufacturer's warranty. If there are any premature failures in material or workmanship, you'll get a refund or a free replacement.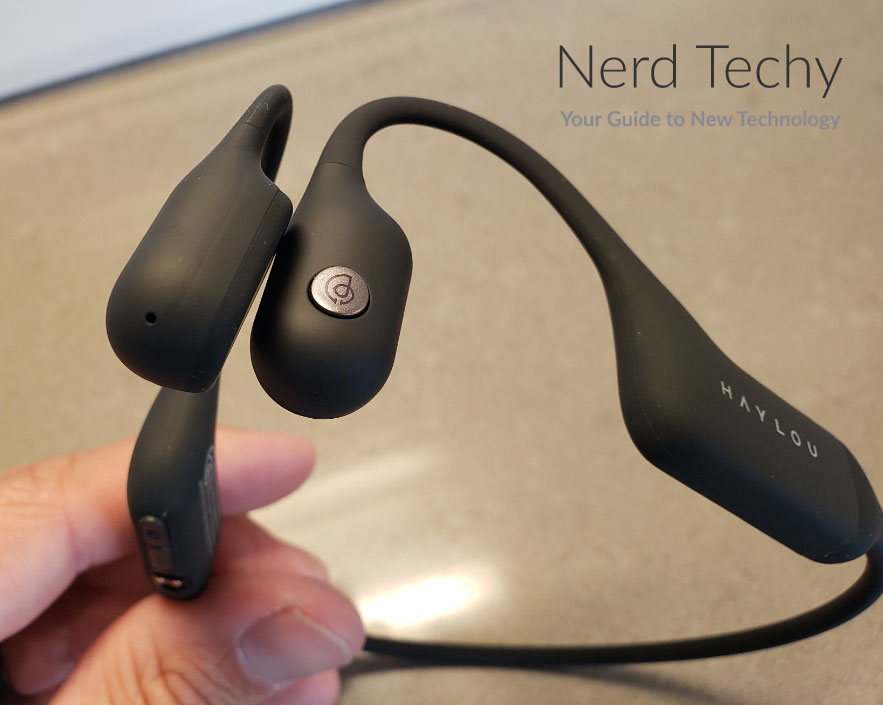 Fit and Comfort
The core of the head band and ear hooks is made from high-quality titanium. This material is very flexible, but it's also stronger than steel. As a result, it's easy to flex the headphones and adjust them to any size head. Similarly, the ear hooks can be flexed as needed for a variety of ear contours.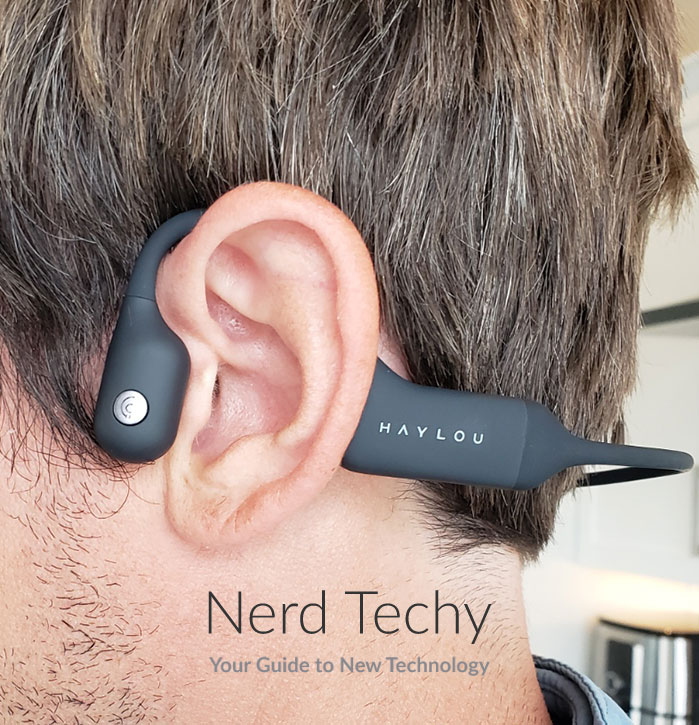 The titanium is coated with a soft, smooth silicone material. This is comfortable on your skin, and sweat rolls right off it. It's also easy to keep clean. If it gets dirty, you can just wipe it down with a damp cloth. To be honest, we were pleasantly surprise. The design certainly doesn't look comfortable, but in reality, the ergonomics are quite good.
If you were looking for a more traditional set of earbuds, check out the Haylou W1. This is a set of AirPod Pro-style earbuds with silicone tips and a charging case. They have good audio quality, with a nice balance of highs, mids, and lows. They're also comfortable, and provide a moderate level of noise isolation.
Pairing
The PurFree BC01 headphones can pair with any Bluetooth-capable device. They utilize the Bluetooth 5.2 protocol, which is the latest and greatest. That said, they're also backwards-compatible with older devices that still use Bluetooth 5.0 or 4.2. But if you have a newer device with Bluetooth 5.2, you'll get a few benefits.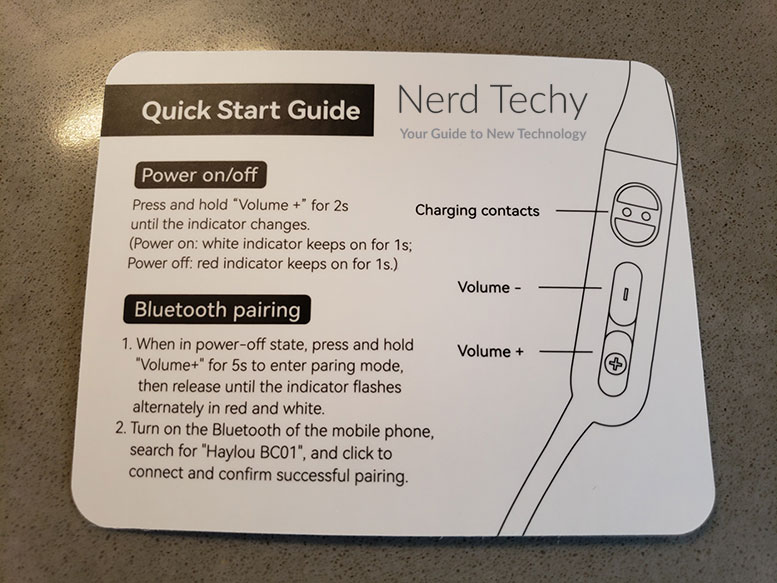 To begin with, Bluetooth 5.2 has a more stable signal than older Bluetooth versions. Signal stability is particularly important when you're moving around. You don't have to worry about your music cutting in and out because you're moving around the room.
Bluetooth 5.2 also has a higher bitrate, which allows you to listen to HD audio. And with ultra-low latency, there's zero gap between your audio and your video. You won't care about this while you're listening to music during your workout. But if you're playing games or watching movies, you'll be far more immersed in the experience.
In addition to all that, these headphones support dual-device pairing. You can connect to your phone and tablet simultaneously and listen to music on your tablet. When your phone rings, you can take the call, and your tablet will pause. When you end the call, the headphones will switch back to your tablet, and automatically un-pause your music.
Battery Life
The internal battery cells on the BC01 have a capacity of 165mAh. This is sufficient for eight hours of listening time according to official specifications. This is accurate, but remember that earbud and headphone batteries are tested at half volume. If you turn the volume up all the way, five or six hours is a more reasonable expectation. That's not bad, especially for bone conduction headphones.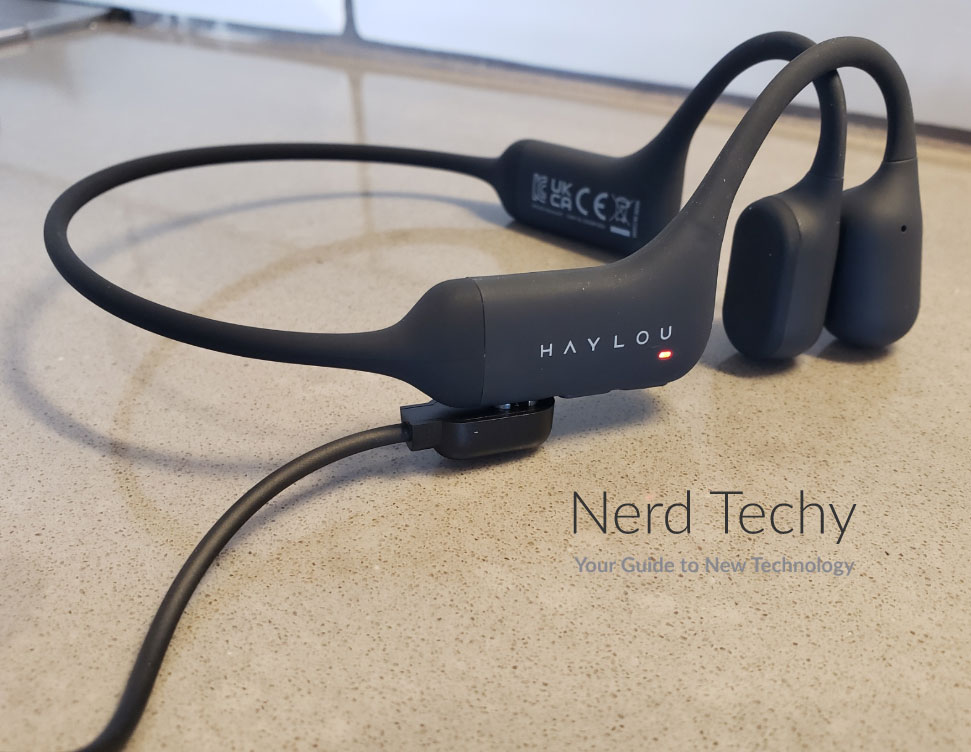 When the batteries are fully drained, you can charge them in around 90 minutes. If there's an emergency, a 10-minute quick charge will get you enough charge for up to two hours. The charging cable is included in the kit, and it has a proprietary magnetic tip.
This tip snaps onto a magnetic contact next to your volume buttons. It works reasonably well, and you can plug the charging cable into any USB port. On the downside, it's proprietary. If it gets damaged or you lose it, you can't just pick one up at the store. You have to order a replacement from Haylou.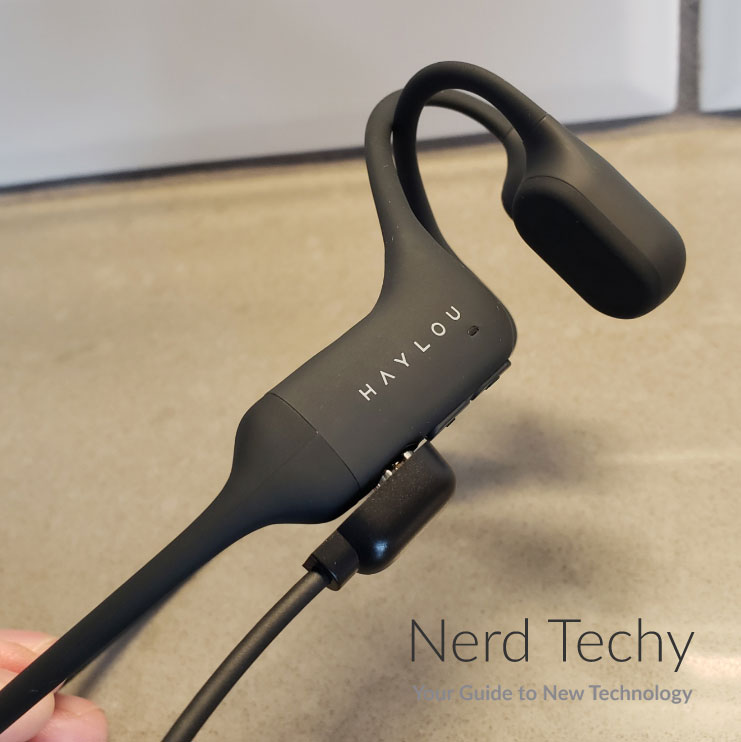 One other downside of this design is that there's no charging case. Typical wireless earbuds come with a case that can recharge the batteries at least a few times. If you want to charge the BC01 on the go, you'll need a portable power bank like the UGREEN Power Dot. The Power Dot is a powerful 10,000mAh power bank that can recharge these headphones more than 50 times. It's also a great way tool for topping up your smartphone battery when you're in a jam.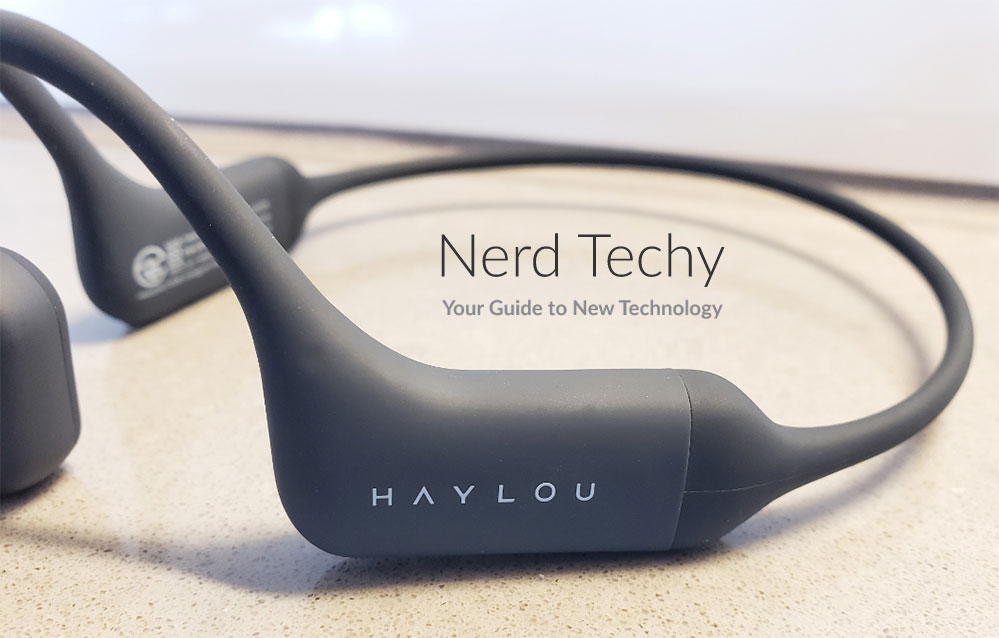 Audio Quality
The PurFree BC01 headphones work via bone conduction. Instead of pumping sound directly into your ear, the sound goes into your bones. This is effective because bones are way denser than air, and actually do a better job of transmitting sound. When the vibrations reach your inner ear, it registers the same way as any other noise you hear. And because it bypasses your outer ear, you're free to hear other sounds in your environment. Unfortunately, bone conduction headphones are known for poor audio quality.
That's not a problem here. These headphones sound excellent, with good response across all frequencies. This is a subjective judgement, and some people might prefer something with a little more bass. But there's no distortion. The highs don't sound tinny and the bass is clear and clean. There's also a wide soundstage with a good sense of space for each instrument. That's particularly impressive on this style of headphone.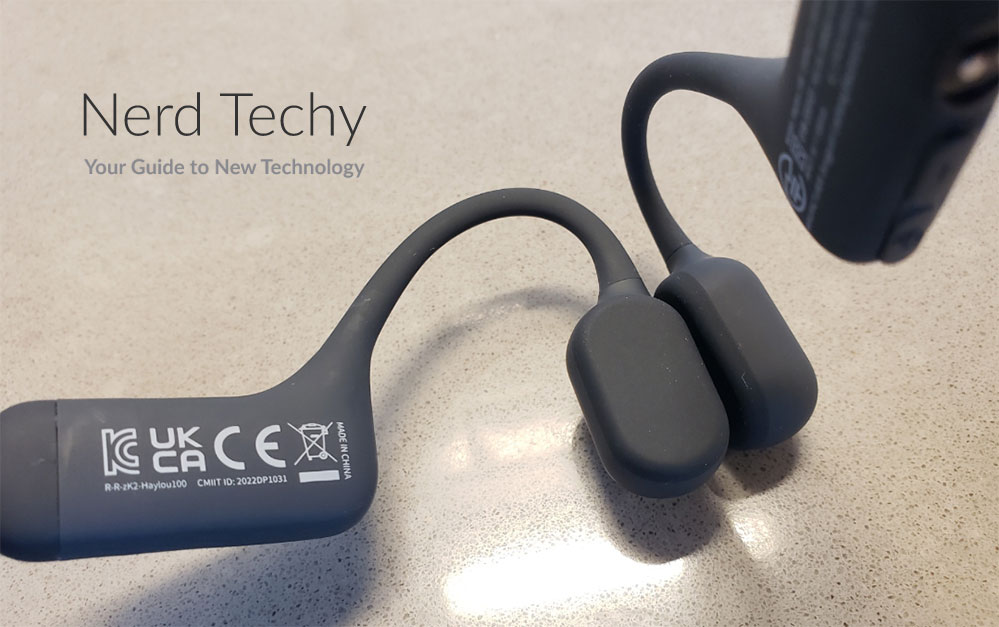 The BC01 might be purpose-built for transparency, but it also includes a set of foam ear plugs. These are designed to provide better audio quality at times when you don't need transparency. They block out background noise better than most ordinary earbuds, and they're comfortable to wear. When you need to hear your environment again, just put them back in.
If you need top-tier audio quality, you should probably look for a set of traditional headphones. The OneOdio Monitor 80 is an excellent choice. It's a set of studio-quality headphones with soft plush padding. It's exceptionally comfortable, and even comes with a carrying case. On the downside, it requires a corded connection.
As for call quality, the BC01 performs very well. It has a set of dual mics, which focus in on your voice and block out background noise. All in all, we had zero complaints about hands-free calling.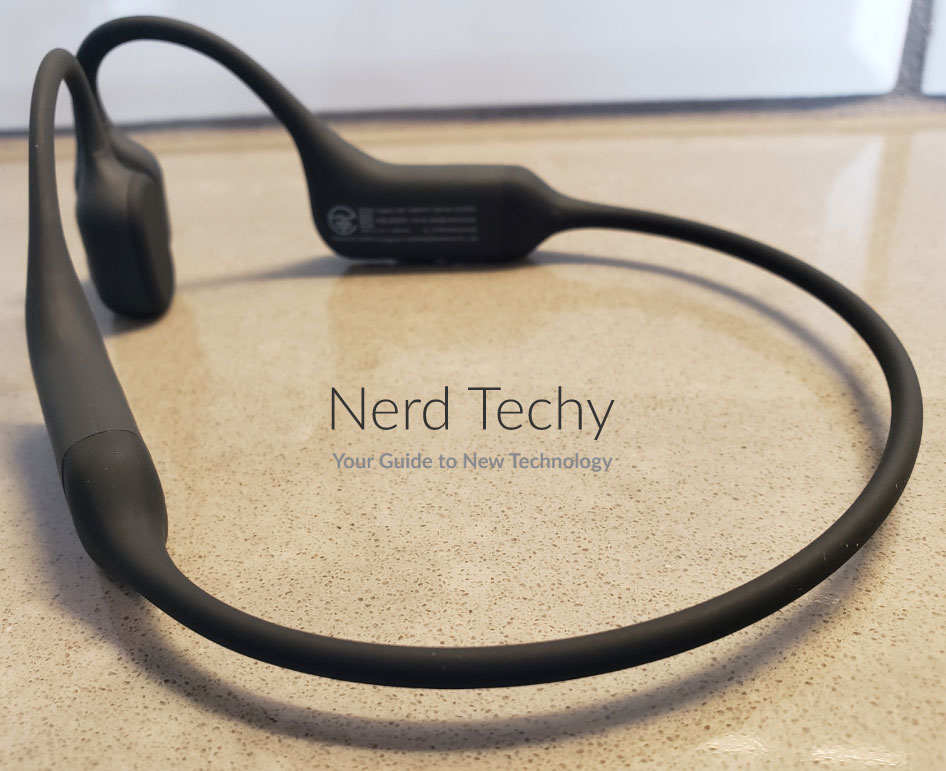 Final Verdict
The Haylou PurFree BC01 Bone Conduction Headphones are a great choice for workouts and other activities. Because of their design, you'll maintain your situational awareness while still getting good audio quality.
They're comfortable to wear, with a soft, flexible frame that can conform to almost any head. They're easy to control, and the Bluetooth 5.2 pairing is very stable. We had some qualms about the charging cable and lack of a carrying case. But considering the big picture, those are minor complaints.
Please consider sharing:
Note: At no extra cost to you, we may earn a commission for purchases using our links. Learn more.