Playing N64 through an emulator is a great way to enjoy all the classic games. But using your mouse and keyboard gets old. Almost everyone prefers the realism and nostalgia that an actual, physical controller brings.
Luckily, there are several aftermarket, USB-powered N64 controllers that can be used. Whether you're using Raspberry Pi, Retro Pie, Project64 or Sixtyforce; both wired and wireless options are available. Fortunately, most these are widely supported on PC, Mac and Linux.
Today we're going to review each of the best USB N64 controllers currently available. We'll outline the features of each, followed by compatibility. In the end, we'll wrap-up with some final words and quickly conclude what we learned. Let's get right into it!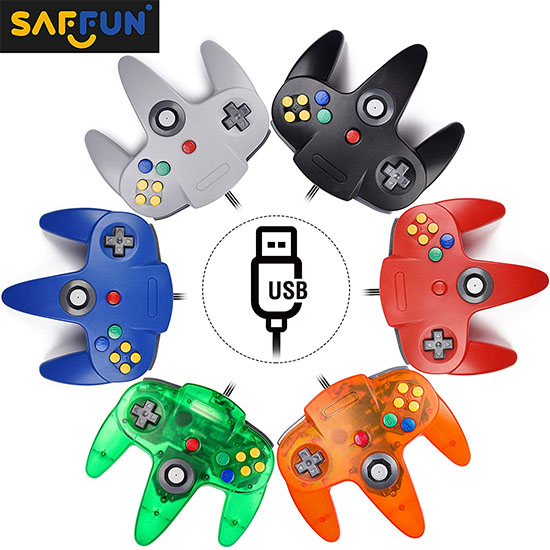 Best Overall: SAFFUN N64 Wired USB Controller
The SAFFUN N64 Wired USB Controller is a popular option that's been on the market for several years. From first glance, you'll realize this is a direct copy of the OEM N64 controller, right down to the precise dimensions. Holding it in your hand, the buttons feel tactile, springy and accurate. In fact, even the joystick seems to be true to form.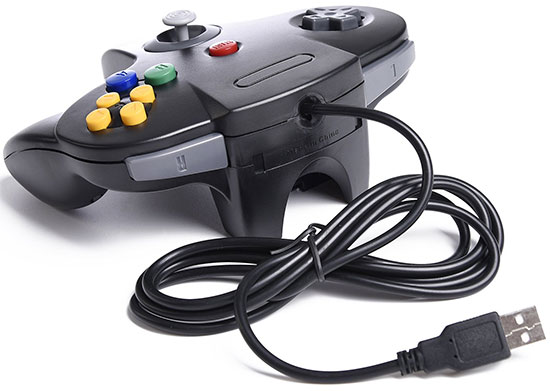 Rather than your standard N64 input, it's been replaced with a 6 foot USB cable. This makes it compatible with virtually every platform; PC, Mac, Linux, even Android smartphones with the right cable adapter. In addition, virtually all operating systems are compatible; Raspberry Pi 1 Model B, Model A, Raspberry Pi 1 Model B+, Raspberry Pi Zero, Raspberry Pi 2, Raspberry Pi 3 Model B, Raspberry Pi 3, Retro Pie. As you can see, it's widely supported with a plug n' play connection. However, do note that Android TV boxes will not work with it. In addition, it does not work with online play; it's ideal for emulation.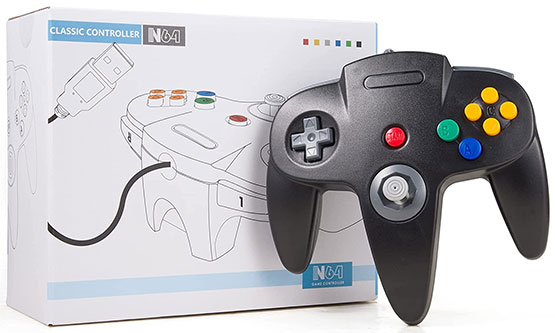 The SAFFUN N64 controller is available in a wide array of colors; black, blue, clear blue, clear red, green, gray, orange, red, transparent blue and transparent red. In addition, they have special discounted prices if you purchase either the black or gray controller in a 2-pack. Regardless, SAFFUN covers their controllers with a 100% money-back guarantee and 12-month replacement warranty. This way, if you have any compatibility or functionality issues, you can return it for a full refund.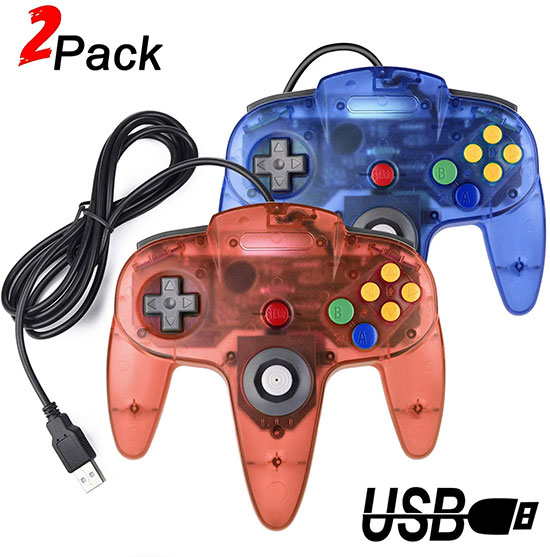 Best Runner-Up: Miadore USB N64 Controllers
As another great pick, the Miadore USB N64 Controllers come in a 2-pack with a clear blue and clear red color scheme. It's priced at a discount and specifically designed for use with emulators. The design and layout is a direct clone of an actual N64 controller, so you'll get the tried and true look and feel you're desiring.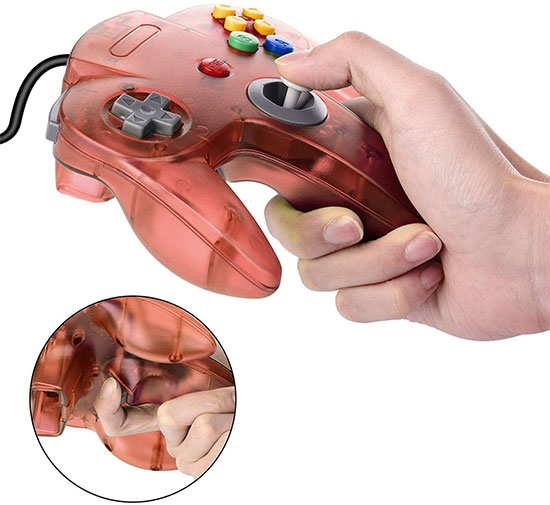 The Miadore N64 controllers are also highly compatible. With a 6-foot USB cable, it's ideal for those using virtually any platform; PC, Mac, laptop, Raspberry Pi, etc. 32 and 64 bit systems are also supported. In fact, even some of the oldest operating systems are widely supported; Windows 98/ME/2000/2003/XP/Vista/7/8/8.1/10, Linux (Ubuntu), Retropie and Emulation station. There's no need to worry about drivers, either. Since the Miadore is plug n' play, you won't need any software to mess around with.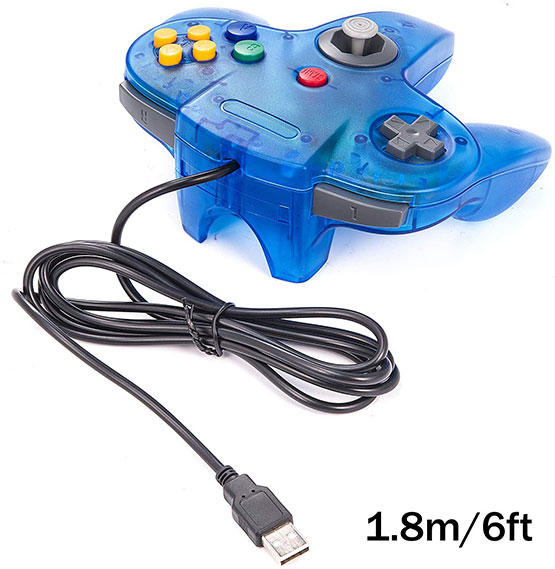 Although there's no warranty or guarantee to talk about, the package price of two controllers is what these offer. They're priced at a bargain and readily available for anyone looking to upgrade their emulator experience.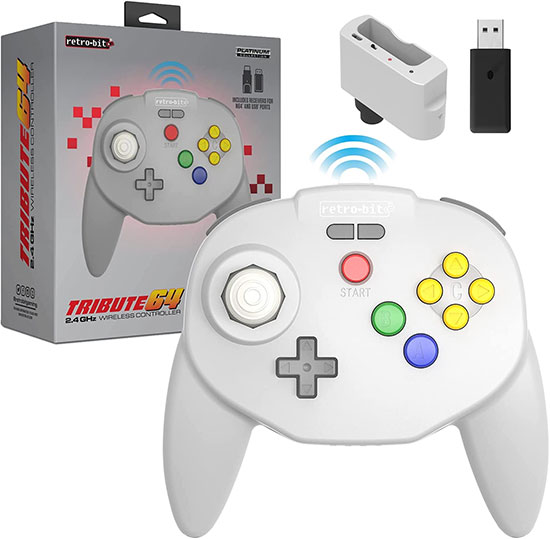 Best Wireless: Retro-Bit Tribute 64 Wireless Controller
The Retro-Bit Tribute 64 is a fantastic choice for those looking for a 2.4 GHz wireless option. Although the size, feel and layout is similar to a GameCube controller, it's geared towards N64 players. The button layout is well-spaced with an ergonomic shape that feels nice in your hands. All of the buttons feel accurate and highly functional. Additionally, the analog stick has just the right amount of sensitivity.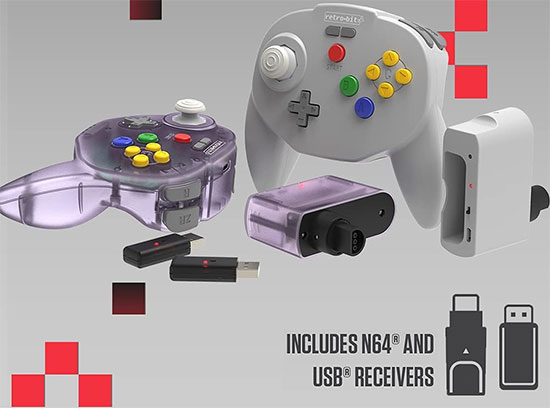 The Retro-Bit Tribute 64 is a USB-rechargeable, multi-unit device. That said, you get the wireless controller along with a USB and original N64 receiver. The USB-receiver will let you use the controller with any emulator on your PC and Mac. In fact, it's even compatible with the Nintendo Switch. In addition, you can even use it with the original OEM N64, if you have a physical console to use it with.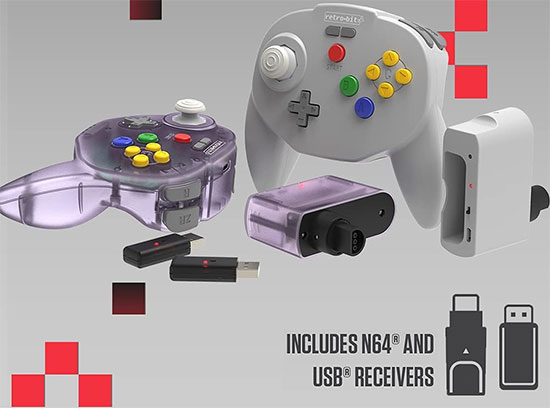 What we liked about it most is the rumble-feature. Built into the design is its very own rumble pack that adds a nice effect during gameplay. In fact, there's even a memory card slot that accepts original N64 memory packs. As you can see, the Retro-Bit is a very capable wireless controller. Although it's priced higher than most, it comes with several worthwhile features that set it apart from the competition.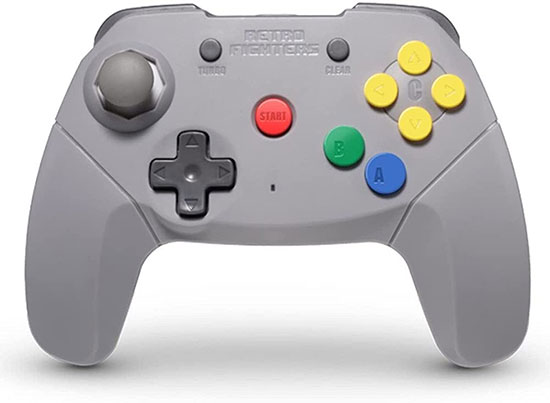 Best Wireless Alternative: Retro Fighters Brawler64
As another great option, the Retro Fighters Brawler64 is a relatively new wireless N64 controller. Although the wired version has been around for several years, this 2.4 GHz wireless USB version was recently released. It combines a USB receiver with a fully rechargeable controller, heavily inspired by N64. In fact, it carries the same classic gray N64 color with more of a Gamecube-esque layout.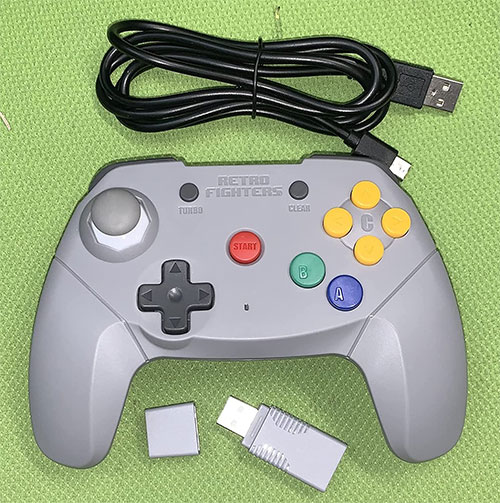 It is a bit more compact than the Retro-Bit, but not by much. The size, shape and feel are all on-point for gaming on a wide range of platforms. In fact, both PC, Mac and even Switch are compatible. However, some gamers complain of compatibility issues with Mac. That said, Mac users who want a wireless version should use the Retro-Bit, instead.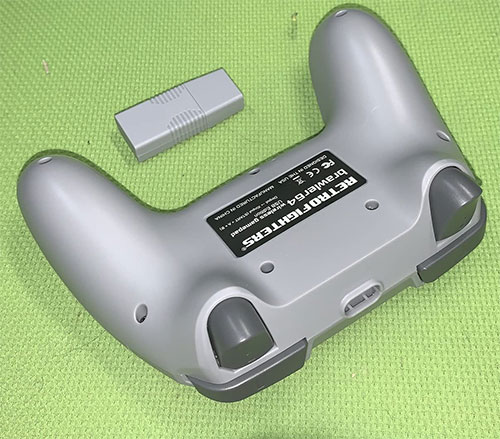 PC users are the ideal crowd who we recommend the Retro Fighters Brawler64 to. Regardless of the emulation software you're using, every version of Windows is supported. However, we're unaware of the compatibility with Linux. Since it's a new-release option, it hasn't been tried and tested as rigorously as the Retro-Bit Tribute 64. Fortunately, updates and patches from Retro Fighters are said to be coming soon, so hopefully there's a fix on the way for any of these potential issues.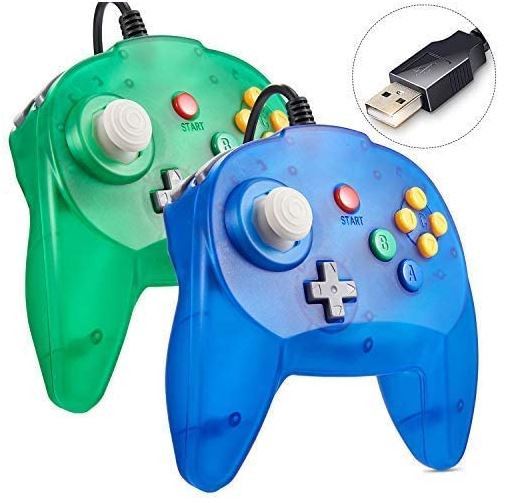 Best Alternative: KIWITATA Mini N64 USB Controller
For those who may need another option, we recommend checking out the KIWITATA 2 Pack Mini N64 USB Controller. Sold in a two-pack, these "mini" controllers are compact and form-fitting. That said, they're loved by players with small hands. However, they seem to work equally well, regardless of your hand size. Although there's not a massive assortment of colors to choose from, they're sold at a great price in a two pack with blue and green controllers.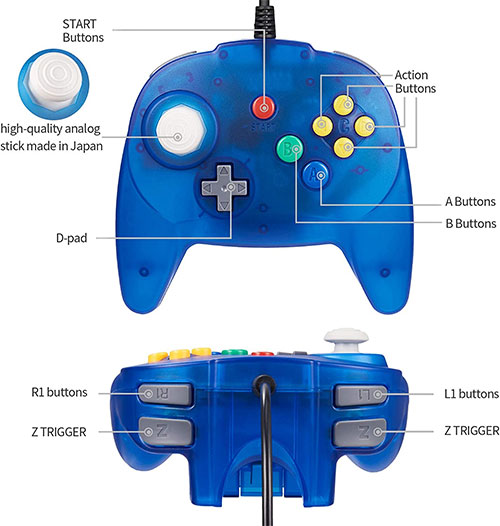 Like all of the other options on our list, the KIWITATA controllers are highly compatible. Both Mac, Windows and Linux are all supported. In fact, you can use it with Windows 98/2000/ ME/XP/Vista/Win 7/8/8.1/10 or later or on a Mac running OS X or macOS. Additionally, virtually all emulators are supported; Raspberry Pi 3 B+, Retro Pi OS, Raspberry PI 2 (model B) and OpenEmu emulator on Mac. Best of all, everything is plug n' play; no drivers to worry about.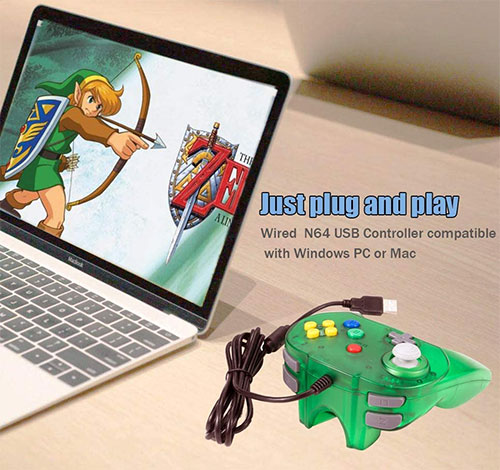 Although these are smaller than average, the button layout seems adequately spaced. There's no crowding or pitfalls to speak of when it comes to the way the feel in your hands. In fact, the contoured shape may arguably be even better than the original N64 controller. Even the joystick, trigger buttons and d-pad feel entirely accurate. However, unlike the Retro-Bit wireless, there's no rumble-pack or vibration feature available.
Which USB N64 Controller is Best?
As you can see, there are several options available for aftermarket USB N64 controllers. Whether you're an avid emulator fan or a dedicated classic gamer, there's an option out there for you. But which one is best? That purely depends on what you're looking for.
The SAFFUN N64 Wired USB Controller is very popular. It's built as an exact clone of the OEM N64 controller. However, it includes a USB cable that you can plug directly into your computer. The Miadore USB N64 Controllers, on the other hand, is virtually identical. With the same cloned design, the major difference between the two are the available color schemes.
For those who want a wireless version, look no further than the Retro-Bit Tribute 64. Although the layout and design is more-similar to the GameCube controller, it has a nice feel to it. Highly compatible with almost every platform, you really can't go wrong. It's even accepted to use with Switch and the original N64. Unfortunately, it's over twice the price of any of the wired-versions.
The Retro Fighters Brawler64 is another wireless option. However, it's said to have some compatibility issues with Mac users. We really like the layout of it. Fortunately, it's fully updateable via USB so upcoming patches may fix these issues.
Last but not least, we examined the KIWITATA 2 Pack Mini N64 USB Controllers. These are perfect for small hands or those looking for a minimalist design. They work well and are priced fairly. Overall, another great pick!
Regardless of the USB N64 controller you decide on purchasing, it's nice to know that several top-rated choices are available. Ultimately, you'll need to decide what's important to you, and go from there. Which one will you pick?