eMeet Meeting Capsule G1
Pros
Crisp, clear video.
Good audio quality with echo and noise cancellation.
Five smart camera modes.
Wide system and software compatibility.
Cons
Automatic framing is a bit janky.
Can only connect via USB.
A bit expensive.
Teleconferencing has been around for a long time. But it really came into its own during the pandemic. And while we're back to working at the office, most businesses have reconsidered how they hold their meetings.
If it's not convenient to have everybody in the same room, why force things? An online meeting can achieve all the same goals without the headache. That's not to say that face-to-face meetings have gone the way of the dinosaur. There are situations where it makes sense for people to be in the same room. But for routine, mundane meetings, a web conference is more than sufficient.
Note: At no extra cost to you, we may earn a commission for purchases using our links. Learn more.
Notice that we said "web conference," not "teleconference." During the pandemic, people got used to video, and it's easy to understand why. In an old-school teleconference, it's tough to convey images, graphs, or charts.
Sure, you can send that information as an email. But the other party will be rummaging through their inbox while they should be paying attention. Compare that to a web conference, where you can simply show the chart. Welcome to the future!
eMeet Meeting Capsule G1
Today, we'll be reviewing the eMeet Meeting Capsule G1. This is a fisheye camera that can capture a single person or an entire conference table. It has a built-in 360-degree speaker and microphone for audio. It's compatible with almost any software, and it has five different camera modes.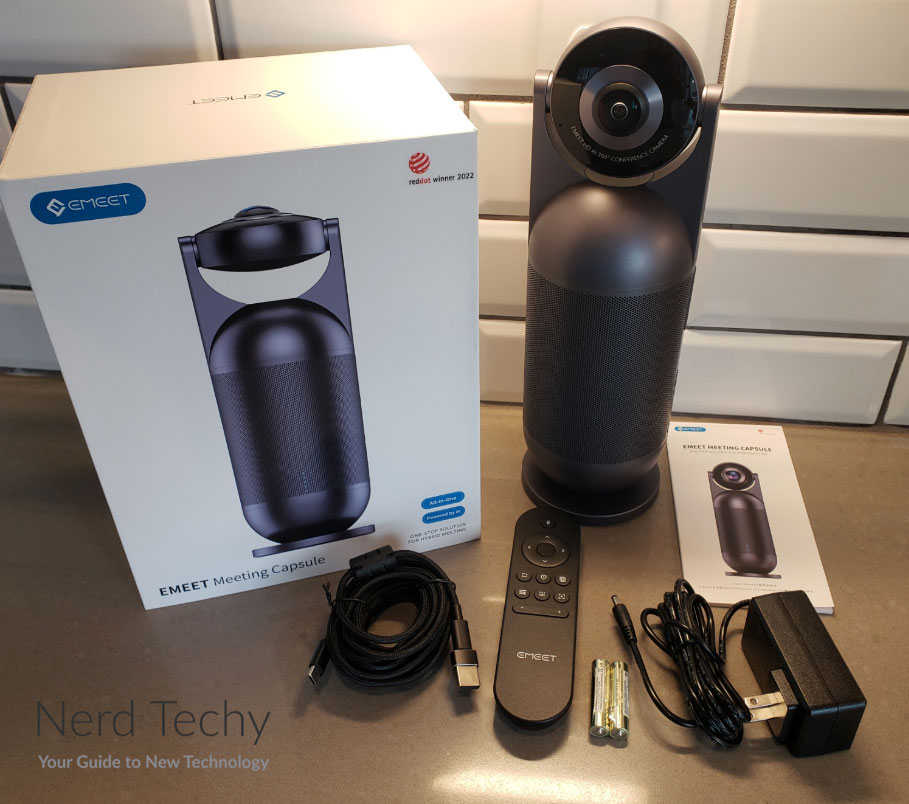 But how well does it perform in practice? To find out, we're going to have to dig deeper. We'll look at the design and physical construction. Then, we'll talk about how to set up the device, and how good the video and audio quality are. We'll also need to learn more about the camera modes. Let's get started!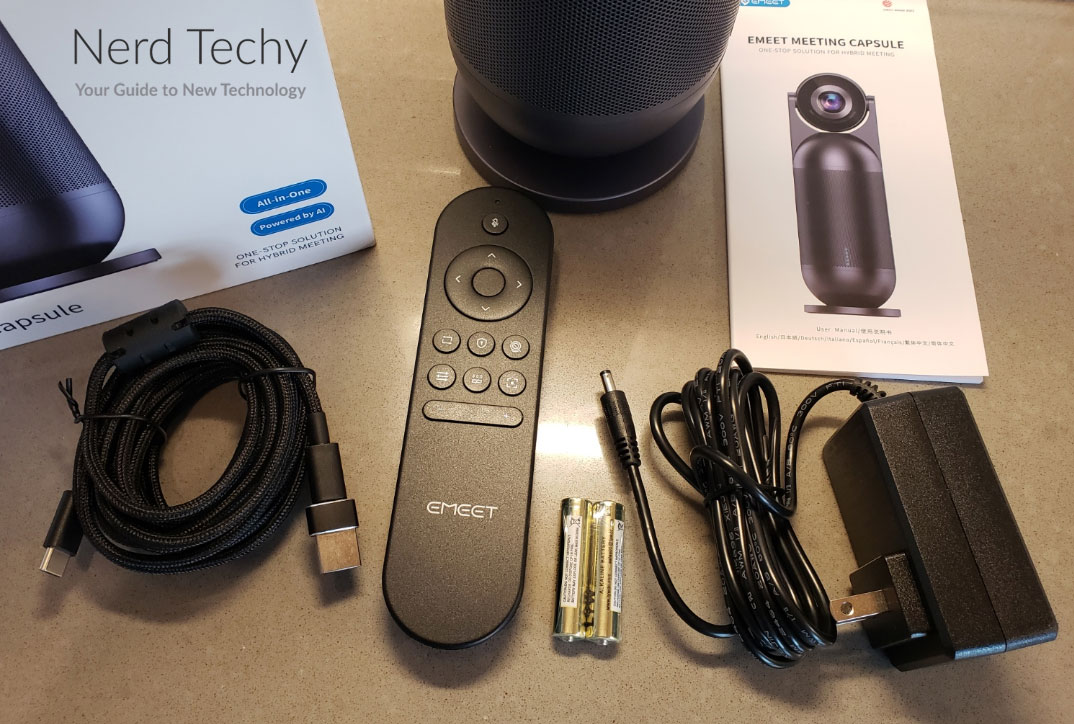 Overall Design
The eMeet Meeting Meeting Capsule G1 has a matte black housing that fits well in any office. The main part of the housing is roughly pill-shaped, and is oriented vertically. The back and front surfaces are almost entirely covered by a speaker grille, with fine, perforated holes. The entire unit stands 11.5 inches tall, with a diameter of 3.8 inches. Most of it is narrower than that, since the round, flat base is the widest part.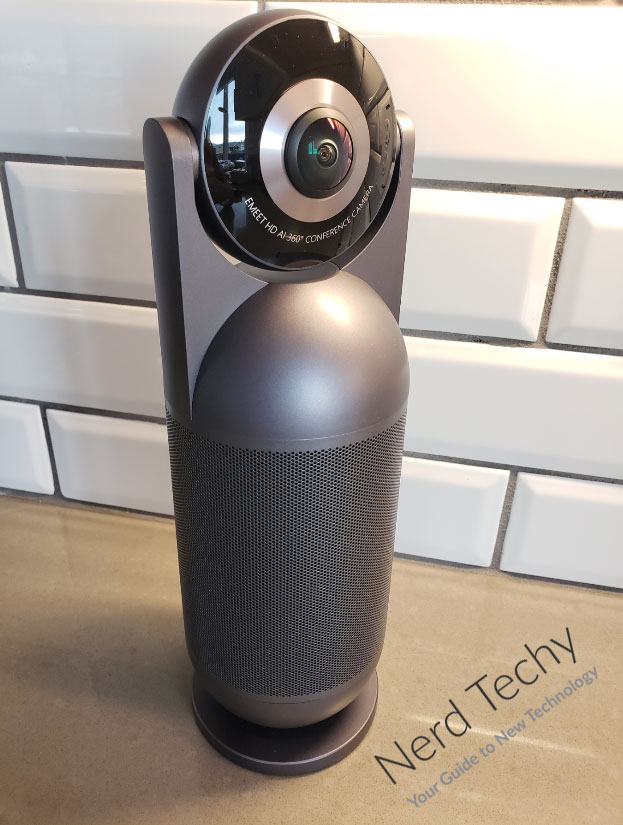 At the top of the pill-shaped part of the housing is a forked frame, with a U-shaped cutout in the middle. Inside this cutout sits the camera lens housing, which is attached to the tops of the forks. It can pivot freely along this axis to point forwards, straight up, or even down. This lens housing itself is circular, with a glossy front surface.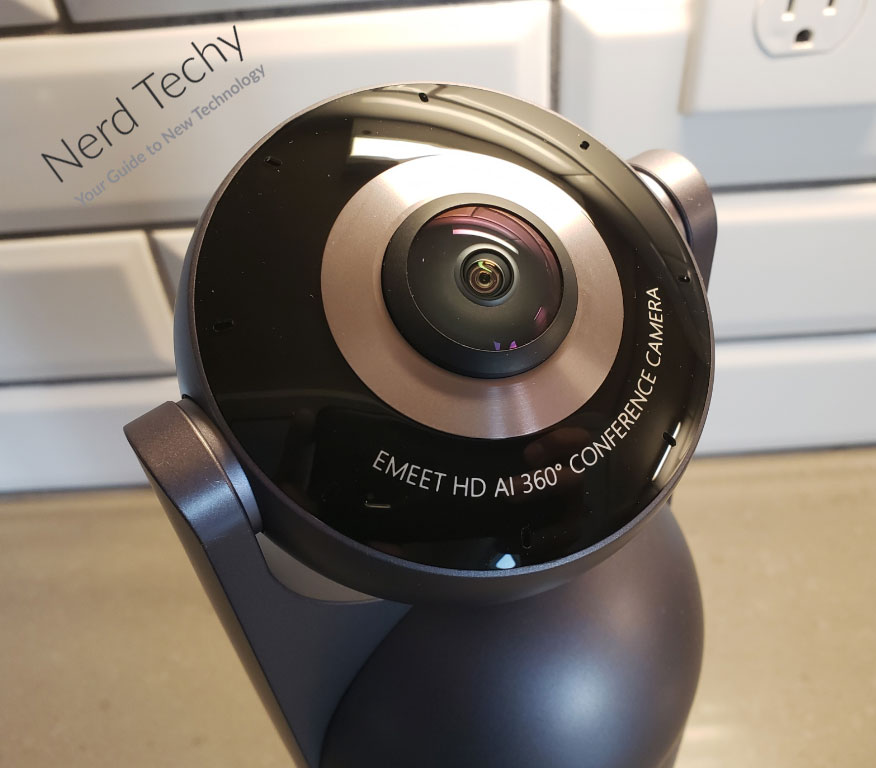 On the bottom of the base is a standard ¼-inch threaded socket. This allows you to mount the device on a tripod and set it in the middle of the floor. It's also designed to be used with a ceiling mount. The camera will automatically detect when it's been turned upside-down, and rotate your video for you.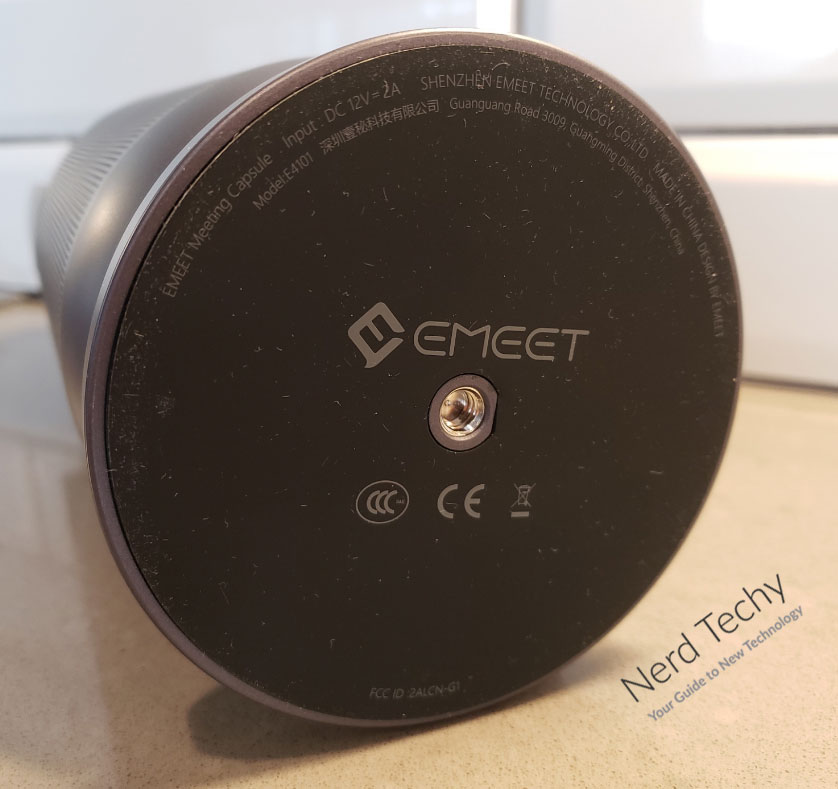 The kit includes a black handheld remote control with several buttons. You can mute the audio, hide the video, and change video modes. You can also customize the framing and adjust the volume. On the front of the housing, inside the speaker grille, you'll notice a column of five blue LED lights. These illuminate one by one to indicate the volume level.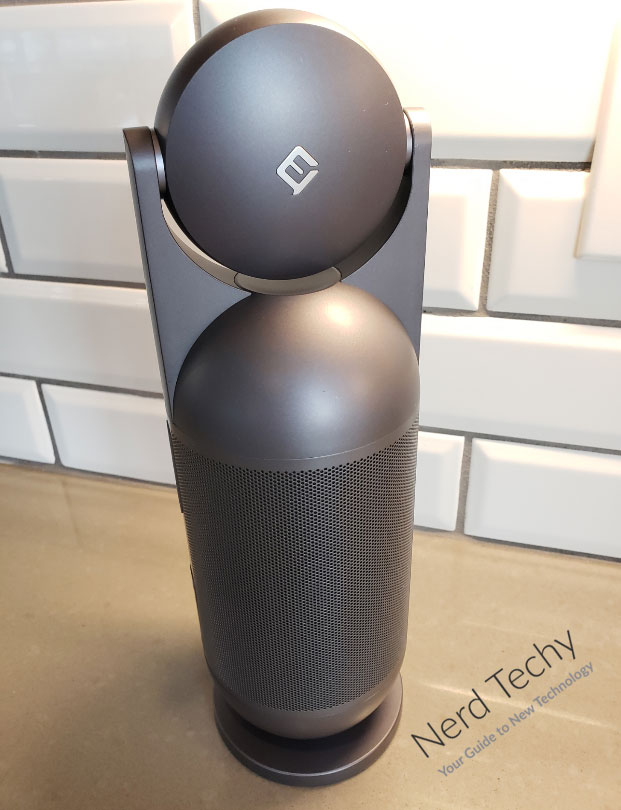 You'll also find some minimal controls on the right side of the housing. These are simple rubber buttons with mute and pairing functions. That said, the remote works just fine, even from across the room. The physical buttons are just a bonus.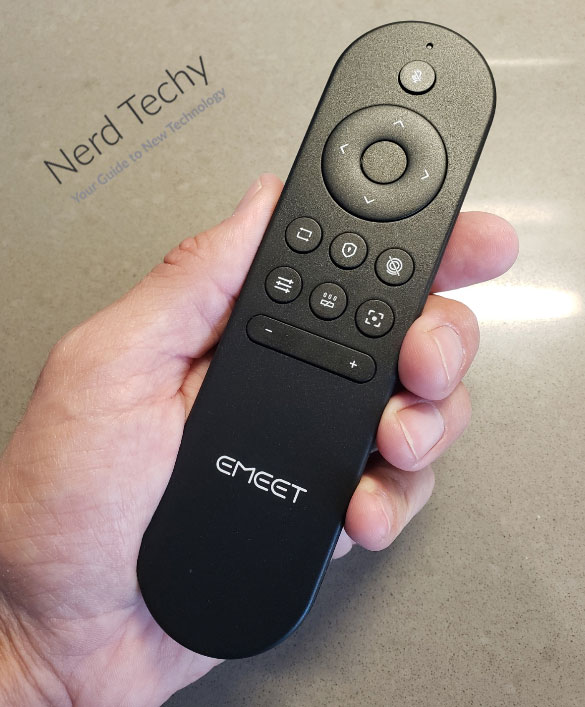 Connectivity and Compatibility
On the right side of the housing, beneath the control buttons, is a set of ports. At the top is a USB Type-C port for connecting to your computer. A USB Type-C to Type-A cord is included, so you don't need any extra gear. On the downside, there's no wireless option such as a USB fob. This can be problematic if your computer isn't in close proximity to the Meeting Capsule.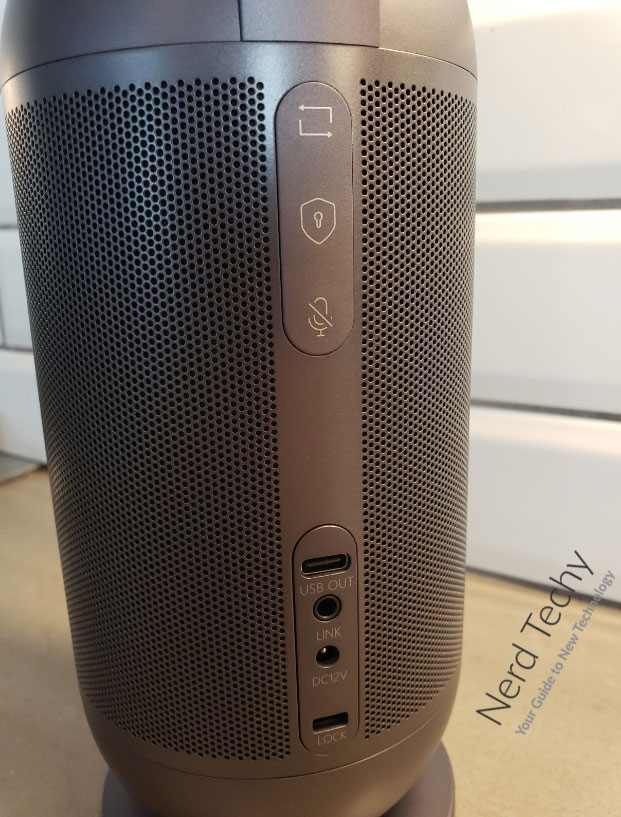 Beneath this is a 3.5mm aux port labeled "LINK." This port can be used to connect two Meeting Capsule units together. You can double your coverage and capture a larger area. Keep in mind that only the primary unit's camera will be in use. The other one will be active for audio only. In fact, you can even daisy-chain some of eMeet's audio-only speakerphones into the mix.
At the bottom is a round DC power port. The power supply and adapter are included in the package.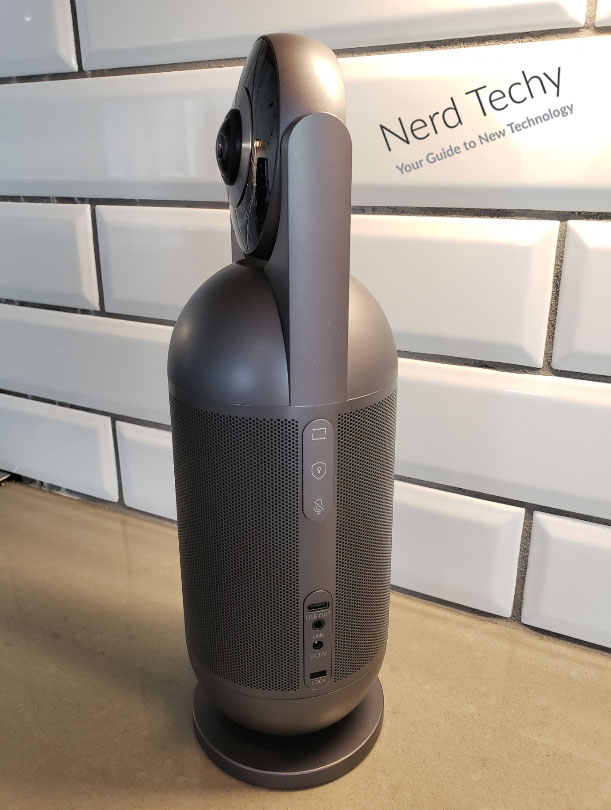 As far as compatibility goes, we had no complaints. This device works on PC or Mac, so it can be used on pretty much any computer. Be aware that it's not compatible with Chromebooks. However, it's compatible with pretty much any video conferencing software. The speaker registers with your computer as a speaker, the camera as a camera, and so on. Select the right inputs in your software settings, and you'll be ready to start chatting.
If you don't need video, consider the eMeet Luna Speakerphone. It connects via Bluetooth or a USB wireless fob, and provides excellent audio call quality. It can also be daisy-chained to the Meeting Capsule. The only significant drawback is its short battery life.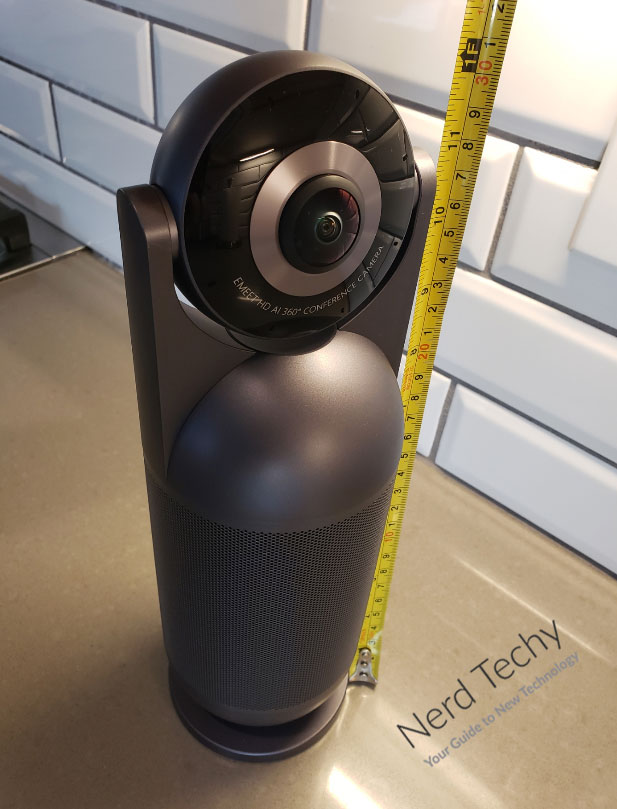 Video Quality
The Meeting Capsule has a video resolution of 1080p. Videos are bright and clear, with good color vibrancy. They're also crisp, with excellent focus within 13 feet of the lens. Depending on your settings, it can have a 360-degree view or focus on a single person. Alternatively, it can go into split-screen mode.
Most of the video modes work well, and we'll get into more detail on them in a second. But in split-screen mode, there's a minor issue. The camera sometimes likes to position its frame with the speaker standing to the left. You can fix this manually with the remote, so it's not that big a deal. But it's still worth mentioning in case you run into it.
If you want even sharper video, check out the OBSBOT Tiny 4K. It's a powerful 4K webcam, positioned on a motorized gimbal for automated person and object tracking. It's a great little camera, but it's made for a single person, not for an entire conference room.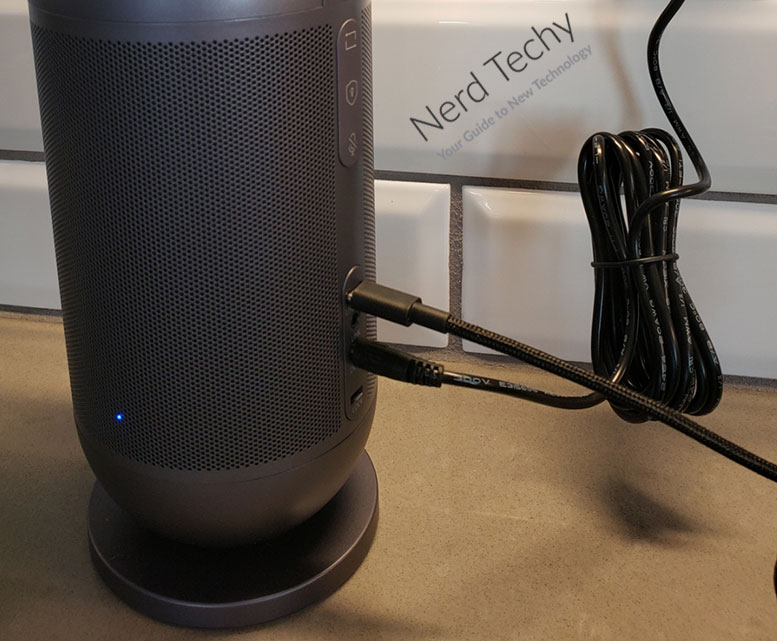 Microphone and Speaker Quality
Inside of the Meeting Capsule is an array of eight microphones, designed to pick up sound from 360 degrees. These microphones are controlled by a smart AI, which detects the location of whoever is speaking.
This allows the camera to focus on the speaker in certain camera modes. In addition to that, the array of mics is able to sort out conversation from background noise. And built-in circuitry eliminates echoes and amplifies the human voice even more.
The mics are reasonably clear, and the other party will easily be able to understand you. At normal conversation volume, your voice will be audible from 18 feet away. In other words, the Meeting Capsule will perform reliable even if it's in the middle of a 36-foot conference table. Unless you work at the United Nations, your conference table is not that big.
The 10-watt speaker is noticeably louder than most speakerphones, at least at top volume. It can full a very large conference room, and transmits sound equally in all directions. It's optimized for the human voice, not music, so we wouldn't recommend using it as a speaker. But it's great for conversations, and the full-duplex signal technology keeps crosstalk to a minimum.
For one-on-one video chats, you may want even better audio. In that case, the eMeet HS100 is a great choice. It's a Bluetooth headset with thick, comfy ear pads and great voice audio. It also has a long-lasting battery, so it won't die on you during a meeting.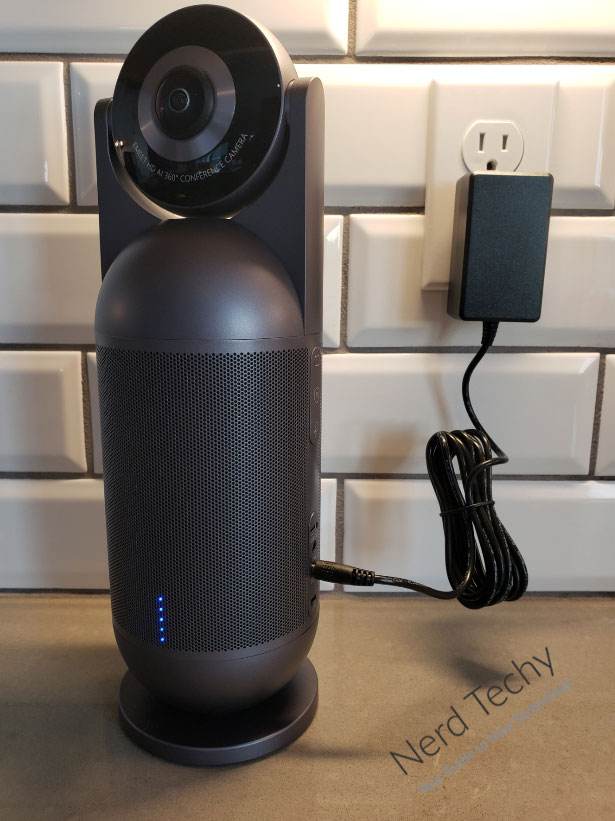 Extra Features
As we mentioned, there are five different video modes to choose from. The one you'll probably use most often is "speech mode." In this mode, the bottom half of the video will show a 360-degree panorama of the room. The top half of the video will show a larger view of whoever is currently speaking. This is great for presentations, or for meetings with very little back-and-forth.
The next mode is "collaboration mode." This is similar, but it allows up to three speakers in the top half of the screen. This can be helpful for conversations with lots of back-and-forth. In speech and collaboration modes, the camera lens will face at the ceiling.
The third, "classic" mode shows a 180-degree panorama of the room. It's useful for smaller meetings where everyone can fit on one side of the table. In "spotlight" mode, the field of view shrinks to an adjustable 60-95 degrees. This mode provides a crisper video of a single person, and helps when you're the only person on the call. In both of these modes, the lens will point horizontally.
The last mode is "privacy mode." In this mode, the lens turns downwards and the Meeting Capsule stops recording video or audio. However, you'll still be able to hear the other party through the speakers.
The last noteworthy feature we should mention is the little slot on the bottom right below the power port. This is a Kensington lock port, which is a popular industry standard. It allows you to hook up a locking cable and secure the Meeting Capsule in place. That way, it's harder for anyone to steal.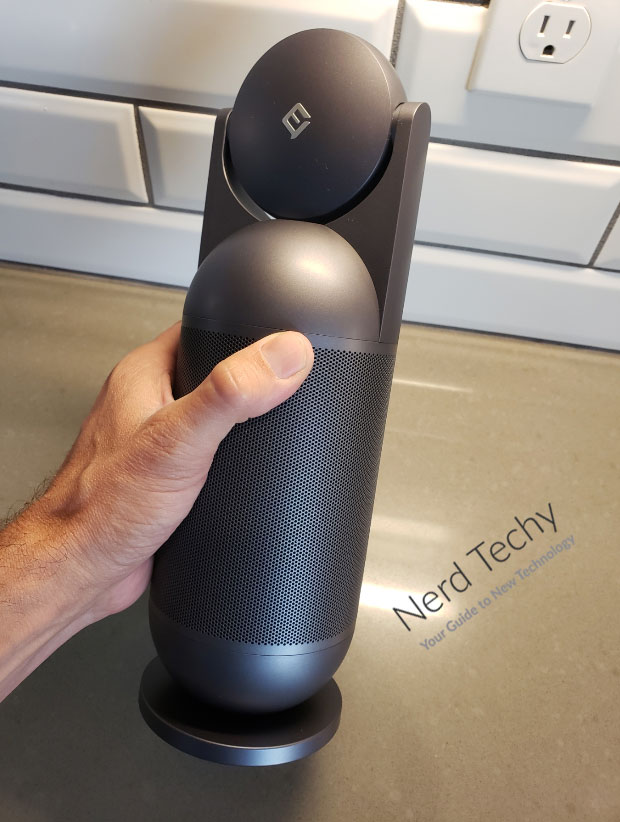 Final Verdict
The eMeet Meeting Capsule G1 is a powerful web conferencing device. The camera and camera modes are exceptional, whether for one-on-one calls or for large meetings. The directional mics are very effective, and do a great job at filtering out background noise.
It's tripod-mountable, and the video will automatically invert if you ceiling-mount it. There are plenty of devices that do some of these things, but no device that does all of them. If this feature set meets your needs, the Meeting Capsule is a great choice.
Please consider sharing:
Note: At no extra cost to you, we may earn a commission for purchases using our links. Learn more.