Artist 13 (2nd Gen)
Pros
Bright, vibrant and clear colors.
8 customizable buttons.
Precise, accurate stylus.
Compatible with most computers and drawing software.
Available in multiple color schemes.
Cons
3-in-1 cable connection is clunky.
Some compatibility issues with Chromebooks.
No carrying case included.
Technology has given artists a lot of powerful tools that previous generations could only dream of. Think of a tool like Adobe Photoshop. You can create and manipulate images, layer them, or diffuse one image into another.
These are things that professional animators used to have to do painstakingly by hand. Tools like Photoshop also make it easy to share your work. Let's say you're creating something simple, like a two-colored logo.
Maybe you don't need fancy software to create it. But it helps to have it in a lossless format. If you need to share a "lossy" version, you can use Photoshop to convert it to almost anything.
But one thing technology has struggled with is the mechanics of creating the art itself. Since the 1980s, software has been designed primarily for mouse and keyboard. Windows 8's brief flirtation with touchscreens notwithstanding, a mouse and keyboard have remained standard for good reason.
They're the best interface for doing 90% or more of things you do on your PC. Unfortunately, they're a clumsy way to draw anything. Even the best mouse can't create the smooth, flowing lines you want in your artwork.
When you draw by hand, everything feels natural. You can adjust the pressure and angle of your pencil, charcoal, or brush. And when you want to grab your eraser, you don't have to click around on a screen and select a size.
Thankfully, you can use a drawing tablet to replicate this experience on your computer. With a drawing tablet, you use a stylus, and the layout is optimized for artists. If all goes well, working in Photoshop can feel as organic as drawing on a sketch pad.
XP-Pen Artist 13 (2nd Gen) Drawing Tablet
Today, we're going to review the XP-Pen Artist 13 (2nd Gen) Drawing Tablet. This is a purpose-built drawing tablet with a gorgeous 1080p display. It has a set of customizable controls, along with a very well-engineered stylus. The screen is sensitive and responsive, designed to detect precise, fine movements.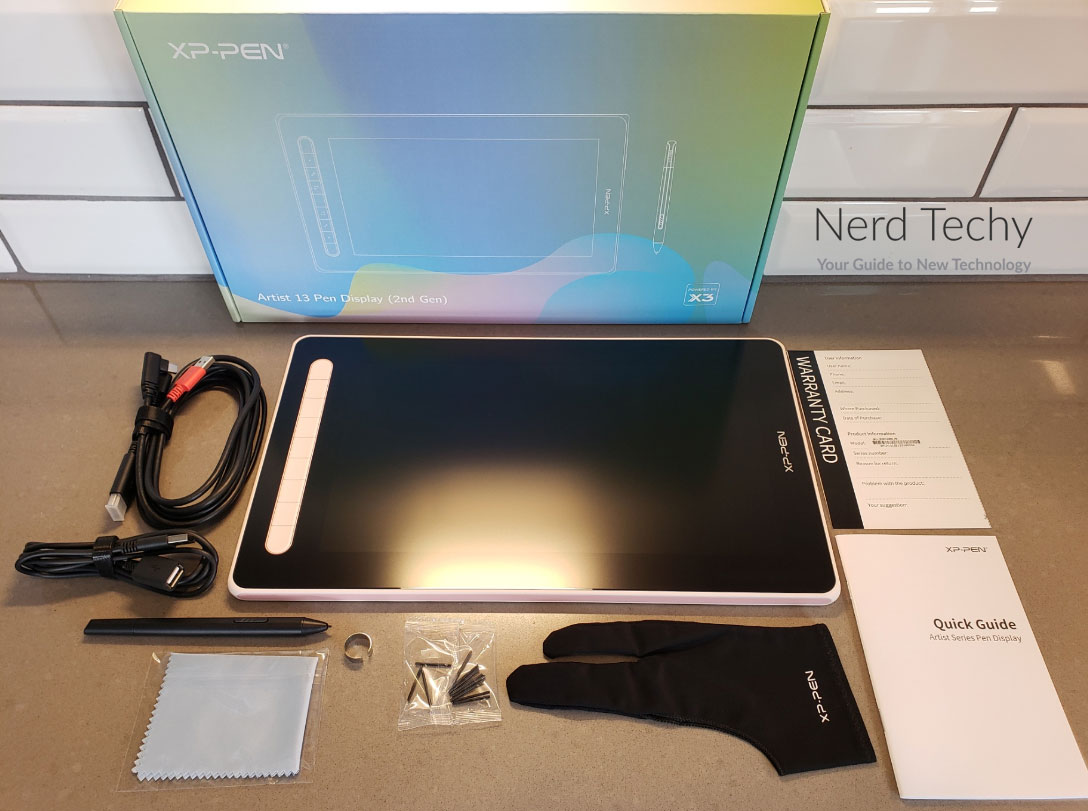 But there are many important things to consider when you're choosing a drawing tablet. To find out how this one performs, we'll need to give it a thorough examination. We'll look at the design and layout. We'll talk about your control options, and how you connect to your computer. Overall, we'll also take a detailed look at the display. Let's get started!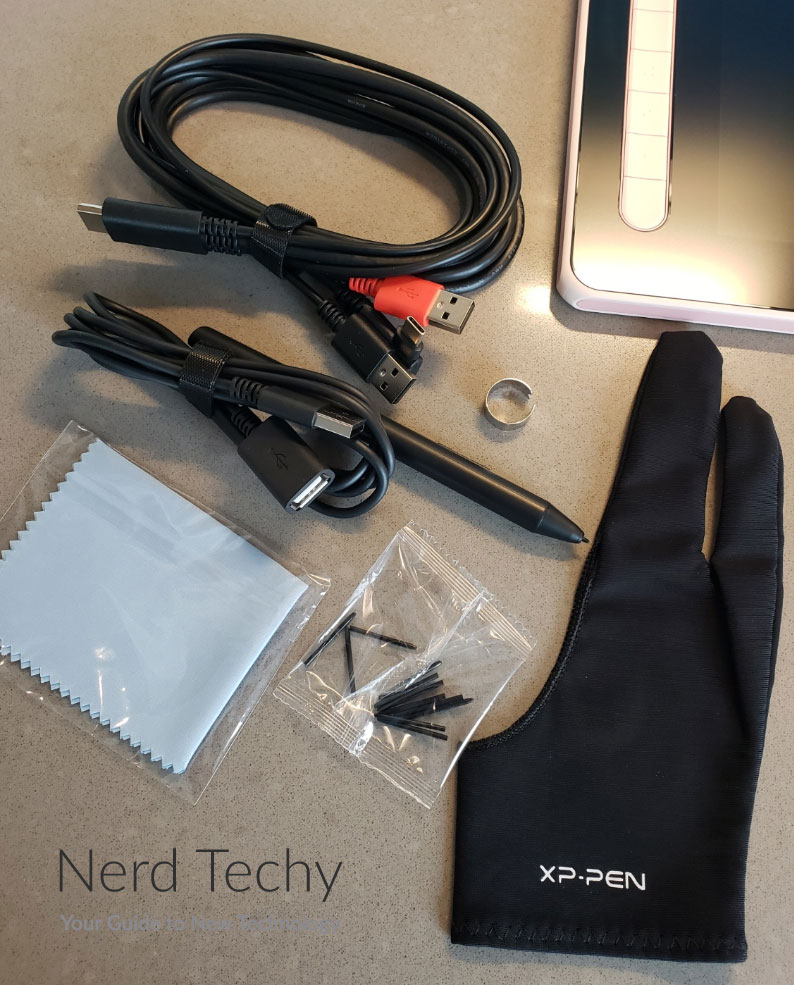 Overall Design
The XP-Pen Artist 13 (2nd Gen) Drawing Tablet comes in four different sizes. You can order it in 10.1, 11.9, 13.3, or 15.6-inch versions. We reviewed the 13.3-inch version, but they're all substantially the same, except for the size. The number of buttons is also different, but that's about it.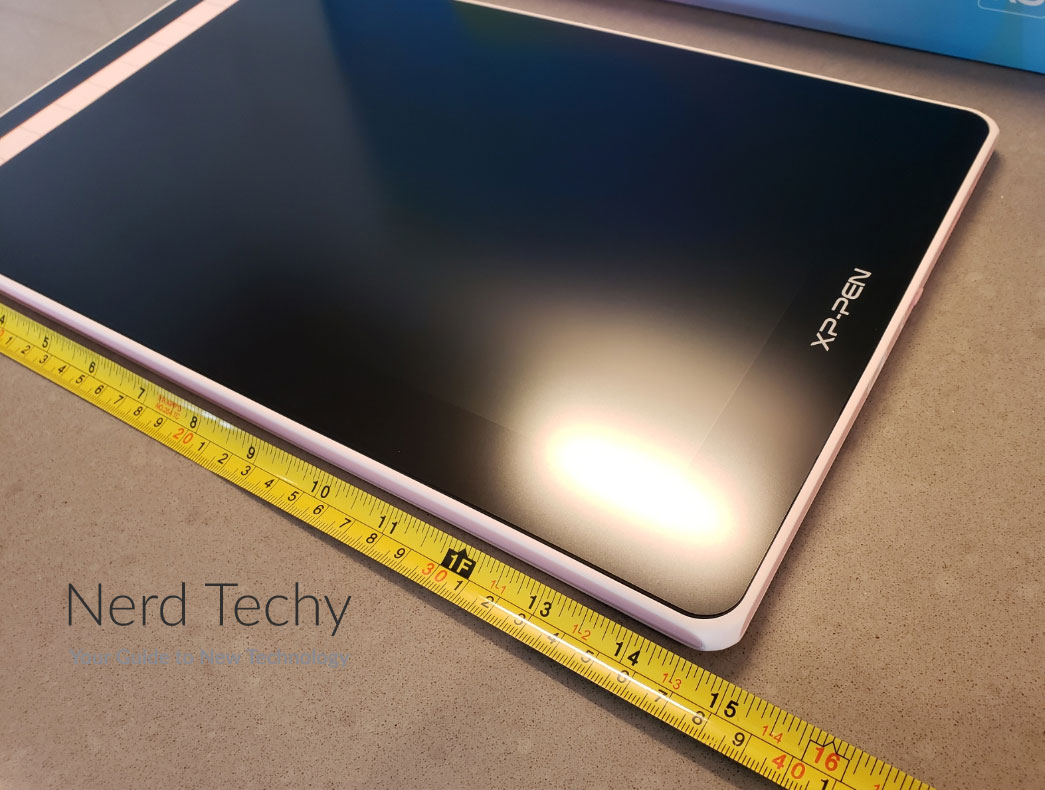 All sizes are 11.99mm thick (0.47 inches). Ours measured 8.85 inches tall and 14.88 inches wide. The black bezel is ultra-wide, which makes it harder to accidentally brush the edge of the screen. The rest of the housing is made from a durable matte plastic that's easy to wipe clean. It can be ordered in black, blue, green, or pink.
XP-Pen backs their tablets with a robust 18-month manufacturer's warranty. If anything fails prematurely during this time period, you'll be covered. You'll receive either a refund or a free replacement.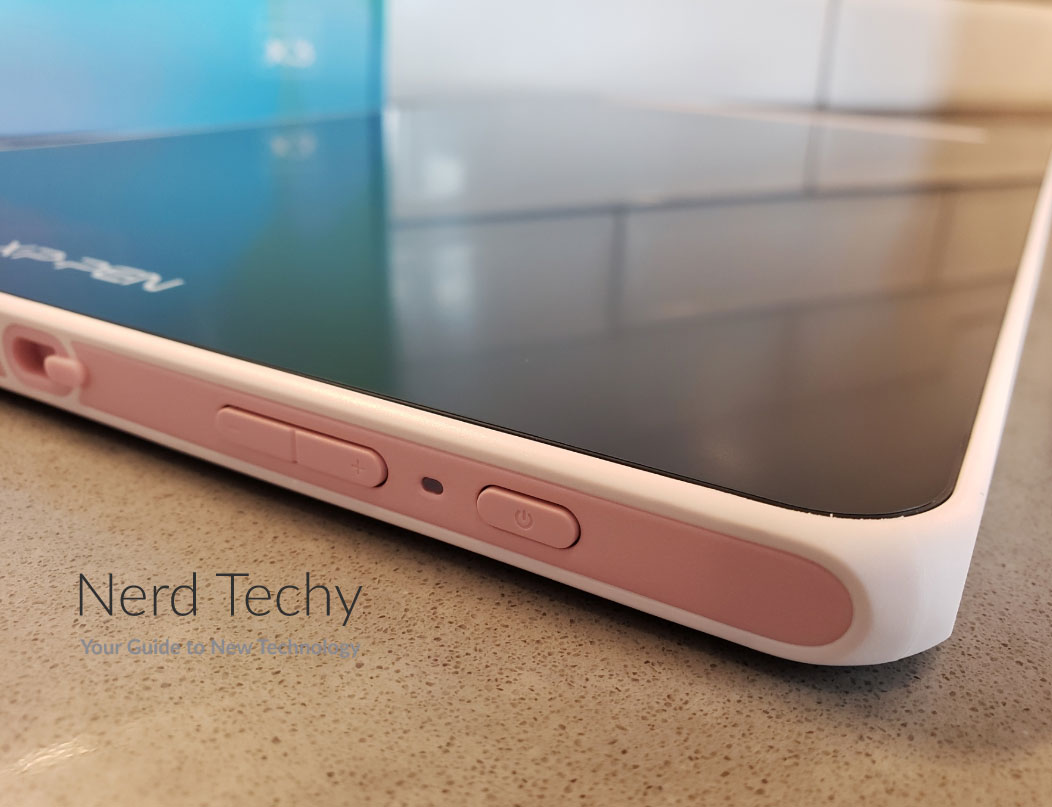 If you want a much smaller drawing tablet, consider the XP-Pen Artist 12. It has near-identical features and functions, and a similar quality touchscreen. But it's smaller than the 13, and it's more affordable.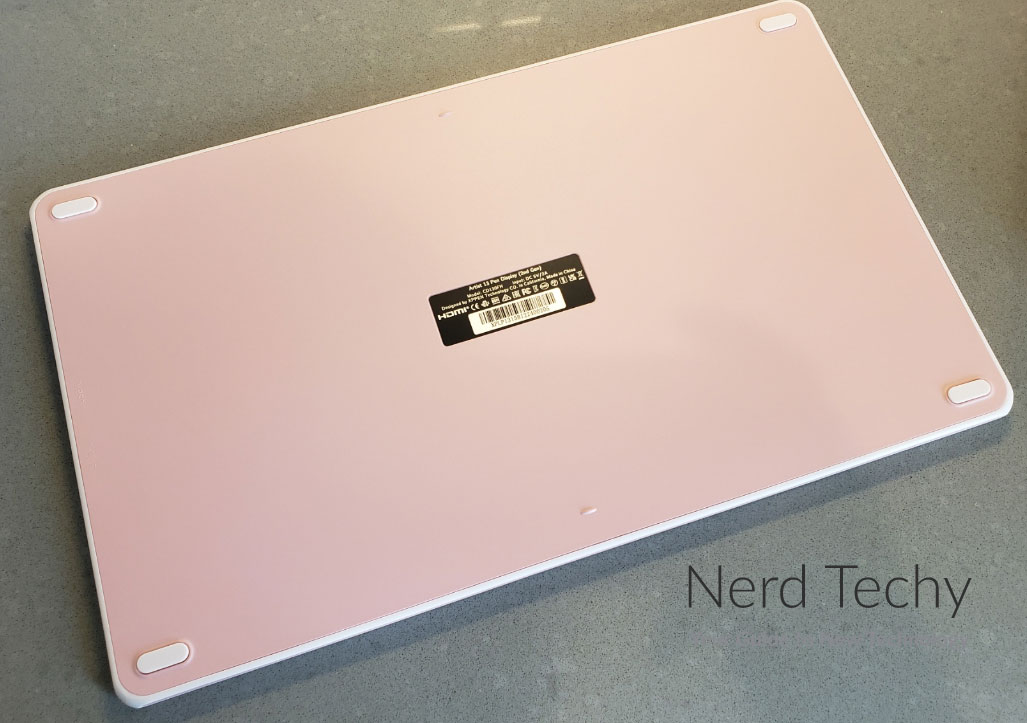 Controls and Interface
The Artist 13 is an accessory, not a full PC. When you're using it, you'll still have access to your mouse and keyboard. That said, there are some extra controls built in, so you don't have to do a lot of switching.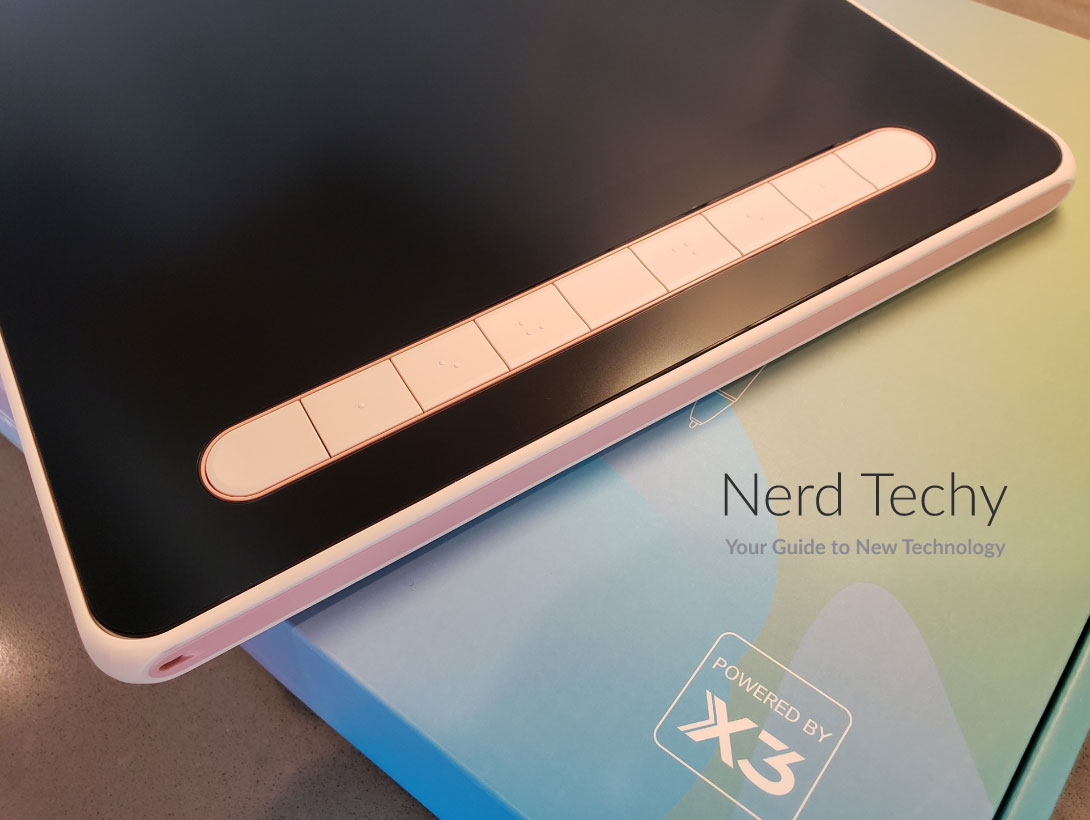 Along the left side of the screen is a column of large buttons that are easy to press with your thumb. The first button is a menu button to access the tablet's menu and settings. The rest are programmable shortcut buttons. There will be 5, 7, 8, or 9 programmable buttons depending on your tablet's size. You can set these to your most commonly-used shortcuts in your favorite drawing software.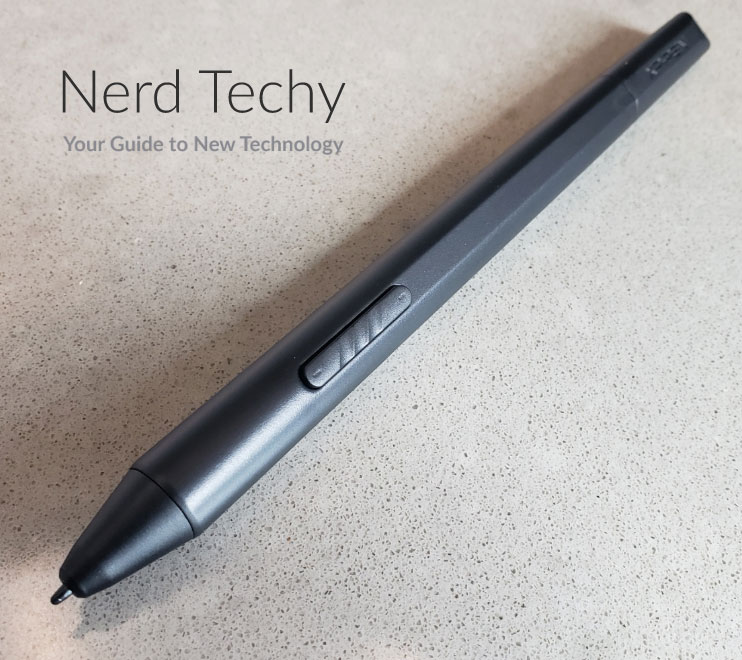 Of course, the main way you'll interface with the tablet is the stylus. It's slender and slightly tapered, and fits well in the hand. It has a fine tip that can be tilted by 60 degrees in any direction. This technique can be used to make your strokes broader or narrower, just like with a real marker. On the side of the stylus is a pair of small buttons you can click with your thumb. One is a right mouse button, while the other will switch to your eraser.
If you're looking for even more control options, check out the GAOMON PD156 PRO. The nine customizable shortcut keys work the same as the Artist 13's. However, it also has a customizable scroll dial that can be used for zooming, brush size adjustment, and more.
Connectivity and Compatibility
There are a couple of ways to connect the Artist 13 to your computer. The easiest is to use a full-featured USB Type-C cable. Plug this into the back USB Type-C port on the right side, then into your device. Then connect another USB Type-C cable from the front port to a wall adapter. This second cable may or may not be necessary, depending on your computer's USB port.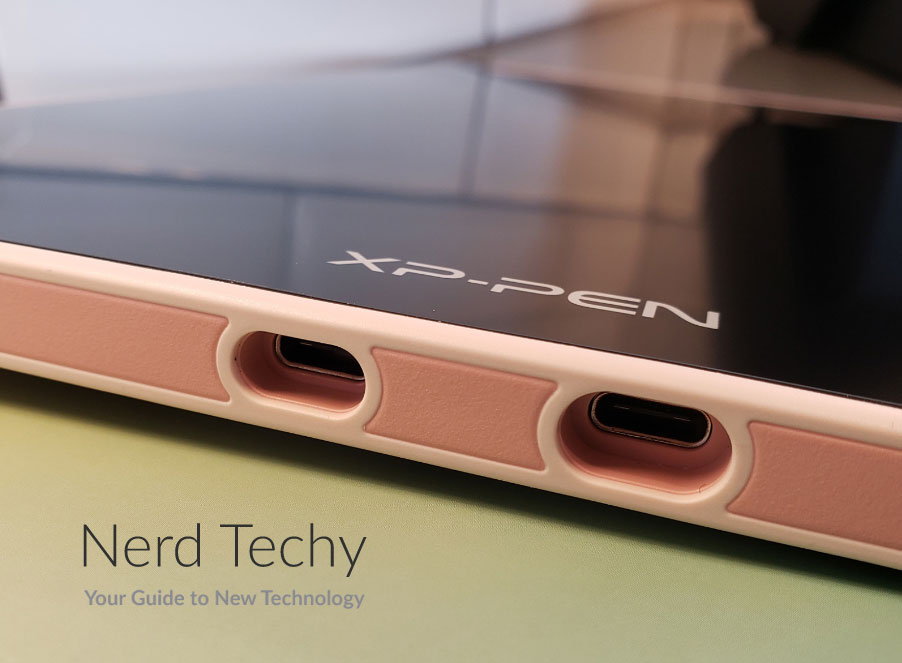 Unfortunately, there's no full-featured USB Type-C cable in the box; you'll have to buy your own. On the plus side, you get a full set of power adapters for use all over the world. You also get a red USB cable for delivering power.
The other option is to use the 3-in-1 cable, which is included in the package. This cable has a USB Type-C plug on one end, where it connects to the tablet. At the other end is a pair of USB Type-A plug – one for power delivery, and one for the controls. There's also an HDMI plug at the far end to deliver your video signal. If you don't have a second USB Type-A port for power, don't worry. You can use the red power cable and adapter if necessary.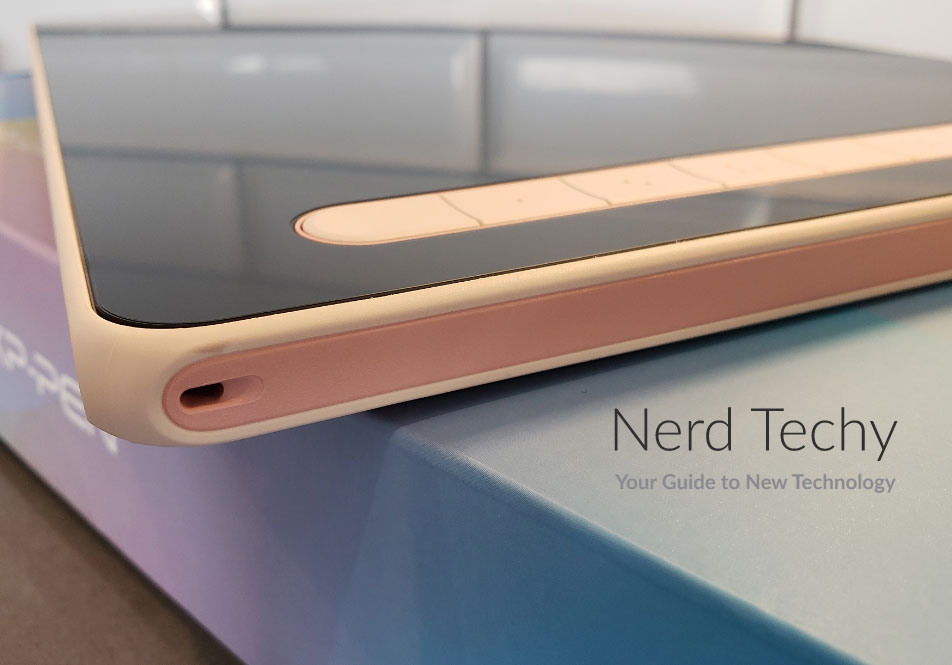 The Artist 13 is compatible with all versions of Windows starting with Windows 7. It's also compatible with Mac OS 10.10 or later, Chrome OS 88 or later, and Android devices with USB 3.1. Unfortunately, it can take some fiddling to get it to work on Chromebook. Depending on your model, you may have to go into developer mode and run your software in Linux.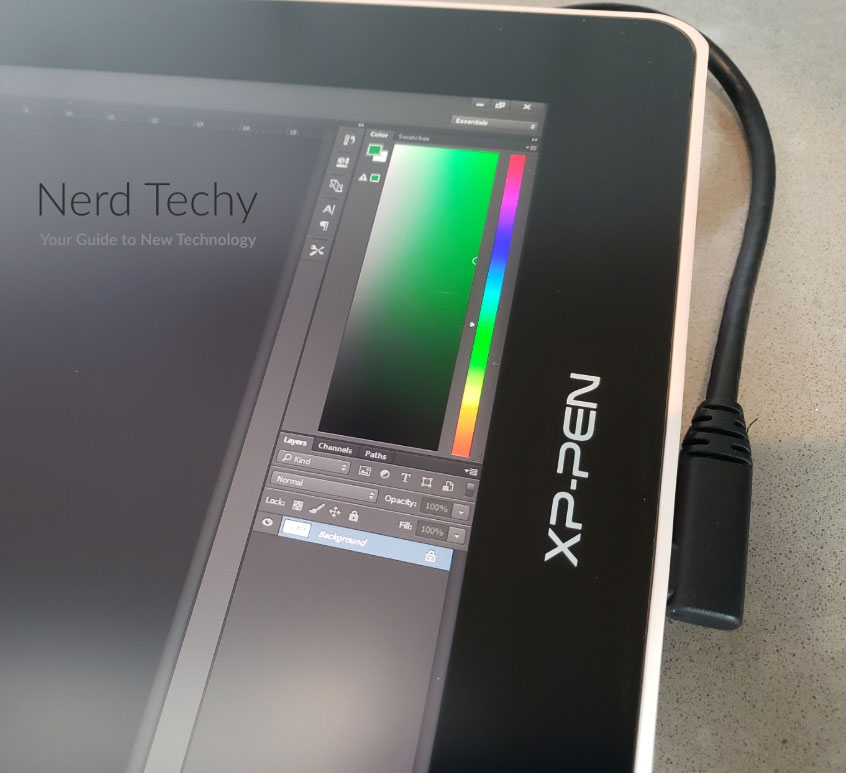 This tablet also works seamlessly with most digital art software. It will work with Adobe, GIMP, MediBang, Krita, FireAlpaca, and many other programs.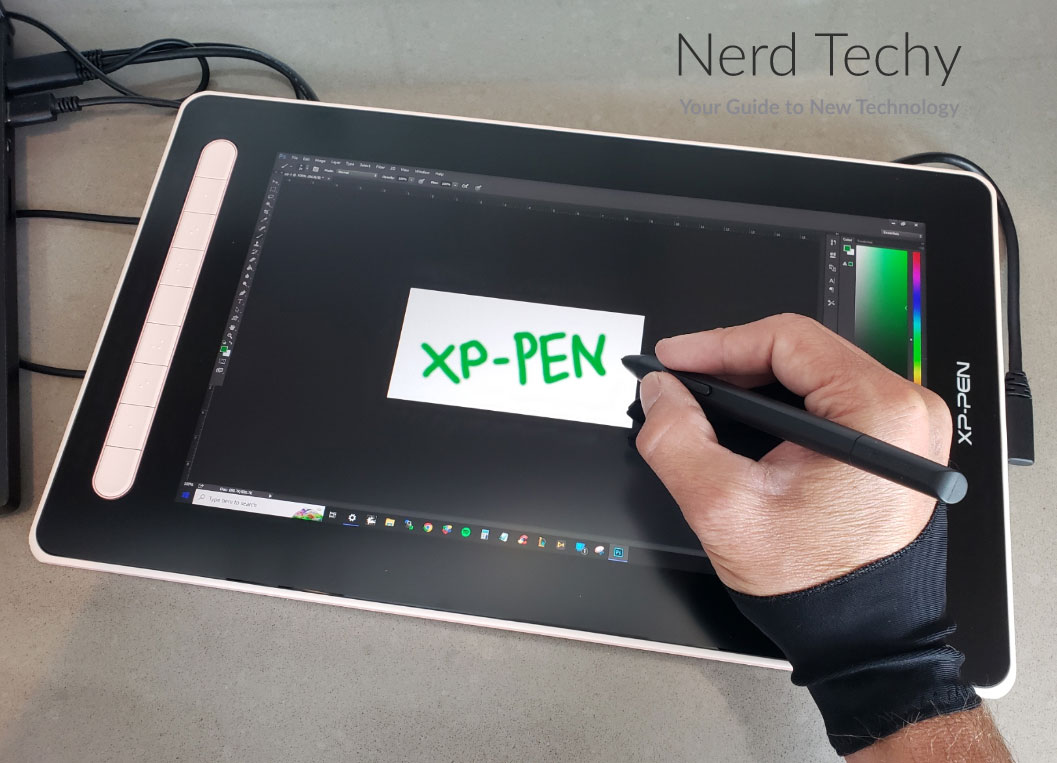 Display Basics
The XP-Pen Artist 13 has a screen resolution of 1,920 x 1,080 pixels, or 1080p. This is what we'd expect for most tablets this size. While a 2K or 4K display would theoretically be better, the difference would be marginal at best. The pixels are already so tiny that you'd have to be inches away to distinguish them.
This is an IPS display, designed for a wide viewing angle of 178 degrees. Even if you're almost all the way to the side, the colors won't be distorted. This contrasts it with lower-quality displays where everything gets negativized when viewed from the side. You can handle the tablet just like a drawing pad, without worrying about screen angle.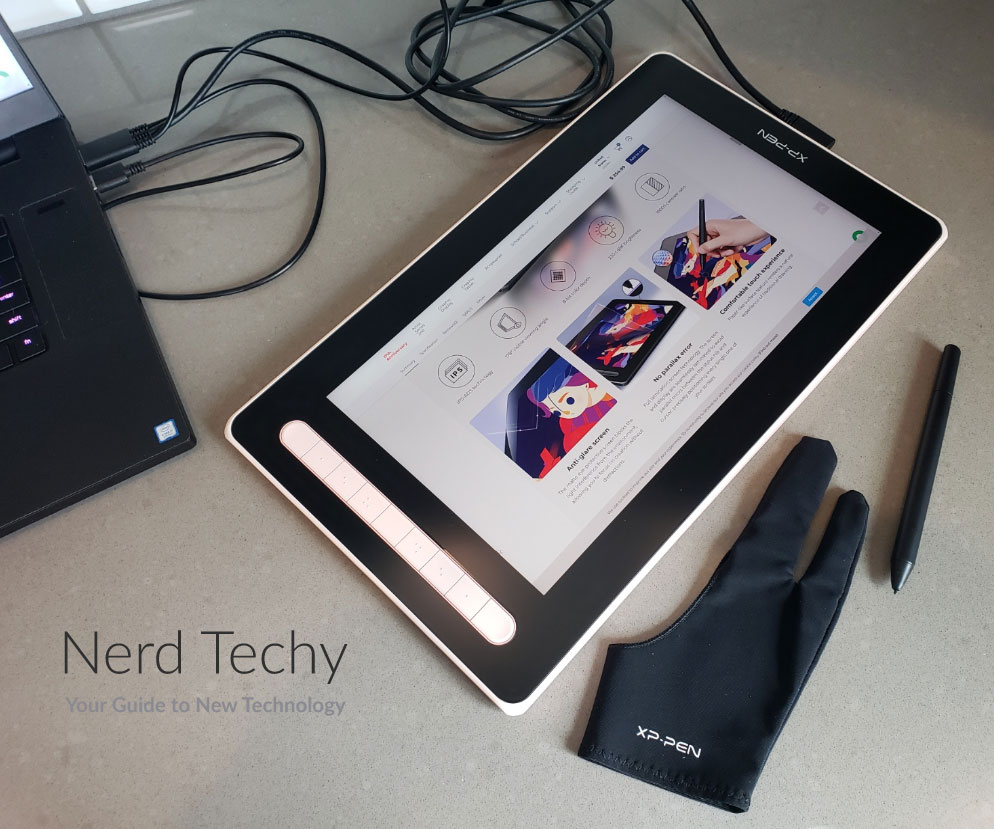 The display is also fully laminated. This means that the surface glass is applied directly to the underlying touch-sensitive layer. There's no air gap. As a result, there's virtually zero parallax. When you touch your stylus to the screen, it registers exactly where you meant it to. This is a huge improvement over many touchscreens, where parallax can make it tough to draw.
The sensitivity is also very precise. At just 0.1 ounce of pressure, the screen will register that it's being pressed. Push down harder, and you'll get a bolder stroke, just like you were actually drawing. In total, the sensors can detect 8,192 pressure levels. When it comes to digital technology, there's no such thing as truly "stepless" sensitivity. But this comes so close that it might as well be.
Along the same lines, you can move your stylus quickly or slowly. The screen takes 200 samples per second, so you won't have any weird janky lines. It's sensitive enough to keep up with even the fastest-working artists.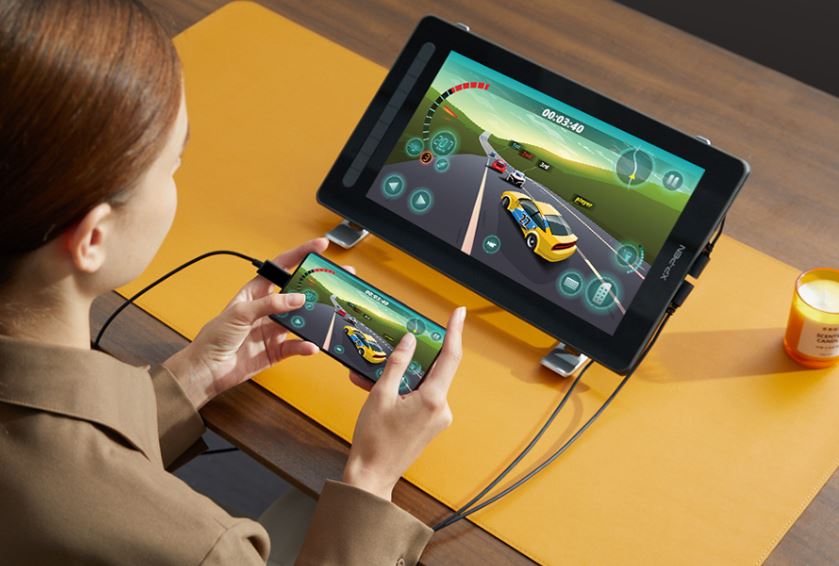 Brightness and Color Quality
The Artist 13's screen has a maximum brightness of 220 nits. That's bright enough for indoor use, but we'd avoid using it in direct sunlight. That said, the glass has an anti-reflective finish. This does a good job of preventing glare from indirect light sources.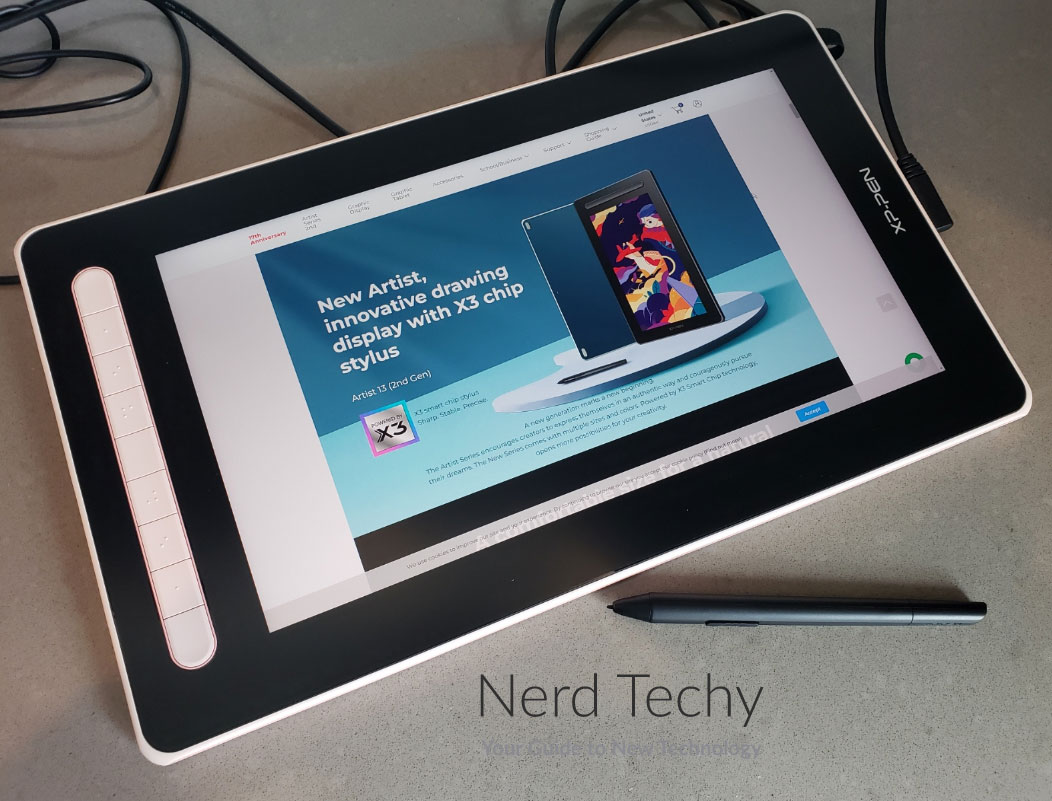 The contrast ratio of 1,000:1 is right in the sweet spot. This is a measure of the difference between the brightest and darkest tones on the screen. At 1,000:1, you can work with lots of dark colors without your blacks and greys all blending together. You can get a marginal benefit with a 3,000:1 ratio, but it's barely noticeable. 1,000:1 is a good balance of performance and affordability.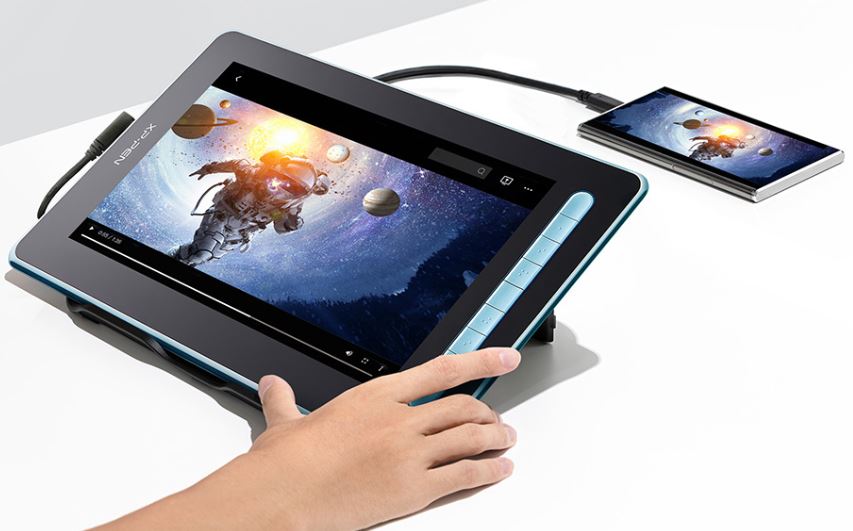 Color accuracy is excellent, and you'll get very good vibrancy. The color gamut covers 127% of the sRGB color space, or 94% of the Adobe RGB color space. This is more than enough for almost any kind of digital art. There are industries where 100% Adobe RGB is required, but they're pretty niche. And you won't find that kind of color accuracy in a tablet, anyway.
Want even better images? Take a look at the XP-Pen Artist Pro 16TP. It's similar, but larger, with a brilliant 4K display. Then again, the stylus is less refined, and only has one button.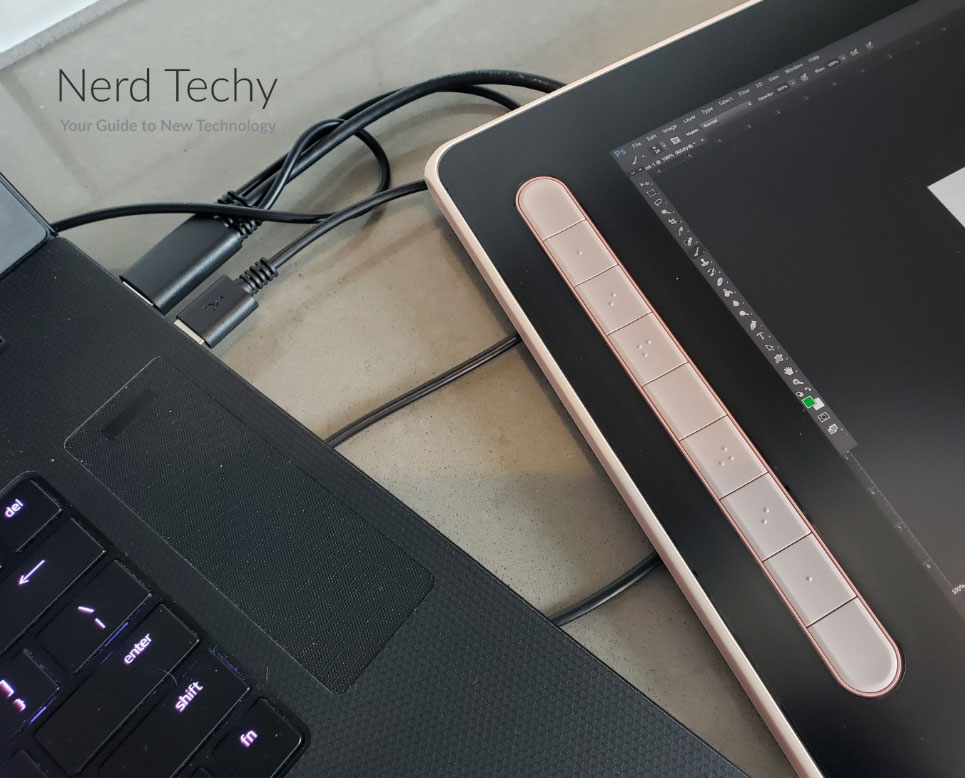 Final Verdict
The XP-Pen Artist 13 (2nd Gen) Drawing Tablet is the perfect companion for any artist. It's slim and portable, with an ultra-sensitive display and vibrant images. It's easy to operate, and the stylus works very well. This is a worthy new entry to XP-Pen's catalogue.