XP-Pen Artist 12 (2nd Gen)
If you're a visual artist, creating digital work can feel unnatural. Think of how you'd normally do a drawing, or paint a picture. You'd sit over a notebook, or behind an easel, and use a pencil or paintbrush to create your artwork. Now think about how you interact with popular software like Adobe Photoshop. If you're like most people, you probably use a mouse and keyboard. A mouse and keyboard are great for many things. They're fine for navigating the web, typing, and playing most types of video games. But they fall short when you need to create smooth, precise artwork.
Photoshop is a great example, because it's genuinely well-designed software. There are shortcut keys for most functions, the layering interface is straightforward, and there are tons of powerful tools. But when you're working from scratch, it's still difficult to draw even basic shapes with precision. You can be using the best design software on the most powerful PC, and it won't matter. A mouse just wasn't made to work that way. So instead of blaming your software or your computer, why not take a look at your interface? A well-designed touch display is the best way to create original artwork on your computer.
Today, we're going to review the XP-PEN Artist 12 (2nd Gen) Pen Display. This is a dedicated graphic design touch display with multiple programmable buttons. It's highly sensitive, and includes all the accessories you need work quickly and efficiently. But to find out how well it really performs, we're going to look deeper than that. To begin with, we'll have to examine the overall build and design. We'll have to look at the control scheme, and the quality of the styluses. We'll also need to look at the display technology itself. After all, if you're using a screen for artwork, you want it to look good! Once we've talked about all of these things, we'll have a complete picture of how it performs. Let's get started!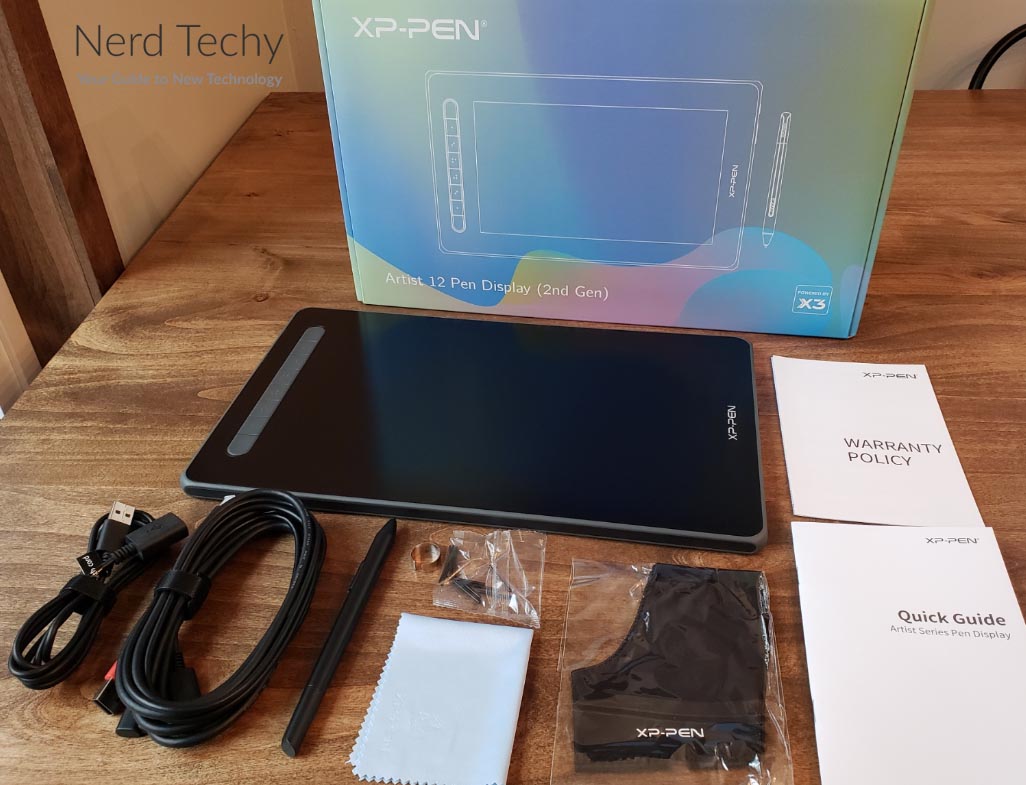 Overall Design
The XP Pen Artist 12 (2nd Gen) Pen Display is designed to be durable and portable. The housing is constructed from aluminum, which makes it tough enough to take a little bit of abuse. That said, keep in mind that the screen itself is inherently vulnerable. Even so, the housing is very attractive, with a grey satin finish that makes it easy to keep clean. It's also easy to transport, measuring 13.6 inches wide, 8.2 inches high, and less than half an inch thick. This makes it the perfect size to slip into a laptop bag, or carry around in a backpack.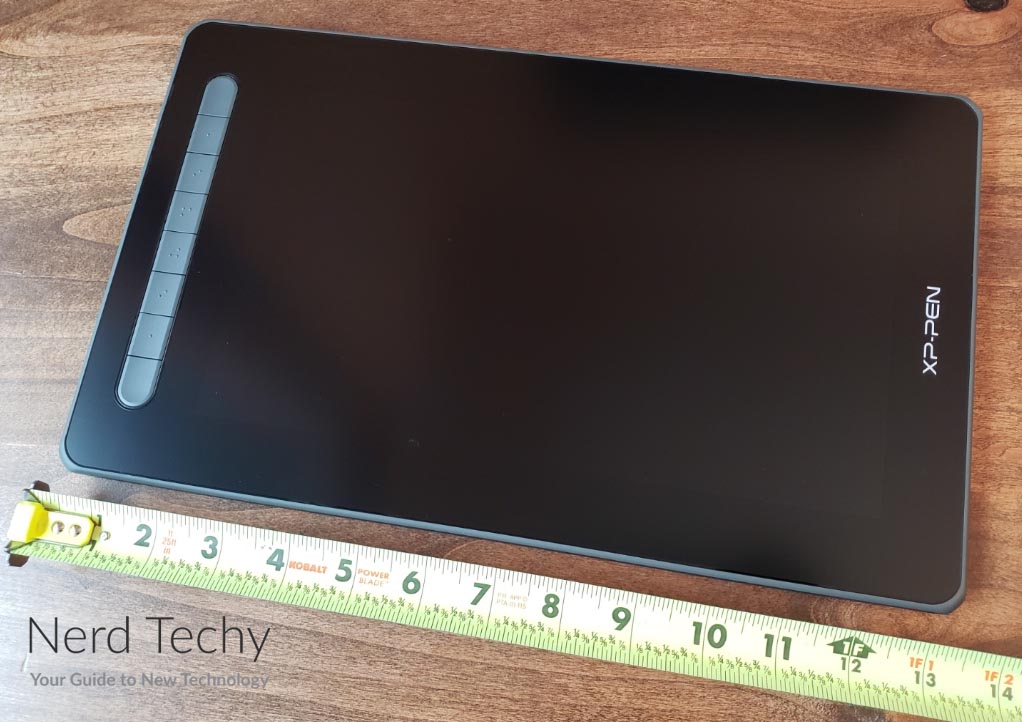 The screen itself has a working area of 11.9 inches. At first, this might seem small, given the size of the profile. However, the bezel is more than an inch wide, which gives you a gripping surface. You can pick up and move the display mid-task without accidentally activating the touchscreen. Because this bezel is so wide, and you're going to be looking at it a lot, you'll want it to be attractive. For most artists, this will mean using a neutral, black bezel, and that's the default option. However, you can also order it in blue, green, or pink if you want something that looks a little more personalized.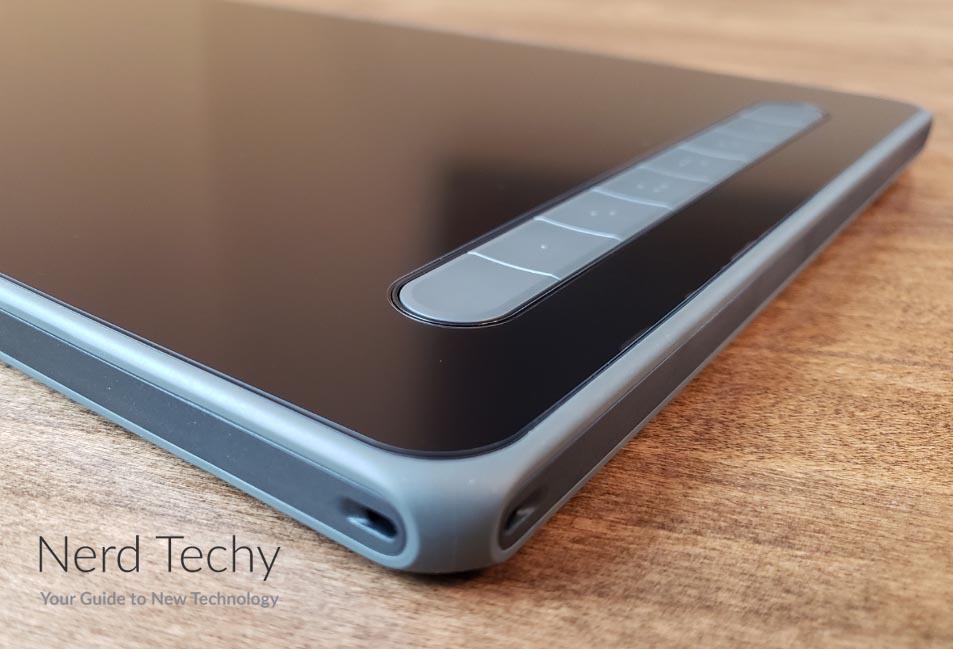 To the left of the screen, on the front surface, there are eight buttons in a vertical row. These are broad and rubbery, and easy to operate with one hand while you're drawing with the other. On the right side of the outer frame, you'll find the power button, along with a pair of brightness buttons. There are also a pair of USB Type-C ports for connecting to your computer.
This gives you plenty of ways to control your software directly from the display. But what if you want even more options? In that case, you should check out the XP-PEN 13.3 Pro. It has a slightly larger screen and a similar high-quality stylus. But it also boasts a customizable scroll wheel that can be used for zooming, opacity, and other common functions. That said, the reds on the 13.3 Pro can appear somewhat less bright.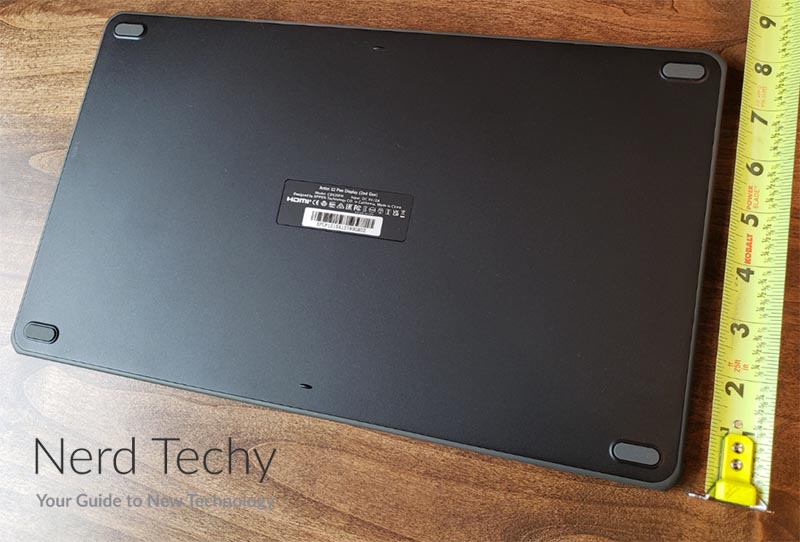 Along with the display itself, you get a bunch of accessories to help you along. To begin with, there's a stylus, with a sturdy aluminum shaft and built-in control button. The actual nib is replaceable, and there are 10 spares included in the kit. Even if you're using the stylus constantly, it will take a long time to wear through that many nibs. There's a two-fingered drawing glove, which keeps you from accidentally triggering the screen with your hand while you're working. There's a cleaning cloth, so you can keep the screen clear of dust and smudges. There's also a three-tipped connection cable and a USB extension cord. We'll talk more about those in a moment.
Everything is covered by XP-PEN's 18-month manufacturer's warranty. This means you don't have to worry about any defects in materials or craftsmanship.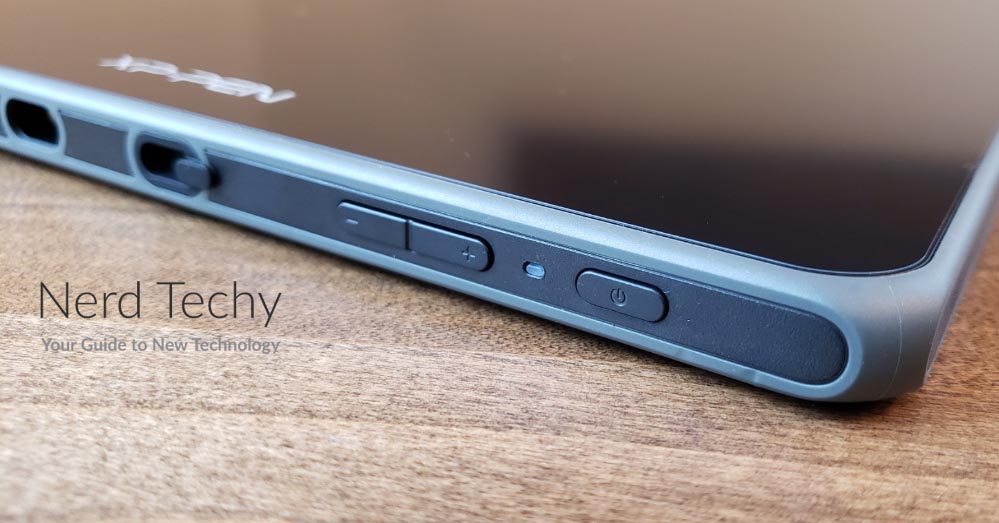 Connectivity and Ease of Use
So, how do you actually connect the Artist 12 to your computer? There are two different methods. By default, you'd use the 3-in-1 cable included in the kit. This plugs into the first USB Type-C port on the display, and then into your computer. The three tips are a single HDMI plug, with two USB Type-A plugs. The HDMI plug and black USB Type-A plug need to be connected directly into your computer. However, the red USB Type-A plug is only used for power delivery. So if you don't have an extra USB port on your computer, you can use a simple AC adapter. The extension cable gets you about three extra feet of reach.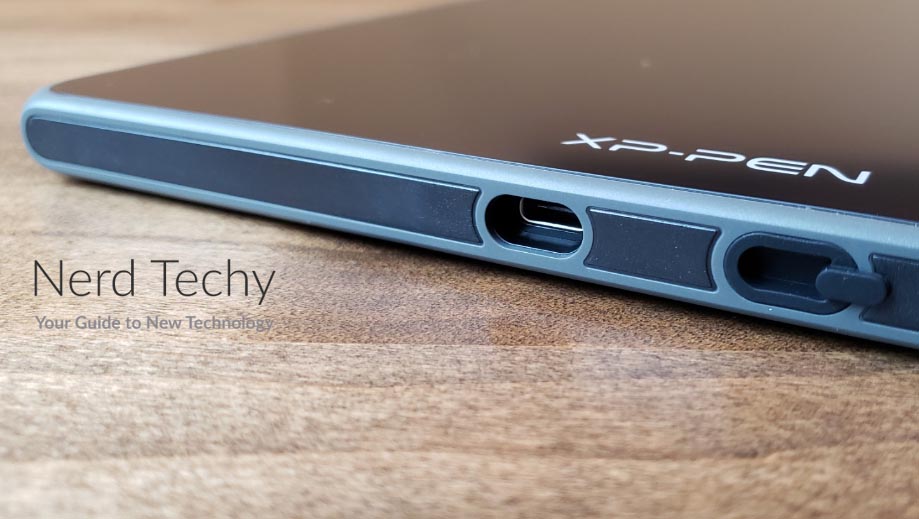 This is all a bit complicated if you want something that sets up quickly. As another alternative, you can add the optional USB Type-C cable to your order. Then, you can simply connect from the second port on the display, directly to your computer. You actually don't need to use XP-PEN's special USB cable, either. This will work with any full-featured Type-C cable. In this case, "full-featured" means a cable that's rated for power, video, and data transfer. You also need to have a computer that's capable of connecting to a display via USB Type-C.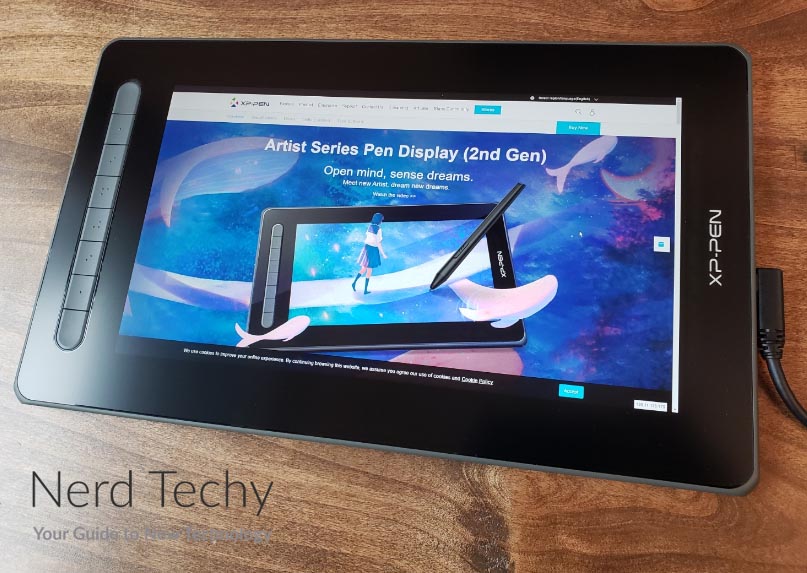 But what if your computer can't do that, and you don't want to mess with the octopus cable? The XP-PEN Artist 24 Pro might be a better alternative. It uses USB Type-C or a simple USB Type-A and HDMI connection, and it has its own power cord. It's also a 24-inch display, which is awesome to use, but too bulky to lug around.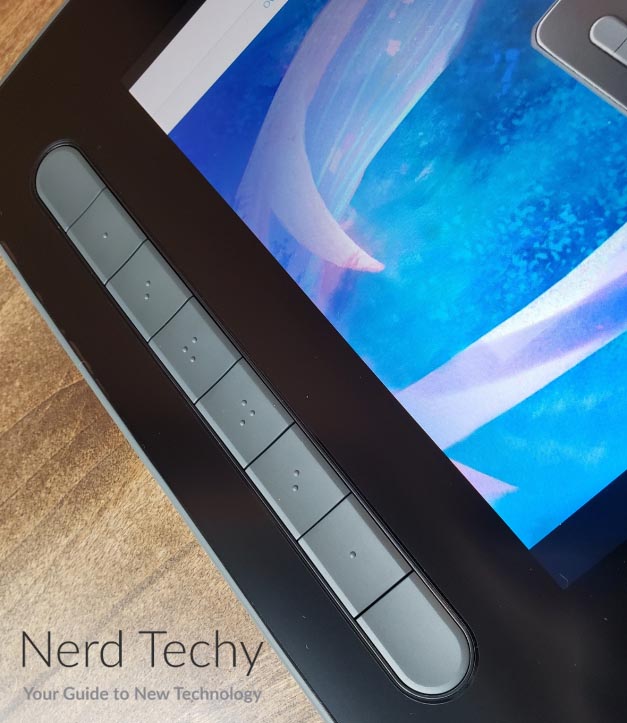 The Artist 12 will work with pretty much any computer. It's compatible with Windows, Mac, Chrome OS, Linux, and even Android OS. If your device has the necessary ports, you shouldn't have any issues. The same is true for your software. You can dig right in and start working in all Adobe software, GIMP, MediBang, Krita, and others.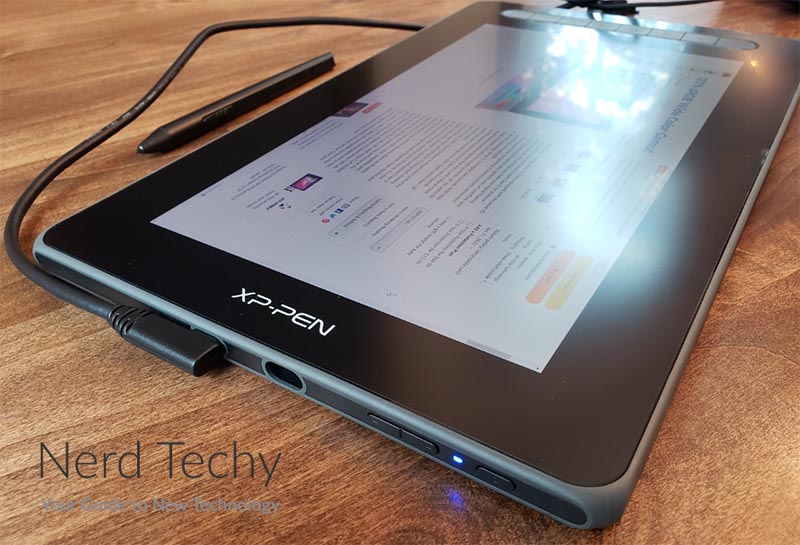 The stylus side buttons are set to right click and erase respectively. This allows you to easily get rid of mistakes and get back to work, without, having to reach for your mouse. The eight side buttons, meanwhile, are all programmable. You can map them to the controls you use most, in whatever software you prefer. You can use them to zoom, choose commonly-used tools, or change your brush size. It all depends on what you need!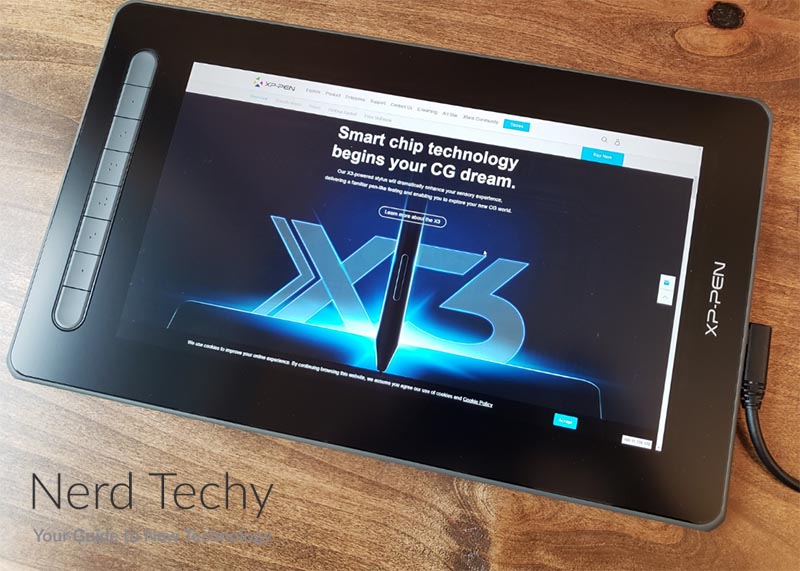 Screen Technology
The XP-PEN Artist 12 has a vibrant display, capable of reproducing 94% of the Adobe RGB color space. This is equivalent to 90% of NTSC, or 127% of sRGB. For most other screens, this would be overkill. There's normally not any need for that much vibrancy. But considering that this is an artist display, it makes sense. You want to be able to choose from as many colors as possible, without being limited by your screen.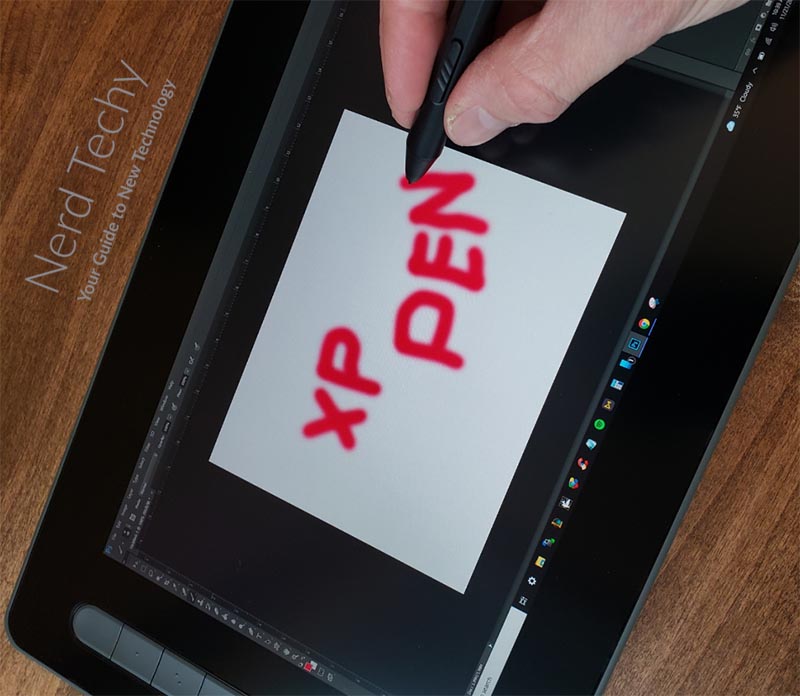 That said, the screen resolution is only 1080p. On the one hand, that's technically all you need on a monitor of this size. Unless your eyes are uncomfortably close, the pixels will be too tiny to see individually. That said, particularly when you're doing artwork, you might want the confidence of a higher-resolution display. If that's what you need, take a look at the XP-PEN Artist Pro 16TP. It has a 16-inch screen, as well as 4K UHD resolution. Then again, it's significantly bigger and bulkier than the Artist 12.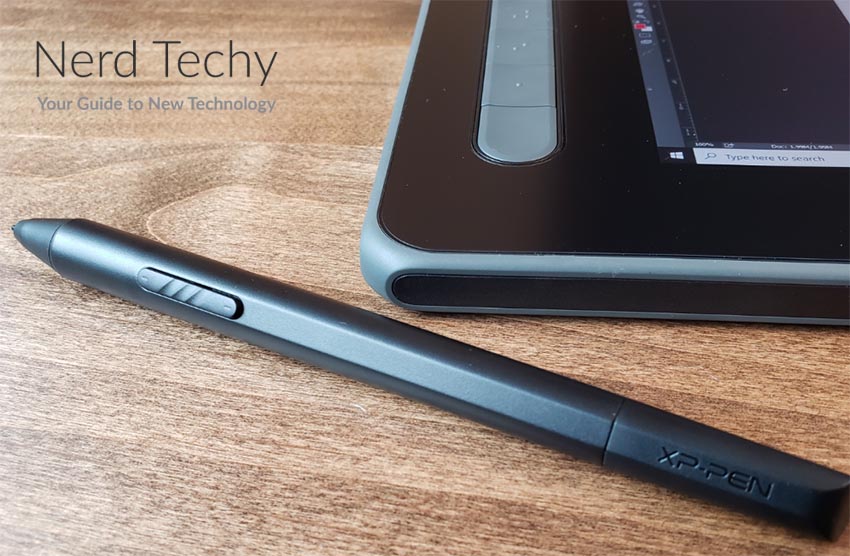 The contrast ratio of 1,000:1 is good, but not excellent. Contrast ratio is the difference between the darkest and lightest shades on the screen. The higher the ratio, the better you can see details in dark images, where there's a lot of black on the screen. At 1,000:1, you're in the range where most images will appear with zero loss of quality. That said, there are some displays with higher ratios: as much as 3,000:1 or more.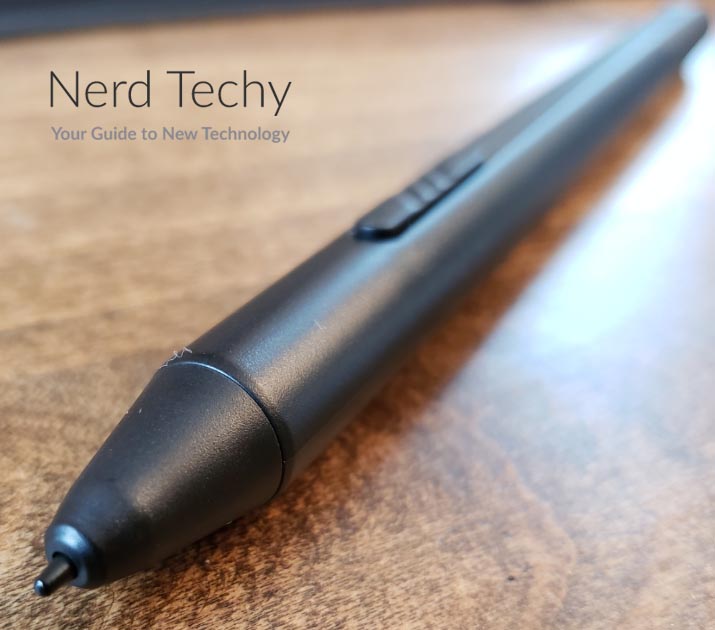 The physical responsiveness of the display is top notch; the surface of the screen is fully-laminated. This means that it's directly adhered to the touch-sensitive backing. Since there's no air gap, there's almost zero parallax. In other words, when you touch the screen, the touch will register very accurately. Not only that, but the screen is sensitive up to 60 degrees of tilt. You can angle the stylus for broader strokes, or hold it straight to draw a fine line. If that's not enough, the screen is also touch sensitive, and can detect 8,192 different pressure levels. It feels and responds as if you're using a real pen.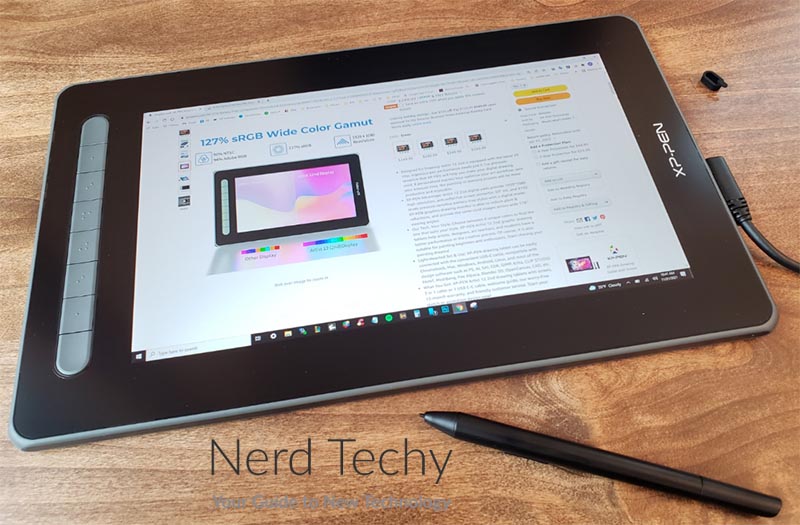 Final Verdict
At the end of the day, the XP-PEN Artist 12 (2nd Gen) Pen Display is an excellent artist's display. It's sensitive, responsive, and produces bright, vibrant images. It's durably-built, with a sturdy housing and a compact, portable design. It's also compatible with almost any combination of hardware and software. If you want a convenient artist monitor that's easy to use, this is an excellent choice.