Choosing the right wall charger might seem like an easy task. You just order a USB charger, plug your device in, and start working, right? Other than the cosmetics, there's not much difference; at least, that's what used to be true. But USB charging has changed recently in some major ways. To begin with, there's the introduction of USB Type-C. So instead of all your devices plugging into the same port, many may use USB Type-C these days. However, you also have to consider how much power your devices need to charge.
Just a few years ago, all USB ports delivered 12 watts of power: 5 volts at 2.4 amps. But larger devices and fast-charging smartphones require more power. Many smartphones use USB QC 3.0 technology, which can provide up to 36 watts. And more powerful devices often use Power Delivery (PD) technology, for up to 100 total watts. So when you're choosing the right charger, you don't just need to choose one with the correct plug type. You also need one that provides the appropriate amount of wattage for your device. In other words, USB chargers are just a tad more complicated than they used to be.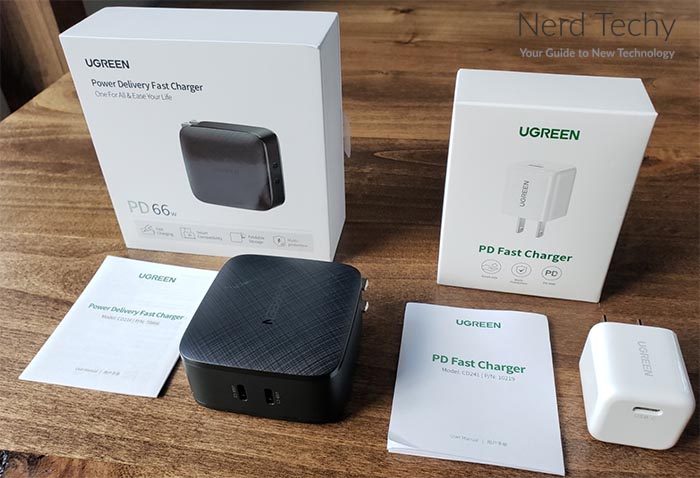 Today, we're going to review two modern USB chargers, each with its own strengths and weaknesses. We'll start by looking at the UGREEN 65W USB-C Wall Charger. This is a two-port charger, with foldable prongs, and a maximum power delivery of 65 watts. Next, we'll examine the UGREEN Mini 20W USB-C Wall Charger. This is a smaller, single-port charger, with 20 watts of power delivery. But that's just a surface level look at what these two chargers have to offer. To find out which one is right for your needs, we'll need to dig a little deeper. Let's do that, and see what we come up with!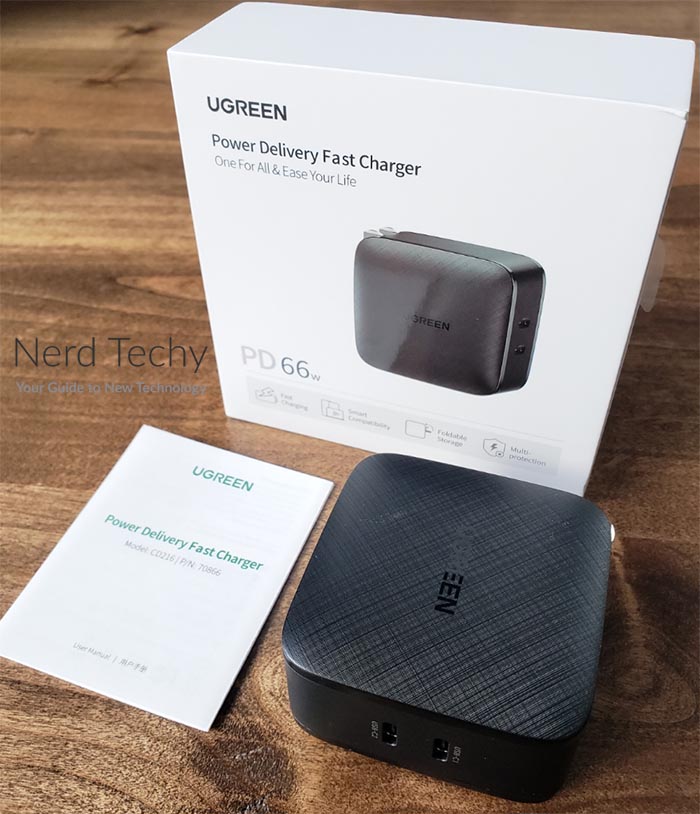 UGREEN 65W USB-C Wall Charger
The UGREEN 65W USB-C Wall Charger has a square profile, measuring a little over three inches to a side. And at about an inch in thickness, it's small enough to carry in your pocket. The housing is constructed from black polycarbonate, with a matte finish on the top, bottom, front, and back. This finish is easy to keep clean, and it's also attractive, with glossy bands towards the sides. The side panels themselves have a brushed texture, with tiny, crosshatched lines that look like fabric. There's a glossy UGREEN imprint in the centers, which is the only real decoration.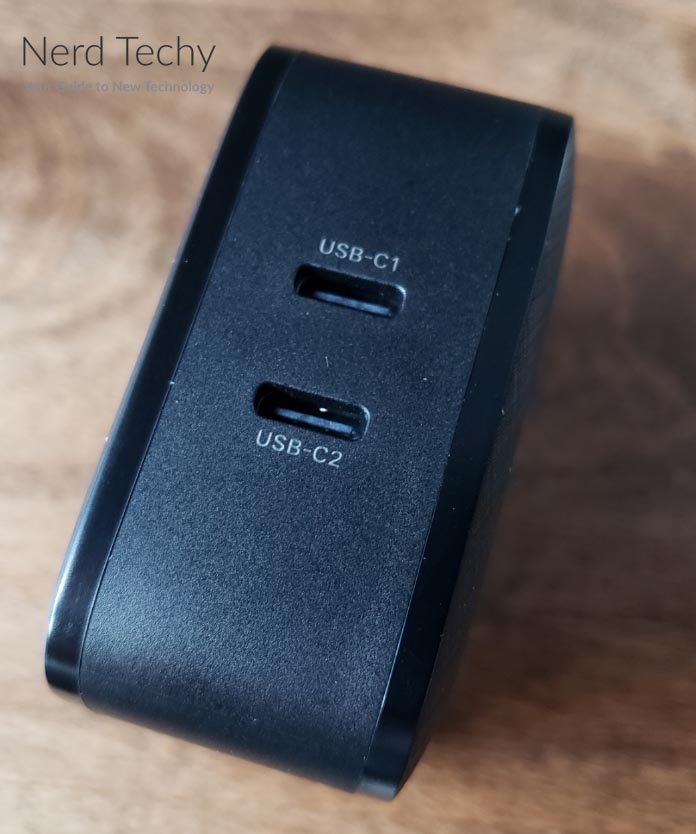 On the front of the housing, there are two USB Type-C ports. They're completely unmarked, but there's no need for any kind of marking. As you'll see, it's easy enough to tell which one you should be using. On the back of the housing, there are a pair of foldable power prongs. Because the prongs fold down, they won't poke you when you're carrying the charger. You also won't have to worry about the prongs damaging your other belongings in your luggage. This makes the charger easy to transport, whether you're carrying it around the house or going on vacation.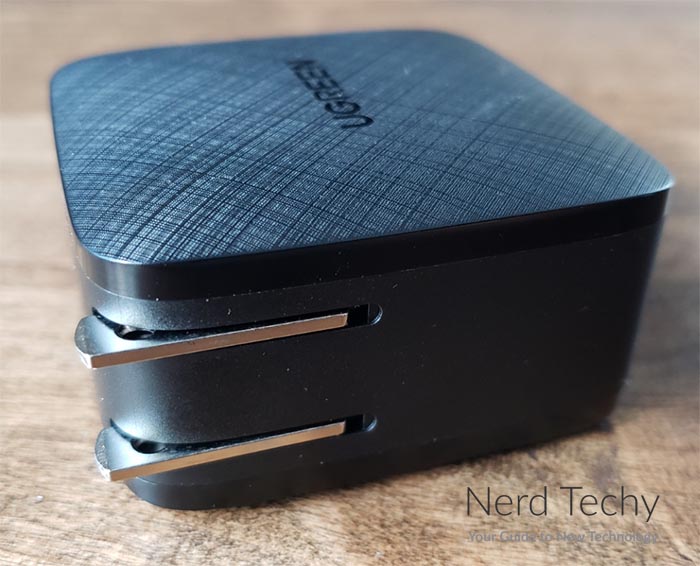 That said, what if you want a charger with a truly unique vibe? If that's what you want, check out the VogDUO Fast Charger. It has two USB Type-C ports, a USB Type-A port, and the same maximum wattage. It also has an attractive leather wrap, which gives it a ton of personality. Then again, the wrap also makes it unnecessarily fat, and serves no practical purpose.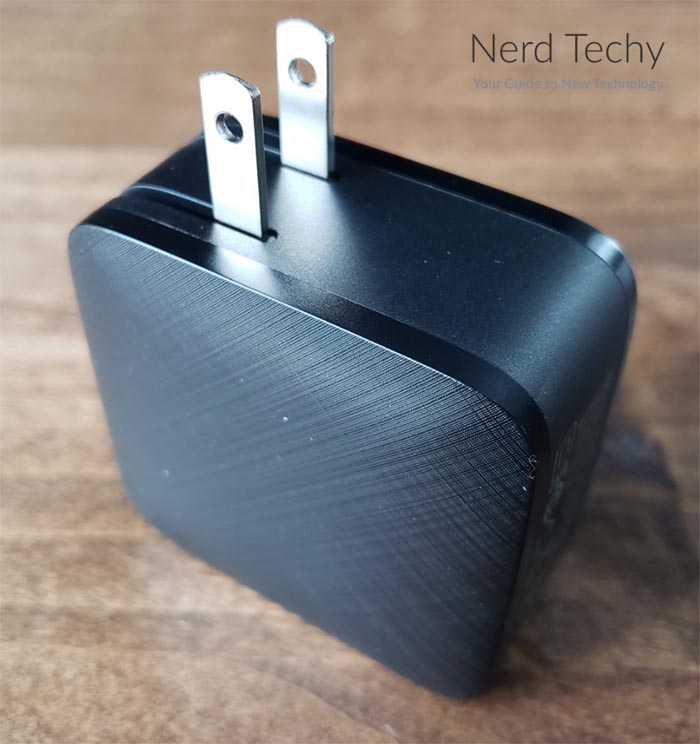 Performance & Safety
The UGREEN 65W charger provides 65 watts of total power, just as its name implies. This is a lot of power for a USB charger. To put it in perspective, you'll be able to charge a MacBook Pro 13" in less than two hours. That said, keep in mind that even the fastest-charging smartphones usually won't charge faster than 18 watts. So if you're using it for a smartphone, don't necessarily expect it to charge three times faster. Then again, you'll get the maximum possible charge speed for any smartphone.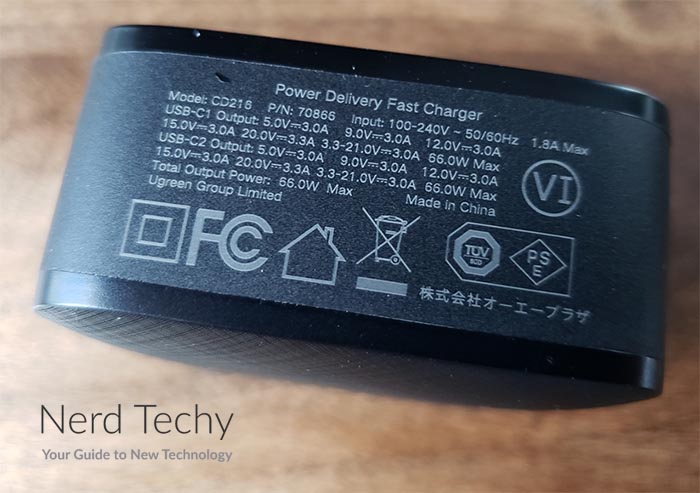 One thing it's important to remember is that the 65-watt maximum is shared between the two USB ports. If you're using only one port, you'll get the full 65 watts. However, if you're using both ports, the top port will deliver 45 watts, and the bottom port will deliver 20. So if you're charging two devices, you'll want to plug the more powerful one into the top USB port.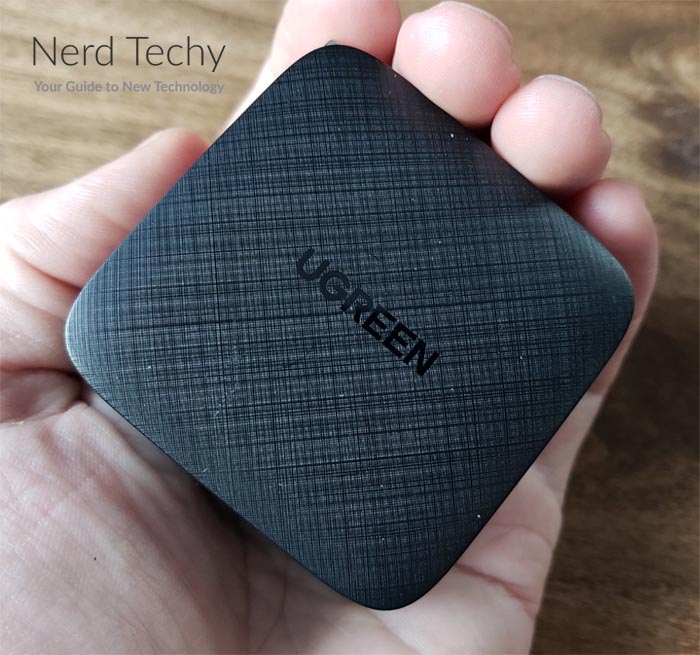 In terms of compatibility, this charger will power most devices that utilize USB Type-C. It supports PD charging, as well as QC 3.0. So whatever charging protocol your device uses, it's going to work. You can use it to power a Nintendo Switch, and even most MacBooks. The only MacBook it won't work with is the MacBook Pro 16". Similarly, it will power all but the largest Windows laptops. Check your laptop's power requirements before you buy any charger.
If you do need more power, consider the UGREEN 100W GaN Fast Charger instead. This is an insanely powerful charger, providing up to 100 watts of electricity. It also boasts three USB Type-C ports, and a single USB Type-A port. Then again, it's a bit pricey compared to most USB chargers.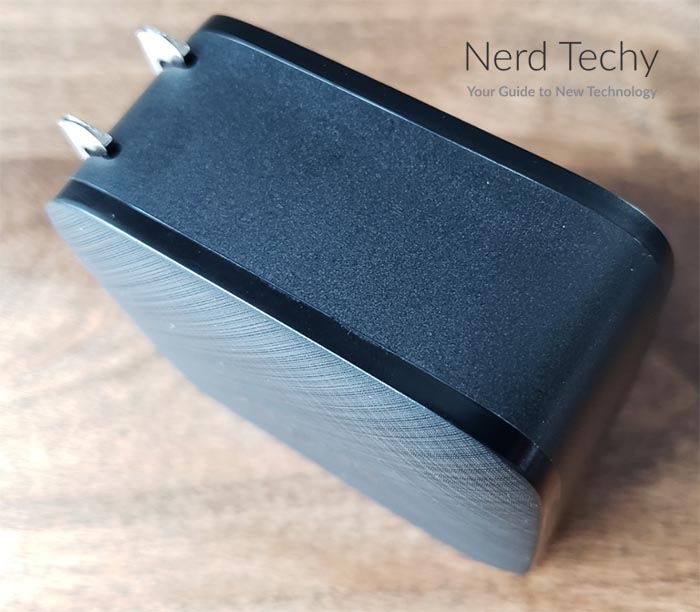 One thing you don't have to worry about with the UGREEN 65W charger is safety. The internal circuitry has a number of protections built into it. To begin with, you get protection from overvoltage and overcurrent. Your device will never be damaged because it received an excessive amount of electricity. For similar reasons, short circuit protection is built into the design, so your phone or laptop won't get fried. Finally, there's over-temperature protection. If the internal thermal sensor detects that it's getting too hot, the charger will automatically shut down.
Not that heat would be much of a concern to begin with. The polycarbonate housing is fireproof enough to withstand extreme temperatures. It's also tough enough to withstand drops, bumps, and dings. Unless you run it over with your car, it's not easily damaged.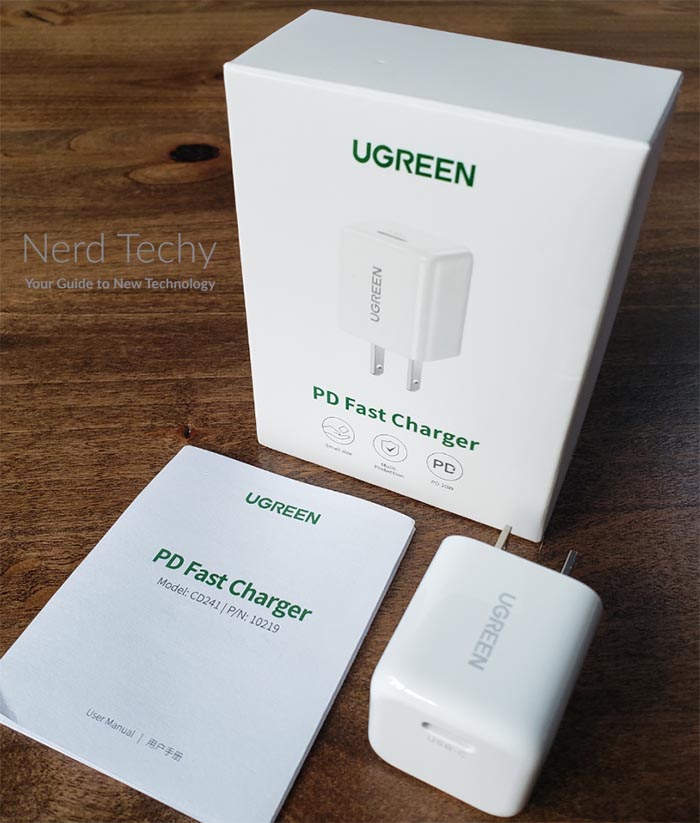 UGREEN Mini 20W USB-C Wall Charger
The UGREEN Mini 20W USB-C Wall Charger is an entirely different beast. While the 65-watt charger has a wide, flat design, the 20-watt charger is entirely square. It's a tiny cube, measuring 1.17 inches to each side, with a matte white finish. This charger doesn't collect fingerprints, and there's nothing decorative about it. There's just a charcoal-colored UGREEN imprint on the top, and the words "USB-C" in grey on the front. These words are printed just below the single USB Type-C port, which is towards the top of the front. There are no LED lights, or any kinds of indicators, which is great when you're trying to sleep.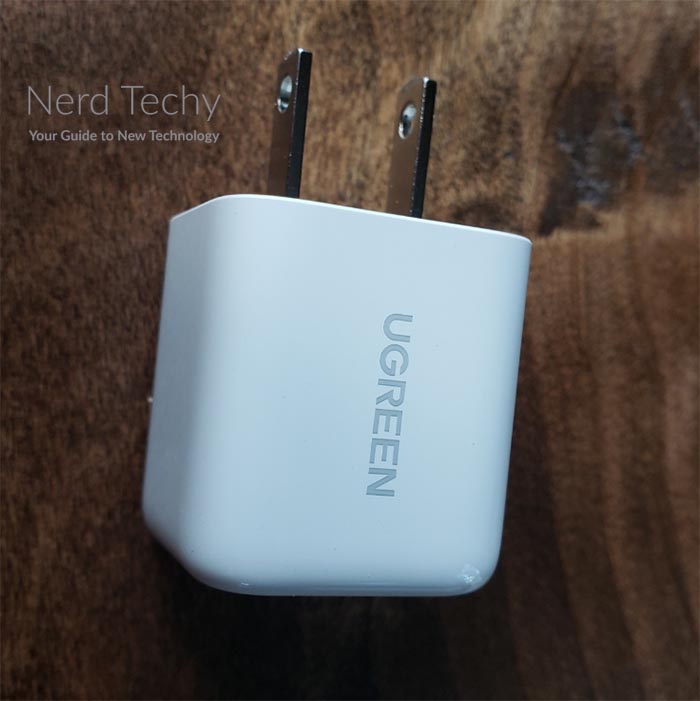 The great thing about this small profile is that the charger won't block your other outlets. In a duplex outlet, you can put it in the top or the bottom, without it covering the other one. The same is true for power strips, where many chargers can block adjacent outlets. This makes it easy to use in situations where outlet space is limited. On the downside, the design is so small that there's no way for the prongs to fold down. If you're carrying it in your pocket, it's liable to poke you. And when you're packing it, you'll need to be careful not to damage it.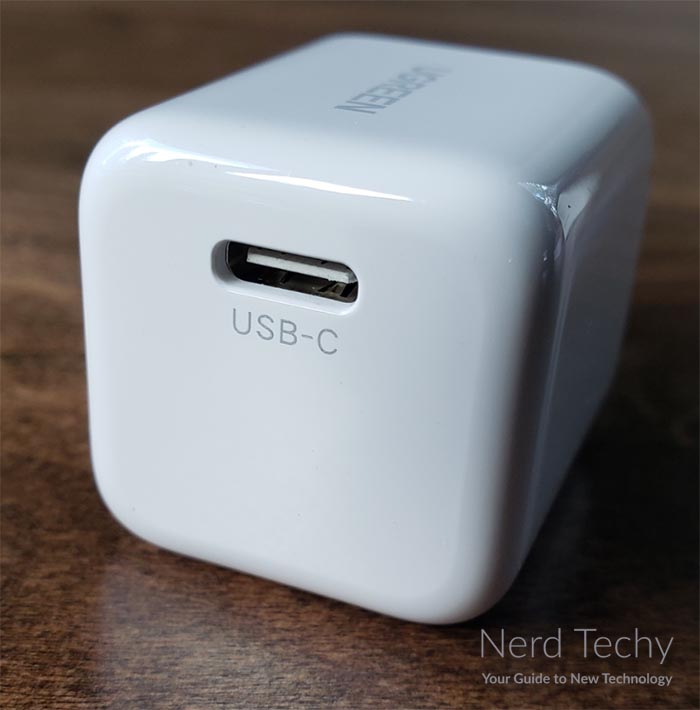 Needless to say, this single-port charger isn't ideal if you have a lot of devices. If you want to charge three or even four devices at once, take a look at the Cirtek Fast Charger. It can provide 100 watts of charging power, enough for even large laptops. It also has dual USB Type-A and dual USB Type-C ports, so you can charge up to four devices simultaneously. That said, it's fairly bulky, and will definitely cover both halves of a duplex outlet.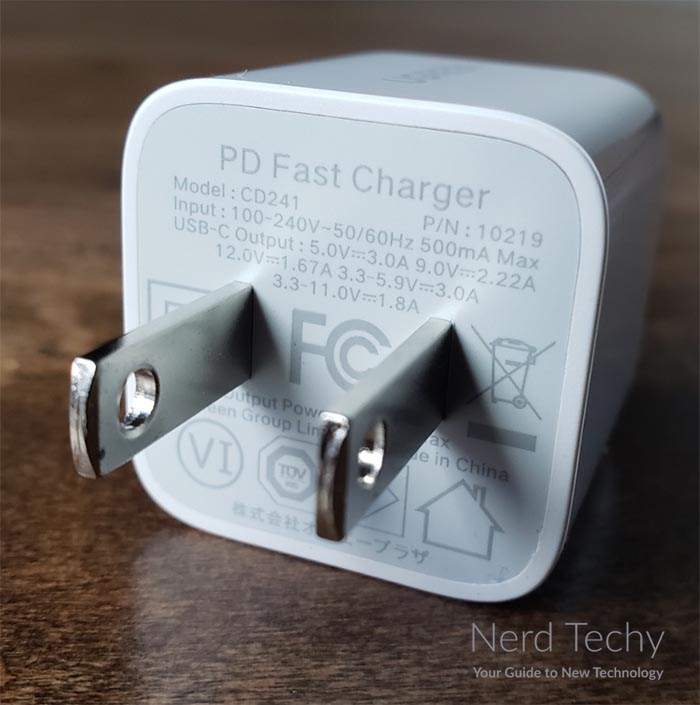 Performance & Safety
As you may have already gathered, the Mini 20W charger provides 20 watts of power. Let's talk about what that means. To begin with, you'll max out the charging speed on any current iPhone. The same will be true for almost any Android phone. So if you're looking for a pure phone charger, you're going to be just fine. You can even quick charge the new iPhones, and get them almost to 60 percent charge in only 30 minutes. And in less than 90 minutes, you'll have a full charge.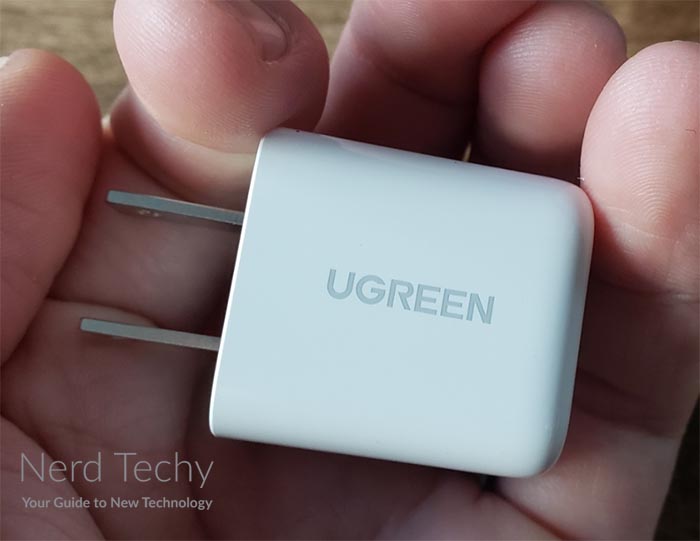 With all of that being said, this isn't an ideal laptop charger. Yes, it will provide an electric charge to your laptop. And yes, if you leave the laptop turned off, the battery will eventually fill up. But you won't actually be able to use your laptop while it's charging. Since even a small laptop draws well over 20 watts, your battery would still be draining.
As for safety, you get all the same safety protections as the 65-watt charger. For keeping your device safe, you get over-current and over-voltage protection. You get short-circuit protection to keep both your charger and the device safe. And temperature protection ensures that your new charger isn't going to start a fire.
Final Verdict
So, which one of these USB Type-C chargers is going to be the right choice for you? Let's start with the obvious. If you need to charge two devices at once, the UGREEN 65W USB-C Wall Charger is a better option. It's also the better choice if you need to run a more powerful device, such as a laptop. In addition to that, it's durable, and generally well designed. There's a lot to like about it, and little to complain about.
That said, the 65-watt charger might be more than you actually need. This is true in terms of wattage, size, and even price. In that case, the UGREEN Mini 20W USB-C Wall Charger is smaller in all three regards. It's so compact and easy to carry, you can take it with you anywhere. And despite its small size, it's got all the safety features you'd expect. Not only that, but the 20 watts of charging power is more than enough for most smartphones.