Headphones are a competitive industry, but it's very challenging to execute wireless technology properly. Wireless earbuds have the odds stacked against them in a number of categories.
Primarily, their design is inherently unideal for sound quality. For one thing, the compact size of earbuds limit the possible size of the driver, a speaker component whose relationship to sound quality is positively correlated with size. Furthermore, wirelessly transmitted audio suffers inevitable losses in quality simply due to the nature of audio compression.
The selling point for wireless earbuds is their ultra-compact size and easy usability. In an on-the-go world, many people are willing to sacrifice sound quality for simplicity and convenience. In terms of the available earbuds on the market, this leaves a significant mountain of average-at-best products that have users questioning whether the convenience is really worth it when your entire playlist sounds like it's being played through a tin can.
The good news is that there are great wireless earbuds out there if you take the time to look for them. Audio technology – specifically in the wireless category – has been steadily improving to compensate for the kinds of fall-backs previously mentioned (namely speaker size and audio transmission). These improvements are to the point that the problem of Bluetooth connection has been mostly solved, meaning companies can finally focus more on sound quality. Companies that take advantage of this are able to create wireless earbuds that offer all the convenience of an ultra compact headphone without throwing sound quality out the window.
Today we're going to cover our three favorite picks for 2017. Keep in mind that these are true wireless earbuds. Meaning, each earbud is independent and not attached to each other.
Jabra Elite Sport
As a brand, Jabra is the oldest and most established on our list. While a lot of successful wireless earbuds have been produced by the many crowdfunded companies that make them, it's not particularly surprising that when the big names get into the game. They're typically able to deliver on fronts that the smaller companies just can't.
The Jabra Elite Sport's are the real deal when it comes to true wireless earbuds. Jabra's real selling point with the Elite Sports are the fitness features, which bring the sport aspect of them to a new level. We've seen features like heart rate monitors and trackers in earbuds before, but the Jabra still seems to have a leg up against most of their competition in that category. These are the all-in, feature-packed, top of the line wireless earbuds that serious tech-lovers and curious audiophiles should experience.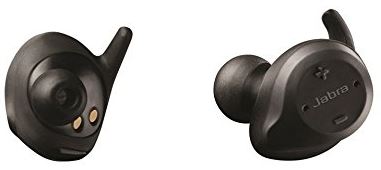 Design
The Elite Sport's have a very basic design. They're small, matte black buds with short fins, a few on-ear controls, and ear tips of interchangeable sizes. They're built solid and feel well crafted to fit snugly and comfortably.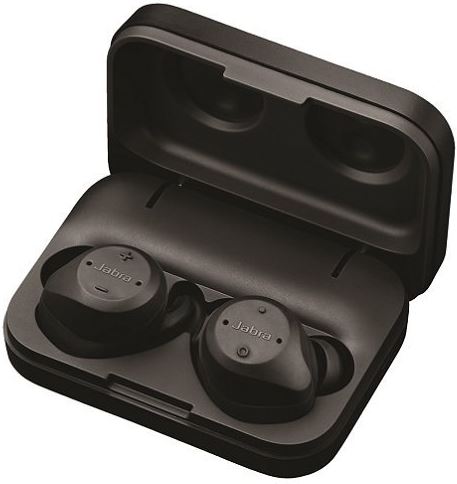 The included case is extremely compact, almost as small a contact lens case. It's capable of charging and providing an extra 6 hours of battery life on top of the 3 hours you get out of a single charge via USB. They're only 6.4 ounces, which is slightly heavier than some cheaper brands out there. However, this is a direct result of the higher quality materials used and doesn't detract at all from the comfort level. Since wireless earbuds are so fragile in nature as it is, it's nice to hold a pair that feels like they have a bit more substance and craftsmanship behind them.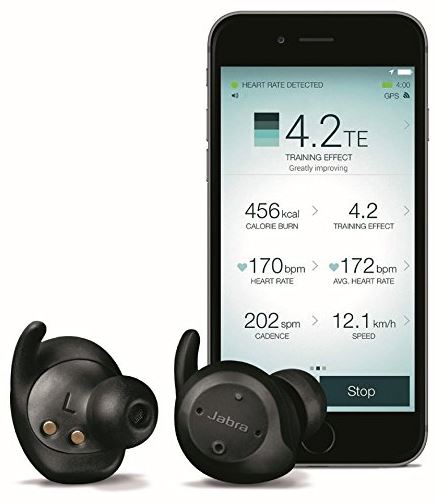 Features
The Jabra Elite Sport's are packed with features that optimize everything from their sound quality to their functionality. For starters, they feature advanced wireless connectivity that gives a good strong connection through both phone calls and music. The earbuds themselves are designed to the T for sport and activity.
What's more is that they're waterproof and come with a 3 year warranty against sweat. On top of that, they also come with a precision heart rate monitor and fitness analyzer, which basically keeps track of how hard you're working during exercise.
Additionally, they come with a rate pace calculator and are capable of offering recovery and coaching advice. Not just on your app, but actually through personalized in-ear coaching. You can make and take phone calls right from the earbuds' controls. They even come with a pass-through feature which allows more outside sound in when you want to have an ear to the outside world while wearing them. These are by far and away some of the most functional on the market, and are perfectly tailored to the category in which wireless earbuds are the most useful – fitness.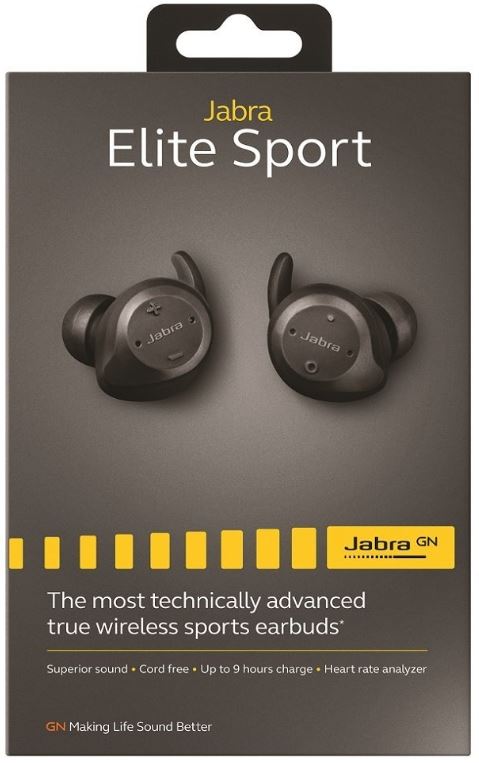 Value
Not surprisingly, the Jabra Elite Sport's are in the higher price bracket for wireless earbuds. That being said, their price is actually fairly competitive given the general going price of a good quality set of wireless earbuds right now. The technology has only just started to optimize over the last few years, so products that actually deliver are still a bit pricey for the average consumer. In our opinion, the Jabra Elite Sport's are currently the cream of the crop.
Treblab X11
Treblab is a company that deals pretty much exclusively with wireless earbuds. Founded in 2015, they have made it their mission to optimize wireless audio gear for the everyday user. Don't be fooled by Treblab's young age – though their range of products is limited, they're a testament to the company's focused attitude and customer-driven product development. While their most popular product is likely the XR500's, we think their real winner is the X11. With absolutely no cords or cables, they're a pair of truly wireless earbuds that are the epitome of bang-for-your-buck.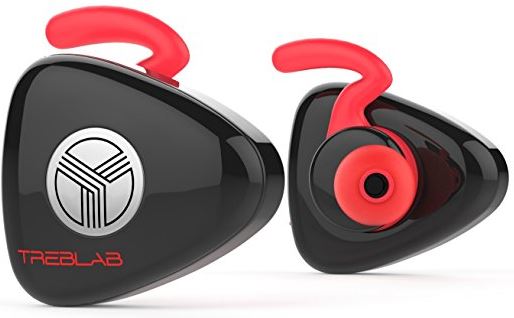 Design
The Treblab X11 Earbuds have a simple design. They're rounded and triangular in shape with a curved fin to keep them in place. They've included silicone and expandable foam ear tips so you can customize the fit in your ear. Keeping in line with the XR500's, the Treblab X11's are designed as a sport earbud. Not only are they comfortable, but they'll also actually stay in your ear during vigorous workouts.
The X11's are also sweat-proof, so you can be confident they won't fail on you half way through your first workout. They come with a hard-exterior travel case for easy and protective transportation, as well as a dual headed USB cord for multi-device connection. They truly have a promising design with a nice range of features.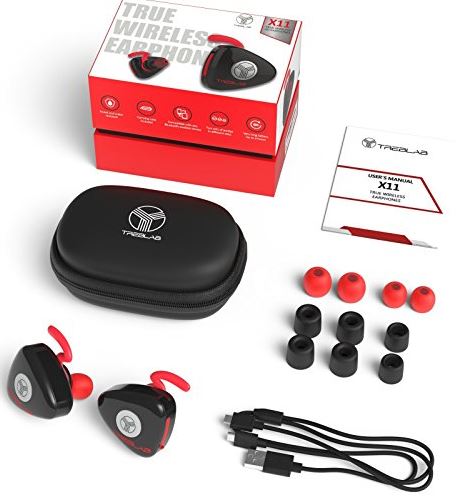 Features
Given their size, and not to mention their price tag, it's surprising how many features Treblab managed to fit into the X11's. These tiny earbuds come with a built in mic that allow you to answer calls with a single touch. They also offer full mobile device compatibility. Additionally, there's in-ear voice prompts, a signal range of ~38 feet, and an operation time of up to 6 hours on a single charge.
All this, and we haven't even mentioned on the sound quality, which is optimized using Bluetooth 4.1 CRS with APT-X compression technology. Even more impressive, they boast a CMC 6.0 passive noise cancellation feature. For a product that weighs in at 11.2 ounces, it's difficult to understate how impressive this list of features is.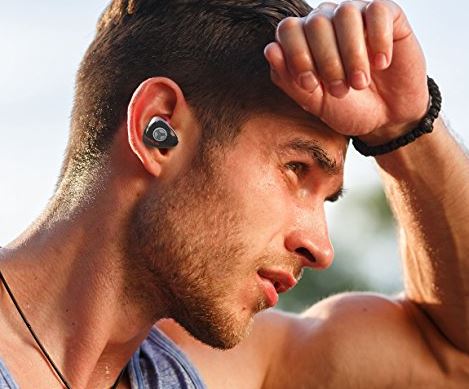 Value
For people who want an all-around solid, wireless earbud without spending an outrageous amount of cash, the Treblab X11's might be your best bet. They cover all the basics, including true wireless, a solid no-slip fit, and sweatproof feature that can keep up with your needs. Combined with their extremely competitive price tag, they're the ideal set of wireless earbuds for users want all the bases covered at a reasonable cost.
Skybuds
The fact that we can have a serious discussion about the sound quality of wireless earbuds is a testament to how far they've come. Early on, when most startups in the field were crowdfunded, a good set of wireless earbuds basically meant the product could effectively connect over Bluetooth.
We've finally moved past that hurdle, and are already seeing truly wireless earbuds with sound quality that is frankly excellent. Skybuds are a testament to this fact. The crowdfunded company clearly made sound quality their top priority.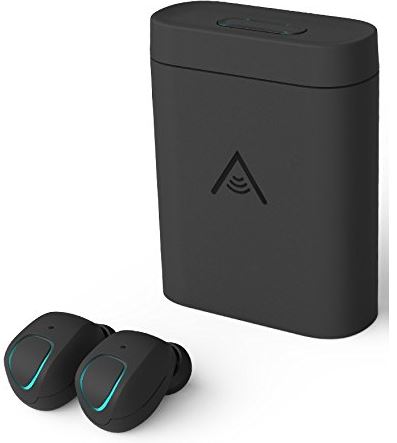 Design
Skybuds took the simplicity route in terms of design. These are not overtly sport friendly earbuds, but they're so lightweight (only 2.6 ounces) and have such a secure fit. So much that they might just give some sport-specific earbuds a run for their money. The exterior is made of light plastic, which might seem cheap to some, but it actually contributes significantly to the light and comfortable fit they offer.
Experienced earbud users know that any wireless earbud is only as good as its case. The Skybuds' case is one of our favorite things about it. It's compact – a bit bigger than a Zippo lighter – and can charge the earbuds 6 times over, for an equivalent of 24 hours. The case is functional, protective, compact, and quite cool looking. We also appreciate the fact that the wireless nature of the earbuds extends even to the charging.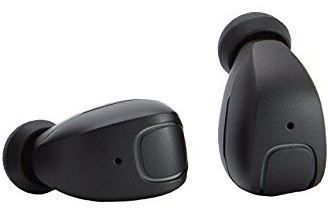 Features
While the Skybuds don't have an overwhelming amount of features compared to some of its competitors, they certainly cover all the basics. They have a solid battery life, giving you 4 hours of listening on a single charge. They're also sweat-proof and water resistant; the ladder is a feature that even some sports-oriented earbuds don't offer. They also come with a digital microphone for making calls, and the Bluetooth connectivity is among the best in the industry.
However, the truly impressive feature of the Skybuds is by far and away their sound quality. Maybe it's because true wire-free earbuds are still quite new, but we were utterly taken back by the quality of the sound. It's rich and crisp with a strong bass that doesn't overpower the subtler tones. The earbuds themselves digitally process the audio to create a surprisingly warm and full sound. In addition, you can actually turn this feature off using the app to save battery. While the earbuds still sound great without it, we hardly think the extra battery life is worth sacrificing what Skybuds has managed to do with the audio.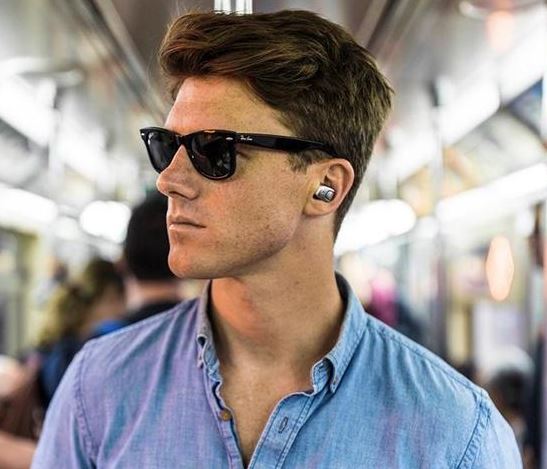 Value
As with all audio equipment, good sound comes at a cost. The Skybuds are certainly not priced at a bargain, but the sound quality alone is the redeeming factor there. Compared to competitors in its price range, they offer a phenomenal sound quality and an excellent case.
Which Wireless Earbuds are Right for Me?
Purchasing headphones is always a very personal decision. Your choice depends a lot on how you like your music to sound, but also how you plan to use them.
If you're looking for something with the best sound quality and comfort, the Jabra Elite Sport's are a great choice. Jabra is a company that's known for impressive sound quality, and these earbuds can give you the sound they're known for in a challenging environment.
For commuting, the Skybuds are our personal favorites. They've got an extremely attractive design, are surprisingly comfortable, and have a peppy sound that provides you with exactly what you need to get pumped up for work in the morning.
If you're on a budget, the Treblab X11's are a great choice. Despite their extremely compact size, these earbuds still have a powerful sound that you can take with you wherever you go.