If you've spent any amount of time shopping for a printer, you've likely realized how far they've come in the last few years. Today, printers do so much more than printing, copying, and scanning. Even affordable printers come equipped with software that adds a whole plethora of functionality to the platform.
We'll be the first to admit that, many times, these features are nothing more than gimmicks. For us, it's always been important to look beyond the hype and do an accurate analysis of whether additional functionality is truly useful.
There are a lot of all-in-one printers on the market. But Canon is one of the most well respected brands in the print-media industry. When they announced that they'd be bring their European line of "Pixma TS" series printers to North America, they certainly caught our attention.
These models were some of the bestselling printers across the pond due to their compact size and impressive print quality. Until recently, not much was known about what these printers could do. We decided that we'd have to get our hands on one of these printer, and see if all of the attention it's getting is validated.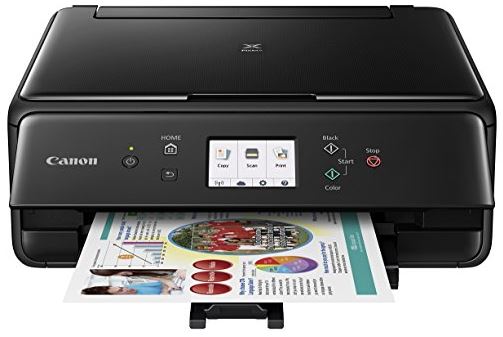 First Look
Although all of the TS series printers are visually appealing, the Canon Pixma TS6020 is particularly attractive. It keeps to the standard layout we've come to expect from all-in-one printers, but adds several modern touches. The front facing display is touchscreen, making it easy to change most of the settings.
All of the buttons on the front are LED illuminated, an almost completely invisible when the printer is off. But the most striking feature of the printer is how compact it is. When not in use, the face folds down to give a total size of 12.5 x 14.7 x 5.5 inches. At nearly 14 pounds, it's a little heavier than you'd expect. But that's because Canon has crammed a lot of powerful hardware into the printer, placing it firmly in the midrange category.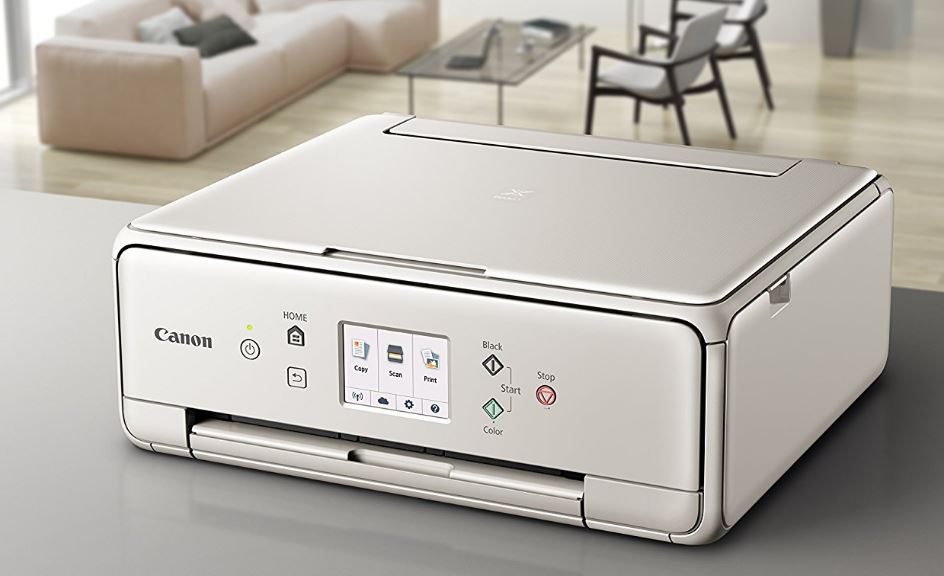 Interface
The touchscreen interface has a sleek, professional appeal to it. When you first turn it on, you're given three simple options: Copy, Scan, Print. Touching any of these buttons either initiates a job, or brings up job-specific options.
Hitting copy requests essential information such as the number of copies you want, the type of paper you're printing on, and a toggle that lets you choose between documents and photos. Touching the gear icon brings up additional features such as enlarging your images, adjusting the contrast, or scanning across multiple pages. The scan menu is very similar, but there are additional features including the resolution and destination. Printing is the most diverse menu in the entire interface, and we'll get to these features shortly.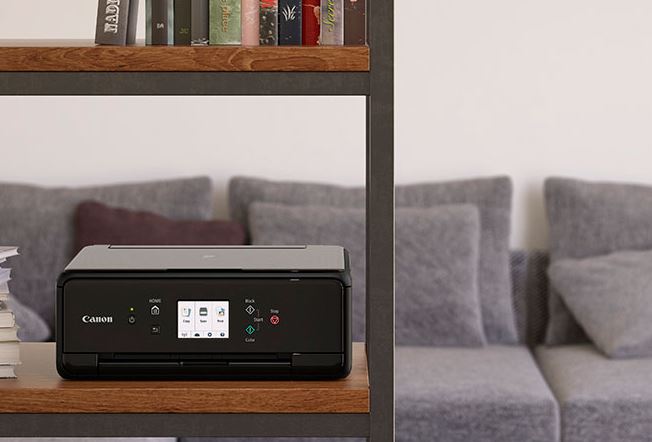 Across the bottom of the interface is four small buttons. The wireless button allows you to connect to a network or change network settings, the Cloud button lets you access files that are stored remotely, the gear icon allows you to adjust universal settings that apply to all (or most) job types, and the help icon brings up the on screen manual that explains some of the more advanced features.
It seems that this menu represents a new era of printing technology. While Canon isn't the first to bring on screen menus to the masses, it's one of the first we've used that makes controlling print jobs from the printer itself simple. The menus felt intuitive, like we knew what we were doing before we had much experience with the printer. Out of pure familiarity, we've always preferred to change the print settings from our PC. But with this printer, we'd be just as happy to change settings from our printer.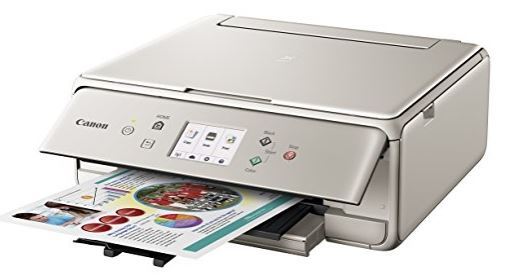 Printing
When printing documents from this printer, the first thing we noticed was that it was fast. It only takes six seconds from the time you push the power button to the time the first document starts printing. For black and white, it only takes a couple seconds per page.
Even though it's inexpensive, it can still handle reasonably large volumes. The hopper can hold up to 100 sheets of 8.5 x 11 paper, or up to 20 sheets of high gloss photo paper. We're happy to see that the hopper wasn't downgraded at all from the higher end models, as once of the last things we'd want to do is have to reload the paper tray in the middle of a print job.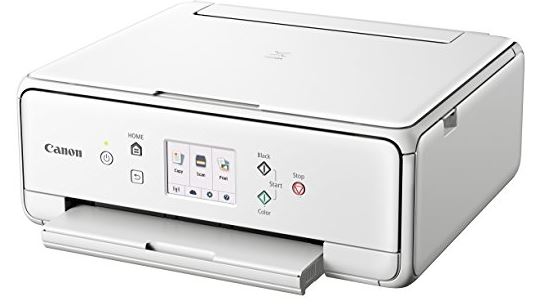 Color can be fast if you're just printing something with a few diagrams, but photo printing was much slower. It takes about 15 to 20 seconds to print a photo. The total time depends a lot on your size and quality settings. But we have to say, these photos look absolutely stunning. The term "lab grade" doesn't mean a whole lot these days, as there are plenty of competent photo printers on the market. But we'd happily take one of these self-printed images in lieu of a professional job anyday.
Economy
While this isn't the most expensive printer in the TS series, it's quality still puts it firmly in the midrange category. In reality, you're getting the same great system as the higher end models, at a much cheaper price.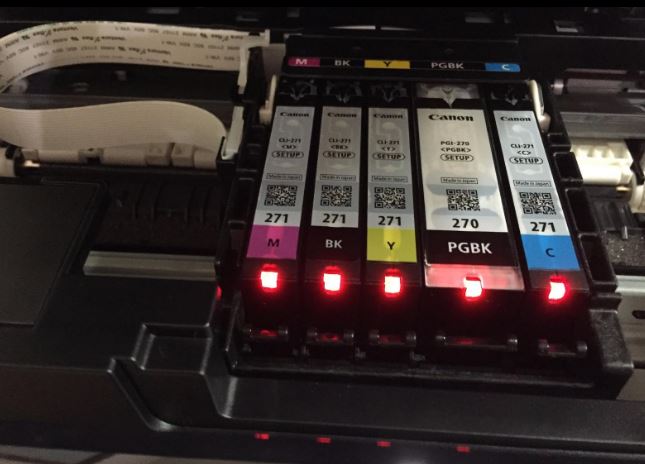 But anyone who's owned an inkjet printer knows that actually purchasing the printer is a very small cost in comparison to the ink. In this area, the TS6020 is incredibly economical. Canon uses a five-tank system. This allows Canon to fit more ink in each cartridge. Since darker colors are often made up of droplets from several different colors, the ink can be applied much more lightly than other models. You'll find that your cartridges tend to last a lot longer with these inks. When it does come time to replace a color, you'll be fortunate enough to only change one or two cartridges.
Connectivity
In 2017, we've got more ways than ever to keep our devices connected. Canon has gone to great lengths to support as many of these standards as possible. It's buit in WiFi chipset handles most of the heavy lifting, and 802.11 b/g/n are all supported. Those of you with 802.11ac routers might be wondering why the latest technology isn't supported. Well, ac (and many other standards) are all fully backwards compatible. This printer does communicate over the 2.4 Ghz frequency exclusively, but you'll still be able to use it in virtually any home network.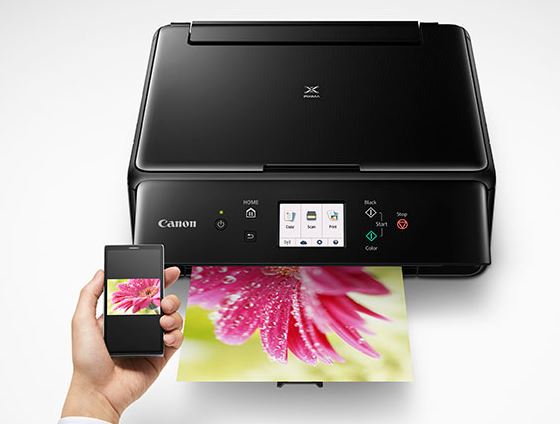 Once the printer is connected to your network, most users will be transferring files to it via Netprint. This is a standard technology built into both Windows and Mac OS devices, so any desktop or laptop computer will work. You can also use Google Cloud Print, or the increasingly popular Mopria application. If all of these fail, you can always download the free Canon printing app and print directly to the printer from your IOS or Android device, with no configuration or driver installation necessary.
Disadvantages
The TS line is sold as being a series of high end, high style printers. While there are certainly a lot of high tech features, the styling of this printer isn't nearly as appealing as the TS9020. For what we're spending on this printer, we would have been happy to see it look a little more modern.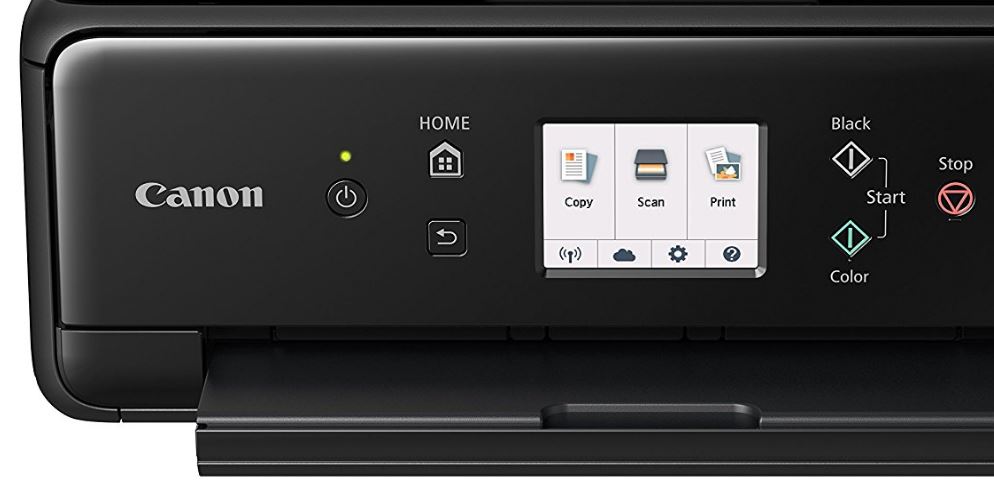 Final Verdict
The Canon Pixma TS6020 is a bit of a jack of all trades. It does a good job printing documents, and a great job printing photos. Canon even includes a three pack of their premium photo paper, so you can test it out side by side against a standard sheet of paper to see if it's something you'd like to spend your money on.
We'd recommend this printer for anyone who wants to copy, scan, and print a variety of documents. While the cost of printing is very affordable for an inkjet, if you find that you're only printing text documents, an inkjet isn't the best option. In that case, you'll want to check out a monochrome laser printer. They do cost a little more up front, but high volume users will appreciate the price of pennies per page.
On the other hand, if design is important to you we'd highly recommend that you consider the Canon TS9020. Technically, these printers are nearly identical in terms of functionality. But with the 9020 you get a larger display and a much more attractive enclosure.
But outside of a few specific usage scenarios, there was very little fault we could find with the TS6020. If you're looking for an affordable way to get high quality prints, you can't really go wrong.