For most of us, a printer is an essential tool to have in the home. Whether you're printing off documents or converting your digital photos into lifelong keepsakes, selecting the right model can save you both time and money.
Canon is one of the most well-known producers of photographic equipment and printers alike. Their latest line of stylish and affordable Pixma printers hit store shelves in Europe just a few months ago, but it wasn't known if these printers would be brought to the US market. Thanks to incredible sales, we're finally able to get our hands on one of these printers on this side of the pond. But for those in the know, your electronics need to be more than just a pretty face. We went hands-on with the Pixma TS9020 to find out if it's looks are backed up by the impressive performance we've come to expect from cannon, or if this is just a facelift to an existing product line.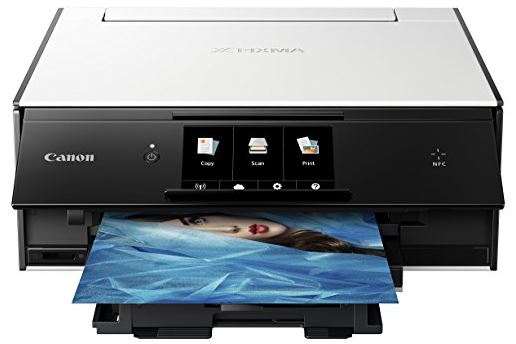 First Look
With its brightly colored lid and massive touchscreen display, the Canon Pixma TS9020 is certainly a printer that captures your attention. Despite reading up on the product before trying it out, the one thing we weren't prepared for is just how small it is. On its longest edge, it's only 14.7 inches. With a depth of 12.8 and a height of 5.6 inches, this printer will leave plenty of space on your desk.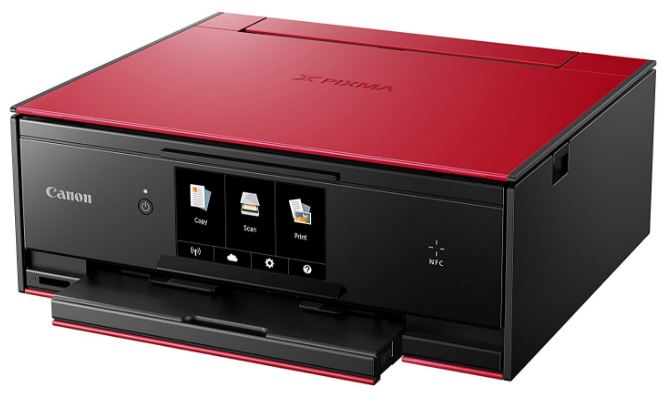 From the size and the design alone, it's the type of printer that we'd be happy to leave out in the open. The fact that it's got plenty of advanced wireless connectivity features mean that your new printer doesn't come along with the typical mess of cables.
For us, the most notable feature of the printer wasn't what it could do, but how it does it. From the moment you turn it on, you'll greeted by an attractive 5" multi-tooth display that almost begs you to delve into the plethora of features available to you. Once we got into it, we found that this was a surprisingly powerful printer in a pint-sized form factor.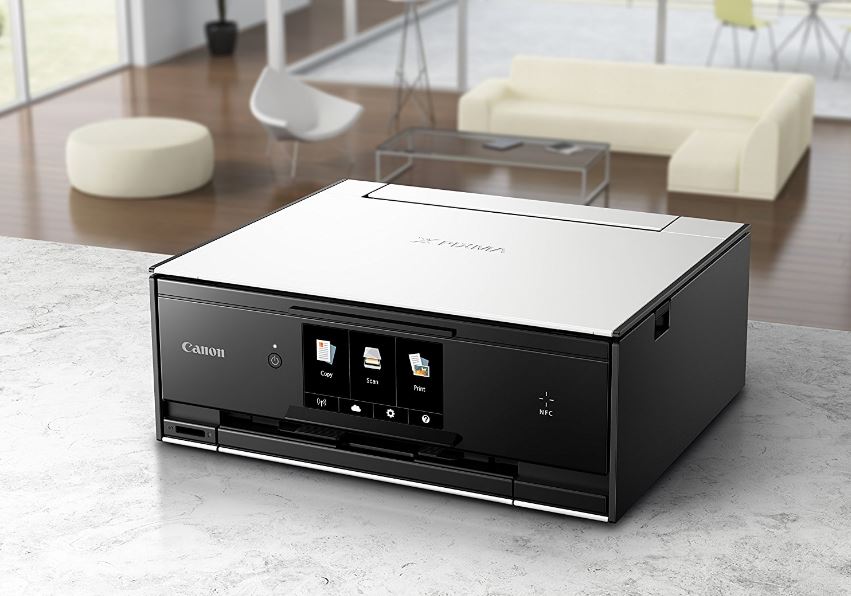 Editing
What kind of paper a printer takes, how fast the print jobs are, and how much each page costs is an important thing to consider with any printer, and we'll get to that shortly. But the one thing that blew us away was the on-screen editing panel. This is a unique touch that really helps you foster your creativity. Let's say that you were copying an image. After scanning completes, the image is displayed on the screen. You can then select the "edit" button and be greeted with a fully featured image editor with more options than we're used to seeing on a piece of hardware like this.
All of the basics are there. You can crop, rotate, enlarge, or enhance any part of the image with ease. You can also apply attractive looking filters such as Antique, Monochrome, Sepia, and Cinema Style. Cinema was particularly interesting, as it enhances the contrast and color giving your images a more dramatic appearance.
If you like to go hands on, you can delve into the color correction area and set the balances of each color manually, and tweak settings like contrast, saturation, hue, tone, or selectively apply settings to the highlights and shadows of an image. This is like a scaled down version of photoshop. With a little work, we found that we were able to use this functionality to bring some average looking photos to life.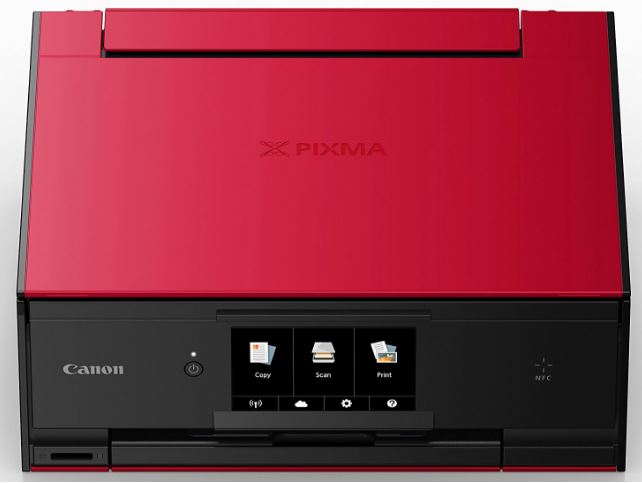 Connectivity
If you've got any device made in the last 10 years, chances are this printer can connect to it. All of the usual suspects are there. WiFi printing is easy through the built-in print server, and any computer with USB 1.1 and up can connect directly to the printer. But you can also connect it to a wired Ethernet network, or print photos from the SD card.
If you're using a mobile device, the easiest way to print your files is through NFC. Most modern phones are compatible with NFC. All you have to do is hold your phone next to the printer for a moment, and you'll be prompted to select a file to be printed.
With cloud printing, you can start print jobs even when you're not near the printer. It supports AirPrint version 5, which is a standardized, open source option that is included with most smartphones. If you're stuck using a device or software specific cloud printing program, you can connect the Canon directly to Google Cloud Print 9, Mopria10, iCloud, and more. If you don't have any of those services, all you need to do is download Canon's free printing app to add direct connectivity to your mobile device.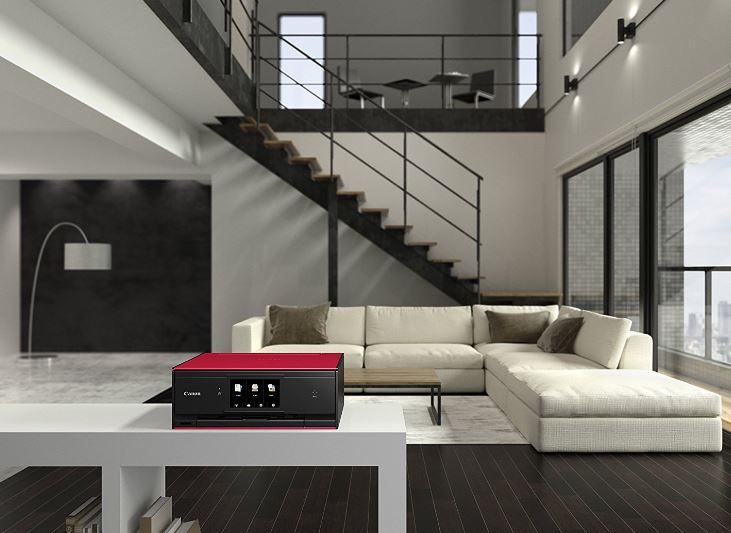 Print & Scan Quality
As you've come to expect from Canon, the print quality is excellent. Photos are sharp and well defined, and colors blended easily and looked natural. One of the things that we liked about it's color accuracy was the fact that the display was calibrated the same way. What you see on the screen is what you get on paper. Generally, our experience has been that photos always appeared a little more vibrant on an LCD, leading to disappointing prints. Not here. We'd be happy to hang any print we got from the TS9020 on our wall. With a total resolution of 9600 x 2400 dots per inch, this is the best Pixma TC series printer on the market.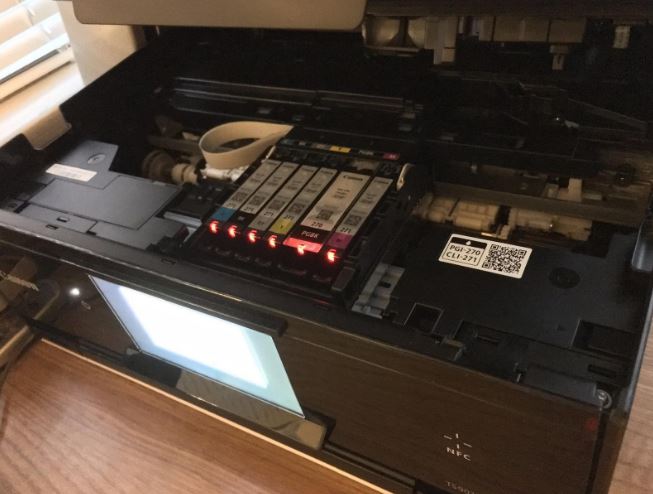 The six-color ink system is one of the reasons that the photos look so good. It's much more effective to blend multiple inks than it is to regulate the output of one tank. This system also means that you'll be replacing cartridges less frequently, as smaller amounts of each color can be used.
The scanner was equally impressive. Although the 1200 DPI scan resolution is only marginally better than competing products, we found that there was almost no degradation going from scan to print.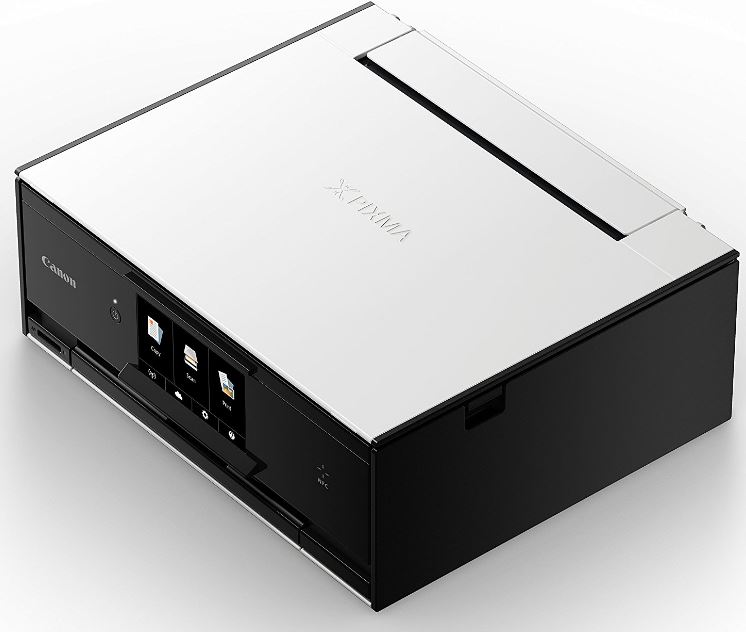 Media Handling
The built in tray can hold a total of 100 sheets of standard paper. We were able to shove about 20 sheets of thick photo paper, which is pretty standard for a printer this size. But you're not just restricted to paper. Canon has included a free CD tray so you can print your own disks as well.
When you're printing in color, you can achieve a print speed of up to 10 pages per minute, of 15 pages per minute of black and white. If you're printing on photo paper, the speeds are a little lower. But that's because the ink can take longer to try, so slowing the process means that your images come out sharp and clean.
Disadvantages
There are a lot of great features that we haven't seen in other printers before, so we would have thought that Canon would do a better job on the documentation. If you want a full user guide, you'd have to go online to find it. The included get start guide didn't adequately explain everything this printer could do, leaving us to fiddle with the menus ourselves.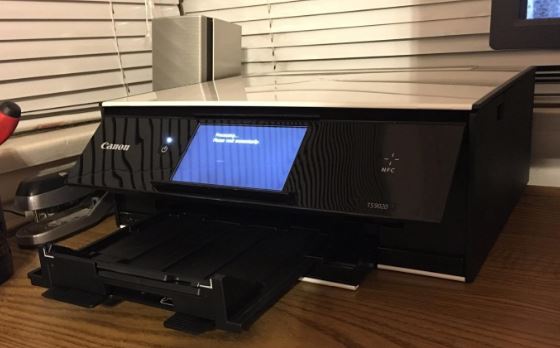 Final Verdict
Overall, we found the Canon Pixma TS9020 to be an extremely well developed printer in an attractive case. The fact that it comes bundled with an entire image editing suite is a huge bonus, and not something we've seen on a printer in this price range before. The printer gives you all kinds of control over how you want your images to look, so there is no need to edit anything on the computer unless you've got a more advanced program like Photoshop.
Despite all of the bells and whistles, Canon didn't forget the core of its business. When you buy a TS9020, you're still getting a great printer. Even if you just wanted something simple to print off a few family photos here and there, we'd recommend it any day of the week.
Where the TS9020 really excels is color images. This isn't to say that it does a bad job of black and white, but if you only need a printer to perform basic business functions you won't really be able to take advantage of everything the TS9020 has to offer. As an alternative, we'd suggest that you consider a monochrome laser printer. These tend to cost a little bit more, but printing black and white documents is usually a tiny fraction of what you'd pay when using an inkjet.
Although the TS9020 has a few firsts for the industry, technology is changing on an almost daily basis. We're excited to see what Canon comes up with for their next printer.