No matter what kind of PC game you enjoying playing the most, you probably already know the importance of a well built system. From the motherboard to the monitor and everything in-between, there's quite a bit of components and peripherals that play an important role. Although most of us look at upgrading our video card, RAM or CPU as a vital step, taking it one step further could be a smart idea. Ask yourself, "When is the last time I upgraded my mouse or keyboard?" After all, without them, your PC simply wouldn't function.
Although often overlooked, a mouse can play a vital role when you're in the heat of battle. Giving you both precision and accuracy, having a high quality, gaming-specific mouse can make an incredible difference. Standard mice simply don't have the responsiveness or "feel" that most need to come out on top. If you're stuck using a sub-par or standard computer mouse, it may be time to consider an upgrade. However, if you're like many, it can be completely overwhelming to find one that's right for you. There's a wide array of brands, styles and types, all available within a variable price range.
Luckily, you don't necessarily need the latest release or the most expensive mouse. There are plenty of affordable, high-end options that are worth considering. One such example is the new Gamdias Zeus P1. It's an optical mouse that's specifically built around gaming. Packed full of features and developed ingeniously around the evolution of PC gaming, we were lucky enough to try it out for ourselves. Gamdias was kind enough to send us one of their Zeus P1's to give it a full test.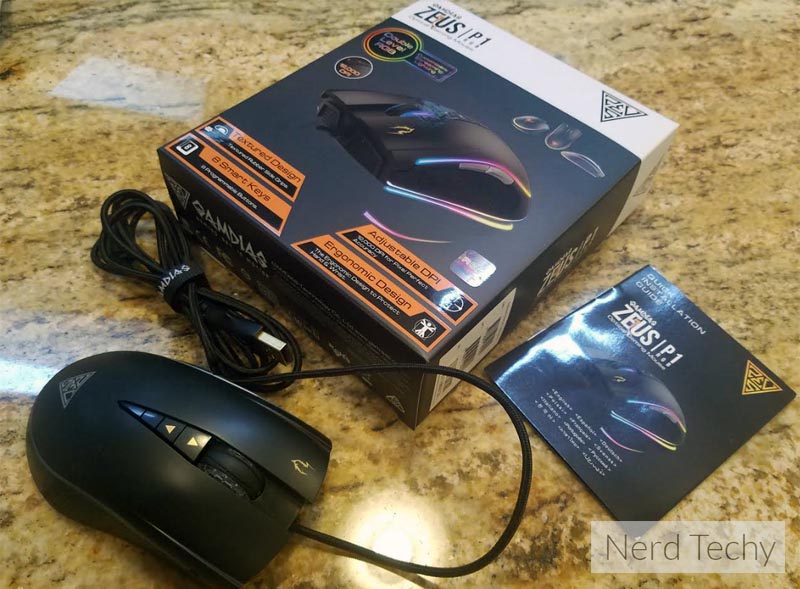 Look and Feel
Right when you take the Gamdias Zeus P1 Optical Gaming Mouse out of it's packaging for the first time, you'll notice that they went above and beyond with the design. It's sleek black appearance and ergonomic body contours perfectly to the palm of your hand. Built with a smooth center meeting the center of your palm, each side is encased with a rubberized grip that gives you added dexterity and rigidness around the edges.
On the top is the rubberized scroll wheel, centered between the main left and right buttons. Located just beneath the wheel are two small arrow keys that let you manually adjust the DPI settings. Additional to that are the three more "smart keys" that let you program any custom macros, controls, functions, etc. We'll explore more regarding these later.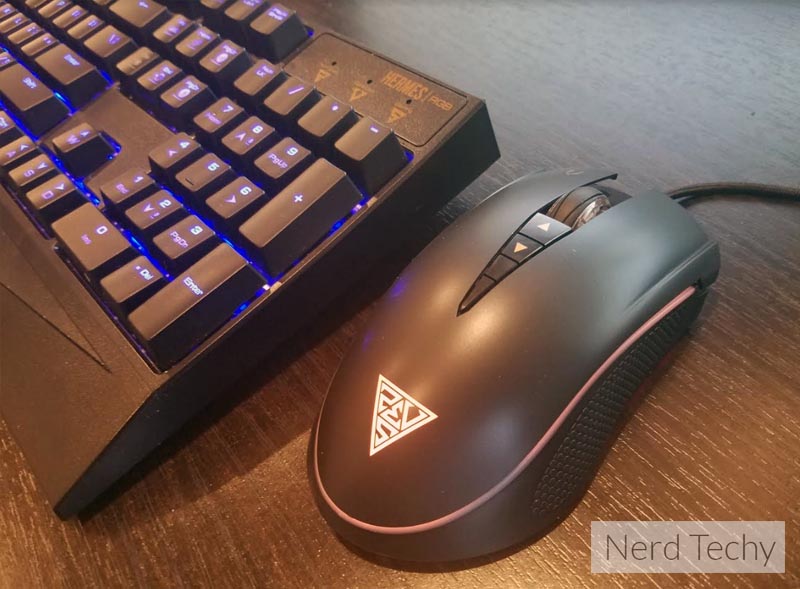 Measuring approximately 5 inches in length, 1.75″ tall and 2.75″ at its widest point, it's not the smallest mouse available. But keep in mind – that's not necessarily a bad thing. Flipping it over, there's also three slick plastic pads on the base that let it glide freely along your mouse pad or virtually any hard surface.
One thing that we were really happy about was the USB cable attached to the mouse. It's built with durability in mind since it's braided and reinforced with nylon around the wire. This helps it keep tangle-free and structurally-sound for years to come. After all, nothing is more frustrating than having your new mouse unravel or become tangled when you need it most.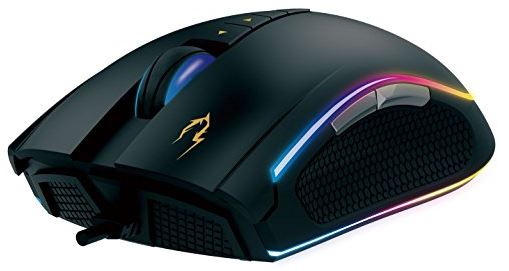 RGB Lighting
Right when you plug the Zeus P1 into an available USB port, you'll notice that the RGB lights will begin to "breathe". Giving it a futuristic yet attractive appearance, the mouse it accented by an LED that wraps around the upper/lower edges. It'll automatically emit an ever-changing pattern of color, but all of this is completely customizable. With help from the free HERA software, you're given the freedom to adjust the RGB effects to whatever your preferences may be. In fact, there's literally over 16 million different color combinations that you can come up with. Based on your style and preferences, the freedom of the lighting options are definetely something to enjoy.
The software is quite easy to use as we've used it in the past when testing the Hermes P1 and Hermes M1. It's fairly basic and straight to the point, and not full of unnecessary "fluff". Although the mouse works great right out of the box, you'll probably want to install it. It also lets you customize the smart keys and access specific preferences.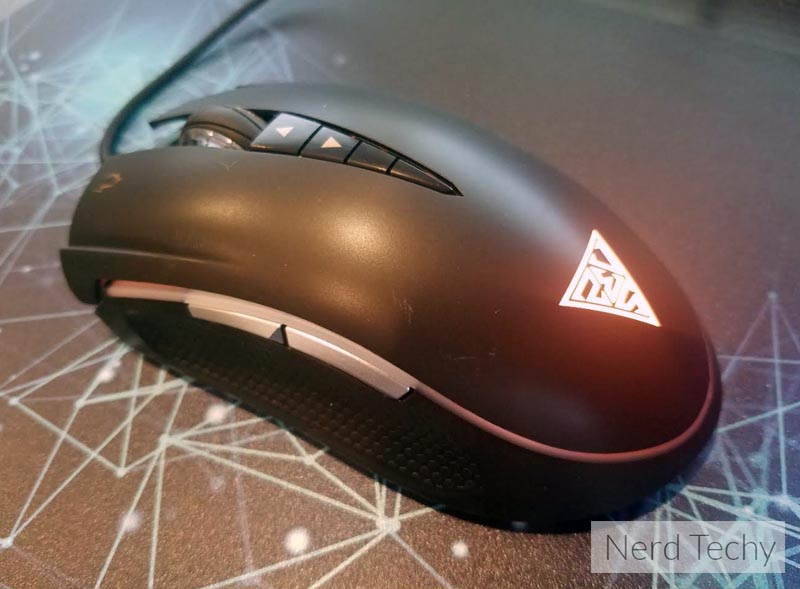 Buttons
From first glance, the Gamdias Zeus P1 boasts a fairly simple layout, but there are actually 8 buttons on the mouse. Each one is fully programmable, with help of the HERA software. Two are located near where your thumb rests. Three more are located near the wheel, and the wheel itself is considered a button too. The other two are the standard right and left click buttons.
We tested the layout with League of Legends and were able to add specific macros. We could add a ward or consume a potion with the click of a button, rather than manually hitting Cntrl + 1 on the keyboard. This small enhancement saves a moment of time that can translate into a kill or assist rather than a death. Additionally, the HERA software lets you select specific programs to certain setting profiles, so you can add exact settings for certain games. It also gives you the freedom to disable unnecessary buttons that you may not need to utilize.
One of our favorite features are the two arrow buttons located in the center of the mouse. They let you manually adjust the DPI from a wide range of 1600 to 12000. This is also known as "Dots per inch" and it's a measurement that's used to indicate the sensitivity. A higher setting means a quicker, more responsive cursor, whereas a lower setting represents a slower cursor. Games where accuracy is of utmost importance, like popular FPS titles like Call of Duty, a higher DPI can mean increased accuracy. Getting used to a new DPI setting can take some time, so it's nice to have a manual adjustment within reach at all times.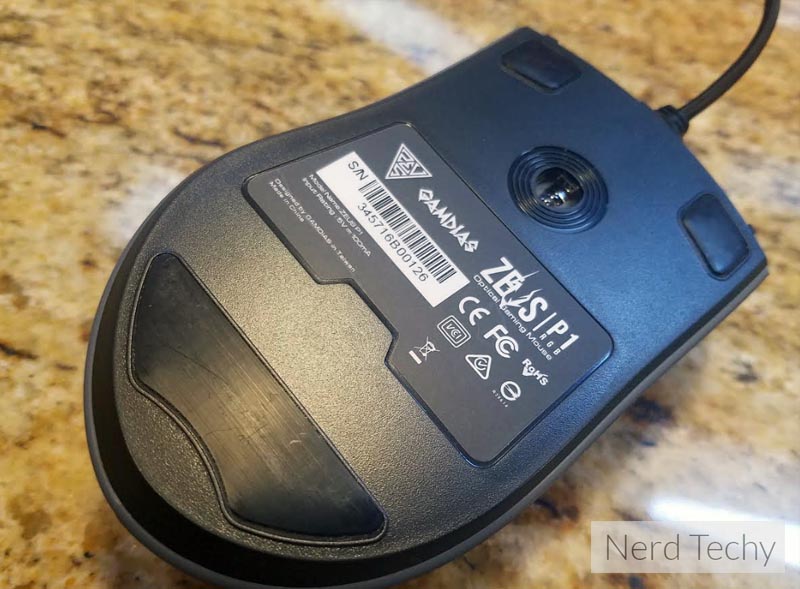 Pros
Beautiful design. Ergonomic shape with excellent comfort.
Rubberized grip and textured design feels nice in your hand.
Plenty of customization options. Buttons located in the right spots.
Wired. No need to worry about batteries or connectivity.
Software is easy to use and "lightweight".
RGB "breathing" effect looks wonderful right away. No need to customize.
Up to 12000 DPI, offering great accuracy.
Braided nylon USB cable that's built with durability in mind.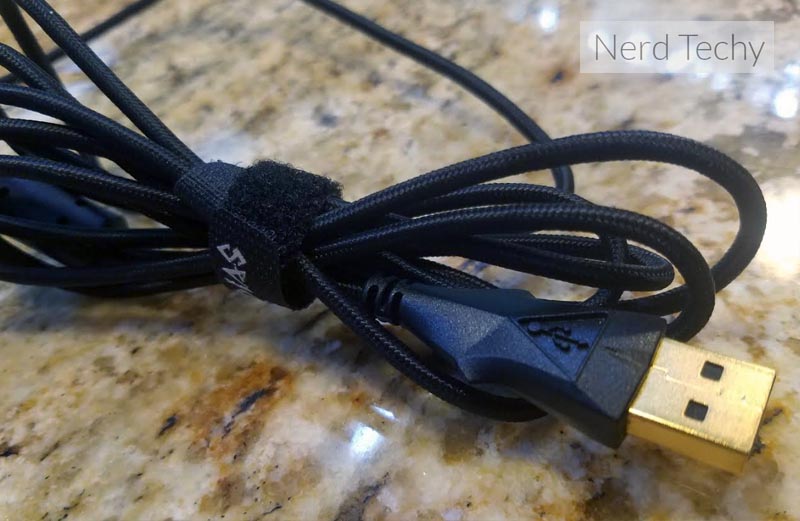 Cons
On the larger side. Feels "full" and big. Might be ideal for those with larger hands?
Scroll wheel is rubberized but still quite slick. It would be nice to have some grooves for added grip.
The two buttons by the thumb can be accidently clicked if you're not careful. Would have been nice to see these moved up just a touch.
Final Thoughts
All in all, the Gamdias Zeus P1 seems to be a great optical mouse. We've been using it extensively for about two weeks and can safely say that it gets the job done quite well. The amount of customization is really nice, you'll just need to explore the software a bit. Each one of the buttons are fully programmable, and you can set a variety of profiles to fit your needs.
The feel of it is very nice. Although somewhat on the larger side, it fits comfortably in the palm of your hand and doesn't seem tiring to use. There's a decent amount of grip, but the scroll wheel could use a bit more texture.
Overall, we wouldn't hesitate to recommend it to anyone looking for a budget-friendly gaming mouse that's full of high-end features. It may not necessarily be the absolute best available, but it might be one of the best, value-wise.
Meet Derek, "TechGuru," a 34-year-old technology enthusiast with a deep passion for tech innovations. With extensive experience, he specializes in gaming hardware and software, and has expertise in gadgets, custom PCs, and audio.
Besides writing about tech and reviewing new products, Derek enjoys traveling, hiking, and photography. Committed to keeping up with the latest industry trends, he aims to guide readers in making informed tech decisions.