No matter how little or how much time you spend on your computer, you likely already know the important benefits that a quality mouse pad can provide. Although soft or cloth mouse pads have long been the norm, they come from a time when most mice were "roller-ball style" since they require a slightly textured surface to move effectively.
Whereas soft mouse pads still work just fine for certain scenarios, they actually don't work quite as well for those needing the best precision, agility and fast movement that the newest laser or optical mice are capable of. You'll likely find that hard mouse pads made of plastic or metal offer quicker response to precise movements that'll excel for video gaming, graphic design and other advanced tasks. Additionally, they're often easier to clean and known to hold up better over time.
Although it may simply come down to personal preference, hard mouse pads are becoming much more popular which in-turn may make it a bit difficult to select the right one. We're going to go over a few of the best options and discuss what each one has to offer in terms of design, features, material, and any other key points that we feel are relevant.
Enhance GX-MP5 Hard ABS Plastic Mouse Pad
Manufactured by Accessory Power, the new Enhance GX-MP5 Mouse Pad is constructed from a hard ABS plastic that's specifically geared towards high-end gaming. With a large, smooth textured surface measuring 13.4″ x 12.4″, it offers a great amount of control for your cursor – optimal for those who enjoy first person shooter video games such as Battlefield, Team Fortress, Counter Strike and many more. While we wouldn't consider it an "over-sized" mouse pad, it provides plenty of space for ideal control.
On the back-side it's equipped with a non-slip rubber backing that does a fantastic job to keep the pad in place, even when you're moving your mouse with a high level of agility. It isn't thick or too bulky either – it's actually quite thin and very sturdy at the same time. The ABS plastic is made to hold up well to abuse over the course of time, plus it's smooth to the touch and doesn't absorb any debris or liquid like a typical cloth mouse pad would, making it quite easy to clean when/if necessary.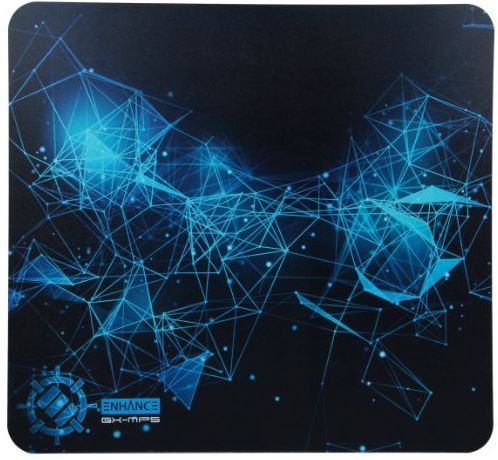 Accessory Power is a great company that's a leader in gaming-specific mouse pads and accessories. They proudly stand behind the Enhance GX-MP5 by including a 1 year limited warranty from the day you start using it. If you register it through their website, you'll activate an additional 2 year warranty extension, giving you a guarantee that it'll hold up just fine for at least 3 consecutive years.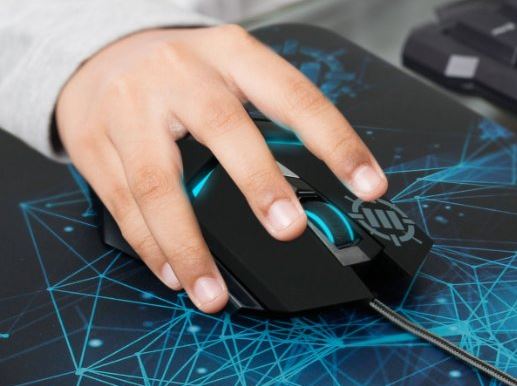 Enhance GX-MP6 Aluminum Mouse Pad
Taking a single glance at the Enhance GX-MP6 Aluminum Mouse Pad, you'll notice that it's quite different than most available options. Also manufactured by Accessory Power, this metal mouse pad is slightly smaller than the GX-MP5 that we previously discussed and measures in a 12.4″ x 10.6″. Although it's a couple inches smaller, it shouldn't necessarily be a turn off – it's built with a strong aluminum alloy base that's both aesthetically pleasing, simple in design and one of the most durable materials that you can own.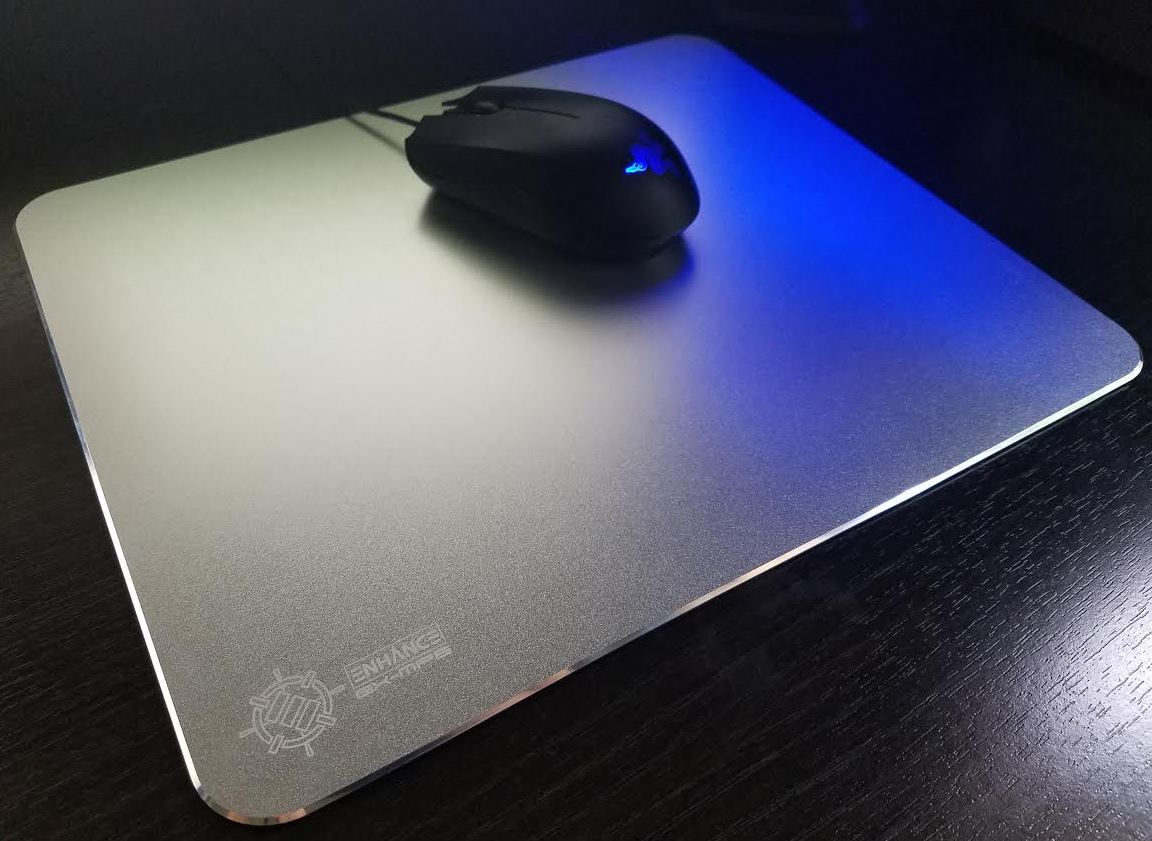 Although not surprising, we found that it holds in place incredibly well when positioned on any desktop surface. The back-side is built with a natural rubber grip that affixes into position without moving or sliding around.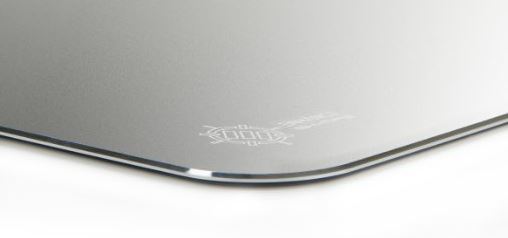 The top of the pad is very smooth – we'd say a bit smoother than the GX-MP5. The aluminum surface is finished in a matte style but the edges are glossy and a bit more reflective, ultimately giving it a modern look without the wacky graphics you'll find on other mouse pads that are geared specifically towards gamers. The GX-MP6 has a small white logo in one corner and nothing else – the simple and elegant look matches perfectly for Mac users or anyone who can appreciate clean lines.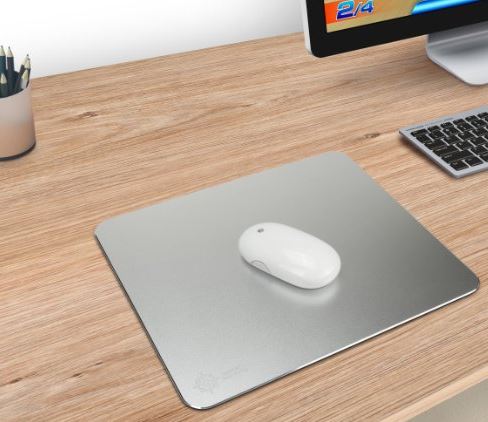 Last but not least, it's worth mentioning that the GX-MP6 is also protected by the same impressive warranty that all Accessory Power mouse pads are backed by. You'll get one year of warranty coverage automatically, and two additional years once you register it through their website.
Razer Destructor 2
Although much more expensive than your typical mouse pad, the Razer Destructor 2 is a gaming-specific hard mouse mat that's touted as being "preferred by pro gamers". Built with a highly reactive surface coating that delivers an incredible balance of both speed and control, it's been engineered for high end performance with every detail closely paid attention to. In fact, the surface has very small silver flakes within it that give it an edge when it comes to in-game responsiveness.
With a swipe of the mouse, you'll notice the micro-texture isn't quite as smooth as you may have anticipated, but there's reason behind this. Providing a tiny amount of texture is said to provide the perfect balance between both speed and control, whether you're playing first person shooters, simulators or real time strategy games. Measuring 10″ x 14″, it's quite large in size and seems to be large enough for any hardcore user.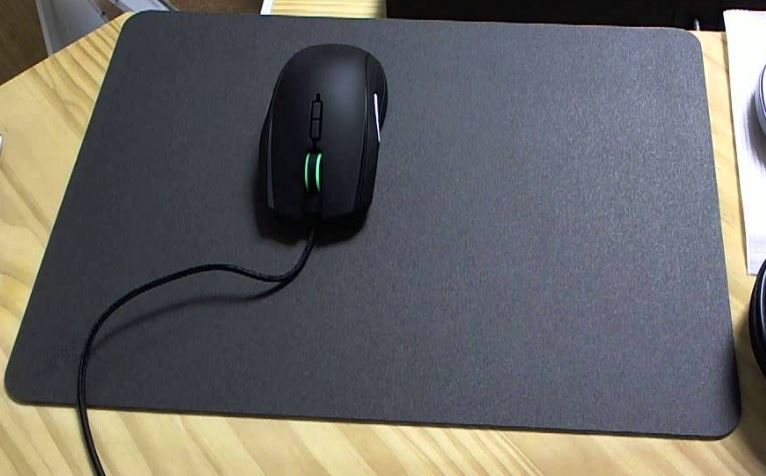 Just like every mouse pad, the back side is comprised of non-slip rubber that keeps the mat in position, even with quick and sudden movements. It isn't cold to the touch or made from a metal material, but built of a hard rigid plastic that's difficult to bend – as it should be. One caveat of the Razer Destructor 2 is that it isn't backed by a generous warranty like either of the Enhance models.
Razer Firefly Hard Gaming Mouse Mat
Another creation by Razer, the Firefly Hard Gaming Mouse Mat is a truly unique concept but it does come at a somewhat steep price point. By taking one glance at it, you'll notice that there's something a bit different about it – there's built-in lighting effects that can be fully customized for your specific personalized preferences. With around 16.8 million different colors to choose from, you literally have endless amounts of customization options to choose from. The edge of the mat emits colorful, bright lights that is lit up along both the left, right, top and bottom of the pad.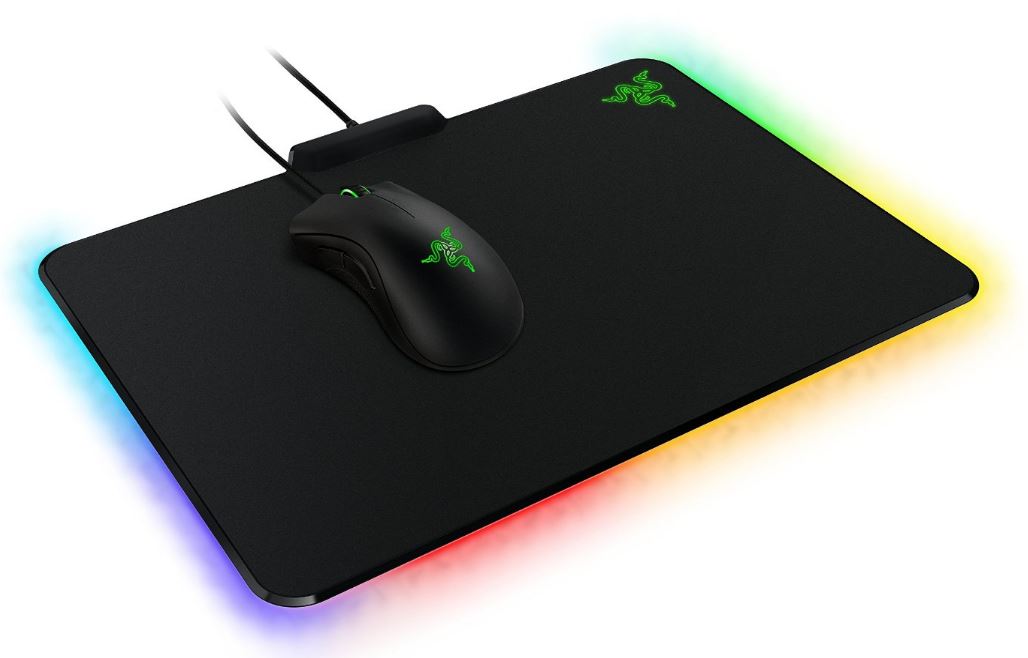 Although aesthetics are very important to some, the actually functionality and performance should never be overlooked. Needless to say, the Razer Firefly provides an ideal balance of both control and speed with a micro-textured finish – just like the Razer Destructor 2. It gives a great amount of accuracy with cursor precision that can be validated by many professional eSports athletes.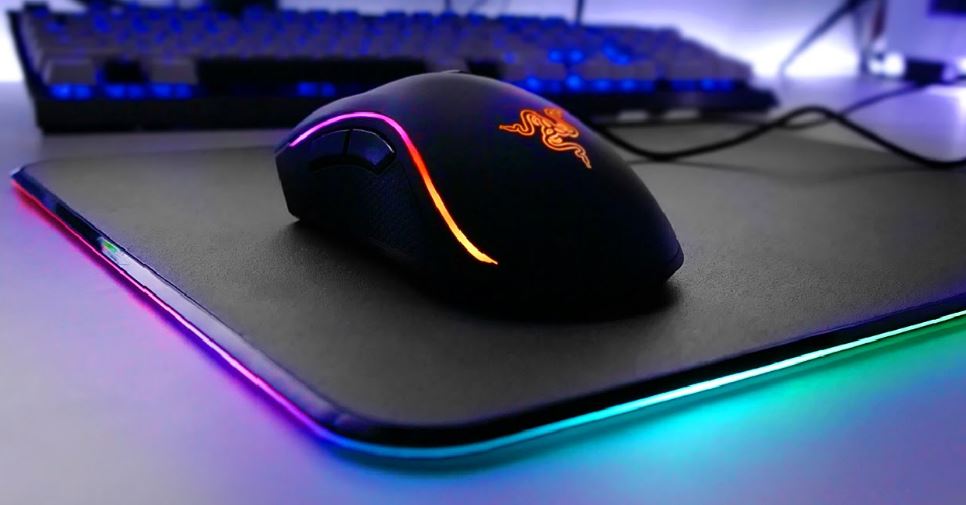 One of the major downfalls to the Firefly is USB cable connection that's required for the lighting effects. Some individuals don't like having yet another accessory to plug in and power up. Although you don't necessarily have to plug it in to use it, you'll need to if you want to take advantage of the customized lighting effects. Additionally, expect to pay a bit more than you may be willing to – the price is a bit steep for a mouse pad, but it does indeed seem to work well in every regard.
Corsair Gaming MM400
Available in a medium size measuring 14.17″ x 11.8″ , the Corsair Gaming MM400 High-Speed Mouse Pad provides a low friction surface made from a hard polymer material. It lets your mouse glide freely with minimal resistance and excels well with any kind of task. With a rigid design, it's structurally sound and built with the integrity you'd expect from such a popular brand name.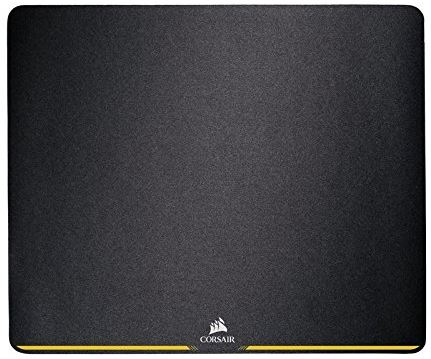 While you can select from either dual sided or one sided varieties, we recommend going with the one sided since we feel that the backing is essential for regular use. The backing is made from an anti-skid rubber material, which isn't totally unique – but provides a sturdy position for both optical and laser mice.
Measuring just 2 millimeters thick, it's incredibly thin but still strong enough to hold up to constant use over the course of time. It boasts a simplistic black matte appearance with a subtle yellow bar along the bottom edge of the pad and the traditional Corsair logo centered between it.
Final Thoughts
While a mouse pad may be an accessory that many users overlook, it's an important necessity if you want the best accuracy, control and precision when it comes to your cursor and quick movements of your mouse. Soft mouse pads are much more common and typically more widely used, but rigid, hard mouse pads that are made of metal or plastic provide the best surface to work with. They're easier to clean, stiffer, more durable and usually last much longer over the course of time.
We've outlined several fantastic options for the best hard mouse pads currently available from a few high-end name brands like Accessory Power, Razer and Corsair. Each one provides plenty of durability and longevity for both elite and professional gamers alike, with a smooth surface that holds in-position at all times. Which one will you go with?