Choosing the right power cord splitter for your computer or server setup can simplify your workspace, improve cord management, and enhance system performance. The best cord splitters deliver reliable power, are compatible with a range of devices, and are designed to last. In this article, we review some of the top choices on the market:
As you explore our detailed reviews, you'll get a comprehensive understanding of each power cord splitter's strengths and weaknesses, helping you find the best fit for your unique needs.
Best Low-Profile: Cable Matters Computer Power Cord Splitter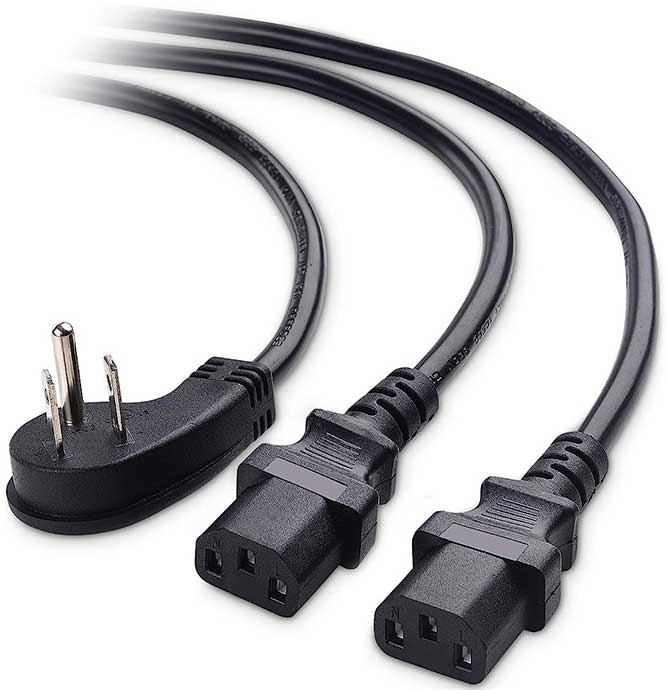 Key features:
Dual IEC C13 connectors
Rugged & safe 18 AWG conductors
Compatible with recessed C14 port
Y-shaped design for reduced clutter
First among our picks is Cable Matters' Computer Power Cord Splitter. It's a well-rounded contender for effectively powering up dual systems, whether that's a set of monitors, a desktop computer, or a server with dual power supplies. What's more, it connects through a standard NEMA 5-15P grounded power plug to dual female IEC C13 connectors, so it's highly versatile. Rated for up to 10 amps and 125 volts, the splitter can cater to most common equipment power requirements in the home or office.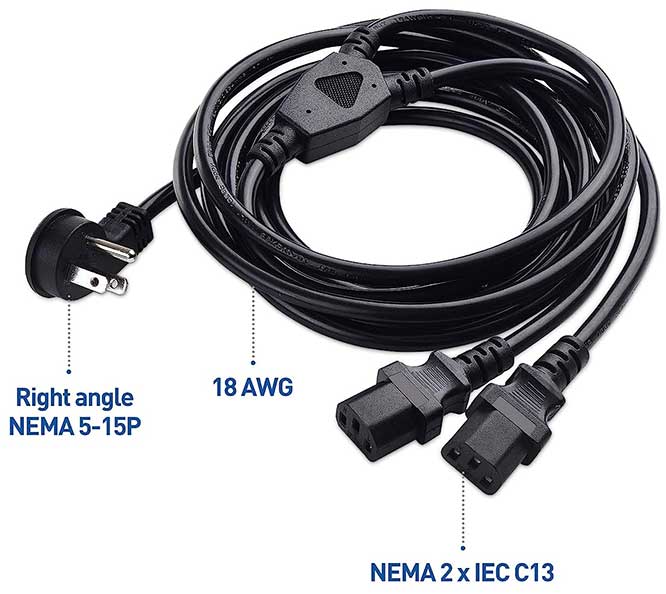 This 6, 10 or 15-foot power cord splitter is brilliantly designed with a flexible Y shape, which provides two 2-foot length segments. We tested it by connecting a dual monitor mount on a standing desk and found it successfully reduced cable clutter while maintaining optimal performance. Notably, this splitter proved itself to be both rugged and safe. Its 18 AWG gauge conductors ensure reliable conductivity, and its molded strain relief connectors provide a secure connection, making it an investment you can trust.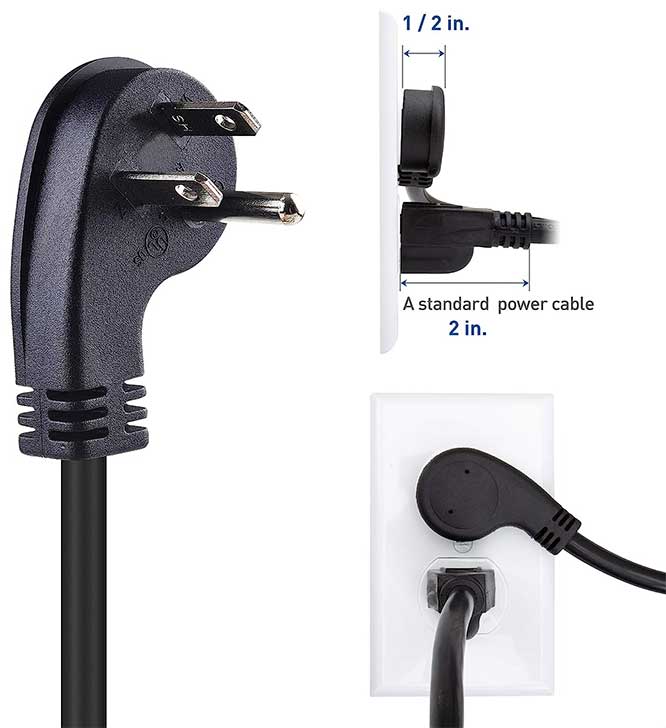 The power cord splitter has also been specifically designed for compatibility with a recessed C14 port, which is often found in stacked or nearby equipment. This feature was particularly effective when we connected two computers to a single AC electrical outlet. However, some may find the length from the split to the devices slightly limiting, especially if frequent adjustments or movements of the connected devices are necessary. That being said, its practicality and efficiency in a stationary setup still greatly outweigh the minor inconvenience.
What we liked:
Reduces cable clutter
Reliable power delivery
Versatile device compatibility
Rugged, secure construction
What we didn't like:
Limited flexibility due to length
Adjustments might loosen connection
Best 3 to 1: Toptekits Computer Power Cord Splitter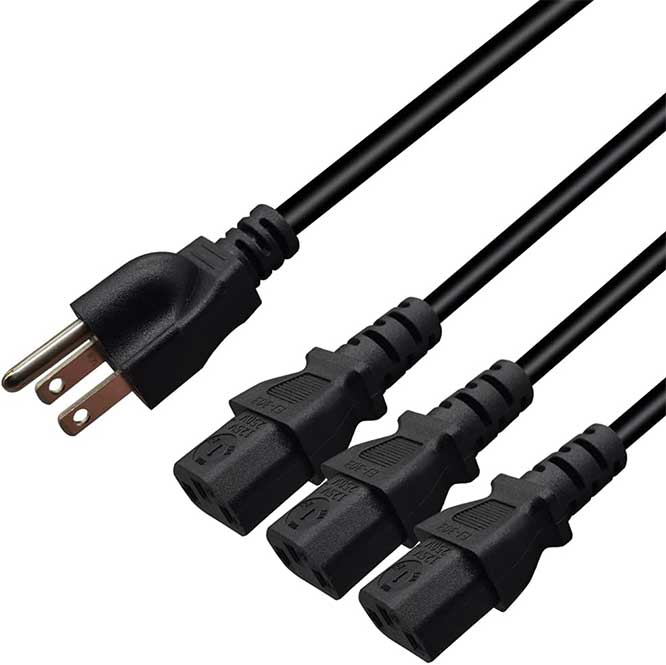 Key features:
Powers three devices from one outlet
Built for C13 connector compatibility
Reduces cable clutter
Compact and lightweight design
The Toptekits Computer Power Cord Splitter excels in simplifying your tech setup by allowing the powering of three devices simultaneously from a single outlet. This feature is particularly beneficial for triple-monitor setups. Our tests showed it to be equally adept at powering various devices compatible with a C13 connector, such as computers, monitors, and printers. The design is informed by various applications, with healthcare, education, commercial, and OEM environments in mind.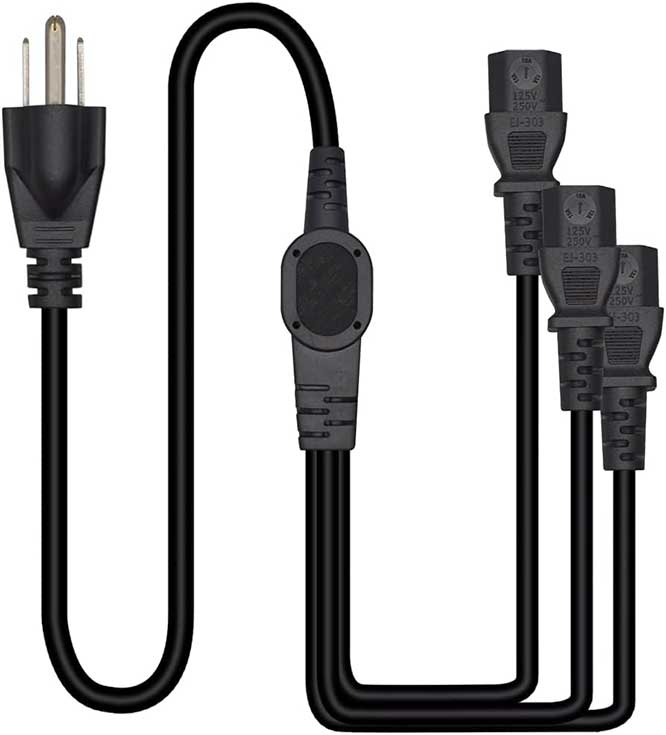 Its construction proved robust during our rigorous tests, ensuring secure connections without cable strain and effectively reducing cable clutter. It delivers 125V and 10A, featuring NEMA5-15P and C13 wire gauges. This performance allows it to maximize your outlet, power strip, or surge protector space efficiently. While its dimensions are comfortably compact and lightweight, some users may find the overall cord length to be limiting.
The cable from the 5-15P plug to the Y connector joint measures approximately 0.5 meters, or 1.6 feet, while the total cord length is 3 feet. This length certainly has its place, but there are longer options out there for those who require more reach in their cords. Measurement aside, this is a very reliable and efficient cord solution that works well. It's a little pricier than others, but a solid contender nonetheless.
What we liked:
Ideal for triple-monitor setups
Durable construction
Efficient space utilization
Comfortable cable length
What we didn't like:
No universal connector compatibility
Might require an extension for larger setups
Best Budget: Monoprice Power Cord Splitter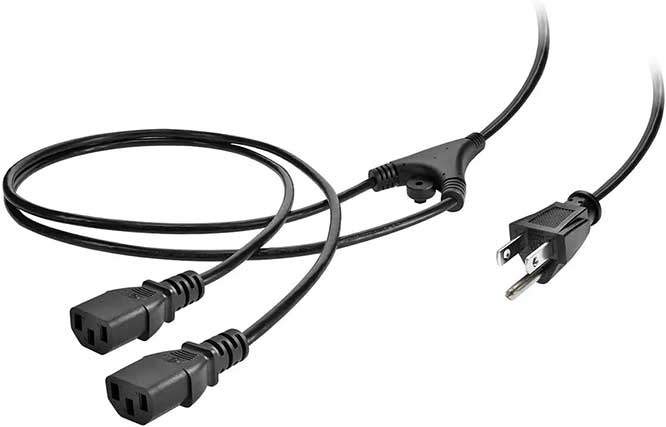 Key features:
Connects two devices from one outlet
Compatible with 100-250 VAC applications
6-foot cord divided into 2.7-foot halves
Handles up to 10 amps maximum current
The Monoprice Power Cord Splitter proves a robust and efficient solution for anyone wanting to power two devices from a single outlet. This is made possible by its Y-splitter design. It exhibits compatibility with 100 to 250 VAC applications, making it suitable for various devices with C14 connections, such as computers. Its versatility is boosted by a considerable cord length of 6 feet that is divided into 2.7-foot halves, ensuring that devices can be comfortably placed without restriction.
During testing, the cord splitter demonstrated resilient construction characterized by 18AWG conductors. They're capable of handling up to 10 amps maximum current. The quality is standard for Monoprice products, and this cord was particularly easy to use. Although its Y-split section is slightly bulky, it didn't pose any inconvenience during testing but offered the potential for fastening. In the context of a dual-monitor setup, this cord splitter performs well when the monitor plugs are within five feet of each other.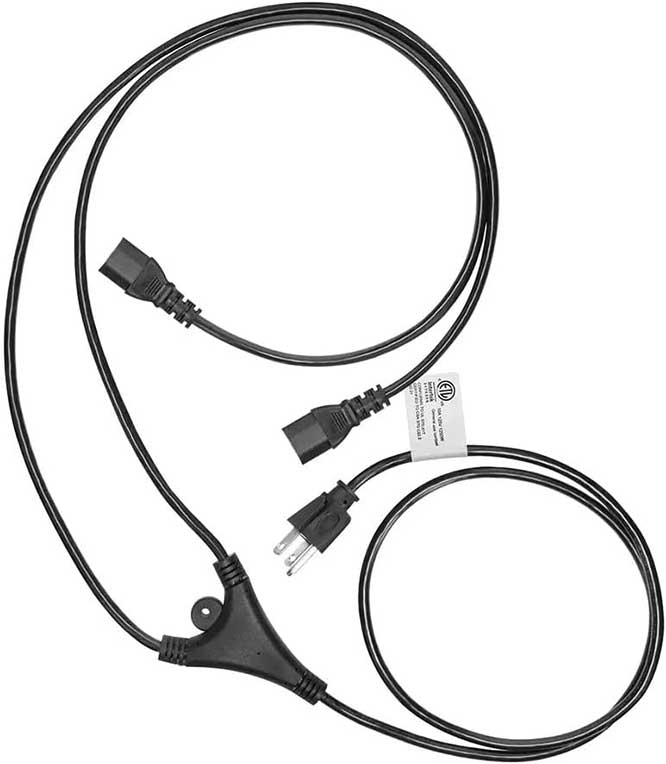 However, if the plugs are located on opposite ends of the monitors, the splitter's ends might fall short. Nevertheless, this wasn't a universal drawback, as it performed well in a home theatre setup, particularly within an AV rack with closely positioned components. To ensure you don't run into any problems, measure your setup to get exact specifications before you buy.
What we liked:
Versatile for various device types
Reliable and robust construction
Lengthy cord for flexible placement
User-friendly, simple installation
What we didn't like:
Bulky Y-split section
May not suit all dual-monitor setups
Best All-Around: StarTech.com Computer Power Y Cord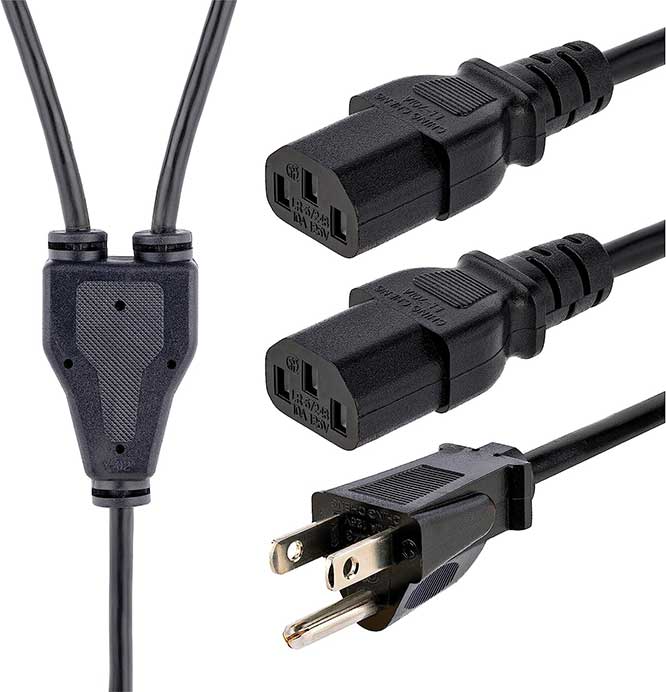 Key features:
6 or 10-foot Power Y cable
NEMA and IEC connectors
100% copper wire, UL listed
Supports 125V at 10A, Fire Rating: VW-1
The StarTech.com Computer Power Y Cord is an essential tool for every tech enthusiast, designed to provide practical solutions for managing power cords in tight spaces. It comes with a 6 or 10-foot flexible power Y cable armed with NEMA 5-15P and two C13 IEC 60320 connectors. It seamlessly delivers up to 125V at 10A, making it suitable for powering various devices, whether at a workstation or a home office.
Notable for its performance and safety, the splitter is UL listed and includes fully molded strain relief connectors for durability. Built from 100% copper wire, it ensures maximum power transmission, all while safeguarding against overheating with a fire rating of VW-1. The power cord's compatibility is quite extensive. With a NEMA 5-15P plug, it accommodates North American electrical outlets, while its IEC C13 connector is versatile, working with most desktop computers and many other peripherals like monitors, scanners, and printers.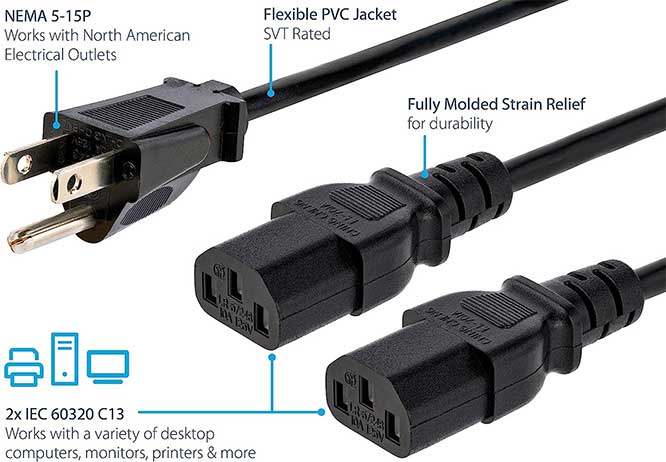 We tested the splitter on two 27-inch monitors in vertical mode. It supported both monitors without any power issues. The 30 inches of cord length on each side from the Y-split allowed comfortable reach, although, for larger horizontal setups, more cord length might be needed. For IT professionals, the StarTech.com Power Y Cord proves to be a valuable addition to their tech gear. Its lifetime backing includes free technical assistance, further cementing the cord as a reliable, long-term investment for any workstation.
What we liked:
Excellent for cord management
Compatible with various devices
Robust, durable design
Backed by lifetime technical assistance
What we didn't like:
May need more length for larger setups
Less suitable for non-vertical monitor arrangement
Best for Extension: AuKvi Server Y Splitter Power Cable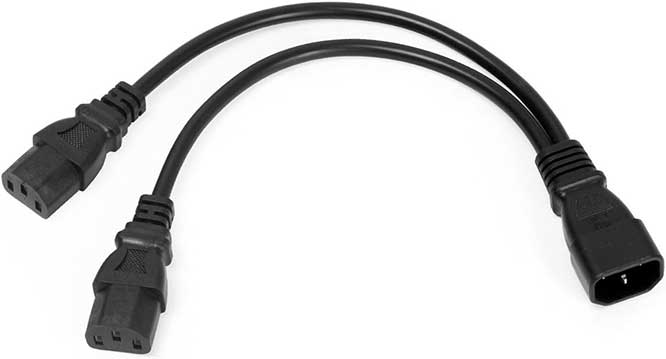 Key features:
Single C13 to Dual 5-15R C13 Splitter
Plug type: IEC-320-C14 to 2 IEC-320-C13
Power rating: 10A, 125V AC
High-quality pure copper wire core
The AuKvi Server Y Splitter Power Extension Cable is a versatile accessory that simplifies your power connectivity concerns with its unique Y splitter design. It offers one C14 male plug and dual C13 female sockets. This setup allows you to connect two devices, such as computers, monitors, or printers, to a single power outlet. It's a smart solution for a tidy workspace or a data center. Its compatibility with most PCs, monitors, scanners, and other devices makes it highly flexible and handy.
We performed a series of tests on this splitter, assessing its quality, durability, and efficiency. Its cable length of 13.4 inches proved sufficient for a close-knit workstation but might be a challenge for setups with more space between devices. This cord splitter can handle a maximum voltage of 125V at 10 Amps, which we found sufficient for most standard devices. This splitter flaunts a robust build thanks to its high-quality pure copper wire core.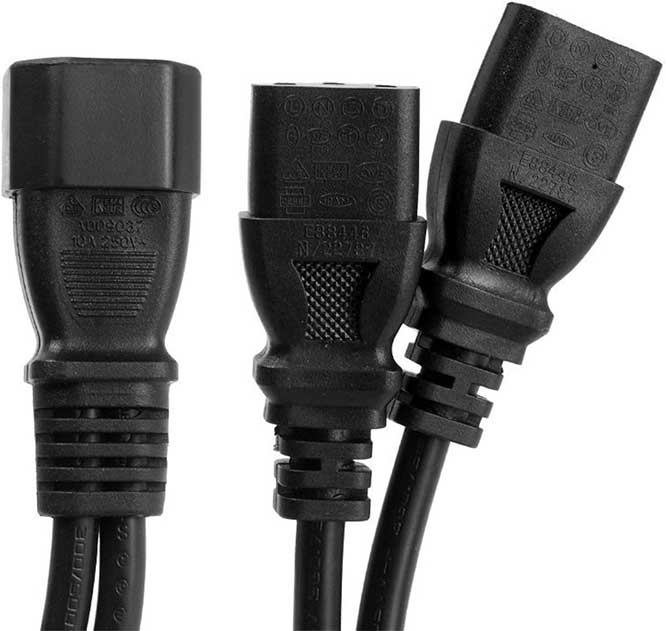 Notably, it comes with an engineering-grade flame retardant material that guarantees safety and longevity, even in high-temperature environments. In our test, the splitter cord effectively powered both devices with no loss of performance, showcasing its reliability. This splitter cord is ideal for anyone needing a power cord solution for more than one device, ensuring efficient power management.
What we liked:
Powers two devices from one outlet
Robust build for longevity
Universal compatibility
Efficient power management
What we didn't like:
Distance between plugs might be too short for some
Not suited for wider workstations
Computer & Server Power Cord Splitter FAQs
What is a power cord splitter used for?
A power cord splitter allows you to connect multiple devices to a single power outlet. This can be beneficial in both home and professional settings, especially where multiple computers, monitors, or servers need to be powered from a single outlet.
Are power cord splitters safe to use?
Yes, as long as they're used correctly. This includes not exceeding the maximum voltage or current rating of the splitter and ensuring it is suitable for the devices you're connecting.
How do I choose the right power cord splitter?
The right power cord splitter depends on your specific needs. Consider the number of devices you need to connect, the distance between them and the power source, the type of plugs they have, and the splitter's power rating. Always make sure the splitter is compatible with your devices and can safely handle their power requirements.
Final Verdict
In our analysis, each power cord splitter brings a unique set of strengths to the table. The Cable Matters Computer Power Cord Splitter and StarTech.com Computer Power Y Cord stand out for their reliable performance and robust construction. They offer the versatility to power multiple devices and have a reputation for longevity.
For larger setups, the Monoprice Power Cord Splitter is an excellent choice with its 6-foot cord length, while the Toptekits and AuKvi options are equally powerful and reliable, allowing you to maximize space and reduce clutter in your workspace. Ultimately, the best power cord splitter for you will depend on your specific requirements, such as the number of devices, workspace size, and device compatibility.