It's a fact of life that not every apartment comes with a dishwasher. Usually, this is a matter of space. A dishwasher is a large appliance, and in a small apartment, every inch matters. Similarly, if you're staying in most extended stay hotels, you can expect to be washing dishes by hand. A big, bulky dishwasher just isn't practical under these conditions. But what if a dishwasher didn't have to be big and bulky? What if, in fact, they could be no larger than a toaster oven?
A countertop dishwasher is a great way to get your dishes clean in a smaller living space. It won't handle a huge Thanksgiving party, and it won't do pots and pans. But for everyday dishes and silverware, it's significantly easier than hand-washing. Considering how many hours this will save you every month, a countertop dishwasher is a great investment. That is, assuming you get a model that's well-engineered.
Note: At no extra cost to you, we may earn a commission for purchases using our links. Learn more.
Today, we'll be looking at three of the top portable countertop dishwashers on today's market. First on our list is the Farberware FDW05ASBWHA. This is a compact dishwasher, complete with an internal water tank and several bonus modes. Next, we'll examine the Danby DDW621WDB. This is a beefier dishwasher, designed to handle up to six place settings. It also has a timer mode, along with built-in detergent and glass cleaning dispensers. Finally, we'll review the hOmeLabs Compact Countertop Dishwasher. This unit has a large design, similar to the Danby. But which one of the three is the best? To find out, we'll need to look a little closer. Let's get started!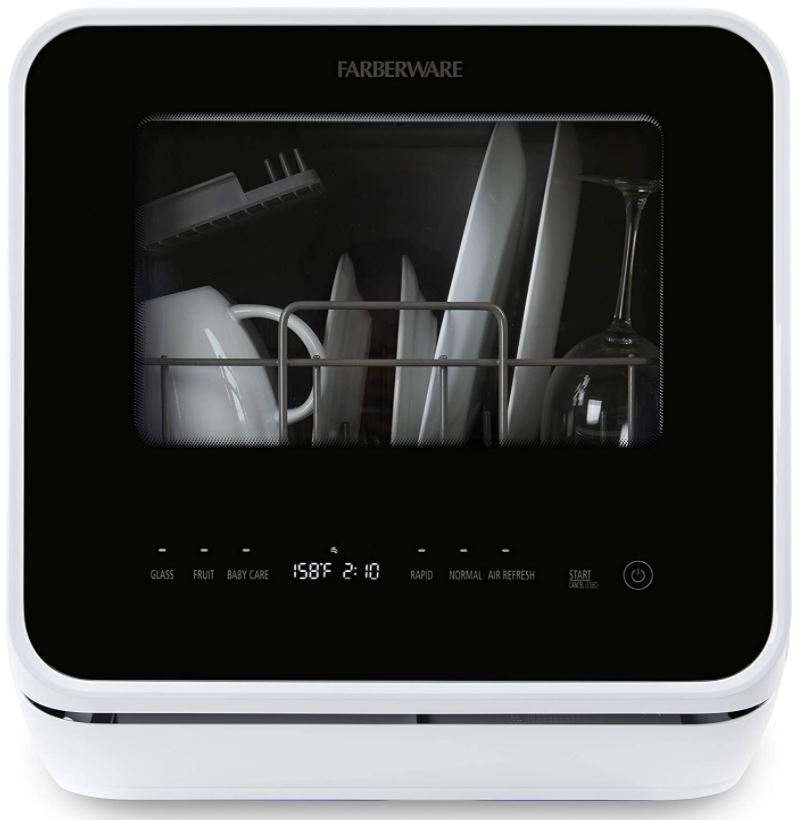 Farberware FDW05ASBWHA
The Farberware FDW05ASBWHA is built specifically for small apartments. Its footprint is only 17.3 inches square, so it can fit even in small sections of countertop. Not only that, but at 16.5 inches in height, it's short enough to fit under low-hanging cabinets. At 37.8 pounds, it's a bit heavier than you'd expect for the size. Nonetheless, it's still lighter than most portable dishwashers, which tend to run over 40 pounds.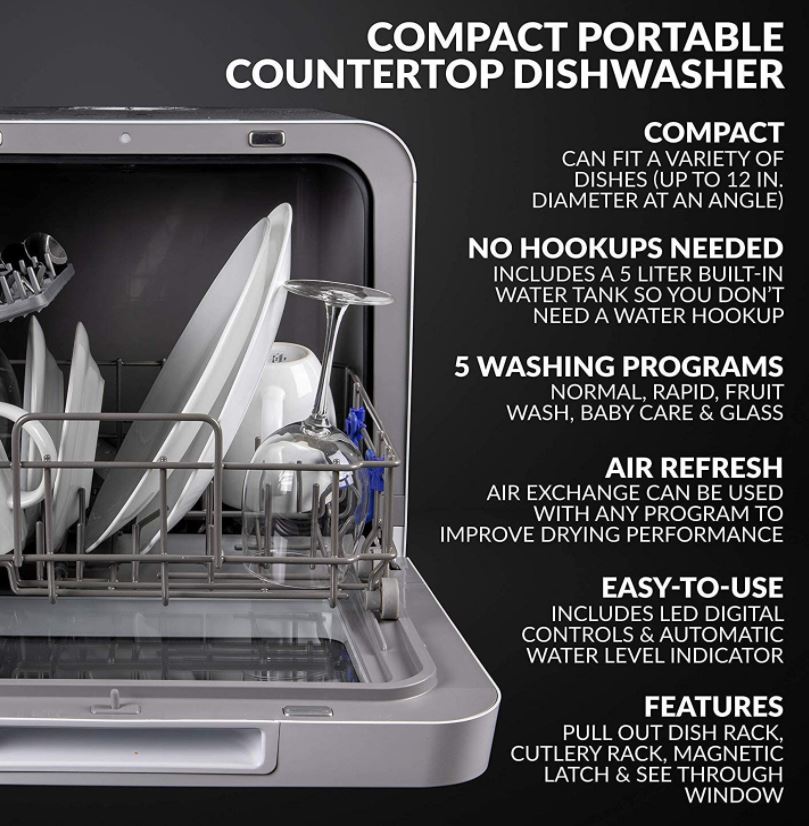 The outside of the unit has an attractive white plastic shell, which is easy to keep clean. The front of the machine is black, with a glass panel that lets you see your dishes. To be fair, the panel is purely cosmetic, but it's still a nice touch. Along the bottom of the front panel, you'll find a row of soft touch controls. Because of this soft touch design, they're easy to operate with wet hands, much like microwave buttons. In the middle of this row, an LCD display shows the water temperature and current cycle time.
One useful feature of the Farberware dishwasher is its top-loading design. It has an internal five-liter tank, so you don't have to hook it up to your sink. Just pour water in through the inlet in the top, and you'll be ready to go. The advantage to this is that you don't have to connect the dishwasher to your sink. As a result, you can wash your pots and pans while your regular dishes are being taken care of. If you prefer a sink-attached design, there's an inlet hose included in the package. You'll have to provide your own sink adapter, though.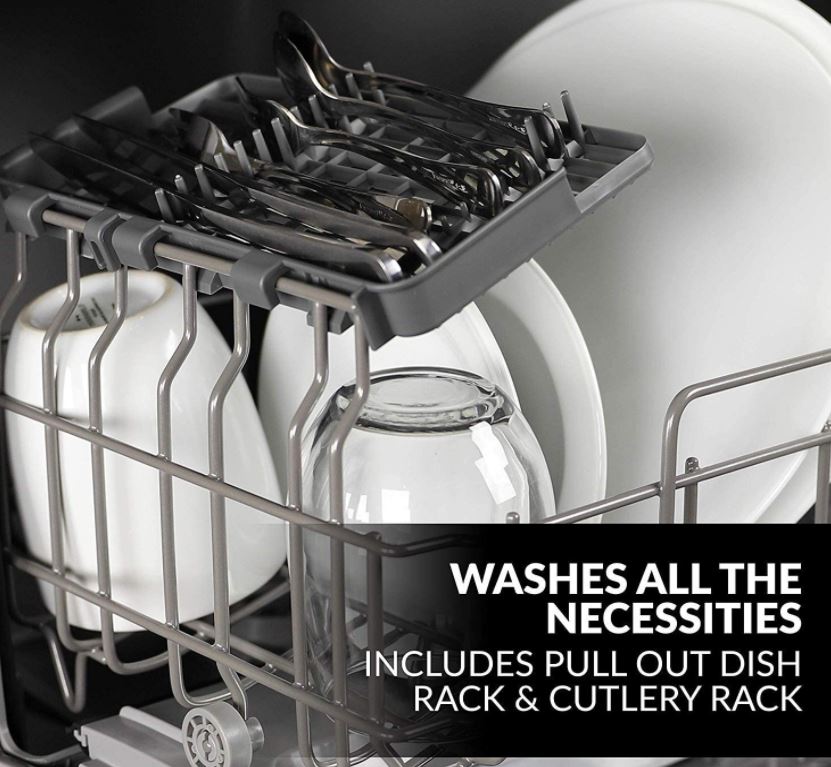 The internal racking has space on the right for tall plates and glasses — up to 12 inches. On the left, a two-tiered design with a folding upper shelf provides some versatility. You can either wash more tall stuff, or stack some smaller dishes. Either way, you can fit two, maybe three plate settings depending on what a "plate setting" means to you. The one major complaint we have is that there's no silverware basket. You can lay some silverware in the tiered rack on the left and it will stay in place. But that's not as convenient for loading or unloading.
Washing Modes and Extras
The Farberware dishwasher has five different washing modes. In all five modes, you get the benefit of upper and lower spray arms for 360-degree cleaning. The normal and glass modes are self-explanatory, while the rapid cycle lasts 40 minutes. However, the other two modes require a little more explanation.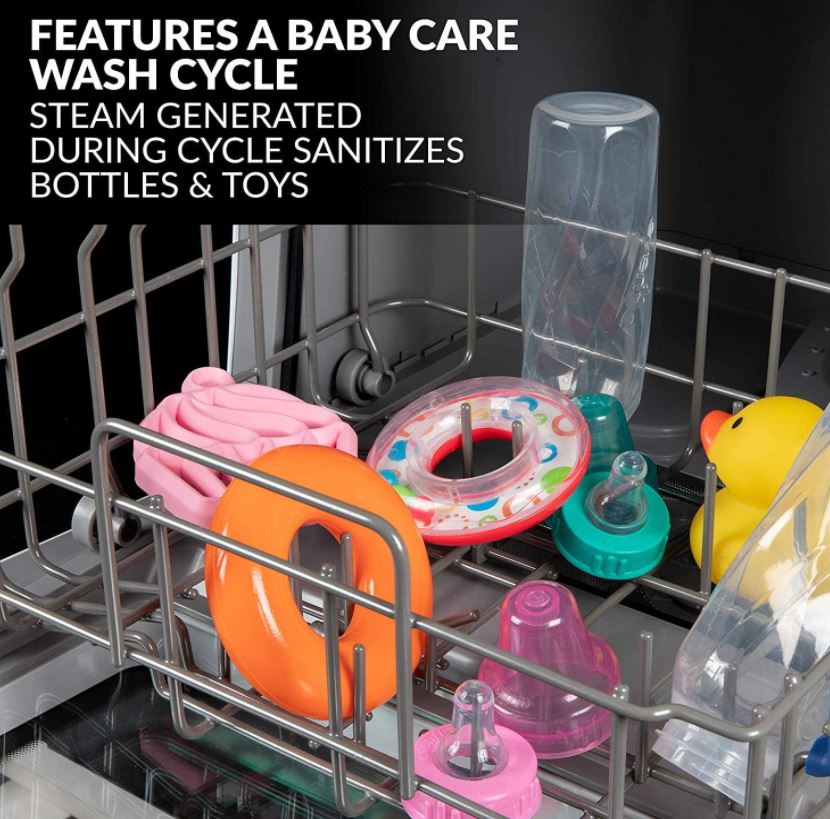 Fruit mode is designed, as you might expect, for cleaning fruit. It uses cooler water so as not to cook any of your produce. There's also a fruit basket included in the kit. This basket holds your fruit neatly in place, and keeps it from easily getting bruised.
In baby care mode, the water is superheated to produce steam at the end of the cycle. This is designed to sanitize baby bottles and toys. Baby care mode is better than normal dishwashing, and certainly superior to handwashing. That said, it's only useful at home or in an RV. If you're on a day trip, you might need to sanitize on the go. In that case, consider the 59S P55 UV Light Sanitizer Bag. It uses UV rays to clean your baby bottle, car keys, cell phone, or anything else that fits inside.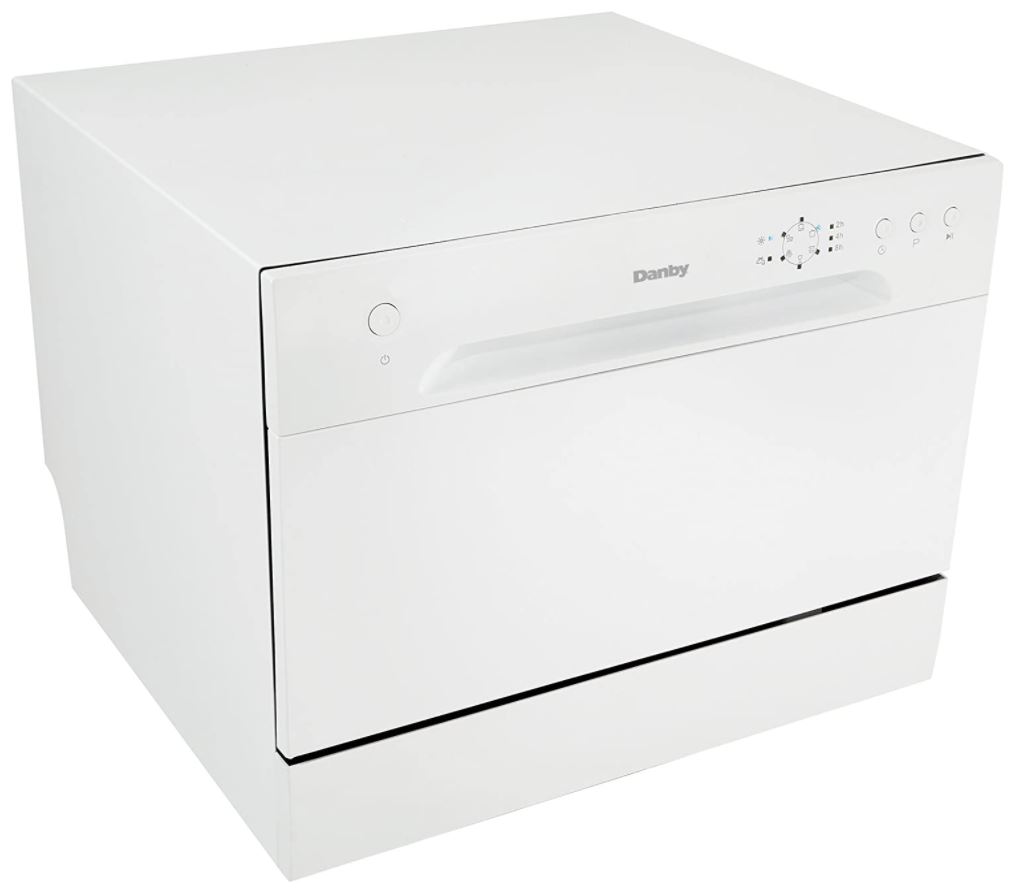 Danby DDW621WDB
While the Farberware dishwasher is designed to maximize counter space, the Danby DDW621WDB is all about what's inside. With enough capacity for about six place settings, it's sufficient for a family or small group. On the other hand, you'll also have to commit more counter space to the endeavor. The Danby dishwasher measures 21.65 inches wide, 19.69 inches deep, and 17.24 inches high. When the door opens, it will protrude about eight inches beyond a standard kitchen counter. Even so, the height is enough for it to fit comfortably under low-hung cabinets. At 46.3 pounds, the Danby is no lightweight, but it's right in line with similarly-sized machines.
The front panel is plain white, matching the rest of the high-gloss housing. This makes it easy to wipe down with a damp cloth or a sponge. The power button is located at the top left, while the other controls and indicators are at the top right. Just underneath, there's a recessed handle that makes the door easy to open.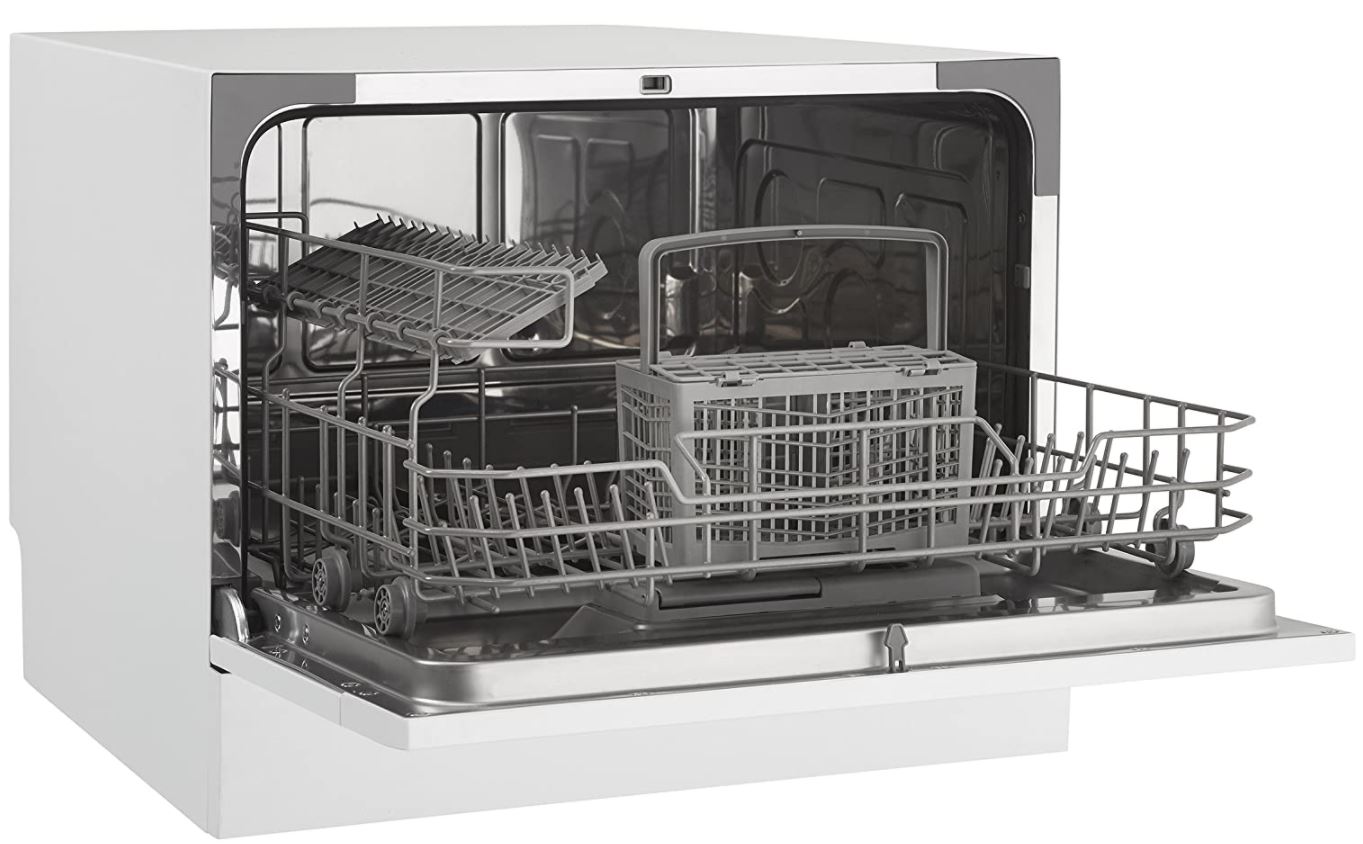 The Danby dishwasher uses a hose connection to your sink for a water feed. It has a quick-connect design, which makes it easy to transport if you're on the road. It also has a simple bypass button for whenever it's not in use. However, it does come with one limitation: you can't use your sink and your dishwasher at the same time. That's common with countertop dishwashers, but it's still something you should be aware of.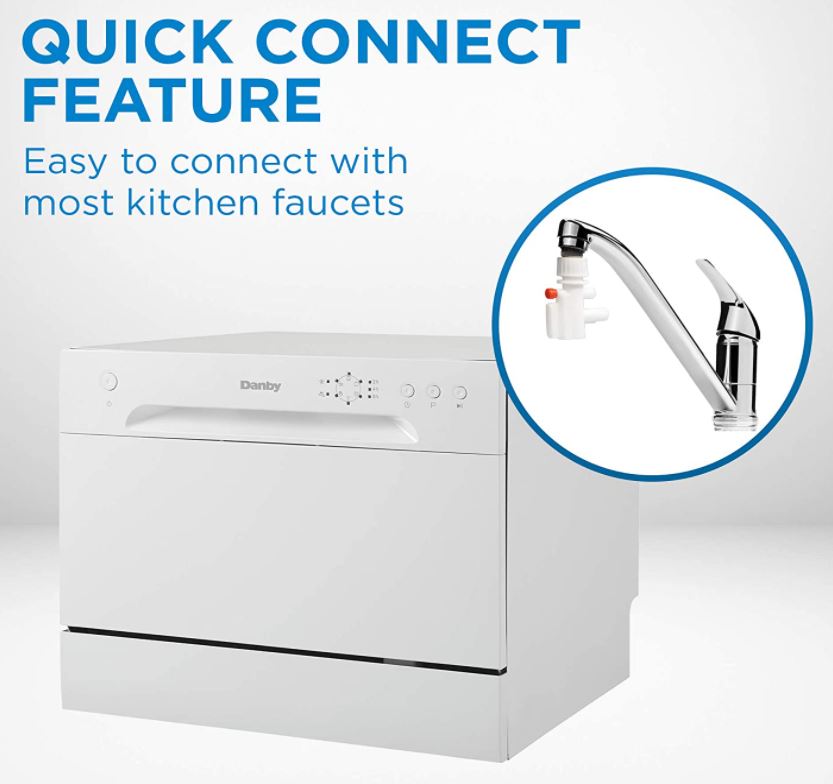 Inside, you'll find a generously-sized dish rack with space on the right for taller dishes. On the left, there's a folding shelf similar to the Farberware's. It can be left down for two tiers of smaller dishes, or flipped up for more head space. However, you'll never have to use it for silverware. A silverware basket is located front and center, which makes it easy to load and unload.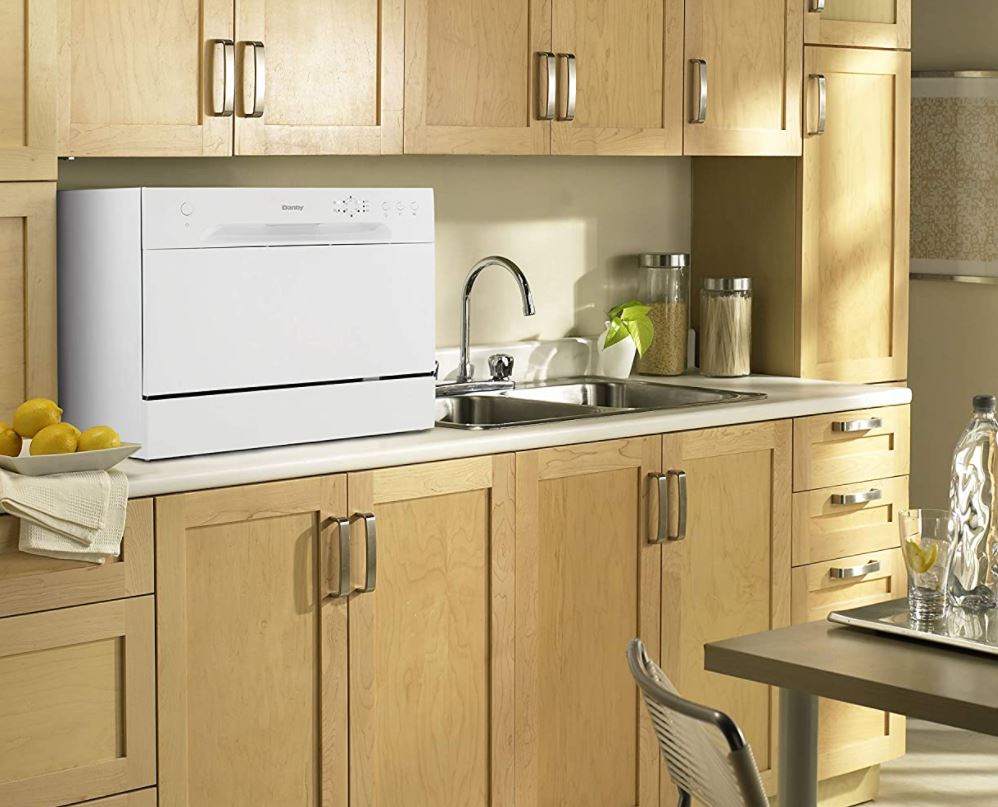 Washing Modes and Extras
The Danby dishwasher has six different washing cycles. Normal should be self-explanatory, while rapid runs a shorter, less intense cycle. Economy mode doesn't heat the water as much, while intensive mode heats it more. Soak mode uses extra water for the most demanding of jobs. Glass mode is a bit special. In addition to very hot water, it will also dispense a glass cleaning agent during the rinse cycle. Of course, this assumes that you've filled the cleaning agent reservoir. All types of cycle take advantage of an automatic detergent dispenser. Once again, though, you'll need to keep the reservoir full on a regular basis.
Another neat feature of the Danby dishwasher is the ability to set a preset timer. You can choose 2, 4, 6, or 8 hours. That way, you can time your dishwasher to run when you're not at home. This is mostly helpful for keeping your sink free, so it's not tied up when you need it.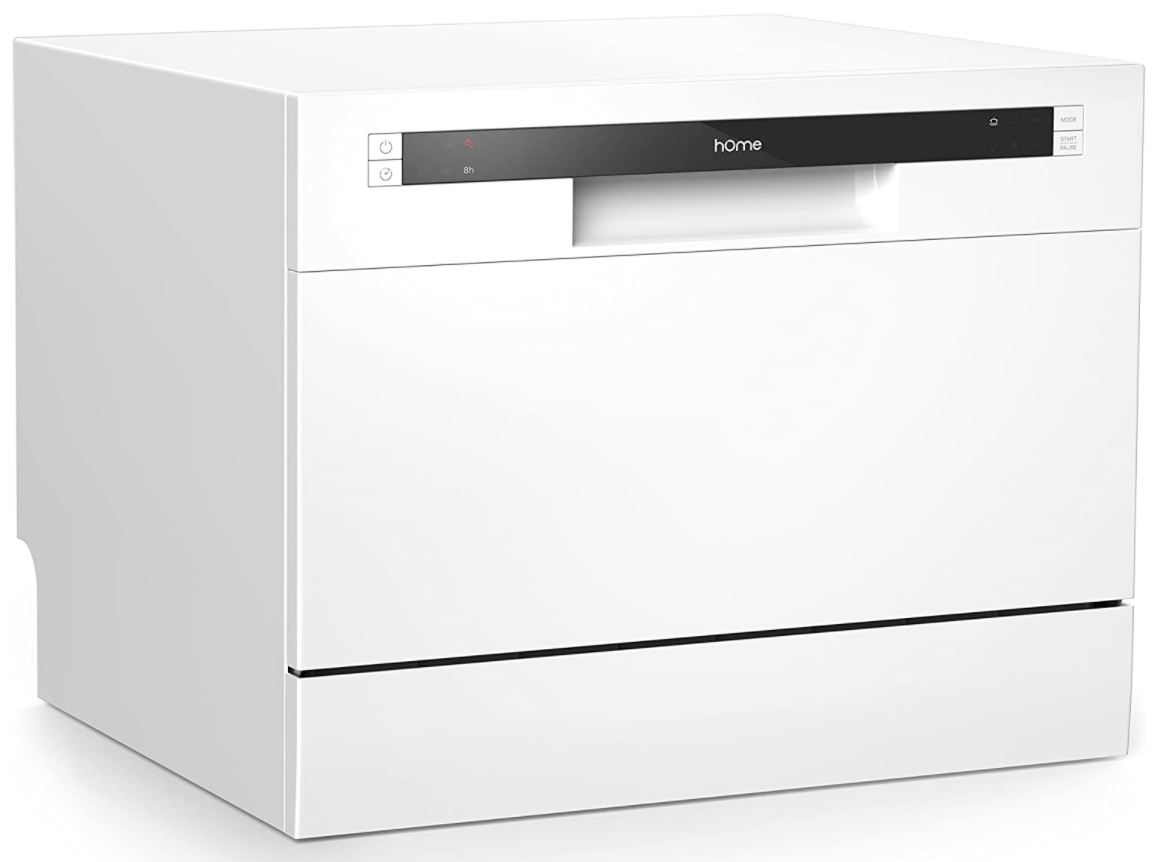 hOmeLabs Compact Countertop Dishwasher
The hOmeLabs Compact Countertop Dishwasher is similar to the Danby dishwasher in design. It's ever so slightly smaller, at 21.6 inches wide, 19.6 inches deep, and 17.2 inches high. At 44 pounds, it's also slightly lighter. That said, the distinction here is really academic. Unless you put the two units side by side, you'd be hard-pressed to notice any difference in size or weight.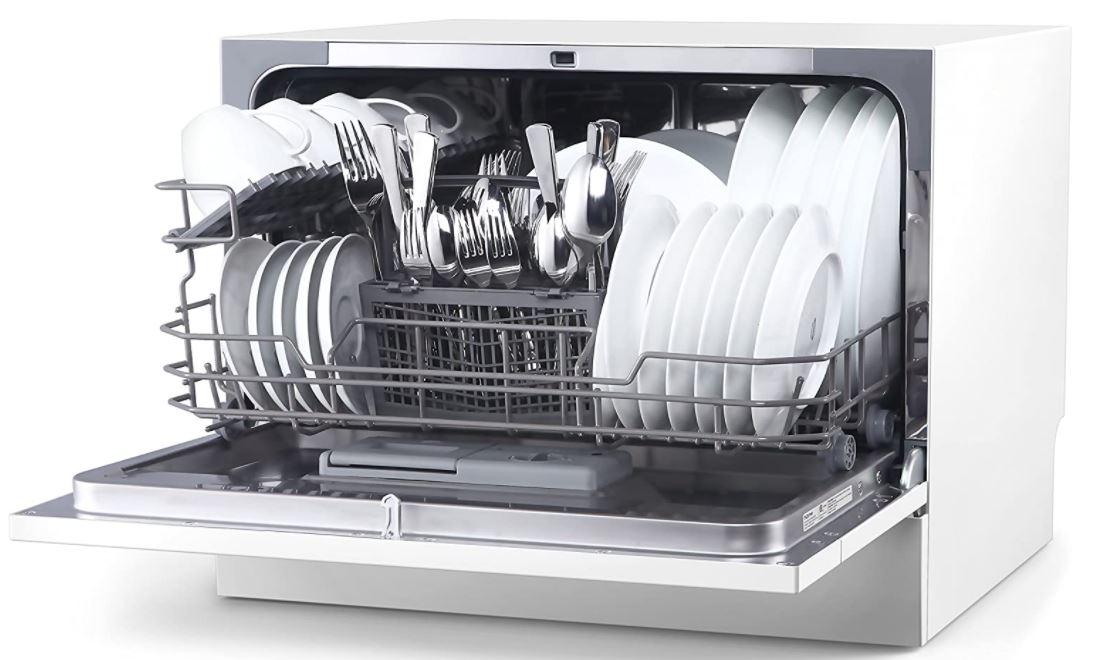 The hOmeLabs dishwasher has a white plastic body, with a handle on the front. The high-contrast black bar above the handle makes it easy to see in the dark. Built into the bar, on the left and right, are LED indicators that let you know the dishwasher's current settings. Just outside the handle, again to both sides, you'll find the controls. They're traditional, clicking buttons, not soft-touch controls, but they still work quite well. The Compact Countertop Dishwasher requires a faucet connection for operation, and a quick-connect faucet adapter is included with the kit.
Inside, there's enough space for about six space settings, plenty for a countertop dishwasher. Taller dishes go on the right, with a familiar, two-tiered design on the left. In the middle, there's a silverware basket for convenience. As always, your exact "place setting" capacity will depend on how many dishes you use.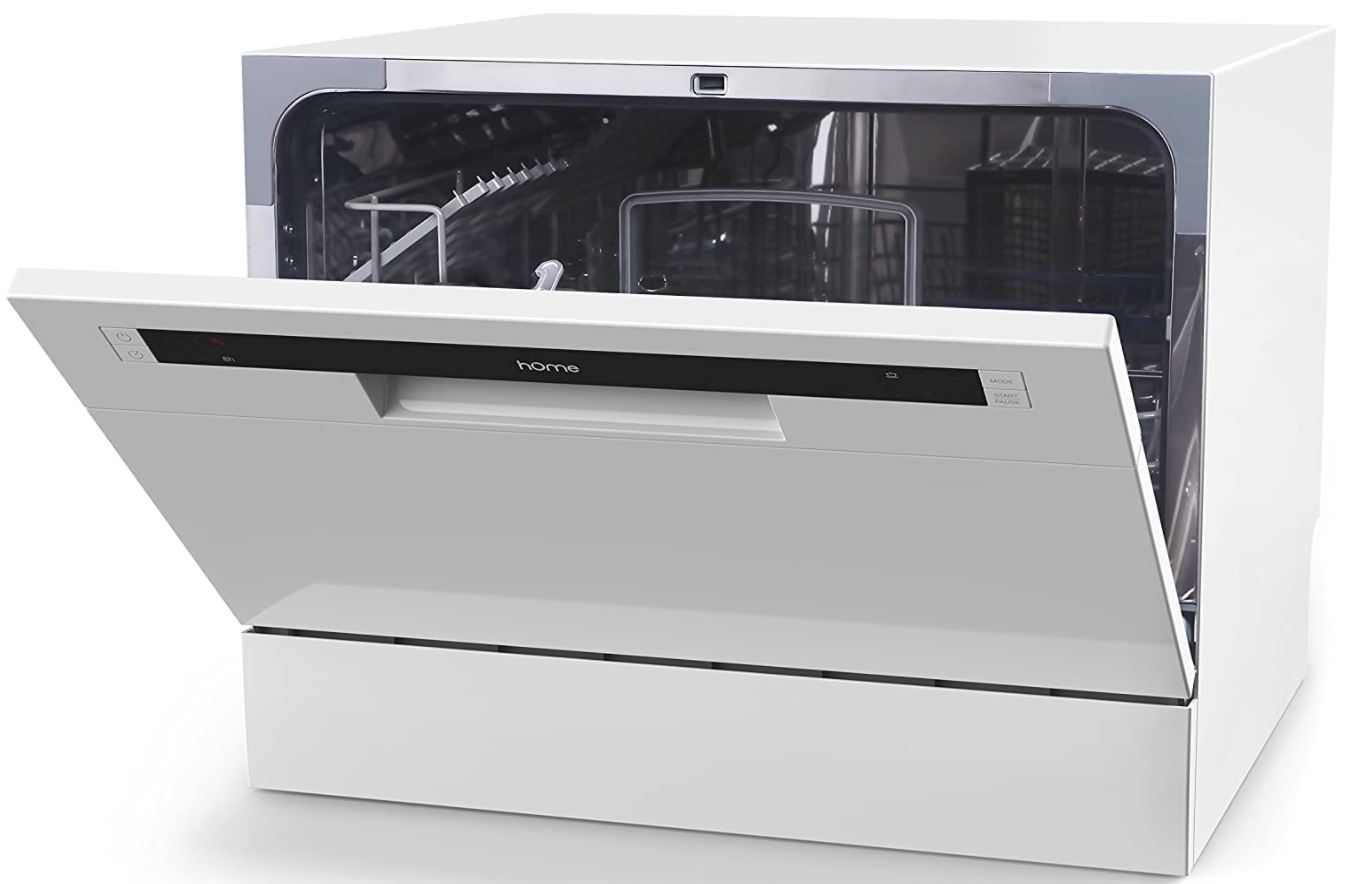 Washing Modes and Extras
Like the Danby dishwasher, the hOmeLabs dishwasher has six different washing modes. These are similar to the Danby's, although instead of a soak mode, it has a rinse only mode. It also has a similar delay function. You can set the timer for 2, 4, or 8 hours, but not 6 as you can with the Danby. This is a minor difference, but it's noticeable. Another minor difference is that the hOmeLabs dishwasher needs to have the soap filled on each cycle. There's no automatic detergent dispenser. There is, however, a glass cleaner dispenser, complete with a refill indicator light. This is in line with many full-sized home dishwashers, where glass cleaner dispensers are common.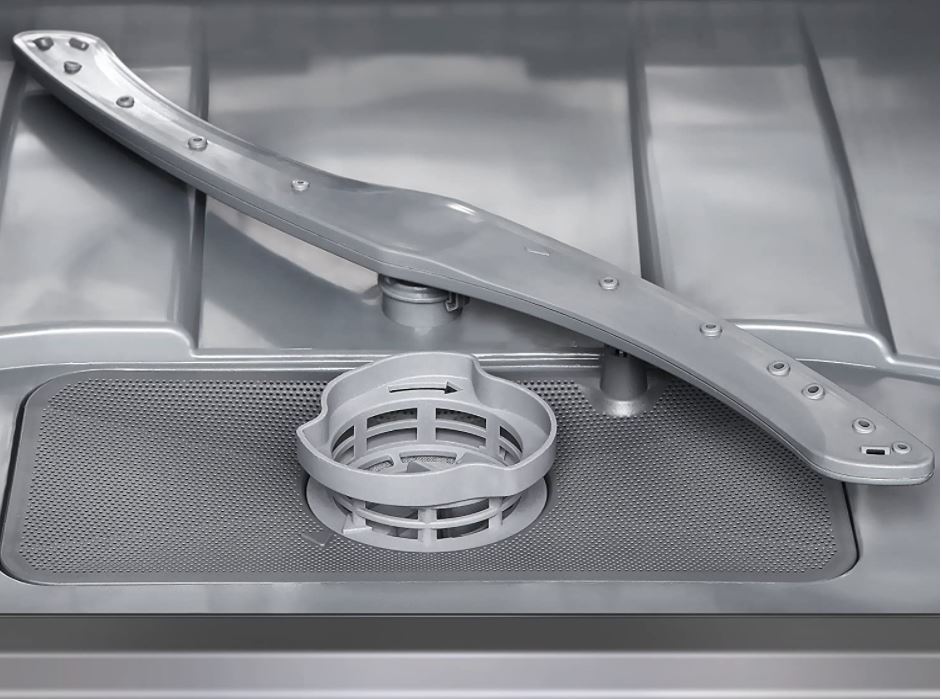 Of course, there's not always a need for a full countertop dishwasher. If you only need to clean a few items every now and then, an ultrasonic cleaner can be more practical. The main advantage of an ultrasonic cleaner versus a dishwasher is that they're small and easy to store.
Final Verdict
As you can see, all three of these portable countertop dishwashers are worth a second look. However, each of them comes with its own strengths, benefits, and weaknesses. Let's go over what we've learned today.
We started by looking at the Farberware FDW05ASBWHA. The Farberware is the smallest dishwasher on our list, which is both a blessing and a curse. On the one hand, it occupies the least counter space. On the other hand, it's only suitable for washing two place settings at a time. Whether this is good or bad will depend on what you need. However, the extra features, including the sanitizer, add a lot of extra value. And the internal water tank means you can use your sink while your dishwasher is running.
The Danby DDW621WDB is a better choice if you need a significantly beefier dishwasher. It's equipped to handle up to six place settings, enough to have a couple guests over. Of course this comes with the related downside: it occupies a good bit of counter space. The Danby doesn't offer the same number of cleaning options as the Farberware. However, it still offers several cleaning modes, as well as a timer mode. It also sports built-in dispensers for detergent and glass cleaner.
Last, we looked at the hOmeLabs Compact Countertop Dishwasher. This has a similar large design to the Danby unit, with enough space for six place settings. It also offers similar features, including a timer mode and multiple cleaning options. However, it only has a glass cleaning dispenser, not a detergent dispenser. If you're going to choose one or the other large dishwasher, the Danby's detergent dispenser puts it over the top.
Please consider sharing:
Note: At no extra cost to you, we may earn a commission for purchases using our links. Learn more.