A couple security cameras with CCTV surveillance can be great for protecting property from theft. They could capture footage of a thief, and then send that footage to a digital video recorder (DVR) to save your data.
But what's there to save the DVR/NVR from the thief? Storage drives might be good at protecting themselves from digital attacks, but they're not good at protecting themselves from physical theft. That's where a DVR/NVR security lockbox comes into play.
Choosing the Best DVR/NVR Security Lockboxes
When it's possible to steal your footage, then your security system is horribly vulnerable. Speaking of vulnerabilities, apart from theft, a good DVR/NVR lockbox is capable of providing protection against tampering.
But how do you know a good DVR/NVR lockbox from a bad one? It's actually pretty simple. After you've covered a few essentials, you really only have to think about two or three things.
The Cloud as an Alternative
When your cameras can make a constant connection to the internet, the cloud can potentially be a sensible alternative to a steel lockbox. However, even if your cameras can make that constant web connection, paying for a cloud storage service can get pretty expensive, pretty quick. So it's not for everyone.
That's before you even begin to think about the security concerns, the costs of bandwidth, or how steadily using bandwidth might affect other devices in your network. In other words, DVR/NVR recording is still popular for a reason. It's elegantly simple, far more cost effective, and in many ways more secure than cloud-based alternatives.
Size of the Lockbox
Bigger boxes mean you can shove more stuff inside. But they take up more space, and tend to weigh proportionally more. Having a slightly larger box can be useful for storing multiple accessories, switches, and other networking equipment inside.
Size also affects your ability to mount the box. Depending on the environment where you're storing the DVR/NVR, you might need your box wall-mounted or installed inside a rackmount.
Material Construction
For the average person, there's really no reason to go with materials more heavy-duty than 16-gauge steel. That means it measures roughly 1/16th of an inch thick, or about 1.3mm. When you have reason to believe tampering is inevitably going to occur, then you may also have reason to consider a sturdier box made from thicker steel.
But outside of those extreme circumstances, 16-gague steel is more than enough. Because you need serious hardware to be able to break through a good 16-gauge steel security lockbox. Not the kind of hardware you'll find lying around an office space.
Airflow Options
Imagine you receive your DVR/NVR security lockbox, and then you immediately stuff all your electronic components inside. It was a pretty small box to begin with, and now it's packed full of warm electronics. Without adequate airflow, that is going to be a recipe for disaster.
First, you may want to think about the operating temperatures which your DVR/NVR equipment was constructed to endure. Then you may also want to ask if the DVR/NVR security lockbox you're considering does anything to help with thermal management. Some boxes provide built-in fans, other provide an empty bracket where a fan could be installed, and other provide nothing but venting holes.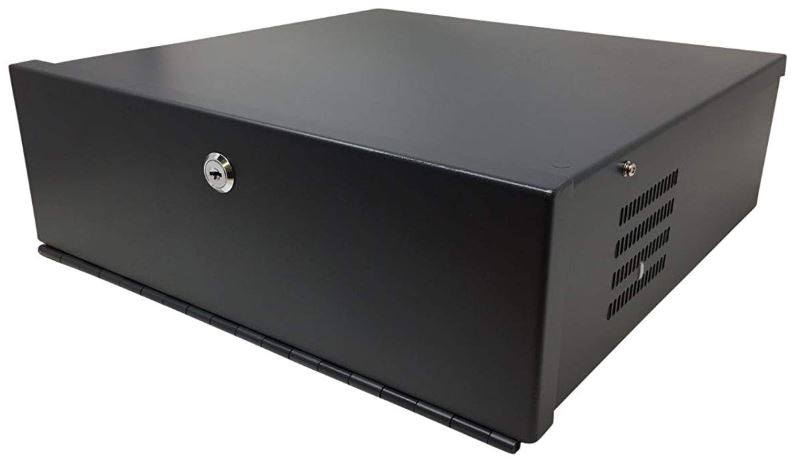 Kenuco Heavy Duty 16 Gauge DVR Security Lockbox with Fan
If you don't need to shove half a dozen different things inside your lockbox, then you probably only need a basic box with a solid lock on it. The Kenuco Security Lockbox is pretty heavy duty due to its all-steel construction. But it's not just strong, this lockbox goes out of its way to ensure you get good airflow in your case.
Build & Design
The Kenuco Heavy Duty 16 Gauge Lockbox measures 15 x 15 x 5 inches. It weighs about 16lbs. A bit heavy, but that's what you can expect from a hunk of 16-gauge steel around this size. Speaking of steel, people who don't own their own machine shop will be relieved to know the chassis has pre-drilled holes for the tie-down bolts which are included with the lockbox, which is pretty convenient.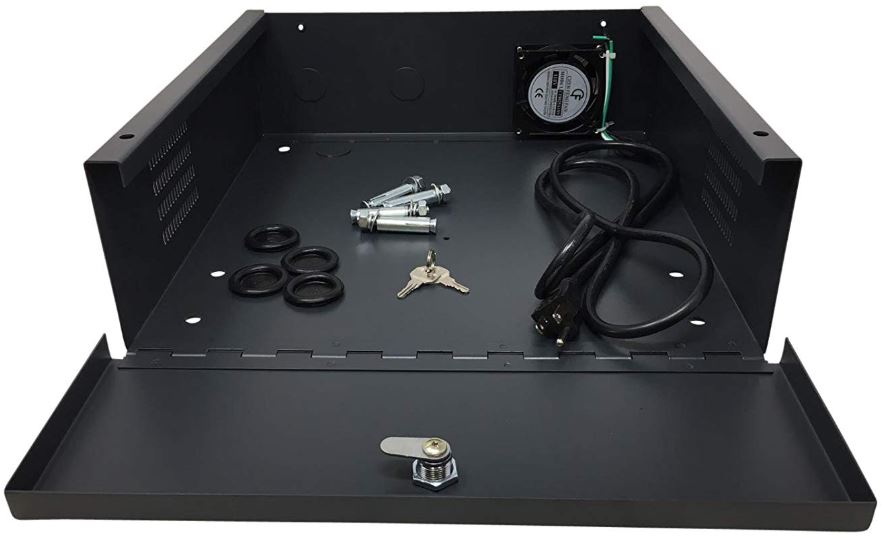 The front of the lockbox opens with a key, allowing you to insert DVR equipment inside. Both the left and right sides of the to have a large airway made from holes punched into the steel grating. Those holes are actually mostly to allow air to be sucked inside of the lockbox.
The backside is where they've positioned an exhaust fan, which was installed in such a way that air is blown out of the back of the case. If you were doing some kind of special setup, it would take very little effort to reverse the position of the fan and have air blown inside, instead. But unless you have a specific reason to do that, then there's no reason to bother.
Other Considerations
The fan is a simple two-pin connection that takes almost no power to operate. The only problem with the fan is that it's rather loud. That's because small fans have to spin quickly to move air, and small fans moving quickly don't just make lots of noise, they have a higher pitched noise. If the noise bothers you, you'll probably want to pick up an alternative fan that spins a little slower, you could easily reduce the sound by 10db.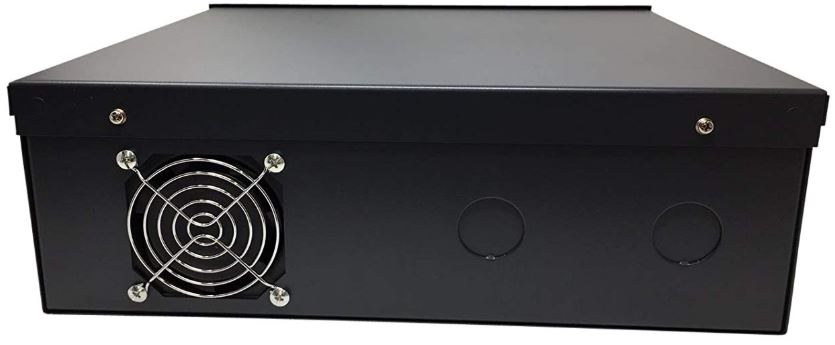 Though the lid looks like it has screws which can be removed, they cannot be removed without unlocking the device first. The screws are only an extra locking mechanism to help keep the cover in place while the box is locked up.
If you were looking for a slightly larger lockbox, Kenuco also makes an 18 x 18 x 5 variant, and even a much larger 24 x 21 x 8 version. In all cases, these lockboxes are available in either black or white. Nice to have a few style options, which is another thing most boxes are utterly lacking.
This kit includes a power cord for the fan, a pair of keys, four knock-outs for cable passes, four mounting bolts for a hardware-rich installation, and some rubber feet to keep the lockbox from resting directly on the ground.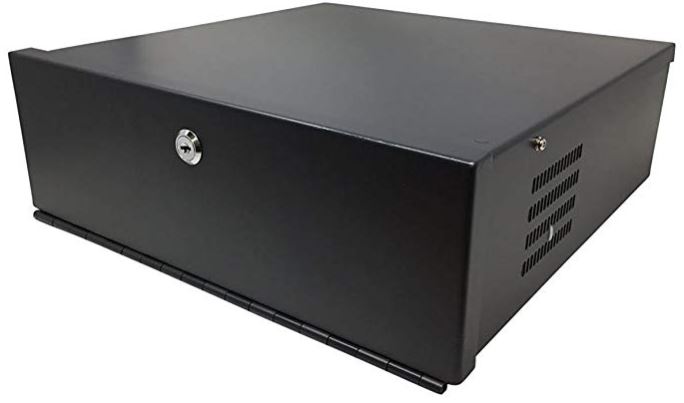 HDView Heavy Duty 16 Gauge DVR Security Lockbox
Sometimes a smaller 15 x 15 box won't cut it. If you're trying to store more than one thing inside your DVR lockbox, or even if you just want some room for growth, bigger lockboxes can be pretty appealing. The HDView Heavy Duty 16 Gauge Lockbox measures 24 x 18 x 5 inches. That's enough space for a DVR, PoE switch, NVR, and several similar devices.
Perhaps more importantly, the folding door measures a full 18" across. And it's great having full access to the doorway like that. You get to utilize the full dimensions of the device without necessarily having to remove the top, so it's never a struggle to manage your stuff inside the case.
Build & Design
Similar to the Kenuco lockbox, there's some holes punched along the left and right side of the chassis, which helps to improve air flow. On the backside, there are actually several more options for additional cable placement.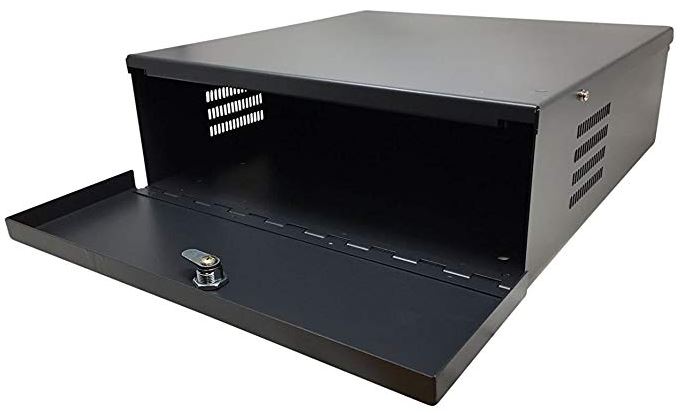 It also has some of the best options for expansion of any similar lockbox, including four knock-out spaces for cables to pass through. Among them, single large 1.75" space, and then some smaller separate 1" spaces, giving you plenty of options for cable management.
And the top cover allows you the option of screwing in, so you can get a bit more security. Or you can remove the screws to help access the contents of the case easier while it's unlocked. Even if you don't use the top screws, the top panel can't be removed while the case is still locked.
One thing this kit does not provide is a fan. But there's a mounting space for a fan available on the backside of the case, and even mounting holes to help screw the fan into place. It would cost about $10 to run a small fan inside, and it wouldn't be much more difficult or expensive to power it.

Suppose you did get a lockbox that came with a fan, and you had to end up replacing it. Well, you already paid for the fan you're replacing. With the HDView Heavy Duty Security Lockbox, you can save a few bucks by not having to pay for a bad fan to begin with.
Other Considerations
This kit includes rubber feet, mounting bolts, and a single pair of keys. This case doesn't provide any other size options, nor any other color options. But that kind of minimalistic approach is exactly what you want when you're looking to squeeze every value from a security lockbox.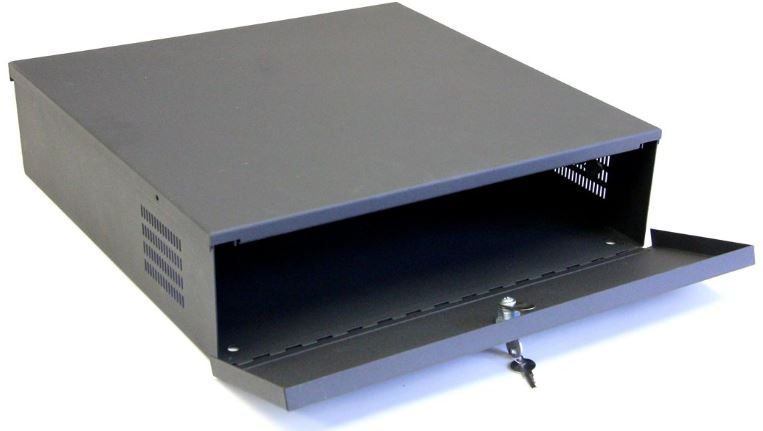 SecurityCameraKing DVR Lockbox with Fan
The SecurityCameraKing DVR Lockbox is actually made in the same size as the second largest of the Kenuco Lockboxes. This case measures 18 x 18 x 5 inches, and weighs just shy of 18lbs. Once again, that's about the weight you can expect from a chunk of steel of this size. But having the same size, it makes sense to ask, how is this lockbox different from the Kenuco box?
Similar to the other lockboxes on this list, the SecurityCameraKing Lockbox is made from 16-gauge steel. And similar to the Kenuco lockbox, this box includes its own fan. But its fan placement is totally different from the Kenuco lockbox, and its assortment of cable-running options are equally diverse.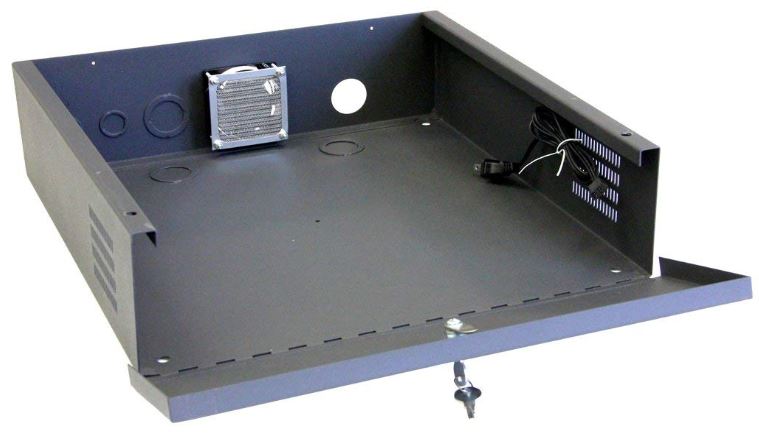 Build & Design
On both the right and left side of the case, there are a number of holes punched into the steel to help provide airflow. Additionally, the lid is removable for easier access to the contents of your case. If you want to add a layer of extra security, you can screw the lid down. But it's not possible to remove the lid unless the box is unlocked, screwed or otherwise.
The fan is positioned in the back-center of the box. That's a mildly inconvenient placing because it might interfere with placement of objects in the box. Having the fan be off-center would provide more options for shoving your stuff inside without interfering with the fan.
It's possible to mount this lockbox pretty easily on a wall bracket, though no such brackets are included. It's easy because of pre-drilled holes which were made in standardized stud spacing, so it takes almost no effort to find a bracket that will work for you. You can just about choose one at random.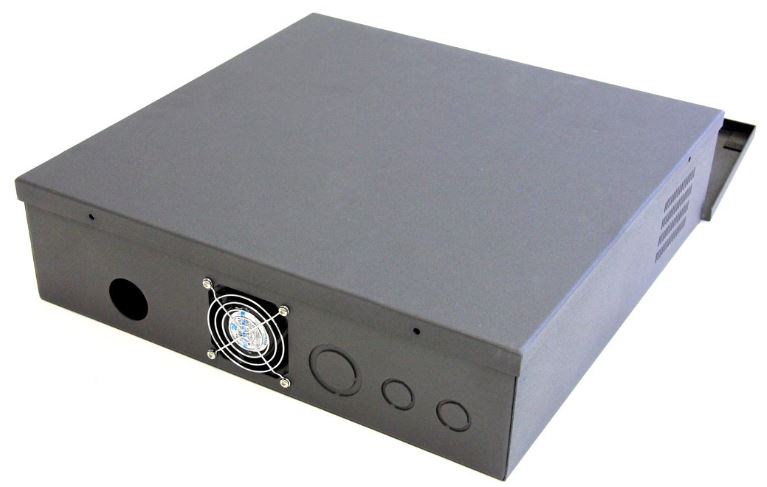 Other Considerations
It also includes a power cable you can use to connect with the fan. The cable only runs about two and half feet, and terminates in a two pin fan connection. On the backside of the SecurityCameraKing Lockbox, you'll find one large 1.5" hole punched in the case for cabling, and three more spaces where you could punch additional holes.
Similar to the Kenuco lockbox, this lockbox's fan sounds like a jet engine. If you find the noise becomes an issue, then replacing the fan isn't going to be too tough. But it's something to keep in mind if you don't care for the noise.
Choosing Between 3 of the Best DVR Security Lockboxes
If you're looking for a smaller lockbox, then you probably want the Kenuco Heavy Duty 16 Gauge DVR Security Lockbox. Having a fan is particularly important because of the size of the box. It includes just enough stuff to get started, and nothing more. The cabling holes in the back aren't pre-punched, but it's not much of a chore to fix that.
Both the Kenuco DVR Lockbox and the SecurityCameraKing DVR Lockbox with Fan are available in the same 18 x 18 x 5 format. But while the former only provides two punch-out spaces, the SecurityCameraKing box provides four, and one is pre-punched. You may or may not like the fan positioning in the center of the box. For someone who does like the centering of the fan, and someone who appreciates the pre-punched cabling options, this is a pretty good choice.
Finally, there's the largest box on this list, the HDView Heavy Duty 16 Gauge DVR Security Lockbox. This selection makes the most sense for someone who needs an extra lengthy box, stretching out to 6" further than the SecurityCameraKing Lockbox. It has a total of five spaces for cabling, with one space pre-punched. Though no fan is included, it wouldn't be tough to install one, which also helps make this lockbox a cost effective choice.