In today's world, being able to use your favorite Bluetooth headphones on flights and with various devices is essential for a seamless audio experience.
We've researched and tested some of the best Bluetooth headphone adapters on the market to make your travels and daily life more enjoyable. In this article, we'll review the top 5 adapters, focusing on their key features, pros, and cons:
Read on to discover which Bluetooth headphone adapter is the perfect fit for your needs and preferences.
1. Twelve South AirFly Pro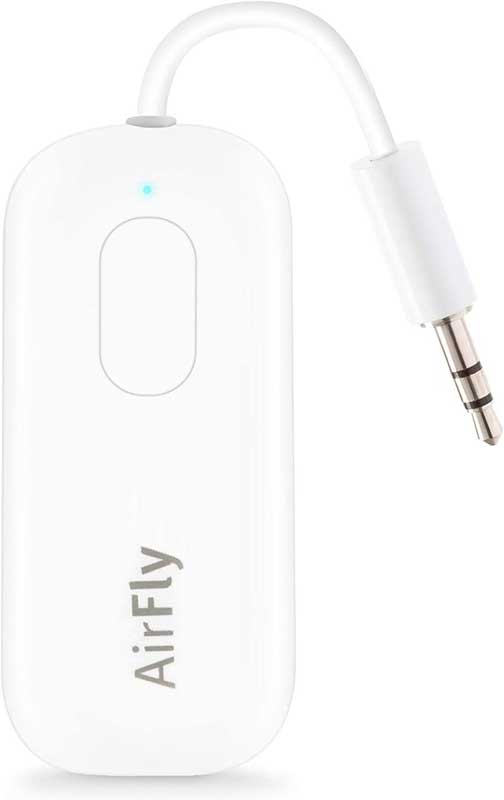 Key features:
Wirelessly connects headphones to 3.5 mm audio jack
25+ hour battery life, charge while using
10-meter range for spacious listening experience
Supports aptX Low Latency and Bluetooth 5.0
Thanks to Twelve South's AirFly Pro, users can now enjoy Bluetooth compatibility using only a 3.5 mm headphone jack. From in-flight entertainment systems and gym equipment to gaming consoles and TVs, it enables users to enjoy their favorite content without the hassle of cords.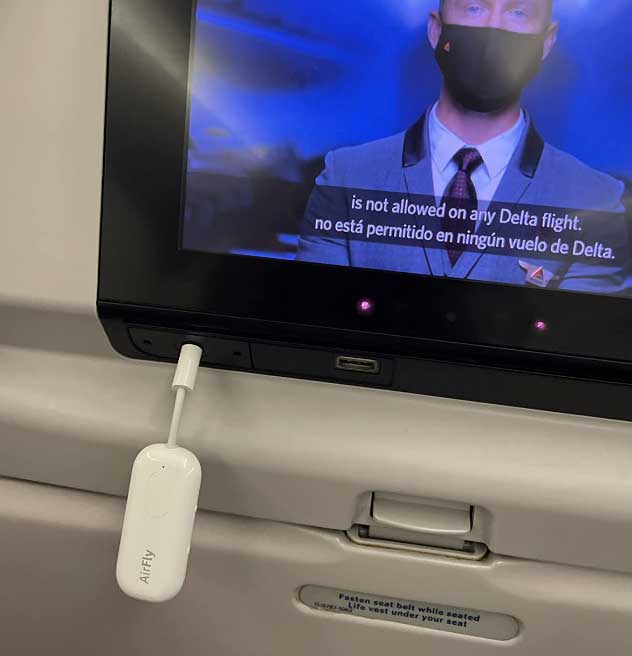 We tested the AirFly Pro on various devices and in various scenarios. The performance was impressive, with a solid connection and a range of about 33 feet. As such, you can expect comfortable movement while using it. What's more, it's also exceptionally lightweight at just 16 grams. And because it measures a mere 1.75 x 1.25 x 0.38 inches, it's a travel-friendly companion.
One of the most important features is the long battery life, which provides about 15 hours of use on a single charge. While good, it's not quite the 25 hours advertised. Still, 15 hours ensure that users won't have to worry about running out of power during long flights or extended gaming sessions.
Furthermore, the AirFly Pro can be used while charging, thanks to the included USB-C charging cable. To top off the battery, it will take about 1.5 hours.
Another significant advantage of this device is its ability to transmit and receive audio without wires. This feature allows it to wirelessly receive audio from phones, tablets, or gaming devices and send it to wired speakers, soundbars, or even car and boat sound systems that lack Bluetooth functionality. Equipped with Bluetooth 5.0 technology, the AirFly Pro supports popular codecs like aptX, aptX Low Latency, and SBC audio, ensuring high-quality audio transmission.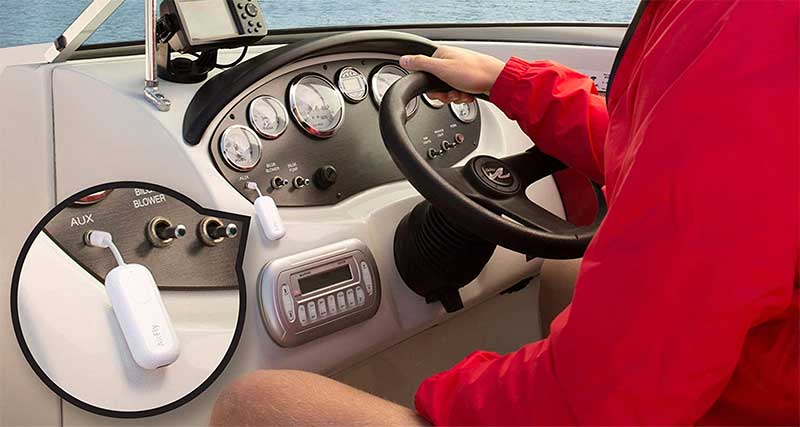 Twelve South's AirFly Pro proves itself to be a reliable, compact, and feature-packed Bluetooth audio transmitter/receiver that enhances the wireless headphone experience by allowing seamless connection with devices that lack built-in Bluetooth capabilities. Its long battery life, lightweight design, and impressive audio quality make it a solid buy for everyone from travelers to gamers.
What we liked:
Compact, lightweight design for easy portability
Compatible with various devices and headphones
Transmit and receive audio functionality
User-friendly pairing process
What we didn't like:
Battery life isn't as advertised
AirPods must be inside case for pairing
2. MEE audio Connect Air in-Flight Bluetooth Adapter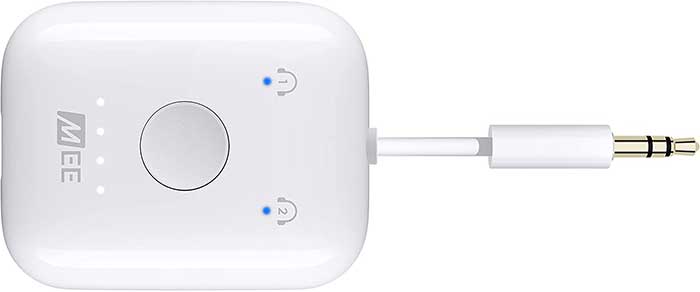 Key features:
Connects two Bluetooth headphones simultaneously
Compatible with various 3.5 mm audio devices
Incorporates aptX Low Latency technology
Impressive 20-hour battery life
The MEE audio Connect Air offers a convenient way to enjoy wireless audio with your Bluetooth headphones while traveling, gaming, or working out. This small and lightweight transmitter adapter, measuring 1.5 x 0.6 x 1.8 inches and weighing a mere 0.6 ounces, is designed for those who want to use their AirPods or other Bluetooth-enabled headphones in various situations.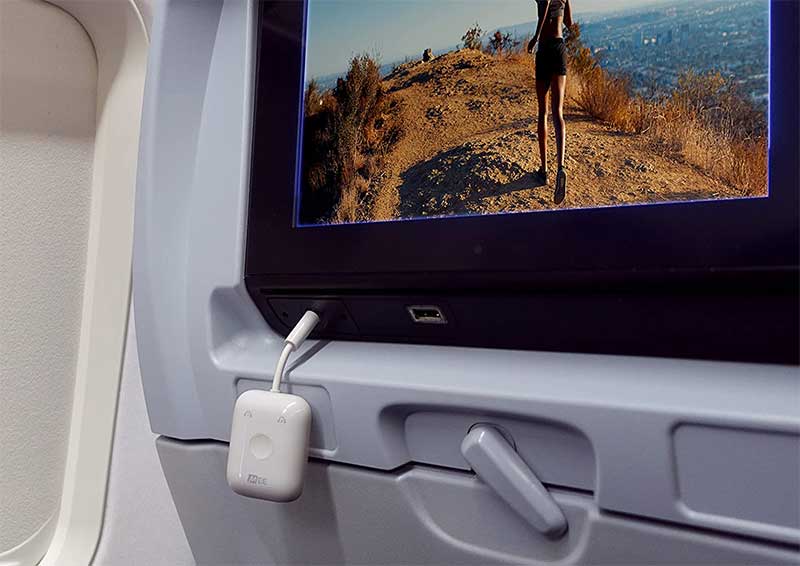 A unique aspect of this device is its capacity to connect with two Bluetooth headphones at the same time. During our evaluation, we successfully paired several headphones and shared audio from airplane entertainment systems.
The adapter's versatility goes beyond air travel, as it is compatible with a wide array of 3.5 mm audio devices, including gaming consoles, A/V receivers, TVs, and even portable DVD players.
The Connect Air incorporates aptX Low Latency technology, providing lag-free, high-quality audio for an enhanced listening experience. In our tests with aptX-compatible devices, the audio delivered was clear, free of distortion, and experienced minimal delays – essential for watching movies or engaging in gaming sessions.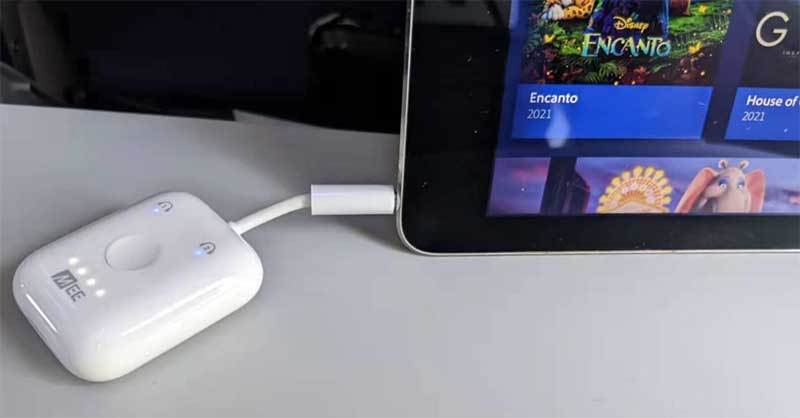 It's equipped with a built-in battery, which MEE audio says will deliver up to 20 hours of playtime when connected to one pair of headphones or 15 hours when connected to two pairs. In our tests, we got closer to 5-10 hours of usage. Which is still pretty decent battery life and should provide uninterrupted use for most flights or gaming sessions.
On the plus side, the adapter can be used while charging, allowing for continuous use even when the battery is low. Fully charging the adapter take about 1.5 hours.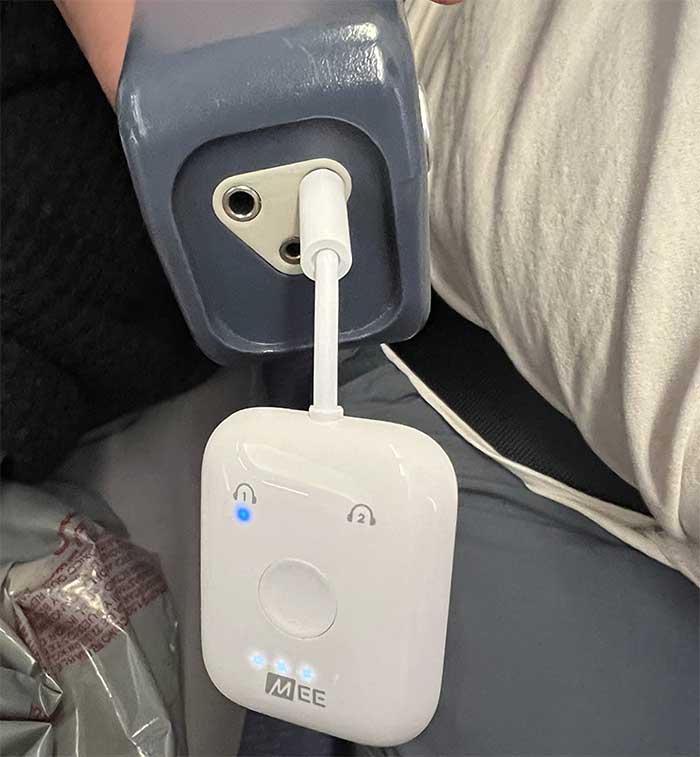 MEE audio's Connect Air serves as a flexible and portable option for individuals who want to experience wireless audio across a variety of devices, such as in-flight entertainment systems, gaming consoles, and gym equipment. Its compact design, capability to connect multiple headphones, lag-free audio performance, and serviceable battery life make this one a winner.
What we liked:
Lightweight and portable design
Easy pairing process
Usable while charging
Ideal for travel, gaming, workouts
What we didn't like:
Battery life takes a hit faster than expected
Performance may vary with non-aptX headphones
3. YMOO Bluetooth 5.3 Transmitter Receiver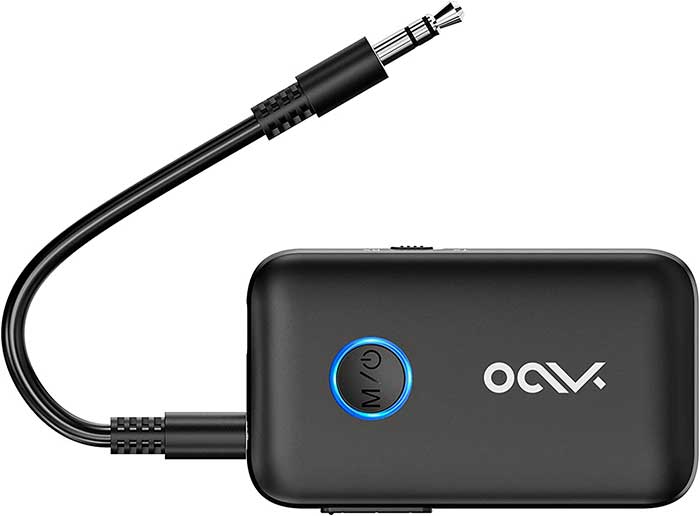 Key features:
2-in-1 Bluetooth transmitter and receiver
Less than 40ms audio latency
Stable connection with HiFi sound quality
Dual Link for simultaneous device pairing
The YMOO Bluetooth 5.3 Transmitter Receiver is a versatile 2-in-1 Bluetooth 5.3 audio adapter, perfect for various audio needs. With its dual functionality, it serves as a transmitter (TX Mode) and receiver (RX Mode).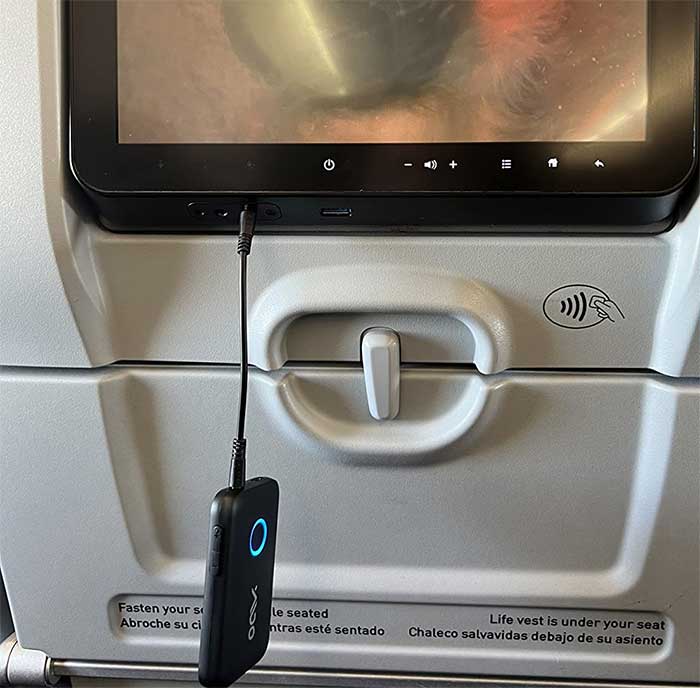 This device easily connects to TVs, PCs, and even airplane entertainment systems, transmitting audio to Bluetooth headphones, earbuds, or speakers. Additionally, it enables your smartphone to connect with wired speakers or earphones through Bluetooth in RX Mode.
Equipped with Bluetooth 5.3 technology, this compact device measures just 3.15 x 1.89 x 0.55 inches and weighs 32.5 grams). We like that it reduces power consumption during use, so you can expect a fast and stable connection. The aptX-HD decoding technology allows for CD-level high-fidelity stereo sound quality at 24-bit/48Hz when in receiving mode.
One of the key features of this unit is its low latency. Supporting aptX low latency codec mode, it minimizes audio lag to less than 40ms, allowing for seamless picture-audio synchronization. To achieve optimal performance, you'll want to make sure you're using Bluetooth headphones or speakers that also support aptX low latency or aptX Adaptive technology.
In addition to its audio capabilities, there's also a 400mAh battery. It is supposed to support 22 hours of continuous use in transmit mode and 20 hours in receive mode. But we got closer to 14 hours during our time with it.
This is still really good and should provide enough battery life for most scenarios. Getting a full charge takes a little over an hour. Furthermore, it can be charged and used simultaneously through a USB-C-to-USB cable or with an additional power supply. Many devices don't allow that, so it's nice to see here.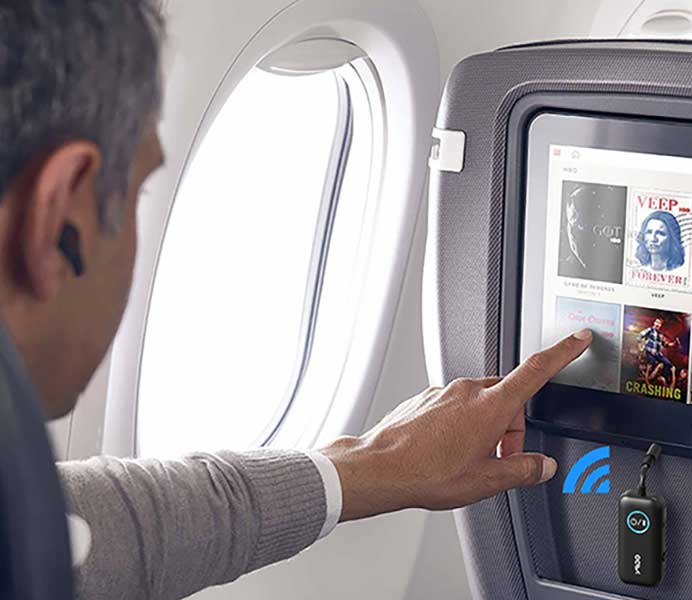 Another welcome feature is Dual Link functionality. It allows pairing with two devices simultaneously in both RX and TX modes. This means you can share the joy of watching movies with a loved one using Bluetooth headphones or connect two smartphones to a single speaker to share your favorite tunes.
Overall, YMOO's Bluetooth 5.3 Transmitter Receiver is suitable for those seeking reliability and versatility. Its low latency, high-fidelity sound quality, and dual-link capabilities make it an ideal solution for a variety of audio needs, from home entertainment to travel.
What we liked:
Compact and lightweight design
22-hour battery life
Compatible with various devices
Works while charging
What we didn't like:
Plastic feels a bit cheap
Requires compatible headphones for low latency
4. LAICOMEIN Bluetooth Transmitter Receiver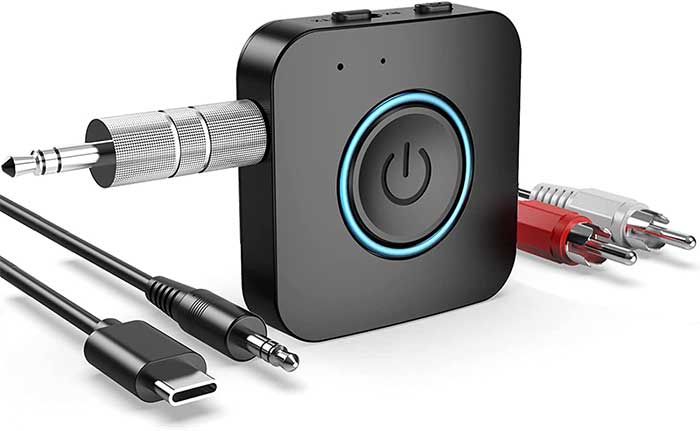 Key features:
2-in-1 Bluetooth transmitter and receiver
HiFi stereo audio
Pairs with two devices simultaneously
Quick charging, works while charging
If you're looking for compact, LAICOMEIN's Bluetooth Transmitter Receiver has you covered. Measuring 1.8 x 1.8 x 0.79 inches and weighing a mere 3.52 ounces, this adapter is easy to transport and discreet enough to blend into any setup.
And speaking up setup, it's quick and easy thanks to its user-friendly design. The latest Bluetooth chip and upgraded software ensure a stable connection, transforming old non-Bluetooth devices into wireless ones. A single button press powers on the device and initiates pairing mode, while switching between TX and RX modes is equally straightforward.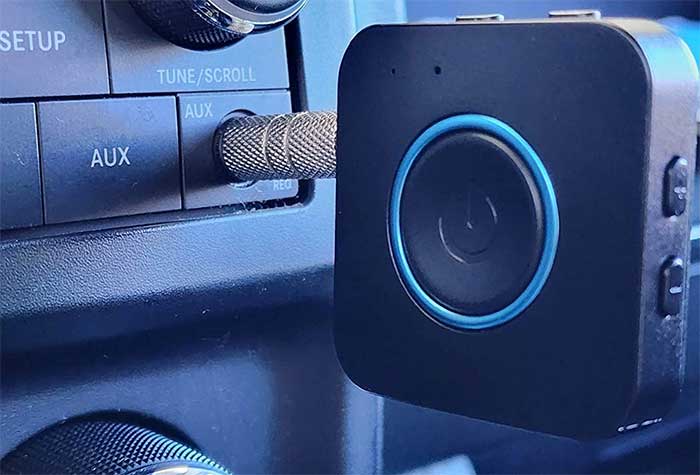 In transmitter (TX) mode, the device can be plugged into non-Bluetooth equipment like TVs, PCs, MP3 players, or even airplanes to stream audio wirelessly to Bluetooth headphones, speakers, or soundbars.
In receiver (RX) mode, it can be connected to wired speakers, headphones, or car stereos to receive audio from cell phones, tablets, or computers via Bluetooth. The unit supports HFP, A2DP, and AVRCP protocols, ensuring high-quality sound when paired with compatible devices. As a result, users can expect high-fidelity stereo audio and perfect synchronization with on-screen visuals when watching movies or TV shows.
The ability to pair two devices simultaneously is certainly a welcome addition. In TX mode, for example, it can connect to two stereo Bluetooth speakers or headphones at once. And in RX mode, it can link with two Bluetooth-enabled smartphones or computers.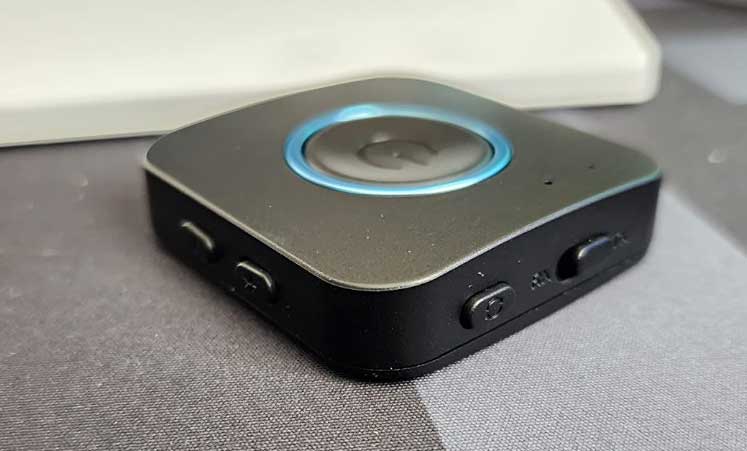 On top of that, the built-in 180mAh battery provides an impressive battery life and can be fully charged within 1.5 hours. Furthermore, the adapter can continue to function while charging, allowing users to enjoy uninterrupted usage during low-battery situations. Simply plug it into a power source and continue using it as it charges.
LAICOMEIN's Bluetooth Transmitter Receiver is a reliable and practical solution for those seeking to enhance their audio experience by adding wireless connectivity to their devices. Its compact design, simple operation, and dual-mode functionality make it an attractive option for users of all types.
What we liked:
Compact and lightweight design
Easy setup and mode switching
Stable Bluetooth connectivity
Long-lasting battery life
What we didn't like:
Limited to certain Bluetooth protocols
No advanced audio codec support
5. 1Mii B05 Airplane Bluetooth Adapter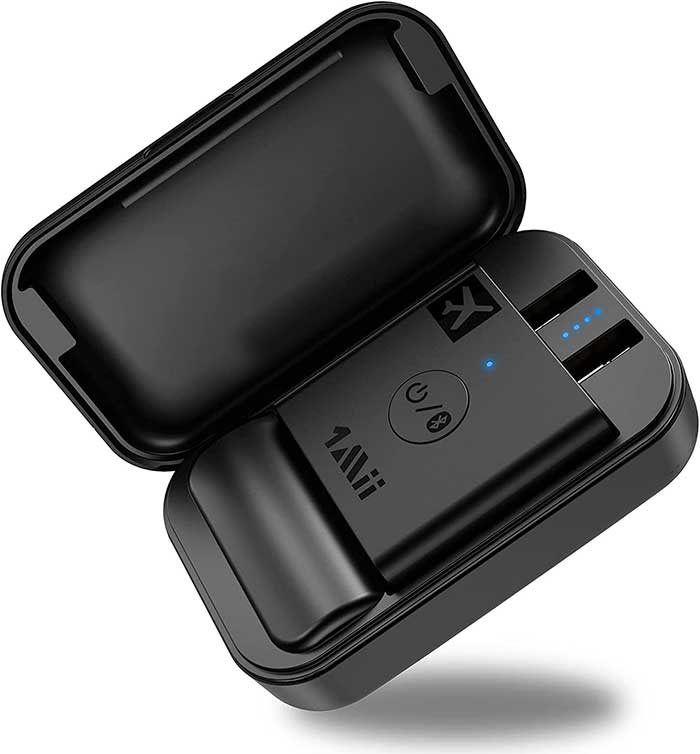 Key features:
Versatile use with multiple devices
High-fidelity stereo sound support
Long-lasting battery and portable charging case
Compatible with one-prong and two-prong jacks
Last on our list is the 1Mii B05. This airplane adapter is designed to bring wireless audio capabilities to in-flight entertainment systems, thanks to Bluetooth technology. It also works well with handheld gaming consoles, PCs, and gym equipment, making it an ideal companion for Bluetooth headphones.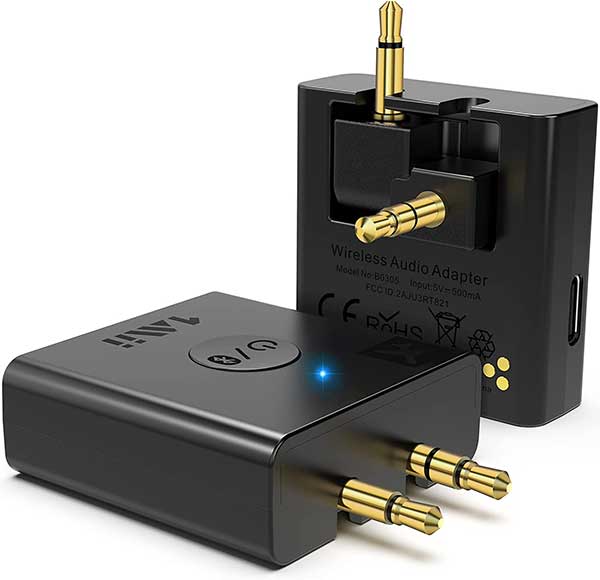 Equipped with Bluetooth 5.3 and a range of advanced codecs, you can expect impressive audio quality. The HiFi stereo sound is transmitted at a 24-bit resolution, offering a listening experience that surpasses CD quality (16-bit). Regardless of the music genre, it ensures a lossless and wireless audio experience.
This adapter is both portable and boasts long-lasting battery life. With a rechargeable battery that lasts for up to 6 hours on a single charge, it's perfect for extended flights or gym sessions.
Moreover, the portable charging case provides extra power for up to 24 hours of playtime, or you can enjoy continuous playback when connected to the supplied USB-C power cable. In total, it claims to provide up to 30 hours of music playback, making it a reliable travel companion. In our testing, those figures proved to be pretty accurate.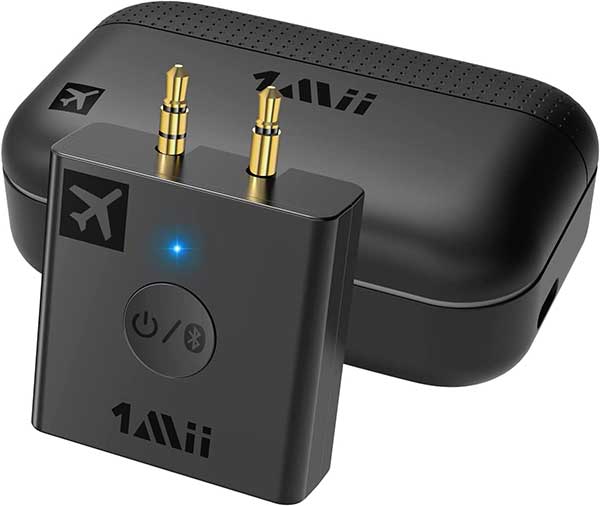 We like that you can use it in both one-prong and two-prong audio jacks. As a result, it's suitable for a variety of in-flight entertainment systems, including those found on international flights. One of the jacks folds in for easy access to the classic single-pronged jack, adding to the device's versatility.
The sleek and slim design is not only visually appealing but also functional. The black container doubles as a charging case, giving the adapter a modern and unobtrusive look. Its dimensions are 3.19 x 2.18 x 1.18 inches, and it weighs just 5.6 ounces, so it's easy to carry around without adding significant bulk to your travel gear.
The 1Mii B05 Airplane Bluetooth adapter is a versatile, high-quality audio transmitter that excels in various situations. From in-flight entertainment systems to gym equipment, this device brings wireless audio capabilities to a wide range of applications.
What we liked:
Seamless Bluetooth 5.3 connectivity
Advanced codec compatibility
Sleek, slim, modern design
Lightweight and travel-friendly
What we didn't like:
It's sometimes hard to keep a connection
Price might be steep for some users
Bluetooth Headphone Adapters for Flights FAQs
Can I use a Bluetooth headphone adapter with any device that has a 3.5 mm audio jack?
Yes, most are designed to be compatible with any device that has a standard 3.5 mm audio jack.
Will a Bluetooth headphone adapter work with my AirPods or other Bluetooth-enabled headphones?
Yes, these adapters are designed to be compatible with various Bluetooth-enabled headphones, including AirPods.
How long does the battery last on most Bluetooth headphone adapters for flights?
Battery life varies depending on the specific adapter and usage conditions. But most offer between 6 and 25 hours of battery life.
Final Verdict
We chose these Bluetooth headphone adapters for their unique strengths and capabilities.
Twelve South's AirFly Pro stood out for its impressive range, aptX Low Latency support, and compatibility with various devices.
The MEE audio Connect Air caught our attention due to its ability to connect two headphones simultaneously, making it perfect for shared listening experiences.
The YMOO Bluetooth 5.3 Transmitter Receiver offers versatility as both a transmitter and receiver, with low latency and a compact design that suits various audio needs.
LAICOMEIN's Bluetooth Transmitter Receiver provides users with a compact and lightweight design, dual-mode functionality, and easy setup, making it a reliable and practical solution for enhancing the audio experience across different devices.
And finally, the 1Mii B05 Airplane Bluetooth Adapter offers a sleek design with compatibility for both one-prong and two-prong jacks, making it an ideal travel companion.
Each of these adapters has been carefully selected to provide a wide range of options, ensuring that there's a perfect fit for every user's preferences and requirements.
Meet Derek, "TechGuru," a 34-year-old technology enthusiast with a deep passion for tech innovations. With extensive experience, he specializes in gaming hardware and software, and has expertise in gadgets, custom PCs, and audio.
Besides writing about tech and reviewing new products, Derek enjoys traveling, hiking, and photography. Committed to keeping up with the latest industry trends, he aims to guide readers in making informed tech decisions.