Are you looking to access or retrieve data from classic floppy disks?
With the rise of modern storage, the floppy disk – an iconic storage medium of the past -has become a relic.
Yet, for many, the need to access data from these disks remains vital.
An external floppy drive allows you to read and write data to a floppy disk, connecting to your computer via USB.
Currently, these are the best external floppy drives:
Chuanganzhuo 3.5″ USB External Floppy Disk Drive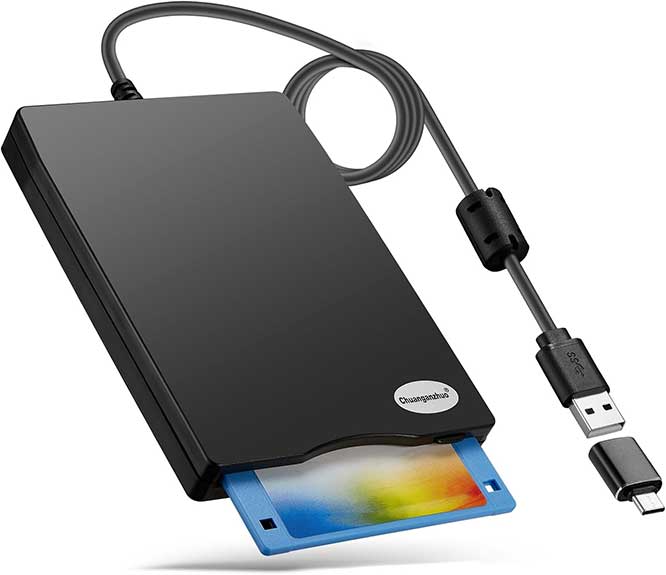 Key Takeaways:
Supports various Windows versions, even Windows 11.
User-friendly; plug-and-play with no drivers needed.
Compact, lightweight, and highly portable (0.63″ thick).
Comes with a USB-A to USB-C adapter.
Using the Chuanganzhuo External Floppy Disk Drive was like taking a trip down memory lane. Remember when 3.5-inch floppy disks were the kings of storage? Well, this little drive brought them back to life – with ease.
It's incredibly thin and light, and feels kind of cheap – but that's OK. That said, it's 0.63 inches thick, much thinner than average.
We connected it to my laptop with its USB Type C connector, and it was ready to go. There was no fussing with installation disks or waiting for drivers to download.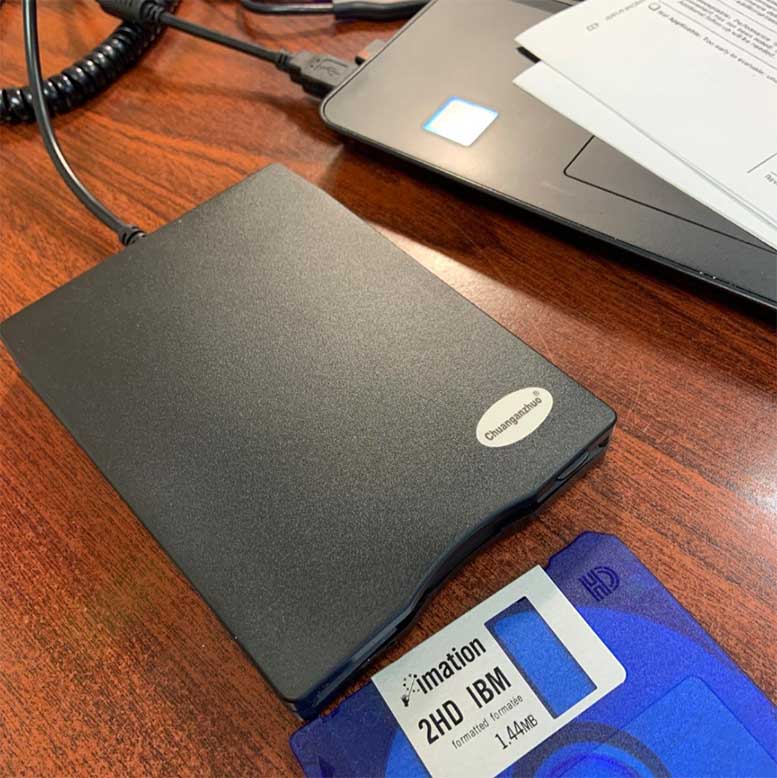 The real test came when trying it with our old box of floppy disks. These were from my middle school days, filled with book reports and pixelated art projects.
The Chuanganzhuo drive didn't miss a beat. It's compatible with a whole bunch of computers and works with all the recent Windows versions, even the shiny new Windows 11.
Transferring files was pretty straightforward. Sure, it obviously wasn't as zippy as the latest SSDs, but it was reliable, which is exactly what we needed.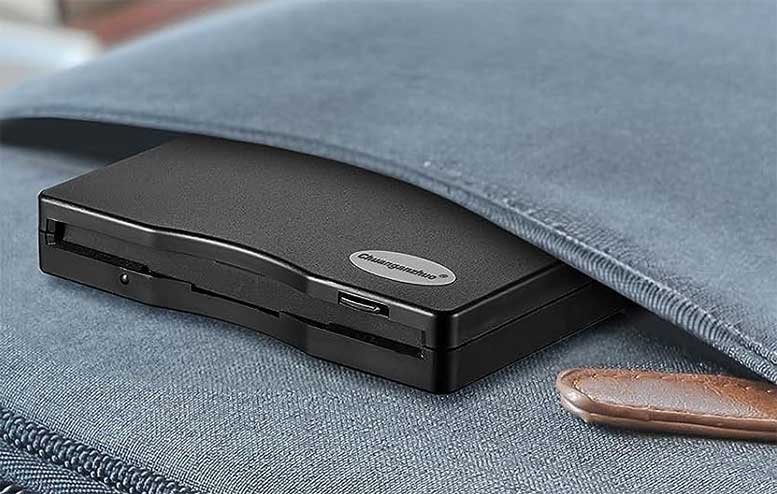 Some of our really old disks didn't play nice at first, but with a bit of persistence, we managed to coax them to share their 90s-era secrets. That said, we blame this on the disk itself, not the drive.
The USB cable itself is fixed, meaning it cannot be removed. But the good part is – it's a a smidge over 2 feet long, which might not seem long, but it's nearly a foot longer than some. Not to mention, it feels resilient and thicker than you might expect – a definite plus for longevity.
What's super comforting is the 2-year warranty that comes with it. Knowing that we can get help or a replacement if something goes wrong brings a sense of confidence about using it regularly.
The brand has been selling this floppy drive on Amazon for over 8 years, so there's no shortage of good things that can be said about the simplicity of the Chuanganzhuo external floppy drive.
Whether you're looking to relive the good old days or just trying to rescue some files from floppy disk oblivion, this drive does what it promises – no more, no less.
wintale External USB 3.5″ Floppy Drive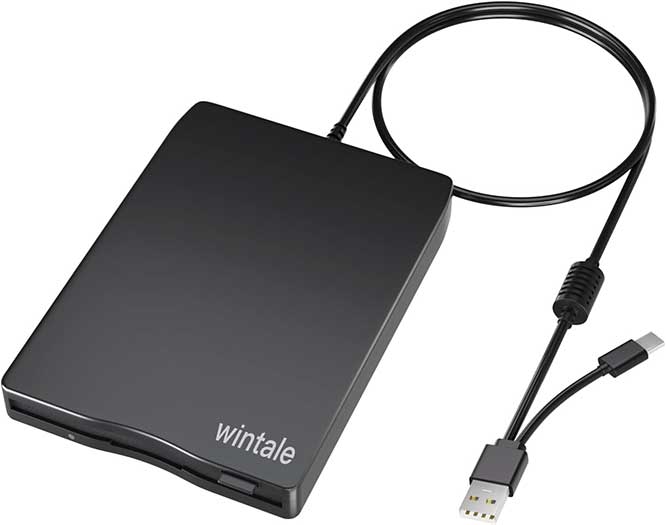 Key Takeaways:
Plug-and-play, no software installation needed.
Compatible with Windows and even macOS.
Shorter USB cable with dual USB-A and USB-C connections included.
Sturdy build, slightly thicker (1.06″) than competitors.
We also had the chance to try out the Wintale USB Floppy Drive. It was a surprisingly smooth experience. From the moment we connected it to our computer, it was clear that the plug-and-play ability was as simple as advertised.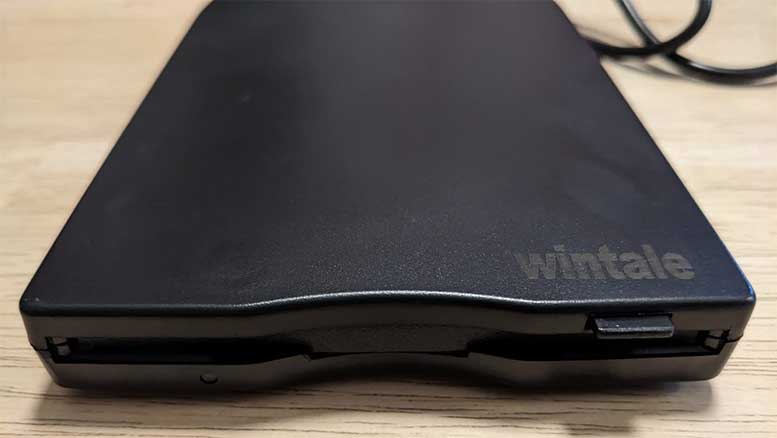 The drive was recognized by our Windows 11 PC right away, and we got down to business without the need for any software or drivers.
Transferring files was a breeze. We didn't run into any snags moving documents from our old floppies to the computer.
Compatibility certainly wasn't an issue; it played nicely with every version of Windows we could throw at it. And yes, it even worked with macOS, which was a pleasant surprise.
The USB cable, while not the longest we've seen, was sufficiently long at a hair over 24 inches. It did the job, though a couple more inches wouldn't have hurt, especially when you're trying to maneuver around other plugged-in devices.
The dual USB-A and USB-C connections on the cable meant we didn't need to rummage for an adapter, which was a big plus. It's nice to have both connectors accessible and permanently attached to the cable.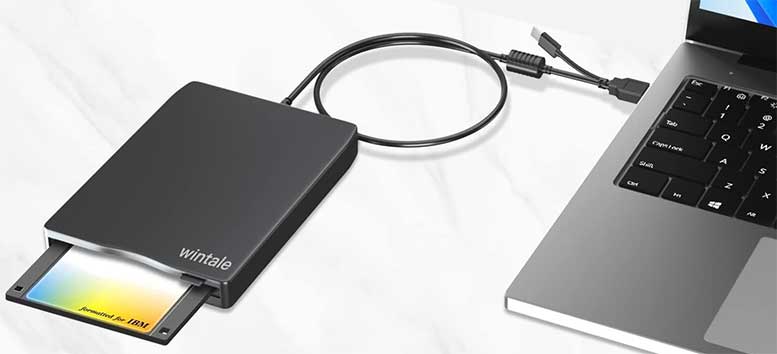 Holding the drive in hand, its solid build was noticeable. However, it is a tad thicker than the Chuanganzhuo at 1.06 inches. This gave it a sturdy feel, which we appreciated.
The lack of a warranty could be a concern for some, especially considering that it costs a bit more than others, at around $25.
Through our testing, the Wintale USB Floppy Drive proved to be a reliable tool. It might not come with the bells and whistles of a warranty, but its performance didn't leave us feeling like we would need one anytime soon.
Dainty External Floppy Disk Drive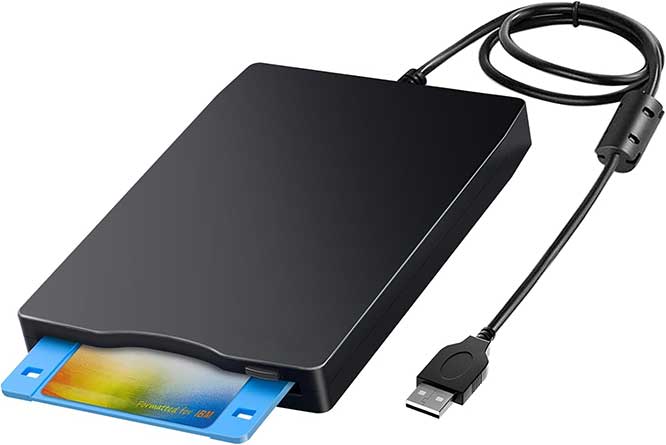 Key Features:
Truly plug-and-play; no driver installation needed.
USB-A only; adapter required for USB-C.
Most affordable option.
Works with Windows and Mac OS.
0.76″ thick.
The Dainty External Floppy Disk Drive is another great option. As soon as we plugged it into our desktop PC, we were off to the races – no extra steps needed to get things moving. It was genuinely plug and play, like the other two drives we previously explored.
However, unlike others, the drive came with just a USB-A connection. This meant that those with newer laptops that only have USB-C ports would need to use an adapter, which isn't included. While that's a slight inconvenience, it's not a deal-breaker, especially considering it's the least expensive option we've come across.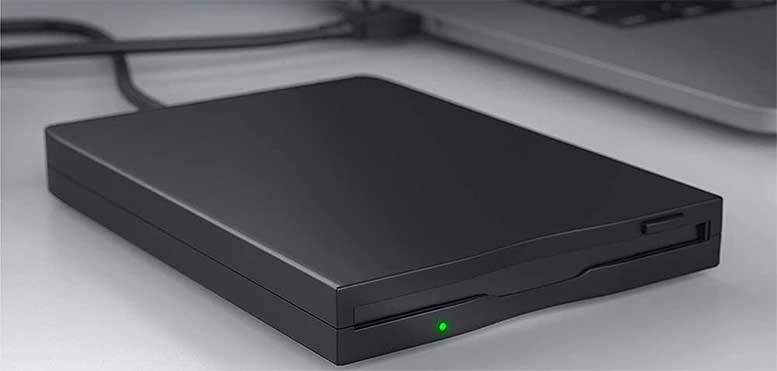 As for compatibility, the Dainty drive worked just fine with our varying operating systems, from Windows XP right through to Windows 11, and even on Mac OS. It didn't matter that the machine was as new or old; the drive did its job.
Holding the drive, you could tell it was made of high-quality hard plastic, but it did feel a bit light – some might even say cheap. But don't let the weight fool you; the drive performed well when it came to reading old disks.
It's also impressively thin at just 0.78 inches, making it very easy to slip into a backpack or even a large pocket. It's thinner than the Wintale but not quite as thin as the Chuanganzhuo. However, it has one of the shorter cables – at 19 inches long.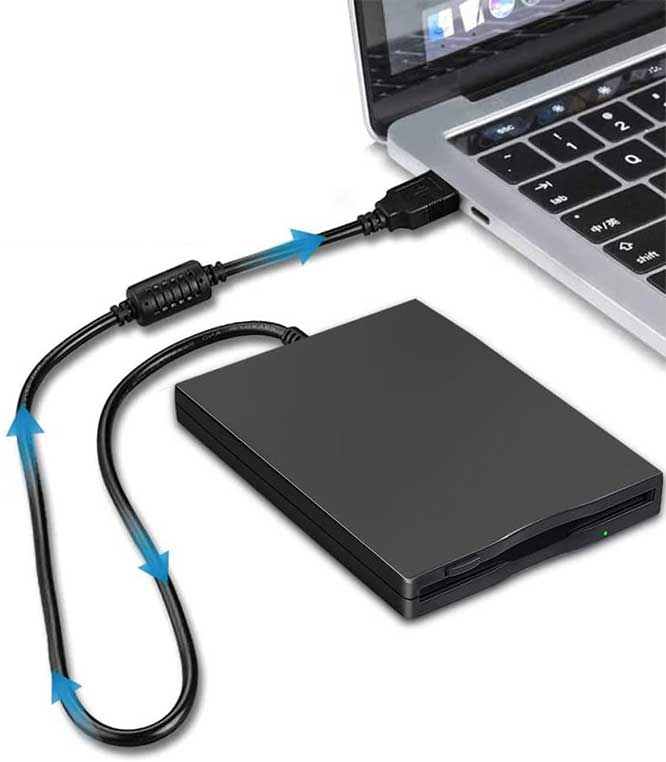 What set it apart is that it comes in two looks. There's a smooth grain or a plain striation pattern. While this obviously doesn't affect the drive's performance, it's nice to have options that add a bit of personality to a usually bland device.
Despite being cheaper than other models, the Dainty drive held its own in our tests, proving that sometimes, good things come in inexpensive packages.
External Floppy Drives FAQs
What is an external floppy drive?
An external floppy drive is a device that reads and writes to 3.5-inch floppy disks. It connects to modern computers via USB, allowing you to access files stored on floppies.
Why would I need an external floppy drive?
You might need one to retrieve data from old floppy disks, access vintage software, or for nostalgia, if you enjoy using retro technology. Many people have a box of old floppy disks sitting around, and these offer the only way to access the data they hold.
Can external floppy drives read all floppy disks?
They can read standard 1.44MB disks, but there can be compatibility issues with non-standard or damaged disks. If the disk is dirty or in bad shape, you might not have any luck reading or writing to it.
Do external floppy drives need a power supply?
No, they get their power from the USB connection to your computer, so no separate power supply is needed.
Are external floppy drives compatible with all operating systems?
Most are compatible with all versions of Windows, and some with macOS. Always check the drive's specifications for OS compatibility before purchasing.
Can I connect an external floppy drive to a tablet or smartphone?
No. They require a full operating system like Windows or macOS to function properly, which tablets and smartphones do not provide.
Meet Derek, "TechGuru," a 34-year-old technology enthusiast with a deep passion for tech innovations. With extensive experience, he specializes in gaming hardware and software, and has expertise in gadgets, custom PCs, and audio.
Besides writing about tech and reviewing new products, Derek enjoys traveling, hiking, and photography. Committed to keeping up with the latest industry trends, he aims to guide readers in making informed tech decisions.