Have you got a box of old floppies kicking around? They might contain old documents, images from an early digital camera, or maybe even some classic games that you'd like to fire up on an emulator. Believe it or not, it wasn't that long ago that floppies were considered the best way to store data. In fact, less than five years ago new desktop PCs were still being sold with floppy drives. Some industries still use expensive specialized equipment that uses floppies, so there needs to be a way for you to access the data.
How can you access the information on a floppy disk? You could try and pick up an old computer, although that would leave you stuck with an ancient operating system that restricts access to modern software. You can also find internal drives for your desktop, but these aren't particularly portable. Likely, your best option is to find an external USB floppy drive. These are readily available from a variety of manufacturers, so you can take a trip down memory lane and access your old data for less than the cost of a burger and a beer.
Unfortunately, not all USB floppy drives are created equally. 3.5-inch floppy disks were on the market for a very long time, and used for a large variety of different purposes. Depending on how you need to use yours, different drive may be better or worse for these purposes. We went in depth and tested several floppy disk drives. Today, we're going to break down the results of the top three, and help you pick the one that will work best for your needs.
Dainty External USB 1.44MB 2x Floppy Disk Drive
Dainty's tagline is "connecting differently", and this is clear once you see their product line. They focus primarily on cables, adapters, and converters that will allow you to access information stored on virtually any storage device. What separates them from the competition is the fact that they tend to modernize older hardware, and this is evident with their external USB floppy drive. There might not seem like a whole lot you could do to bring the trusty old floppy disk into the 21st century, but Dainty somehow managed it.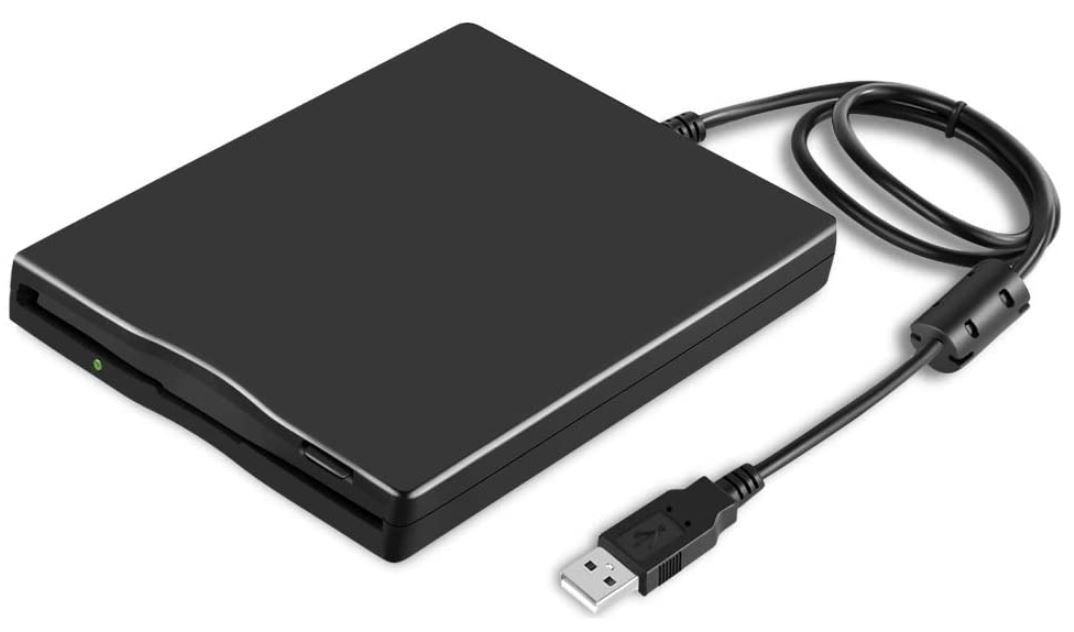 Design
With the Dainty External USB Floppy Disk Drive, portability is key. The disk drive is barely bigger than the floppy itself, and it's one of the thinnest drives on the market. It's made from a very lightweight, durable plastic that can easily be tossed in a bag, or carried around without being awkward. The cable is fixed, so you don't have to worry about losing it. The casing is very minimalist, employing a flat black look with the exception of the stylized Dainty logo on top of the drive. Along the front you've got an ejection button that recedes into the front of the disk drive when no disk is inserted, but remains easy yet firm to press when you need to eject a disk. You've also got a green access light, that shows you when the drive is in use.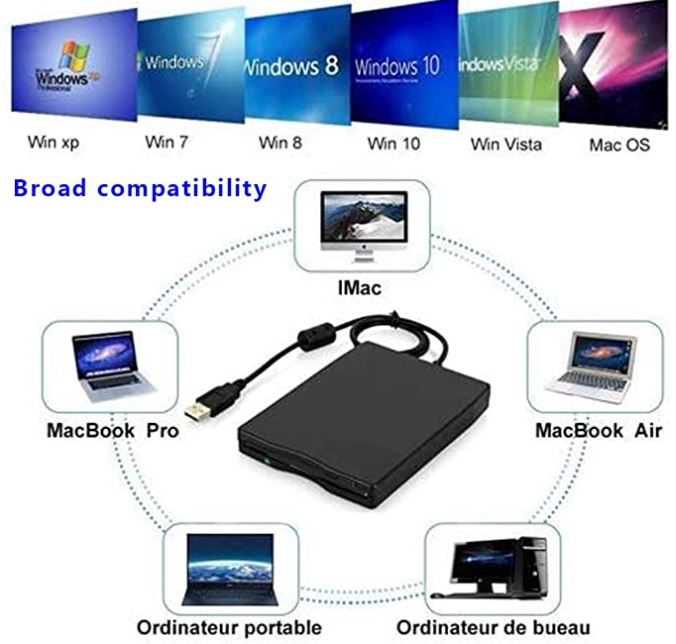 Performance
We never thought that we would see a high performance floppy drive, but Dainty seems to have done it. This drive is rated at 2x, which allows for 1 Mbps read speeds on a 1.44 MB drive. In reality, this results in the ability to copy a completely full disk in around 10 seconds. This might seem slow compared to modern disk drives, but is incredibly fast where floppies are considered.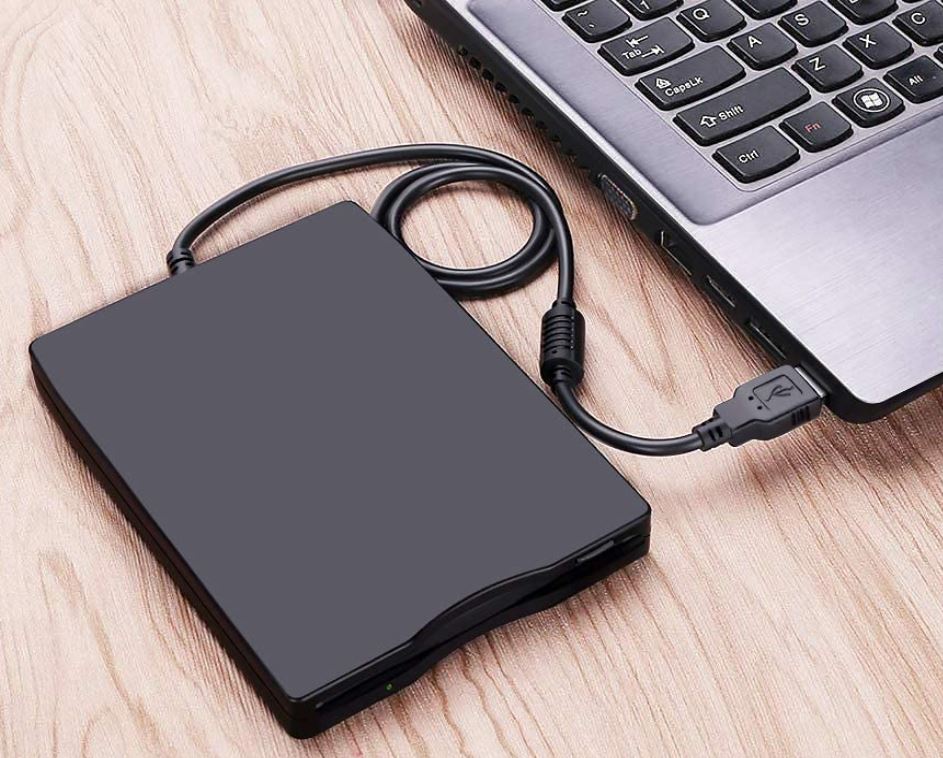 Compatibility
This drive is designed to work with all versions of OSX on any intel based mac. On windows devices, it will support Windows XP, Windows 7, Windows 8, and Windows 10. It's completely plug and play with all of these operating systems, so you won't need any additional drivers installed. However, it's not suitable for use with older operating systems, restricting it's use as a replacement for a broken drive in an older desktop PC.
RAAYOO 3.5" USB External Floppy Disk Drive
This company offers a wide range of external computer peripherals, generally designed for the professional marketplace. This means that they are compatible with a wide range of computer hardware, and built to be rock solid. If you're on the market for something that's a little uncommon like a portable USB voice recorder or a VGA to composite converter, the RAAYOO will likely be one of your first choices.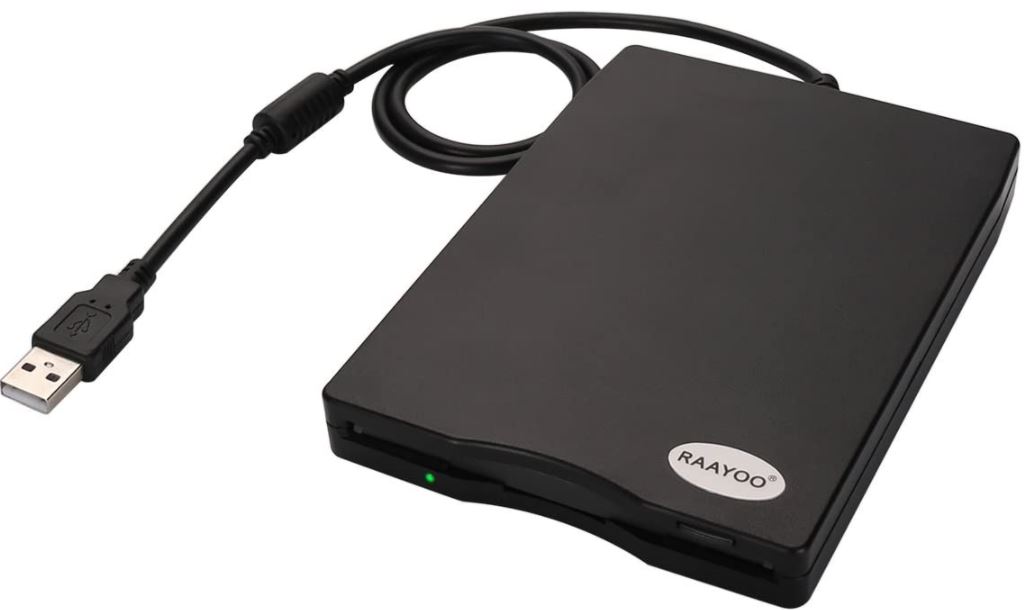 Design
The RAAYOO External Floppy Disk Drive is just marginally larger than others on the market, but still retains its portable design. It's got a very high quality casing, meaning that you'll be able to bend, squeeze, and generally chuck this drive around without risking damage to the fragile internals. The build quality is especially evident in the drive mechanism. Sliding disks into it respond with a solid "clunk", and both the ejection button and drive door feel firm and solid. Although almost completely plain in design, there is just a slight gray accent on the door flap and ejection button that set it apart from the competition.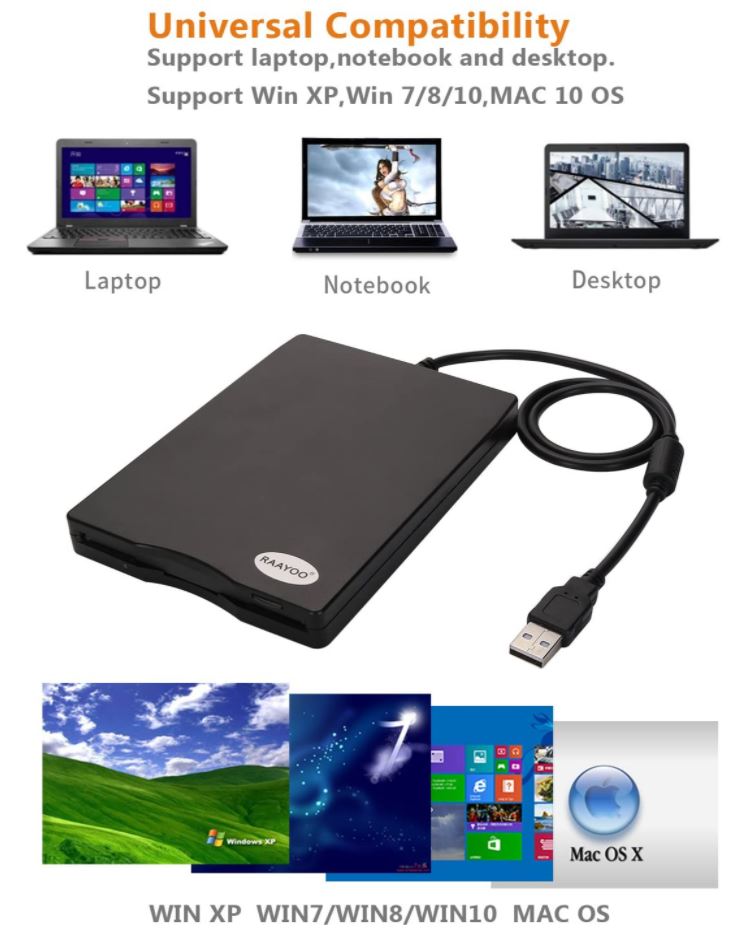 Performance
The read and write speed of this drive are completely on par with other standard USB floppy drives. Depending on the density if your drive, the speed can change. With a standard 1.44 MB floppy, you'll be able to read and write at an average of 500 Kbits per second. For the older standard density floppies, the speed will be around 250 Kbits per second. This means that a typical full drive copy will take around 20 seconds, although you can expect the speed to be a little slower with software that is performing both read and write operations as the drive head will lag when switching. On average, the latency for this change is around 100 Msec or 1/10th of a second.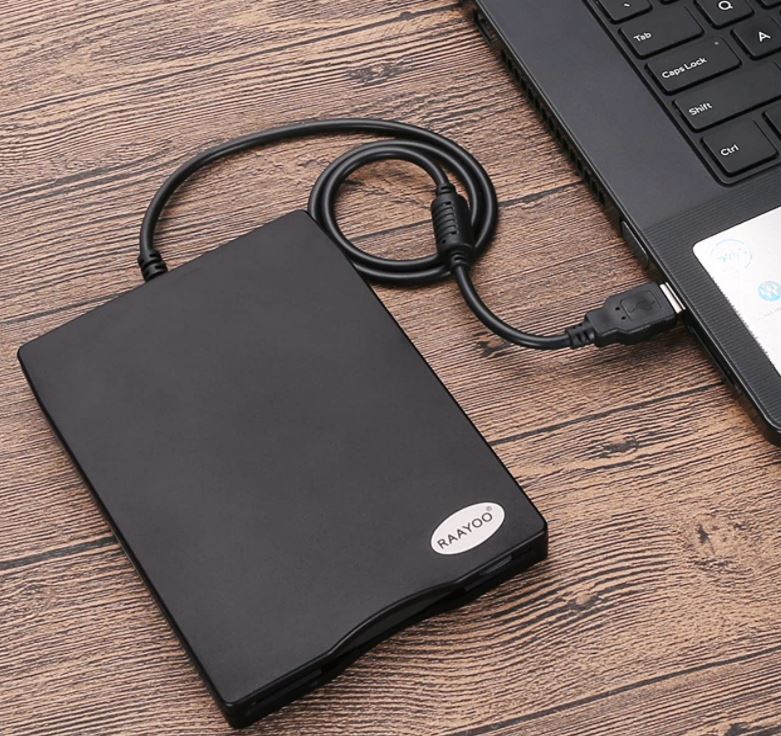 Compatibility
Since it's designed for professional use, this drive is compatible with a wider range of computers than any other on the market, with one strange exception. For PCs, you can use Windows 98, 98SE, 2000, XP, ME, 7, 8, and 10. For Mac's it's compatible with every version of OSX on both intel and PPC computers. For some odd reason, it will not work with 2015 or newer Retina Macbooks.
In terms of disks, this drive is also much more compatible than the competition. It supports both high density drives, known as 2HD, and low density drives, known as DD. 2HD disks can store up to 1.44 MB, while DD drives can store 720 KB. It's also capable of directly accessing up to 80 sectors, so any disks that are formatted with an outdated partition table can be accessed using the correct software. This is not something you'll commonly encounter, but necessary if you're using emulators with classic games or some early MIDI programs used on Casio keyboards.
Another great feature is its ability to be used as a boot drive. Some older computers cannot boot from large memory sticks, making a USB floppy drive one of your best options.
Chuanganzhuo 3.5" USB External Floppy Disk Drive
The Chuanganzhuo USB External Floppy Drive is both affordable, and simple. It's got everything you would need in a basic floppy drive, with no unnecessary frills or add ons.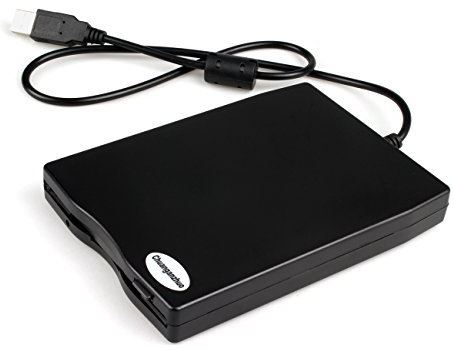 Design
Similar in design to the RAAYOO, it's only slightly larger than some other floppy disk drives on the market. It's got a nice long cable, so you can plug it in remotely should you feel it's necessary. It feels quite lightweight, much more so than any of the other drives we've tested. Overall, the design is both simple and functional, offering you everything you could want in an external floppy drive.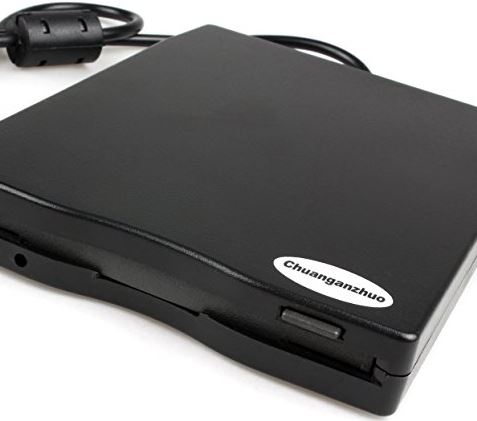 Performance
Although the manufacturer advertises compatibility with the USB 2.0 standard, we found that this had no effect on performance. It will still work with any USB equipped computer, but performance will be the standard 500 Kbps that you'd expect from any other floppy drive.
Something worth noting is that the long USB cable used has the potential to introduce errors into the data. The manufacturer has corrected this in two ways. First, the cable has a magnetic noise reduction filter on it. Second, the data is transferred at a higher power rate. The only downside of this is that you need to make sure the drive is getting all the power it needs. This means that it may not work on a USB hub that has a lot of high power devices on it. But as long as you plug it in directly to your computer, you'll likely not have any problems.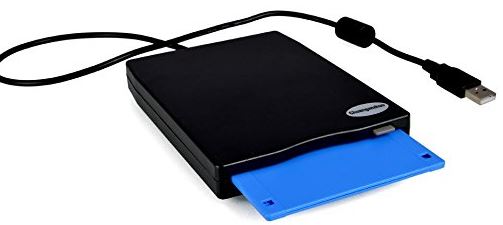 Compatibility
This drive will work with any PC from windows 98 and up and also Mac. It's also plug and play compatible, meaning it will work in both safe mode and as a boot device if necessary. It can work with any disk size, from DD (720Kb) to HD. (1.44Mb) Unfortunately, it cannot be used with special formats that you may encounter.
So, Which External USB Floppy Drive Should I Get?
While these three external floppy disk drives represent the best on the market, each of them are suitable for different applications. Depending on how you intend to use your drive, you might want to pick a different model.
If you've got a large pile of old disks laying around and you want to back up the data, you'll probably do well to pick up the Dainty External Floppy Drive. This disk drive is capable of reading disks at twice the speed of competing models, so you'll be able to back up all of your data in very short order. Floppies do degrade over time, so it's probably a good idea to start your backup now and prevent any data loss from occurring in the future.
Alternately, maybe you're looking for a floppy drive to fix up some old computers. In this case, RAAYOO External Floppy Drive will provide everything you need. The primary reason you'd want to choose this one is its compatibility. It will work with more computers that any other drive on the market, and can be used as a USB boot device if possible. Many of these old computers are not capable of booting from CD, and their boot media is only image for floppy drives, making this model the obvious choice.
Looking to play some old games or access floppies for a specialized purpose? Again, the RAAYOO is your best choice. It's the only option for software that will access non-standard formatted drives on a sector by sector basis, making it compatible with any software that reads the drives directly.
Lastly, perhaps you're looking for a floppy drive to spruce up an old PC or Mac? The Chuanganzhuo External Floppy Drive is perfect for this kind of application, and Its plug and play compatibility will have it running instantly on any Windows PC.