Everyone loves the look and feel of a new sweater. Whether it's a modern argyle or a classy Cardigan, a good sweater keeps you warm in style. But sweaters have a tendency to "pill" or get fuzzy over time. Strands and pills of fabric stick out from the surface, ruining the fabric's texture. This issue isn't just limited to sweaters, either; they're simply the worst offenders. Give any fabric long enough, and it will eventually develop pills. This can make your favorite clothes look old and shabby. It can even affect upholstery, which can be disappointing when it happens to your favorite sofa.
Thankfully, there's a technological solution to most problems. For instance, if you're trying to clean jewelry, an ultrasonic cleaning device is the way to go. And if you want to take the pills off that old sweater, you need a fabric shaver. A fabric shaver is exactly what it sounds like — a specially-designed lint remover that literally shaves off the lint. This way, even your favorite (old) shirt will look as good as new.
Note: At no extra cost to you, we may earn a commission for purchases using our links. Learn more.
We're about to review three of the best electric fabric shavers on the market. We'll begin with the Bymore Fabric Shaver. This is a beefy lint remover with its own internal rechargeable battery. Next, we'll review the BEAUTURAL Fabric Shaver. This mid-sized shaver comes with two extra blades for long-term use. Last, we'll look at the Conair Battery Operated Fabric Defuzzer. This is a compact fabric shaver that's designed to be travel-friendly. To find out which is the best, we'll dig deep into each option, and see how they compare. Let's get started!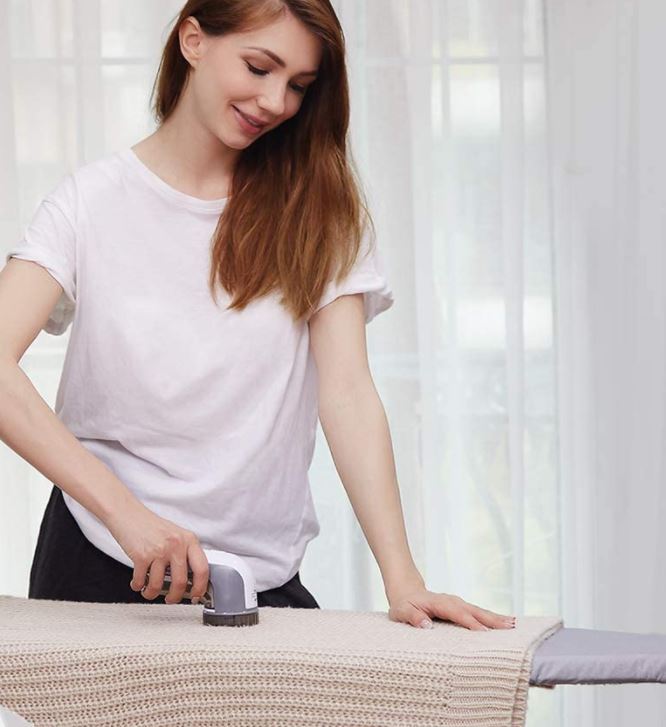 Fabric Shaver Basics
Before you get started, it's important to know how to use a fabric shaver, and what you should expect. To begin with, always make sure your shaver is clean and empty before use. If the lint catcher is full, it's not going to suck up any lint that gets shaved off. Worse, lint can then get trapped in the blades with nowhere to go. Not only will this keep the shaver from working, it can also potentially cause snagging. You can avoid all of this by quickly inspecting the shaver before using it.
Once you're sure the shave is safe, set your garment on a flat, firm surface. An ironing board is the obvious choice, but a table, desk, or nightstand will work equally well. Now, turn on the shaver and run it in concentric circles around the affected area. Start gently, and work your way up to a firmer pressure as needed. Similarly, if your shaver has multiple speeds, start slow and turn up the speed if necessary. For large garments, or clothes with a lot of pilling, you might have to empty the lint container midway. Normally, you'll hear the motor start to struggle when the container is getting full. But that's about all there is to it! Fabric shavers aren't that complicated or difficult to use.
As we mentioned, you can use a fabric shaver on most types of fabric. That said, you still have to exercise common sense. Sheer curtains and nighties, for example, are very delicate. It's possible to damage them with even a minor snag. That's why you want to start with as little pressure as possible. You don't want to press too hard and damage any delicate fabrics. Conversely, very large pills might need to be removed with scissors. If they're so big they won't fit through the holes in the shaver screen, scissors will be your only option.
A special word of caution is warranted regarding furniture. Upholstery can absolutely develop pilling over time, and a fabric shaver can absolutely help. But all upholstery is different, and it's impossible to make any kind of guarantee. If you're de-pilling your antique sofa, test your shaver on an inconspicuous area first. You wouldn't spray an unfamiliar cleaning chemical directly on your cushions, would you? It's wise to treat a new fabric shaver with the same respect.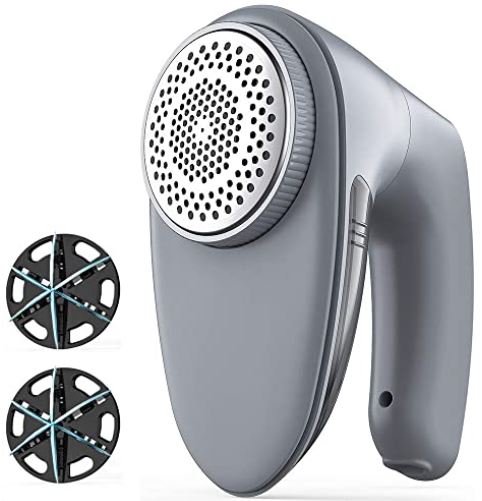 Bymore Fabric Shaver
The Bymore Fabric Shaver is a fairly large shaver with a wide head that's nearly three inches in diameter. The head is located at the bottom of a handheld unit that's shaped a bit like a clothes iron. It's constructed from grey plastic, with the semi-transparent lint catcher towards the back. The lint catcher has a capacity of 160ml, one of the larger capacities on today's market. This catcher is easy to remove. Just press up on the base behind the shaver head. The catcher will easily pop out at this point, and can be emptied in just a few seconds.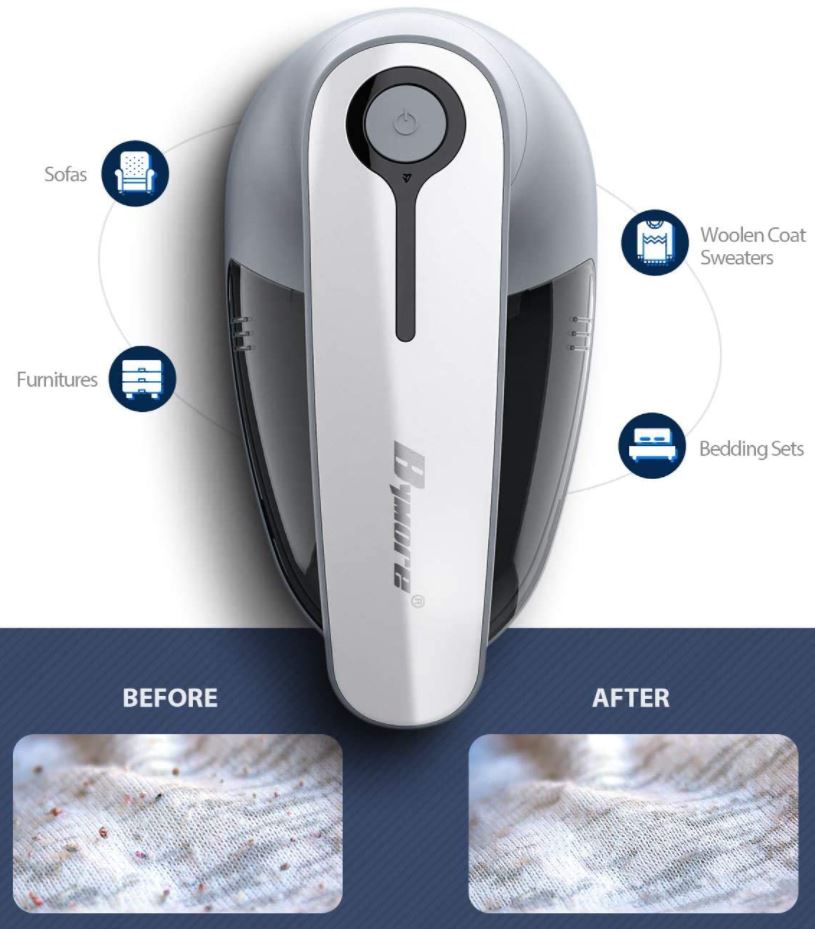 The handle is reasonably long, suitable for large hands. It can also be rotated 180 degrees. Normally, you'll want it towards the back, much like a clothes iron. But for reaching awkward areas, a side or even a front grip can be helpful. Controls are similarly simple. There's a single control button that operates all the functions. Press once to turn the shaver on, and again to shut it off. That's all there is to it.
The Bymore shaver has an internal rechargeable battery. This sets it apart from most fabric shavers, which tend to rely on disposable batteries. The battery will run for 60 minutes, and takes about two hours to fully charge. This might not sound terribly impressive, but how long do you intend on continually using a fabric shaver? If you do want to go for longer than an hour, you can simply charge while you're removing the lint. The button will light up to indicate the current battery charge. A green light indicates a full charge, and a blue light indicates a partial charge. A red light means you're currently charging.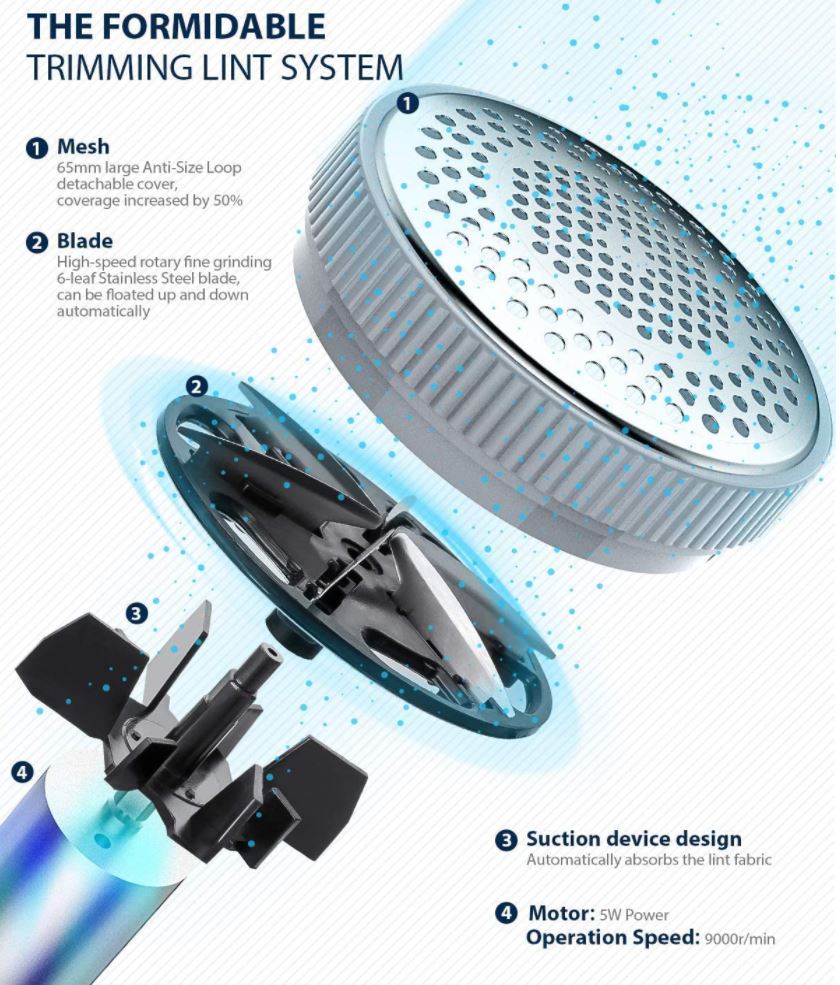 Along with the shaver itself, you also get a small cleaning brush. This can be used to clean out the blades when they get dirty. Most brushes will work just fine, but this one is less likely than most to snag in your blades.
Shaving Technology
Like all electric fabric shavers, the Bymore shaver uses a rotating blade behind a mesh screen. It works on the same general principle as an electric face shaver. As the mesh moves across the fabric, pills and loose threads poke through holes in the mesh. The blades then off this debris as they drag along the inside of the mesh. An internal vacuum sucks the pills and lint into a small catcher for disposal.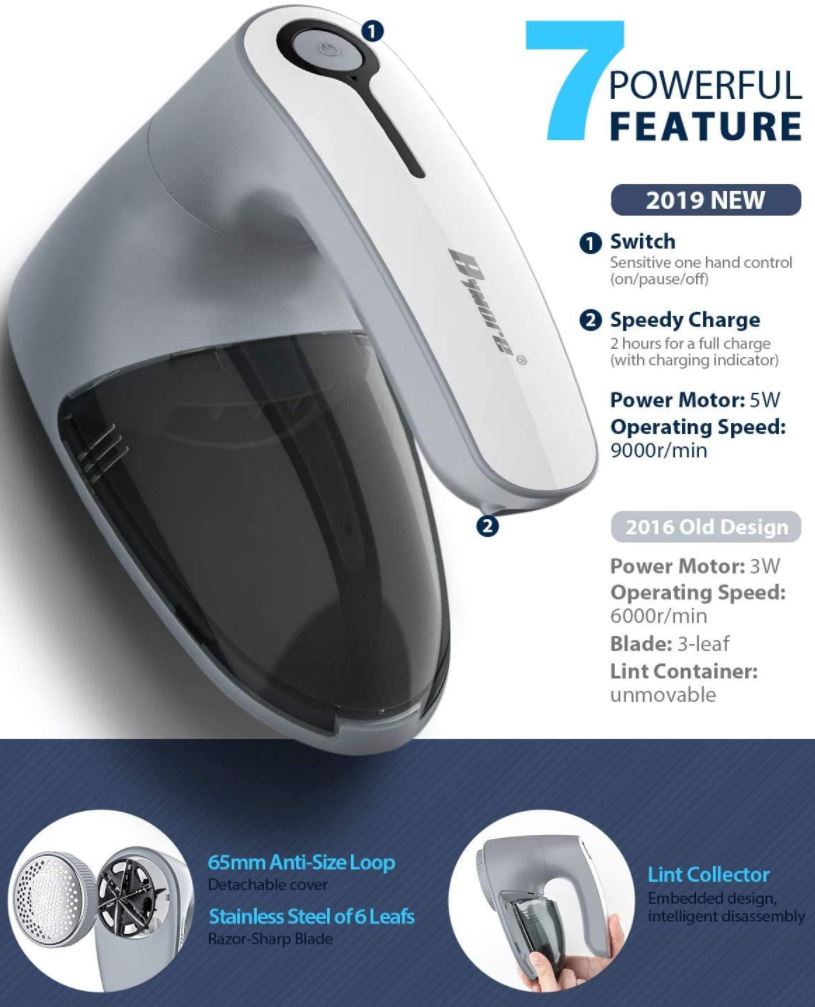 The mesh surface measures 65mm in diameter, or a bit over 2.55 inches. It's filled with hexagonal holes arrayed in a honeycomb pattern, and secured with a retaining ring. This ring can be easily unscrewed to remove the mesh and clean out the inside of the mechanism. Inside, you'll see a six-leaf blade. This means a single rotating disc, with six blades arrayed in a star pattern. This is more blades than most lint removers, and it makes for a noticeably smoother defuzzing experience. It also allows you to move faster, since lint and pills will be removed more efficiently.
The kit includes two replacement blades, which can be swapped out in mere seconds. How soon you'll need to replace them depends largely on how much you're delinting and the type of material. With lots of work on tough material, the blades will wear out faster. With lighter use, a single set of blades can last for years. When the shaver starts to struggle with everyday use, you'll know it's time.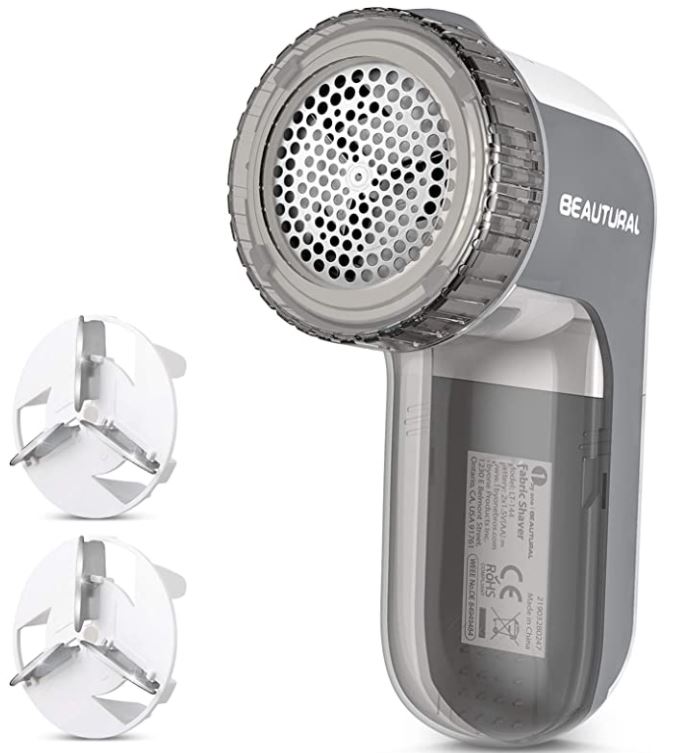 BEAUTURAL Fabric Shaver
The BEAUTURAL Fabric Shaver is a bit smaller than the Bymore, and has a more traditional design. The shaving head measures 2.2 inches in diameter, and is on the short end of an L-shaped housing. The long leg of the "L" forms the handle, with the lint catcher built into the bottom half. The lint catcher volume is not stated, but it's reasonably large, on par with the Bymore's catcher. The rest of the housing is white and grey, with an alternate color pattern in white and blue. There's even an enhanced version with a larger handle, but you'll pay a premium for that.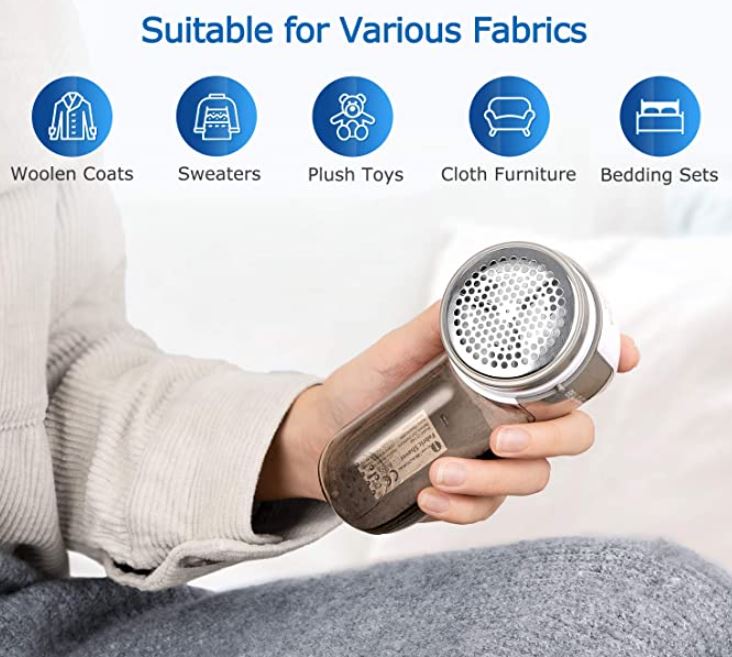 The control switch is easy to access, and allows you to choose between two different shaving speeds. There are also three interchangeable mesh screens, with different hole sizes. These different sizes are better-suited for different kinds of fabric. The package also includes two extra blades, a cleaning brush, and a drawstring carrying pouch. That said, there are no batteries included. Before you get started, you'll need to install a pair of AA's.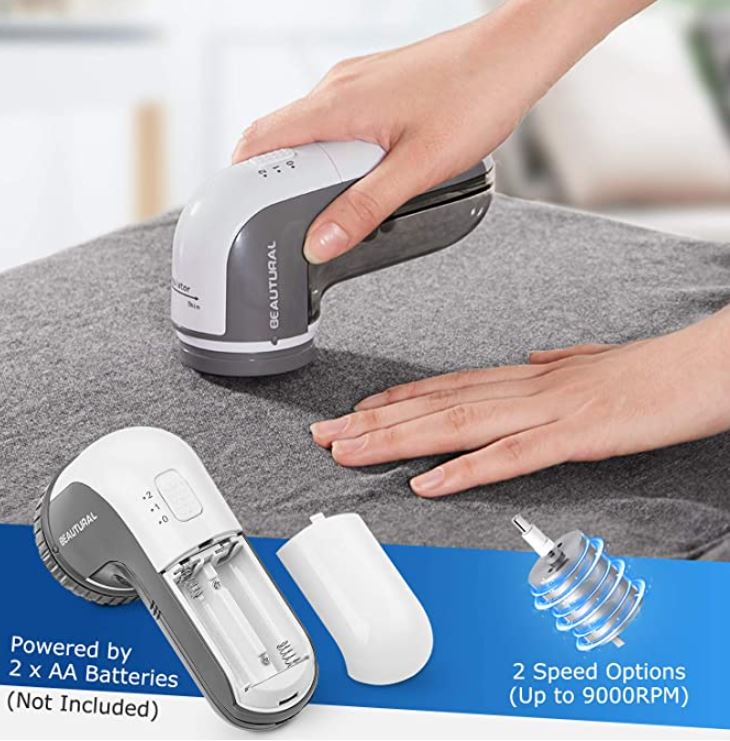 Shaving Technology
The BEAUTURAL shaver is adjustable to three different heights. This allows you to handle light or heavy pilling respectively. For heavy pilling, it's best to start at the maximum height, then work your way down. For light pilling, you can start lower.
This shaver utilizes an ordinary three-leaf blade, instead of a six-leaf blade. There's nothing wrong with this, per se. However, it's not quite as smooth or efficient as the Bymore.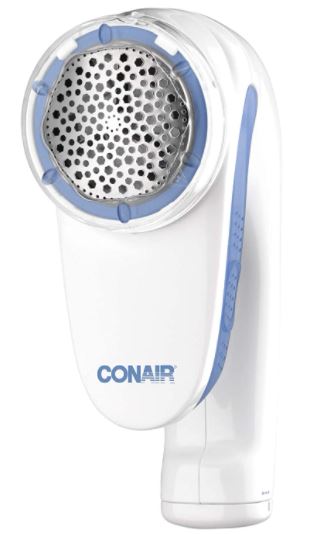 Conair Battery Operated Fabric Defuzzer
The Conair Battery Operated Fabric Defuzzer is the smallest on our list, with a cutting surface of only 1 7/8-inches. The cutting surface is housed in a small base, along with a collection bin on the back. An ergonomic handle protrudes from the top that's fairly small, but comfortable to use. The housing is constructed from ABS plastic, and is available in five colors: white, black, green, orange, and purple.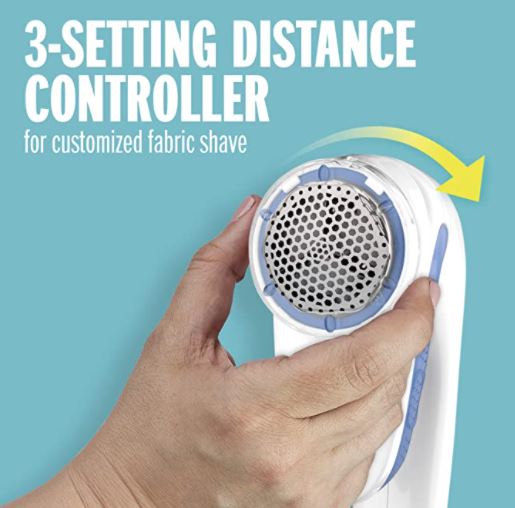 Control is easy, with a simple on/off switch located at the front part of the handle. That said, you'll need a pair of AA batteries; there's no internal rechargeable battery in this shaver. You can order an enhanced version with a rechargeable battery. However, the rechargeable variant costs about twice as much, so keep your credit card handy!
Shaving Technology
Like the BEAUTURAL Fabric Shaver, the Conair shaver can adjust to three different cutting heights. You do this by twisting the retaining ring for the mesh. Click left for a higher setting, or click right for a lower setting. This makes it easy to manage a variety of fabrics with light to severe pilling.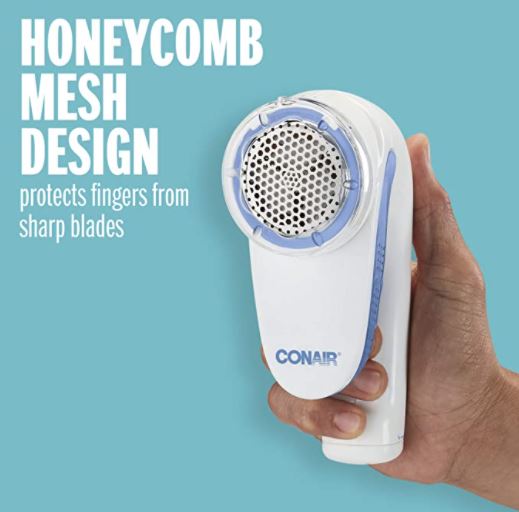 The blades have a standard three-leaf design, which is effective enough at this size. Unless you're trying to work really fast, you won't have any trouble. Unfortunately, there are no replacement blades in the kit, and none can be ordered online. Considering the Conair shaver's low price, that's not too big a deal. You just buy a new shaver when the time comes. But it's something to keep in mind if you're ordering the rechargeable variant.
Final Verdict
So, which of these electric fabric shavers is the best of the bunch? It largely depends on what you need. The Bymore Fabric Shaver is your best bet if you need the largest possible lint remover. It has a wide cutting head, so it can cover a lot of fabric quickly. In addition, the six-leaf blade makes quick work of even the most badly-pilled fabric. The rechargeable battery is another big plus, since you don't have to worry about replacements. And the rotating handle allows you to easily reach awkward places. That said, the Bymore shaver is larger than the others, and isn't as convenient for travel.
The BEAUTURAL Fabric Shaver is a solid mid-sized option. Its L-shaped profile fits easily in your hand, and the drawstring pouch makes it easy to keep everything together. The three-leaf blades aren't quite as impressive as the Bymore's, but they get the job done. There are also two extra blades in the kit, so you don't have to worry about premature failure. The only major downside is its reliance on AA batteries.
The Conair Battery Operated Fabric Defuzzer is the best choice for travel. With its ultra-compact size, you can easily take it on a business trip or vacation. It has a three-leaf blade, and three different cutting heights for tackling different materials. As long as you don't mind a lightweight unit, you won't be disappointed.
Please consider sharing:
Note: At no extra cost to you, we may earn a commission for purchases using our links. Learn more.