If you're like most people, you probably like to throw on a sweater in the winter time. A sweater is warm and cozy, and can also be used to show off your sense of style. Unfortunately, sweaters are also vulnerable to pilling. Every time they go through the wash, some of the fibers fray, which creates little balls of lint, or pills. These can ruin your sweater's appearance and make it look shabby.
Sweaters aren't the only clothes that are vulnerable to pilling. Flannel can also build up lint over time, as can some other materials. This can create pills not just on clothes but on flannel sheets and even on your upholstery. Do you really want to replace all of your fabrics every couple of years? A better alternative is to invest in an electric lint remover to take off the pills.
Today, we're going to review four of the best electric fabric shavers, lint removers, and defuzzers we could find. There's a lot to go over here, but here's the short and sweet version:
Needless to say, there's a lot more detail to go into. Let's take a closer look at these lint removers, and see how they stack up!
Best Overall: DesertWest Electric Lint Remover & Fabric Shaver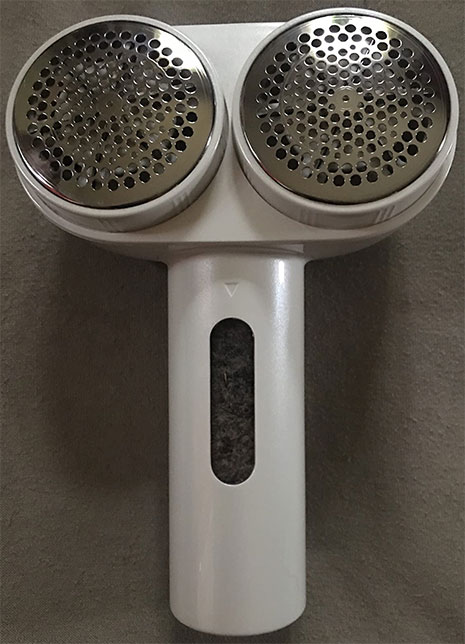 Key features:
Dual shaving heads.
4.72" width.
50ml lint catcher.
3.5-hour battery life.
The DesertWest Electric Lint Remover & Fabric Shaver has a T-shaped design. The top of the T has a pair of shaving heads, which are positioned side by side. This creates a wide cutting path of 4.72 inches, so you can cover an entire garment fairly quickly. The housing is available in white or green, and measures 8 inches tall, 6.6 inches wide, and 3.5 inches thick.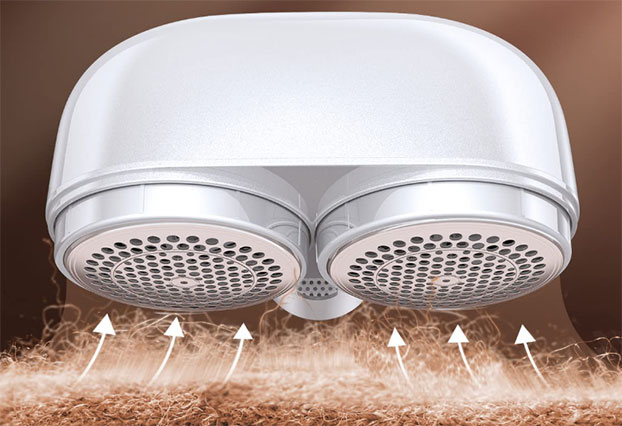 The upright part of the T is a handle and battery housing, and is angled backwards by 30 degrees. As a result, you'll have an ergonomic working position that won't wear out your hand. You'll find a power button on the back, which is easy to operate with your thumb.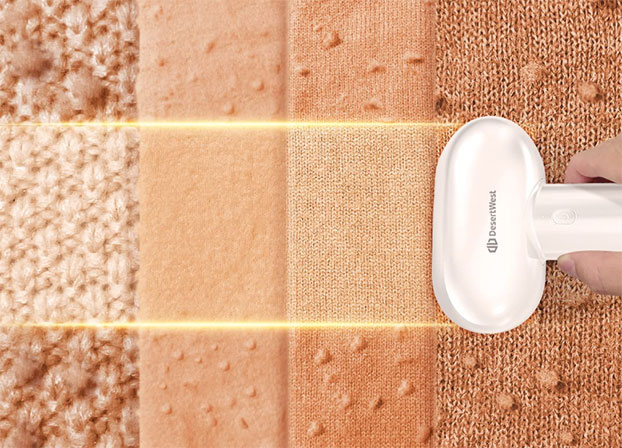 The two cutting heads each have their own motor, which allows for plenty of power. Each head has a six-leafed stainless steel blade, which spins behind a mesh screen. The screens, meanwhile, have three different hole sizes peppered across the surface. This allows it to accommodate large and small pills alike on a single pass. Collected lint is stored in a transparent 50ml hopper on the front part of the handle. It's easy to see when it's full, and it takes seconds to remove and dump out.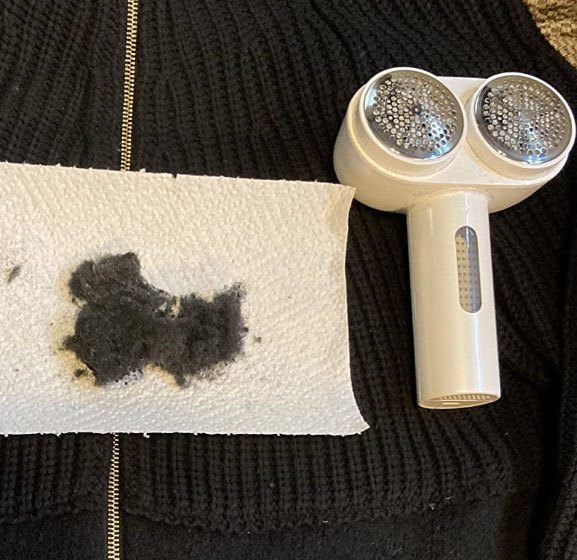 The battery has a capacity of 2,000mAh, and is housed in the back part of the handle. When fully charged, it allows you to run the motors for a total of 3 ½ hours. It recharges via a USB Type-C port at the base of the handle.
Best Runner-Up: Conair Fabric Shaver and Lint Remover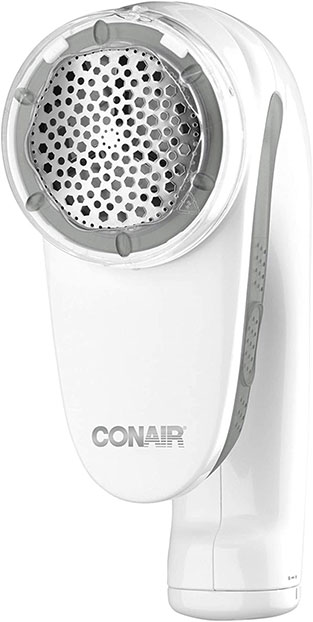 Key features:
2-inch shaving head.
Adjustable shaving height.
Ergonomic grip.
Can use cordless or corded.
The Conair Fabric Shaver and Lint Remover has a long design that's fat at the front and narrow at the back. The handle arches over the top, similar to a clothes iron, and provides a comfortable ergonomic grip. It's available in black or white, and measures 7.75 inches long, 4 inches tall, and 2.75 inches wide. The power switch is located on the top front of the handle where it's easy to flip with your thumb.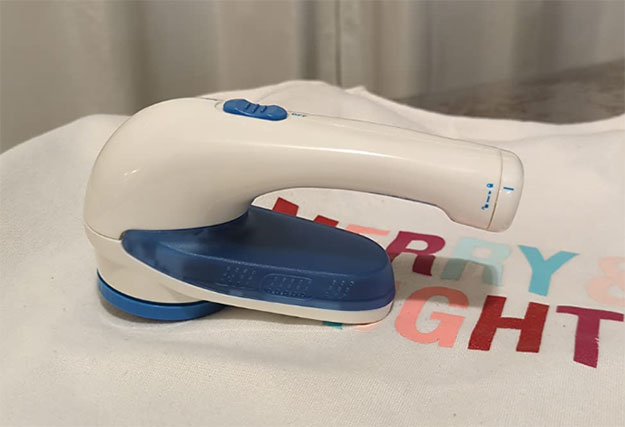 The shaving head has a diameter of 2 inches, which is a bit on the small side. Still, that's larger than you'll find on many older fabric shavers, which tended to be very small indeed. Furthermore, there's a transparent plastic ring around the edge that can adjust to three height levels. This can be helpful on textured sweaters where you don't want to drag the screen right over the surface. Or you can bring the screen down to the lowest level to create an ultra-smooth finish.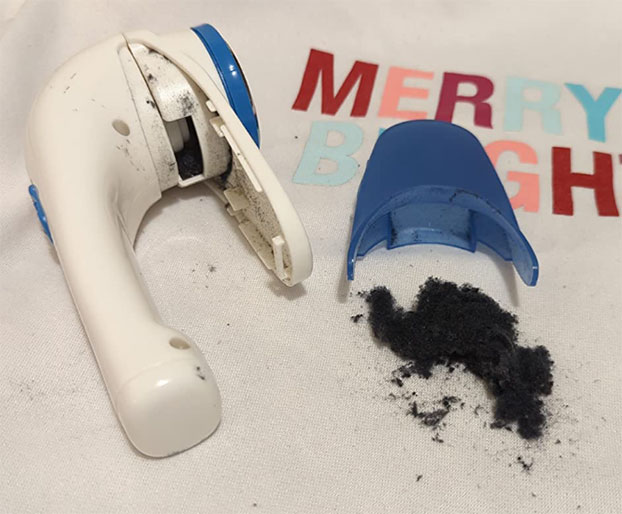 There's a circular power port in the back of the handle, where you can plug in the barrel-styled adapter. The adapter then plugs into your AC power outlet, and charges the internal battery. The battery life is fairly short, and won't do more than a couple pieces of clothing. Then again, you can use it in corded mode, so battery life is less of a concern. Just make sure to bring the power adapter if you're taking it on the road.
Best Alternative: Philips GC026 Electric Lint Remover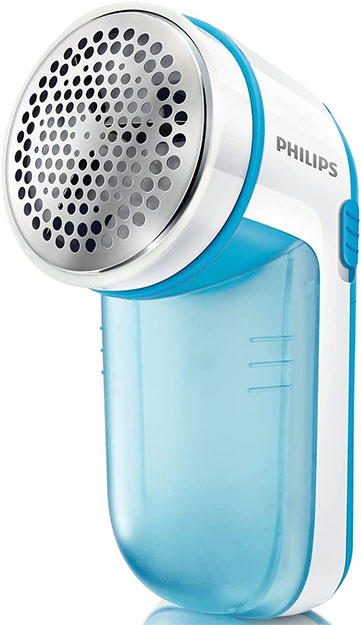 Key features:
3-inch shaving head.
Tough 18/10 stainless cutting blades.
Runs on AA batteries.
The Philips GC026 Electric Lint Remover has an L-shaped housing that's constructed mostly from white plastic. It measures 6.5 inches long, 3.62 inches wide, and 3.27 inches tall. There's a lint collector on the front of the handle, which can be either blue or purple with a matching decorative back plate. The handle has a wide, tapered shape with curved corners that make it comfortable and easy to grip. The power switch is located on the side, and is colored to match the lint collector.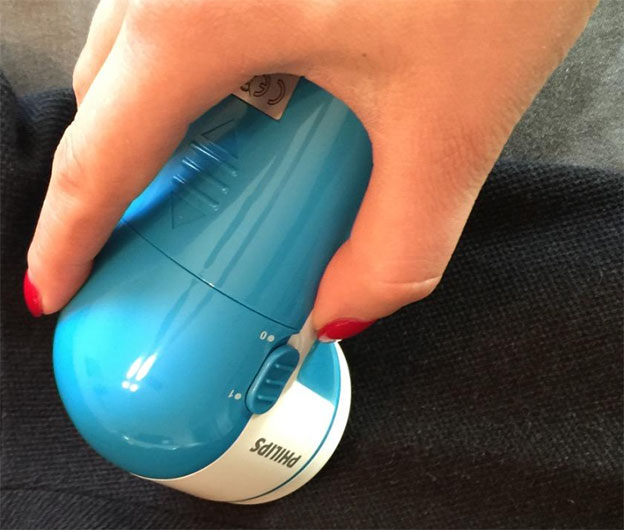 The shaving head has a diameter of three inches, which allows you to cover a large area. The screen has mostly large holes, but a handful of smaller holes also help to capture tiny pieces of lint. Like the Conair lint remover, the height is adjustable. Just twist the ring outside the head to adjust it up and down. As a result, you can use the GC026 on almost any type of material. The lint collector is semi-transparent so you can see when it's starting to get full. It pops off easily so you can dump out your lint.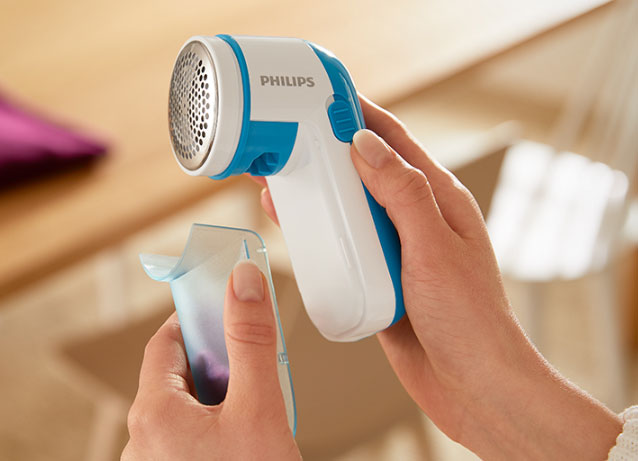 Rather than a rechargeable battery, this lint remover uses a pair of AA batteries. They're included in the kit, and will last for several hours of operation. When they do run dry, they'll be easy to change. You also get a little nylon brush, which can be used to clean out the head if it gets clogged.
Philips is one of the most famous brands on the planet, and produces all kinds of electronics. Not long ago, we reviewed their PicoPix MaxTV. It's a small portable projector with Android TV and access to hundreds of streaming apps. When a company like this makes a lint remover, checking it out is a no-brainer.
Best Budget: SUPER LINT Electric Fabric Shaver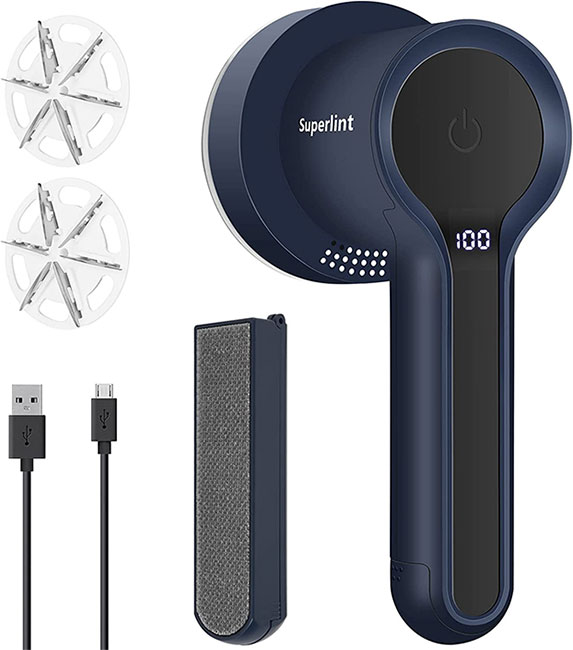 Key features:
2.76-inch shaving head.
90-minute battery life.
LCD battery display.
Includes an electrostatic brush.
The SUPER LINT Electric Fabric Shaver also has a right-angled design, but the form factor is completely different. The handle is exceptionally narrow, and attaches to a much broader shaving head. At first glance, it looks almost like a miniature hair dryer. You can order it in black or navy blue, and it measures 8.4 inches long, 5 inches tall, and 4 inches wide.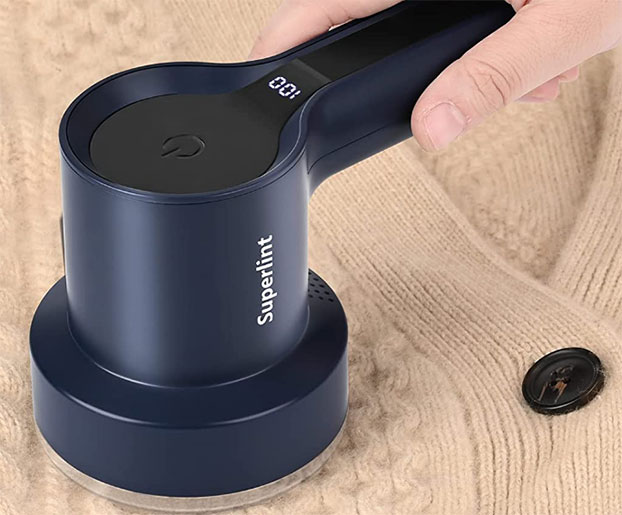 On the back of the head is a large black rubber power button. Just beneath that is a rectangular LCD display, which shows your current battery level as a percentage. That way, you don't have to worry about getting caught off guard by a dead battery.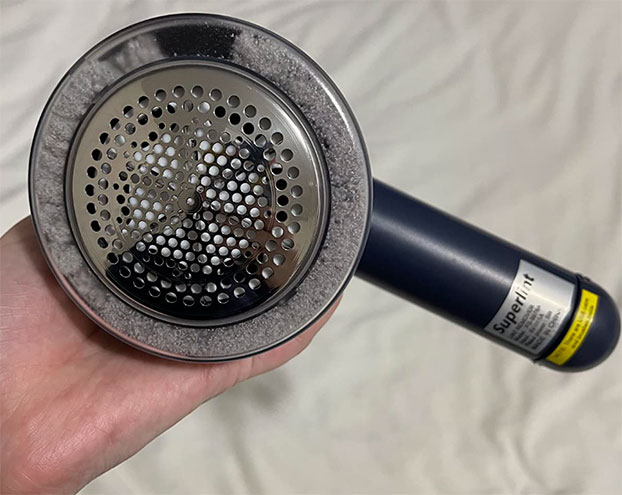 The 2.76-inch shaving head covers a moderate area, about par for the course on today's market. The screen has three different sizes of holes, so it can remove any sized lint pills. The six-leaf stainless steel blade does a great job of cutting through lint and getting your fabric clean. However, the leaves are embedded into a plastic mount. It's an affordable design, but we have some qualms about the potential for failure.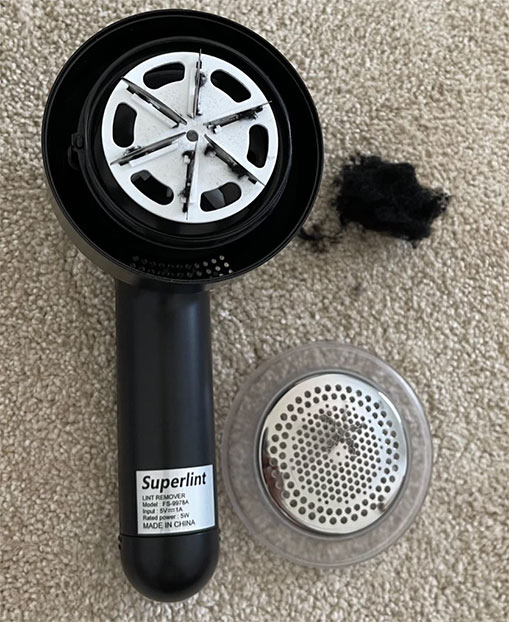 Inside the handle of the device is an electrostatic brush. This brush can be used to clean up tiny pieces of lint and dust that get left behind by the lint remover. The electrostatic brush is also hollow, and contains both the USB charging cable and a nylon cleaning brush. The internal battery has a 90-minute working time, and recharges via a USB Type-C port on the right side.
Lint Remover Basics
Before we finish, we should talk a little bit about how to use a lint remover. If you're not familiar with their use, it can be easy to mess up.
For one thing, always start by inspecting your fabric shaver. Make sure that the lint collector is empty. Otherwise, it won't be able to suck up any removed lint, and the blades could get clogged. In the worst case scenario, an overfull lint remover can even snag on your sweater and pull a thread out. Along the same lines, make sure the blades are clean and there's no stray hint left in the shaving head.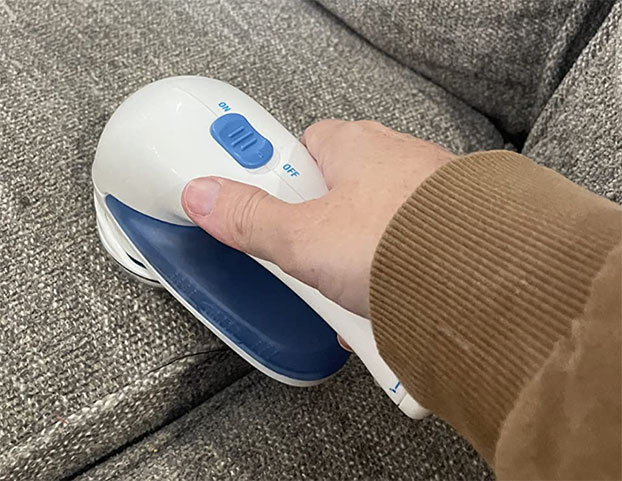 Next, lay down your sweater or other item of clothing on a flat, solid surface. You can use any table or desk. Or if you're already doing laundry, you can just use your ironing board. If you're spot treating an area, start in the middle and work your way outwards in concentric circles.
Start by applying minimal pressure, and apply more pressure if it becomes necessary. If you're doing an entire garment, you can just run the shaver in rows like a vacuum cleaner. Keep in mind that for treating larger areas, you may have to empty the lint container at some point. In most cases, the motor will sound labored when the collector is full. But it's best to check visually now and then just in case.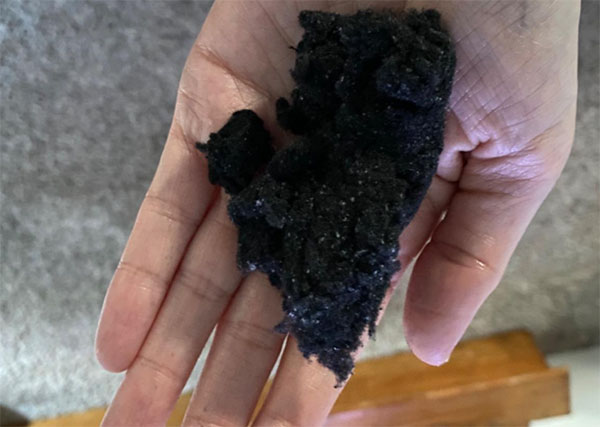 You can use a lint remover on most surfaces, but there are exceptions. Very sheer materials can get damaged even from a tiny snag. You'll have to be very gentle while working on them. Along the same lines, if a pill is too big to fit through the mesh screen, you'll have to cut it off with scissors. Be extra careful on upholstery. Start in an inconspicuous area and make sure the device doesn't ruin the fabric. Otherwise, you could end up ruining an entire sofa.
Wrapping Up
All four of these electric fabric shavers will do a good job of cleaning up your clothes. But which one is going to be the right fit for you? Let's recap what we've discussed today.
We began by reviewing the DesertWest Electric Lint Remover & Fabric Shaver. This T-shaped lint remover has dual cutting heads that cover a wide cutting path. The dual motors provide plenty of power, and the screens have three hole sizes for different sized pills. We also liked the powerful battery, which can run for 3 ½ hours before needing to be recharged.
Next, we took a look at the Conair Fabric Shaver and Lint Remover. This device only has a two-inch shaving head, but the head is adjustable to different heights. As a result, it's suitable for many types of material. And while the battery life is short, the corded design makes that more or less a moot point. Meanwhile, the ergonomic grip makes it very easy to operate.
Third on our list was the Philips GC026 Electric Lint Remover. This L-shaped remover has a three-inch shaving head that covers a fairly wide area. It's easy to hold and operate, with a simple on/off switch and a large removable lint collector. We particularly liked the fact that it runs on AA batteries, so you get several hours of battery life.
Last but not least, we checked out the SUPER LINT Electric Fabric Shaver. This shaver is very affordable, and also has a built-in digital battery meter. The shaving head has three different sized holes so it can capture most sizes of lint. We also liked the electrostatic brush that's built into the handle. Any lint remover will leave behind some fine debris, and this brush will clean up what's left.