If you're trying to address a crowd, often times shouting isn't enough. Without help, the human voice is pretty good at addressing twenty or thirty people, if they're sitting nearby and want to listen. But if you're trying to speak to a sizable crowd, or your voice is competing with construction equipment roaring in the background, or you're trying to get someone's attention at greater distances, then what you need is a megaphone. Law enforcement, fire departments, and military groups all use megaphones because they're effective, durable, and easy enough for anyone to use.
Going back thousands of years, you can find examples of humans taking a paraboloid shape and using it to amplify sound. Bullhorns make use of the same shape humans have been manipulating for millennia, and make it better with the aid of high-powered electronics. Microphones, amplifiers, loudspeakers, and Bluetooth connections can be used to turn a bullhorn into much more than a way to speak loudly.
Selecting a Megaphone
Anyone who has heard someone speak through a megaphone should already understand how they tend to reduce audio fidelity, but some are clearer than others. You might think any megaphone would be portable, but there's actually a huge range in terms of their portability options. And some megaphones come with extra features, like having several kinds of ports for audio in/out. In other words, you'll have to keep a few things in mind to find the right megaphone.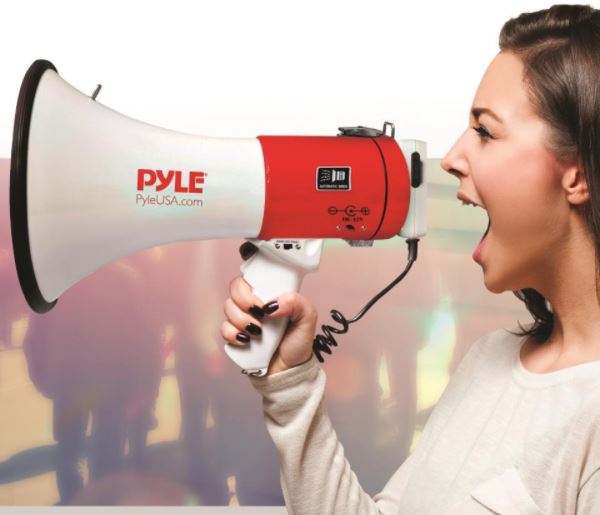 Megaphone Wattage
Megaphones typically range between 5 watts and 50 watts. Generally speaking, more wattage means a louder system. On the other hand, very loud speakers require power to drive them. If you use a 50-watt bullhorn, you'll find it's equal parts loud and power-hungry. If you're looking for loud you'll have to have the wattage to drive it, and the willingness or means to deal with the extra power consumption involved.
Battery Power & Microphone
How does the megaphone get batteries? Are you going to have to replace a bunch of AA batteries? Does it come with a rechargeable battery? How long can the charge be used before the batteries run out of power? Sometimes a megaphone will look like an absolute bargain until you realize it burns through batteries at an insane rate. Designed with vehicles in mind, some megaphones allow you to connect to car chargers or similar adapters to avoid the need for batteries entirely.
Another feature that's essential for many types of users is the detachable microphone. Having a detachable mic adds convenience by ensuring you won't be stuck holding a six-pound object in front of your face in order to speak. Having a detachable microphone allows you to hold the mic to your face and direct the horn anywhere you want.
It also allows you to see the people you're speaking to without the interference of a foot-wide cone directly in center of your face. You may not need this feature if you're shouting at someone 300 yards away, but when you're speaking to an audience, eye contact and seeing your audience is an important part of communication.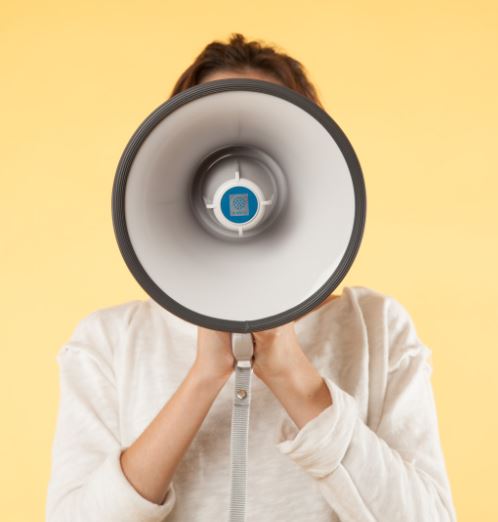 Shape and Design
Although you might think all megaphones are essentially the same, you'd be surprised. Changing the shape of the bell alters the wavelengths of sound and range of the device. For example, a narrower horn can offset lower wattage by concentrating the created sound. The result is a more effective range on the horn while using less power.
Even the angle of the handle can adjust the way the weight of the device sits in your hand. And being able to suspend the device with a strap or clip can come in handy if you end up choosing a bullhorn that weighs more than you want to carry. Things like the quality of the build is hard to gauge from glancing on a product online, but you can draw that kind of information from product reviews.
Sirens
Shouting through a megaphone isn't always the best way to get someone's attention. You'll often have an easier time getting attention quickly with a siren. Loud sirens communicate a message that you don't need words to understand. And modern megaphones have a variety of literal bells and whistles you can do to achieve that effect. But how loud is the alarm relative to the speaker for talking? Can you adjust the volume of the alarm independently, or are you stuck with one ear-shattering setting? Precisely where is the alarm button placed? Small details add up into subtle differences in ease-of-use.
Size and Weight
Megaphones have varied degrees of portability. Although most weigh under 10 lbs., you'll find that carrying a few pounds near your face can get exhausting quickly. You should consider exactly how heavy the device will really be once there are batteries inside. Plus, your ability to store, carry, and hold the megaphone aren't something you can totally disregard. To that end, sometimes you'll find megaphones are built with shoulder or wrist straps to aid transportation.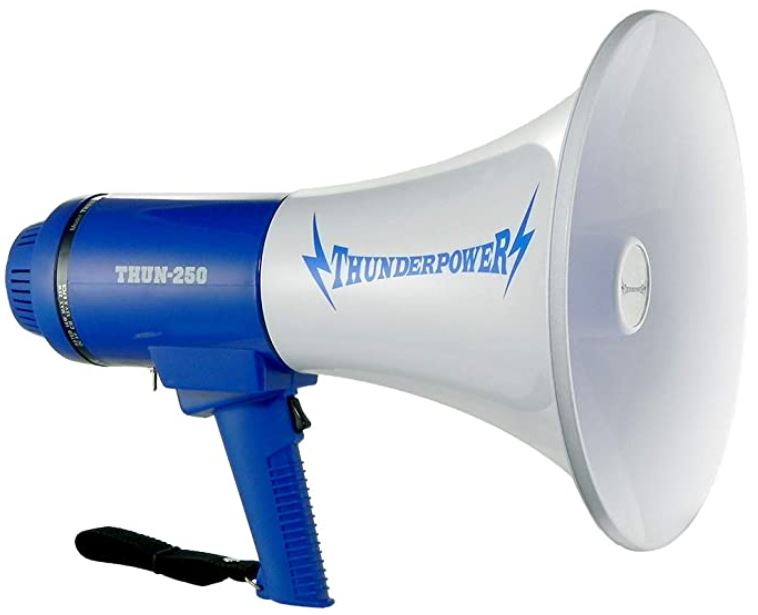 ThunderPower 250
If you're looking for something loud, then the name ThunderPower should give you an idea of what's in store for you. ThunderPower markets itself as being built for military crowd control, so this bullhorn is your go-to choice if you've ever been underwhelmed by the loudness of other bullhorns you may have used in the past. Using a considerable 25 watts, this simple design is ideal for blasting sound that can be heard about 2,400 feet away.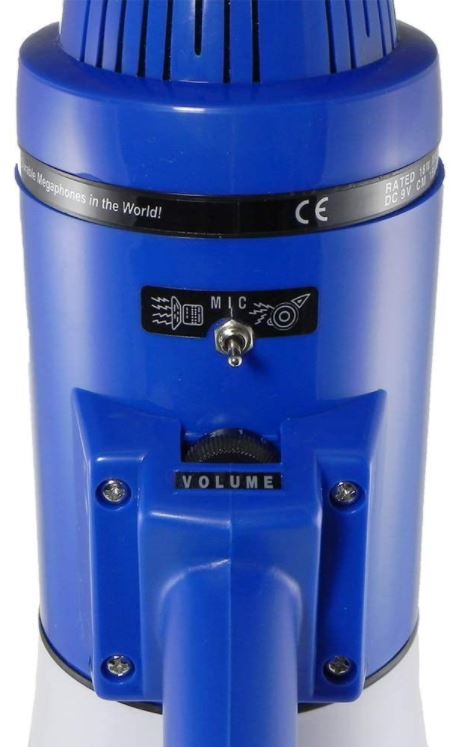 Special Features
The only thing you really need to know about the ThunderPower 250 is that it's loud. The voice is loud, and the siren is even louder. Aside from its great volume, you'll find an auxiliary-in jack allowing you to attach an MP3 player, microphone, or some other audio source to be played at ear-shattering volume. The cherry on top is a power plug that operates from a vehicle's cigarette lighter. If you plan on using your megaphone for your vehicle, then you'll be able to use it without batteries.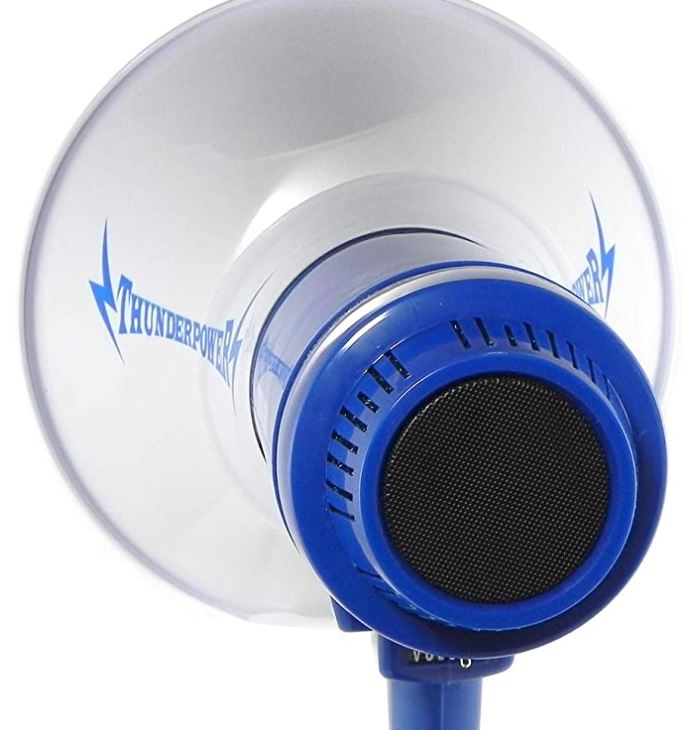 Batteries & Build
The ThunderPower 250 is a lengthy 15″ long, with an average-sized bell with a 10″ diameter. When you're not using the car charger cord, you'll be operating with six c-cell alkaline batteries. Depending on the brand of the batteries you use, those six batteries end up being slightly over one pound of extra weight to a device that's already about 3.8 pounds.
For minor nitpicking, you may want to notice the siren button is very close to the carrying handle, making it far-too-easy to accidentally activate the siren when you're handling it. And the batteries will drain while inside the device, so you'll want to take them out between uses. Tested and certified within America, ThunderPower has backed their product with a 1-year warranty. It's built like tank because it's built to shout over tanks.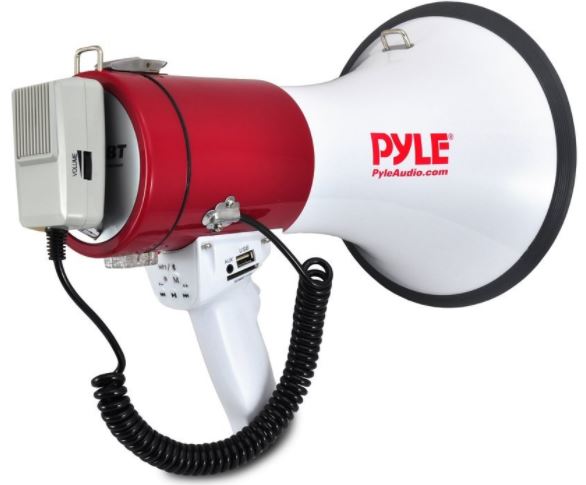 Pyle 50-Watt Megaphone
If you don't need to speak to someone standing in the next county, you'll be satisfied with Pyle's 50-watt option. Sending sound about half the distance of the ThunderPower 250, this Pyle can be heard about 1,200 feet away. For speech clarity above loudness alone, Pyle can help you get your message out much further than other comparable megaphones. And 50-watts is enough to keep this megaphone loud enough for nearly everyone.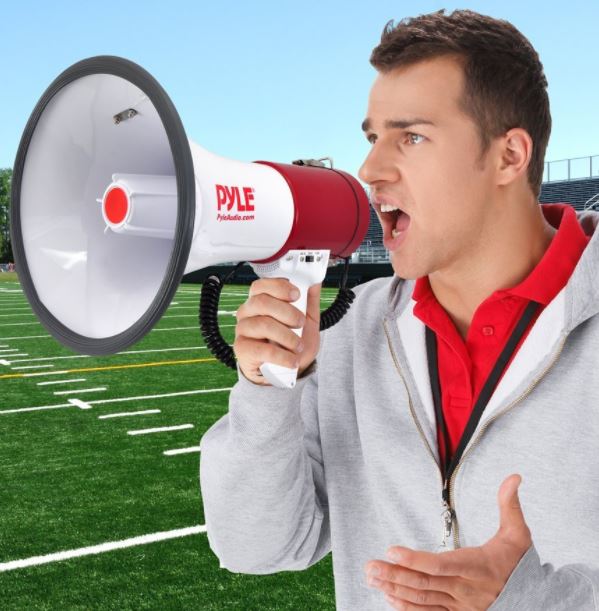 Special Features
Pyle includes the standard 3.5m aux jack you're looking for, which can help you input different audio sources. In addition to the standard aux port, you'll find a USB port that can be used for Bluetooth or USB flash drives. You'll also find an SD card port for even more sound-playing options. Whether you want to play a recorded motivational speech, music, or your own specially chosen siren, you'll be able to connect up and play what you want in no-time. You could even use this function to repeat a message over-and-over as well, saving you the hassle of having to speak.
Naturally, this megaphone includes a siren button. It also includes a handful of voice control options you can toggle to make the megaphone sound better when you go inside, or when you step outside. The siren plays a standard emergency tone, and the volume can be fully adjusted between 'light-warning' and 'very loud.' Plus, this Pyle uses a fully detachable microphone. You'll be able to hold the hand mic in in your hand while pointing the megaphone in any direction you need.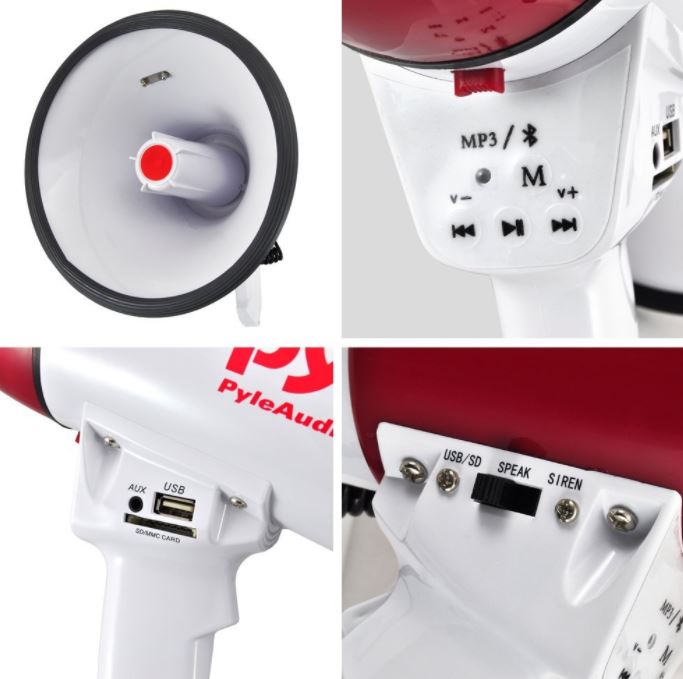 Batteries & Build
Built to be lightweight, and making use of a tilted ergonomic grip, the Pyle is comfortable to use. Whether you're just picking it up or shouting through it for extended periods of time, you won't be discouraged by its size or weight. This megaphone operates on 8 c-cell batteries, which adds about one pound of weight to the original 3 pounds of the device. The build uses a 9.2-inch tall bell, with a lengthy 13.4-inch body. And an included carrying strap and microphone hanging-hook are there for added convenience.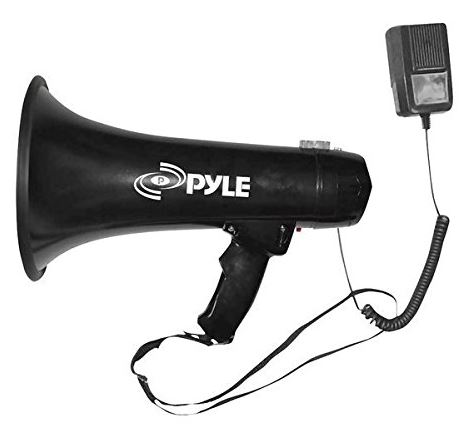 Pyle Pro PMP43IN
Running at a slightly lower 40 watts, the Pyle Pro PMP43IN is commensurably weaker than its 45-watt counterpart. For instance, the built in siren has a 1,000 square yard range. That marginal decrease in distance means this megaphone isn't quite as loud as the other two options on this list, but should still be loud enough for most people. And in terms of the quality of the build, you won't be disappointed. Pyle is used by the Army because their products are high quality, low cost, and durable enough to keep working.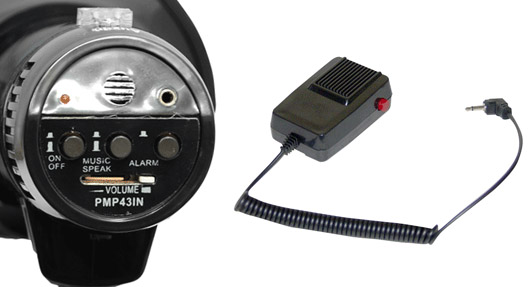 Special Features
As the simplest and lightweight option in this list, the features are equally minimalistic. You'll find a 3.5mm aux jack to attach your phone or MP3 player for additional audio, and three simple modes. Those modes include talk, siren, and music. The simplicity of this device only adds to the ease of use, you'll be able to know exactly how to handle it after about 10 seconds of use. The volume control slider on the side can bring your megaphone's volume down to more reasonable in-door levels, which is an option totally lacking in many megaphones in this range of price and quality.
Batteries & Build
The megaphone itself uses a relatively ordinary build, with a 13.5-inch long body and 9.2-inch tall bell. This 40-watt Pyle weighs 2.2 pounds before you add the batteries, which are six D-cells. After you've plugged in batteries, it gets closer to 3.5 lbs. However, that's still quite lightweight compared to any other megaphone of this quality and magnitude.
Picking the Right Megaphone for You
If you're just looking for a high-quality megaphone for ordinary use, then you'll be satisfied with the Pyle Pro PMP43IN. It's not as loud as other megaphones and it doesn't have many special features, but it's more than enough to get the job done for ordinary civilian use. If you're speaking to a crowd of 60 or 80 people and you're not trying to be heard clearly from football fields of distance, then you'll be satisfied with what you get.
If you need something that will be a bit louder that can be heard at more significant distances, then you want the Pyle 50-watt. Added extras like the USB port make it Bluetooth connectable, which goes far beyond the standard aux port you'll find on megaphones. It's truly the best you can do in terms of multimedia connectivity, and it's only slightly heavier than its 40-watt counterpart.
Finally, if you're looking for something that's blisteringly loud, you want the ThunderPower 250. This is the loudest you'll be able to make yourself on the go. The only louder option may be a grounded PA system! However, the ThunderPower blows through battery with its immense volume, so you may need to make use of the included cigarette lighter connector as a counterbalance.
Meet Derek, "TechGuru," a 34-year-old technology enthusiast with a deep passion for tech innovations. With extensive experience, he specializes in gaming hardware and software, and has expertise in gadgets, custom PCs, and audio.
Besides writing about tech and reviewing new products, Derek enjoys traveling, hiking, and photography. Committed to keeping up with the latest industry trends, he aims to guide readers in making informed tech decisions.