Finding a decent set of headphones can be difficult at the best of times. And in today's market, it's even harder. There's a huge glut of them on the market, which makes it impossible to review all possible options.
Worse, there are huge variations in quality. For every good quality pair of headphones, there are many more that simply aren't worth your time. And if you're looking for mid-priced headphones, it can be even more challenging.
When you're looking in the middle price range, you're not looking at studio-quality headphones. At the same time, you can get a lot better quality than you can get from a cheap set of Walmart headphones.
These headphones should be reasonably durable, and they should be comfortable to wear. They should also offer a reliable connection and at least passable audio quality. And if they have a few extra bells and whistles, so much the better!
We're about to review and compare two mid-range headphones, the Silensys E7 and the Srhythm NC25. These are both Active Noise Canceling (ANC) headphones, which filter out background noise.
Both of them are also designed to provide better-than-average audio quality. But what sets them apart, and why would you choose one over the other? We're about to put both these options under the microscope and see what they have to offer. Once we've given them a thorough evaluation, we'll have enough information to deliver a fair verdict. Let's get started!
Silensys E7 ANC Bluetooth Headphones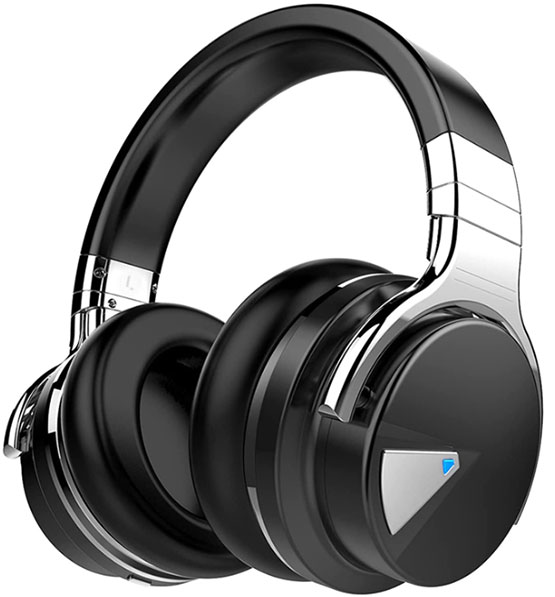 Key features:
Aluminum frame with plastic ear cups available in 8 colors.
30 hours of playtime.
45mm drivers.
Built-in Active Noise Cancellation.
The Silensys E7 ANC Bluetooth Headphones consist of an aluminum frame with large plastic ear cups. The top of the head band is plastic, although the inner sleeve is aluminum. It's easy to extend to fit a variety of head sizes, and can also fit smaller heads when collapsed. The aluminum parts are always a polished silver. You can order it with plastic parts in black, blue, navy blue, green, purple, red, white, or orange.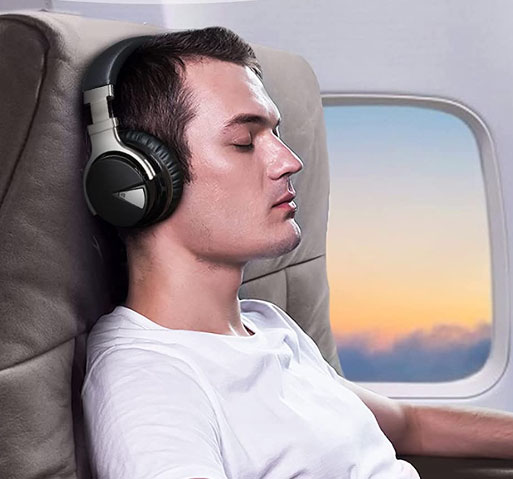 The ear cups are very broad, with a circular profile that will fit comfortably over most ears. The padding is made from memory foam, with a protein leather outer shell that's very breathable. You can also pivot the ear cups on their mounting hinges to get a more comfortable fit. They can pivot 15 degrees inwards, or up to 90 degrees outwards. Another thing we should point out is the built-in LED lights that show you when the headphones are connected. The lights also make them easy to find in the dark.
One thing we didn't like was the control scheme. There are no volume buttons, track-skipping buttons, or other physical controls. There's just a power on/off button that also toggles the ANC function. This is pretty clunky, especially since you'll have to control everything else via your phone. Then again, it might not be an issue depending on what you're doing with your headphones.
Behind the control button is a USB Type-C charging port, along with a 3.5mm aux port. The kit includes a Type-C charging cable and 3.5mm aux audio cable. You also get the benefit of an 18-month manufacturer's warranty. If there are any defects in parts or labor, you'll receive a free replacement or a full refund.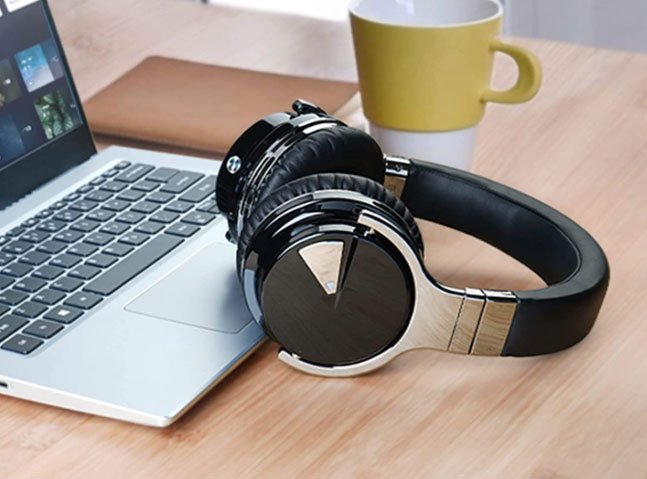 Battery, Connectivity, and Audio Quality
The E7 headphones have an internal 750mAh battery that can run for 30 hours. This estimate has a couple of assumptions built in, though. To begin with, it assumes playback at medium volume. If you're listening at full volume, you'll get correspondingly less battery life. Furthermore, the 30-hour battery life will be severely reduced when you have the ANC function active. But that's par for the course for ANC headphones.
The Bluetooth 5.0 connectivity is right in line with today's standards. It has a higher bandwidth than older Bluetooth versions, which means you can listen to HD audio. The signal is more stable, so it won't randomly cut in and out as you move around the room. You also don't have to worry about constant dropped calls. Finally, the signal has lower latency than Bluetooth 4.2, so it's suitable for gaming and watching movies.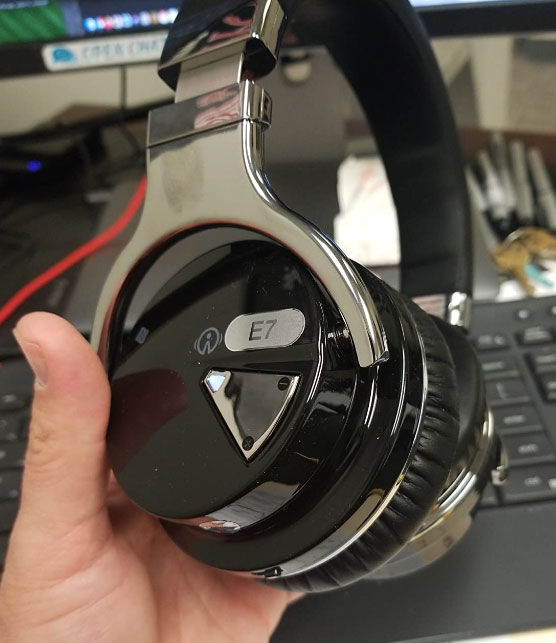 If you'd rather not use Bluetooth, you can still use the 3.5mm aux cable. This allows you to use the headphones without draining the battery, and even listen with a dead battery. It also cuts latency almost to zero for an improved gaming experience.
The 45mm drivers are very powerful, and can move a significant amount of air. This allows for a very broad soundstage, as well as a high maximum volume. Frequency response is excellent across the spectrum. While it's by no means Bose-tier audio, it's better than you normally expect from a set of mid-range headphones.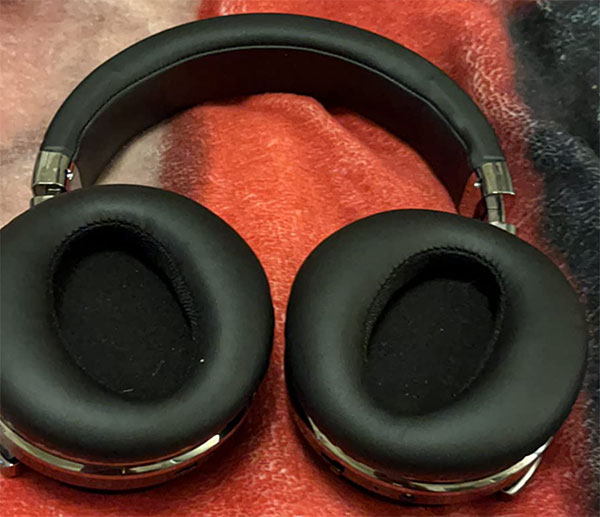 The ANC function works very well. It cuts down ambient noise in almost any environment, from a subway car to an airplane. Our only quibble about the audio quality was when you get on the phone. The mics are fairly basic, so the other person may not be able to hear you over loud background noise.
If you want a longer-lasting pair, check out the OneOdio A10 Hybrid ANC Headphones. They have an impressive 45-hour battery life, and their ANC function comes with a transparency mode. On the downside, they're chunky and heavy, but they do support a dual Bluetooth connection.
Pros:
Large 45mm drivers.
Decent battery life.
Effective ANC function.
Easy to find in the dark.
Cons:
Limited on-board controls.
Low-quality mic.
Srhythm NC25 ANC Bluetooth Headphones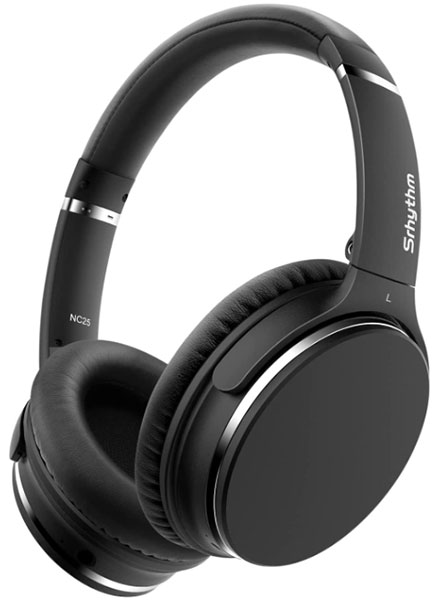 Key features:
Plastic frame available in 4 colors.
50 hours of playtime.
40mm drivers.
Built-in Active Noise Cancellation.
Supports dual device connections.
The Srhythm NC25 ANC Bluetooth Headphones are constructed primarily from plastic. That said, there's an inner aluminum strap that's exposed when you pull out the head band. It can adjust to fit most heads, and the top of the band has a soft leather padding that's comfortable to wear. You can choose from four different colors: black, white, coral orange, and mint green.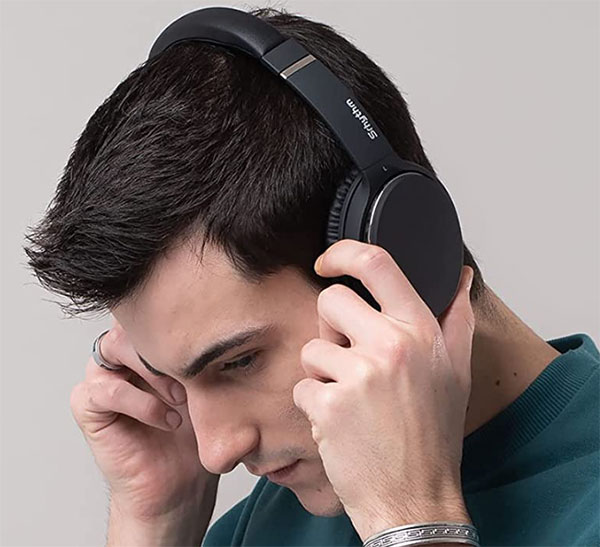 The ear cups are also padded, with a generous memory foam cushion. They're coated in PU leather, which makes them very breathable and prevents sweat buildup. On the downside, they're fairly small. At 3.86 inches tall and 3.15 inches wide, they'll sit on top of larger ears. Then again, they can swivel 100 degrees and fold 120 degrees, so they can sit at almost any angle. They're also collapsible, so you can slip the whole set of headphones into the included zippered carrying case.
The buttons are all located on the outside of the right ear cup. They're small and rubbery, and they're arranged in a diamond pattern. The top one serves as a multi-function button. It turns the power on and off, and also answers and ends phone calls. The buttons to the left and right are used to adjust the volume and skip audio tracks back and forth. The bottom button activates and deactivates the ANC function.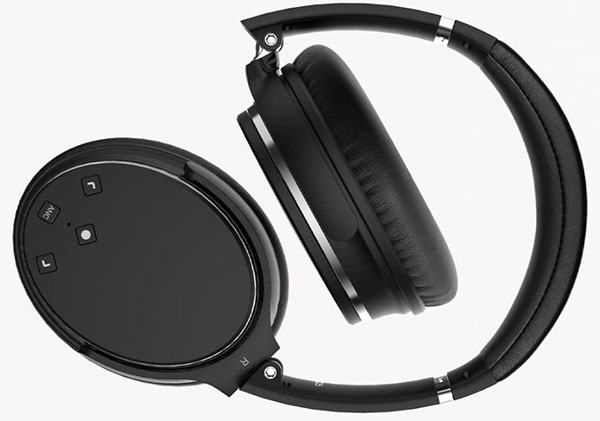 On the edge of the right ear cup is a USB Type-C charging port, along with a 3.5mm aux port. Both cables are included in the package, so you don't have to buy anything extra. Better yet, you also get a 6.25mm adapter tip as well as an airplane adapter. So no matter where you want to plug the headphones into, you'll be able to.
Battery, Connectivity, and Audio Quality
The NC25's internal battery has a capacity of 1,000mAh, which is fairly large. You can listen for up to 50 hours on a single charge, albeit only with the ANC function turned off. But no matter how you cut it, you're looking at a generous amount of listening time. And with USB Type-C charging, you'll be able to quickly top off your battery in no time at all.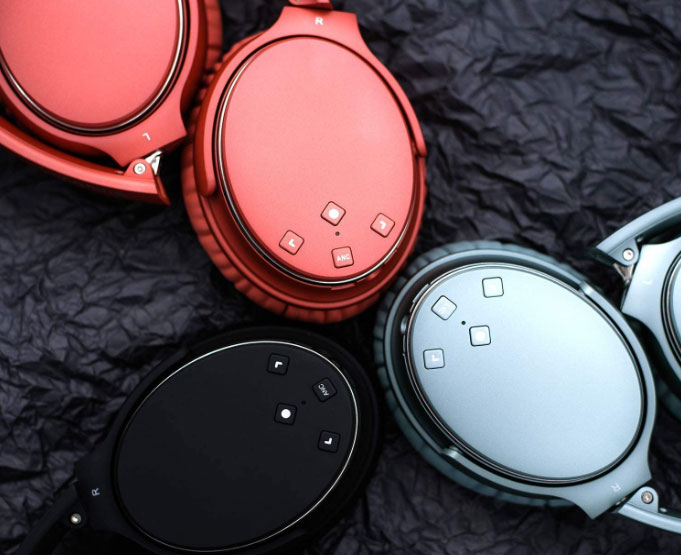 The Bluetooth 5.0 wireless connection has the same benefits as we listed for the Silensys headphones. This includes a mere 50ms of latency, which is low enough for gaming and watching videos. However, the NC25 also supports a dual Bluetooth connection. This means you can connect simultaneously to two different devices. For example, you can connect to your PC while you're gaming. But you can stay connected to your phone so you know when your GrubHub driver is arriving.
Alternatively, the 3.5mm aux connector and adapters don't require any battery power. A wired connection is also your best option if latency is your number one concern.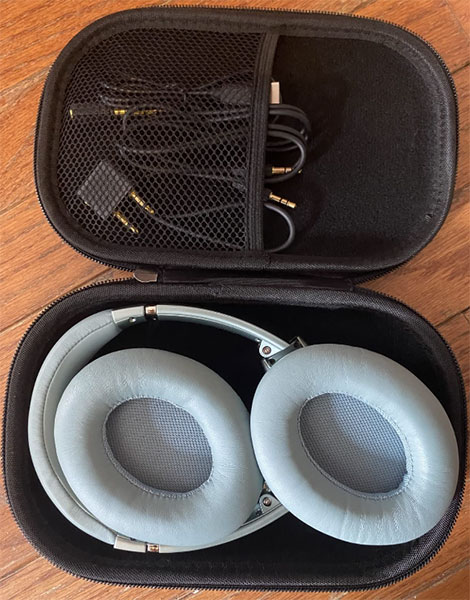 The 40mm drivers provide good audio quality for the price point. There's plenty of separation between the instruments, and good response across all frequencies. Low, middle, an high-pitched tones all sound clear, so music doesn't sound muddy or squished. On the downside, the ANC function was less impressive. It might be good enough for quiet background noise like the drone of an office. But anything louder than that will bleed through to some extent.
If hearing background noise is important for safety or other reasons, consider the Truefree F1. It conducts sound through your bones, leaving your ears free to hear your environment. And while it leaks sound, it has a long-lasting battery and supports the latest Bluetooth 5.3 wireless protocol.
Pros:
Long-lasting battery.
Supports dual device connections.
Good audio quality for the price.
Collapsible and portable.
Cons:
ANC function is only so-so.
Relatively small ear cups.
Final Verdict
As you can see, these are both great ANC Bluetooth headphones. But which one is the right choice for you? Here are some of the highlights of what we've covered today.
The Silensys E7 ANC Bluetooth Headphones have a far better ANC function. If you're primarily trying to block out background noise, they're an excellent choice. They also put out a lot of sound, so you can listen at high volume. To be fair, the controls are awkward and limited. But the top-tier ergonomics more than make up for that.
The Srhythm NC25 ANC Bluetooth Headphones have a much longer-lasting battery, at up to 55 hours. The ANC function isn't as impressive, although it's suitable for less noisy environments. On the plus side, it can connect to two devices simultaneously. And with its collapsible design, it's easy to take on the road.