With Netflix, Skype, and Spotify becoming common household subscriptions, many public figures have gone out on a limb and declared home services dead. But many of us know this to be untrue. Millions of Americans across the country continue to subscribe to a service bundle from their local cable company. Let's be honest, as appealing as a $10 per month subscription is, our local cable package gives us more channels than ever before, in crystal clear HD. Phones almost always include long distance, internet bandwidth is often uncapped, and we've got so many channels that we can't even remember the whole list.
Considering how much better our services have become over the years, why is it that so many people complain about cable companies? I think we all know the answer to this one. The problem is that cable companies love to bundle. Everyone has the same experience.
"Want to watch AMC? No problem! It comes in a package with HGTV and the Cartoon Network. By the way, you're going to have to rent all the equipment. If you're already paying, why not throw in an extra $5 for the PVR? Oh, and nobody uses that internet package anymore. You're definitely going to want this one. And don't forget about the installation charge. I tell you what, let's make it a bundle with home phone. Add that on, and I can knock $10 off your bill!"
By the time they offer you the home phone service, you're just happy that you're finally being offered something you actually wanted. We sign our contracts and accept our huge monthly bills, knowing that switching would almost be more of a headache than just paying up.
Let me fill you in on a little secret. You don't actually have to pay for all that stuff. Many people try to get a bargain by cutting out the services they don't want. Instead, the trick is to find ways to save money on the services you do want. We've already showed you how to save hundreds of dollars and improve your internet speed by picking up your own DOCSIS 3.0 cable modem. Today, we're going to show you can get your home phone service for free.
This isn't some kind of complicated scheme. It's actually quite simple. You already have an internet connection, so all you need is an inexpensive adapter that will connect your phone to VoIP (voice over internet protocol) service. Once you buy the adapter, your service is completely free. There are some companies that charge a subscription for this service, but today we're going to be taking a look at the two best Free Home VoIP Phone Service Adapters that you can buy today. After, we'll compare the two to help you decide which one might fit your needs.
Ooma Telo Free Home Phone Service
Ooma started out as a company offering multi-line VoIP service to business clients, but this home phone box is their first foray into the home market. We'd generally be apprehensive to try out a service from a new entrant into market. If the business was to fail, then you'd lose the free service. Since this is the biggest advantage to these products, we wanted to avoid it at all costs. But they're very well established in the business market, so it's pretty safe to say that they're here to stay.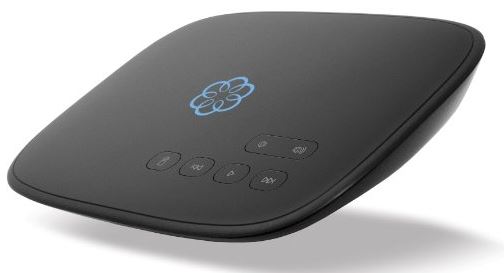 First Look
The Ooma Telo is a pretty spiffy looking unit. The top is flat black, and coated with a material that is smooth to the touch. It's got a vibrant logo on top that certainly makes it stand out, and several buttons located on the bottom right corner. These are your typical touch buttons. Aside from the small indentation and minimalist symbols, they don't draw any attention to themselves. Fortunately, they are still quite easy to use and very sensitive.
The box itself is surprisingly compact. It's something that you'll want to have out in the open, so the fact that it doesn't take up any unnecessary space is great. It's sold as being cheap, easy to use, and requiring very little setup, so we were excited to try it out for ourselves.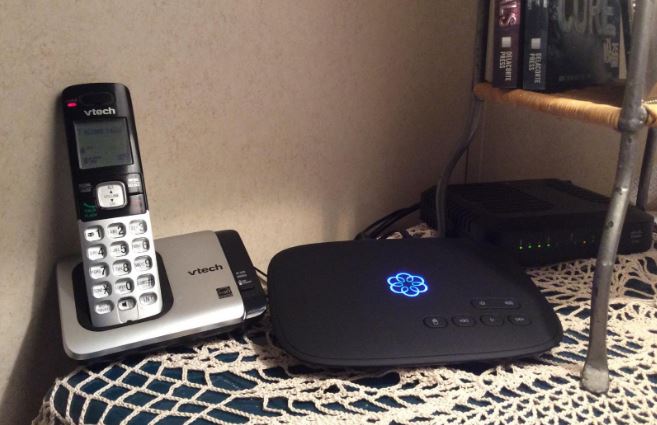 Usability
The first thing you'll have to do is set up your Telo. The first step is to get it registered. You just have to log into their website at ooma.com, enter in a few numbers from the Telo and provide them with your email. You'll now have an account you can log into and track your usage, if you like. From there, you'll be able to choose your phone number. They have most major US cities listed, so if you live in a smaller town you'll be choosing one close to you.
Fortunately, most phone service now includes long distance so your friends and family won't have to pay extra to call you. Then, you'll need to connect three things to your Telo. It attaches to your router via Ethernet, your phone through a standard phone jack, and the wall using the included power adapter. Within a few minutes, you'll be ready to make your first call.
Making a call is no different than before. Just pick up your phone, dial the number, and use as usual. There is no learning curve or special features that you have to familiarize yourself with.
That isn't to say that there are no additional features at all, they're just ones that you'll be familiar with. The Telo has a built-in voicemail so you can access messages from phone calls you've missed. It's easy to access from the front panel, so we have no complaints about the system.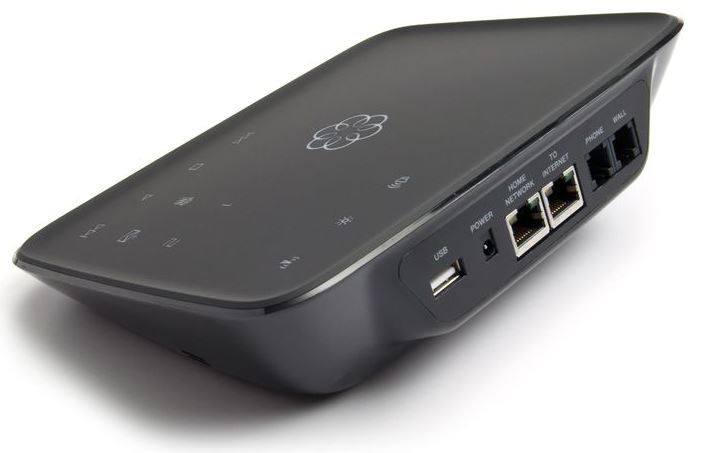 Sound Quality
Sound quality is often an issue with VoIP service. Many inexpensive or free solutions suffer from lag, echo, or that dreaded 'in a tunnel' sound. Fortunately, the Telo doesn't suffer from any of these problems. In fact, Ooma uses special HD compression that is similar to what's being used in HD voice on both Android and Apple cellphones. Unfortunately, since you're routing the sound through an older phone, it generally sounds just as good as your old landline, rather than better.
Packages
All of your calls within the United States are completely free, and international calls are blocked by default. You can turn these on at any time by logging into the website. Rates vary from 50c per minute to over a dollar for some smaller countries. If you're regularly making international calls, it might be worthwhile to pick up the $18 worldwide package that makes it unlimited.
Most VoIP providers do not offer 911 service. The Telo does. The problem is that 911 is taxed by the state, so you may have to pay an additional fee. New York charges about $4 a month for this. Some states charge as little as $2. This all depends on your area though.

Additional Features
The Ooma Telo has a few extra features built in, as well as some that you can purchase. If you don't like the idea of being tethered to your router, a cheap Bluetooth adapter can make this connection wireless. But even the standard package gives you full access to their impressive web app. You can save your favorite numbers, listen to your voice mails, access call logs, or add some prepaid money to put towards international calls.
OBI202 VoIP Phone Adapter
If you've looked into getting a VoIP phone adapter before, you've probably come across an OBI product before. They're one of the first companies to offer a BYOD (bring your own device) solution. At the time, VoIP was available exclusively through some high cost providers. Much like your cable company, they charged hefty monthly rental fees for their gear. The OBI202 is the latest of their analog phone to voice adapters, and it packs a few great features that we haven't seen on previous models.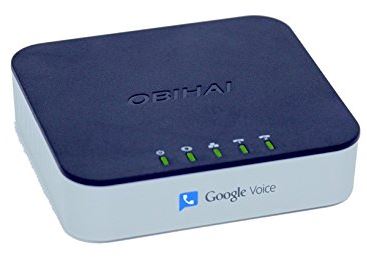 First Look
As I'm sure you could tell from the name, the OBI202 looks much more like a networking appliance than a stylish new way to move yourself into the 21st century. But underneath it's blue top it packs quite a few features. You'll notice this as soon as you flip it around.
On the back, it's got both WAN and LAN ports. This means that if you're already connecting your modem to a router, you can just put this adapter in line with it. Connect the modem to the OBI, and the OBI to your router. This avoids potential conflict, and prevents any issues from arising. The features don't stop there, but all this performance was impressively crammed into a very compact box. This makes it incredibly easy to tuck it away.

Usability
Setting up the OBI202 can be simple, or complicated. It all depends on how much control you want. It has the ability to connect with Google Voice, a free VoIP service that can be used by anyone in the United States and a number of other countries. To set this up, you just have to go to your computer and enter in a special URL that takes you through the setup wizard.
If you know what you're doing, you can instead access the advanced panel and do things like configure custom star codes, add multiple VoIP services, and set custom call routing rules. This is handy to have for anyone that works from home. You can just add your work phone number to this little box, and take calls from the office as usual, as well as access local extensions.
It can also support two phones, something that anyone in a large household will appreciate.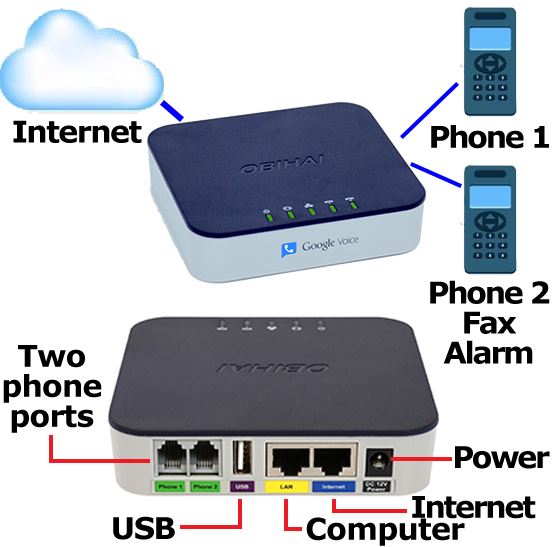 Sound Quality & Packages
Due to the way this device is designed, it's challenging to review how good the call quality is. This will depend more on what service provider you choose. What we can tell you is that the OBI doesn't degrade sound quality at all. Using it with our Google Voice account sounded just as good as it does from our phone. High quality providers should give you the same experience.
Which one do you choose? Well, this is entirely up to you. The OBI202 is completely SIP compliant. This means that you can use it along with Vonage or any other paid VoIP service, if that's something you already have.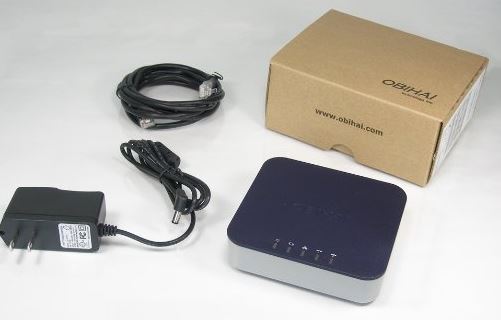 Which Free Home VoIP Phone Service Adapter is Right for Me?
Fortunately, these devices are pretty simple, and both cost about the same. The difference between them boils down to flexibility and ease of use. The OBI202 is the most customizable. It has every feature you can imagine, allowing you to set up incredibly complex configurations. It also supports every provider, so you'll never be stuck in one system. But even if you're not a technical person, setting it up is still quite easy. Just register a Google Voice account, follow the simple prompts, and you're ready to go.
The Ooma Telo is the OBI's polished little cousin. It performs in a very similar way, meaning high quality phone calls with no need for compromises. But setting it up is a no-brainer. Everything is completely taken care of. If you want ease of use and an attractive design, the Ooma Telo is a great choice.
Meet Derek, "TechGuru," a 34-year-old technology enthusiast with a deep passion for tech innovations. With extensive experience, he specializes in gaming hardware and software, and has expertise in gadgets, custom PCs, and audio.
Besides writing about tech and reviewing new products, Derek enjoys traveling, hiking, and photography. Committed to keeping up with the latest industry trends, he aims to guide readers in making informed tech decisions.