If you've been keeping up to date with our blog, you know that we've always been a big fan of Netgear. They're a high-quality manufacturer of both consumer and business equipment. One of the things that stand out about their brand is the unique combination of reliability and progress. Often, users find that buying the latest cutting edge technology is a bit of a double edge sword. You get access to the latest and greatest, but you're at risk for paying a premium for hardware that still has issues that were left in as the product was rushed to market. Netgear doesn't generally suffer from these problems. They aren't always the first to market, but they rarely release anything unreliable.
We've already reviewed the fastest and best cable modems, but technology is advancing every day. When Netgear announced the CM700 32×8 Cable Modem, we had to try it for ourselves. What we found is that Netgear offers the same top tier performance we'd expect from a high-end cable modem, with a few subtle performance tweaks that make it a great buy.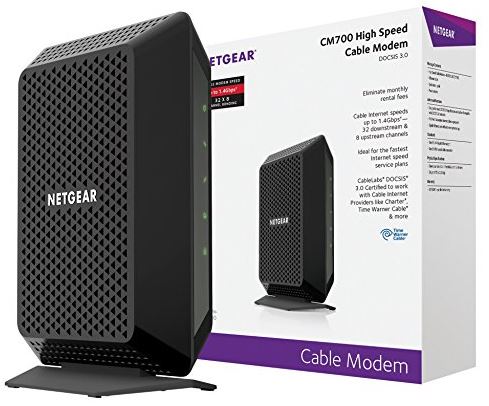 First Look
One of the most obvious upgrades to the modem platform is the design. Netgear has managed to create something that looks aggressive, and yet subtle. It's sharply angled lines, bright green LEDs, and sharp triangular vent holes scream performance. From the moment you set eyes on it, you'll know it's a performance piece of hardware, and yet it's not kitted out with any unnecessary bling. They've simply taken all of the elements a modem needs, and touched up the design to create something that's simply cohesive.
If you're currently using a vendor bundled modem, you'll notice that this one is a little larger. By any stretch of the imagination, you certainly couldn't consider it 'huge'. But it's packed with powerful hardware, and this requires a little extra space. Fortunately, thanks to the built-in stand it has a very low footprint. Some modems can be used either on their side, or upright. With the CM700, we highly recommend that you keep it in the upright position. It uses both sides for cooling, so having the vents uncovered could impact performance.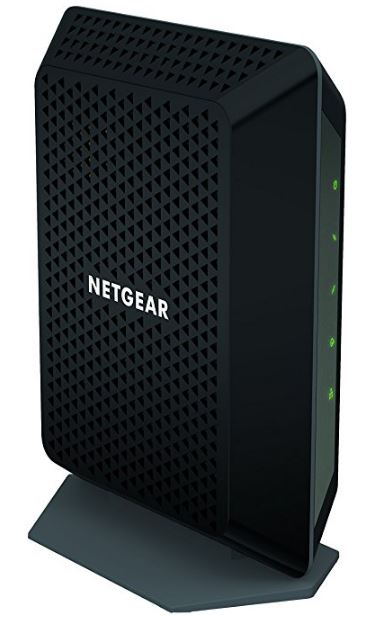 Setup
While some modems require a complicated setup procedure, Netgear kept it simple with the CM700. For many users, getting it up and running involves nothing more than connecting the power, plugging in your Ethernet and cable connection, and pushing the power button. The modem takes everything from there. What makes this possible is the dynamic handshake. When your modem first connects to your ISP, the two devices have to agree on a method of communication. The CM700 can automatically test the different options, selecting the one that gives you the best performance. This makes the setup procedure completely hands off, something that will be appreciated by most consumers.
Unfortunately, some consumers will need to make a call to their ISP to get it activated. The modem does support automatic activation, but very few internet service providers are using this technology.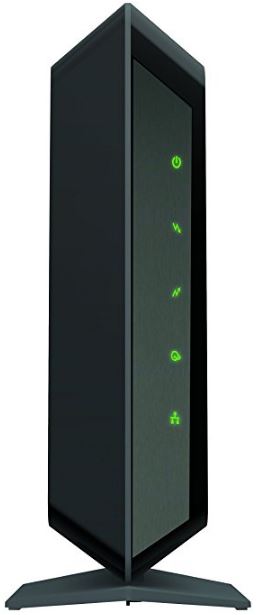 Bandwidth
The CM700 uses the fastest communication technology on the market, giving it a potential bandwidth of 1.4 Gbps. If you had internet service that was compatible, you could download data at rates of up to 175 MB per second. This is enough to download an entire 4K movie in a little over 10 seconds. Will you actually see these speeds in real life? Unfortunately, that's unlikely. However, there are several benefits to having access to this technology.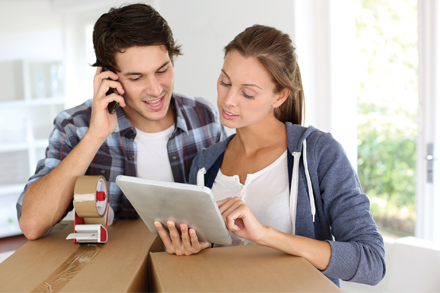 Cable modems run on a system called DOCSIS. DOCSIS is, in essence, a method of converting data into a frequency that can be transmitted over a cable line, along with many others. DOCSIS 2.0, the previous version, allowed for a maximum throughput of 42Mb/s per channel. DOCSIS 3.0 allows these channels to be 'bonded,' or used together as if they were one ultra-fast connection. DOCSIS 3.0 currently uses a maximum of 32 bonded channels, and the CM700 supports all of them.
The problem is that there are very few ISPs who have the bandwidth to support offering these connections to consumers. If they did, their network would be flooded beyond their ability to supply. Despite this, we still recommend getting a 32-channel modem. The reason? Channels have a tendency to become crowded. Most of the modems on the market are still using four or eight channel systems. This means that those four channels can become very crowded. With the 32-channel system, the modem is able to select any of the available channels. You can skip the crowded ones, and take advantage of whichever are the least occupied, helping you to get the best connection speed possible.
Upstream channels are a little more limited, with only 8 available. But in the consumer networking space, this is still the best on the market. If you need a faster upload speed, you'll be better off going with business class fiber.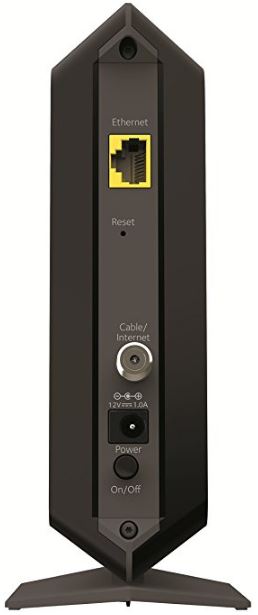 Load Balancing
A modem isn't anything like a faucet. You can't just open a valve and let the bandwidth flow into your network. Every application you're using, from your web browser to the latest online games, are dividing your active internet connection into individual packets. The job of the modem is to accept these packets and repackage them for transmission to your ISP.
Fortunately, this modem has a powerful processor that can handle large loads with ease. It's got four independent cores, each of which is dedicated to high performance throughput.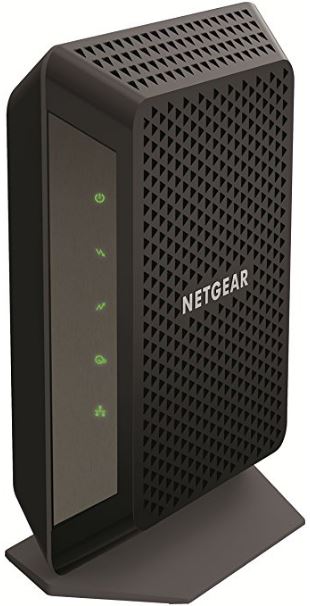 Compatibility
The Netgear CM700 32×8 Cable Modem follows the DOCSIS 3.0 standard to a T. This means that it works with almost every ISP on the market. If you're using a small local internet provider, it's pretty safe to say that it will be compatible. Some of the larger ones require modems to be certified before they're allowed on the service. Certification is a long and expensive process, so it hasn't always been easy for us to find modems that offer good compatibility. Fortunately, Netgear has a relationship with many ISPs. This means that the CM700 is certified to work on XFINITY from Comcast, Time Warner Cable, Charter, Bright House Networks and more.

There is, however, one special device it's compatible with. This is the Nighthawk X10 AD7200. If you've read our review, you know that it's the fastest router currently on the market. We can't think of anything better to pair it with than the fastest cable modem. What's unique about this relationship is that both devices share the same powerful QoS service. QoS stands for quality of service, and helps to prevent common network issues. The Nighthawk modem can keep careful tabs on all of the users on your network, and the CM700 is capable of making sure that all of your important data is delivered in an effective manner. Together, the duo make for one serious piece of networking hardware.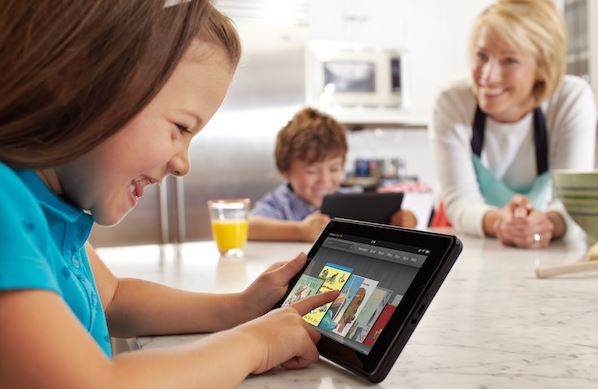 Should I Own the Netgear CM700?
If you're looking for the best in performance networking hardware, the Netgear CM700 32×8 Cable Modem is an excellent buy. There are two types of people we'd recommend to purchase this device.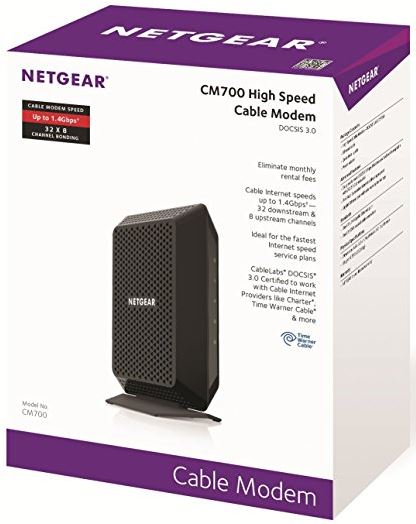 The first group is people who are paying for a high bandwidth connection, but aren't able to realize the full performance of the service they're paying for. To see if this is you, do a quick speed test online. If this number is less than 80% of your advertised rate, there is a good reason the modem could be to blame. If you live in an area where the lines aren't particularly good, or you've got a lot of high bandwidth traffic, your modem simply won't be able to keep up with the errors. In this circumstance, the CM700 would be a great solution. But if your performance is below 20% of your advertised rate, you'll want to call your ISP first. The CM700 can make a huge impact on your performance, but it can't perform miracles.
The next group of people who could benefit from the CM700 are those who like to have the fastest internet connection possible, at all times. When ISPs bump up the top speeds, it often takes several months for manufacturers to catch up. Buy buying into a high-performance piece of hardware now, you'll always be first in line for the latest tier. Gigabit internet is still a ways off, so this modem will surely last you for at least a few years.
Don't fit into any of these categories? Some people don't care about performance quite as much, and just want to save themselves the monthly rental fee. If this sound like you, we've got a ton of great options listed in our DOCSIS 3.0 cable modem buyers guide. Make sure you check it out!