Building your own computer has several advantages. You can select all of your own components to configure a specific build that's perfect for whatever you want it to excel at. But one of the most important and often overlooked components is the case itself.
Full Tower cases offer plenty of internal space, but they do take up a bit more desktop space than your standard Mid Tower, Mini-ITX, or Micro ATX Case. However, some may agree that a full tower case has more advantages than disadvantages – more internal space means better ventilation, which equals better cooling for all of your expensive components. Heat can be a huge problem if you don't take preventative measures when you're building a computer.
We're here to go over a few of the current best Full Tower Computer Cases for gaming-specific custom builds. We're going to review each one and give you reasons why we chose these specific cases as top choices.
Corsair Graphite Series 760T Full Tower Case
It's no secret that we love Corsair – they seriously know how to create beautiful cases, and all-around exceptional components. The Corsair Graphite Series 760T Full Tower Case comes in either black or white with a massive clear side window for seeing all of the awesomeness inside.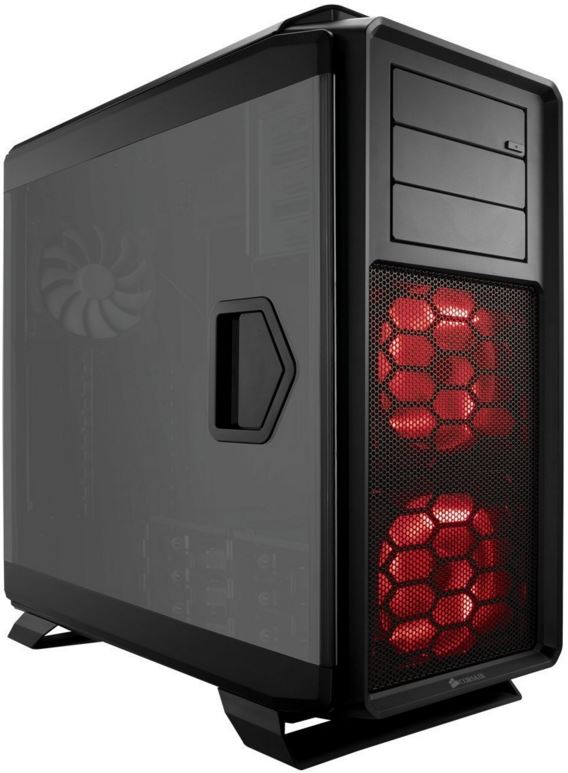 Easy Access
Unlike some cases, Corsair incorporated a hinged side panel that allows easy access when you want to open it up. With this design, you won't have to hassle with tiny little thumb screws or small screwdrivers. The side swings open like a door and securely latches when closed. Additionally, all of the optical drives, hard drives, and solid state drives can be installed and removed without any tools.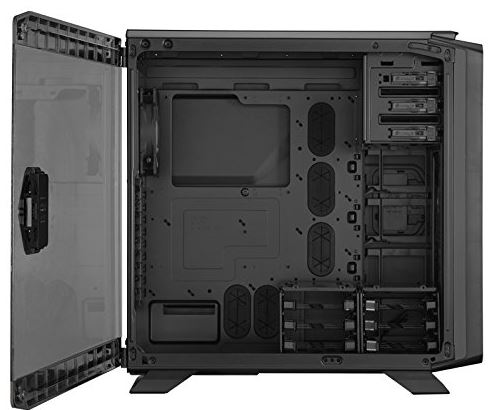 Included Fans
Right out of the box, the Corsair Graphite Series 760T is ready to go with three AF140L, 140 millimeter fans. The two located on the front panel have red LEDs if you choose the black case, or white LEDs if you choose the white case. The third fan is pre-installed on the back, perfectly setup for an exhaust. These fans are really quiet and seem to be incredibly high in quality. If you're in need of additional cooling, you can have a total of 7 fans installed.
Modular Drive Cages
It's no secret that custom computer builds can get cluttered and messy in no time. Corsair took a few preventative measures to keep it looking clean by including a completely modular drive cage system. This enables you to arrange a customized layout of your installed drives and make more room for additional components if needed.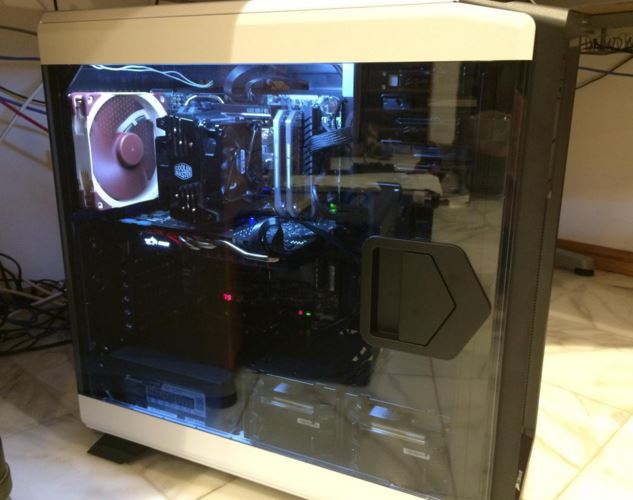 Ready for Water Cooling
On the top there's enough space for a 360 millimeter radiator. Also, a 280 millimeter radiator can be installed near the front area. If you're looking into a water-cooled system, a modular full-tower case like this one is what we'd specifically recommend.
Front Inputs
Located conveniently at the front-top section is an assortment of inputs for connecting USB devices, headphones, or a microphone. Here there are two USB 2.0 ports, and two USB 3.0 ports for the fastest transfer rates possible.
NZXT PHANTOM Full Tower Case
Designed specifically for high performance cooling, the NZXT PHANTOM Full Tower Case is another fantastic choice. With a totally unqiue gamer-oriented design, it's available in three super-attractive colors – white, red, or black. Priced less than the Corsair Graphite Series, it offers all of the advantages of a large size while maintaining a sleek and awesome look.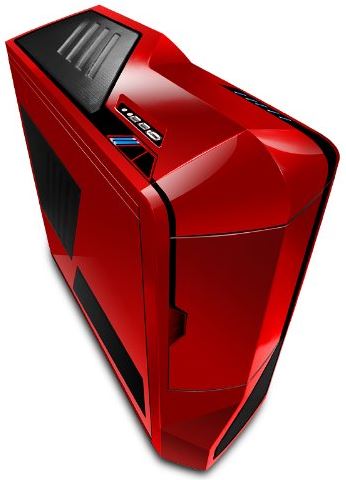 Lots of Space
With enough space for 7 hard drives and 5 optical drives, it's an ideal setup for those who want a roomy interior with tons of space for hue amounts of storage and expansion. Fully compatible with the largest heatsinks, 350mm graphics cards, and E-ATX support, you're assured a wide range of options on how you'd like to go about setting up your custom PC.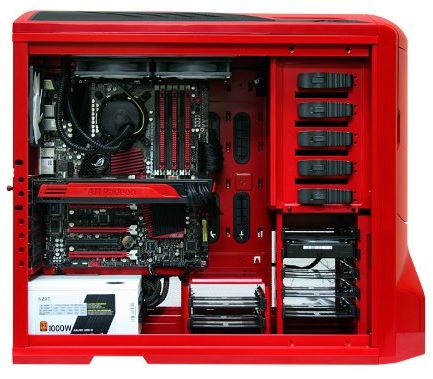 Awesome Cooling
There's space for up to 7 cooling fans, and there are many that are pre-installed right out of the box. A total of four fans are included – two 120mm side fans, one 120mm rear fan, and one 200mm top fan with an LED built-in. On top of this, you can install additional case fans – one 140mm front fan, one 20mm side fan, and an additional 200mm top fan. There's even plenty of space for water cooling radiators if a water cooling kit is your plan.
Fan Controls
Having the ability to turn up or down your fans is a nice addition. With the NZXT PHANTOM, they've included five seperate 20 watt fan controllers that enable you to fully moderate the speed and intensity of each cooling fan that it's hooked up to. This offers full flexibility to precisely scale the airflow as needed – overall making a quieter experience if you don't need all of them running at full-board.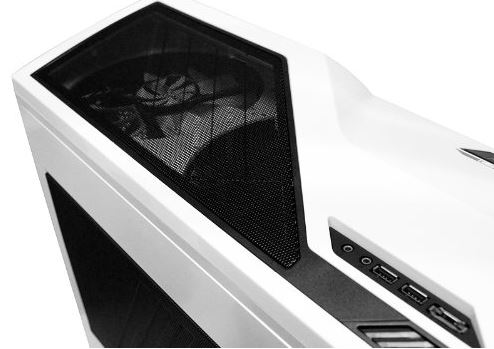 Mesh Panels
Located on each side is a mesh screen that promotes passive intake so there's constantly cool air coming in from all directions. If you have the case fans setup to properly pull air out of the interior, these mesh panels will have a generous effect on the internal temperatures. Ideal for top of the line custom PC builds that need to function well but also look amazing.
Thermaltake Level 10 GT Super Gaming Modular Full Tower Case
With a totally unique, modular design, the Thermaltake Level 10 GT Super Gaming Modular Full Tower Case offers some of the best ingenuity we've seen in the full tower gaming case market. Known for it's easy access and innovative features, it keeps your system clean and tidy and has even been called a "dream come true" by many custom PC builders around the world.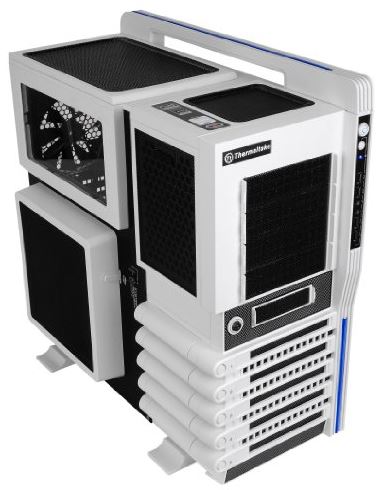 Stylish
Available in either white, black, or military green, the Thermaltake Level 10 GT comes in a wide assortment of styles. Whether you're going for a simple white look or a army-themed green build, there's an option for that.
Cable Management
Typically, running cables and wires through the inside of any case can cause a clutter of messyness that nobody likes to deal with, let alone look at. Thermaltake built a unique system to hold the cables into the chassis rather than having them flow around wherever they want. This not only creates a better appearance, but it makes for better airflow since there's less in the way of the fans.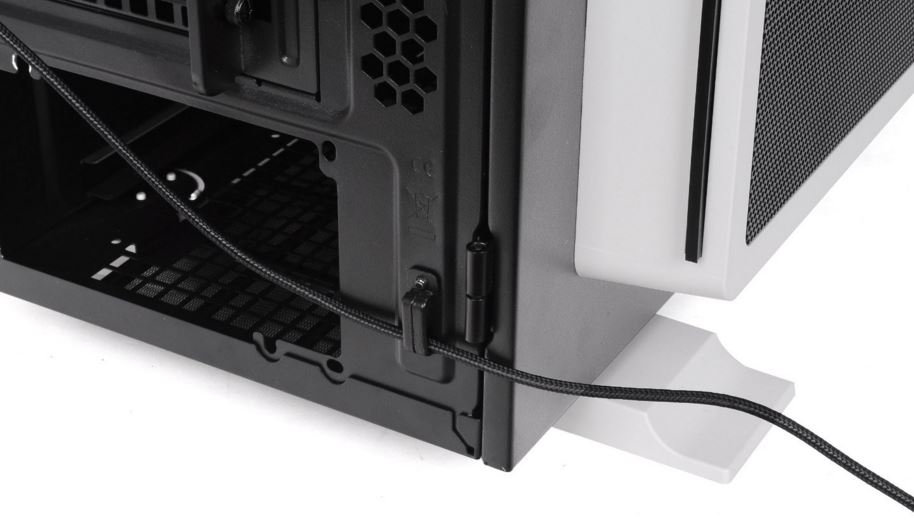 Hot Swap
Equipped with five hot-swappable hard drive bays, you'll have plenty of space for more storage when needed. Each one has dedicated backplane to support hot swap. Hot swapping enables you to replace any 2.5 inch or 3.5 inch drive while the system is powered on. It's an ideal feature for those who constantly want to install a new hard drive or for those who need easy and quick access to a stack of old drives that might be sitting around.
Spacious Design
When you open up the case, you'll notice that there's plenty of space for huge builds. With water cooling support for a 120 or 240mm radiator, and the ability to support extra long graphics cards up to 36 centimeters long, we haven't heard any complaints of people "running out of room".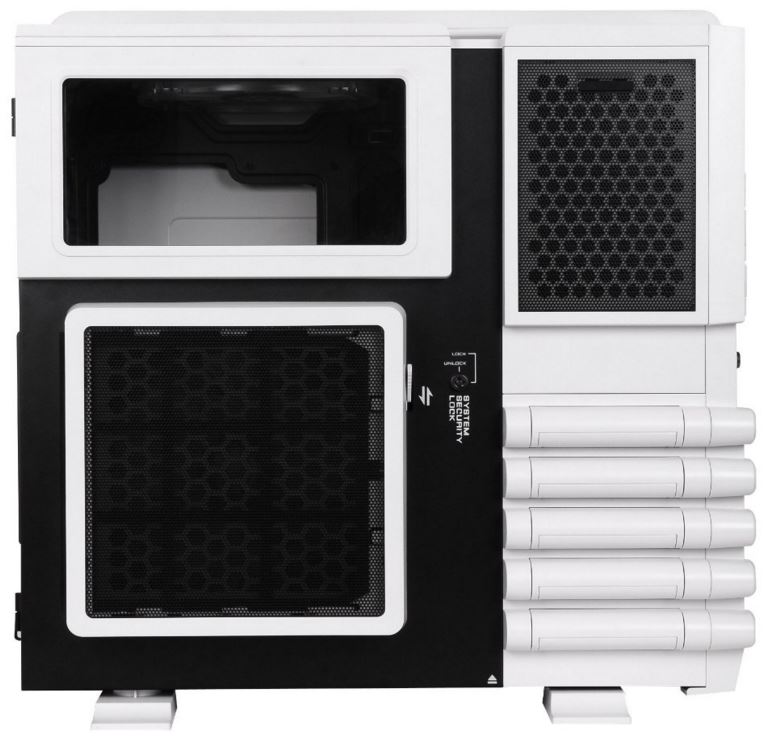 Accessible
Located on the front panel where the power and reset buttons are located, there are four USB 2.0 ports, a headphone input, and a microphone input. They're aligned right next to the optical drive bays and are easily accessible. Above this on the top panel are two USB 3.0 ports along with an eSATA port for all of your high-capacity transferring or backup needs.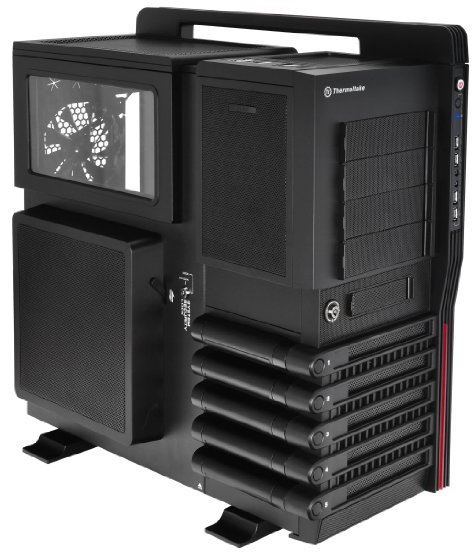 Plenty of Fans
For optimal cooling, we recommend using as many case fans as you need to keep the internal temperatures within an acceptable range. Included is one 200mm exhaust fan on top, one 200mm intake fan on the front, another 200mm intake fan on the side, and a single rear 140mm exhaust fan. With a generous amount of mesh ventilation and these pre-installed high quality fans, you likely won't need to ever worry about cooling. Additionally, as we mentioned above, it's ready for a water cooling system with a 120mm or 240mm radiator if that's what you plan on installing.