The Nintendo GameCube is a symbol of gaming nostalgia, offering players unforgettable moments. However, with time, its original power adapter may have worn out, pushing gamers to find reliable replacements.
Luckily, there are several available. Today we're going to introduce our favorite GameCube power adapters that represent well-working alternatives to the original one that came with your console.
Old Skool AC Power Adapter for GameCube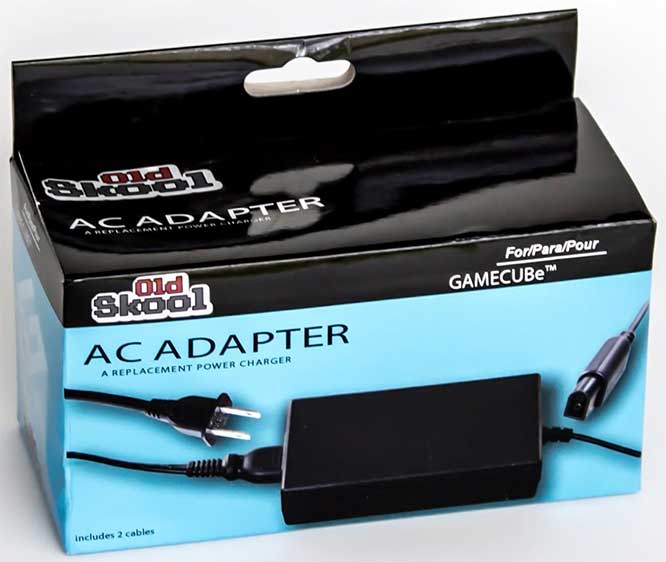 When it comes to keeping your cherished Nintendo GameCube powered and ready for action, the Old Skool AC Power Adapter is a standout choice. This adapter has earned its reputation as a dependable and fully compatible replacement for the original GameCube AC adapter.
One of the most attractive aspects is its budget-friendly price tag of just $15. In a market where gaming accessories can often come with a hefty price, it provides a cost-effective solution without compromising on performance or reliability.
Measuring 8.5 feet in length, the power cable of the Old Skool adapter offers ample reach. This generous cable length provides flexibility in setting up your console, allowing you to place your GameCube wherever it suits you best. Best of all, the power cable is detachable yet designed to fit snugly.
Xahpower Replacement GameCube AC Adapter and AV Cables Bundle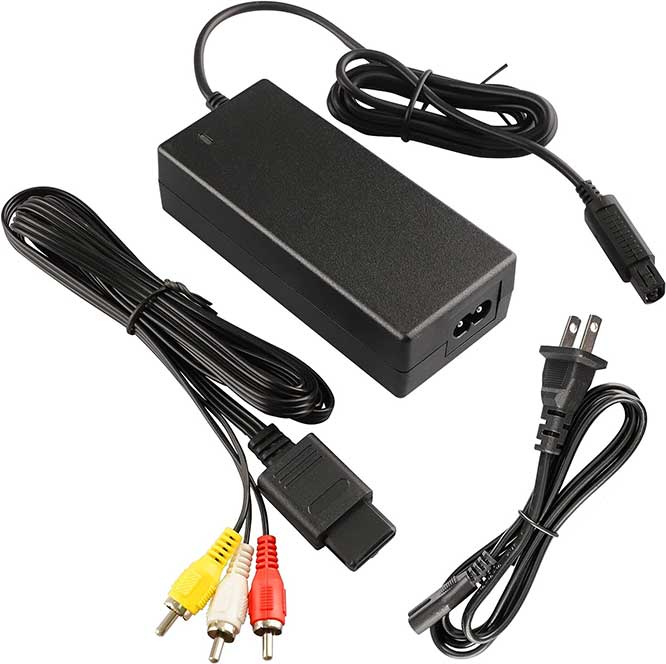 If you're in the market for a GameCube AC adapter replacement with some added value, the Xahpower bundle is worth considering. For just a few dollars more than some standalone adapters like the Old Skool, this bundle offers both power and audio/video cables for the GameCube. This inclusion is a welcome bonus for gamers looking to replace both components simultaneously.
While the AV cables are a noteworthy addition, it's essential to note that the power cord in this bundle measures 5 feet in length. Although it may be slightly shorter than the Old Skool, it should still provide adequate reach for most setups.
One standout feature of the Xahpower AC Power Adapter is its ability to run cooler than average and with no buzzing sounds. Overheating can be a concern with some AC adapters, but, internally, this one is designed to maintain a lower operating temperature.
In addition, many have reported that the included cables in the bundle feel substantial and of high quality. This reassurance in cable build and performance may contribute to them lasting for many years to come.
AreMe GameCube Accessories Bundle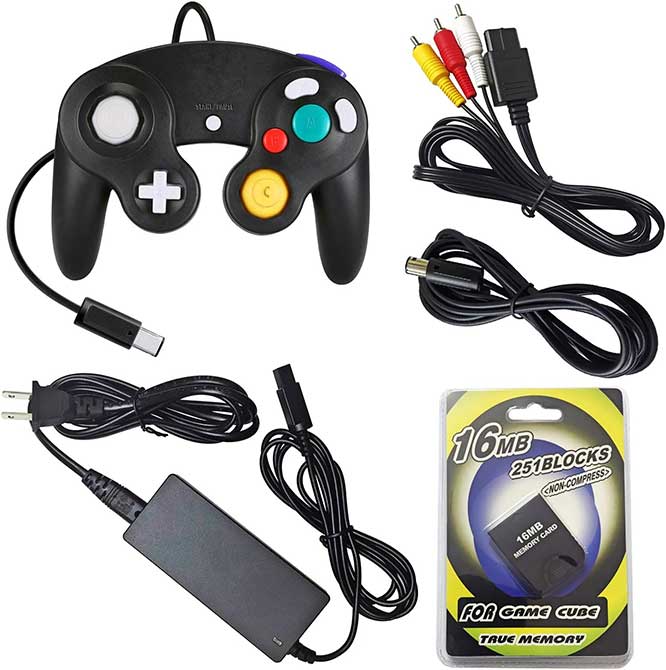 If you're searching for the ultimate value-packed option, the AreMe GameCube Accessories Bundle is designed with you in mind. Priced at $33 for the entire package, it's a one-stop solution for gamers who want the most bang for their buck when refreshing their GameCube setup.
This comprehensive bundle includes an AC power adapter, AV cables, a 16MB memory card, and a GameCube controller with a generous 6-foot controller extension cord. With all these essential accessories bundled together, you'll have everything you need to get your GameCube up and running smoothly.
Everything included in the AreMe bundle are exact, generic replicas of the original Nintendo accessories. This means you can expect them to perform just like the originals, without compromising on quality or compatibility. The size, feel, shape and appearance is identical. Whether you're looking to replace a worn-out controller or need additional memory for your game saves, this is a great option.
While the AreMe bundle may be priced slightly higher than standalone alternatives like the Old Skool and Xahpower, it offers the advantage of providing a complete replacement kit for all of the essential accessories. With all included in a single package, you can enjoy peace of mind knowing that your GameCube experience will be seamless.
Reasons You Might Need a Replacement GameCube AC Adapter
Wear and Tear: Over time, the original AC adapter that came with the GameCube can experience wear and tear from regular use. This wear can result in frayed cables, damaged connectors, or other issues that compromise its functionality.
Loss or Misplacement: AC adapters are relatively small and can easily be misplaced or lost during moves or reorganization of gaming setups. Especially when dealing with a classic console. When you can't locate the original adapter, a replacement becomes essential.
Compatibility: If you've acquired a second-hand or refurbished console, it may not come with its original AC adapter. In such cases, you'll need a replacement adapter that is fully compatible to ensure it functions correctly.
Travel and Convenience: Gamers on the go often find it convenient to have an additional AC adapter (or cables) for their console, especially if they frequently move between different locations. A replacement allows you to set up your console in various places without the hassle of constantly unplugging and re-plugging the adapter.
Final Thoughts
As you can see, there are several worthwhile AC adapter replacements available for the GameCube console. We've introduced each one as a step up from the aforementioned. That said, if you need only an AC adapter, go with the Old Skool. Need an AC adapter with a set of AV cables? Go with the Xahpower. Want to totally refresh your classic console? Select a complete bundle such as the one that AreMe offers.
Regardless of the one you pick, we feel that each one delivers what you'd need. Best of all, each one is reasonably priced and readily available through Amazon. Thus, making it quick and easy to acquire whether you need it now or in the near future.
Meet Derek, "TechGuru," a 34-year-old technology enthusiast with a deep passion for tech innovations. With extensive experience, he specializes in gaming hardware and software, and has expertise in gadgets, custom PCs, and audio.
Besides writing about tech and reviewing new products, Derek enjoys traveling, hiking, and photography. Committed to keeping up with the latest industry trends, he aims to guide readers in making informed tech decisions.