A rotating display stand is a great way to show off a piece of work. Whether you'd like to display art, plants or use one for photography, a motorized turntable that spins a full 360-degrees is an excellent way to feature anything. Perfect for the home, business, office or studio, rotating display stands are widely available and come in a variety of sizes and styles.
Regardless of the application, picking the best one can be a bit overwhelming. Simply put, not all are created equal. In fact, over the past two weeks, we've been researching the top-rated options for 2022.
What we've found is a wide range of choices, ranging from low-end to high-end. For each one, we've examined and tested the features to see if they perform as expected. If they didn't perform well, they didn't make this list. That said, the rotating display stands that we're reviewing today are all top-performers. Sure, they aren't all the same, but they should give you some great suggestions if you're in the market for one.
Purchasing the Best Motorized Rotating Display Stand
If you're looking to acquire one of the best motorized rotating display stands, there are some things that you should keep in mind:
Size: Based on the subject you want to have on display, you're going to need to know the size. Most display stands vary based on diameter; anywhere from 4 inches to 20+ inches. For small objects, you won't need something too large. However, larger items simply won't fit on stands that have a small base.
Capacity: The amount of weight a specific display stand can handle is another important factor. Most will list their capacity in pounds, ounces or grams. If you have a heavy item, be sure to weight your subject first just to make sure the one you choose is capable of holding it.
Rotating Speed: How long does it take for the spinning base to make a full rotation? Some offer an adjustable speed while others have a fixed speed that cannot be changed.
Remote Control: If wirelessly controlling the power, settings or other adjustments is important, be sure to select a motorized stand that comes included with a remote control. Most options don't include one.
Power Source: If you want to achieve a clean appearance, a wire going into the base might not be acceptable. Some rotating display stands are powered by a standard power cord while others utilize AA batteries or are rechargeable via USB power.
Price: Depending on the features, size and capacity, you could spend less than $20 or upwards of $100 on the right display stand. If price is important to you, look for options that provide plenty of value for the price.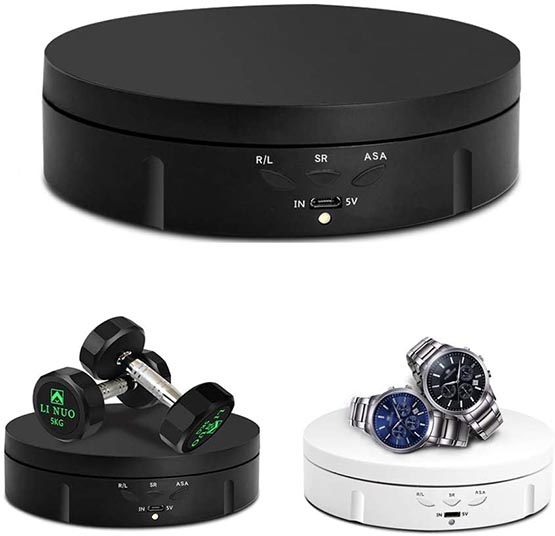 Best Value: JAYEGT Motorized Rotating Display Stand
Available in either black or white, the JAYEGT Motorized Rotating Display Stand is our pick for offering the best value. Priced just under $25, it's not the cheapest on our list, but certainly the most bang for your buck. With a 5.74″ (14.5cm) diameter and a 22lb. (9.9kg) maximum load, it can be used for virtually any application. Internally, there's a removable rechargeable battery that lets you enjoy cordless operating for about 8 hours between charges. Alternatively, you can just leave the USB cable plugged-in for continuous usage.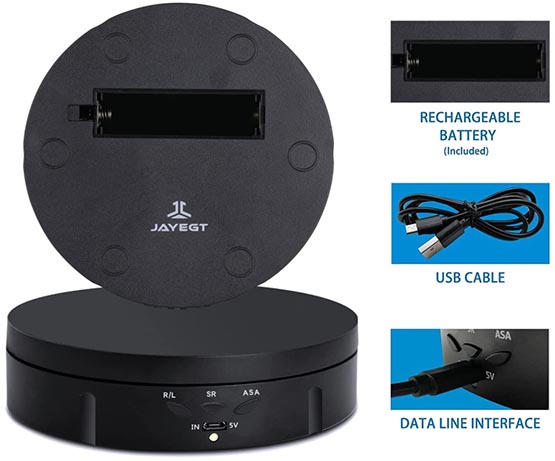 The top is a flat plate that fully rotates 360 degrees. On the side is a 5V power input right next to three buttons. These buttons are laid out in an easy way that controls the functionality. Long-press any button to turn it on. Once it's powered on, press the R/L button to select between clockwise or counter-clockwise movement. The middle button, SR, selects between one or two full rotations per minute. Lastly, the ASA button adjusts the rotation angle, letting you select between 90, 180 and 360 degree rotation.
What We Liked
High capacity for the price.
Available in black or white.
Removable rechargeable battery.
Powered or charged via USB.
What We Didn't Like
No remote.
Slight motor noise when rotating.
Relatively small diameter.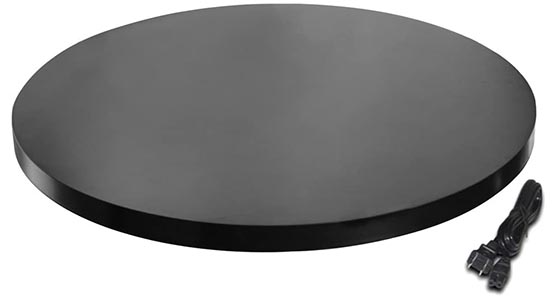 Best Capacity: fotoconic Motorized Rotating Turntable Display Stand
For those looking for the best capacity, look no further than the fotoconic Motorized Rotating Turntable Display Stand. With a 24″ (60cm) wide base and a massive 180lb. (81kg) capacity, it's the perfect choice for heavy or oversized objects. Wedding cakes, mannequins or large sculptures would all be a great medium to display with this stand.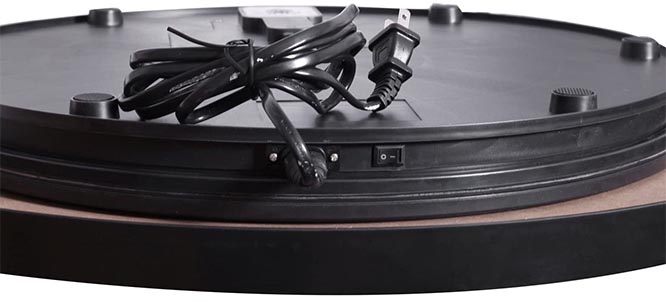 Available in either white or black, it has a streamlined, basic design. On the side is an input for plugging-in the power cord, directly next to a switch. The switch turns the device on or off, but also changes the rotation direction each time you power it on. It's also available in 14″ (35.5cm) and 10″ (25cm) versions, but the overall capacity is greatly diminished if you select a smaller diameter. Regardless, their 24″ version (the one we are featuring here) has the highest overall capacity among any of the competition.
What We Liked
Massive 180lb. capacity with a large 24″ diameter.
Very simple operation.
Oversized turntable visibly hides the power button and cord.
What We Didn't Like
120 seconds to fully rotate; too slow for some applications.
No remote.
Very minimal settings and adjustments.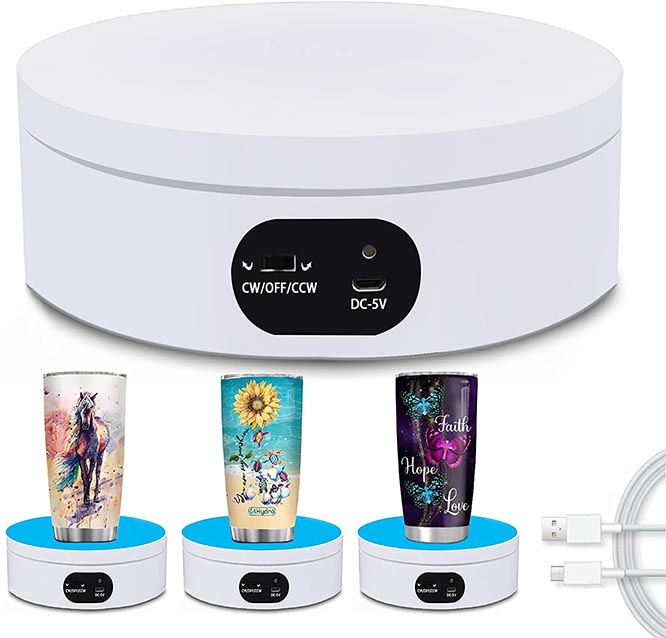 Best for Small Objects: YVV Rotating Display Stand
The YVV Rotating Display Stand is one of the smallest options available. With a diameter of 4.72″ (11.9cm) and a capacity of 70 ounces (1.98kg), it's compact and minimalist in its design. Although the speed is not adjustable, it rotates a full 360 degrees in 15 seconds. This is slow enough for most applications, creating a fluid movement that glides smoothly.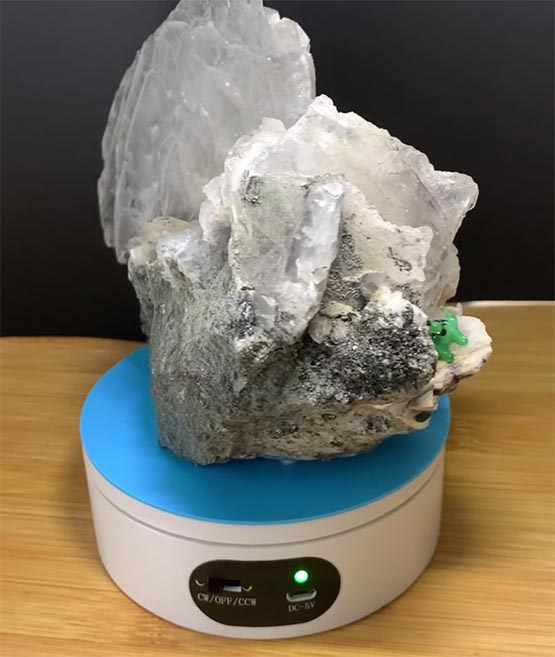 On the side is a DC 5V power input for pluggin-in the included USB cable. Alternatively, you can insert three AA batteries on the underside to power it without the use of a cord. Right next to the power input is a small switch that lets you select between a clockwise or counter-clockwise rotation. Although there isn't a remote or any added functionality included, there's a small blue plastic plate that can be used to keep the rotating surface grippy, ultimately adding stability to whatever item you have on it.
What We Liked
Very portable design, perfect for small objects.
Powered by either USB or three AA batteries.
Smoothly rotates without noise or stability issues.
What We Didn't Like
Grip plate is blue.
Only available in white.
Minimal adjustability to settings.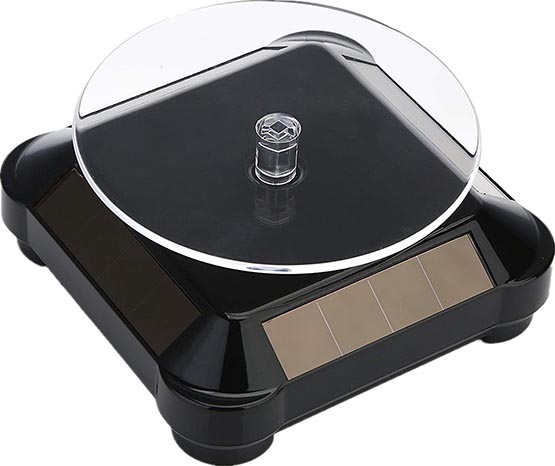 Best Versatility: DelieKee Solar Display Stand Turntable
If you're looking for a rotating stand that's incredibly unique, look no further than the DelieKee Solar Display Turntable. From first glance, you'll notice that there's a built-in solar panel on the front panel. This utilizes the power of the sun to forgo any use of batteries. Simply spin the clear turntable in the direction you'd like, point the solar panel towards sunlight, and it'll endlessly spin without interruption. That is, until the sun goes down. Alternatively, one AA battery can be inserted if you don't want to rely on the sun.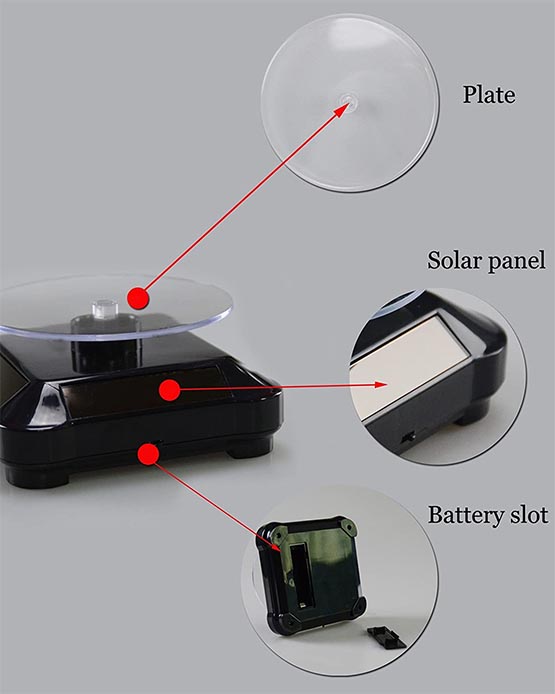 There's no buttons, power cord or extra settings. This is an inexpensive, unique option that is not going to be ideal for every situation. In fact, the capacity is said to be 500 grams, but we wouldn't suggest using it with anything over 300 grams. With a turntable diameter of 3.5″ (9cm), it's ideal for lightweight objects that don't have a lot of mass or bulk to them.
What We Liked
Powered by the sun with a built-in solar panel.
Optionally powered by one AA battery.
Simple design with easy operation.
What We Didn't Like
Very low capacity.
No settings or adjustments available.
No way to plug it in.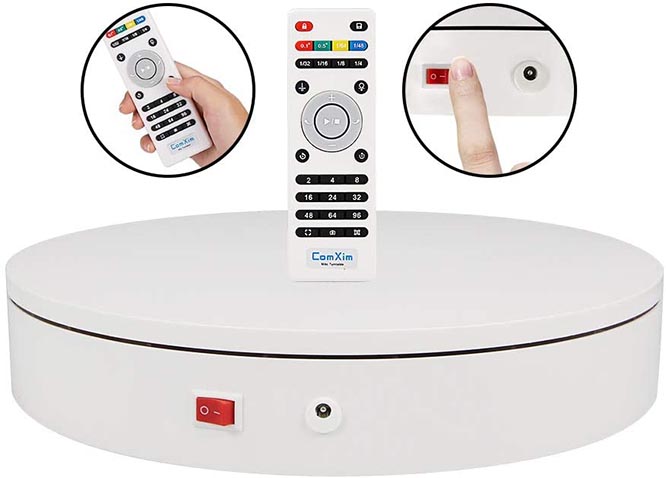 Best Overall: ComXim Professional 360 Degree Rotating Turntable
Although it's only available in white, the ComXim Professional 360 Degree Rotating Turntable has a lot to offer. With a 12.6″ (32cm) diameter and an 88lb. (39.9kg) capacity, it's the ideal size for most applications and not too big. Located on the side is a red power button right next to the power input. It carries a minimalist design with a basic design that's very simple to use.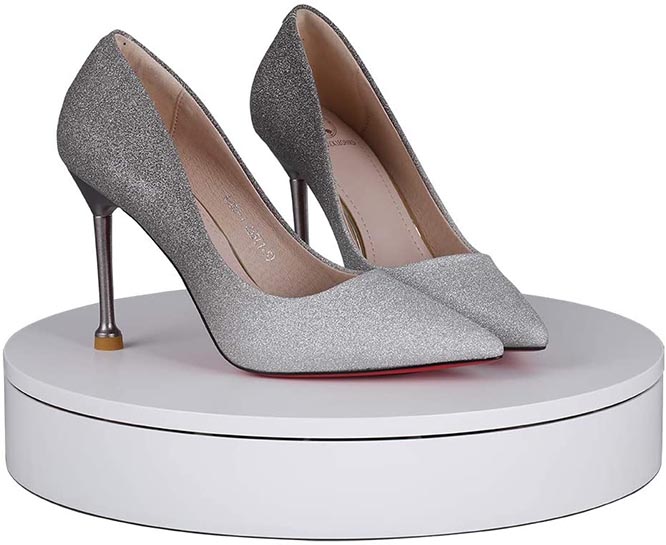 What sets the ComXim apart from the competition is the amount of adjustability it offers. With the included remote, you can tweak virtually any setting without any headache. The speed ranges from 24 to 68 revolutions with two different rotation modes. Either set it to continuously rotate or intermittently stop throughout the rotation with 'step by step' mode. Best of all, we found the ComXim to be incredibly quiet. While rotating, you can hardly hear a motor noise; perfect for most applications.
What We Liked
Very quiet operation.
Included remote control lets you adjust virtually anything.
Very high capacity for its size.
What We Didn't Like
Only available in white.
Some may think the remote has too many settings.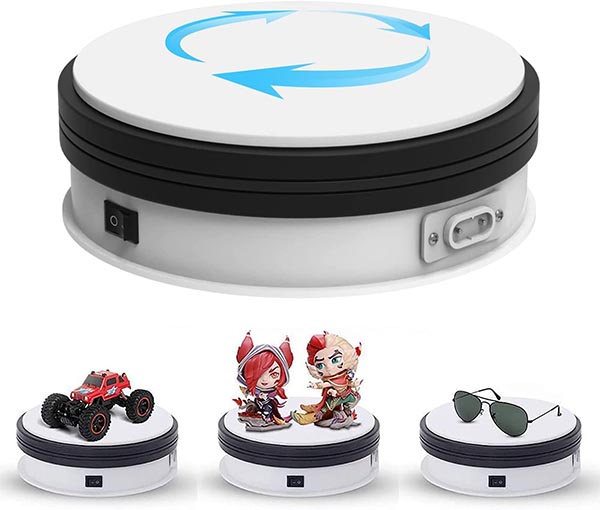 Best for its Size: Homend Motorized Rotating Display
As an alternative to one of the best options available, the Homend Motorized Rotating Display has a lot going for it. With a 6″ (15cm) diameter and a massive 44lb (20kg) capacity, it offers plenty of use for its compact form-factor. Although it's the exact same size as the JAYEGT, it boasts double the weight capacity. At first glance, you may notice its unique design; a white body bordered by a black rim around the turntable. On the side is the power cord input, around the edge from a simple on/off button.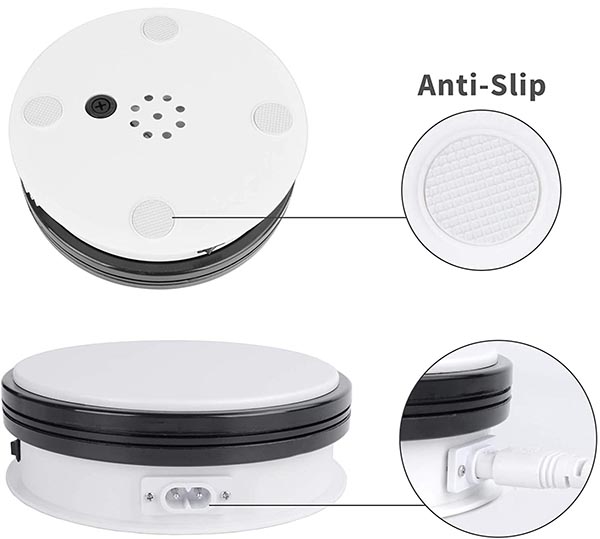 Although the rotation direction is adjustable, the speed is set to 40 seconds per turn and cannot be changed. There's not much for added bells and whistles, but it's priced better than most options for its size. Best of all, it's covered by a generous 2 year warranty period.
What We Liked
Very good capacity for its small size.
Stable spinning with a very quiet motor.
One-click operation for easy use.
Comes with a 2 year warranty.
What We Didn't Like
Only available in one color scheme.
Black border may not be ideal for some.
Remote operation not available.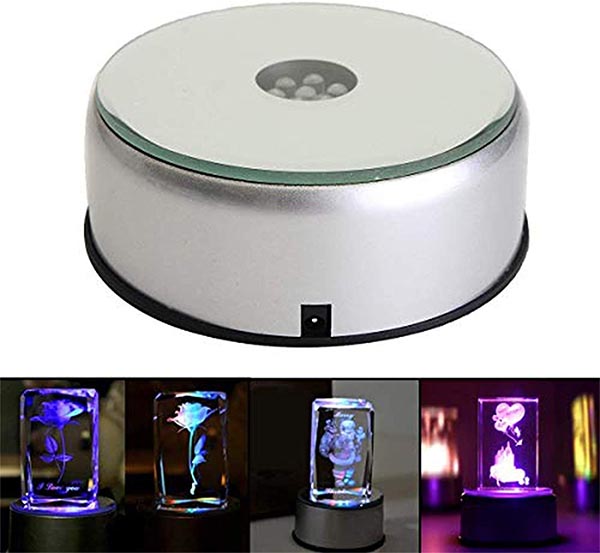 Best with Lights: SYWAN Rotating LED Display Base
Although it's quite small with a 4″ (10cm) diameter, the SYWAN Rotating LED Display Base has a unique flare to it. Built into the flat rotating plate is an assortment of 7 individual LEDs, directly in the center. Although it's only appropriate for objects that weigh under 16 ounces (453 grams), the bright lights emit a rainbow-like glow underneath any object you have on display. Ideal for glass or translucent objects like crystals and tumblers, each LED is rated for up to 20,000 hours of continuous use.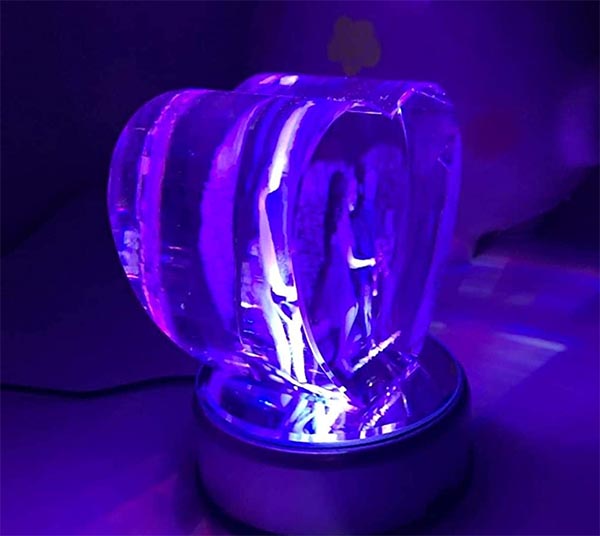 Powered by either two AA batteries or plugged-in with the included adapter, it's very quiet and spins freely without issue. However, it's important to know that it can only spin when plugged-in. If you opt to use AA batteries, the only thing it will do is light-up.
What We Liked
LEDs are vibrant and give off a nice effect.
Very simple operation.
LEDs have a very long lifespan.
What We Didn't Like
No adjustment to spin direction, speed or lights.
No power button. Starts spinning when plugged-in.
Cannot spin when powered via batteries.
Meet Derek, "TechGuru," a 34-year-old technology enthusiast with a deep passion for tech innovations. With extensive experience, he specializes in gaming hardware and software, and has expertise in gadgets, custom PCs, and audio.
Besides writing about tech and reviewing new products, Derek enjoys traveling, hiking, and photography. Committed to keeping up with the latest industry trends, he aims to guide readers in making informed tech decisions.