In the riveting world of gaming, a moment's hesitation can be the difference between victory and defeat. The gear you use matters, and this extends even to what you wear on your arms. Gaming arm sleeves have emerged as an essential accessory, providing comfort, enhancing performance, and adding flair to your gaming setup. Here's a quick glance at our top selections:
With a plethora of choices out there, finding the right fit may seem a bit intimidating. But worry not; we have your back. Below, you will find comprehensive reviews of our top picks so that you can quickly and easily find the best gaming arm sleeves for your needs.
Best Overall: SkyPAD Gaming Arm Sleeve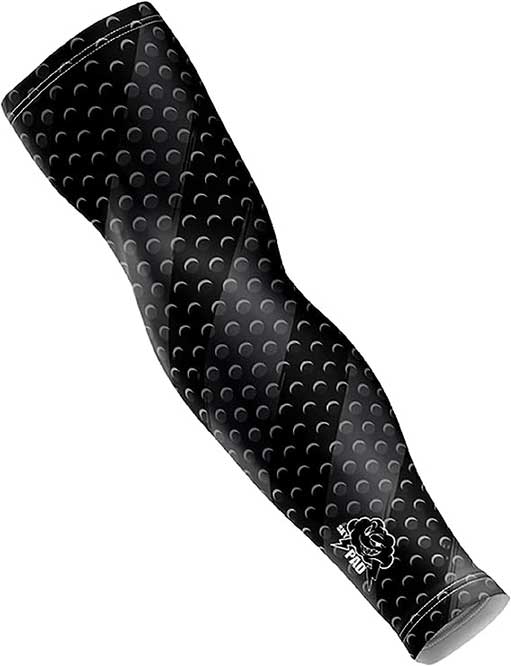 Key features:
Extended edition covers arm and hand
Improves arm circulation
100% washable
Available in two sizes
Gaming can be a thrilling yet grueling affair. Maintaining control of your mouse or controller is crucial, especially when the game heats up, and so do you. The SkyPAD Gaming Arm Sleeve offers the remedy you never knew you needed. This gaming product isn't just another pretty accessory. The lengthy design that covers your arm takes practicality to the next level. But does it work? During our testing, we were quite impressed with how the sleeve enhanced arm circulation and diminished soreness, letting us focus on what's important: the game.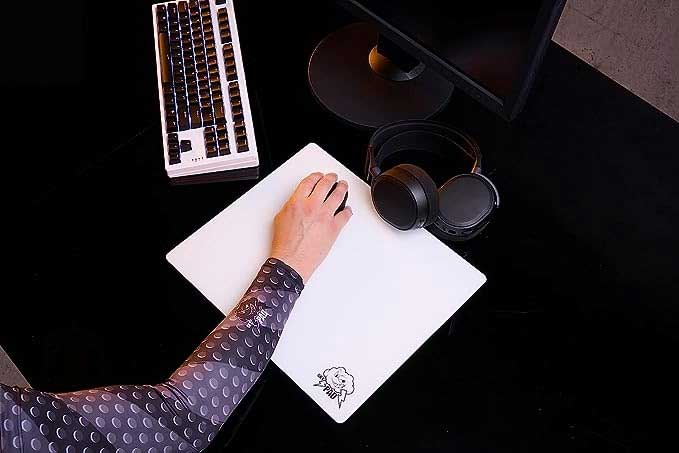 Constructed from 90% Polyester and 10% Spandex, it provides the snug comfort you need, minus the sweat. And since it's 100% washable, keeping it fresh is as easy as getting a headshot in your favorite FPS. Worried about sizing? Fear not, for the SkyPAD has two offerings. For those sporting a small to medium frame, you can expect a length of 16.14 to 16.53 inches, an upper arm fit of 9.05 to 9.44 inches, and an underarm measurement of 6.29 inches.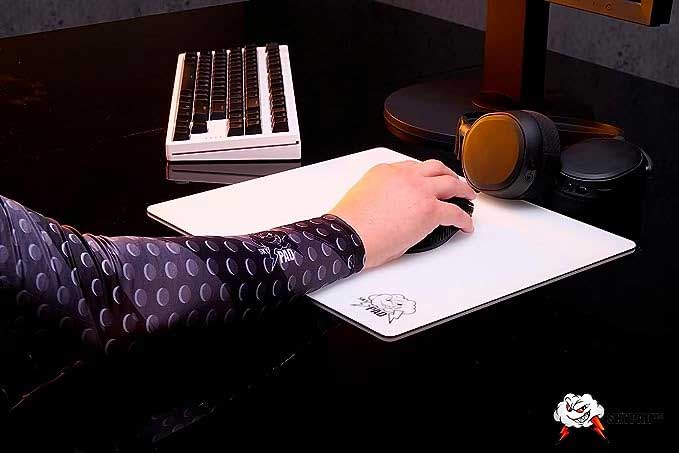 Need something larger? The large to extra-large version extends from 16.93 to 17.32 inches in length, with upper arms around 9.84 to 10.23 inches and underarm sizing at 7.08 inches. The perfect fit is out there, waiting to keep you at your gaming best. Just be aware that the sleeve can feel a bit too tight initially. But we found that this quickly subsides after you've put some time into it. Overall, the SkyPAD Gaming Arm Sleeve is a solid contender that deserves the Best Overall distinction on our list.
What we liked:
Comfortable fit for long hours
Stylish appearance
Easy to maintain
Good grip support
What we didn't like:
Limited color choices
Might feel tight initially
Best Runner-Up: Prosicion Gaming Arm Sleeve

Key features:
Nylon and Spandex mix
Improves aiming accuracy
Protects from sun rays
Available in multiple sizes
The Prosicion Gaming Arm Sleeve is not just another piece of gaming gear. It's an essential tool for gamers aiming to bring their A-game to the battlefield. Crafted with a mix of nylon and spandex, it offers a comfortable fit, making it ideal for both hot summer days and the chill of winter. During our tests, it impressed us how well the sleeve helped in improving aiming accuracy. Its specialized material keeps the muscles warm and ready, ensuring consistent performance.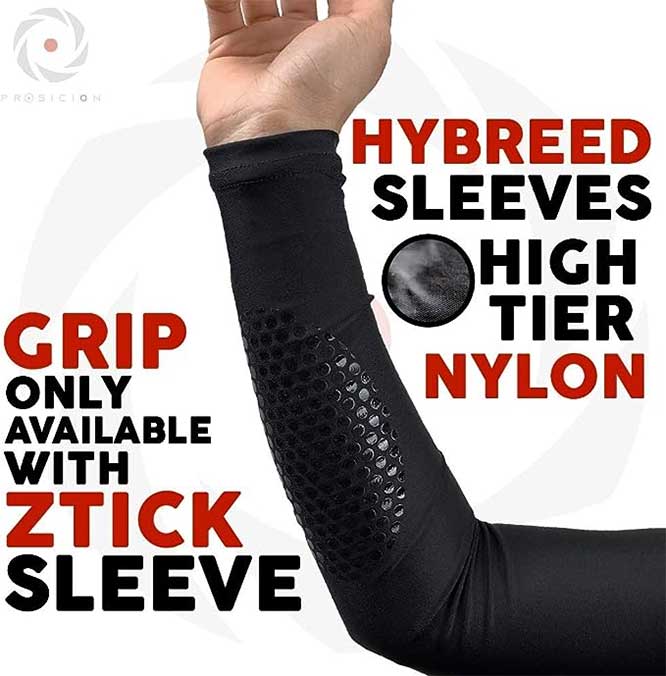 Gamers who often face the problem of their skin dragging against different surfaces will find this feature extremely helpful. The sizes available range from small to medium and large, with each sleeve weighing a mere 1.34 ounces. Beyond gaming, it offers outdoor protection, shielding you from harmful sun rays. Its compression ability also helps in improving blood circulation, keeping arm soreness at bay during prolonged gaming sessions.
However, we did notice some issues, such as the unnecessary friction caused by the grip at the bottom. You eventually get used to it, but it's there nonetheless. Also, the sleeve's tightness around the wrist and elbow might not suit everyone, leading to discomfort. As with other similar products, this goes away the more you wear it. So give it some time; it's sure to become more comfortable.
What we liked:
Comfortable material
Enhances gaming performance
Outdoor protection
Helps improve circulation
What we didn't like:
Causes friction with mousepad
Might be too tight at points
Best Budget: IGNITEX Gaming Arm Sleeves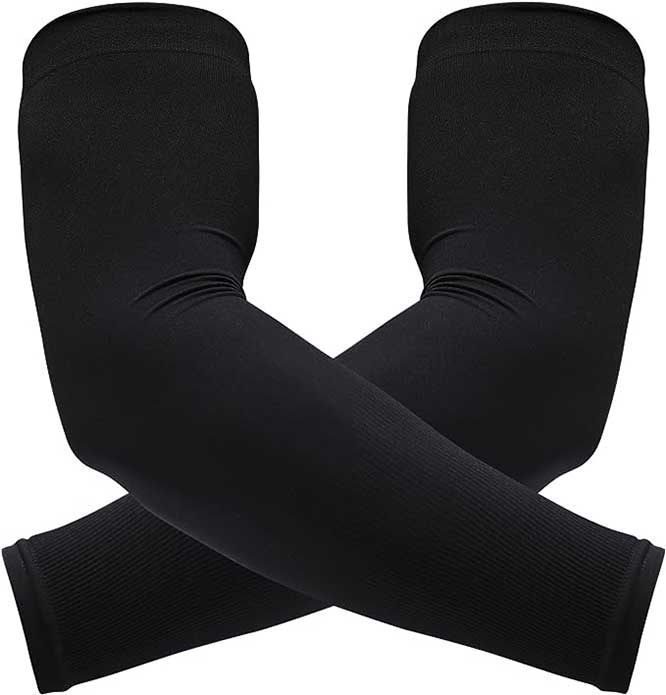 Key features:
20% performance boost
Breathable poly-spandex fabric
4-way super stretch fit
Suitable for tournaments
Tired of being tethered by friction during your gaming quests? IGNITEX's Gaming Arm Sleeves, with their poly-spandex make, are here to level up your game. During our testing, we noticed a significant boost in our overall gaming performance. IGNITEX claims it's as much as a 20% improvement. While we can't say one way or the other percentage-wise, we can attest that there was a noticeable improvement. So, what's behind this magic? A smooth texture that feels like your second skin, letting you glide effortlessly.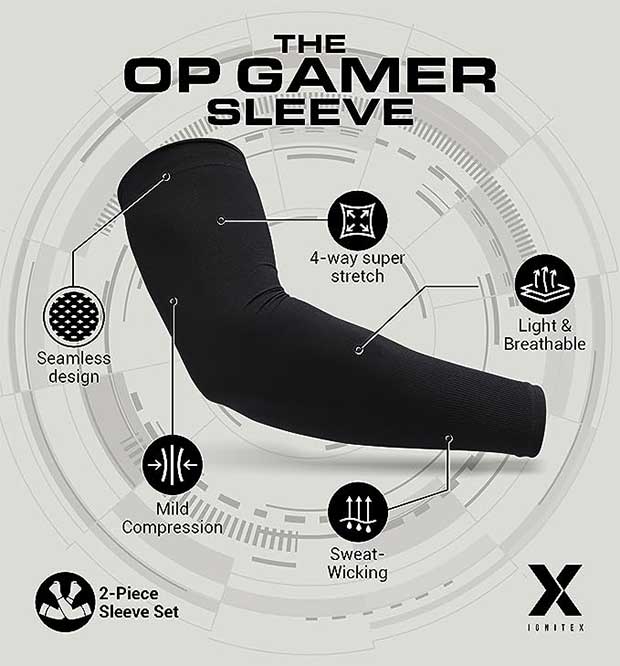 Ever played in hot, humid conditions? Most of us have been there. Thankfully, these sleeves are here to make a difference. Crafted from breathable fabric, they ensure you remain as cool under fire, whether you're gaming on PC or TV. So wave goodbye to sweaty discomfort. You no longer have to let your arms feel like they're trapped in a 1980s arcade. With 4-way super stretch fabric and ribbed cuffs, these sleeves adapt to both Hulk-like biceps and T-Rex arms, providing gentle compression support and improving blood flow.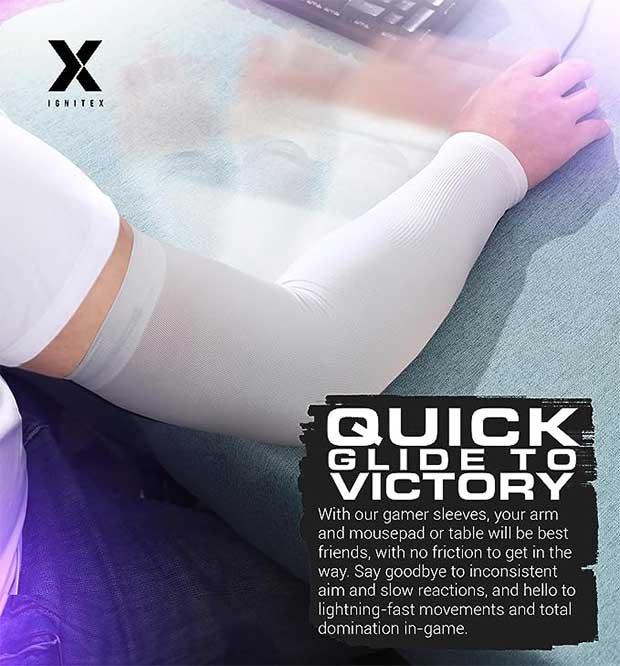 Sold as a pair, the IGNITEX sleeves are all-inclusive, catering to men, women, and teens. They even hold a special allure for tournament participants, offering a sleek design and superior performance. Whether you're a tactician teen or a world-conquering slim lady, these sleeves are designed to fit snugly. While we mostly found the fitting adequate, we did note some concerns about the sleeves rolling down or being too tight for larger arms. But overall, they proved to be a gamer's good friend, especially in sweat-prone environments.
What we liked:
Reduces friction
Fits most arm sizes
Good for sweat control
Pair sold together
What we didn't like:
May roll down
May be tight for larger arms
Best with Elbow Pads: Flex Gaming Sleeve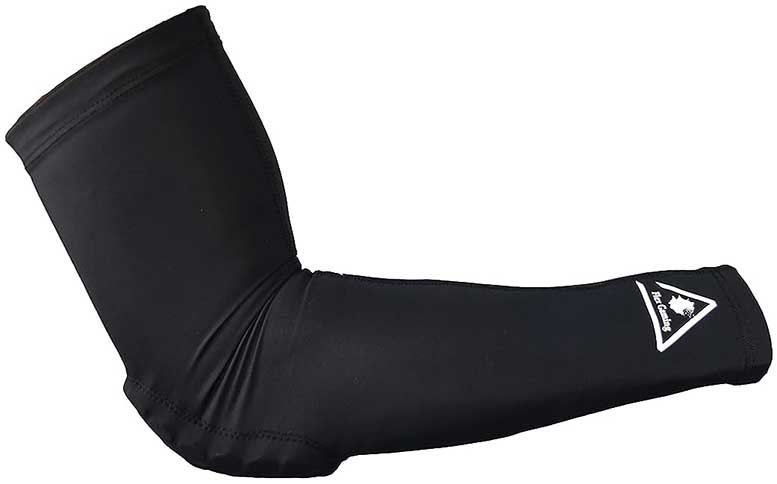 Key features:
Professional-grade esports design
Unique elbow cushion
Increases blood flow
Multipurpose in/out of game
Gamers know that those intense gaming sessions can take a toll on the arms. Enter the Flex Gaming Sleeve, a professional-grade esports compression arm sleeve equipped with an elbow pad. This sleeve is aiming to redefine comfort for the gaming elite. At 4.61 x 4.09 x 0.91 inches and 1.2 ounces, it's a compact yet significant addition to your gaming gear. It is designed to enhance your aim and reaction time by increasing blood flow and developing muscle memory.
How'd it test? We spent hours playing our favorite games to find out. For starters, we like the unique cushioning built into this sleeve. It slightly elevates the forearm and removes surface friction. What does that translate to in the gaming world? It lets you play at your very best. The difference is subtle but just enough to make a difference in your overall performance. We were comfortable, too, so you can expect long gaming sessions without unnecessary discomfort.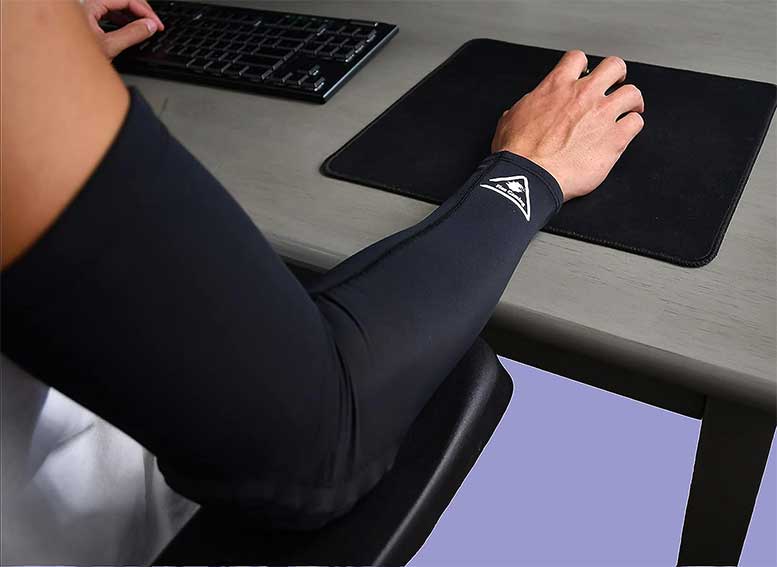 Feeling sore or tired from those marathon gaming sessions? The Flex Gaming Sleeve provides relief by promoting increased blood flow. The unique elbow cushion adds a comforting touch, saving your elbow from the hardships of gaming. But it's not just for gaming; you can even wear it for sun protection outdoors. While we appreciate the multi-level comfort, we're not too sure we'd sport this sleeve outside. We should also note that the sizing can be a bit tricky, as we discovered when testing different sizes. It might take a little experimentation to find the perfect fit for your forearm. In most cases, you should go a size bigger than what you normally wear.
What we liked:
Enhances gaming performance
Relieves soreness, fatigue
Lightweight, comfortable design
Versatile for outdoor use
What we didn't like:
Sizing can be tricky
Some may find too tight
Best Alternative: SportsTrail Cooling Arm Sleeves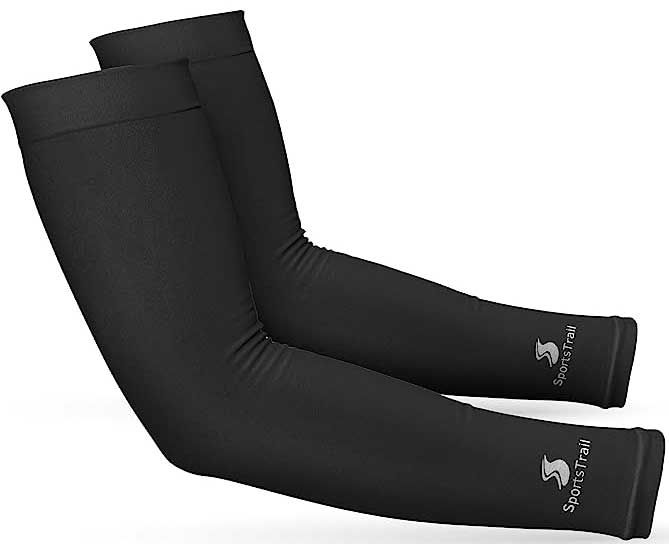 Key features:
Seamless 360-degree gaming comfort
Moisture-wicking fabric
Various color options
Lightweight and breathable
Our final pick goes to SportsTrail's Cooling Arm Sleeves. This alternative offers a thoughtful and practical solution for those in need of protection and support during long gaming sessions. Crafted with 90% nylon and 10% spandex, these arm sleeves deliver a seamless 360-degree fit that feels like a glove. During our rigorous gaming test, we found the moisture-wicking capability to be particularly impressive. Whether you're deep in a battle royale or working through complex puzzles, these sleeves keep you cool and dry.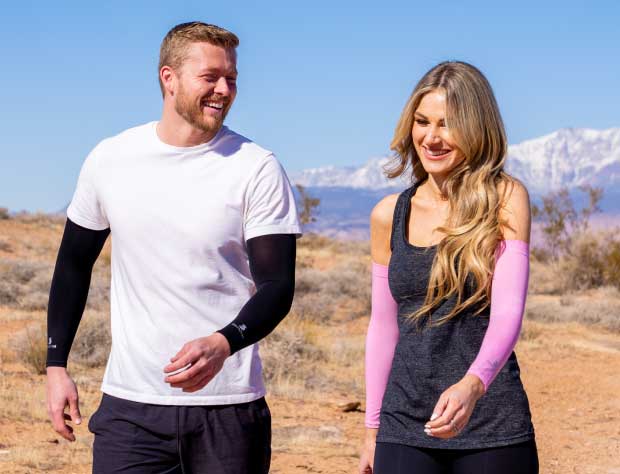 The lightweight, breathable fabric ensures that your arms remain comfortable, no matter how intense the gaming session gets. However, for some players, especially those with longer arms, the fit might be a bit short at the wrists. While the material stretches, additional sizing options would have been a plus. On average, these sleeves measure 5.4 x 4.8 x 0.5 inches and weigh just 0.35 ounces.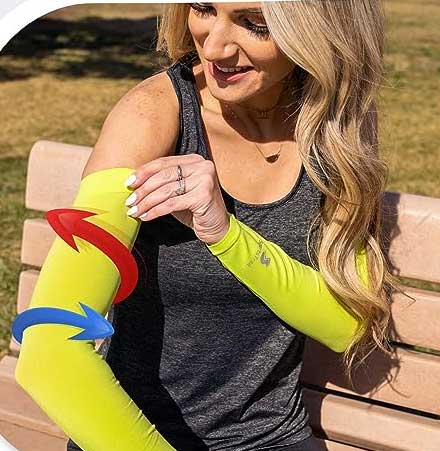 Available in various colors, you're afforded a ton of options to match your gaming setup or team colors. The aesthetic appeal goes beyond mere appearance; it's about expressing your gaming identity. While the sleeves deliver in terms of comfort and aesthetics, they can be prone to staining. Spills from energy drinks or snack smudges might leave marks, and though washable, some stains might not come off entirely.
What we liked:
Keeps arms cool during play
Stylish design for gamers
Comfortable for extended sessions
Suitable for various gaming genres
What we didn't like:
May stain from spills
Limited sizing for longer arms
Gaming Arm Sleeves FAQs
What are gaming arm sleeves, and how do they help?
Gaming arm sleeves are designed to reduce friction, improve circulation, and add comfort during extended gaming sessions. They provide support and can enhance performance by helping players maintain consistent muscle movement.
Can I wear gaming arm sleeves outside of gaming?
You can indeed. Some gaming arm sleeves offer sun protection and can be used for outdoor activities. Their compression ability may also be helpful during sports or other physical activities. But please be aware that not all sleeves may offer the same breathable performance as those highlighted in our reviews. You don't want something that's only going to end up making you hot and uncomfortable.
How do I choose the right size for my gaming arm sleeve?
Most gaming arm sleeves come in various sizes. You should check the manufacturer's sizing chart if available, and consider factors like your arm length, upper arm fit, and underarm measurement to find the perfect fit. Some products might run small or large, so reading up on reviews can also be beneficial in making the right choice.
Final Verdict
Our in-depth reviews of gaming arm sleeves revealed some standout options. The SkyPAD Gaming Arm Sleeve deservedly takes the crown for the Best Overall due to its extended design, circulation improvement, and comfort. Prosicion's Gaming Arm Sleeve came close as the Best Runner-Up, impressing us with its aiming accuracy and outdoor protection. For those on a budget, IGNITEX Gaming Arm Sleeves presented a noticeable performance boost.
The Flex Gaming Sleeve stood out with its professional-grade design and unique elbow cushion, while SportsTrail's Cooling Arm Sleeves provided a fashionable and comfortable alternative at a low price. Each of these options caters to specific needs and preferences, ensuring you have the best companion in your digital battlegrounds.