By now, you've probably heard of BLUETTI, a global leader in portable energy storage solutions. Recently, they've released an in-depth guide with important safety measures to take for individuals and communities that are prone to unexpected power outages.
In a time where natural disasters seem to be a common occurrence, the company's expertise offers people a clear, concise and smart strategy for proper safety, comfort, and long-term survival when crisis-mode strikes.
Preparing for Natural Disasters
It almost goes without saying, those who properly prepare for emergency situations will do the best when it all hits the fan. Planning ahead and staying calm is of utmost importance. However, it's crucial to stay tuned-in to weather reports, local news, neighborhood groups, and/or emergency responders in a time of crisis. Most importantly, familiarizing yourself with evacuation routes and strategies is a critical step in proper preparedness.
Putting together an complete emergency kit is a good idea. Gather the necessary resources to build an emergency kit that includes all of the essentials such as non-perishable food, drinking water, prescription medication, a first aid kit, flashlights, portable radios and private and important documents. This kit will therefore become your "Go-Kit" that you can grab and go in a moments notice.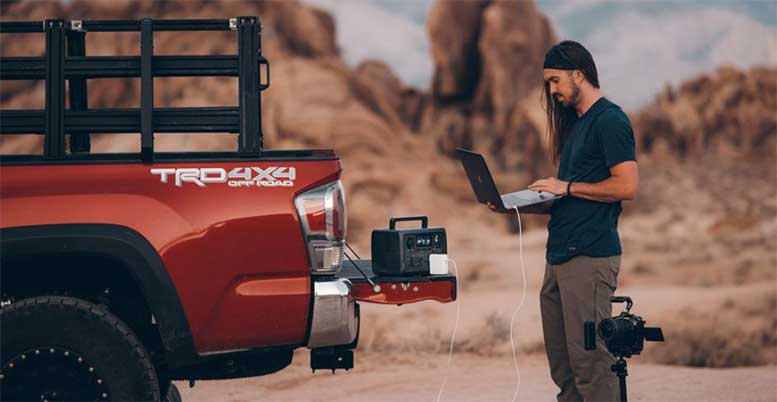 Emergency backup power is another crucial item that shouldn't be overlooked. Namely, BLUETTI's EB3A, EB55, and EB70S power stations are an excellent choice for portable options. These devices offer sustained connectivity and power for charging devices or powering crucial communication items.
It's also very important to come up with a proper contingency strategy. This should plan-out necessary steps that your family should take when disaster strikes. Include specific routes and set a pre-determined meeting point. Practicing an evacuation takes a little bit of effort, but it can make a real-difference in a time of crisis. Study this plan and make sure that your family is in clear understanding regarding evacuation and care of everyone, including your pets.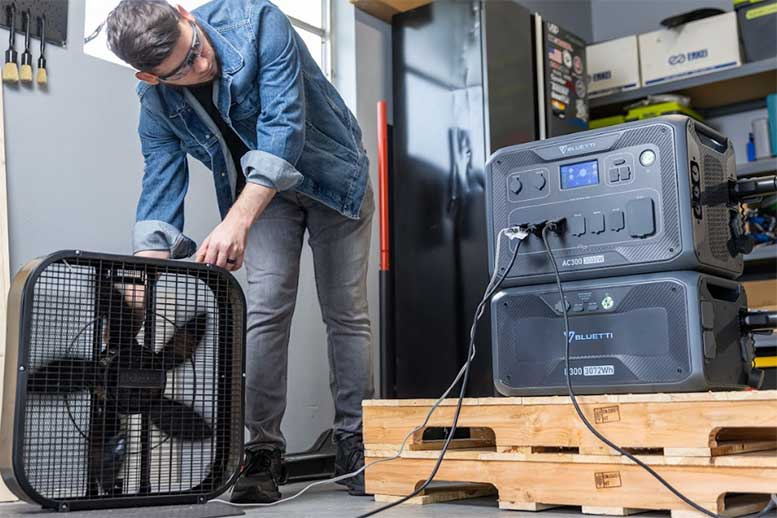 Most families or communities will want to procure a hefty residential power reserve. Utilizing BLUETTI's AC300+B300 or EP500 power stations is a smart choice. These systems are specifically designed to provide reliable and high-output power for lengthy periods without requiring any sort of grid power. Ideal for those who may experience wildfires or sudden ice/snow storms.
Acquiring a BLUETTI AC300+B300 or EP500 is a great way to ensure your dwelling has ample backup power. Once the grid power goes down, these systems will be ready at a moments notice to boot-up and provide immediate power.
Most notably, the AC300+B300 modular system is one of our favorite options. With a varying capacity from 3,072Wh to 12,288Wh, there's plenty of power for multiple days of complete power-loss. In addition, the built-in 3,000W AC output offers sustained operation of most in-home appliances. Some of these can be viewed as essential items such as lighting, heating, and/or refrigeration. Best of all, you can opt to include BLUETTI's PV200 folding solar panels to re-charge and replenish the internal capacity at a rate of up to 2,400W input.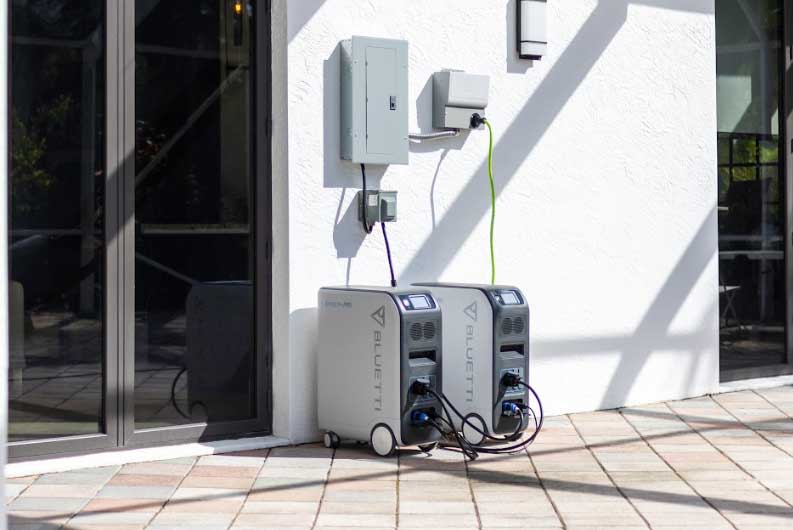 For those who want plenty of capacity and power input in a slightly smaller form-factor, look no further than the EP500. Boasting an impressive 5,100Wh LiFePO4 battery cell and a 2,000W AC inverter, you're pretty much covered on all fronts. Add-in up to 1,200W of solar input and you can operate off-grid almost indefinitely.
During a Natural Disaster
In the first moment, uphold your calm and stay well-informed about real-time updates. If government bodies communicate an instruction to find a safe haven, it's vital to adhere to it conscientiously. Gather all your loved ones in a fortified space, distanced from windows and outer walls. Should a mandatory departure arise, stick to the prescribed paths and have vital emergency supplies in tandem with dependable BLUETTI backup energy reserves. Refrain from attempting a comeback until an official green light signaling safety affirmation is received.
After a Natural Disaster
Perform an all-encompassing evaluation of plausible safety hazards and intricately record any sustained harm to properties, employing visual proof to substantiate ensuing insurance requests. Stay attuned to relevant information through regional news sources and sanctioned announcements concerning continuous recovery undertakings, available emergency havens, and spots designated for dispensing aid. These actions play a pivotal role in adeptly navigating the post-event aftermath.
While it goes without saying, natural disasters provide massive challenges. Taking the proper precautions and investing in backup power such as the wide range that BLUETTI offers, can mean the difference between suffering and easy living during unexpected natural disasters.
About BLUETTI
Since their inception over ten years ago, BLUETTI has showed a commitment to sustainability and green energy storage for both indoor and outdoor living. They aim to provide wonderful experiences for homes while simultaneously contributing to a sustainable future for mother Earth. To date, BLUETTI has a massive reach with customers in over 100 countries, gaining the trust of millions of users throughout the world.