As a gamer, you know that you want the best hardware you can get. Having the latest console or the best graphics card to elevate your setup is important.
But what about other components that don't directly go into playing games? We think one of the most important items like that is a mini fridge for gaming. Having a mini fridge to keep your snacks and energy drinks close-by makes those long gaming sessions much more enjoyable.
Important Considerations
Aesthetics: We know that gamers take pride in how their setup looks. We wanted to find fridges that fit various styles to ensure you have the best-looking setup.
Size/Capacity: Having a mini fridge with ample space for your snacks and drinks that can also fit within the space you have to work with is important. We've included options of various sizes so you can pick the ideal capacity .
Cooling capabilities: What's worse than having to drink a warm energy drink? Or one that you recently put in the fridge to get cold, but it didn't cool fast enough. We know that cooling effectiveness is just as important, if not more, then looks.
Special features: We also wanted to check for different features that go beyond the ability of each fridge to keep things cold. Special features like shelving, lighting, and minor details were looked at to give various unique options.
Best Overall: Antarctic Star Mini Fridge Cooler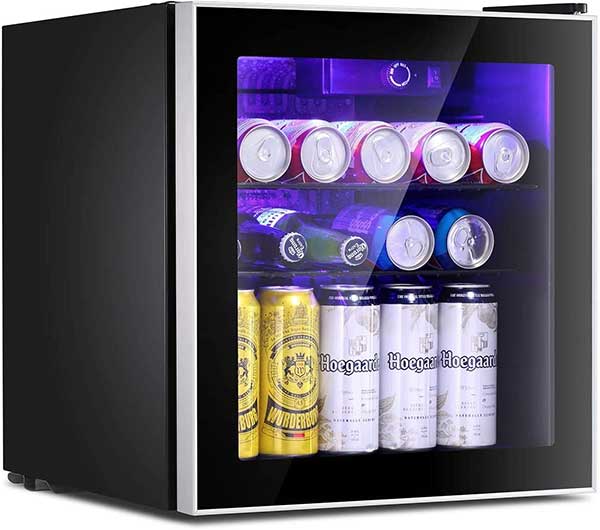 Key Features:
1.6 cubic feet (45L) of capacity
Double-pane glass door
17.99 x 17.52 x 19.69 inches
The Antarctic Star is a great fridge for those who believe in going big or going home. It's the largest option on our list and comes with premium looks. It's available in either black or silver and is made out of high-quality stainless steel. The front door is comprised of double-pane that allows you to clearly look within it. Inside is a soft LED light to help see when it's time to restock your snacks or drinks.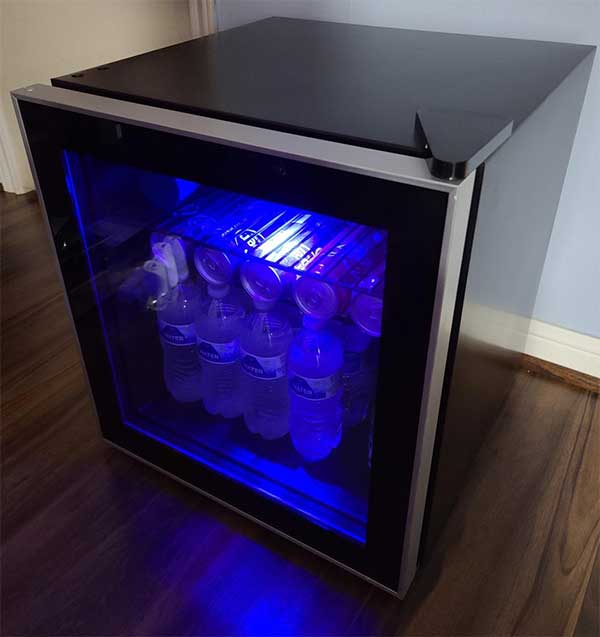 It has a ton of room inside for your needs, with the ability to hold at least sixty 12 ounce cans. This makes it by far the highest capacity option in this article. The larger capacity increases the overall size to nearly 1.5 feet of width and depth and nearly 2 feet of height. You'll have to measure the space where you intend to store it to make sure it will fit.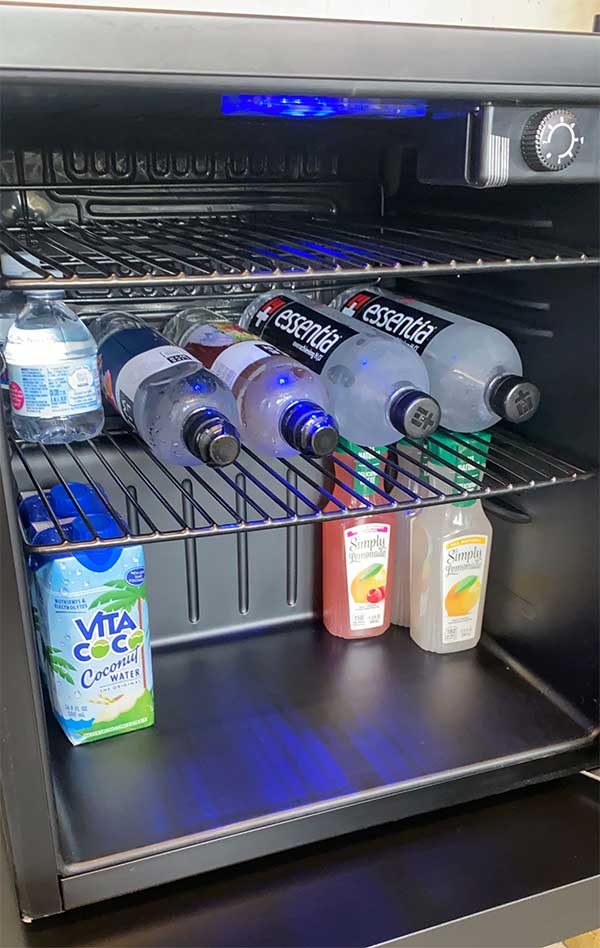 The Antarctic Star does a great job at keeping anything cold that you store in it. It has an adjustable thermostat that keeps the temperature between 40 and 61 degrees Fahrenheit, depending on where you set it. Once set it shouldn't change drastically due to outside temperatures. The double-pane glass door functions as a great insulator, creating a tight seal to keep the cold air inside. It also has an internal fan to help move the air around to each corner. This ensures your drinks and snacks stay cold no matter where you put them.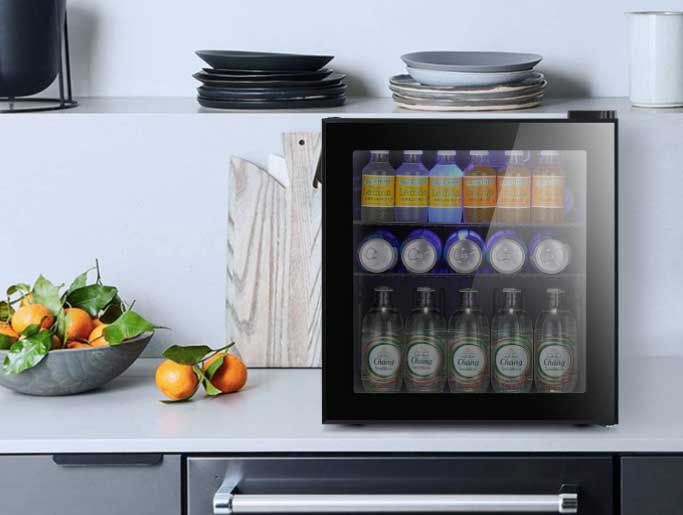 While the double-pane glass door is already a great feature of the Antarctic Star, it's also fully reversible. This allows you to remove the door, flip it around, and install it to open to the left or right. While it does lack freezer space, it comes pre-equipped with multiple shelving units so you can organize your drinks or snacks with ease. The shelves can also be removed to maximize storage capabilities. All in all, the Antarctic Star is a wonderful pick, especially if you're looking for a mini fridge that's on the larger end of the spectrum.
Pros:
Excellent cooling ability.
Holds up to 60 soda cans.
The front glass door is reversible.
Cons:
High price point.
A bit louder than other options.
Best Alternative: AstroAI Mini Fridge 2.0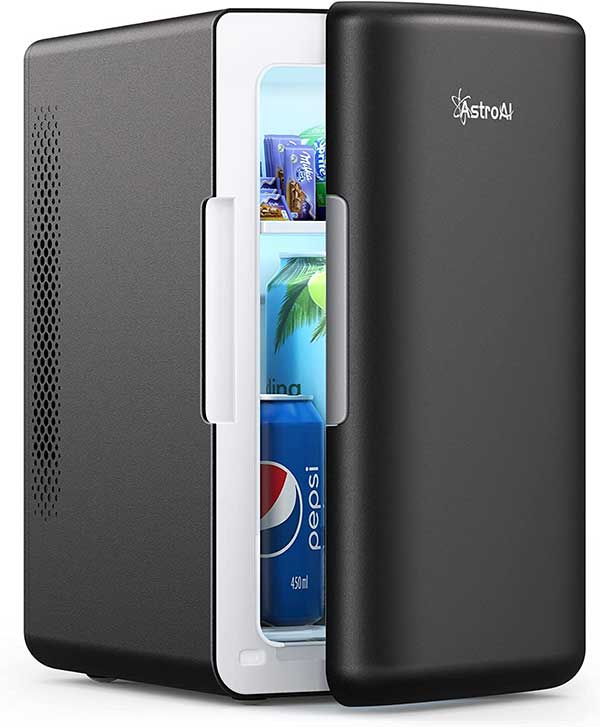 Key Features:
6 liter (0.21 cubic ft.) capacity
AC/DC power capability
Dual layer insulation
9.84 x 7.28 x 12.2 inches
The AstroAI has a sleek, minimalist design. It has a plastic matte finish that's available in black, white, pearl, and pink. It lacks any external lighting features and has a plain design no matter which colorway you choose. This makes it an ideal choice for anyone who wants it to blend in nicely without it being "too flashy".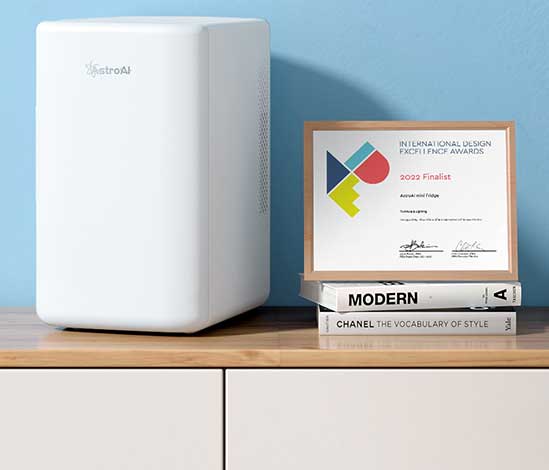 It has a 6-liter capacity, meaning it can hold up to 8 normal soda-sized cans. Are you more of a bottled water person? It can hold up to four 20 oz bottles of water. While it's a bit on the smaller side, the AstroAI is great for those who don't need to keep an entire case of drinks cold.
Compared to other options, it has a great ability to keep the inside contents cool. In fact, it's fully capable of cooling up to 40° F below the surrounding ambient room temperature. Part of what makes this possible is the dual-layer insulation within its body. Like most, it also doesn't come with freezer space. But this can be seen as a benefit – more space for beverages!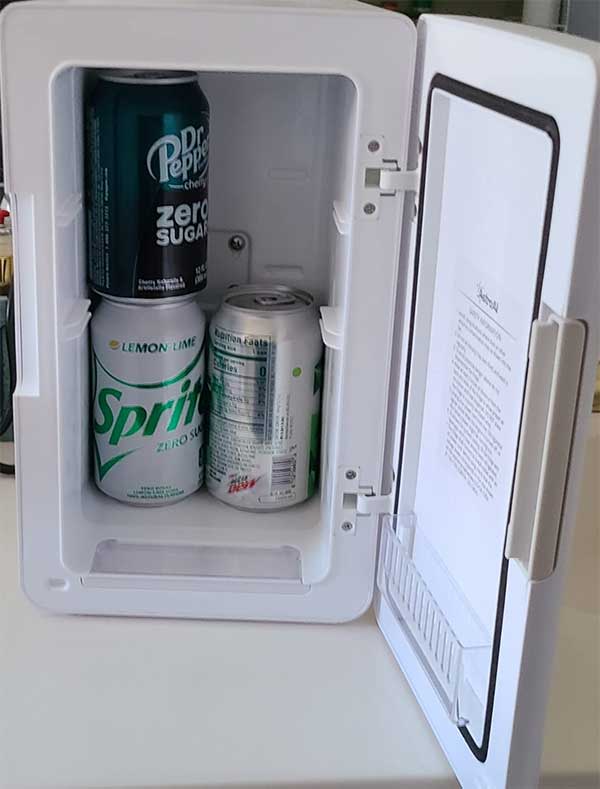 One great feature of AstroAI is the ability to be powered by multiple methods. It has a standard AC wall plug, but it also has a 12V car cigarette lighter plug. This makes it possible to bring with you in the car during your next road trip. Pretty cool! Combining that with its smaller size and removable shelving, you have a great option to choose from.
Pros:
Cools up to 40° F below ambient temperatures.
Minimalist, sleek appearance with 4 color options to choose from.
Can be used at home or on the road.
Incredibly small footprint.
Fairly affordable.
Cons:
Only holds 8 normal cans of soda or 4 bottles of water.
May feel a bit "cheap" to some.
Best Budget: Frigidaire Gaming Light Up Mini Refrigerator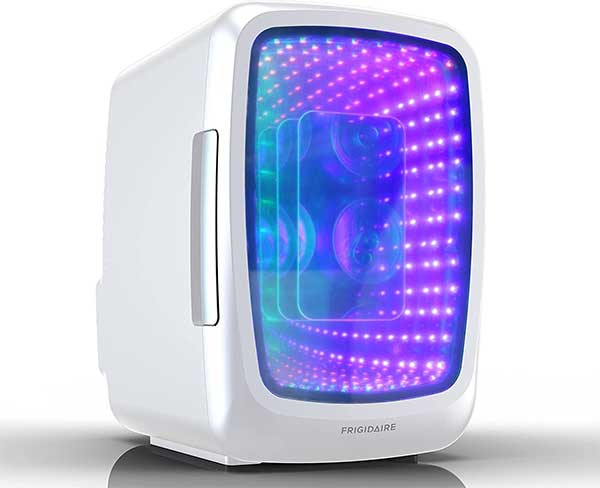 Key Features:
4 liter (0.14 cubic ft.) storage capacity
Unique infinity RGB front panel
Powered via AC or DC
7 x 10 x 11 inches
The Frigidaire Gaming Light Up Mini Fridge is the only option on our list that comes with pre-installed RGB, making it perfect for the gamer who loves that style. It's made entirely out of plastic and is available in white, black, blue, or purple. This makes it the most diverse mix of colors we've found. The front panel is see-through, so you can see what you're storing without any guesswork. It also has the RGB visible on the front, with a futuristic-looking infinity effect to make it stand out even more.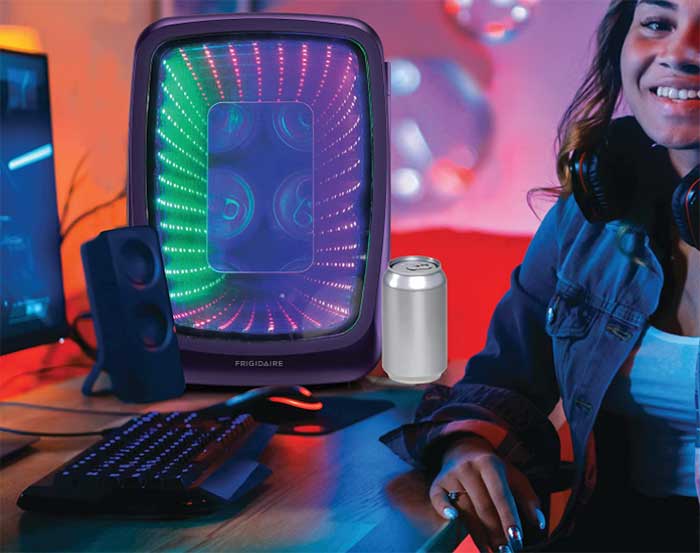 This option from Frigidaire is the smallest on our list, with a capacity of only 4 liters. This size allows it to hold up to six normal 12 ounce cans of soda. If you're looking for something that will hold lots of energy drinks and snacks, this may not be your best option. However, if you're looking for something small enough to put on your desk or somewhere in a small area, this is a great choice.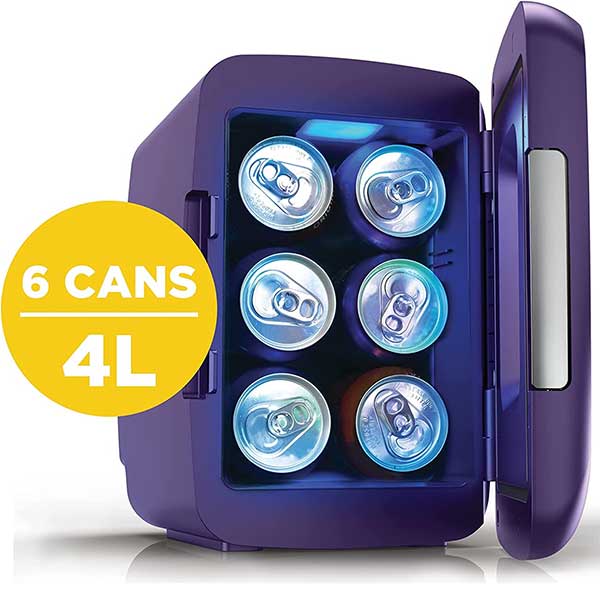 It features a thermoelectric cooling system which is extremely quiet and efficient. This helps to keep the temperatures internally up to 20° F lower than surrounding temperatures. If your home is climate controlled this can be a decent option. However, if you have it in an area with lots of heat, it may not work as effectively. However, the front door latches nicely and has a large rubber gasket to further insulate and effectively keep cool.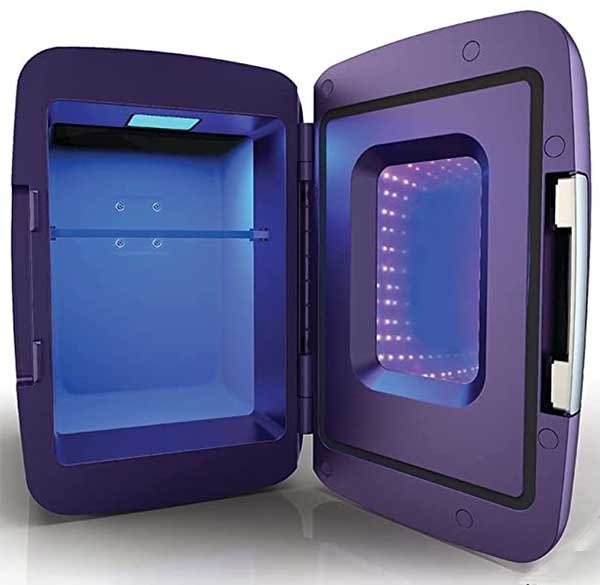 Similar to the AstroAI, the Frigidaire can be powered by either a standard AC wall plug and a 12V car cigarette lighter input. Thankfully, cords for each option are provided in the box. Externally the most unique feature is the infinity RGB on the front panel, giving it a gaming-oriented style that other refrigerators can't compete with. Internally, there's a removable shelf to give you more options on how to keep items organized. It doesn't have a freezer, so be aware it will only function as a standard fridge.
Pros:
Amazing RGB.
Lowest price on our list.
Most diverse color options.
Cons:
Only 4 liters of internal capacity.
Cooling is not quite as effective as other options.
Build quality may seem a bit cheap.
Most Unique: Xbox Series X Replica Mini Fridge Electric Cooler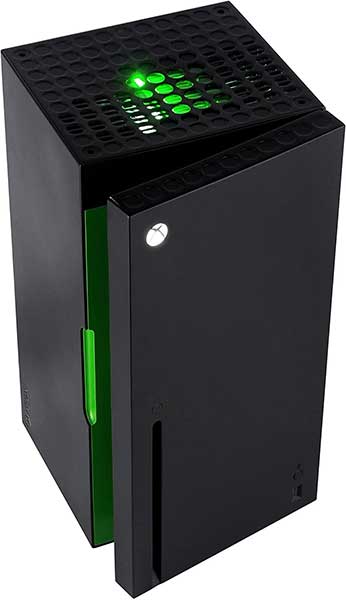 Key Features:
Looks like an Xbox Series X
AC/DC compatible
10 liter (0.35 cubic ft.) capacity
9 x 9 x 18 inches
Now here's a stylish option. The design of this fridge is by-far the most unique, since it looks exactly like an Xbox Series X. It's made out of plastic, and features a light-up Xbox logo on the front, and green lighting that illuminates the top. It's only available in a black colorway, but when opened, it has a green interior.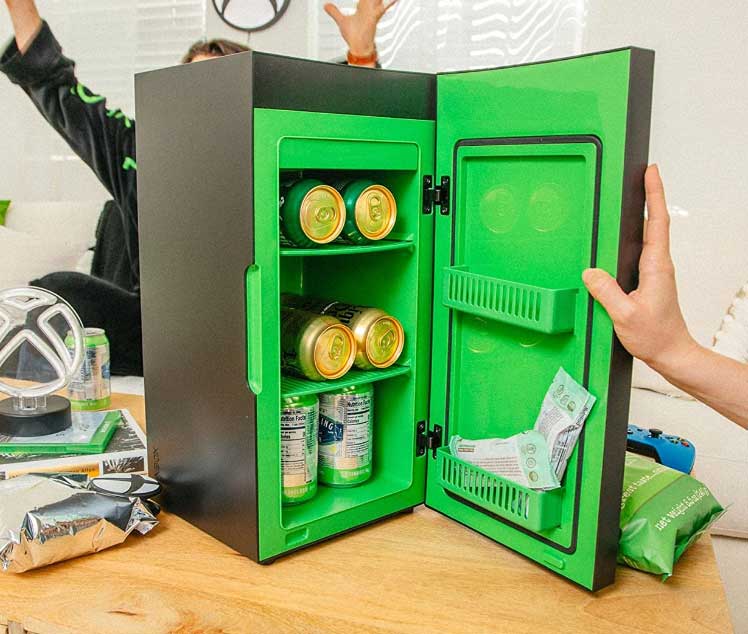 While it does look exactly like an Xbox, it has the second-highest capacity on this list coming in at 10 liters. For reference, this allows it to hold up to twelve standard 12 oz soda cans. However, multiple users said that in reality, it can only hold 8 cans. The overall size and shape is a rectangle, so you'll only need 9 inches of length and depth for the base. However, you'll need at least 18 inches of height to stand it up. The door on the front opens the entire front panel, but a lot of the space is taken up by internal hardware. This leaves less room than you'd expect for storage based on its external size.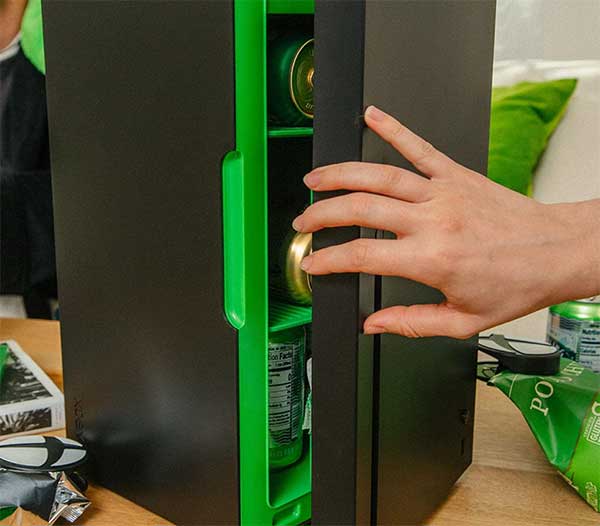 The Xbox Series X Mini Fridge comes with a thermoelectric cooling system. This system allows it to cool the inside up to 36° F below external temperatures. That ability makes it an even colder option than our pick from Frigidaire and potentially the Astro AI, depending on the scenario. This may be in-part due to the magnetic front door and large rubber seal surrounding the opening.
One feature that sets the Xbox Series X Mini Fridge apart from our other picks is the included USB port on the front door. You can use this to charge your phone, controllers, and other accessories while gaming. Internally, it offers the widest selection of removable storage. There's two shelves in the main refrigeration area, and two more on the interior side of the door that's specifically designed to hold snacks. It can also be powered by either a standard AC wall outlet or a 12V car cigarette lighter input, with both cables included in the box. Similar to our other picks, this option also doesn't come with a freezer.
Pros:
Most unique design.
Diverse shelving options.
USB port on the front.
Cons:
Can get loud while initially cooling to temperature.
Advertised to hold 12 cans, but only holds 8.
Xbox aesthetics are not for everyone.
Gaming Mini Fridge FAQ's
What is a mini fridge for gaming, and what makes it different from a regular mini fridge?
A mini fridge for gaming is a small refrigerator designed specifically for use by gamers, often located near their gaming setup. They're typically compact, with features like RGB lighting, built-in charging ports, and dedicated storage for snacks and soda.
What are some key features to look for?
Some key features to consider when choosing a mini fridge for gaming include size, capacity, energy efficiency, noise level, and additional features like RGB lighting, USB charging ports, and adjustable shelves.
How much storage capacity should a gaming mini fridge have?
The ideal storage capacity depends on individual needs and preferences. However, a mini fridge with a storage capacity of around 4-6 cubic feet is typically sufficient for storing a few drinks and snacks.
Can they be used for purposes other than gaming?
Yes, of course. A mini fridge for gaming can be used for other purposes, such as storing beverages and snacks in a dorm room, home office, or even in a small apartment or studio.
Are they energy efficient?
Most mini fridges for gaming are designed to be energy-efficient. Some may have features like auto-defrost and energy-saving modes that help reduce energy consumption. Since they're so small, most will draw well under 100 watts when cooling.
Meet Derek, "TechGuru," a 34-year-old technology enthusiast with a deep passion for tech innovations. With extensive experience, he specializes in gaming hardware and software, and has expertise in gadgets, custom PCs, and audio.
Besides writing about tech and reviewing new products, Derek enjoys traveling, hiking, and photography. Committed to keeping up with the latest industry trends, he aims to guide readers in making informed tech decisions.