In the modern era, it can be more than an aggravation trying to get modern tech working with technology from yesteryear.
For many old TVs, you need a reliable HDMI RF modulator. But finding the right one can be a challenge. That's where we come in. To help you make the best choice, we've compiled the top five HDMI RF modulators for old TVs:
There's a lot to go over, so let's jump right in. Depending on the features you need and your price range, we're confident that you'll find an HDMI RF modulator that works for you.
1. Multicom 1080P HDMI to Coax Digital Modulator

Key features:
Distributes HD video over coax cables
Supports 1080p resolution, channels 2-135
Eliminates need for set-top boxes
Compatible with North American, Mexican systems
The Multicom 1080P HDMI to Coax Digital Modulator is an innovative device designed to simplify the distribution of high-definition content over existing coaxial cables. This compact unit measures 7.4 x 5.11 x 1.46 inches and weighs 2.34 pounds, so it's not bulky or cumbersome in the least.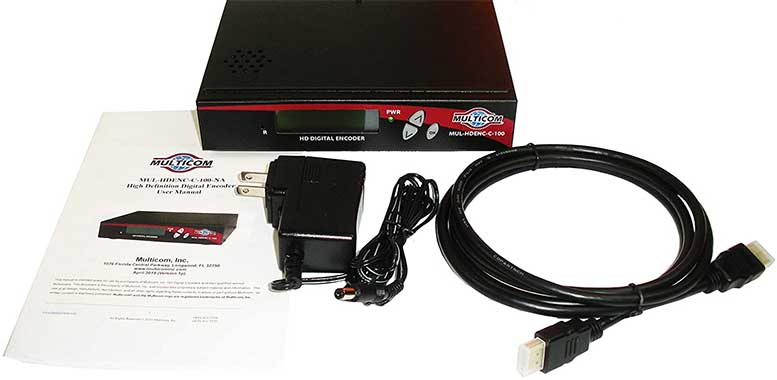 With it, users can transmit unencrypted HDMI sources, such as home videos or personal content, in up to 1080p resolution on channels 2 to 135. Our testing revealed that the device performed exceptionally well in delivering clean and clear images, even in high-motion video and sports scenarios, as well as during text crawls and rolls.
With its compatibility with North American and Mexican systems, it offers a versatile solution for users in these regions. And thanks to this encoder modulator, you no longer need set-top boxes or media players at each display location. This not only simplifies the setup process but also removes any limits on the number of TVs or distance restrictions, making it an ideal choice for various applications.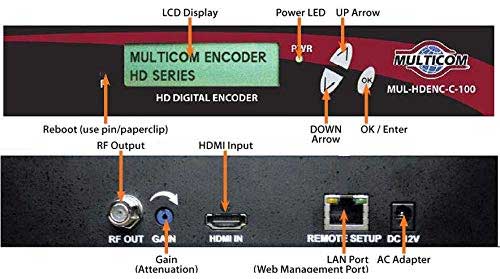 The unit also includes an AC-3 audio output option, ensuring high-quality audio alongside its impressive video capabilities. Overall, Multicom offers a convenient and efficient solution for those looking to distribute digital HD content over their existing coaxial cable infrastructure.
With its easy setup, excellent performance, and compatibility with multiple systems, this device is a top choice for users seeking a reliable, high-quality HD video distribution solution.
What we liked:
Compact and lightweight design
Excellent high-motion video performance
AC-3 audio output option
No TV limit or distance restriction
What we didn't like:
Only supports unencrypted HDMI sources
Limited to single-channel output
2. Thor Broadcast HDMI to Coax Modulator

Key features:
Converts HDMI to various RF outputs
Supports 720p, 1080i, 1080p resolutions
Proprietary GUI for easy control
Compact size and lightweight design
The Thor Broadcast HDMI to Coax Modulator is a versatile and cost-effective solution for distributing high-definition video and audio content across multiple televisions. With its compact size of 4.06 x 2.52 x 0.94 inches and weighing only 0.6 pounds, this device is ideal for various applications.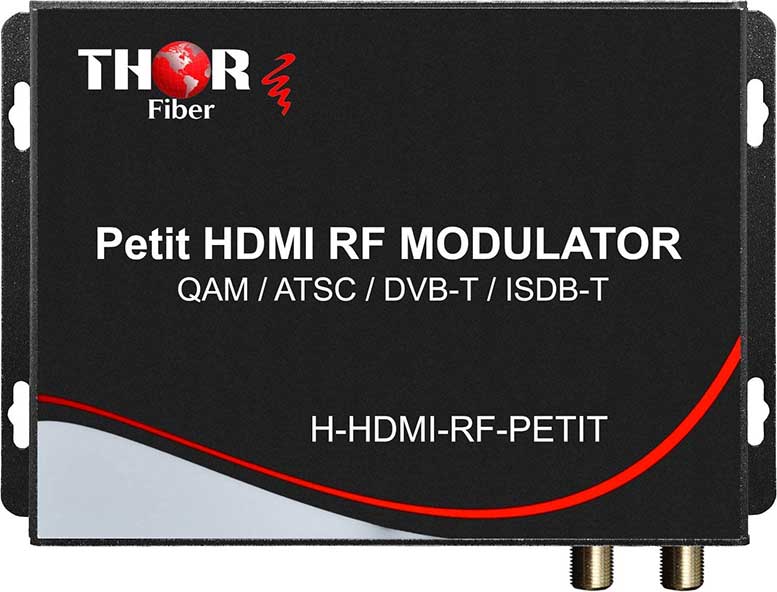 Compatible with PCs, cameras, and other HDMI sources, this modulator allows users to convert any HDMI input into a variety of RF outputs, such as DVB-C/T/ATSC/ISDB-T. It supports HD video resolutions of 720p, 1080i, and 1080p, providing exceptional image quality on all compatible devices. It's incredibly flexible and versatile in what you can do with it.
In fact, we connected it to a variety of HDMI sources to test its mettle, from a satellite receiver and a DVD player to a computer and more. In each case, it efficiently converted the input signal to the desired RF channel without any loss of quality – at least, none that we could detect. The integration of high-def MPEG2 and AC3 Dolby ensures that both video and audio are transmitted seamlessly.

Thor Broadcast was smart to include a proprietary GUI that can be accessed via a PC, as the front LCD display admittedly leaves a lot to be desired. With the GUI (Graphical User Interface), setting up and controlling it are simplified.
That said, it's not the most accessible modulator out there. We feel that it's best suited to businesses with IT professionals. But we will say that the modulator's plug-and-play functionality helps to simplify things – users can create their own RF channels that can be viewed on thousands of televisions simultaneously.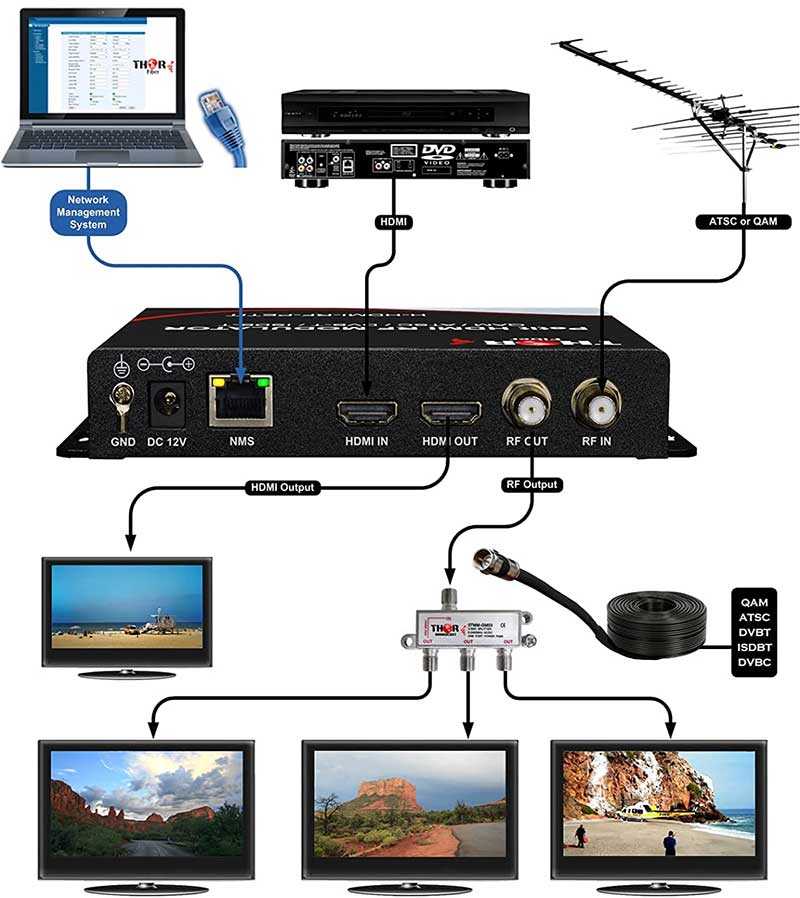 Featuring 5 ports and a one-year warranty, this modulator is an excellent choice for users seeking a reliable and highly-capable solution for distributing HDMI content across multiple TVs. Its exceptional performance alone makes the Thor Broadcast HDMI to Coax Modulator an outstanding, albeit expensive, addition to any home or professional setup. Just be sure you have the know-how (or know someone with know-how) to get it up and running.
What we liked:
Seamless HD video and audio transmission
Plug-and-play functionality
Compatible with multiple HDMI sources
One-year warranty included
What we didn't like:
It's an expensive investment
Better suited to experienced users
3. MINIMOD 2 Vecoax HDMI to Coax Modulator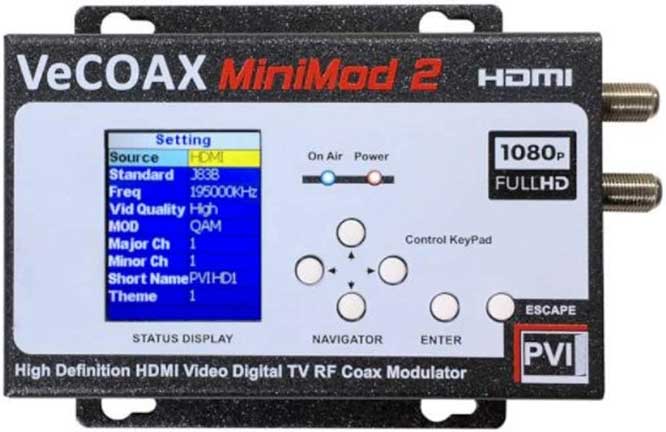 Key features:
Distributes HDMI video over existing coax cables
Full HD 1080p resolution and Dolby sound
Easy setup with color display
Wide RF out agile range
From PVI ProVideoInstruments comes the MINIMOD 2 Vecoax HDMI to Coax Modulator. This robust device lets you distribute HDMI sources to your TV as high-definition channels via coax. Thanks to its innovative technology, the process of sharing high-quality video content across multiple TVs in your home or workplace is simplified. In our efforts to put it through its paces, we connected an HDMI source to our HDMI input. We then connected the coax output to our TV's coax cables.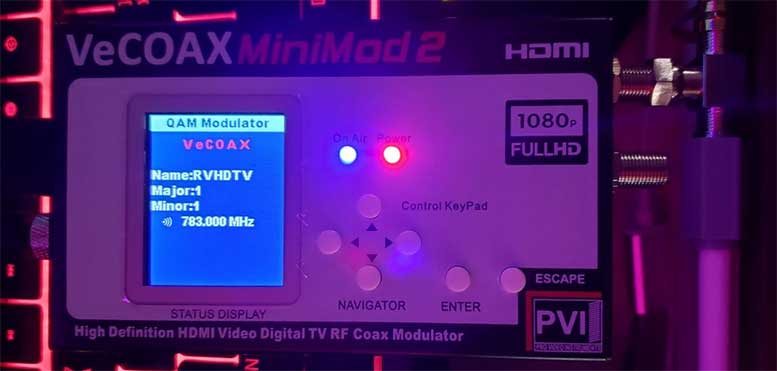 Setting the channel and desired name was straightforward with the help of the color display. It's a huge step up from LCD display technology. After rescanning the TVs, we were able to find our new HD 1080p and Dolby channel. For its functionality, it easily combines with cable or antenna signals. And as such, you can conveniently watch TV alongside the modulator's output. Moreover, it supports universal HDMI input up to 1080p resolution at 60 frames per second and MPEG2 1080p full HD video encoding.
To round out things, you get Dolby Sound, which is a nice plus to ensure you have the best possible experience. The RF out agile ranges from 30 MHz to 951 MHz, enabling you to set any destination TV channel number from 1 to 9999.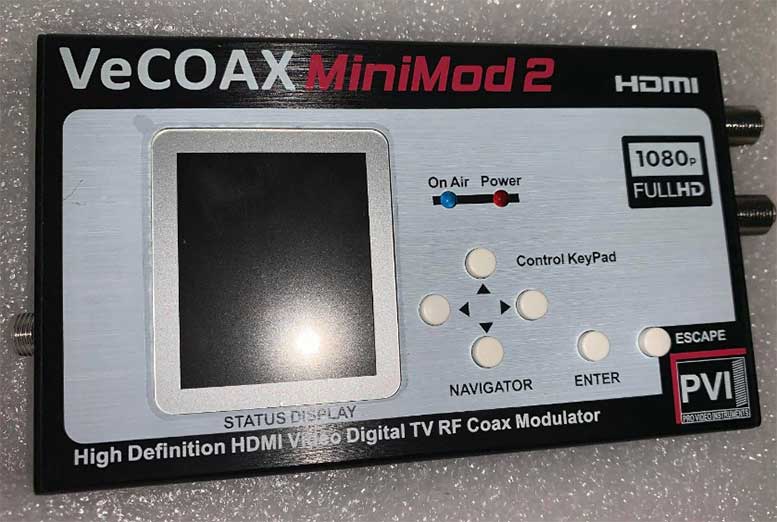 This plug-and-play solution is compatible with any regular digital TV and can be installed without any extra parts behind the TVs. It's a pretty compact modulator, as it measures just 11.42 x 6.34 x 3.7 inches and weighs a mere 1.5 pounds. Overall, it is an efficient and easy-to-use video distribution extender, perfect for utilizing existing cables to share high-quality video content across multiple televisions.
What we liked:
Simplifies multi-room video sharing
Compatible with regular digital TVs
Supports closed caption activation
What we didn't like:
May be too expensive for some home users
Limited to MPEG2 video encoding
4. AoeSpy HDMI RF Modulator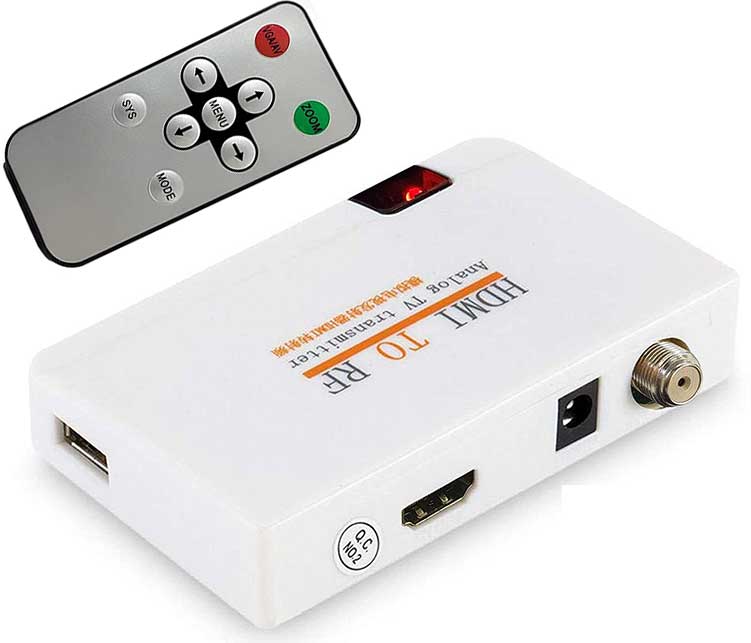 Key features:
HDMI to VHF analog TV signal conversion
Ultra-long-distance HDMI signal transmission
Remote control for adjustments and zoom
Compatible with multiple HDMI-equipped devices
The AoeSpy HDMI RF Modulator is a versatile device designed to bridge the gap between modern HDMI components and older TV models or video equipment. We tested it with various streaming media players, game consoles, and DVD players and found it to be highly compatible and user-friendly.
This converter efficiently converts digital HDMI signals into RF signals, enabling the transmission of ultra-long-distance HDMI signals. It's perfect for video or picture sharing on multiple TVs in different rooms.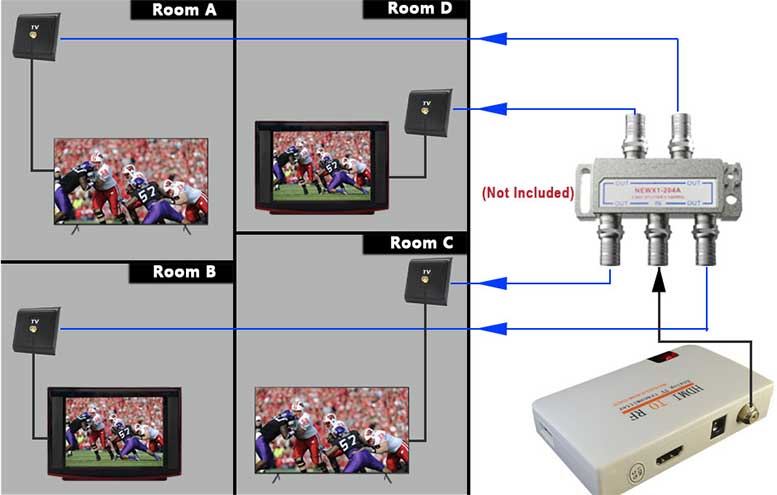 We like that it comes with a remote control, which allows for adjusting amplitude, brightness, contrast, and chroma, as well as switching between output screens and zooming in on images. However, it's essential to note that the image quality isn't quite on par with analog RF signals, so it's closer to 480p.
One limitation of the AoeSpy converter is that it only outputs four TV formats (NTSC-M, PAL-DK, PAL-BG, and PAL-l). Therefore, it's crucial to check your TV's supported formats before purchasing.
Additionally, this device is designed to convert HDMI signals to RF coaxial signals – it doesn't work the other way around. And lastly, only mono sound is supported. This could be a deal-breaker for some people. That aside, setup is simple thanks to plug-and-play functionality, and it comes with a quick user guide for reference.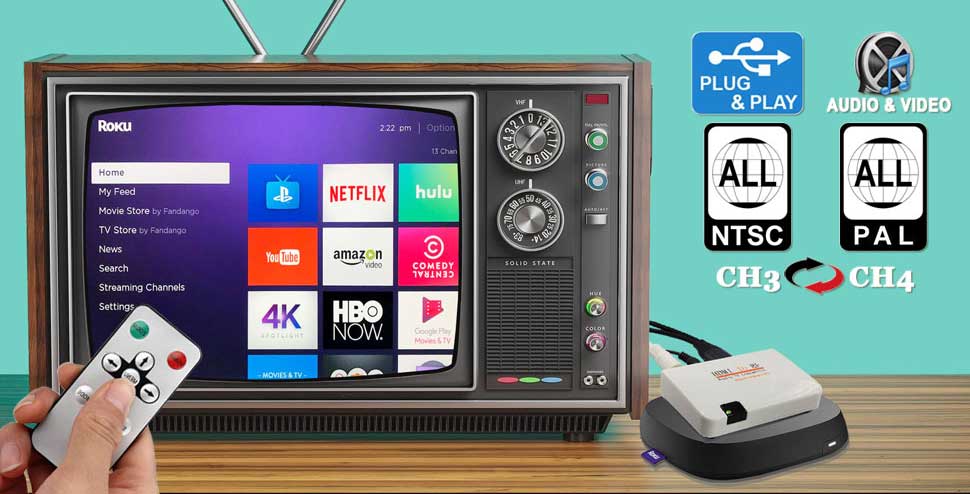 The unit measures 6.34 x 5.04 x 1.46 inches and weighs 5.29 ounces, making it compact and easy to integrate into your entertainment setup. While some quirks are present, the AoeSpy HDMI RF Modulator is an effective solution for connecting HDMI devices to older TVs and extending HDMI signal transmission.
What we liked:
Easy plug-and-play setup
Compact and lightweight design
Supports sharing across multiple TVs
Enhances old TV compatibility
What we didn't like:
Limited to four TV formats
Sound and image take a hit
5. FOSA Digital RF Modulator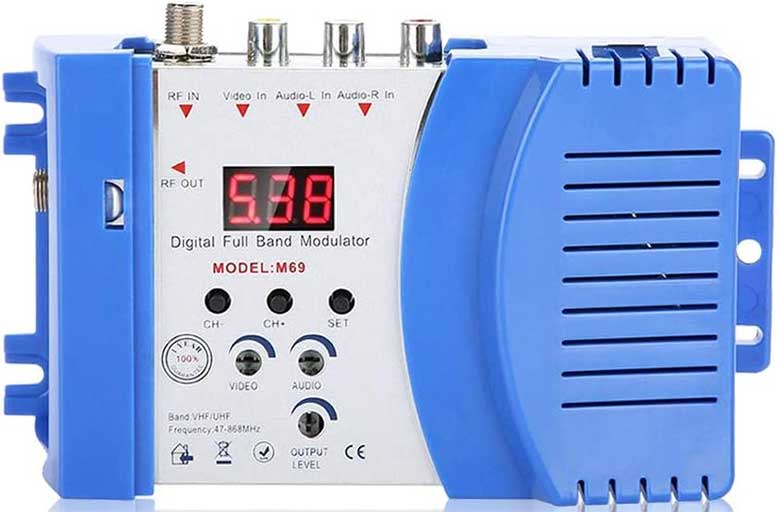 Key features:
Converts AV inputs to RF output signals
Compatible with all local CATV systems
Adjustable output and A/V output levels
VHF/UHF operating frequency, channel selection
The FOSA Digital RF Modulator is a versatile and user-friendly device that offers seamless integration between various AV systems and home TVs. With its ergonomic design, measuring 6.5 x 3.94 x 2.56 inches and weighing only 14.4 ounces, the modulator is easy to install and operate.
During testing, the unit effectively converted AV inputs from game consoles, satellite receivers, video cameras, and CCD cameras into RF output signals, providing a clear picture without any interference.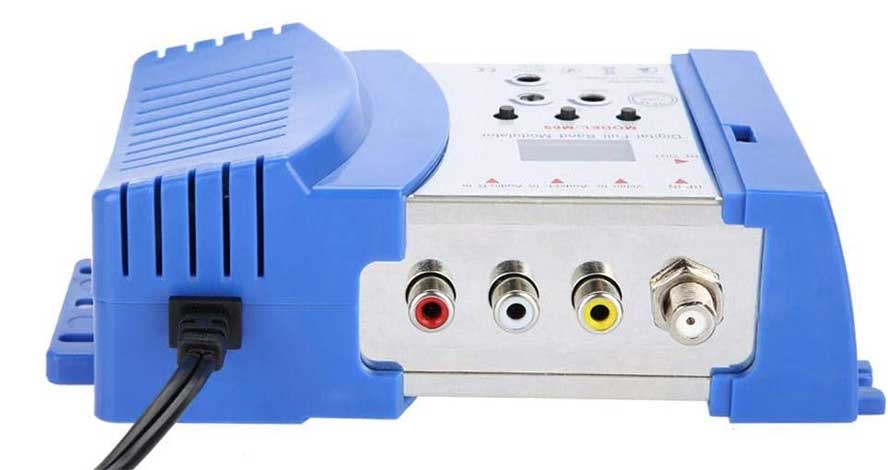 Its compatibility with all local CATV systems makes it a cost-effective solution for those looking to set up their own cable networks. It supports VHF/UHF operating frequencies and features a digital channel display for easy viewing.
Its adjustable output level, along with customizable audio and video output levels, ensures optimal performance across various devices. The modulator's selectable output channel further enhances its adaptability.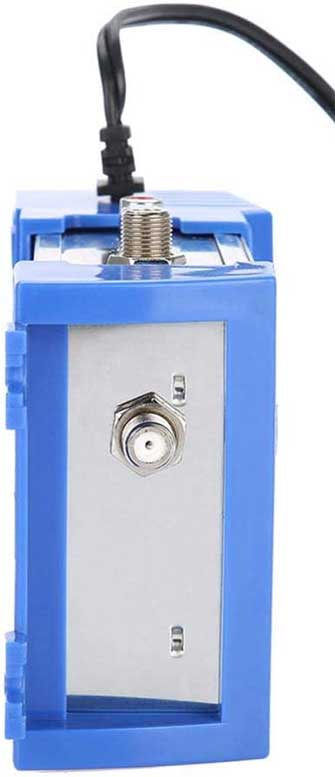 One notable aspect of this modulator is its full-band frequency range and multiple sound system compatibility, catering to different regional standards. The isolation degree is greater than 30dB, and the insertion loss is less than 1.5dB, highlighting the unit's efficiency.
Equipped with RCA female A/V connectors and F-female RF input/output, the FOSA Digital RF Modulator is a reliable and straightforward solution for integrating various AV devices into your home entertainment system.
What we liked:
Easy installation and operation
Clear picture, minimal interference
Full-band frequency range
Supports multiple sound systems
What we didn't like:
Only one output port
Short over-air distance
HDMI RF Modulators for Old TVs FAQs
Can HDMI RF modulators improve the picture quality on old TVs?
While HDMI RF modulators can transmit high-definition content to older TVs, the actual picture quality improvement depends on the TV's resolution capabilities. If the old TV supports a high-resolution display, using an HDMI RF modulator may provide a better viewing experience.
Are HDMI RF modulators compatible with all old TVs?
Most are designed to work with a wide range of older TVs, yes. However, compatibility may vary depending on the modulator's output formats and the TV's supported formats.
Do HDMI RF modulators support audio transmission?
Many do. Some even offer advanced audio features, such as Dolby Sound or AC-3 audio output options, for a better audio experience.
Final Verdict
If you've done any research into HDMI RF modulators, you know that there are countless options available. We wanted to ensure your search was quick and painless, so we did all the digging and testing for you.
First up is the Multicom 1080P HDMI to Coax Digital Modulator. This one stands out for its excellent high-motion video performance, ensuring high-quality HD video distribution.
And then there's Thor Broadcast's HDMI to Coax Modulator, which offers seamless HD video and audio transmission, making it an outstanding but pricey contender.
The MINIMOD 2 Vecoax HDMI to Coax Modulator is another high-dollar entry on par with the mod from Thor Broadcast. This unit simplifies multi-room video sharing, making it an efficient video distribution extender.
Next, we have AoeSpy's HDMI RF Modulator for solid old TV compatibility. It delivers a decent enough picture but only mono sound, so it can't compete with our previous entries. But its accessible price point makes it worth a look.
Finally, the FOSA Digital RF Modulator offers a clear picture and is a reliable and straightforward solution that works with a ton of AV devices. It, too, is affordable and easy to use.
At the end of the day, the best HDMI RF modulator for you depends on your specific needs, budget, and preferences. By considering the unique features and benefits of each device, you'll be well-equipped to make an informed decision and enjoy high-quality video content on your old TV.