When it comes to getting work done, few things are more important than your equipment and workstation.
A major enemy of peak efficiency are the brief distractions and inconveniences that can shave off valuable pieces of your focus. Excessive distraction and friction like this can lead to frustration as there doesn't seem to be enough time in your work session to get things done.
Note: At no extra cost to you, we may earn a commission for purchases using our links. Learn more.
Having a fast computer is essential but equally important is the environment that you work or game within. In this article, we'll be tackling one of the most overlooked but essential pieces of desk equipment. The under-desk headphone or headset hanger.
From gaming to zoom conference calls, headphones (and headsets) have become a major part of our everyday lives. For many, large, over-ear headphones offer the ideal amount of sound quality, noise cancellation and all-day comfort they need to get stuff done.
The problem is that these headsets can be large and take up valuable desk space that could be used for other essentials. Many people don't like to have clutter on their desk, requiring a tidy environment to work. You don't want to leave them on the floor and shoving them in a drawer can create the same space-wasting problems you're trying to solve.
Under-desk headphone/headset hangers and mounts are the ideal solution for gamers and professionals that need a tidy place to store them while keeping their desk area clear. They can be the ideal setup to run power and recharging cables to a spot that doesn't clutter the rest of your workspace.
While they may seem straightforward, not all under-desk headphone hangers are created equal. Some do better than others. Additionally, some have added features that can make an enormous difference at preventing distraction and enhancing productivity.
To help you make the best decision, we've assembled 5 of the best under-desk headphone hangers and mounts currently available on the market.
How We Chose the Best Under-Desk Headphone/Headset Hangers and Mounts
We've included options at different price points and different strengths. That said, each option on this list was measured against the following criteria:
Quality of Materials: Even though it makes up only a small portion of your workspace, the materials used in a headphone mount matter for both aesthetics and performance. The products featured in this article use high-quality materials and best manufacturing practices.
Form Factor: Headset hangers and mounts shouldn't take away from the overall appearance of your workstation. We've included a range of unique designs and form factors to help match your specific setup.
Protection and Stability: Regardless of the type of material, they need to provide scratch protection for headsets. The last thing you want is for the edges of your mount to scratch the fragile surface of the band. Ideally, they should do a good job at keeping your headphones in place. Our team and user surveys focused heavily on this aspect.
Best Overall: Brainwavz Hengja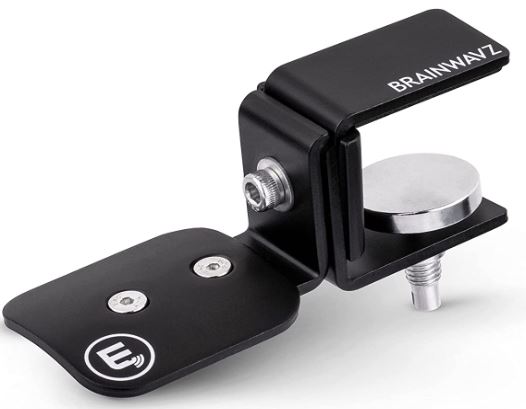 Key Features:
Tabletop mounting mechanism.
Compatible with all over and on-ear headsets.
No-fuss installation.
Smooth-metal construction provides sturdy, scratch free support.
The quality was clear the moment we held the Brainwavz Hengja headphone mount in our hands. The smooth metal construction provided a nice tactile feedback with finely ground edges that provided a scratch free experience.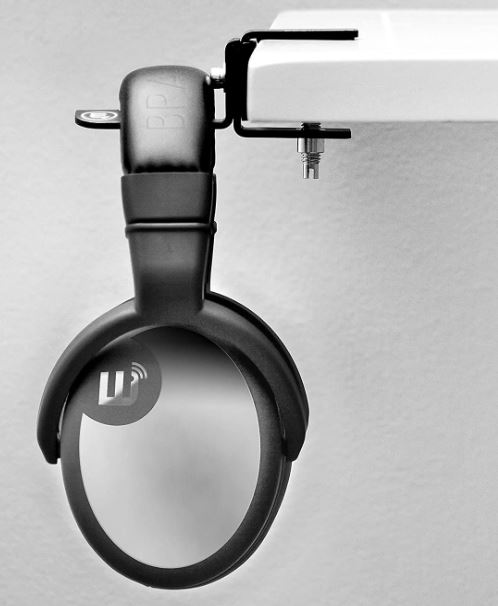 The hanger arm protrudes out just enough to accommodate multiple headband widths. With that said, it doesn't come out excessively to cause a snag hazard for anyone walking by. Using a tabletop mounting mechanism, the Brainwavz Hengja provided a solid base that had very little wiggle room once locked in. It can also be used for vertical mounting situations like on the wall of a bookshelf. This mounting option makes it compatible with virtually any desk, regardless of if they have under table mounting hardware or not.
As far as visuals, the mount blends seamlessly in with the different desk setups we tried it with. We tested it on a standing desk and replicated the common shaking that occurs with that particular form factor. The mount worked flawlessly, providing enough friction to keep the headphones in place without falling off.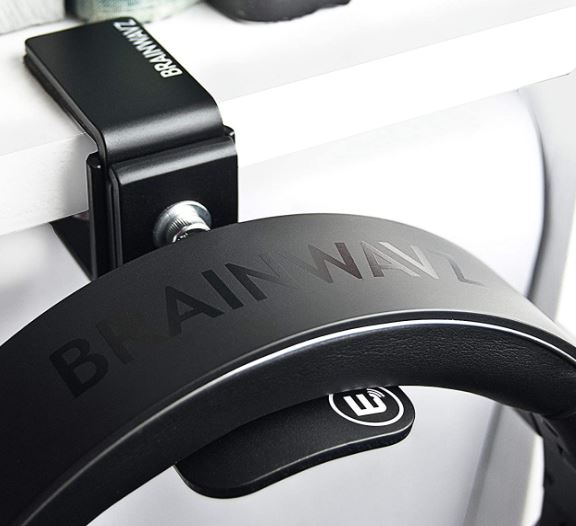 Overall, it was a straightforward decision to make the Brainwavz Hengja the best overall under-desk headphone hanger.
What We Liked:
Solid mounting mechanism.
Arm accommodates all headphone band sizes.
Smooth, non-destructive materials.
Snag-proof.
What We Didn't Like:
Customer support is slow to respond.
Best Runner-Up: ElevationLabs The Anchor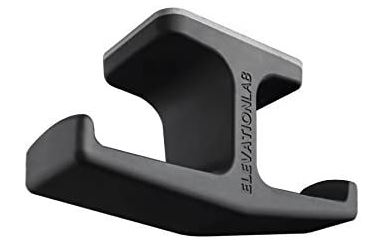 Key Features:
Silicone material.
Includes 3M adhesive.
Steel core for stability.
Low-profile design.
Our best runner-up is one of the originators within the space of under-desk headphone mounts. This mount from Elevation Labs is one of the few that provide a high-quality silicone exterior that provides superior grip strength for any headset you put on it. New to this model is a steel core that provides superior strength. The Anchor can accommodate the widest, heaviest headphones without issue.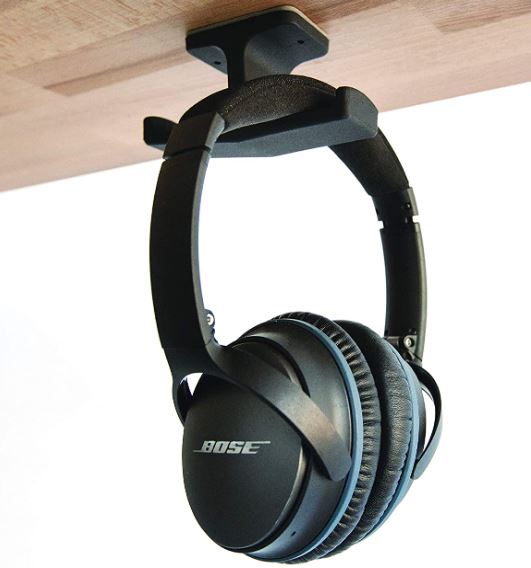 The dual arm hanger means you can hold up to two headphones on a single unit. This makes it a great option if you share a workspace with co-workers or family members. We found the 3M adhesive did a good job in keeping the mount attached to the underside of the desk. It also created very little hassle with installation.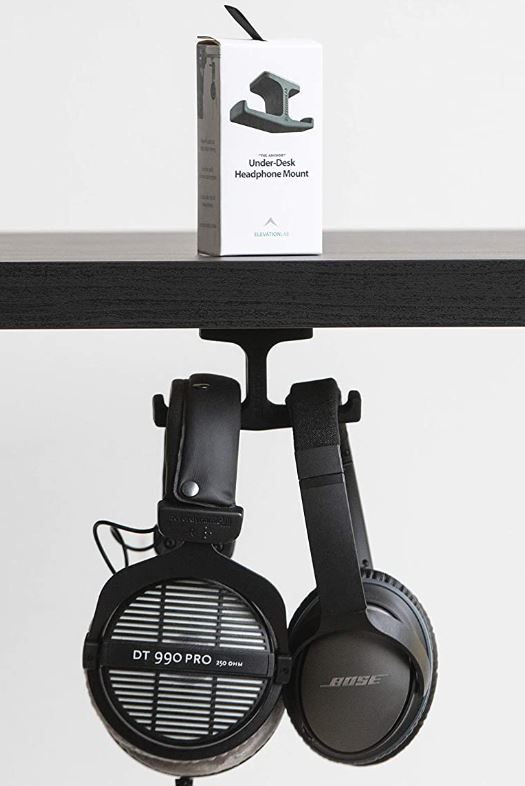 Elevation Labs does a great job at supporting headsets in an aesthetically pleasing way. The only reason it did not take the best overall spot is because of its limited ability to accommodate a vertical mounting configuration. However, if you're looking purely for an under-desk mount, this is a perfect option.
What We Liked:
Silicone exterior for superior grip.
Steel reinforced interior to handle a lot of weight.
Dual arm design works for two sets of headphones.
Powerful, no-mess adhesive.
What We Didn't Like:
Adhesive will not stick very well to wood or porous sources.
Best Alternative: EURPMASK Dual Headset Hanger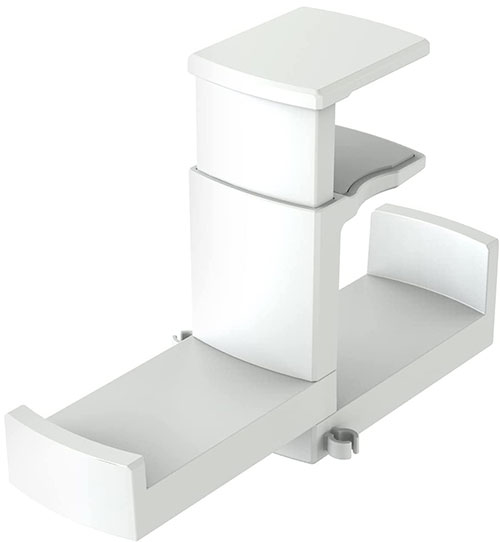 Key Features:
Spring-loaded adjustable clamp.
Dual headphone arms.
360-degree rotation.
Anti-skid material.
Built-in cable loop.
Universal clamping design.
The aesthetics of this headphone stand from EURPMASK are stunning. From the white powder coated finish to the staggered dual headphone mounts, it's a piece of art. We appreciate that when the second arm is not in use, you can swivel it under the first one to keep it out of the way. This little tweak makes the overall design of his mount far more sleek.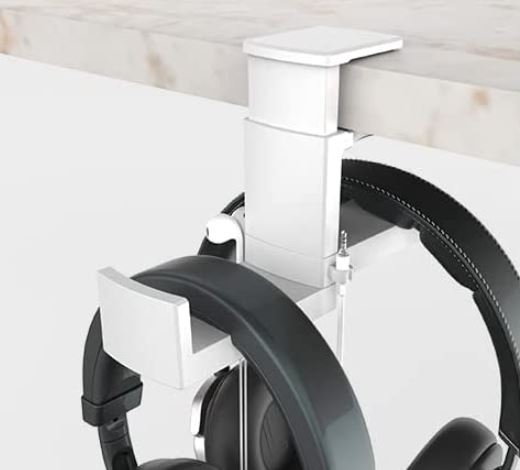 The EURPMASK uses the same C-Clamp universal mounting design as some of the other hangers on this list, with one exception. It's spring-loaded adjustment feature allows for a more-sturdy, easy to manage fit. No more need to arm wrestle the clamp in place.
High quality ABS plastic provides a pleasant appearance without all the bulk and weightiness of a metal frame. It makes it naturally scratch proof which gives you peace of mind that your headsets won't get damaged when you aren't paying attention. The arms come with a really pleasant feeling, durable silicone pad to keep your headphones nestled in place.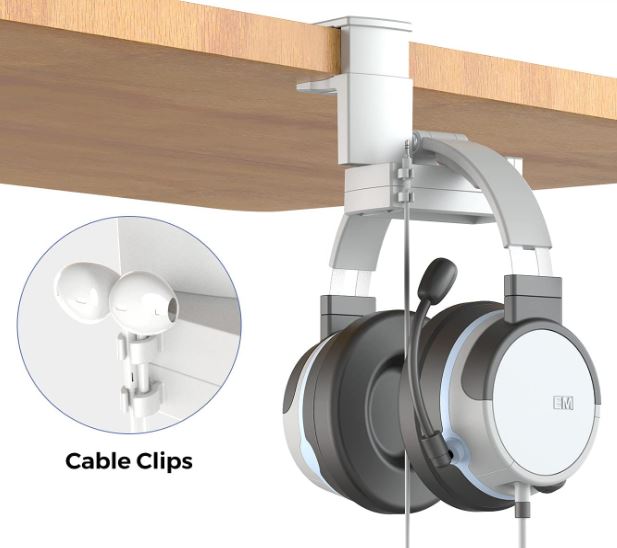 We appreciated the inclusion of a cable management loop on this bracket. It's a small addition but makes a big difference in keeping your headphones charged and your desk clutter-free. No more cables falling to the ground to get run over by your computer chair.
Another aspect of the EURPMASK that sets it apart is the bracket's ability to accommodate extremely thick desks or wide shelf frames. At 39mm, the clamp is ideal if you need maximum flexibility on where you're going to mount it.
What We Liked:
Clamp is great for wide shelves or thick desktops.
Spring-loaded adjustable clamp for easy tightening.
Second headphone arm swivels away when not needed.
Silicone pad on the arms provide extra security and protection.
What We Didn't Like:
Best Budget: Yocice Headphone Stand Hanger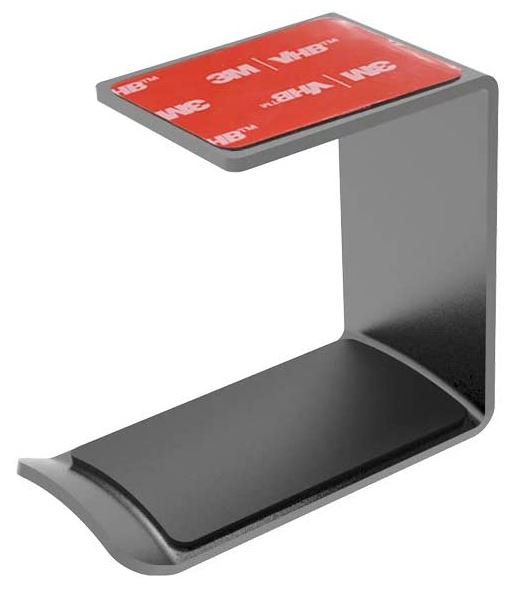 Key Features:
Minimal design
Single arm.
Under table adhesive mount.
10 lb. load capacity.
The Yocice headphone stand hanger is our pick for the best budget friendly option. Although it doesn't have a lot of the extra touches of the other options on this list, it does its primary function extremely well. A lot of budget brackets look cheap, cutting corners with cheap inferior materials.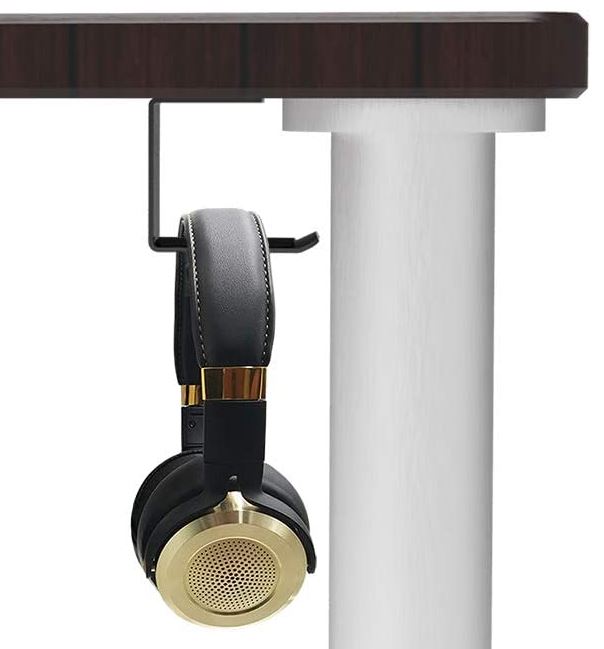 Yocice avoids all of that in favor of a minimal form factor. It saves money by removing any moving parts and pricey adjustment clamps. This approach allowed them to produce their clamp with a high quality, lightweight aluminum. A soft, silicone pad rests on top of the headphone arm to ensure maximum protection for your headphones.
The result is a highly functional, visually stunning mount that can accentuate any desk setup. Instead of a C-Clamp, the Yocice uses a strong 3M adhesive that lets you mount the bracket underneath the desk. We tested out the clamp and were able to mount around eight pounds of weight without any difficulty.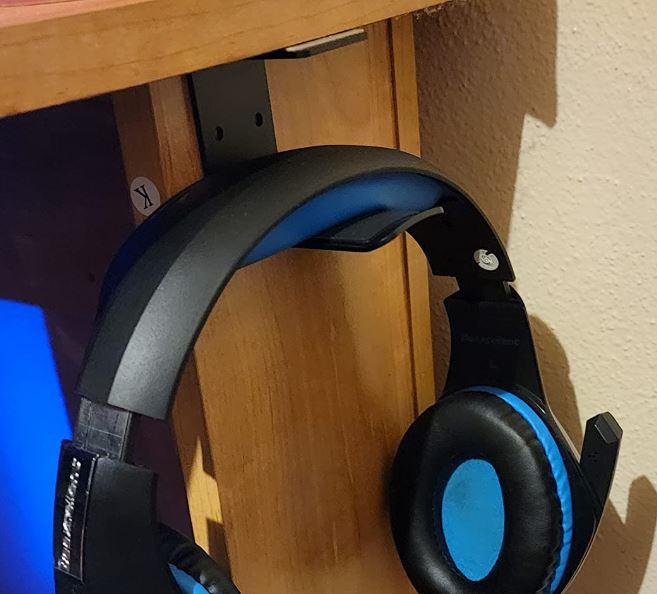 One thing to keep in mind is that this kind of adhesive will not work on dirty or porous surfaces. So it's best to double check what kind of material you'll attach it to. With that said, once you attach it, you won't have to worry about it getting loose.
What We Liked:
Minimalist design.
High-quality aluminum.
Sturdy 3m adhesive keeps it locked in place.
What We Didn't Like:
Does not come with an extra piece of adhesive.
Best Looks: 6amLifestyle Under Desk Aluminum Headphone Hanger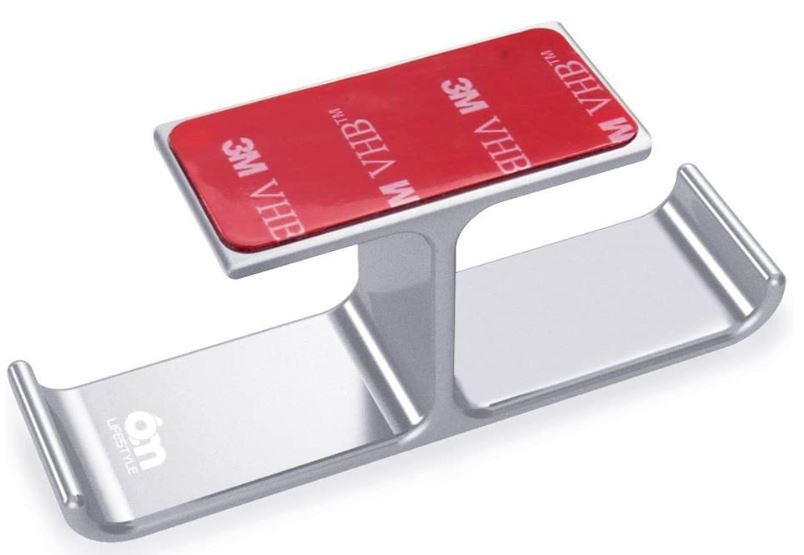 Key Features:
Dual arm design.
Accommodates headbands up to 1.37" in thickness.
Multi-purpose arms for items other than headphones.
Dual mounting options.
Aluminum construction.
No matter how simple an office accessory may be, it should still be designed in a way that adds beauty to your workspace. It's why the 6amLifesyle under desk headphone hanger tops our list as the one with the best looks.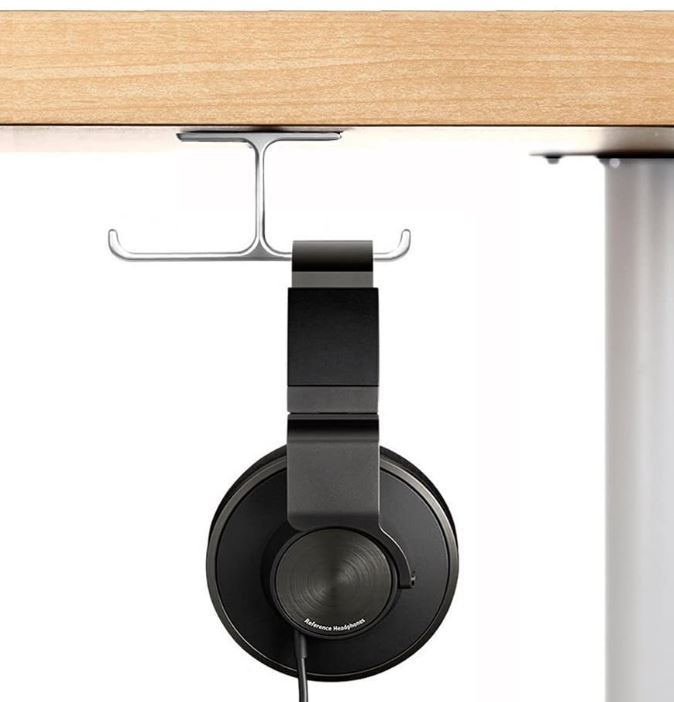 Since aesthetics is what got it on the list, we need to address the incredible finish they applied to the aluminum frame. In a lot of ways, it shares the same visual characteristics of the Apple MacBook and older iMacs. This color palette really lends itself to the minimal, sleek form factor they went with.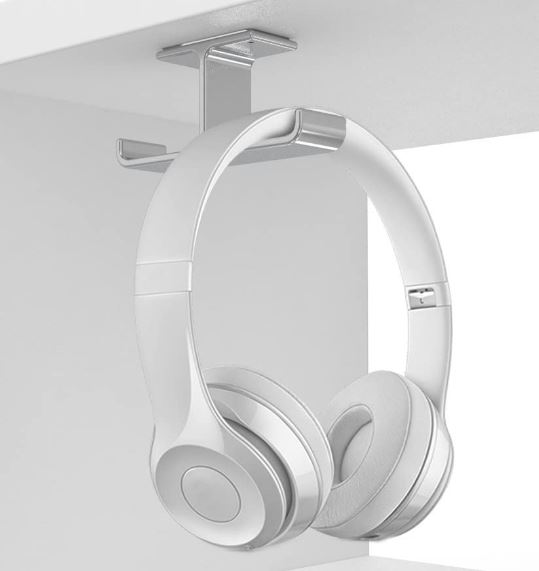 The 6amLifestyle also shines when it comes to its functionality. It's an under-desk hanger that allows for two mounting options. If you opt for an adhesive, which is going to be the least invasive option, it'll be able to support weights up to 4.4 pounds. When mounting via screws, you'll find that the weight capacity jumps all the way up to 11 pounds. This is an ideal option if you want the headphone mount to serve double duty by holding other things that have more weight.
One thing we'll note is that the raised lip of the hanger harms are a great addition. Just keep in mind that it reduces the clearance you have between the bottom of your desk and the arm.
What We Liked:
Sleek aluminum design.
Dual arms let you keep headphones on one and other accessories on the other.
Screw mount option holds up to 11 pounds.
Great low-profile form factor.
What We Didn't Like:
How to Choose the Best Under-Desk Headset Mount for Your Needs
Choosing the correct under-desk headphone/headset mount for your needs doesn't need to be difficult. However, it's important to be thoughtful and intentional about your decision since many mounts are not easily swapped out or removed once they've been installed. To help, try to keep the following things in mind:
Take stock of what materials and finishes make up most of your workstation. Choose a mount or hanger that matches.
If you have more than one pair of headphones or need something to also hang accessories like an umbrella or bookbag, consider a mount with two arms.
If you're going to be installing this mount vertically, on a bookshelf wall for example, you'll want to make sure the mount you choose is compatible with that. A C-Clamp mount would be best.
If you're going to be hanging heavier things in addition to headphones on your mount, it may be best to avoid an adhesive mount and go with something that may allow you to secure it using screws.
Hopefully, this article has been helpful in making your decision easier. Our team is confident that the headphone mounts featured on this list could be a solid addition to any desk or workspace. Which one will you choose?
Please consider sharing:
Note: At no extra cost to you, we may earn a commission for purchases using our links. Learn more.