In the digital world where most of us reside, a laptop's performance can make or break your day. RAM, or Random Access Memory, is responsible for providing the muscle that lets your processor juggle multiple tasks at once. If you want to make your laptop sing, then DDR5 RAM is just the ticket. We tested and reviewed six contenders for your consideration. Here's a quick rundown of our top picks:
Let's explore these options in-depth so that when you finally decide to upgrade, you can do so informed and confident in your purchase. We cover everything from compatibility to pros and cons, giving you the big picture for each entry.
#1 – Crucial RAM DDR5 4800MT/s Laptop Memory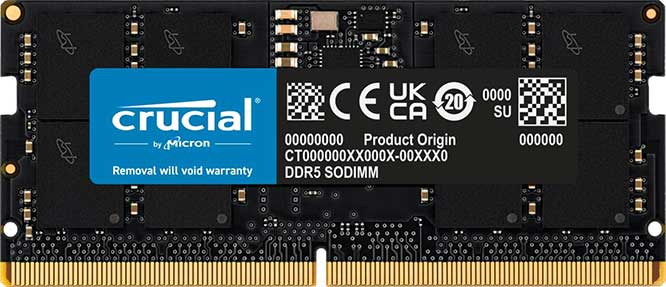 Key features:
4800 MT/s memory speed
Low latency impact
Advanced PMIC technology
Compatible with 12th Gen Intel Core
The laptop RAM market has been buzzing with the advent of DDR5 technology, and Crucial's DDR5 4800MT/s Laptop Memory is a noteworthy contender in this space. Weighing in at just 0.29 ounces and measuring 2.74 x 0.15 x 1.18 inches, the slim unit boasts a series of features that offer more than just an incremental upgrade. The first thing you notice when you slot this unit into a compatible laptop is the sheer velocity at which it operates.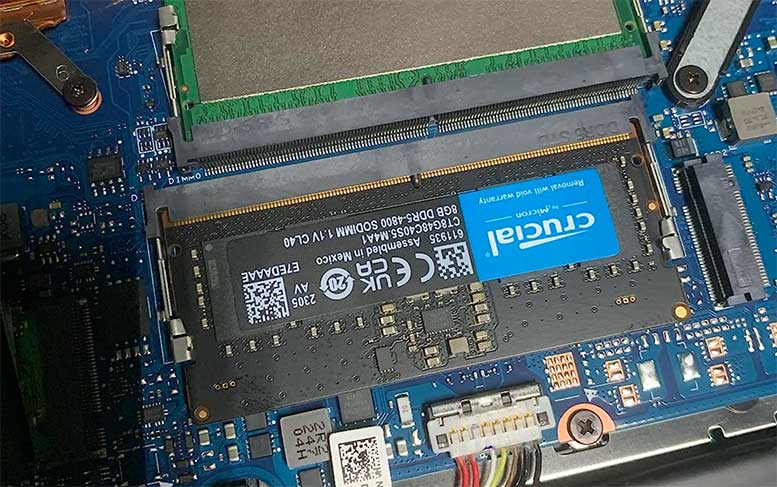 Clocking in at 4800 MT/s, this RAM aligns perfectly with 12th Gen Intel Core processors, offering a symphony of performance that truly takes multitasking to the next level. During our testing, applications like Photoshop and video editing software ran smooth as butter. While it's common for high-speed memory to suffer from latency issues, our tests found that Crucial's offering keeps latency at an impressively low level – only up to 3% longer than DDR4.
In simplistic terms, you won't notice a difference, but you'll reap the benefits of significantly higher speeds. What makes this SODIMM memory truly stand out is its innovative power management. With on-module voltage regulation via a Power Management Integrated Circuit (PMIC), Crucial promises a more stable and clean power supply to the memory modules. For the number crunchers, that's a 1.1V operating voltage, a modest but meaningful improvement over DDR4's 1.2V.
What we liked:
Real-world speed boost
Minimal latency drawbacks
Innovative power management
Micron-backed reliability
What we didn't like:
Only compatible with DDR5-enabled laptops
Initial setup may require patience
#2 – Kingston Technology Fury Impact 4800MT/s DDR5 Laptop RAM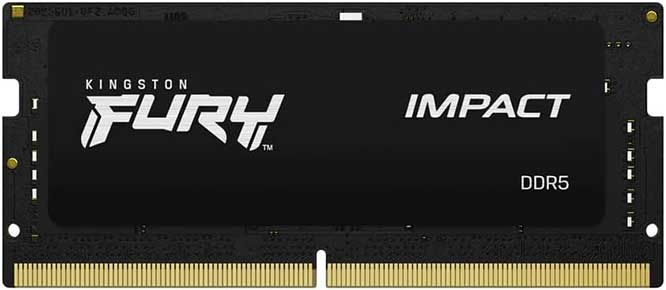 Key features:
4800 MHz speed
Plug-and-play overclocking
Intel XMP 3.0 Certified
On-Die ECC
Kingston Technology's Fury Impact 4800MT/s DDR5 Laptop RAM is a compelling piece of tech for anyone looking to supercharge their laptop's performance. With dimensions of 2.74 x 0.15 x 1.18 inches and a weight of 0.635 ounces, this unit fits snugly into your device without tipping the scales. The first thing that hits you about this memory module is its robust 4800 MHz speed. Now, the word "speed" here doesn't just apply to how quickly your programs open.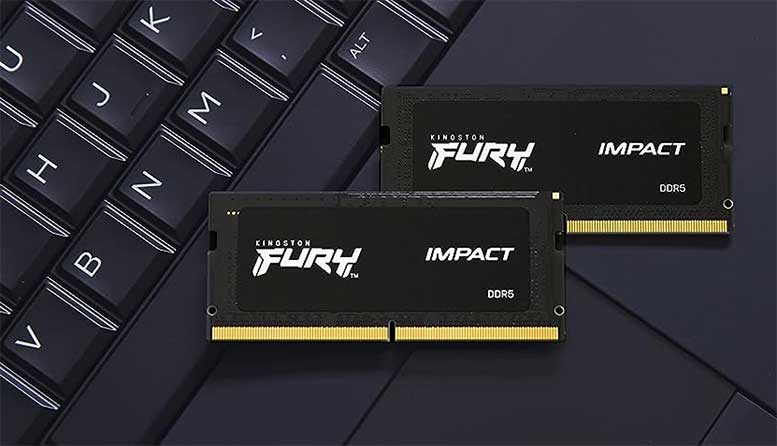 We're talking about a significant boost in overall performance. During our tests, heavy applications like 3D rendering software performed admirably without a trace of sluggishness. "Plug N Play" is often just jargon, but here, it means no-hassle automatic overclocking. Intel XMP 3.0 certification ensures that the RAM operates with pre-optimized timings and voltages. During testing, this literally translated to "plug and forget" as the memory auto-adjusted to the most efficient settings.
Not to be outdone by its high-performance capabilities, this RAM impresses with its efficient power usage. A low power draw of 1.1V not only makes it eco-friendly but also optimizes the internal temperature of your laptop. "Stability" can be a boring topic, but not when it comes to Fury Impact. The inclusion of On-Die ECC (Error Correction Code) ensures that your data maintains its integrity, especially during overclocking sessions.
What we liked:
No-hassle setup
Efficient power usage
Data integrity
Exceptional compatibility
What we didn't like:
Not universally compatible
It's pricey
#3 – Corsair VENGEANCE SODIMM DDR5 4800MHz Laptop RAM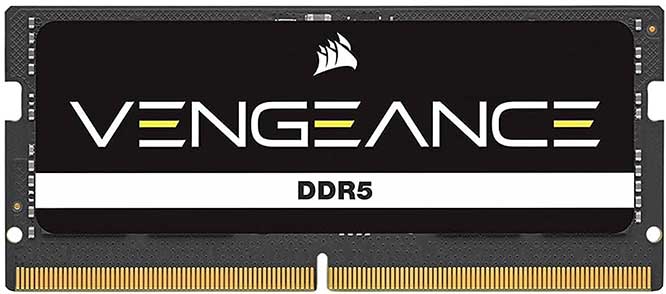 Key features:
Broad Intel and AMD compatibility
Automatic 4800MHz speed adjustment
Easy-to-install SODIMM form factor
Rigorous reliability testing
When you're juggling demanding tasks, games, and workloads, your laptop's memory becomes crucial. The Corsair VENGEANCE SODIMM DDR5 4800MHz RAM serves as a formidable candidate to shoulder that responsibility. One of its standout features is its broad compatibility with both Intel and AMD systems. This essentially means that most performance laptops and gaming rigs are well within its realm.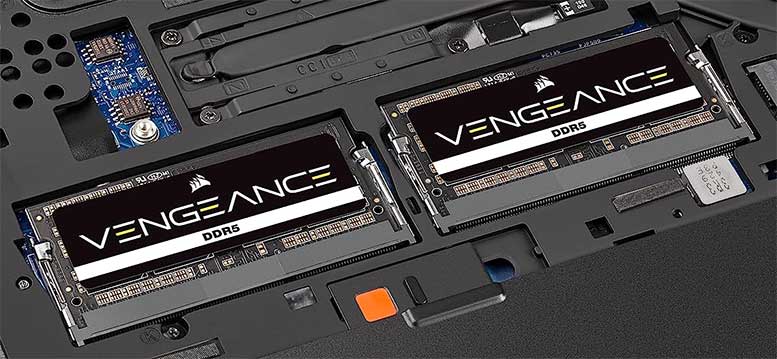 The SODIMM form factor further assures that the unit can fit in smaller spaces, like small-form-factor PCs and Intel NUC kits. More importantly, it is built for speed. Once installed in a compatible system, it automatically adjusts to its maximum speed of 4800MHz. During our testing, the result was noticeably faster load times and smoother multitasking. Ease of use often complements high performance, and this unit is no exception.
Installation is straightforward: All you'll need is a screwdriver for most laptop models. In our tests, it was up and running in less than 10 minutes. Corsair subjects this RAM to rigorous screening to ensure high performance and reliability. And for your consideration, its dimensions measure 2.76 x 1.18 x 0.12 inches, and its weight is 0.352 ounces.
What we liked:
Quick, noticeable performance boost
Fits a variety of laptops
Easy installation process
Plug-and-play convenience
What we didn't like:
Not compatible with all systems
Timing could be better
#4 – SABRENT Rocket DDR5 4800MHz Laptop Memory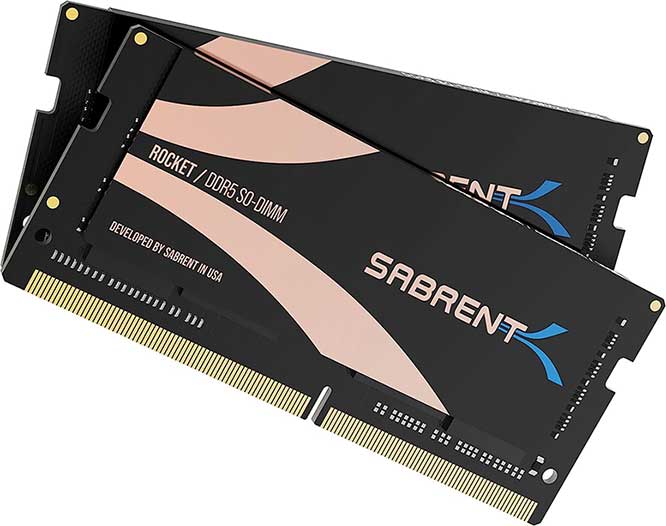 Key features:
Low voltage, high efficiency
76,800 MB/s Data Transfer
JEDEC Standard Compliant
Compact and lightweight
When it comes to boosting your laptop's performance, RAM is usually a prime candidate for an upgrade. The SABRENT Rocket DDR5 has landed on the scene to meet this demand, but does it live up to the expectations? Let's find out. For starters, we all know that battery life is a big deal, especially in laptops. This DDR5 unit takes energy efficiency seriously, with less voltage required compared to DDR4. It even incorporates on-module power management to cut down on motherboard complexity.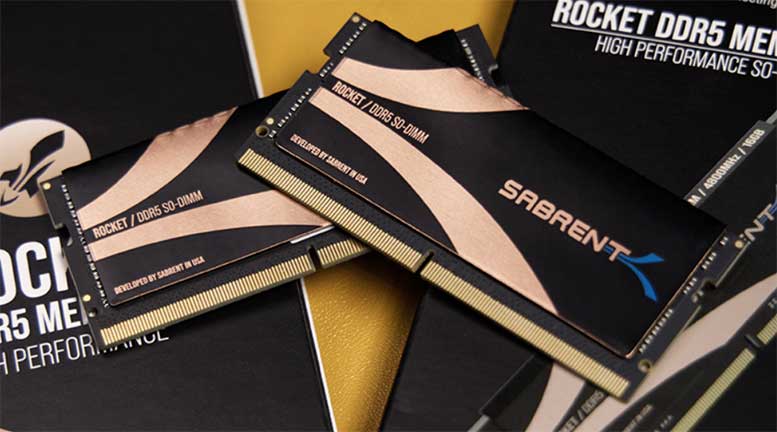 Sure, DDR4 was great, but we're all about progress here. This DDR5 memory module pushes the envelope with a data transfer rate of 76,800 megabytes per second. Our tests in content creation and gaming tasks have shown that these speeds can be more than just numbers; they translate to real-world performance improvements.
Weighing in at 2.39 ounces and measuring 2.7 x 1.2 x 0.17 inches, this RAM manages to offer up to four times the memory capacity as DDR4 – and it does so within the same physical constraints. That's what we call efficient use of space. The last thing you want is for your memory to start throwing errors at critical moments. This RAM has been engineered with error correction and aligns with all JEDEC memory standards.
What we liked:
Notable power saving
Real-world speed gains
Easy installation
Good for gaming
What we didn't like:
Overkill for basic tasks
Simplistic appearance
#5 – G.Skill RipJaws DDR5 Laptop RAM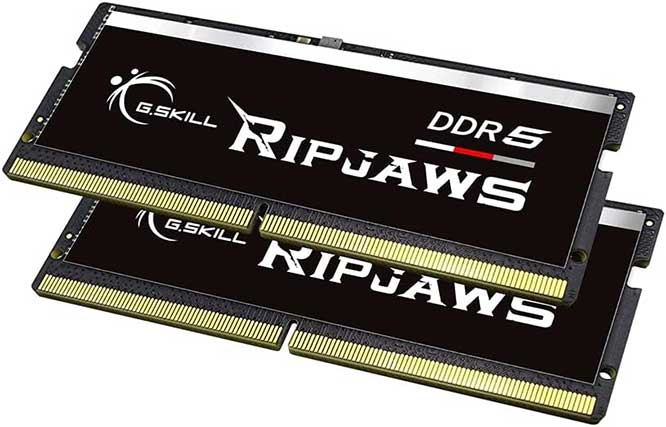 Key features:
Memory speed of 4800 MT/s
CAS Latency 34-34-34-76
Dual channel kit
Lightweight design
In the world of turbocharged memory, G.Skill's RipJaws DDR5 laptop RAM stands out. With its 32GB size divided into two 16GB modules, it is indeed a powerhouse for any laptop application you throw at it, especially gaming. This RAM features a memory speed of 4800 MT/s. You're also looking at a CAS Latency of 34-34-34-76 at a voltage of 1.10V. This sets it apart in terms of quick data access and overall performance.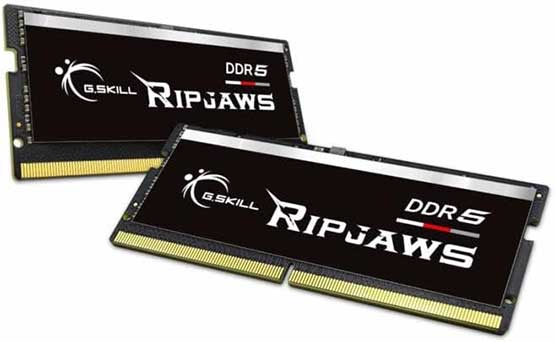 Regarding its physical aspects, the RAM weighs in at 1.76 ounces and comes in dimensions of 5.87 x 4.65 x 0.51 inches. While testing, we used it in a modern laptop with a Ryzen 6600H processor. The RAM booted with ease and displayed the CAS latency exactly as advertised, making it a true plug-and-play experience. The absence of any setup hurdles definitely enhances its usability factor. Furthermore, this product is manufactured using specially screened IC chips and is hand-tested as part of G.SKILL's quality control process.
What does this mean to you, the consumer? It means that what you are inserting into your laptop is nothing short of reliable. Moreover, it's compatible with laptops that don't permit XMP setting changes in the BIOS, making it a versatile choice. The RAM supports XMP profiles, enabling it to reach its rated overclock speed. It's important to note that reaching these speeds also depends on the capabilities of your motherboard and CPU. This lends an additional layer of flexibility to advanced users.
What we liked:
Plug-and-play simplicity
High data transfer speed
Compatible with various devices
Reliable performance
What we didn't like:
No ECC support
Requires XMP for max speed
#6 – Silicon Power DDR5 Laptop RAM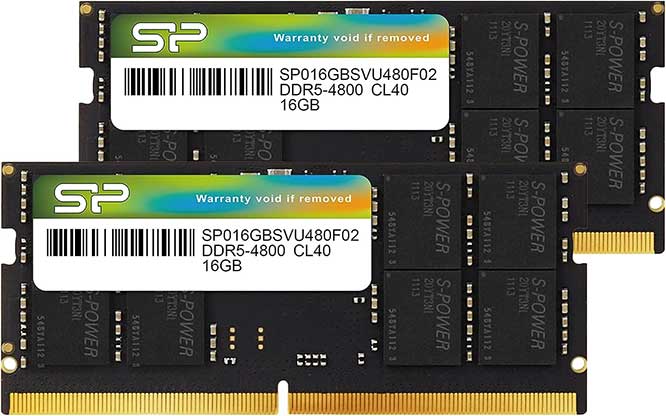 Key features:
32GB DDR5 4800MHz
Low voltage at 1.1V
16GB x 2 design
PMIC for stable power
Speed is the name of the game when you're aiming for top-notch laptop performance. At 4800 MHz, Silicon Power's DDR5 RAM flies. If you've been gaming on a laptop for any length of time, you surely remember the days when lags were part and parcel during gaming sessions. Thanks to this RAM, those days are history. With an aggressive frequency, it equips your multi-core CPUs with extreme responsiveness, allowing you to multitask with flair.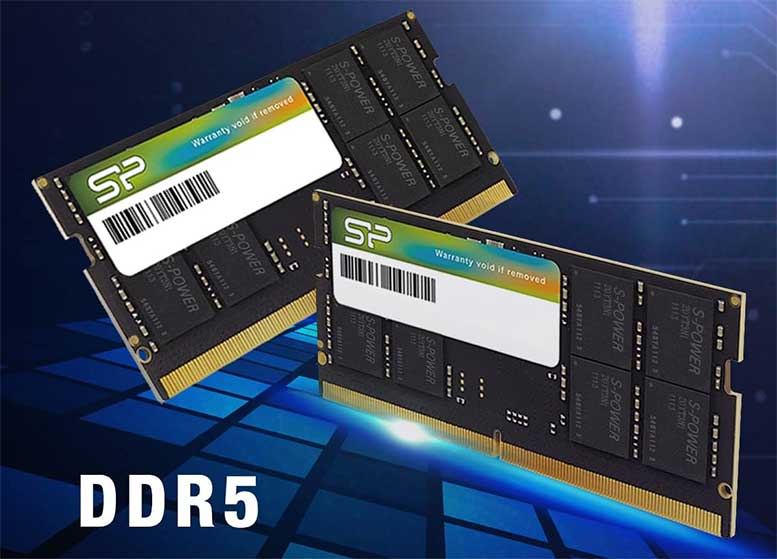 It comes in a package offering 32GB (16GB x 2) and has dimensions of 2.74 x 0.08 x 1.18 inches with a lightweight profile of 1.13 ounces. The real beauty is in its energy efficiency. With the Power Management Integrated Circuit, the RAM operates at a low voltage of 1.1V, reducing power consumption. In a world where efficiency is key, this feature allows you to maximize performance without draining your laptop's energy resources.
Uninterrupted gameplay? Check. Seamless multitasking? Check. While it provides all of these, it's important to point out that this is not ECC (Error Correction Code) memory. In layman's terms, this feature corrects bit errors in real-time within the DRAM chip. So if that's a feature you're looking for, this might not be the RAM for you.
What we liked:
Exceptional speed
Power-efficient
Built-in error correction
Lifetime warranty
What we didn't like:
Not ECC memory
Poor customer service
DDR5 Laptop RAM FAQs
What are the advantages of DDR5 laptop RAM?
DDR5 comes with higher bandwidth and lower voltage requirements, starting at 4800 MT/s compared to DDR4's 2400 MT/s base rate. Plus, it operates at a lower voltage of 1.1V as opposed to DDR4's 1.2V, enhancing energy efficiency.
Is DDR5 backward compatible?
Sadly, DDR5 is not a plug-and-play upgrade for older laptops. It requires a motherboard specifically designed for DDR5 modules. You can't simply slot a DDR5 stick into a DDR4 motherboard.
How will DDR5 improve my laptop's performance?
With DDR5, you'll experience quicker data retrieval, smoother multitasking, and notably reduced latency. And if you're into gaming, video editing, or data-intensive work, DDR5 could be the difference-maker you've been looking for.
Final Verdict
While every module on this list has its merits, your choice should depend on your specific needs. Crucial's DDR5 4800MT/s Laptop Memory, for instance, impresses with its low-latency performance and compatibility with 12th Gen Intel Core processors. Meanwhile, Kingston Technology's Fury Impact offers plug-and-play overclocking and an Intel XMP 3.0 certification.
On the other hand, Corsair's VENGEANCE module flaunts broad compatibility with both Intel and AMD systems. Sabrent's Rocket DDR5 impresses with a high-efficiency, low-voltage design, while G.Skill's RipJaws shines in data transfer speeds and plug-and-play simplicity. Finally, Silicon Power adds an extra layer of reliability and speed for those who crave stable gaming. With so many excellent options on the table, you're sure to make a smart investment.
Meet Derek, "TechGuru," a 34-year-old technology enthusiast with a deep passion for tech innovations. With extensive experience, he specializes in gaming hardware and software, and has expertise in gadgets, custom PCs, and audio.
Besides writing about tech and reviewing new products, Derek enjoys traveling, hiking, and photography. Committed to keeping up with the latest industry trends, he aims to guide readers in making informed tech decisions.